NFL Nation:

Luke Petitgout
April, 26, 2013
4/26/13
1:26
AM ET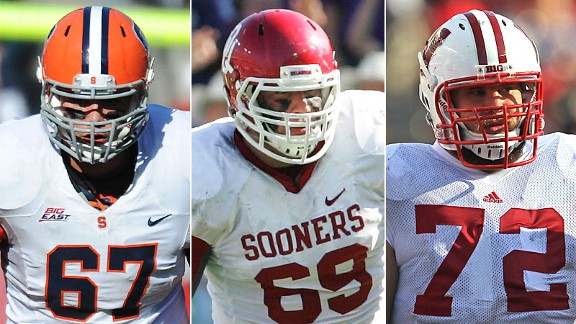 AP Photo, Getty ImagesThe NFC East added offensive linemen Justin Pugh, Lane Johnson and Travis Frederick.
NEW YORK -- Three NFC East teams picked in the first round of the NFL draft Thursday night, and the combined weight of the three players they picked is 922 pounds. Finally, they're paying attention to what's important.
Yes, the
Philadelphia Eagles
,
New York Giants
and
Dallas Cowboys
each picked an offensive lineman in this year's first round. And while that had something to do with the oddity of a first round that included one quarterback, no running backs and nine offensive lineman, it also says a lot about how badly this division as a whole needs to address this long-neglected need.
Tackle
Lane Johnson
, tackle/guard
Justin Pugh
and center/guard
Travis Frederick
, the 2013 first-round picks of the Eagles, Giants and Cowboys, are no cosmic coincidence. They are medicine, ordered with a purpose by teams that have figured out where they're lacking and that they all need to muscle up in the short-term and long-term.
I am of the belief -- and have written at length on this blog -- that one of the main reasons the NFC East is in a down cycle is division-wide offensive line decay. And yes, the division is down. Over the past three seasons, the division's combined record is 97-101 (yes, counting postseason and the Super Bowl). No NFC East team has won 11 games since 2009, which was also the last year in which it fielded more than one playoff team. Two years ago, the Giants won the division with a 9-7 record. This past year, the
Washington Redskins
won it at 10-6. Bleh.
The NFC East has superstar talent at quarterback and running back and wide receiver and pass-rusher. But with the exception of a magical six-game run the Giants made at the end of the 2011 season, excellence has eluded its once-feared teams. And the consistent issue that seems to be holding them back is the offensive line. To wit:
The Giants have basically been getting by with an aging, patchwork group. Former second-round pick
Will Beatty
emerged as a star last year when finally healthy, but veterans
Chris Snee
and
David Diehl
are fading and
Kevin Boothe
and
David Baas
aren't special. Until Thursday night, the Giants hadn't taken a first-round lineman since
Luke Petitgout
in 1999. You can try and hit on free agents and second- and third-rounders for a while, but eventually you need to add some top-end talent to the mix. Enter Pugh, a college tackle who may project as a pro guard and offers versatility in the short-term and a possible long-term answer at any one of several positions.
The Eagles had a fine line in 2011, but four of their five starters missed significant time due to injury in 2012, and they finished 4-12 and changed head coaches. Enter Johnson, this year's No. 4 overall pick, who likely starts at right tackle right away, moving
Todd Herremans
inside to guard and serving as an eventual replacement for left tackle
Jason Peters
.
The Cowboys' neglect of the offensive line had reached epidemic proportions before they took tackle
Tyron Smith
in the first round in 2011, and if you watched them last year you came away thinking they needed to upgrade every one of the starting line positions but his. Enter Frederick, who was a surprise first-rounder, but not as much of a reach as he initially looked. With four tackles and the top two guards gone in the top 11 picks, the Cowboys decided to trade down from 18 and get the guy they wanted at the tail end of the first round. Quibble if you want with the return they got on their trade. And sure, maybe Frederick would have been there when they picked again Friday night at 47. But (a) maybe not, since offensive lineman are going faster than ever and (b) so what? The Cowboys' short-term and long-term needs at offensive line were significant enough that they needed to come away from this year's first round with an upgrade. Frederick is almost certain to be an upgrade over one or more of
Phil Costa
,
Nate Livings
and
Mackenzy Bernadeau
, and the Cowboys were absolutely right to make this need a priority on this night.
The Redskins' line played fine in 2012 and has a superstar in left tackle
Trent Williams
. But a lot of its success has to do with the help it gets from its mobile quarterback. The Redskins remain unsettled at right tackle. They didn't have a first-round pick this year as a result of last year's deal for
Robert Griffin
III, but don't be surprised if they too look to address the line once they start picking Friday and Saturday.
This seems obvious, of course. It's a long-held NFL adage that the best way to build teams is through the lines. Consistent, reliable offensive line play helps you control games and maximize your skill-position talent. Deficient line play helps you squander your skill-position talent, or worse, make it more susceptible to injury. But while it may seem obvious from the outside, the NFC East's teams have let the line play lapse. Thursday was a clear sign that they have realized this and plan to address it moving forward. I don't think these three will be the last offensive linemen taken by NFC East teams in this year's draft, but each is vital to the division's effort to regain its status as one of the toughest in the NFL. Because thanks to the decay of its offensive lines over the past few years, the fact is that it has not been.
February, 8, 2013
2/08/13
4:44
PM ET
Thoughtful piece
here from Paul Schwartz
, with the help of former
New York Giants
tackle
Luke Petitgout
, on the Giants' preference for parting ways with players before those players lose their effectiveness. At the end of the week in which the Giants cut two-time Super Bowl-winning running back
Ahmad Bradshaw
, as well as linebacker
Michael Boley
and defensive tackle
Chris Canty
, Petitgout remembers his own experience and sees it reflected in what's going on now:
"The Giants are a family,'' Petitgout said. "It's something tough to accept, like when a girlfriend dumps you. They know when your time is up. Some guys may buck the trend and have a good couple years after that but if you've been there a long time, they know your medical history, they know your aches and pains, they usually make the right decision. I basically had a time bomb in my back and when I went to Tampa it went off. The Giants knew what they were doing.''
[+] Enlarge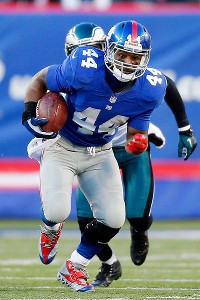 Jim O'Connor/USA TODAY SportsThe Giants parted ways this week with Ahmad Bradshaw, who was their leading rusher the past three seasons.
It cannot have been easy for GM Jerry Reese to say goodbye to Bradshaw, who played through significant pain to help deliver the team's Super Bowl title last year. But between Bradshaw's salary and the chronic foot injuries that kept him from practicing during the week or playing at full strength on Sundays, the Giants believed it was the right thing to do. It's not the first time they've cut a player while he was still an effective producer for them, and if Bradshaw's best days are behind him, it won't be the first time the Giants cut a still-productive player just in time:
Reese is rarely wrong. As a former scout, his eye for talent isn't confined to youngsters. Steve Smith and Kevin Boss haven't done a thing and haven't stayed healthy. He traded away Jeremy Shockey. He did not re-sign Brandon Jacobs, Derrick Ward or Amani Toomer. He cut Shaun O'Hara, Rich Seubert and Kareem McKenzie. He didn't think Antonio Pierce's neck was sound enough to continue playing. He passed on bringing back Plaxico Burress. In the same purge that caught Petitgout, Reese also jettisoned Carlos Emmons and LaVar Arrington. Did any of these players prove Reese wrong?
Pretty amazing list. Combine this idea with
what we wrote about here Thursday
-- the Giants' organizational belief in developing young players in their system so they're ready to take over when it's time for the veterans to go -- and it's easy to see that Reese has a definite plan and is sticking to it. Will it work? No way to know. If the Giants are in something of a rebuild mode, they're going to need many of their young players to be as good as the team thought they'd be when it drafted them. And not even Reese, with all of his track record, can predict how players are going to play. The point is, even as things change with the Giants and people come and go, it's still easy to see the consistency with which they operate, and it has served them well.
November, 3, 2011
11/03/11
1:00
PM ET
TAMPA, Fla. -- As you read this, keep in mind that
Donald Penn
talks big.
"My thing is, at the end of my career, I want to play 15 years and be a Hall of Famer and be one of the greats,'' the left tackle for the
Tampa Bay Buccaneers
said.
[+] Enlarge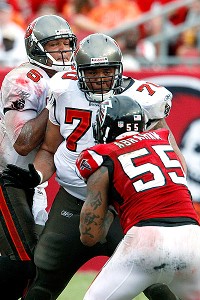 Cliff Welch/Icon SMI Donald Penn is making a name for himself in Tampa as the Bucs' starting left tackle.
That might sound like an extreme ambition for a guy who has been to precisely one Pro Bowl (last season).
"He loves to talk and talks about nothing all the time,'' said New Orleans defensive end
Will Smith
, who will line up against Penn on Sunday in the Mercedez-Benz Superdome. "He's a nice guy. I know him off the field. But on the field, he just loves to talk about anything. He loves to self-promote himself.''
In an interview with Sirius NFL Radio several weeks ago, Smith said Penn "talks as much as wide receivers,'' who are commonly known as big talkers. Smith said Penn can be anywhere from funny to entertaining to annoying on the field. The topics can change, but the talk never stops, said Smith, who has been playing against Penn for five seasons.
"He's made big strides as a player,'' Smith said. "But he's always been a talker.''
Penn doesn't deny any of that. He said he feeds off talking to opponents throughout a game.
"One of the things is, if you're going to talk you've got to back it up,'' Penn said. "I've been lucky enough to back it up.''
That may sound a little like the self-promotion Smith talked about. But the thing is Penn doesn't have to do all the promoting on his own these days.
"You can make an argument that Donald Penn is the best left tackle in football right now,'' former Pro Bowl tackle and current Westwood One Radio analyst
Tony Boselli
recently told The Tampa Tribune
. "He's athletic, he's powerful, he's a good run blocker and an even better pass blocker.''
"A very solid left tackle,'' said Matt Williamson of Scouts Inc. "They don't give him a lot of help and he doesn't really need it. People like to say you have to find a left tackle in the top 10 in the draft. But Penn is proof that you can get a good one outside of the top 10. Heck, the Bucs got him for nothing and that almost never happens with left tackles.''
It wouldn't be far off to say that Penn came out of nowhere. But the fact is he came out of Utah State. He had a shot at being drafted, but tore up his knee on the first play of the Hula Bowl in his final season. He showed up at the scouting combine, but was unable to work out.
"After that, I just fell off the map,'' Penn said.
He went through the 2006 draft without being chosen. He later signed with the
Minnesota Vikings
and landed on their practice squad. The Bucs signed Penn off Minnesota's practice squad later that season, thinking they were getting a guy who could be a career backup.
But it wasn't long before Penn talked – and worked – his way into a starting role. He began the 2007 season projected as a backup for veteran
Luke Petitgout
, who the Bucs had brought in from the
New York Giants
.
"I was always telling Petitgout I was going to take his job,'' Penn said.
Pretty soon, that's exactly what Penn did. Petitgout started four games in 2007 before getting injured. Penn started 12 games that season and hasn't missed a start since.
"Once I got that opportunity, I tried to do my best to not let it get taken away from me,'' Penn said. "You don't know when you're going to get an opportunity like that again.''
The talk of Penn as one of the league's best tackles didn't start right away. It's really just started to heat up in the last year or so. That coincides roughly with the timeline of when the Bucs made a big commitment to a guy who wasn't even drafted. At the start of training camp in 2010, the Bucs gave Penn a six-year, $48 million contract.
They paid him like a big-time left tackle. The contract might have changed the perception of Penn around the league, but he said he never viewed himself as anything less.
"I've always thought of myself in those terms,'' Penn said. "You need to think of yourself in those terms to be a great player. You have to have confidence. Thinking of yourself as the best, that's the most confidence you can have. I always knew I was good. I just needed a shot.''
Penn's become the most steady force on Tampa Bay's offensive line. In a season in which the 4-3 Bucs have been up and down, Penn has been perhaps the team's most consistent player.
In one three-game stretch, Penn had the task of blocking Atlanta's
John Abraham
, Minnesota's
Jared Allen
and Indianapolis'
Dwight Freeney
. He gave up only one sack (to Allen) and Penn's been getting a lot of praise from around the league.
"I'm going up against the best every week and I don't get nearly as much help as most tackles do,'' Penn said. "I appreciate finally getting the notoriety. Tampa is not a big media center, so you don't get as much attention. But I've been doing it for five years now and I've been doing it well. It feels good to finally get some recognition for it.''
But one Pro Bowl and a few nice comments don't add up to the Hall of Fame career Penn talks about and he knows that.
"That's my goal,'' Penn said. "I'm a long way away from it, but that's what I'm trying to reach. That's why I'm working so hard and playing so good because I want to get there. I want to be known as the best left tackle in the game when it's all said and done.''
Yeah, that's all down the road. But it no longer seems as impossible as it did when Penn was a practice-squad player. Maybe if he keeps talking big and playing the way he has recently, he just might meet his goal.
August, 19, 2008
8/19/08
10:32
AM ET
Posted by ESPN.com's Pat Yasinskas
Here's a look at this morning's local coverage of the four NFC South teams.
SAINTS
PANTHERS
BUCCANEERS
FALCONS
NFL SCOREBOARD
Thursday, 11/20
Sunday, 11/23
Monday, 11/24
WEEKLY LEADERS