NFL Nation:

Luke Richesson
July, 11, 2014
7/11/14
5:00
PM ET
With the countdown to training camp down to its final days for the
Denver Broncos
, cornerback
Chris Harris Jr.
said there aren't many things on the to-do list for the players before they formally begin the trek toward what they hope is a shot at Super Bowl redemption.
"The main thing right now is everybody has so much time on their hands, so just stay in shape and stay out of the news," Harris said Friday. "That's just something I've been trying to keep tabs on guys, lead by example, just come in with a clean slate and no bad stories before we get there."
[+] Enlarge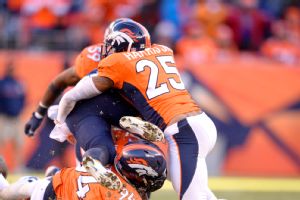 John Leyba/Getty ImagesChris Harris Jr., who is coming off knee surgery, said he should be back to full strength during training camp.
Since the Broncos adjourned from the last of their OTA workouts last month, they, like every team's players, have largely been on their own unless they were recovering from injury. The Broncos players will report July 23 for training camp at their suburban Denver complex with the first practice set for July 24.
Broncos strength and conditioning coach Luke Richesson handed each player a workout plan for the month they would spend away from the team's complex before training camp opened, and Harris Jr. said there was plenty of incentive for each player to follow the plan because they should know what is expected when they return.
"Guys know what's at stake this year, at least they should -- it's Super Bowl or bust for us," Harris said. "It means a lot for this team for all of us to come back and hit the ground running fast. Especially the young guys, if they weren't paying attention at OTAs and minicamp, but to make this Broncos team this year, these cats on defense better be working out because
Peyton Manning
will make you look crazy."
Harris, who has gone from an undrafted rookie who made the roster in 2011, to one of the team's defensive mainstays, was making the rounds Friday at ESPN's headquarters in Bristol, Connecticut, as he appeared on several of the network's broadcast and digital offerings.
The fourth-year cornerback said he had hoped to attend one of the NFL's broadcast boot camps this offseason, but that his rehab schedule as he returns from ACL surgery did not allow him the time.
"It's something I look forward to doing when I retire, definitely," Harris said. "I planned on going this year, but doing the rehab all summer took my whole summer, so next year I'm definitely going to try to do one of those boot camps."
Harris, as he said last month, reaffirmed Friday he expects to be cleared for full participation by roughly the halfway mark of the preseason, but that the decision also will hinge on an upcoming visit to his surgeon, Dr. James Andrews.
"I'm doing everything, there's really nothing I can't do right now," Harris said. "I still have to go see Dr. Andrews at the end of the month and get checked up, and he'll pretty much let us know the plan from there."
April, 7, 2009
4/07/09
8:39
AM ET
Posted by ESPN.com's Paul Kuharsky
Houston Texans
Indianapolis Colts
Jacksonville Jaguars
Tennessee Titans
April, 6, 2009
4/06/09
12:34
PM ET
Posted by ESPN.com's Paul Kuharsky
Houston Texans
The Texans kick off their offseason conditioning program Monday, says John McClain.
Prospects Brian Cushing and Clay Matthews have been told by the doctor who administers the league's drug policy that they did not fail drug tests, says Jason Cole.
Rice tight end James Casey long-snapped for the Texans during his workout, says Alan Burge.
Indianapolis Colts
Bob Kravitz sorts through the financial issues of the Capital Improvement Board, which runs Lucas Oil Stadium.
I can hardly keep up with John Oehser's series on the top 25 picks of the Bill Polian era. Here are No. 21 and No. 20.
Colts.com looks at Polian's draft-day trades.
Jacksonville Jaguars
The Jaguars kick off their offseason conditioning program Monday and new strength coach Luke Richesson and some players will talk to the media. I hope to bring you some of that later.
Tennessee Titans
Vince Young may have his sights set on starting, but Patrick Ramsey means competition for the No. 2 job, blogs Jim Wyatt.
February, 5, 2009
2/05/09
12:23
PM ET
Posted by ESPN.com's Paul Kuharsky
January, 29, 2009
1/29/09
1:19
PM ET
Posted by ESPN.com's Paul Kuharsky
Want to alter a team's culture without changing the head coach?
The best avenue might just be through the team's strength coach, the one assistant who deals with everyone on the roster with some regularity throughout the NFL year.
In Jacksonville, Jack Del Rio recently hired a new man for the job, Luke Richesson. In Houston, Gary Kubiak still has an opening at the spot.
| | |
| --- | --- |
| | |
| | Denny Medley/US Presswire |
| | Jack Del Rio hopes a new strength and conditioning coach will help turn things around for the Jags. |
Gone from the Jaguars' staff is Mark Asanovich, said to be a steady and uncompromising personality. Gone from the Texans' staff is Dan Riley, a stronger presence some categorize as cantankerous.
With open offices, Del Rio and Kubiak had a chance to be sold on a different kind of training regimen and decide what sort of approach might work best for their rosters. But they also had a chance to gauge personalities and the ability of a new assistant to buy into the team's philosophy and to be an effective disciple of it.
"Those guys probably spend as much time, if not more time, with your players than you do," Kubiak said. "I know they are with players a great deal of time from the standpoint of being in the weight room doing their work. Then when they are not with us in meetings or in practice, that's usually the first place players go. The mentality of your football team and a lot of those work habits are developed down there in that atmosphere."
In Richesson and the Houston hire -- which rumblings suggest could be Ray Wright, a Riley assistant who remains on staff -- the Jags and Texans hope they'll have a coach who players come to consider both a resource and a model.
Richesson joined the Jaguars from Athletes' Performance, a company that trains college players looking to post great workout numbers at the league's annual scouting combine. Indications are he may not have been the Jaguars first choice, but Del Rio is confident he will be a difference maker. (When teams don't get their first choice, I'm always compelled to remind people how far basketball coach Roy Williams was down the list before he got the job at Kansas and how well that turned out.)
Richesson's biggest challenge may be broadening his repertoire in a way that embraces a more diverse pool of athletes. At Athletes' Performance, his focus was narrow -- elite college athletes were sent to him by agents looking to boost draft status. In the Jaguars' locker room, he'll deal with veterans and rookies with more established routines, some of whom are emboldened by status or paychecks.
January, 25, 2009
1/25/09
11:20
AM ET
Posted by ESPN.com's Paul Kuharsky
Nada, sorry.
Bob Kravitz wonders if the Colts got rid of the right assistant coaches.
An I-was-wrong-alert. I thought the Jaguars might hire Mike Trgovac when he decided to leave Carolina, because he and Jack Del Rio are friends. But Trgovac landed in Green Bay as defensive line coach. Vito Stellino reports it's official: Mel Tucker is the new defensive coordinator, Russ Purnell is the new special teams coach, Charlie Jackson is the new defensive line assistant, Luke Richesson is the new strength coach and Johnny Cox is the new quality control coach.
Gene Frenette says the Jaguars should take the best available player with the eighth pick in the draft and expects Jack Del Rio will be running the defense no matter who's the coordinator.
Michael Griffin has big plans for big improvement in the offseason, writes Jim Wyatt.
Wyatt thinks Jeff Fisher is leaning to Chuck Cecil over Dave McGinnis for defensive coordinator. I agree and think the announcement hasn't come because Fisher wants to get his other ducks in a row first.
A look at the free agents in the Titans defensive backfield from Gary Estwick.