January, 10, 2014
Jan 10
5:40
PM ET
RENTON, Wash. -- Being healthy at the right time can make a big difference in the NFL, and it's rare for a team to start the playoffs as healthy as the Seahawks are now.
Outside linebacker
K.J. Wright
is the only starter ruled out for Saturday's playoff game against the
New Orleans Saints
. And Wright, who had foot surgery three weeks ago, could be back for the NFC championship game if the Seahawks advance.
However, rookie defensive tackle
Jordan Hill
is doubtful with a groin injury and backup safety
Chris Maragos
is questionable with a back injury. Hill has played in only four game this season. Maragos is a valuable player with 10 special team tackles and one fumble recovery.
The big news of the week was receiver
Percy Harvin
returning when he came close to being placed on injured reserve two weeks ago.
But the Seahawks also have rookie tight end
Luke Willson
back, a bit of a surprise since he suffered a nasty high ankle sprain in the regular-season finale against St. Louis.
"They checked him out right off the bat and it looked like he had a broken leg," Seattle coach Pete Carroll said. "They checked him out again that night and he didn't. So all I can tell you is that it was remarkable whatever happened in there. There was a laying of hands or something. I don't know what happened, but he jumped right back and had a terrific week and he's ready to play."
November, 24, 2013
11/24/13
8:00
AM ET
RENTON, Wash. -- The Seahawks have their share of limelight players who receive plenty of recognition nationally, like quarterback
Russell Wilson
, running back
Marshawn Lynch
, cornerback
Richard Sherman
and free safety
Earl Thomas
.
Here are a few players who don't receive that type of praise but who have contributed to the 10-1 record:
Best rookie:
Tight end
Luke Willson
was a steal as a late fifth-round pick. Few people had heard of the 6-5, 250-pound Canadian who played college ball at Rice -- another example of GM John Schneider's ability to find quality players other teams overlook.
Willson
Willson has 12 receptions for a 14.2-yard average per catch. The Seahawks knew he could catch and had good speed, but he has performed better as a blocker than most people expected.
He started two games when
Zach Miller
was out with a hamstring injury, but officially, Willson has started seven games because the Seahawks opened with a two-tight end set, showing their confidence in Willson.
He is an all-around athlete who played, hockey, soccer and baseball in high school, including a stint on the Canadian Junior National Team, along with football. But he also is a brainiac (typical of Rice grads) who had a 4.0 GPA.
Best new position:
It's
Bruce Irvin
moving from defensive end to outside linebacker. After missing the first four games due to a PED suspension, Irvin stepped into his new spot and made an immediate impact with a sack in his first game back.

Irvin
Irvin's speed has enabled to do things at linebacker that he didn't do at defensive end, like intercepting a pass 30 yards downfield in the game at St. Louis.
Irvin has 28 tackles (20 solo), two sacks, five quarterback hurries and one forced fumble. Irvin loves playing linebacker and believes he can do more things without constantly taking on huge offensive tackles.
Most underrated player:
This one will surprise you. I'm going with punter
Jon Ryan
, the other Canadian on the Seahawks. Ryan doesn't rank among the league leaders in yards per punt, which is a misleading stat in regard to a punter's value.
Ryan's success comes from how high he kicks the ball. Returners appear to wait forever for the ball to come down, so they don't get many opportunities to gain any yards after the catch.
Only 11 of his 44 punts have been returned. But here's the eye-popping numbers. The 11 returns totaled a measly 15 yards. And one of those was 10 yards, so the other 10 totaled only 5 yards.
Eighteen punts were downed inside the 20. Ryan completely shut down the best punt returner in the league --
Marcus Sherels
-- last week against Minnesota. All Sherels could muster was three fair catches. On the other two Ryan punts, one was downed at the 7 and the other went out of bounds at the 20.
Ryan is a major field-position asset for the Seahawks.
Best offseason acquisition:
Now this is a tough one because Seattle has three new players --
Cliff Avril
,
Tony McDaniel
and
Michael Bennett
-- who have made a big difference on the defensive front line, but I'll go with Bennett at defensive end.
Bennett
Bennett is tied with Avril for the team lead with 6 1/2 sacks, but he also has 16 quarterback hurries and 20 tackles.
Avril missed the first game of the season with an injury and feels like he's just starting to find his rhythm. He has three forced fumbles, including one on a sack in the Minnesota game.
But McDaniel also is a good pick from his defensive tackle spot. He has 44 tackles, including tying his season-high with seven against Minnesota when coach Pete Carroll singled him out as having his best game.
Honestly, I'm good with picking any of these three guys. They have dramatically improved the defensive front for Seattle, which was one of the team's top priorities after last season.
And, of course, I haven't even mentioned receiver
Percy Harvin
, who could win this category by the end of the season.
Best return:
Some would say defensive tackle
Clinton McDonald
, whom I listed earlier this week as the most pleasant surprise on defense this season since he came back in Week 2 after being released at the end of preseason.
But my pick here is fullback
Michael Robinson
. He has helped throw some key blocks for Marshawn Lynch in the last three games, but maybe just as important is his leadership in the locker room and the respect he has from all his teammates.
As this young team heads toward a possible Super Bowl run, having a veteran leader like Robinson is a big asset to keep everyone pointing in the right direction.
September, 11, 2013
9/11/13
9:41
PM ET
RENTON, Wash. --
Seattle Seahawks
cornerback
Brandon Browner
, who has a hamstring injury and didn't play in the season opener, did not practice Wednesday. But coach Pete Carroll is hopeful Browner can play Sunday night against the
San Francisco 49ers
in the Seahawks' home opener.
Avril
Browner
"He is going to run today and he's going to practice [Thursday]," Carroll said. "He's been running all week. It looks like he's got a good chance to make it back. We will try to do it right and not push it too soon. But tomorrow will be a big day for us to understand [if Browner is ready], and we will go all the way to Friday to see how he responds. So we won't know for a while."
Defensive end
Cliff Avril
, who also missed the season opener with a hamstring injury, practiced on a limited basis Wednesday. Carroll also is optimistic about Avril's chances of playing Sunday.
"Cliff is good possibility if he makes it through the week," Carroll said. "He practiced well enough last week. He was very close to playing [at Carolina]. We are planning on him being part of it this week unless he has some kind of setback we can't foresee. So that would be a nice little boost to get him back in the game.
"But I thought O.B. [O'Brien] Schofield did a very good job playing the Leo [defensive end] spot for us. He rushed well, had a nice sack and a couple of good pursuit plays. He really did a good job starting for us for the first time."
Defensive end
Chris Clemons
, the team's leading pass-rusher last season who is recovering from offseason ACL surgery, returned to practice on a limited basis Wednesday.
"He's still working his way into that position right now,' Carroll said before Wednesday's session. "He's going to practice today and it's the first time that he'll go and get live snaps."
Brandon Mebane
was a bit of a surprise on the injury list Wednesday with an ankle problem. He did not participate in practice.
Wide receiver
Sidney Rice
(knee) was limited in practice, but he is expected to play Sunday. Rookie tight end
Luke Willson
, who is listed with an oblique injury, was a full participant in practice, but the Seahawks signed veteran tight end
Kellen Davis
Wednesday as a third tight end if needed.
September, 3, 2013
9/03/13
10:30
AM ET
Eighty-six of the first 88 players drafted in 2013 remain on 53-man rosters entering Week 1. The two exceptions play for NFC West teams.
The
Arizona Cardinals
'
Jonathan Cooper
, chosen seventh overall, suffered a season-ending leg injury during preseason. He is on injured reserve. The
San Francisco 49ers
'
Tank Carradine
, chosen 40th overall, remains on the reserve/non-football injury list while recovering from a knee injury.
Twenty-five of 39 NFC West choices this year remain on their original teams' 53-man rosters. That includes all seven picks for the
St. Louis Rams
and seven of nine for the Cardinals. The 49ers and
Seattle Seahawks
had a higher number of picks arranged lower within each round, and fewer open roster spots to accommodate them.
Injuries have left six picks from the division on various injured lists. Three of the Seahawks' top five picks will not help the team anytime soon. That includes Harper, defensive tackle
Jesse Williams
(injured reserve) and cornerback
Tharold Simon
(reserve/physically unable to perform).
Percy Harvin
, who cost Seattle its 2013 first-round choice, is also injured.
Five 2013 draft choices from the division landed on their original teams' practice squads. One of them, fourth-round choice Chris Harper, subsequently left his original team (Seattle Seahawks) to sign with the 49ers' 53-man roster.
Three picks from the St. Louis Rams and one from the 49ers are scheduled to start in Week 1. Cooper would have started for the Cardinals if healthy.
Harper wasn't the only NFC West draft choice to land on another team. The 49ers'
Marcus Cooper
, a seventh-round choice, wound up with Kansas City after the Chiefs claimed him off waivers.
August, 9, 2013
8/09/13
1:03
AM ET
Looking back on three things discussed here before the Seattle Seahawks' 2013 exhibition opener, a 31-10 victory over the San Diego Chargers at Qualcomm Stadium:

1. Return specialists.
The Chargers didn't do much to help the Seahawks identify their next kickoff returner. Seattle returned only one kickoff all evening, with cornerback
Jeremy Lane
gaining 21 yards on that play. Not much to go on there. Cornerback
Walter Thurmond
nearly scored on a punt return that gained 46 yards. Receiver
Perez Ashford
had a 27-yard punt return. Corner
Will Blackmon
had a 19-yarder. Seattle was set in the return game with
Leon Washington
last season, but the team released him after acquiring
Percy Harvin
, who subsequently underwent hip surgery and is out indefinitely.
2. Backup QBs and a guy taking their handoffs.
Brady Quinn
and
Tarvaris Jackson
both outplayed Chargers backup and former Seahawks starter
Charlie Whitehurst
. Jackson was especially impressive, completing all but one of his nine attempts for 128 yards and two touchdowns, including a 42-yarder to
Stephen Williams
. Jackson was accurate on that deep pass and on a separate 41-yarder to Williams. Quinn nearly took a safety early in the game before rebounding to find
Jermaine Kearse
for an 11-yard touchdown. Quinn completed 6 of 11 passes for 59 yards and a touchdown. The No. 2 job behind
Russell Wilson
is Jackson's to lose, in my view. He only strengthened his position with this performance. In the backfield, rookie second-round choice
Christine Michael
carried 16 times for 89 yards, breaking free for a 24-yard gain in the fourth quarter. He looked good.
3. Rookie TE Willson.
The Seahawks are looking for rookie fifth-round pick
Luke Willson
to develop into a solid second tight end to pair with starter
Zach Miller
. Willson could not come down with an early third-down pass from Wilson. He did catch another pass for a 15-yard gain and third-down conversion, this one from Quinn.
Cooper Helfet
made the most impressive reception by a Seattle tight end, diving to make a 23-yard reception.
July, 12, 2013
7/12/13
3:30
PM ET
John Clayton's latest "Inside the Huddle" video leads with the
Baltimore Ravens
' expected shift to an offense featuring multiple tight ends more prominently.
We could see some evolution in the NFC West as well.
Among the considerations:
Arizona Cardinals:
The
Indianapolis Colts
ranked among the NFL's top 10 teams for most plays using at least two tight ends last season. Bruce Arians, the Cardinals' new head coach and offensive play caller, was running the Colts' offense then. Arians favors tight ends over fullbacks, so Arizona should see its tight end usage increase without biting into playing time for the Cardinals' talented wide receivers.
Rob Housler
led NFC West tight ends in receptions last season, but his impact was muted within a struggling offense. He and veteran
Jeff King
are the top two tight ends. Arians figures to use both of them together and
in various places
, including the backfield.
St. Louis Rams:
Jared Cook
's arrival in free agency changes the position fundamentally for the Rams. The team transitioned away from using a fullback last season. Cook will figure prominently into the offense as a receiving tight end, lining up in the slot and on the perimeter. He and incumbent tight end
Lance Kendricks
figure to play extensively together in a one-back offense featuring three-plus wideouts with regularity.
San Francisco 49ers:
The 49ers lost some flexibility when second tight end
Delanie Walker
departed in free agency. Using a second-round choice for tight end
Vance McDonald
signaled the team's intention to continue using a second tight end in tandem with mainstay
Vernon Davis
. Using additional tight ends frequently could carry additional appeal while veteran receivers
Michael Crabtree
and
Mario Manningham
recover from injuries. Crabtree figures to miss much of the season. Manningham is expected to be available earlier. McDonald has a big opportunity.
Seattle Seahawks:
Zach Miller
will continue to play just about all the time, but it's fair to question how much playing time secondary tight ends
Luke Willson
and
Sean McGrath
might command.
Percy Harvin
's arrival puts the Seahawks in better position to use three wide receivers. Like the 49ers, the Seahawks also operate from a two-back offense at times. Using additional wide receivers and running backs leaves less room on the field for tight ends, at least in theory. The Seahawks aren't going to stray from their offensive philosophy, but there are some personnel-related matters to sort out during training camp, including how much a second tight end might play.
June, 7, 2013
6/07/13
12:34
PM ET
»
NFC Eight in the Box
:
East
|
West
|
North
|
South
»
AFC
:
East
|
West
|
North
|
South
A first-year player who has turned heads in OTAs/minicamps:

Arizona Cardinals:
Jonathan Cooper
, LG. Cooper moved into the starting lineup right away. The team moved incumbent left guard
Daryn Colledge
to the right side. Arizona also released incumbent starting right guard
Adam Snyder
. Guards generally don't stand out until players put on the pads. Cooper has stood out for his athletic ability. The Cardinals thought they were getting the most athletic guard in the draft, and Cooper has looked the part to this point.

St. Louis Rams:
Tavon Austin
, WR. These practice sessions without pads are set up for wide receivers with great speed. Austin is that type of receiver. The differences in speed between NFL players can be imperceptible within a position, but those watching the Rams practice could see the difference between Austin and the typical wideout. All the usual disclaimers about running around in shorts apply, of course, but the Rams drafted Austin largely for his speed. They haven't been disappointed so far.

San Francisco 49ers:
Ricardo Lockette
, WR. Lockette made his NFL debut in 2011, but he still qualifies as a first-year player under the league's classification system. The receiver position is in focus anyway because
Michael Crabtree
's injury opened the door for others to seize playing time. Injuries have prevented veteran wideout
Mario Manningham
from practicing altogether. Another wideout,
Kyle Williams
, has been cleared only for individual drills. Enter Lockette. He has been living with and working out with quarterback
Colin Kaepernick
off the field and developing chemistry with him on it.

Seattle Seahawks:
Luke Willson
, TE. The fifth-round choice from Rice caught just about everything thrown his way when OTAs got going. He has had some ups and downs since then, but the Seahawks are high on him. Veteran backup tight end
Anthony McCoy
landed on injured reserve with a torn Achilles tendon, giving Willson every opportunity to work his way into the No. 2 role behind
Zach Miller
. Seattle could become more of a three-receiver team with
Percy Harvin
joining a group featuring
Sidney Rice
,
Golden Tate
,
Doug Baldwin
and impressive (so far) rookie
Chris Harper
. There will still be room for formations with two tight ends. It's looking as though Willson will play.
May, 13, 2013
5/13/13
12:46
PM ET
NFC West teams naturally expect more from earlier draft choices such as 2013 first-rounders
Jonathan Cooper
,
Tavon Austin
,
Eric Reid
and
Alec Ogletree
.
All four of those early choices could wind up starting in 2013. It's an upset if they do not.
Last year, 92 of the 135 players (68.1 percent) drafted in the first four rounds started at least one regular season. Twenty-five of the 118 players (21.2 percent) drafted in the final three rounds found their way into the starting lineup.
With that disparity in mind and with rookie camps having concluded Sunday, I've singled out five late-round picks from 2013 with a shot at making at least one start as a rookie, in my view. Who else comes to mind from your vantage point?
May, 10, 2013
5/10/13
8:09
PM ET
RENTON, Wash. -- A few notes after watching the
Seattle Seahawks
' rookies practice on a clear, 75-degree day at team headquarters along the Lake Washington shoreline:
Veteran presence: Veterans were not allowed on the field, but Seahawks cornerback Richard Sherman showed up about 20 yards offshore -- on a personal watercraft. For a few minutes, photographers had their backs to practice while they snapped away, their cameras trained on the Seahawks' brashest player. Not that Sherman likes attracting attention. "Was that Sherm?" head coach Pete Carroll quipped, adding in jest that he thought he'd seen workaholic quarterback Russell Wilson peeking over the hill on the other side of the field, away from the water.

[+] Enlarge

AP Photo/Ted S. WarrenBarred from attending, veteran corner Richard Sherman watched Seahawks rookies from the water.

Lots of faces: Seattle had 67 rookies in camp, including 38 players attending on a tryout basis. There were 12 draft choices and 17 players signed as undrafted free agents. Printed rosters have seldom been so helpful.

Wilson's legacy: Carroll opened a morning staff meeting by showing video of Wilson struggling with some of the basics, including center exchanges, during the rookie camp last year. Wilson finished the season with a playoff victory and an appearance in the Pro Bowl. Carroll wanted to put into perspective the first day of rookie minicamp so his coaches wouldn't get down on a young player for struggling early.

Tight end stands out: The recently released tight end Darren Fells was among those trying out. He caught passes consistently, but fifth-round choice Luke Wilson was the tight end standing out most demonstrably. He beat safeties in coverage to make catches on the run and separated from defenders. Carroll singled out Wilson as impressing him. Carroll: "Luke stood out today. He has really good speed and it showed. Caught the ball really well. That was probably the brightest spot that you could really see a guy jump out on. That was a really good first impression."

Inside job: Third-round choice Jordan Hill and fifth-rounder Jesse Williams worked together at defensive tackle, sometimes with seventh-rounder Ty Powell lining up in what appeared to be the "Leo" position. Hill and Williams are roommates. Hill played at Penn State, Williams at Alabama. Both played in tradition-rich programs led by old-school coaches, at least until Bill O'Brien succeeded Joe Paterno at Penn State. Carroll's new-school approach comes through loud and clear in the music playing over speakers during practice. Hill said that "wasn't going on in my first three years" at Penn State. "I just enjoy, you get to be yourself," he said.

Scruggs update: Second-year defensive end Greg Scruggs underwent reconstructive knee surgery Thursday after suffering a non-contact injury while planting awkwardly during a training drill. It's too early to know whether Scruggs could factor at all during the 2013 season.

Not much to go on: Players wore helmets, jerseys and shorts for practice. No tackling or hitting was allowed. Coaches encouraged defenders to make a quick attempt at stripping the ball from runners before letting them proceed upfield. This was not football, in other words. However, coaches were able to see players move. Second-round running back Christine Michael stood out for his quickness, balance and for the primal scream he let out after running to the end zone on one play. Michael also stood out for his biceps. He practiced in a No. 33 jersey with no sleeves.

No vets around: Years ago, before the current labor agreement went into place, teams held mandatory camps for veterans and rookies at this time of year. Only rookies are allowed under the current agreement. That made it impossible to compare rookies to the players they'll challenge for roster spots and playing time.

Smith at center: Seventh-round pick Jared Smith worked at center. He could project at guard, too. The Seahawks are converting him from defensive tackle, a transition J.R. Sweezy made last year. Carroll singled out Smith's quickness. He also praised seventh-round guard Ryan Seymour for having good feet.

Harper's hands: Carroll liked what he saw from fourth-round receiver Chris Harper. Carroll: "He caught the ball beautifully. He really has great hands."
That's it from here. Every team in the NFC West is holding its rookie camp Friday through Sunday. I would expect each team's coaches to come away excited about new players. That's a good thing. Draft choices come as-is, without receipts. There are no refunds.
April, 29, 2013
4/29/13
9:00
AM ET
The NFC West's fiercest current rivals, San Francisco and Seattle, both wound up selecting tight ends from Rice University in the recently completed NFL draft.
How the 49ers and Seahawks selected those tight ends invites a question: Did the 49ers snatch from Seattle a player the Seahawks would have selected?
Tight end was seen as a primary need for the 49ers and a secondary one for the Seahawks based on how each team has run its offense recently.
When NFL teams selected three tight ends between the 21st and 47th selections, San Francisco risked watching more players at the position come off the board before it was scheduled to select with the 61st overall choice. So, with Green Bay on the clock at No. 55 and Seattle scheduled to pick at No. 56, the 49ers traded into the Packers' slot to select Vance McDonald, the more prominent of Rice's tight ends last season.
Seattle then traded back six spots to No. 62 before selecting Texas A&M running back
Christine Michael
. The Seahawks later selected McDonald's teammate, tight end Luke Willson, in the fifth round at No. 158 overall.
To my knowledge, no one asked 49ers general manager Trent Baalke or his Seattle counterpart, John Schneider, about the sequence when San Francisco jumped past the Seahawks to select McDonald. The two men worked together in Washington years ago and could have a good feel for the other's tendencies. However, there is no way the 49ers could have known whether the Seahawks or any other team was going to select McDonald between the 55th and 61st selections.
"There's times when you want to sit tight and there's a lot of times where people will question, 'Well, why did you move up five when he would have been there?'" Baalke told reporters when discussing trades in general. "Well, there's no proof that the player would have been there. So, you do what you need to do to make sure you get the players you want to get."
By trading up six spots, the 49ers moved past Atlanta, New England, Denver, Houston and Seattle in the draft order. Three of those five teams selected tight ends later in the draft. Atlanta used a fourth-rounder for Stanford's Levine Toilolo. Seattle used the fifth-rounder for Willson. Houston used a sixth-rounder for Ryan Griffin from Connecticut.
Baalke could have sized up those teams' needs collectively when deciding to move up for McDonald. They might not have had only the Seahawks in mind.
The 49ers had enough picks to move around the board freely to fill needs at values agreeable to them. The price they paid Green Bay for the 55th choice -- the 61st and 173rd picks -- was lower than the price Seattle commanded for the 56th selection (Baltimore handed over the 62nd, 165th and 199th picks for that one).
[+] Enlarge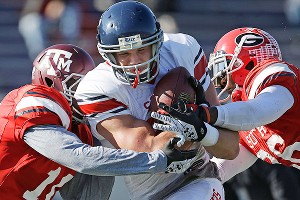 AP Photo/Dave MartinSan Francisco traded up in the second round to select Rice tight end Vance McDonald.
Comparatively, then, the 49ers got a good deal. Why not move up if the price is right? The Packers have long been known as a team willing to move back for additional picks. They simply could have made for a convenient trading partner whether or not Seattle was scheduled to select one spot later.
Teams usually have several players in mind for each selection they hold. They move up when the list of players they consider worthy of a certain value range dwindles, or if a specific player within striking distance is rated far higher than others likely to be available to them. They move down when the list of worthy players is longer.
"I don't know that you ever trade back six, seven, eight picks and hope one player's there," Baalke said when explaining why the 49ers traded back six spots to No. 40. "That's risky business. So, we had a number of players that we were willing to take. And at that time we felt that one of that group of guys was going to be available at 40, and we would have been happy with all of them."
The fact that McDonald and Willson both played at Rice before winding up in the NFC West seems coincidental.
"Vance was obviously the more stout guy, if you will," Schneider said. "Willson was more of the down-the-field threat, but there is no question Vance was much more involved in their offense."
Injuries limited Willson in 2012. He previously played first base on the Canadian national team and spent time in the Toronto Blue Jays organization. According to the Vancouver Sun,
Willson posted impressive numbers
at his pro day: 4.46 seconds in the 40-yard dash, 38-inch vertical leap, 10-plus feet in the broad jump and 23 reps of 225 pounds in the bench press.
"We like the fact that for us he was the second-best tester of all the tight ends in this draft," Schneider said. "He is 6-5 1/2, running 4.51 and great hands, can get down the field. He is quick off the ball, gets his shoulders around quick. He is a really interesting prospect for us."
Baalke said his team valued McDonald's versatility in particular. McDonald also led all tight ends at the NFL scouting combine with 31 reps on the bench press.
"He's 260-plus pounds, he's got a huge wingspan, he's got big hands," Baalke said. "He lines up all over the place. He lines up a little bit in the backfield. He lines up on the line of scrimmage. He lines up in the wing position, off the line of scrimmage. And he also lines up outside. He's smart, he's tough and he is a good fit within our system."
NFL SCOREBOARD
Thursday, 9/4
Sunday, 9/7
Monday, 9/8