November, 7, 2010
11/07/10
11:57
AM ET
October, 8, 2010
10/08/10
9:49
PM ET
From one special teams coach to another, Mike Westhoff sent his regards to John Bonamego.
The
Miami Dolphins
fired Bonamego on Tuesday morning. Westhoff, the
New York Jets
' coordinator, said he reached out to let him know others were thinking of him.
"I'm the guy to do it," said Westhoff, who's in his 28th NFL season. "I've been around the longest. I think I know enough that I can talk from experience on both sides of it, from having good days and bad days. ... I know one thing. I know he appreciated it when we talked."
[+] Enlarge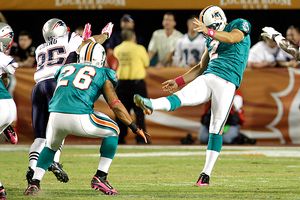 AP Photo/Lynne SladkyBrandon Fields' blocked punt was just one of three special teams disasters that plagued the Miami Dolphins on Monday.
The Dolphins fired Bonamego hours after the
New England Patriots
annihilated them 41-14. The Patriots scored 21 points off special teams gaffes: a 103-yard kickoff return, a blocked punt and a blocked field goal.
Westhoff called a play that helped the Jets block a Dolphins punt the week before. As a result, the Dolphins cut linebacker
Erik Walden
supposedly for not picking up Jets safety
Eric Smith
on that punt block.
"I helped it happen," Westhoff said of the Bonamego's dismissal, "but it's happened to everybody."
Westhoff coached for the Dolphins from 1986 to 2000. His tenure ended when Dave Wannstedt fired him.
Westhoff said he was disappointed in the Dolphins' decision and sounded bothered Bonamego took the fall alone, with no players getting released, too.
One Dolphins player was at fault for two of the three special teams implosions, Westhoff claimed.
"It's interesting that there was one particular guy that was involved in two of those major breakdowns," Westhoff said. "Frankly, I don't think he could play. I don't want the guy either."
Who could this player be?
"I'm not going to tell you," Westhoff said. "That wouldn't be fair, but there was a common denominator."
Let's try to figure it out.
We can eliminate the blocked field goal as a play Westhoff was referring to for two reasons: 1) It was pretty obvious left wing
Lydon Murtha
simply let Patriots safety
Pat Chung
blow right past him; 2) nobody on the field-goal unit was on for punt protection or kickoff coverage.
Only four players were on both the punt and kickoff units:
Bobby Carpenter
,
Patrick Cobbs
,
Lex Hilliard
,
Tim Dobbins
and
Tyrone Culver
.
We can eliminate Dobbins and Culver from the discussion because they lined up on the right side for the punt, and Chung's block came through the left. Carpenter was the left tackle. Hilliard was the left wing. Cobbs was the personal protector.
On
Brandon Tate
's 103-yard kickoff return up the sideline, when he "broke around the edge, he had two unblocked guys," Westhoff said. "Make the tackle."
Carpenter was the first to miss.
Nolan Carroll
appears to be the other unblocked pursuer Westhoff referred to, and he's not on the other units.
Carpenter, a backup linebacker, was the first-round draft choice of the
Dallas Cowboys
in 2006, when Dolphins consultant Bill Parcells and general manager Jeff Ireland were there.
"If they had included some personnel with [Bonamego's dismissal], I might have not felt so bad," Westhoff said. "That bothers me. I know the guy worked hard. It's their business. It's not mine. They have the right to decide their own. I respect that, but I'm disappointed when those things happen."
October, 5, 2010
10/05/10
2:21
AM ET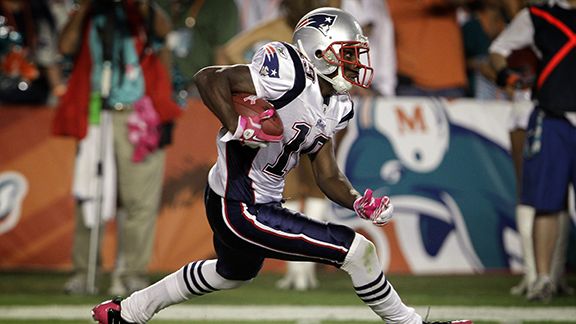 AP Photo/Lynne SladkyNew England's Brandon Tate returned the opening kick of the second half 103 yards for a score.
MIAMI -- With nearly a full quarter left to play Monday night,
Miami Dolphins
fans started shuffling up the Sun Life Stadium steps and out the tunnels.
The Dolphins had been ahead at halftime yet were down by only 20 points. It might as well have been 200.
A victory was hopeless at that point. Forget their big-armed quarterback. Never mind their superstar receiver. Their potent backfield pair was moot. Their respected defense didn't matter either.
There was no reason to have an ounce of faith in the Dolphins with 14:05 still on the clock against the
New England Patriots
.
In reality, the Patriots' lead was conquerable. How they accumulated it, however, was completely demoralizing.
In the first 15:55 of the second half,
Brandon Tate
returned a kickoff for a touchdown, Patrick Chung blocked a punt to set up a quick touchdown and
Kyle Arrington
returned Chung's blocked field-goal attempt for a touchdown to thrust them toward a
41-14 throttling of the Dolphins
.
"It was a mess," Dolphins head coach Tony Sparano said. "It's embarrassing, and these fans deserve better than that."
Special teams doomed the Dolphins so badly you have to wonder if coordinator John Bonamego can keep his job. (
Update:
Bonamego was fired Tuesday
.)
The Dolphins had little shot to be competitive once they surrendered game-breaking after game-breaking after game-breaking play in the kicking game.
"It's just one strike, one big play that just deflates your team," said Dolphins cornerback
Nolan Carroll
, who was on the field for Tate's 103-yard kickoff return to open the second half. "It takes the air out of you."
Dolphins quarterback
Chad Henne
wasn't exactly
Dan Marino
.
Scott Mitchell
maybe. Henne threw three bad interceptions, one of which Chung -- you can easily imagine Sparano throwing his head back and shouting to the heavens "Chuuuuuuuuung!!!" -- returned 51 yards for a touchdown to complete the scoring.
But he had a hot start, completing his first seven passes for 93 yards and a touchdown. The Dolphins had a 7-6 lead at the intermission.
"We had momentum coming into the second half," Carroll said. "We felt pretty good about our defense going out on the field and stopping them."
The Dolphins' defense played a solid game. Although it was hardly on the field in the second half, it limited
Tom Brady
to one touchdown pass and
Randy Moss
to zero catches for only the fifth time in his career.
About the only thing the Patriots didn't spring on special teams was a fake kick for a touchdown, but that at least would have incorporated the element of surprise.
"It seemed like they drained us," Dolphins linebacker
Tim Dobbins
said of the special-teams breakdowns. "We tried to fight back, and they just kept making plays and making plays."
Sparano spat out a laugh when asked whether the special teams coach or his players were to blame.
[+] Enlarge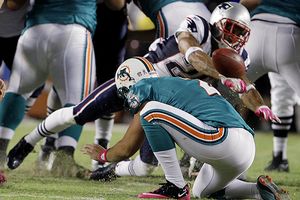 AP Photo/Lynne SladkyPatrick Chung's block of this Miami field-goal attempt was scooped up by Kyle Arrington and returned 35 yards for a touchdown.
"Next question," he eventually muttered.
The Dolphins stagger into their bye week with a 2-2 record after opening the season with a pair of road victories. That seemed encouraging, a 2-0 start against the
Buffalo Bills
and the
Minnesota Vikings
and with all of their home games left. You had to like the Dolphins' chances to make the playoffs.
They're 0-2 at home and facing a rugged second quarter of the schedule. Their next four games are at the
Green Bay Packers
, versus the
Pittsburgh Steelers
, at the
Cincinnati Bengals
, and at the
Baltimore Ravens
.
Miami has much to think about on special teams, many flaws to correct.
Perhaps the week off will help Bonamego work through some issues. Perhaps it's the perfect time to bring in somebody else.
"It's not him, not at all," Carroll said in defense of Bonamego. "It starts with the players on the field. He can only do so much for us. It's our job to execute. He knows exactly what he's doing. He does his job to a 'T.' Now it's on us to execute."
Brandon Fields
, who had two punts blocked in the preseason, had one stuffed for the second straight week -- and on a similar crisscross ploy each time. The
New York Jets
pulled it off eight days earlier in roughly the same spot on the field. The Dolphins even released linebacker
Erik Walden
for blowing his assignment.
Sparano said they worked all week on preventing the block from happening again.
On the blocked field goal, a 53-yard attempt by Pro Bowl kicker
Dan Carpenter
that could have drawn the Dolphins within 10 points, Chung split linemen
Lydon Murtha
and
Joe Berger
on the left side.
Sparano said Chung's blocks were unrelated in terms of scheme or philosophy, which, to me, is worse than if there'd been a common thread. That means the Dolphins had two glaring weaknesses Patriots special teams coach Scott O'Brien exploited.
Answers are in short supply.
Fields, Carpenter and long-snapper
John Denney
weren't interviewed after the game and had cleared out of the locker room by the time Sparano's postgame news conference ended. The Dolphins don't allow assistant coaches to be talk to the media after games.
"It's a bad taste in your mouth," Sparano said, "but we put ourselves in this position. So we're going to have to deal with it. We're going to have to taste it now for the next couple weeks."
September, 12, 2010
9/12/10
12:18
PM ET
ORCHARD PARK, N.Y. -- Here are the inactives for Sunday's game between the
Miami Dolphins
and
Buffalo Bills
in Ralph Wilson Stadium.
Most notable is
Chad Pennington
officially assuming the No. 2 role ahead of
Tyler Thigpen
and the stand-down order to outside linebacker
Ikaika Alama-Francis
, who might have started but woke up sick in the morning.
Miami Dolphins
Buffalo Bills
May, 13, 2009
5/13/09
7:36
AM ET
Posted by ESPN.com's Kevin Seifert
Green Bay officials made an interesting and aggressive move Tuesday by holding a promotional tour stop in Hudson, Wis. As most Upper Midwesterners know, Hudson is only a couple interstate exits away from the Minnesota state line and in many ways has become a suburb of St. Paul. I'd say it's 45 minutes, tops, from the Metrodome in Minneapolis.
But it's obviously border territory for the marketing arms of two NFC North teams. According to Patrick Reusse of the Star Tribune, tickets for Tuesday's event sold out the first day they were available. About 1,000 Packers fans flocked to Hudson to visit with team president Mark Murphy, safety Nick Collins, receiver Jordy Nelson and linebacker Brady Poppinga.
Murphy found himself answering questions about the organization's relationship with retired quarterback Brett Favre, who apparently is mulling a trip across the border himself. (Murphy reiterated that the Packers will retire Favre's number one day, according to Judd Zulgad of the Star Tribune.)
More interesting than the Favre issue, however, was the Packers' efforts to mobilize western Wisconsin. Reusse reports it's the first time they have visited Hudson in such a formal way. I'm guessing it won't be the last.
Continuing around the NFC North: