June, 24, 2010
6/24/10
10:00
AM ET
Notable players:
LT
Walter Jones
, LG
Steve Hutchinson
, C
Robbie Tobeck
, RB
Shaun Alexander
, QB
Matt Hasselbeck
, FB
Mack Strong
, MLB
Lofa Tatupu
, RCB
Marcus Trufant
, WR
Bobby Engram
, WR
Darrell Jackson
, WR
Joe Jurevicius
[+] Enlarge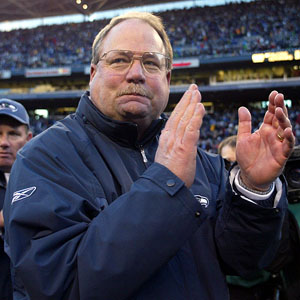 AP Photo/John FroschauerMike Holmgren's 2005 Seahawks were the only team in franchise history to make the Super Bowl.
Analysis:
The 2005
Seattle Seahawks
were the only team in franchise history to win more than 12 regular-season games. They were the only Seahawks team to appear in a Super Bowl, the only one to lead the NFL in points per game or to place more than two offensive linemen in a Pro Bowl.
This was the best team in franchise history by the critical measures. It had a Pro Bowl-caliber quarterback, the best offensive line in the NFL, the league MVP at running back and a defense that played its best where it mattered -- in the red zone. Rookie middle linebacker Lofa Tatupu brought direction to a defense lacking leadership.
Coach Mike Holmgren always said he needed his best players to be at their best for a team to approach its potential. This team had that, but clutch contributions from role players sent the 2005 squad on its way.
Receiver Joe Jurevicius added toughness at receiver while catching 10 touchdown passes, offsetting injuries to Darrell Jackson and Bobby Engram.
On defense, backup cornerback
Jordan Babineaux
made a season-altering play by picking off
Drew Bledsoe
with 14 seconds remaining during a 13-10 victory over the
Dallas Cowboys
in Week 7. Seattle had lost two of its first four games that season. Beating the Cowboys heading into the bye was important, but the matter in which Seattle won the game proved transforming.
"My hope is that every time you can win a game like this where it looked a little grim for a while but they you pull it out, it really helps you down the road," Holmgren said afterward. "It really helps your confidence. Organizations need to win games like this at some point."
The Seahawks had tied the score with 46 seconds remaining on Hasselbeck's 1-yard touchdown pass to backup tight end
Ryan Hannam
(after another backup, receiver
Jerheme Urban
, made a 22-yard reception at the 2-minute warning). Babineaux returned Bledsoe's pass 25 yards, getting out of bounds in time for
Josh Brown
to kick the winning field goal as time expired.
Most impressive win:
The 2005 team was at its dominant best during a 34-14 victory over the
Carolina Panthers
in the NFC title game.
Advanced chemistry:
Teams release injured backups regularly without repercussions, but veteran players protested when management released Urban instead of placing him on injured reserve following a foot injury in November. Urban had made an impression on teammates while catching seven passes for 151 yards. Management gave in to Seattle's veteran leadership, rescinding Urban's release and placing him on IR. The unusual move reflected the strength of the Seattle locker room during a special season.
Honorable mention
1984:
This was the only team in franchise history to rank among the NFL's top five in points scored and points allowed. Kenny Easley was the NFL's defensive player of the year. Steve Largent and Daryl Turner combined for 22 touchdown receptions. Defensive ends
Jeff Bryant
and Jacob Green combined for 27.5 sacks.
1983:
Other Seattle teams had better regular-season records, but the 1983 team recorded two playoff wins, including an upset shocker in Miami. The 2005 Seahawks were the only other Seattle team with more than one victory in the same postseason.
2007:
Losing Hutchinson during the previous offseason hurt, but Hasselbeck set a career high with 28 touchdown passes. Alexander topped 100 yards rushing in an overtime road defeat at eventual NFC champion Chicago in the divisional round.
April, 29, 2010
4/29/10
7:09
PM ET
The Seahawks' have put together
a video highlight package
commemorating
Walter Jones
' career as part of his official retirement announcement.

Jones
Some of the best highlights are near the end, including one featuring Jones driving his man 10-plus yards down the field, then driving him into the turf at Qwest Field.
The Seahawks have produced
another video
with comments from former teammates
Mack Strong
,
Steve Hutchinson
,
Robbie Tobeck
and others. Strong recalls the play against Carolina shown on the video.
"It was a sight to behold," Strong said.
The team is retiring his No. 71 jersey. Washington Gov. Christine Gregoire will declare Friday as "Walter Jones Day" in the state.
Earlier:
An appreciation
.
July, 8, 2009
7/08/09
2:30
PM ET
Posted by ESPN.com's Mike Sando
Former Rams receivers Torry Holt and Isaac Bruce commanded spots on my NFC West all-decade team after leading one of the most-dynamic offenses in NFL history.
Larry Fitzgerald also seemed worthy after posting three 1,400-yard seasons and staking the Cardinals into a late lead with a dramatic 64-yard touchdown reception in Super Bowl XLIII.
With at least three worthy candidates for two spots -- and with receivers Anquan Boldin, Bobby Engram and Terrell Owens more deserving than any of the available tight ends -- something had to give.
"I'm hard pressed to come up with [a tight end] better than Vernon Davis," wrote regular blog contributor Mind of no mind. "But if there is nobody better, then maybe we should drop the TE from the team and go with 3 WR with Bruce."
Done deal.
Holt, Bruce and Fitzgerald became the receivers. That made more sense than adding Davis, Eric Johnson, Jerramy Stevens, Itula Mili or some other relatively unaccomplished tight end to the squad.
Such was the give and take as I sifted through nominations left on the blog and on my Facebook page. One request I couldn't quite accommodate: finding a spot for the legendary Kim Il Zong, a ka The Zonger.
A position-by position look at my NFC West all-decade team follows. Thanks to Adam from Mesa, Ariz., for getting the conversation started (download his suggested team here).
May, 5, 2009
5/05/09
10:16
AM ET
Posted by ESPN.com's Mike Sando

Matt Maiocco of the Santa Rosa Press-Democrat explains why he thinks Alex Smith has failed to realize his potential as the 49ers' starting quarterback. Maiocco: "Of the 49ers' past 32 games, Smith has missed 26 due to injuries to his throwing shoulder. Moreover, three of the six games in which Smith appeared he played with a separated shoulder. Anybody could tell he was in excruciating pain every time he was asked to throw the ball. There might be those that say this is just an excuse. The injuries are not excuses why Smith has not produced the past two seasons; the injuries are facts. Like most, I question just how effective Alex Smith would have been had he remained healthy. That is an entirely different argument."
Lowell Cohn of the Santa Rosa Press-Democrat recently caught up with Smith for an interview. Smith: "I think I'm in a very different place mentally than where I was even last year."
John Ryan of the San Jose Mercury News cites CNBC's Darren Rovell in saying Michael Crabtree's jersey trails only Mark Sanchez's jersey in sales among NFL rookies.
Kevin Lynch of Niner Insider is warming to the 49ers' selection of Crabtree. The biggest concern, in his eyes, is whether the Texas Tech offense inflated Crabtree's production.
John Crumpacker of the San Francisco Chronicle says four of the 49ers' rookies, including third-round choice Glen Coffee, had off-field issues in college. Coffee faced a four-game suspension at Alabama for his role in a textbook scandal. Coach Mike Singletary: "None of these guys caught us by surprise. Some of them have their issues. They're good kids. They want to make better decisions. They want to make the right decisions."

VanRam of Turf Show Times says the Rams' lack of established receivers shouldn't automatically disqualify their offense from a successful season. The Dolphins' three leading receivers last season resemble the Rams' current wideouts, and new Rams coach Steve Spagnuolo was with the Eagles when Philadelphia won without great wideouts.
Steve Korte of the Belleville News-Democrat says learning new terminology is the biggest challenge facing Rams quarterback Marc Bulger. Bulger: "That's the toughest part, just words that carry over from year-to-year, when they mean one thing in one offense and then (something else in) another. Sometimes I'm on the same word with a third different meaning, so you just have to try to block out the past."
Jim Thomas of the St. Louis Post-Dispatch outlines what he thinks Bulger must do to succeed in 2009. Thomas: "Bulger must work the ball more to his backs and tight ends as the young wide receivers develop. He must cut down on mistakes, and get back in the habit of throwing the ball away when nothing's there. An incompletion is always better than a sack or an interception. Accuracy remains one of Bulger's biggest assets, so he needs to make the Rams' new West Coast scheme -- which generally relies on timing and shorter passes -- play to that strength."
Also from Thomas: The Rams' roster is pretty much in place.

William P. Tomisser of Seahawk Addicts says there's a feeling a more unified Seahawks organization is operating more effectively. Tomisser: "How long has it been since we had multiple players (Tatupu, Trufant, Hill, Jones, and Strong for example) who expressed a desire to follow Cortez Kennedy as lifelong Seahawks? Seattle has become a desirable place to play and even though some players, notably from the East coast, still shun the idea of coming out West, more and more marquee players such as [T.J.] Houshmandzadeh are not only happy to come out here but make it a priority."
Dave Boling of the Tacoma News Tribune saw good things from defensive tackle Red Bryant at the Seahawks' post-draft camp. Boling: "The 320-pound Bryant just keeps shoving people around, and looking more comfortable as a run-stuffing force in the middle of the defensive line. Since the job in the middle is to stand ground against double teams and stack up a pile of bodies, nose guards have evolved into squatty, leverage players. At 6-foot-4, Bryant is from a much taller mold. But, according to defensive line coach Dan Quinn, other attributes are more important." Quinn says Bryant has the right temperament.
Danny O'Neil of the Seattle Times sizes up the most competitive positions for the Seahawks. Defensive end comes to mind. Coordinator Gus Bradley: "One of the big things we've challenged Lawrence [Jackson] on is just his overall effort. Through this offseason -- things that he's done -- you're seeing it starting to show up here on the field."
Also from O'Neil: How could NFL.com exclude Aaron Curry from its list of potential impact rookies?
More from O'Neil: Seahawks safety Jamar Adams should be ready for training camp despite suffering a high ankle sprain during the post-draft camp.
ProfessorBigelow of Niners Nation thinks the 49ers are finished with their major offseason moves.
Revenge of the Birds' CardsFan08 cites Ken Whisenhunt's comments during an ESPN.com podcast in revisiting whether the Cardinals preferred Donald Brown to Beanie Wells.
Revenge of the Birds' Hawkwind sizes up the Cardinals' defense. Hawkwind: "The pressure will be on Clark Haggans and Chike Okeafor to produce a pass rush [or] the Cardinals secondary will be in trouble."

Bob McManaman of the Arizona Republic looks at how the NFL's new rule against blocking wedges with more than two players might effect games. Cardinals Pro Bowl special-teamer Sean Morey: "It's hard for me to visualize what it's going to look like until it really happens and until coaches go back to the chalkboard and start drawing up their schemes. Things will definitely be different, I'm sure, but personally, I think there are going to be more high-speed and violent collisions than we already had."
Dan Bickley of the Arizona Republic offers advice for Cardinals receiver Anquan Boldin. Bickley: "As his pity party continues, the love affair is ending. People are getting tired of Boldin's sour mood, and by design, his Q rating is plummeting. He's trying to make you, me and the team so sick of him that he must be traded elsewhere. What a terrible way to go."
Kent Somers of the Arizona Republic says the Cardinals "promptly rejected" Darnell Dockett's most recent trade request.
August, 19, 2008
8/19/08
12:56
PM ET
Posted by ESPN.com's Mike Sando
Like NFL draft analysts, Seattle fullback Leonard Weaver took one look at Justin Forsett and wondered if the diminutive rookie running back could make it in the NFL. Unlike NFL draft analysts -- as far as we know, anyway -- Weaver went straight to YouTube for skills verification.
"I was like, 'Man, I wonder how good this guy really is,'" Weaver said after Forsett finished the team's most recent exhibition game with 261 all-purpose yards. "I kind of questioned it. I went and YouTubed it and I'm like, 'Oh. OK, he's all right!'"
The Seahawks list Forsett at 5-foot-8 and 194 pounds. The 5-8 part appears generous. Weaver is 6-0 and 242. He was also generous, answering a few questions about Forsett, life without Shaun Alexander and his new teammates.
Sando: What did you see on YouTube?
LW: Man, I saw a lot of Cal runs on there. He was breaking tackles. I'm like, 'Man, this little guy is doing all of this?' And it was really good to see.
Sando: But did you spell his name right the first time you searched for him?
LW: I did. I've been taking him under my wing a little bit. I spelled his name right and it showed up.
Sando: So you basically break down film online now?
LW: (laughing) I'm going to do film study online. I'm going to type in Lance Briggs and Brian Urlacher. We going to study everybody.
Sando: What impresses you about Forsett?
LW: First of all, his speed. He has elusive speed. He goes from zero to 10 miles per hour within the matter of a step. He is very elusive and aware. He has great awareness on the field, as you could see tonight. On a couple of runs, he knew where those guys were and he made big plays.
August, 14, 2008
8/14/08
10:20
AM ET
Posted by ESPN.com's Mike Sando
Lowell Cohn of the Santa Rosa Press-Democrat gets 49ers offensive coordinator Mike Martz to open up about his heart condition, Bill Walsh, the pressure he puts on players and the assertiveness he wants from a quarterback.
Matt Barrows of the Sacramento Bee follows up on his earlier blog item about Alex Smith's best friend, David Edwards, committing suicide. Barrows: "Smith said he would call Edwards whenever he needed to escape football. Edwards ran cross country and played golf with Smith. The two participated in fantasy baseball leagues together. According to Smith, Edwards also could talk about politics, music and other topics. And he always was available."
Matt Maiocco of Instant 49ers answers questions from readers. One reader asked whether general manager Scot McCloughan's reputation would suffer if Smith, the first player drafted in 2005, failed to win the starting job. Maiocco: "Technically, Nolan had the 'trigger' in that draft. McCloughan wanted Smith, but so did Nolan. We'll have to let this thing play out. If Smith never gets another chance with the 49ers, McCloughan's rep will be determined by what Smith does in his next place of employment." I think Nolan's handling of Smith will be the enduring story.
More from Maiocco: The 49ers' receivers are having a hard time keeping up with the pace of Martz's practices. Also: Guard Tony Wragge signed a one-year contract extension with a $175,000 bonus, while Takeo Spikes signed a one-year deal worth $1.68 million.
Tom FitzGerald of the San Francisco Chronicle checks in with 49ers fullback Zak Keasey. A former Ivy League linebacker, Keasey excels on special teams. That could give him an edge on veteran fullback Moran Norris as players fight for roster spots.
Also from FitzGerald: J.T. O'Sullivan keeps getting the first-team reps at quarterback, but 49ers coach Mike Nolan keeps saying the three-man race continues.
SI.com offers a Rams camp overview summing up pertinent developments.
Jim Thomas of the St. Louis Post-Dispatch checks in with players on the fringes of the Rams' roster. Kicker Justin Medlock knows there isn't a roster spot for him, but he hopes to catch on elsewhere.
Bill Coats of the St. Louis Post-Dispatch says tight end Joe Klopfenstein enjoyed perhaps his best camp with the Rams. I noticed the Titans blew up a Rams running play during the exhibition opener after Klopfenstein failed to hold his block, but one play does not make a training camp.
Elizabethe Holland of the St. Louis Post-Dispatch says the Rams are taking steps to liven up their fans on game days: "To that end, the Rams have hired a drumline, are making fan-driven changes in game-day music and plan to have a disc jockey on the field during pregame warm-ups." The Seahawks also have a drumline.
Bob McManaman of the Arizona Republic says the Rams' linebackers wear a gaudy championship belt if they lead the team in sacks during a given week. Newcomer Travis LaBoy suggested the idea and even paid for the belt: "According to [Karlos] Dansby, LaBoy paid for the campy hardware, plunking down 'something between $10,000 and $20,000.' With the blessing of the coaching staff, the linebackers will take turns wearing it during the regular season, based on who has the most sacks from game to game."
Brian McIntyre of the Scout.com network updates his Seahawks roster analysis. He puts Ben Obomanu, Courtney Taylor and Jordan Kent ahead of Logan Payne and Michael Bumpus in the receiving race. I'm less certain about that position now than I was two weeks ago.
Dave Boling of the Tacoma News Tribune looks at the Seahawks' move from their old, outdated facility into their palatial digs along the shores of Lake Washington. Former fullback Mack Strong will miss the old place.
Jerry Brewer of the Seattle Times checks in with Seahawks receivers coach Keith Gilbertson, who has officially been around. Gilbertson: "I must be old school, like from the 1920s. I guess I've had a lot of jobs. But I'm 60 years old, too. If you look at most 60-year-old guys, they've been a few places."
Danny O'Neil of the Seattle Times was there when backup Seahawks quarterback Charlie Frye impressed by calling the correct audible. Frye, acquired from the Browns after the 2007 season opener, is getting work with the first team this week while Matt Hasselbeck rests a sore back. Seneca Wallace remains the No. 2 quarterback. Frye could get the start in the second exhibition game. He'll play extensively.
Frank Hughes of the Tacoma News Tribune has more from Frye. He quotes Wallace as saying Frye has definitely improved since last season.
Clare Farnsworth of the Seattle Post-Intelligencer touches on Frye at the bottom of a story about new quarterbacks coach Bill Lazor. The Seahawks hired Lazor after longtime quarterbacks coach -- and franchise icon -- Jim Zorn became the Redskins' head coach. Lazor also offers advice on diaper changing. Seriously.
NFL SCOREBOARD
Sunday, 2/2
WEEKLY LEADERS