April, 25, 2012
4/25/12
6:09
PM ET
Relax Carolina fans. You no longer have to worry about the "Madden Curse."
Your quarterback,
Cam Newton
, will not be on the cover of Madden 13. The winner was just announced and it is Detroit receiver
Calvin Johnson
.
He narrowly edged out Newton in an election that included about 20 million votes. Johnson and Newton started off in a field of 64 players and fans narrowed it down through a series of head-to-head votes.
I know some Carolina fans voted against Newton because they didn't want to subject their quarterback to the curse. I'm not a big believer in curses and didn't think Newton was bound for a bad season if he had won. But I did grow up a Boston Red Sox fan, so I at least understand why some people believe in curses.
So maybe it's a good thing Newton isn't on the cover.
April, 18, 2012
4/18/12
10:52
AM ET
This may not be news that a lot of
Carolina Panthers
fans want to hear. But quarterback
Cam Newton
has made it all the way to the
final round of the Madden 13 Cover Vote
.
Newton is up against Detroit receiver
Calvin Johnson
and the winner will be announced April 25.
I know there's apprehension about seeing Newton on the cover of the popular video game. That all stems from the alleged
"Madden Curse''
. There's obviously a precedent that some guys who have been on the cover have been injured or had bad seasons. But this hasn't applied to everyone that's been on the cover.
I say Carolina fans should embrace the fact Newton is up for this honor. It's a sign of how far the franchise has come in recent years. Newton is the reason Carolina will play
two prime-time games
in 2012.
Like it or not, Newton's ability and personality automatically make him a drawing card. You can vote for him or not, but be ready to see him on the cover because it probably will happen.
April, 6, 2012
4/06/12
9:00
AM ET
Cleveland Browns
quarterback
Colt McCoy
knows it's been a bad few months when he can't toss a few passes without getting an entire school in trouble.
McCoy
In Springfield, Ill., last month to make an appearance at an annual Fellowship of Christian Athletes banquet, he threw balls to students of Sacred Heart-Griffin High School, including one football player. That prompted someone to submit a complaint to the Illinois High School Association about whether the workout represented an illegal practice, according to the
Springfield State Journal-Register
.
What? This is too late for April Fools'. I don't see Ashton Kutcher around so no one is getting punked. It's hard to believe that anyone thought anyone else was gaining an advantage because McCoy threw a few harmless passes before, let me stress this again, a
Fellowship of Christian Athletes
banquet.
Let me answer the complaint: No, this wasn't illegal. The only thing wrong about this situation is that someone submitted a complaint.
"He shared his faith and played with them and threw the ball around a little bit," Sacred Heart-Griffin football coach Ken Leonard told
Fox News
. "It was unbelievable experience. I'm sorry if any rules were broken, but in this instance, if I was wrong, I don't want to be right."
Marty Hickman, executive director of the Illinois High School Association, told the State Journal-Register that the matter is being reviewed.
This past year has been so difficult that McCoy has to wonder whether he was on the cover of the Madden video game.
His 2011 season ended with a concussion that knocked him out of the final three games. His starting job would've gone to either
Robert Griffin III
or
Sam Bradford
, if the Browns reportedly had their way this offseason.
Now, McCoy finds out that he can't throw a football without getting scrutinized.
April, 27, 2011
4/27/11
6:41
PM ET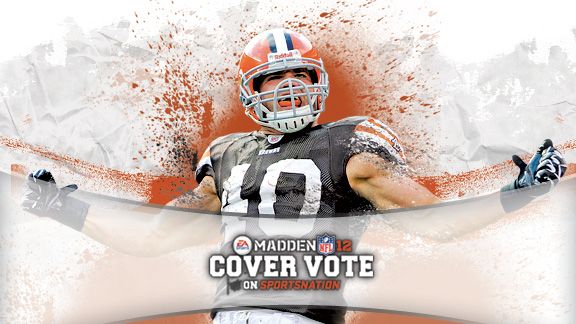 ESPN.com IllustrationPeyton Hillis does not believe in the Madden curse and says he's looking forward to bucking the trend.
Whether
you believe in the infamous "Madden curse"
or not, it's worth noting the popular video game series is undefeated when it comes to injuring players in the AFC North.
Cleveland Browns
running back
Peyton Hillis
received
a great honor Wednesday
by becoming the third AFC North player on the "Madden" cover. He capped
an amazing run
through the tournament by beating
Philadelphia Eagles
quarterback
Michael Vick
in the finals. But history suggests Hillis should beware, because once selected, players in this division have not been able to avoid injuries.
Pittsburgh Steelers
safety
Troy Polamalu
was the most recent AFC North player on the "Madden" cover in 2009. Coming off a Super Bowl victory, things immediately went downhill the following season as Polamalu injured his knee in Week 1 and missed 11 games. The Steelers imploded without their star safety by failing to defend their title and missing the playoffs.
In 2004
Baltimore Ravens
middle linebacker
Ray Lewis
was on the cover. He broke his wrist but only missed one game. He tried to play through the injury but it wasn't enough, as the Ravens missed the postseason. The following season Lewis injured his thigh and missed 10 additional games.
Will Hillis do what Lewis and Polamalu could not by avoiding injuries in 2011? Hillis believes he can.
"For people to believe in this so-called curse, I can't wait to prove people wrong," Hillis told ESPN.com Wednesday. "From what I believe and where I am in my spiritual life, it would be good to prove them wrong in that sense."
The Browns cannot afford to lose Hillis, who rushed for 1,177 yards last season. They do not have many weapons on offense and relied heavily on Hillis in both the running and passing game. Cleveland's 2010 season tanked towards the end when Hillis injured his ribs.
Cleveland is hoping second-year tailback
Montario Hardesty
can come back strong from a torn ACL. The team also will explore getting another running back in this week's NFL draft.
Based on the lengthy history
of the "Madden curse," adding insurance behind Hillis is probably a good idea.
December, 10, 2010
12/10/10
1:00
PM ET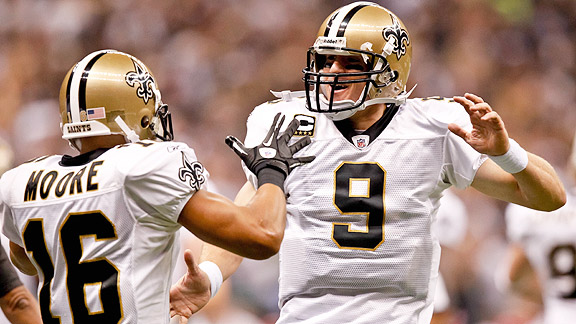 Derick E. Hingle/US PresswireNew Orleans quarterback Drew Brees says the Saints are in "crunch time."
Their fans like to say the
New Orleans Saints
are flying beneath the radar, but that's simply not true.
There might have been a bit of turbulence on takeoff, and the rise to 30 points a game took longer than expected. But in the last month, the bell has sounded indicating the Saints are free to move about the cabin, all over the field and maybe even straight back to the Super Bowl.
"Just kind of hitting our stride,'' New Orleans quarterback
Drew Brees
said. "Midseason form is what you guys like to call it. But we're getting into crunch time here. This is December. These are the games you want to remember. These are the games that kind of define your season in a lot of ways where you fit into the whole playoff picture. You want to play your best football in this stretch.''
That's precisely what the Saints have been doing. They've won their last five games and scored 30 or more points in each of the last four games. Brees has thrown for more than 300 yards in four of the last five games, and
Robert Meachem
and
Devery Henderson
are breaking free with regularity on deep routes.
It's starting to look a lot like last season, when the Saints were lighting up scoreboards and winning the Super Bowl. The early-season panic that swept Bourbon Street when the Saints were looking only ordinary on offense has faded with each touchdown in the five-game winning streak. The realization is setting in that the 9-3 Saints are right on the heels of the 10-2 Falcons in the NFC South.
The two teams play each other Dec. 27 in a game that could go a long way in deciding the division. But there are things to take care of before that. The Saints host St. Louis on Sunday and travel to Baltimore next week. The Falcons are pretty much guaranteed a win at Carolina on Sunday, and they have to fly cross-country to Seattle next week.
All the Saints can do at this point is take care of themselves, and recent events have put them in a prime position to do this. In some ways, the Saints are in a better spot now than they were a year ago. Last season, they started 13-0, lost their final three regular-season games and sort of limped into the playoffs.
This season, at least on offense, the Saints appear to be headed for the peak -- or at least deep down the field -- at the right moment. The deep passing game is prospering when it matters most. Meachem has at least one catch for more than 50 yards in the last two games. Henderson, who had a 57-yard catch in a Thanksgiving victory at Dallas, also seems to be emerging at the right time.
Why is the deep passing game suddenly working so well? Coach Sean Payton points first to Brees.
"He's playing at a high level,'' Payton said. "He's playing very efficiently. Each week we keep looking at opportunities for our players and it varies where the shot plays go. Meachem had a few this past week and Devery at Dallas. It's something in each plan where we want to aggressively get the ball down the field.''
Early in the year, when Brees and the offense weren't putting up huge numbers, conspiracy theories were flying. That's understandable -- Brees was on the cover of this year's "Madden'' video game, and New Orleans is a town that believes in voodoo and curses. Theories were also flying that Brees was struggling because he banged up his knee in a home loss to Atlanta and wore a brace for a few weeks. There were even rumors that Brees was playing despite major knee damage.
But all that was untrue, and the talk of the "Madden Curse'' has pretty much disappeared over the last month. Brees is back to the Brees of old, and the strongest proof of that came this week when the quarterback was asked whether he feels he's been playing better. Keep in mind, there generally is not a person more critical of Brees than Brees. But even the quarterback is willing to admit he believes he's playing better these days.
"I do,'' Brees said. "I feel like early on for whatever reason some of the breaks weren't going my way. I wasn't quite as sharp as I wanted to be. I think a lot of that was timing and just getting into it and getting going again.''
[+] Enlarge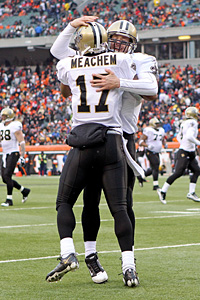 Andy Lyons/Getty ImagesSaints receiver Robert Meachem and quarterback Drew Brees have been having success on deep routes as of late.
But the surge by New Orleans' offense isn't simply due to Brees. There are reasons that Meachem and Henderson suddenly are getting open downfield and
Marques Colston
consistently is getting open in the medium-range passing game and the red zone.
"I think we're running the ball a little better in this last quarter of the season, if you look at it statistically,'' Payton said. "If you're able to do that, you're able to get some of the looks that you would prefer in regards to your down-the-field shots."
As long as Payton is coaching this team, the Saints never will be perceived as a running team. But Payton will be the first to tell you that the running game is an important part of his offense and that he's always seeking some sort of balance between the run and the pass.
He's found it in a very unlikely place -- undrafted rookie running back
Chris Ivory
. With top two running backs
Reggie Bush
and
Pierre Thomas
hurt for much of this season, the Saints were searching for some consistency out of the backfield early on. Defenses weren't even worrying about the running game.
Ivory broke off a 55-yard touchdown run in last week's win at Cincinnati, and he's run for five touchdowns in the last three games. Bush has returned from a broken leg to play in the last two games, although the Saints are taking a very gradual approach to getting him involved in the offense.
The news keeps getting better. Thomas hasn't played since September because of an ankle injury, but it appears he might return Sunday. Look for Thomas to be worked in slowly, like Bush, and for Ivory to keep getting the bulk of the carries, at least for the short term.
But, come the final weeks of the regular season and in the playoffs, the Saints might have three strong options out of the backfield. That's good news for the running game. But it might be even better news for the passing game and the entire offense.
"As you effectively run the ball, it's a little bit harder to sit in the same soft zone coverage and two-deep safety looks,'' Payton said. "I think it all goes hand-in-hand. Our ability to run the ball efficiently and then come off of it with play-action or a drop-back pass, I think that goes together."