NFL Nation:

Manchester United
January, 21, 2012
1/21/12
1:15
PM ET
When I read the story Friday about the
St. Louis Rams
agreeing to play a home game
in London each of the next three seasons, I couldn't help but think how it could have been the
Tampa Bay Buccaneers
.
They had been the team that had appeared ticketed for an annual overseas game. They played in London in October and had played there in 2009. In the past, Commissioner Roger Goodell had said the Bucs had expressed interest in playing an annual game.
But, very quietly, Bucs co-chairman Joel Glazer said that interest had disappeared. During the news conference to announce the firing of coach Raheem Morris in early January, Glazer let it be known that the Bucs had
informed the league
they didn't want to "host'' London games in the foreseeable future. He didn't go into much detail on the rationale and only made passing mention of having goals to achieve in Tampa that were more important than going overseas.
[+] Enlarge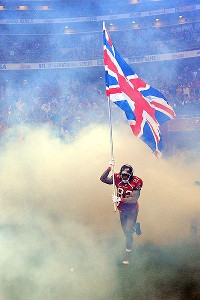 Kyle Terada/US PresswireKellen Winslow and the Buccaneers played the Bears in London's Wembley Stadium in October.
So the Rams have taken the plunge. Like the Bucs, they're a team whose owner also has an English soccer team. Rams owner Stan Kroenke owns Arsenal, while the Glazer family owns Manchester United. Like the Bucs, who have struggled with home attendance in recent years, the Rams are a team that has faced some speculation about their long-term future in their home city.
The Rams just threw some more gas on that fire. But the more I think about Glazer's brief remarks about pulling out of consideration for London trips, the more I view it as a way for the Buccaneers to put out some flames in Tampa Bay and that's a good thing.
Let's be real honest. For many reasons, some which I understand and some I don't, the Glazers aren't very popular with the Tampa Bay fan base. People say the Glazers don't care about the Bucs or their fans.
But I think the move to pull out of London games is evidence to the contrary. When the Bucs were going to London, they liked to talk about building their international fan base. When they pulled out, I think they were quietly admitting they're focusing on their local fan base.
Sometime during the season, the Bucs sent out surveys to their season-ticket holders. The surveys asked a lot of questions about many different topics. But one strong message that came back to the Glazers was that their local fans didn't like the team playing in London and fans didn't like giving up a home game.
I think that's the major reason why the Bucs withdrew from consideration for future trips. They know they've got attendance issues to fix and satisfying the fans is one way to move in that direction. They also ended speculation the team eventually would move to London on a permanent basis.
It's a small step in the right direction. But, in this case, I think the Bucs at least showed they're listening to their fans. There is a lot more work to be done before the Glazers and the Bucs are truly embraced by the Tampa Bay community.
Spending a little money on free agency would be a much bigger step and would excite the fans much more. So would hiring a new coach, preferably before February rolls around.
But whether people realize it or not, I think when Glazer said the Bucs had changed their tune on London, it was a message from One Buccaneer Place that the team is at least starting to work toward patching things up with its fans. Let the Rams be the ones to go international and deal with the domestic consequences.
January, 2, 2012
1/02/12
3:54
PM ET
TAMPA, Fla. -- The
Tampa Bay Buccaneers
, who had been considered a lock to play in London on a regular basis in the coming years, no longer plan on going overseas.
At the end of a Monday news conference to discuss the firing of coach Raheem Morris and how the search for a new coach will proceed, team co-chairman Joel Glazer said London no longer is in the team's plans.
Glazer said the Bucs recently informed the NFL that they "wouldn't want to be participating (in London games) in the foreseeable future''.
The Bucs played in London in 2009 and this past season. The Glazer family also owns the Manchester United soccer team.
Tampa Bay's 10-game losing streak started with a loss to the
Chicago Bears
in London in October. But Glazer said that's not necessarily the reason the team has decided to pull out of consideration for future London games.
He cited a desire to work toward other goals in Tampa.
October, 22, 2011
10/22/11
10:25
AM ET
At a forum in London on Saturday, NFL commissioner Roger Goodell said the
Tampa Bay Buccaneers
have expressed interest
in playing an annual "home'' game overseas.
The Bucs are scheduled to "host'' the
Chicago Bears
on Sunday at Wembley Stadium. The team previously played in London in 2009. When announcing the passage of a resolution to continue games in London through 2016, league officials said teams will be allowed to volunteer for one game a year in London and also implied they'd like a team to make repeat visits to help create a fan base in the United Kingdom.
The Bucs will become the first team to play in London twice in the regular season with Sunday's game and it sounds like there's a good chance they'll be back.
"I think they recognize that the growth of the league is important and they've been leaders in this area,'' Goodell said. "I think they want to see the Bucs become a global franchise and I think that's a great thing for Tampa and a great thing for the NFL.''
The league has talked about eventually basing a team in London on a permanent basis. Tampa Bay's willingness to play in London and the fact the team's owners (the Glazer family) also own the Manchester United soccer team have led to speculation that the Bucs could be a candidate for relocation.
But general manager Mark Dominik said earlier this week the Bucs
aren't looking to leave Tampa Bay
. I know there are conspiracy theories out there and many point to the team's struggles to sell out games in Tampa.
But I don't think Dominik was throwing out a smoke screen. Raymond James Stadium is one of the best facilities in the league and the NFL likes having Tampa Bay as a Super Bowl venue. When there was talk of the Bucs leaving in the mid-1990s, the league did its best to make sure that didn't happen. The Glazers have a lot invested in Tampa Bay. They built One Buccaneer Place with their own money.
Team officials have pointed to the economy for the attendance issues. They've also said that playing one game in London helps make season tickets more affordable in the short term. Team officials also have said they believe attendance will pick up if the economy improves.
October, 11, 2011
10/11/11
5:53
PM ET
There's a very interesting quote in the NFL's press release announcing that owners approved a resolution to continue playing regular-season games in the U.K. through 2016.
The resolution leaves it up to the league to decide if more than one regular-season game per year will be played in the U.K. The resolution also allows teams to "volunteer'' for one home game a year in the U.K.
This year's game will be played at Wembley Stadium. It's a "home'' game for the
Tampa Bay Buccaneers
against the
Chicago Bears
. The Bucs also played a home game there in 2009.
Keep all that in mind and now read the interesting quote.
"When the initial resolution was approved in 2006, the thinking at the time was that we would have two new teams every year," said NFL International vice president Chris Parsons. "As the series evolved, we felt as though having a team return to the U.K. on a regular basis would certainly increase the fan base for that particular team, which in turn would drive fan growth for the entire league. We think there is a tremendous benefit for a team to return to the U.K. on an annual basis."
Read that last part ("tremendous benefit for a team to return to the U.K. on an annual basis'') again. Are you thinking what I'm thinking?
The Buccaneers could be playing an annual "home'' game in London? Well, it's logical in a lot of ways. Look back at that "return'' word again. The Bucs are about to become the only team to return to London since the NFL started playing regular-season games there.
The Bucs already have had a
strong fan club
in the U.K. for years. The owners of the Bucs (the Glazer family) also own the Manchester United soccer team.
There's also the matter of attendance in Tampa Bay. Prior to last week's sellout of a "Monday Night Football'' game against Indianapolis, the Bucs had not sold out their previous 10 regular-season home games. When accepting the trip to London this year, the Bucs said part of their reasoning was done with the local economy in mind. Team officials said one less game at Raymond James Stadium would cut the cost of paying for season tickets.
Plus, a yearly game in London would guarantee the Bucs at least one "home'' sellout a season.
The language in the resolution about teams "volunteering'' to play in London is very interesting. I can't see teams with huge fan bases like the
Green Bay Packers
and
Pittsburgh Steelers
ever volunteering to give up a sure sellout at home.
But it's pretty easy to picture the Bucs and the
Jacksonville Jaguars
, who also have had attendance issues, throwing their hands up when the NFL asks for volunteers.
April, 12, 2011
4/12/11
7:44
PM ET
Before the conspiracy theories go too far on how the
Tampa Bay Buccaneers
playing in London means they're moving there, stop.
The Bucs may be visiting London for the second time in two years when they play the
Chicago Bears
in Wembley Stadium this season. But the Bucs and the NFL aren't looking for a permanent rearrangement.

Yes, Tampa Bay ownership had some say in getting this game. And, yes, that same ownership also owns the Manchester United soccer team. But this is about a lot of other things beyond relocating a team that plays in one of the league's finest stadiums (Raymond James Stadium, which is being paid for by taxpayers) and one of the league's finest practice facilities (One Buccaneer Place, which was paid for by ownership).
The Bucs aren't looking to get out of Tampa Bay and the NFL probably wouldn't let them. The league already threw its weight around to keep the Bucs in town in the 1990s. The league likes the market and likes having Tampa Bay as a Super Bowl venue (the area is probably the front-runner for the 2015 Super Bowl, which is expected to be announced in the fall). There are at least several markets the league would consider abandoning for London or Los Angeles before the Bucs would even get a shot to escape.
This is much more about marketing. This is a team that's marketing itself hard and there have been and continue to be talks about appearing on HBO's "Hard Knocks'' this summer. This is also a team that struggled to sell tickets last year, when all home games were blacked out on local television.
The Bucs have lowered season-ticket prices and sales have improved in a region where the economy still is struggling. But, at least at the moment, the Bucs are probably looking at some more blackouts next season. Imagine if Chicago came to Raymond James Stadium for this game? I'm not talking just the Bears. I'm talking about all the Tampa Bay transplants from Illinois and all those who would make the trip down for a weekend when it's winter in Chicago and summer in Tampa Bay.
That's how it used to be every year back before the Bucs became good and the new stadium was built. Back in the days when the Bucs played in the NFC Central, it was the norm for crowds to favor Chicago, Green Bay, Detroit and Minnesota. If you want more recent evidence, just look back to last season's home game with Pittsburgh.
By taking their act to London, the Bucs are saving themselves and their fans from the strong possibility of a hostile takeover by Chicago fans. They're also marketing their team on an international stage, which might help solve the attendance problem for the long term.
Oh, and guess what else? The Bucs just lowered season-ticket prices again. Take the cost of the Chicago game off the cost of season tickets and you've got another discount. Oh, one other thing -- if you don't have season tickets and live in the Tampa Bay area, you'll be able to watch the game on television.
March, 25, 2010
3/25/10
2:11
PM ET
Some random reflections on the owners meeting that ended Wednesday in Orlando.
I know John Fox caused a bit of a stir in some circles when he spoke highly of Tim Tebow. I'm telling you right now, calm down. Let's put this one in perspective. Fox always praises players on other teams, available free agents and every member of the year's draft crop that he's asked about. He also never closes the door on anything. Remember last summer when everybody was sure the Panthers were going to sign
Michael Vick
just because Fox wouldn't publicly close the door on that possibility? It never happened. Look, I know Fox better than any other coach in the NFC South. If the man is going to make a move that likely will shape the rest of his career, he's probably not going to reveal it over breakfast with the media.
I agree with New Orleans coach Sean Payton on disagreeing with the changes to the overtime rules. I also respect him for having the courage to voice his displeasure with how it was handled. The owners pretty much pushed this one on the coaches. Payton's got every right to be mad about it -- for maybe another day or two. After that, he's got to let it go. Payton's a big voice in the NFL right now (as he should be), but he's not bigger than the owners. They sign the checks.
While talking with Atlanta's Arthur Blank, Thomas Dimitroff and Mike Smith, I got the impression that they're really expecting a big leap forward by quarterback
Matt Ryan
in the upcoming season. I'll have more on this in a column that's scheduled to run Friday afternoon. But I also think the Falcons have to tweak a few things in their offense to really allow Ryan to make the next step.
Nice of Bucs co-chairman Joel Glazer to step forward and talk to the media. Glazer explained why the Bucs are building through the draft and said his family's ownership of the Manchester United soccer team has no impact on how the Bucs are run. I know there are tons of fans who doubt that. But why waste your time? As long as the Glazers own the Bucs, they're going to operate the franchise the way they want.
January, 8, 2010
1/08/10
1:26
PM ET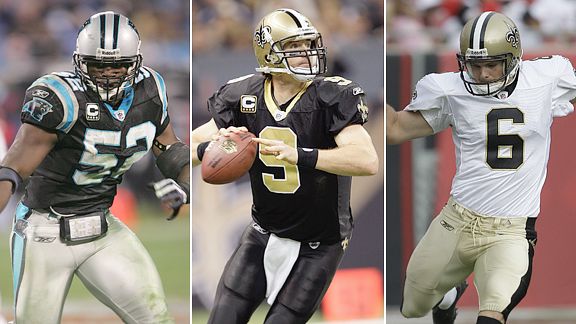 Getty Images/AP PhotoJon Beason, Drew Brees and Thomas Morstead headline the list of NFC South players receiving end-of-the-year honors.
We've rolled out the All-NFC South
offense
and
defense
for the 2009 season already and we'll get to the special teams, coaches and front offices very soon. But with the Saints on a bye for the first round of the playoffs and the rest of the NFC South done for the season, it's time for our annual awards.
Some are pretty conventional and some are not, but put them all together and, hopefully, you'll have a comprehensive review of the season.
Most Valuable Player:
Drew Brees
, Saints. Do I really have to explain? Let's save time and move on.
Most Valuable Player not named Brees and not with the Saints:
Jon Beason
, Panthers. Consistently excellent. Should have been named to the Pro Bowl. Best player on the division's best defense.
Rookie of the Year:
Thomas Morstead
, Saints. Yes, I'm going with a punter and it's not because the pickings are slim. There were some other decent options. But Morstead was so good punting and on kickoffs that he earned this award.
Best win:
The Saints steamrolling the Patriots on Monday night. If the Saints play like that in the postseason, they'll win the Super Bowl. That said, I'm a little concerned that the Saints might already have played their best game.
Worst loss:
Carolina's
20-9 home loss
to Buffalo. The Panthers had a chance to get to 3-3 after an 0-3 start. They had one of the worst teams in the league coming into Bank of America Stadium. They didn't just lose. They got embarrassed. Think about what might have happened if they just had been able to win that game?
Worst injury:
You could see right away that Atlanta rookie defensive tackle
Peria Jerry
was going to be an impact player. He was making everybody around him look better. Problem is, Jerry went down with a knee injury on Sept. 20 and missed the rest of the season. You instantly could see the rest of Atlanta's defensive line start to slide.
Best injury:
The leg injury that New Orleans linebacker
Dan Morgan
suffered in minicamp. It wasn't major, but it was enough to prompt the star-crossed Morgan to retire for the second time. Sure, it's a shame that he missed out on being part of what became a very fun season in New Orleans and a healthy Morgan truly might have prospered on that defense. But Morgan made the right call in walking away. The guy put his body through too much and had some concussion issues in his Carolina days. He's got a family and his health is more important than football.
October, 2, 2009
10/02/09
1:00
PM ET
| | |
| --- | --- |
| | |
| | Getty Images, AP Photo |
| | The Buccaneers have signed their core offensive players -- Derrick Ward, Josh Freeman, and Kellen Winslow -- to lucrative long-term contracts. |

Posted by ESPN.com's Pat Yasinskas
TAMPA, Fla. -– You can call the
Tampa Bay Buccaneers
a bad football team. Right now, there's no evidence to the contrary.
Just don't go calling them cheap.
I live in Tampa and I hear the accusations every day. The Bucs don't care about winning and that's why they're not spending money, the theory goes.
That's the problem with theories. All you need is an idea to throw around and it can catch on and spread, even if there's absolutely nothing to back it up.
The Bucs have their flaws, sure, but being frugal isn't one of them. Fact is, Malcolm Glazer and his sons who run the team are throwing money around.
Right now, they're paying Jon Gruden, Bruce Allen and Jeff Jagodzinski $6 million to stay away from their football team. They're operating out of the palatial One Buccaneer Place, which cost millions to build and I wouldn't even want to guess what the daily light bill is.
But disgruntled fans are having a field day with the fact that the Buccaneers are roughly $30 million under the NFL's salary cap. That's a fact and it's not disputed. It just needs some clarification.
Allen, the former general manager, came into salary-cap hell when he took over from Rich McKay. The best way to get out of that predicament is to not spend any money and, for four or five seasons, that's what the Bucs did.
It became habit and unused cap money kept rolling over. The Glazers quietly could have pocketed that money, but they didn't. They let it build and when new general manager Mark Dominik and coach Raheem Morris entered their first free-agency period in February, the Bucs were on an uneven playing field.
The rest of the league started with a cap floor of $123 million. Tampa Bay's floor was about $150 million.
When free agency started, the Bucs didn't stand still. They went out and signed
Derrick Ward
to the biggest contract for any free-agent running back. They traded for tight end
Kellen Winslow
and turned around and handed him a monstrous contract. They re-signed wide receiver
Michael Clayton
to a deal many thought was too big.
They made legitimate runs at
Albert Haynesworth
and
Matt Cassel
and not getting them might have been a blessing because those high-priced guys aren't exactly lighting it up. But this isn't about the virtues of caution.
There's a wrong perception out there the Glazers are skimping on the Bucs to take care of their Manchester United soccer team. If they were so concerned about pinching pennies, why wouldn't they have saved a few million and used their first-round pick on a defensive player instead of taking quarterback
Josh Freeman
as the franchise player for the next decade?
No, the Bucs aren't being cheap because you really can't do that in a day and age when there's a cap floor. You want cheap? Go back to the early days of the Buccaneers when the NFL didn't have a cap or a floor and owner Hugh Culverhouse wouldn't pay anybody anything, so he could pocket his television money.
May, 6, 2009
5/06/09
12:00
PM ET
| | |
| --- | --- |
| | |
| | ESPN.com Illustration |
| | London has reportedly launched a bid to host the Super Bowl some time in the next decade. Should the NFL export its marquee event? |
Posted by ESPN.com's Pat Yasinskas and Paul Kuharsky
The Super Bowl, America's greatest sporting event, could be played outside the United States as early as 2014.
At least that's what some reports are suggesting. London, which already has hosted two regular-season games and is scheduled to hold a third this year, seems to be at the top of the list for the first overseas Super Bowl.
Is it possible and is it practical to put American football's spectacle in the land of soccer? Pat Yasinskas and Paul Kuharsky debate the merits, logistics and chances of a London Super Bowl.
Would a Super Bowl outside of the States be un-American?
Paul Kuharsky: Pat, I know you were in London for a game last year and have a better sense of how this would play over there than I do. And I'm no xenophobe; I don't want to call it un-American. But I do think proselytizing our football to this degree runs counter to present-day American interests. A Super Bowl funnels a lot of money into the host city, and any qualified city in America could use it -- no matter the state of the American and world economies in 2014.

Sure, a load of NFL fans are priced out of their team's biggest moment when the game is played in the lower 48. How many more won't be able to even consider it when they'd need an overseas flight and a London hotel room? A lot of hardcore football fans would not take this well at all. Is it worth alienating people who buy jerseys and tickets and paint their faces in an attempt to soften up foreign populations you may have no chance of winning over?
Pat Yasinskas: I'm going to say something I thought I'd never say before I traveled to London for last year's regular-season game between the Saints and Chargers. I'm all for a London Super Bowl.
| | |
| --- | --- |
| | |
| | Matthew Lewis/Getty Images |
| | Wembley Stadium in London has been host to two NFL regular-season games and could be a venue for an overseas Super Bowl. |
The atmosphere in London for that game was simply amazing and I think it would be 100 times bigger for a Super Bowl. Sure, I'm a little hesitant about taking the economic impact out of the United States. But you've got to think big picture here. The economics are going to grow throughout Europe and throughout the NFL by placing the game in London. Really, can the Super Bowl get any bigger than it already is in the United States?
London, all of Europe and the rest of the world still are largely untapped and it's time to tap them. I still think there will be huge economic benefits to the U.S. in terms of sponsorship, television and the sale of merchandise. People are still going to watch the game on television, and isn't that really what the Super Bowl is all about? Think about it, how many people do you know who actually have been to a Super Bowl? The common person watches it at home. The people who actually go to the game are the corporate types, and they're going to go no matter where it is (a lot of Saints and Chargers fans came to London last year and made it a vacation). In fact, I think you'll have a much easier time selling outrageously priced tickets in London than you would in recent venues like Detroit and Jacksonville. It's time to truly open the Super Bowl to the world.
Wouldn't the logistics create some nightmares?
Pat Yasinskas: Yes, there's no doubt that a Super Bowl in London would present some major challenges. Start with the time difference. London is five hours ahead of the East Coast and eight ahead of the West Coast. That's the biggest issue of all because it impacts television, which is the driving force behind the Super Bowl. Do you play the game in the same evening time slot it's been in and start the Super Bowl late at night in London? Or do you cater to the audience in the stadium and start the game in the middle of the afternoon back in the States? That's a huge issue for the NFL to work out, but I'm thinking a compromise like starting at 3:30 p.m. ET time could work. People still are going to watch the Super Bowl on television, no matter when it's played.
The time factor also is something coaches and players aren't going to like. But they'll deal with it if they have to. The Saints and Chargers spent the whole week there last season and that gave everyone plenty of time to adjust their body clocks.
Paul Kuharsky: I'm picturing Bill Belichick muttering to himself while mapping out an itinerary with an overseas flight and an odd kickoff time. The owners may back it, but players and coaches aren't going to be fired up. (What player was it last year who asked what language they speak over there?)

I'm also wondering about the weather. According to weather.com, average February weather in London is a high of 47, a low of 36 and the month has an average rainfall of 1.34 inches. If I'm Nashville or Charlotte -- or even New York, Washington, Philadelphia or Baltimore -- I'm asking why the league's willing to play in that weather outdoors across the pond, but not at home. And I am beginning to clamor for a Super Bowl in my stadium, which was paid for, built and is regularly filled by Americans who buy the tickets and merchandise and provide the TV ratings.
Professional soccer hasn't exactly been a big hit in the United States. Can American football fly in London?
Paul Kuharsky: I don't get the sense that Europe is especially interested in American football on any sort of grand scale. While I understand the league's desire to globalize, I also know one of the reasons the NFL is our most popular league and so immensely successful is its ability to maintain an accurate and sensible sense of itself. The idea of a Super Bowl in London makes me think of soccer's failures in the U.S. Most Americans who are not soccer fans concede it's big everywhere else, but have a long list of reasons why it just doesn't work here.
Flip that list inside-out and Europe's got a handy cheat sheet for a conversation of why American football doesn't work over there. (Bring Manchester United to Giants Stadium and you'll have a sellout, sure, but it doesn't say anything big about American interest in soccer -- the same way a Super Bowl in London wouldn't speak broadly to European interest in football.) The NFL should consider that example when it tries to market an inherently American game to Europe and the rest of the world. If American football would work in Eur
ope, wouldn't NFL Europe have done at least well enough to survive?
Pat Yasinskas: Paul, I understand your argument. Heck, I shared the same view until my trip to London, but that experience made me see things much differently. Londoners are ready to embrace something like this. NFL Europe didn't work because it was a minor league. One thing I learned last year is that people in London are fascinated with America and want desperately to be a part of it. I was there a few weeks before the presidential election and the British were paying far more attention to that than I was. They're different from us.
I wouldn't go to a soccer game if you paid me and, to date, have successfully avoided watching my niece and nephew play a sport that bores me -- although I've been to dozens of their baseball and softball games. But the people in London have this raging curiosity about all things American. True, they may not understand the intricacies of a 3-4 defense, but they're going to come out for a show. And when it comes right down to it, isn't the Super Bowl just one big show?
Will we really see a Super Bowl in London?
Pat Yasinskas: Yes. I know some of the reports have said it's possible as early as 2014. I don't see it happening that quickly because there are too many logistical issues to be worked out. But I do think the game will be played in London sometime around 2020. Commissioner Roger Goodell has been trying to figure out the European market since he took the job. The regular-season games have gone over well and shown there's room for growth. The NFL's not going to ignore that opportunity. At some point, there will be a Super Bowl on foreign soil and London is the logical choice.

Paul Kuharsky: It's probably inevitable, Pat, but I agree that 2014 is a little ambitious. Let's see the league master the regular-season overseas games and let's give the game more time to percolate over there. And most important -- and this is what the league is already doing by sparking conversations just like this one -- let's get American football fans used to, and more accepting of, the idea that the Super Bowl's going to be an export.

In the meantime, with the Rolling Stones and Paul McCartney already having done it, let's ponder who's in line for a halftime show.
March, 20, 2009
3/20/09
11:45
AM ET
| | |
| --- | --- |
| | |
| | US Presswire |
| | If the Buccaneers can't land Jay Cutler, could they make a play for Cleveland's Brady Quinn (center) or Derek Anderson? |
Posted by ESPN.com's Pat Yasinskas
All those Tampa Bay Buccaneers fans begging for Jay Cutler might want to examine the quarterback's right hand.
The window on Cutler and the Bucs might have slammed almost a month ago. Tampa Bay's best -- and perhaps only -- shot at landing the Denver quarterback might have come on the day in late February, when the Bucs were, at very least, involved in some talks about a possible three-way trade.
Reports of what actually transpired are sketchy. But we do know for sure there was at least some talk of a deal that would have sent Cutler to Tampa Bay, Matt Cassel to Denver and Tampa Bay's first-round pick to New England. It didn't transpire as the Patriots traded Cassel to Kansas City for a second-round draft pick.
The wreckage of that day still is flying in Denver, with Cutler and the team reportedly at odds about his future with the Broncos. Cutler reportedly wants out, and the Broncos may or may not grant his wish.
Even if the Broncos do decide to deal Cutler, it might be way too late for Tampa Bay. Whatever happened on that February day, the rest of the league suddenly found out that there's a chance Cutler could be available. That simple fact might have closed this case for the Bucs.
Maybe they could have had Cutler for their first-round pick (No. 19 overall) back in February. Now that the rest of the league is watching the Cutler situation, the price tag suddenly has gone up and the Bucs probably don't have the ammunition to play in this game.
All they've really got is that first-round pick. Their second-round pick already is gone in a trade with Cleveland for tight end Kellen Winslow. Tampa Bay does have a third-round pick, but that and a first-rounder are probably not nearly enough to get Cutler.
Detroit, a potential landing spot for Cutler, has two first-round picks (Nos. 1 and 20), and there are a whole bunch of teams with picks in the first and second rounds. Then there's Cleveland, which has the No. 5 overall pick, disgruntled defensive tackle Shaun Rogers (who sure would look good in Denver) and two, young quarterbacks in Brady Quinn and Derek Anderson.
You think some combination of what Cleveland has in the cupboard could be tempting?

NFL SCOREBOARD
Thursday, 9/18
Sunday, 9/21
Monday, 9/22
WEEKLY LEADERS