NFL Nation:

Marcellus Wiley
March, 5, 2012
3/05/12
1:22
PM ET
One common complaint we talk about often in these parts is how the NFC South sometimes gets lost in the shadows of divisions or teams with bigger markets and higher profiles.

Well, maybe we should be careful what we wish for. The NFC South is about to take center stage on a national platform, for all the wrong reasons.

The scandal involving the New Orleans Saints and what the NFL says was a "bounty program," designed to reward defensive players for intentionally injuring opponents, will be the topic of an hour-long NFL Live Special on ESPN at 4 p.m. ET Monday.

Trey Wingo is scheduled to host. He'll be joined in studio by Tedy Bruschi, Darren Woodson, Mike Golic, Marcellus Wiley. Former NFL quarterback Steve Young and former NFL defensive back and head coach Herm Edwards will join them via satellite and there could be other special guests.
June, 17, 2011
6/17/11
1:25
PM ET
We've maybe been a little heavy on
LeSean McCoy
content here lately, but (a) we like McCoy, (b) it's a lockout and (c) he hasn't been shy about helping us drum up content. His Thursday tweet about
Osi Umenyiora
, in which he called Osi "overrated n soft" and the third-best defensive lineman on the Giants has, justifiably, raised eyebrows around the league.
On "SportsCenter" this morning, Herm Edwards and Marcellus Wiley
shared their thoughts
.
Edwards: "Know your role, do your job. He's a running back, not a scout."
I think this is an underrated part of this whole thing. Regardless of McCoy's intent to needle, is his assessment accurate? I'm sure
Justin Tuck
is the best defensive lineman on the Giants, but I'm having a hard time coming up with another I think is better than Umenyiora. Does McCoy think that much of
Barry Cofield
?
Mathias Kiwanuka
?
Jason Pierre-Paul
? I'm taking Osi over any of them. Of course, I don't compete against them as McCoy does.
Which brings me to Wiley's take: "This is some nonsense, right there. He didn't think this one through."
Wiley, a former defensive lineman, smiled as he imagined himself in Umenyiora's cleats the next time he had to get up after helping tackle McCoy. He said, instead of pushing himself up from the ground, he might find "a couple of body parts" of McCoy's to us to help himself up.
I expect this to be brought up again in the future. Maybe even on this blog. I don't feel as if I'm going way out on a limb with that prediction, either.
June, 7, 2011
6/07/11
1:06
PM ET
A few hours ago, I thought "NFL Live" analysts Mark Schlereth and Marcellus Wiley were off base by not including the New England Patriots in the conversation for most explosive offense.
We're in alignment again.
This week's ESPN.com Power Rankings deal with the league's toughest venues. I was alone among the eight divisional bloggers in putting Arrowhead Stadium atop my ballot. Nobody else had it higher than third. NFC South blogger Pat Yasinskas didn't list it at all.
Schlereth and Wiley played there, and they expressed no doubt Arrowhead Stadium was the most difficult place to go. Wiley said it always felt like the Kansas City Chiefs were up 3-0 by the end of the national anthem.
"It's Arrowhead Stadium, and it's hands down," Wiley said, adding that it's the only place he ever had to insert earplugs to get through a game.
Schlereth recalled whenever he played at Arrowhead Stadium, the Denver Broncos would scrap 25 percent of their playbook and eliminate all seven-step drops because of the noise.
My complete ballot:
Arrowhead Stadium, Kansas City Chiefs
Lucas Oil Stadium, Indianapolis Colts
Qwest Field, Seattle Seahawks
Soldier Field, Chicago Bears
Heinz Field, Pittsburgh Steelers
Invesco Field, Denver Broncos
Lincoln Financial Field, Philadelphia Eagles
Gillette Stadium, New England Patriots
Lambeau Field, Green Bay Packers
Metrodome, Minnesota Vikings
The biggest discrepancy with my ballot and the overall list was my ranking of Lambeau Field, which was first or second on six ballots. It was a subjective process, and I distinctly remember a mediocre Miami Dolphins squad traveling a long way to beat the Packers at Lambeau Field last season.
The Packers have gotten lit up at home a few times the past three years despite having terrific talent. I guess I couldn't get past that. I realize the Chiefs have gotten destroyed at Arrowhead, too. But it's not the stadium's fault Kansas City has fielded poor rosters.
NFC East blogger Dan Graziano gave Ralph Wilson Stadium his No. 1 vote, but the Buffalo Bills' home venue didn't appear on any other ballot. Graziano explained weather conditions buoyed his thinking.
Bills fans are some of the most dedicated and lively in the league. Their tailgates are off the charts, and their loyalty remains strong despite being tested by bad teams. But too many visiting teams have left Ralph Wilson Stadium with smiles on their faces the past decade.
June, 7, 2011
6/07/11
8:56
AM ET
In an "NFL Live" segment, ESPN analysts Mark Schlereth and Marcellus Wiley discussed the most explosive offense.

Each spoke definitively about his choice. Wiley went with the
Philadelphia Eagles
because of team speed. Schlereth backed the
Green Bay Packers
.
Yoo-hoo! Fellas?
What about the
New England Patriots
? All they did last year was score the most points in the league, averaging 4.8 points per game more than the team than finished second, the
San Diego Chargers
.
The Patriots scored a league-leading 56 offensive touchdowns. They did so on 986 scrimmage plays, just 22nd in the league. To give a better idea of what kind of neighborhood the Patriots were in when it came to snaps: Of the 10 teams that had fewer plays than the Patriots, the
Tennessee Titans
scored the most offensive TDs with 37.
In other words, the Patriots scored most frequently and on much fewer plays than most other clubs. Isn't that the definition of explosiveness?
The Patriots also added six more touchdowns on defense and three in the return game, but those aren't germane to this conversation. The Patriots still had the most potent offense last year and should be at least as dangerous in 2011. The whole crew is back.
Granted, the Patriots won't have a bunch of players drafted in the first three rounds of your fantasy league like the Eagles and Packers probably will, but quarterback
Tom Brady
is the reigning MVP and spreads the ball to a contingent of reliable players such as
Wes Welker
,
Deion Branch
,
Rob Gronkowski
,
Aaron Hernandez
and
Danny Woodhead
.
BenJarvus Green-Ellis
isn't a superstar, but he was the AFC East's only 1,000-yard rusher last season. The line consistently performs at a high level and allows the Patriots to remain a balanced -- and explosive -- offense.
April, 12, 2010
4/12/10
2:00
AM ET
A collection of tweets in response to Sunday night's big trade that sent receiver
Santonio Holmes
to the
New York Jets
for a fifth-round pick ...
[+] Enlarge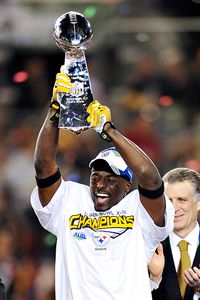 Matt Cashore/US PresswirePittsburgh's trade of former Super Bowl MVP Santonio Holmes to the Jets has the league talking.
Donte Whitner, Buffalo Bills safety:
"Santonio Holmes traded to the JETS. Wow."


Darius Butler, New England Patriots cornerback:
"Wowwww a 5th round pick! I know this supposef to be a deep draft but damn Pitt."
"Im not concerned abt him bein n the division. Every team we play has gd players its the NFL. Im just shocked at what he went for."
Marcellus Wiley, ESPN analyst:

"The Jets are starting to look like an All-Madden Team....especially if they get Jason Taylor and T.O.!!!"
Darrelle Revis, Jets cornerback:

"Wow we got holmes this is crazy. We makin big moves this off-season. Putting the pieces together to get closer to that superbowl ring."
Chad Ochocinco, Cincinnati Bengals receiver:

"Mr. Goodell the NY Jets are unfairly loading their team up with great players like the Yankees do, we need to stop this now!"
Bob Glauber, Newsday columnist:

"If Santonio Holmes puts it together with the Jets, the trade will go down as one of the biggest steals ever. 5th rounder? Sheesh."
David Clowney, Jets receiver:

"Lord what am I doing wrong"
"I know this is a test,.. But God never puts you thru anything you can't handle. I trust you Lord"
Posted by ESPN.com's Matt Mosley
For a guy who hasn't made much of an impact on the field this season, Plaxico Burress has certainly grabbed a lot of headlines. Here's what folks around the nation are saying about Burress this morning: