NFL Nation:

Marcus Easley
September, 29, 2013
9/29/13
6:50
PM ET
ORCHARD PARK, N.Y. -- Observed in the locker room after the
Buffalo Bills
'
23-20 win
over the
Baltimore Ravens
:
Manuel
Explaining late-game tension:
With 57 seconds remaining, the Bills opted to take a knee three times to burn Baltimore's three timeouts. Ravens defenders, still playing with an edge, broke through the line and tried to disrupt the kneel-downs, resulting in a
Courtney Upshaw
penalty on the third play. Bills coach Doug Marrone said
EJ Manuel
was trying to take extra time off the clock by not kneeling right away, something that Ravens coach John Harbaugh said should have been done more quickly. Harbaugh said he was disappointed that
Terrell Suggs
didn't cause a fumble and that he "did the right thing." Bills defensive tackle
Kyle Williams
, who was on the sideline for the series, said that Manuel was "clearly" taking a knee and that he should be treated as a defenseless player.
Spiller, Jackson hobbled:
The status of both members of the Bills' two-headed rushing attack may be up in the air for Thursday in Cleveland.
C.J. Spiller
, who only ran twice after returning from an ankle injury, was limping around the locker room after the game. He said X-rays revealed no structural damage to his ankle and that he believes it is just a sprain. Meanwhile,
Fred Jackson
said he sprained his MCL, the same injury he had last season, but that it is "less significant" and he expects to play Thursday.
Easley limping:
The Bills can't afford more injuries, but receiver
Marcus Easley
also was limping around the locker room after the game. Like the pair of running backs, Easley came back into the game after being hurt, but on a limited basis. The short week may put his status against the Browns in jeopardy. Easley has emerged as a special-teams presence and has filled in at kick returner in
Marquise Goodwin
's absence.
August, 22, 2013
8/22/13
11:00
AM ET
The third preseason game typically serves as the final tune-up for any NFL team's starters. The few dozen players who are locks to make the 53-man roster figure to see action into the third quarter, before taking it easy in the preseason finale.
For those players still battling for roster spots, the extended action for starters leaves them with their last, limited opportunity to make an impression.
The
Buffalo Bills
play their third preseason game on Saturday against the
Washington Redskins
. That will lead into a hectic final week of August, with the 75-man cutdown (Aug. 27), preseason finale (Aug. 29) and 53-man cut-down (Aug. 31) rapidly approaching.
Here's a look at three players on offense for the Bills who are squarely on the roster bubble and may need a strong performance Saturday to survive final cuts. On Friday, we'll take a look at three defensive players in the same situation:
Marcus Easley
The fourth-year receiver led all Bills receivers with 43 snaps in last Friday's preseason win over the
Minnesota Vikings
. The top four receivers for the Bills are set, but Easley could still earn a joint role on offense and special teams. He did his part on special teams on Friday night, playing 12 snaps in that phase of the game. However, the Bills could still choose to go with
Brad Smith
(who projects to have a larger role on special teams) or
Chris Hogan
(who has shown good route running and catching ability), leaving Easley off the roster.
Dorin Dickerson
Dickerson is a bit of an enigma, having spent parts of his career as a wide receiver, H-back/fullback and tight end. The Bills' new coaches tried him at wide receiver this offseason, but he approached the staff with concerns about shedding weight to play that position. He later returned to tight end and has been in the mix for a roster spot. Dickerson's best hope for making the squad, though, is his versatility. A strong showing on Saturday could put him in line for a role as a "utility player" on offense.
Kendall Gaskins
An undrafted rookie from Richmond, Gaskins is a "tweener." At 238 pounds, he played fullback in college but has taken snaps at running back this preseason. He showed some burst last Friday against Minnesota, gaining 16 yards on just three carries. Similarly, he'll have to make the most of the few carries he'll likely see on Saturday. Gaskins is battling
Frank Summers
, who is a true blocking fullback, and
Zach Brown
for the final spot in the Bills' backfield. Getting involved on special teams on Saturday would help Gaskins' case to make the roster.
August, 20, 2013
8/20/13
11:15
AM ET
After being flagged nine times in their preseason opener, penalties became an even bigger problem for the
Buffalo Bills
in last Friday's win over the
Minnesota Vikings
.
Called for 14 accepted penalties in that game, the Bills have been penalized 23 times through two preseason games, the most of any NFL team.
While it's not a distinction the Bills want, head coach Doug Marrone stressed after Friday's game that all penalties aren't created equally. In some cases, flags thrown for over-aggressive play can be tolerated, he said.
"I think people tend to look at the number at the end of the game. I tend to cut them all out and evaluate them all," Marrone said. "Was this forced by us just being aggressive? Is it a penalty forced on us not being focused? I think you have to manage those as a coach because you can overmanage a situation and lose that aggressiveness in a player."
Several of the Bills' penalties through two games fall into that category. First-year defensive backs
Nickell Robey
(offside, defensive pass interference),
Jumal Rolle
(holding, twice), and
Dominique Ellis
(illegal block above the waist, twice) have all been flagged multiple times this preseason, and their infractions can be attributed to their inexperience.
But some flags, like a holding penalty by guard
Colin Brown
in the red zone, have come at critical times.
"When we work on those drills and we work on those situations we have to constantly remind ourselves of that and really up our focus because we don't want any penalties down there [in the red zone], and they hurt," Marrone said.
Regardless of the situation, some other penalties have been inexcusable: Second-year cornerback
Ron Brooks
was called for taunting in the preseason opener, while fourth-year receiver
Marcus Easley
was penalized for unsportsmanlike conduct against the Vikings.
"I get very upset; the players know I get very upset, with more of the unforced errors," Marrone said. "Meaning that, not trying to make a play through a ball, but jumping offside and things like that. Those are things you can truly control and I think that's where I would use the word frustration."
August, 16, 2013
8/16/13
10:38
PM ET
Observations from the
Buffalo Bills
'
20-16 preseason win
over the
Minnesota Vikings
on Friday night:
Kolb gets his chance, plays full half:
In his first action of the preseason,
Kevin Kolb
played the entire first half, finishing 13-of-21 passing for 111 yards and an interception. The Bills always have said they would give both Kolb and rookie
EJ Manuel
a fair shot at the starting job, and tonight might have been Kolb's best chance to prove himself. The results weren't overly positive, although Kolb led the Bills offense on two scoring drives late in the first half, looking more comfortable than he did in the early stages of the game.

Manuel again solid, but not spectacular:
Manuel entered the game at the start of the second half and led the Bills on an 80-yard touchdown drive, completing all six of his passes for 44 yards. More importantly, Manuel did not throw an interception for a second consecutive game. However, the Bills (or Manuel) opted not to take any shots downfield, something they are expected to incorporate into their offense this season. Instead, many of Manuel's throws were in the short range, but he did complete a 27-yard pass to rookie receiver
Brandon Kaufman
in the third quarter. Manuel also had the benefit of playing against the Vikings' second-team defense.
Penalties becoming a major issue:
The Bills were flagged 14 times for 106 yards in the contest, one week after being penalized nine times against the
Indianapolis Colts
. The flags have to be a growing concern for head coach Doug Marrone, especially considering nine of them came in the first half, when many of his starters were still in the game. Among the flags was a key holding call in the red zone against
Colin Brown
, who made his second consecutive start at left guard. In what remains an open battle, that won't help his case.
Defense generating pressure:
The Bills' defense kept the pressure on Vikings quarterbacks throughout the game, finishing with four sacks for 38 yards. Outside linebacker
Jerry Hughes
had two sacks, including a sack and forced fumble of
Matt Cassel
in the second quarter.
Hogan, young receivers making strides:
First-year receiver
Chris Hogan
continued to stand out for the Bills, playing nearly the entire game. Hogan was the team's leading receiver with four catches for 34 yards and was targeted a team-high seven times. Meanwhile, Kaufman and
Marcus Easley
continue to be second-half standouts, with five catches for 91 yards between them. Undrafted rookie
Da'Rick Rogers
had a quiet night, being targeted twice and making one catch for six yards. On special teams, second-round pick
Robert Woods
returned a punt 34 yards, one week after third-round pick
Marquise Goodwin
had two long kickoff returns.
Mario sits out:
Defensive end
Mario Williams
(foot) dressed but was announced as an inactive for the game. He played in two series in the preseason opener, and the Bills continue to manage the health this preseason of their highest-paid player.
What's next:
The Bills return to St. John Fisher College for their final four practices of training camp, beginning Sunday. They travel to face the
Washington Redskins
in the third preseason game next Saturday.
August, 31, 2012
8/31/12
10:05
PM ET
Click
here
for a complete list of
Buffalo Bills
' roster moves.

Most significant move:
The Bills kept four quarterbacks on their roster -- sort of. Buffalo retained backup
Tyler Thigpen
to be the emergency quarterback behind starter
Ryan Fitzpatrick
and No. 2 quarterback
Tarvaris Jackson
. This is surprising because the Bills worked the versatile
Brad Smith
extensively at quarterback this offseason. But it appears the Bills aren't fully comfortable with Smith as the No. 3 quarterback at the moment. Another significant move decision was to release three productive wide receivers.
Marcus Easley
,
Naaman Roosevelt
and
Derek Hagan
were all competing for the No. 2 receiver role behind starter
Steve Johnson
. Different receivers made plays at different times, but no one in this trio really stepped up to claim a starting role. It turns out Buffalo parted ways with all three and will stick with
Donald Jones
as the starter opposite Johnson. But cutting Easley, Roosevelt and Hagan certainly affects Buffalo's depth at wide receiver.
Onward and upward:
Perhaps the player cut by the Bills who will be most sought after in free agency will be defensive tackle
Dwan Edwards
-- a solid player who could be a starter on some teams. But Buffalo has two stud defensive tackles in
Marcell Dareus
and a now-healthy
Kyle Williams
. The Bills would've liked to keep Edwards, but chances are his salary was too much for the role Buffalo had in mind for him in 2012. Edwards should have no problem finding a new team. Solid defensive tackles are hard to find.
What's next:
The Bills' starters are set. This is a team that spent a lot of money and resources in free agency and the draft to put together a roster to try to compete with the
New England Patriots
in the AFC East. The only question now is depth. Does Buffalo have enough quality backups to sustain through injuries? That will be the focus as the team scans the waiver wires this weekend.
August, 31, 2012
8/31/12
7:00
AM ET
The
Buffalo Bills
(0-4) completed a winless preseason with a
38-32 loss
to the
Detroit Lions
.


Here are some notes and observations:
What I liked:
The first-team offense handled its business. Starting quarterback
Ryan Fitzpatrick
was 5-for-5 for 39 yards and a touchdown pass to receiver
Steve Johnson
to start the game. Tailback
C.J. Spiller
also ran the ball well, gaining 28 yards on six carries. It was a short night for the starters but a way to end the preseason on a good note. Receiver
Marcus Easley
also showed up on special teams with an impressive 100-yard kickoff return. Easley added a 20-yard reception.
What we didn't like:
Buffalo's depth on defense is not appealing. For the second week in a row, another team's backups scored points in bunches against Buffalo's backup defenders. This might not look like much now, but if the Bills have an injury or two to some key players on defense, I'm not sure the depth is there to keep the train moving. Buffalo has allowed 76 points in the past two weeks, and a majority have come once the starters are off the field.
A little "T. Jax":
Newly acquired backup quarterback
Tarvaris Jackson
did not play until late Thursday night. The Bills coaching staff determined he didn't have enough practice time to run the offense more. Still, Jackson got in for one series and threw one pass, which was intercepted. It's too early to grade Jackson with so little practice time. But it would've been nice for the Bills to see more what he brings before the real games count.
What's next:
The Bills will travel to play the
New York Jets
on Sept. 9 in a huge regular-season opener for both teams. The Jets swept the Bills in two games last season.
August, 9, 2012
8/09/12
1:30
PM ET
The reigning AFC champion
New England Patriots
and
Buffalo Bills
will host their preseason openers Thursday night against the
New Orleans Saints
and
Washington Redskins
, respectively.
Here are four things to watch for in these exhibition games:

No. 1: Patriots' defense
Analysis:
New England's defense, ranked 31st last season, will take the field for the first time in 2012. The last time we saw this group,
New York Giants
quarterback
Eli Manning
was carving up the Patriots in the Super Bowl. New England invested a lot of draft picks and free-agent dollars into this defense. Expect to see several new faces, such as first-round picks
Dont'a Hightower
and
Chandler Jones
, and free-agent signings
Steve Gregory
and
Bobby Carpenter
. The Patriots' starting defense will get a good test against Saints Pro Bowl quarterback
Drew Brees
, who performed well against New England during joint practices this week.
No. 2: Who will emerge at running back?
Analysis:
Expect the Patriots to give a lot of carries to their young running backs Thursday night. Second-year players
Stevan Ridley
and
Shane Vereen
are competing for the starting job vacated by former Patriot
BenJarvus Green-Ellis
. Ridley and Vereen bring different skills to the table. So far, Ridley
has looked the best
in training camp. But this battle will be won in the preseason games. Therefore, one of these young tailbacks must perform well to separate himself.

No. 3: Debut of Buffalo's revamped defensive line
Analysis:
Buffalo's starters may only play a few series. But it will be a good chance to see how the Bills' new-look and dynamic defensive line is coming along. Stud defensive tackles
Kyle Williams
and
Marcell Dareus
were joined by big free-agent signings
Mario Williams
and
Mark Anderson
. This group has the potential to be one of the top defensive lines in the NFL. Washington will provide a good test in the debut of rookie quarterback
Robert Griffin
III. He is one of the most athletic quarterbacks in the league. So if Buffalo's defense can pressure Griffin and keep him at bay, it can corral just about any quarterback.
No. 4: Who will step up as Buffalo's No. 2 receiver?
Analysis:
If Buffalo has a legit No. 2 receiver, it's time for that player to come forward. The Bills need someone to be a threat opposite
Steve Johnson
, who will face plenty of double teams this year. There have been mixed results in training camp. Different players have flashed but no receiver has shown enough consistency. Receivers such as
Marcus Easley
,
Donald Jones
and rookie
T.J. Graham
need to step up. Performing in the preseason is the quickest way to impress Buffalo's coaching staff.
July, 9, 2012
7/09/12
2:02
PM ET

The
Buffalo Bills
will be one of several teams attending former Baylor receiver Josh Gordon's pro day on Thursday in Houston, a source tells the AFC East blog. Gordon is an intriguing and athletic prospect who is entering
the NFL's supplemental draft.
Buffalo had a great offseason, but questions still linger at wide receiver. That could explain the Bills showing some interest in Gordon. Buffalo re-signed top receiver
Steve Johnson
, but a host of unproven players are competing for the No. 2 receiver role. That list includes
Donald Jones
,
Marcus Easley
and rookie third-round pick
T.J. Graham
.
The Bills might be one of the teams willing to add another receiver at the right price. Gordon, who is listed at 6-foot-3 and 225 pounds, last played at Baylor in 2010, where he recorded 42 receptions for 714 yards and seven touchdowns. Early reports suggest he could go anywhere from the second-to-fourth round of the supplemental draft.
July, 3, 2012
7/03/12
2:00
PM ET
»
AFC camp battles
:
West
|
North
|
South
|
East
»
NFC
:
West
|
North
|
South
|
East
An early look at the biggest training camp position battles:

BUFFALO BILLS
Receiver:
Donald Jones
versus
Marcus Easley
versus
T.J. Graham
The
Buffalo Bills
need at least one more receiver to step up if their offense wants to go to the next level. The Bills are hoping to find a gem from a group of unknowns in Jones, Easley and Graham. Jones was the starter last year and showed a few flashes and deep speed. A season-ending ankle injury cut his year short. He returns with two players gunning for the same job.
Easley is an intriguing player. He has some tools but also had a lot of bad luck with injuries. The Bills have stayed patient, but Easley may be down to his last chance. Graham, a rookie third-round pick, also is in the mix. The Bills hope Graham can develop fast and make his mark. The winner of this battle will complement 1,000-yard receiver
Steve Johnson
and slot receiver
David Nelson
in Buffalo's passing game.

MIAMI DOLPHINS
Quarterback:
Matt Moore
versus
David Garrard
versus
Ryan Tannehill
We have yet another three-way position battle in the AFC East. The Dolphins are leaving all of their options open at quarterback between Moore, Garrard and Tannehill. All three quarterbacks bring something different to the table. Miami coach Joe Philbin said he wants to make a decision after the third preseason game.
From my point of view, Garrard looked better in the practices I attended. He looks more comfortable than Moore, the incumbent, because Garrard has played in a West Coast offense. The Dolphins plan to run a precision passing game based on timing and progressions, and that's not Moore's game. Moore has a backyard style. Tannehill is the furthest behind and still needs to get used to the speed of the NFL game. He had only 19 career starts in college and has often looked that way in practices open to the media this offseason.

NEW ENGLAND PATRIOTS
Running back:
Stevan Ridley
versus
Shane Vereen
The reigning AFC champions are venturing into the unknown at running back. After losing dependable starter
BenJarvus Green-Ellis
to free agency, the Patriots are looking to second-year tailbacks Ridley and Vereen to carry the load. Both will get their share of carries this year. But the one who performs best in training camp and the preseason will be the starter.
Ridley averaged a solid 5.1 yards per carry as a rookie in 2011. He has a good burst between the tackles but needs to fix his fumbling woes. He had two late-season fumbles in the regular-season finale against Buffalo and the divisional playoff game against Denver. Patriots coach Bill Belichick didn't go back to Ridley the rest of the postseason. Vereen is quick and looks to be more of a home run hitter. Injuries hampered Vereen last season, but the Patriots are pretty high on last year's second-round pick.
Danny Woodhead
and former
Indianapolis Colts
tailback
Joseph Addai
also are in the mix for depth. Woodhead and Addai are expected to contribute more on third-down situations.

NEW YORK JETS
Safety:
LaRon Landry
versus
Eric Smith
The Jets didn't have many weaknesses on their fifth-rated defense last season. But the biggest weakness was definitely safety. The Jets were eaten alive oftentimes over the middle of the field in 2011. Various tight ends and slot receivers had a field day because New York lacked the size, athleticism and physicality necessary to own the middle of the field.
Enter new safeties Landry and
Yeremiah Bell
. Both are solid veterans who are sure tacklers and physical hitters. Jets head coach Rex Ryan is excited over the prospect of having two enforcers over the middle waiting to blow up receivers. Bell is already making plays in organized team activities and minicamp. He will get one starting position. Landry is the favorite over Smith, last year's starter. However, Landry is still ailing from an Achilles injury and has yet to show the coaching staff how he fits in the defense. Once Landry returns, he must beat out Smith for a starting role.
June, 11, 2012
6/11/12
12:00
PM ET
The
Buffalo Bills
, who I think are ready to make a
big jump in 2012
, are making their first head-scratching decision of the offseason. The coaching staff is working the versatile
Brad Smith
exclusively at quarterback, according
to the team's website
.
Buffalo has made virtually all the right moves this offseason. But this is the first decision I disagree with.
Smith
Smith is a player with many traits but a master of none. It's been proven over his six-year career that his biggest strength is his versatility. If Buffalo goes away from that, it reduces his effectiveness.
Smith is currently a fourth-string quarterback in Buffalo behind starter
Ryan Fitzpatrick
and backups
Vince Young
and
Tyler Thigpen
. Barring a rash of injuries, the Bills are wasting their time if they think Smith will be anything more than third on this year's quarterback depth chart. Smith is 28, which is too late in the game to suddenly learn how to effectively play the position full time in the NFL.
In fact, the Bills do not have a need for Smith at quarterback this year. Young was signed as a free agent and is a better, more-refined version of Smith. Young has 31 career wins as a starter and can run the Wildcat, while Smith has thrown just eight passes in six seasons. Virtually anything Smith can do at quarterback, Young can do better.
If anything, the Bills should be getting Smith as much work as possible at wide receiver. That is where he is most needed. Buffalo has no one who is proven at the position besides
Steve Johnson
. Smith should join receivers
Donald Jones
,
Marcus Easley
and rookie third-rounder
T.J. Graham
to add depth and competition at the position.
Smith had 23 receptions for the Bills last year. With more reps and coaching, perhaps those numbers could improve. The Bills need all the production they can get at wide receiver.
The Bills signed Smith to a four-year, $15 million contract last season but always seem lost with how to use him. Smith should be more of a receiver than quarterback in Buffalo in 2012, not the other way around.
May, 18, 2011
5/18/11
11:47
AM ET
At some point, the unlikely collection of NFL teammates struck somebody as unusual, and they began to sort out who the highest draft pick was.
Together last month for a mini passing camp near quarterback
Ryan Fitzpatrick
's home in Arizona, eight
Buffalo Bills
players laughed about their long-shot backgrounds.
Sophomore receiver
Marcus Easley
was the closest thing to a bonus baby, and he was a fourth-round draft choice with zero NFL games. So who was next in line? Backup quarterback
Levi Brown
was the answer, a seventh-round pick last year, 209th overall, and unable to make the roster out of training camp.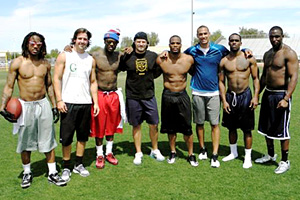 Courtesy of David NelsonBills players (L to R) Naaman Roosevelt, Levi Brown, Steve Johnson, Ryan Fitzpatrick, Fred Jackson, David Nelson, Donald Jones and Marcus Easley pose for a picture following a workout last month.
Wide receiver
Steve Johnson
went 224th, Fitzpatrick 250th. Running back
Fred Jackson
and receivers
David Nelson
,
Donald Jones
and
Naaman Roosevelt
weren't drafted at all.
"This is testament of who we are as a group," Nelson said Tuesday night from his home in Dallas. "We all believe in each other. We all push each other. We all compete with each other. We know we're against the odds. We're a bunch of guys nobody gave a chance to."
The Bills have a couple first-rounders in their offense who didn't attend the workouts. Running back
C.J. Spiller
and receiver
Lee Evans
are important components, but it's impressive to consider such a big contingent of overlooked players making up a team's offensive core.
Nelson and the rest of that gang can speak with a little more conviction about their futures in Buffalo now. When they gathered for some casual workouts, there was plenty of doubt about the direction of the offense.
The drafted hadn't taken place yet and the Bills owned the third and 34th selections. There was considerable talk about a quarterback being a serious option. If Auburn star
Cam Newton
still were on the board, then could the Bills pass him up? Missouri quarterback
Blaine Gabbert
might've been a possibility, and it was anybody's guess who would still be on the board in the second round.
"I'm sure Fitz was bracing for something," Jackson said Tuesday of the pre-draft mood. "Everybody had to be."
One thing was for sure among the Bills' players: They were rooting for the front office to stand pat at quarterback.
"We've been talking about it as a receiver group for a while," Nelson said. "We were hoping that they would stay away from quarterbacks in the draft because we have all the confidence in the world in Fitz and what he can do. We like the direction we're headed in with him."
The Bills gave their offensive players a major vote of confidence last month. Of their nine draft choices, only two play offense. They drafted Clemson tackle
Chris Hairston
in the fourth round and North Carolina running back
Johnny White
in the fifth round.
The Bills will acquire more offensive players whenever free agency dawns. General manager Buddy Nix has said they will sign another quarterback, but the club sent a strong message about Fitzpatrick's standing when they didn't draft one.
"They showed they have a lot of faith in Fitz," Jackson said. "Me and my teammates all have a lot of faith in him, too. We're excited about that. I'm looking forward to working with him and trying to build on what we did last year and making that playoff push."
Fitzpatrick and Jackson will enter the 2011 season with substantially more juice than they had last summer. Both of them were considered backups.
"You have to say that it had some kind of affect on us," Jackson said. "We weren't on the same page when we got in the lineup, but that's part of the game, and we have to adjust.
"It does hurt to not get the reps, but as long as you mentally prepare like you are the No. 1 guy, you can hit the ground running. Hopefully, now we can get those reps and go into this season as the No. 1 guys and put this team on our shoulders and make some plays."
[+] Enlarge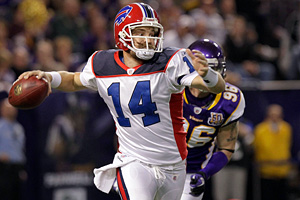 Nick Laham/Getty ImagesThe Bills are confident in Ryan Fitzpatrick's ability to lead the team.
Fitzpatrick won over the Bills' locker room and much of their fan base last year.
Trent Edwards
' presence had worn thin everywhere. The man known as Captain Checkdown was uninspiring at best. He was frequently injured and rarely showed a hint of nerve.
New head coach Chan Gailey backed him in the beginning. Edwards took most of the offseason reps and was named the No. 1 quarterback when training camp opened. Edwards started all four preseason games.
Fitzpatrick, Brown and
Brian Brohm
fought over the scraps. Fitzpatrick attempted 23 passes before the season.
Asked at the NFL scouting combine in February if he regretted those decisions, Gailey replied, "Shoot, yeah. If I knew then what I know now, I wouldn't have done that."
At 0-2, the Bills made an abrupt change. They waived Edwards.
Fitzpatrick was a jolt to the huddle, to the Ralph Wilson Stadium crowd, to the community. He grew a bird's-nest beard and called himself the Amish Rifle. He wore his wedding ring during games. He actually threw the ball downfield.
He made the games entertaining again, even the defeats. Fans forgave him for occasional reckless interceptions.
Jackson was in a similar situation despite rushing for more than 1,000 yards the previous season.
He was in a crowded backfield with
Marshawn Lynch
and hotshot rookie Spiller and didn't start the first four games, carrying the ball 20 times for 87 yards through the first quarter of the season.
When the Bills traded Lynch for a 2011 fourth-round draft choice and a conditional 2012 sixth-round pick, the door opened for Jackson again.
"Right now, I feel like I'm the No. 1 guy and C.J. will come in and get a lot of plays," Jackson said. "I feel like I'm going to be the guy that's carrying the load and has got to make that running game go.
"I'm sure C.J.'s working hard and will [have] the opportunities as well, but I just got to shoulder the load and take the pressure of Fitz and make us a balanced offense. I want to be that guy."
Spiller generated preseason buzz for rookie of the year honors, but he had a disappointing campaign (283 rushing yards and no touchdowns, 157 receiving yards and one touchdown) and still has much to prove.
Jackson rushed for 614 yards in the second half of the season, tying with
Ray Rice
for sixth in the NFL in that span. The running backs ahead of them were
Arian Foster
,
Jamaal Charles
,
Maurice Jones-Drew
,
Chris Johnson
and
BenJarvus Green-Ellis
. Nice company.
The Bills ranked 25th in total offense, 18th in run offense and 24th in pass offense. Not too swift compared to the rest of the NFL.
But all of their best offensive superlatives in 15 categories (points, first downs, yards, etc.) happened Oct. 24 or later. The same can be said about individual player superlatives aside from Fitzpatrick's 71.4 completion percentage in Week 3 against the
New England Patriots
.
The Bills obviously found enough there to make a commitment, and the players aren't crying for help. They're thrilled the group will stay together.
"We did some good things on offense last year," Jackson said. "We feel like if we could get back on the field healthy and get another crack at this thing, we'll continue to have some success."
August, 18, 2010
8/18/10
9:44
PM ET
Buffalo Bills
coach Chan Gailey revealed Wednesday safety
Jairus Byrd
had groin surgery for a third time in the past 13 months and will be out indefinitely.

Byrd
The problem is related to the sports-hernia surgery Byrd underwent before the end of last season. Still, Byrd managed to intercept nine passes in just 14 games (11 starts) and tied for the NFL lead. He was selected for the Pro Bowl but couldn't play.
"It looks like he's going to be out for a while," Gailey said. "We're hoping first game, but it may be not."
Buffalo's prospects for 2010 were dim enough without their roster being ravaged by injuries.
For context on how rough training camp has been, here's a loosely comprised list of their top few players, not counting punter
Brian Moorman
or kicker
Rian Lindell
.
Wide receiver Lee Evans: healthy.
Running back Fred Jackson: out four to six weeks with a broken hand.
Running back Marshawn Lynch: out three to four weeks with a sprained ankle.
Inside linebacker Paul Posluszny: missed first two weeks and preseason opener after groin surgery ... expected to play Thursday night against Indianapolis Colts.
Cornerback Terrence McGee: healthy.
Safety Jairus Byrd: out indefinitely after groin surgery.
Running back C.J. Spiller: healthy ... not sure yet where the rookie should rank on this list, but he belongs.
Did I forget anybody? Maybe you can put defensive lineman
Marcus Stroud
in there somewhere. He's also healthy.
Also hurt for the Bills: receivers
David Nelson
(leg),
James Hardy
(foot) and
Marcus Easley
(knee) and linebacker
Chris Kelsay
(shoulder).
Left tackle
Demetrius Bell
(knee) and right guard
Eric Wood
(leg) have been moved along cautiously as they recover from injuries suffered last year. Both are expected to play Thursday night.
June, 28, 2010
6/28/10
4:32
PM ET
ORCHARD PARK, N.Y. -- There's an assumption when an elite organization such as the
New England Patriots
misfires on a high draft choice that it must be the player's fault.
Chad Jackson
carries that stigma, a 36th overall selection the Patriots dumped after two seasons and 14 games.
[+] Enlarge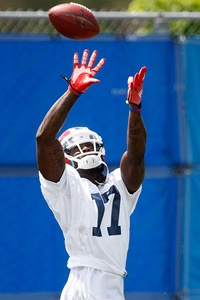 AP Photo/David DupreyKnowing he is running out of chances, Chad Jackson is trying to make up for lost time.
Jackson knows he's running out of chances and appears to be an underdog to make the
Buffalo Bills
' roster. Head coach Chan Gailey said he intends to keep five receivers. Jackson, who didn't play a down anywhere last year, might need somebody else to get hurt.
"I got a lot to prove around the league," Jackson told me after a Bills minicamp practice last week. "I was a high draft pick, and coming out I had a lot of disappointments. Right now, I'm just trying to make up for it."
Jackson left the University of Florida after a sparkling junior season. He led the SEC and tied a Gators record with 88 receptions for 900 yards and nine touchdowns.
Patriots coach Bill Belichick carries an aura of infallibility, and with inside information from Gators coach and close pal Urban Meyer, Patriots fans figured Jackson would be a star when they traded up 16 spots to draft him in 2006.
Jackson battled hamstring and groin problems through his rookie season. He was limited to 12 games and only one start. He caught 13 passes for 152 yards, but he did score three touchdowns. In the AFC Championship Game, he tore his anterior cruciate ligament. He played in only two games in 2007.
When the Patriots cut him in August 2008, there was a belief Jackson wasn't willing to put in the time necessary to be great -- whether it was through rehab, learning the playbook or film study.
"There's two sides to every story," Jackson said. "I won't get into all that. But I had my opportunity and I didn't take full advantage of it."
I asked him if he could do anything differently, what would it be.
"Not get hurt," he said with a laugh. "When I got hurt, I fell back. I tore my ACL. I hurt my hamstring. Then they brought
Randy Moss
and
Wes Welker
and
Donte' Stallworth
and all those guys in. I was put on the backburner. I'm just trying to make up for lost time now."
Jackson spent four games with the
Denver Broncos
in 2008 but couldn't find work at all last year. He turned 25 in March.
You would think there's room at receiver on Buffalo's roster.
Terrell Owens
and
Josh Reed
weren't re-signed. But the Bills had a pretty deep group last year and have youngsters worth looking at.
If Gailey sticks with his plan of keeping five receivers, then Jackson could be in trouble.
Lee Evans
is the No. 1 receiver. The Bills also have
James Hardy
(a 2008 second-round pick),
Steve Johnson
(a 2008 seventh-round pick the organization has been intrigued by),
Roscoe Parrish
(a dangerous punt returner) and
Marcus Easley
(a fourth-round pick this spring).
"The wide receiver position is open," Jackson said. "I can come in here and get a starting spot, No. 2 or No. 3 spot. I got a lot of opportunity here ahead of me.
"I think I've made a good impression. I'm not gone right now, so I must be doing something good."
NFL SCOREBOARD
Thursday, 9/4
Sunday, 9/7
Monday, 9/8