March, 11, 2010
3/11/10
3:01
PM ET
By
Matt Mosley
| ESPN.com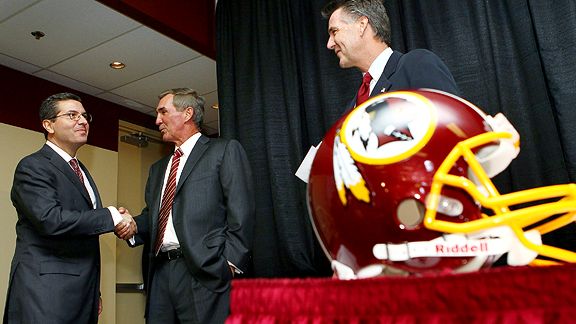 Win McNamee/Getty ImagesWith Mike Shanahan, center, on the sideline, Redskins owner Dan Snyder, left, hasn't gone on one of his usual offseason spending sprees.
All signs pointed to another Redskins spending spree. For years, we'd become accustomed to Washington winning the month of March by signing big-name, if aging, free agents to lucrative contracts. To owner Dan Snyder and his top lieutenant Vinny Cerrato, the NFL draft was for weaklings.
While teams such as the
Baltimore Ravens
loaded up on offensive and defensive linemen, the Redskins turned to established stars in the league. Unfortunately, though, the Skins' version of March Madness couldn't overshadow what happened each fall.
Snyder built a foundation on smoke and mirrors, and the results had become downright depressing. At least the '09 season provided comic relief when Cerrato interrupted Sherm Lewis' bing0 calling to name him the team's playcaller. In retrospect, coach Jim Zorn was in over his head from the start. He was a panic hire by Snyder after his candidate pool evaporated in '08.
He has fired plenty of coaches in more than a decade as owner, but following last season's 4-12 campaign, Snyder knew his organization was at a crisis point. The losing was bad enough, but the Redskins had managed to alienate their fan base through a stunning series of blunders, the most humorous being a ban against homemade signs at games. In addition to being treated to a poor on-field product, fans were asked to express their dissatisfaction in healthier ways, such as politely clapping for first downs and pretending to recognize
Marcus Mason
's name.
If Snyder didn't get the next hire right, he might have encountered fan revolt. Fortunately for him, a Super Bowl-winning coach happened to have the '09 season off. Mike Shanahan might as well have had an office at Redskins Park because you knew he would replace Zorn from about Week 4 on. Snyder's only serious competition for Shanahan would've been the Cowboys, but most folks don't have an appreciation for Jerry Jones' devotion to Wade Phillips, a man who's happy to let the owner wear the whistle, and at times, the Russell coaching shorts.
The Redskins hired general manager Bruce Allen, son of George, late in the '09 season to start assessing the damage. Once he sacked Zorn, the stage was finally set for Team Shanahan to take over the building. The former Broncos coach hasn't done anything that dramatic (
Artis Hicks
, anyone?), but his presence alone has changed the club's perception around the league. As I walked the streets of Indianapolis during the combine in search of scouts and refreshments, people told me stories about Shanahan's iron-fisted ways. Members of the Cowboys' delegation weren't shy about admitting that the landscape of the NFC East would quickly change with Shanahan on the scene.
In fact, I'm not sure there's a coach in the league that Jones admires more than Shanahan. In the past, Shanahan had been a ghost at the combine, slipping into town to look at a certain player and then leaving before anyone saw him. But this year, Shanahan was popping up all over the place. He spent more than an hour with reporters and then I later saw him sharing trail mix with Wade Phillips at a Marriott property. For now, Shanahan's the face of the franchise and I think he realizes how important it is for fans to see him at work.
On the eve of free agency last Thursday, Redskins fans gathered at their laptops (hopefully) and read about Shanahan and Allen releasing 10 players. It sort of felt like the final cuts in the preseason. Allen was rather diplomatic in his description of Black Thursday at Redskins Park. Cornerback
DeAngelo Hall
was a little more blunt, telling ESPN that the Skins were able to shed some "dead weight." Nice touch, DeAngelo.
Some of us interpreted these moves as a prelude to a big-ticket item in free agency, but unless Hicks and
Maake Kemoeatu
were at the top of your wish list, the Skins basically sat on their hands. You keep waiting for that other shoe to drop, but it looks like this is all we're going to get. It makes you wonder if someone's kidnapped the free-spending Snyder, an owner who has been known to covet another man's roster. Surely he'll put a stop to all this inactivity at some point. But Allen recently
told SI.com's Peter King
that Snyder seems to be taking the (non) news in stride.
"He didn't throw anything at me," said Allen of Snyder. "And he didn't throw a tantrum. He's fine with it."
So we've apparently entered a new era of
Washington Redskins
football. To be clear, though, Shanahan won't be given license to have a couple more 4-12 seasons. He isn't expected to win the NFC East title in 2010, but the Redskins will need to show marked improvement.
Fortunately for Shanahan, the bar's been set pretty low over the past decade. His critics will point toward his playoff record in the post-John Elway era in Denver. But his total body of work is impressive.
The best news for Redskins fans is that Shanahan and Allen don't appear to be looking for shortcuts. As we've seen in the past, shortcuts look a lot better in March than they do in December. Artie Hicks and Kemo might not get your heart pumping, but regaining the respect of your division foes should.
And that has already happened.
December, 14, 2009
12/14/09
3:05
AM ET
By
Matt Mosley
| ESPN.com


We'll take a closer look at this one Monday, but I was very impressed with the Redskins' pass-rush in the second half. Once they made the Raiders one-dimensional, linebacker
Brian Orakpo
was able to tee off on
JaMarcus Russell
. The Redskins knocked
Bruce Gradkowski
out of the game late in the first half and the Raiders basically had no chance with Russell running the show.
It's also important to note that
Jason Campbell
and second-year tight end
Fred Davis
have found something pretty special. Since
Chris Cooley
suffered what turned out to be a season-ending injury, Davis has become a big part of this offense. He scored two more touchdowns Sunday.
It's also encouraging to see running backs
Quinton Ganther
and
Marcus Mason
racking up some yards. The Redskins are getting a look at a lot of their young players right now. It's impressive that they've continued to compete. I think the next head coach can build around this defense. Even when
Albert Haynesworth
hasn't been available, Orakpo and
Andre Carter
have played excellent football. They combined for six of the Skins' eight sacks Sunday. It was a very impressive performance.
And let me say this for the 10th time in the past two weeks. Try to get
London Fletcher
in the Pro Bowl. He turned in another impressive performance Sunday.
August, 29, 2009
8/29/09
9:54
AM ET
Posted by ESPN.com's Matt Mosley
It's much easier for me to defend Jason Campbell when he plays like he did last night. The Redskins lost to the Patriots in the final seconds of a preseason game, but they appeared to gain much-needed confidence in the process. Campbell was 13-of-22 for 209 yards and a rushing touchdown, but the most important thing was that he looked poised the entire time. We saw what he can do when the offensive line gives him a little time.
| | |
| --- | --- |
| | |
| | AP Photo/Nick Wass |
| | Marko Mitchell caught a touchdown pass in front of cornerback Jamar Love during the second half of Friday night's game. |
After he called it a night, Campbell told Jim Nantz and Phil Simms that the offense couldn't "dink and dunk" its way down the field and be successful. And that's why you see coach Jim Zorn calling for so many downfield passes. I thought Post columnist Mike Wise summed it up pretty well after last night's game. OK, let's take a closer look at what took place:
Tom Brady and Randy Moss pretty much toyed with DeAngelo Hall. It wasn't an awful performance by the defense at all, but Hall was clearly in over his head against Moss. I realize he's going to make a lot of cornerbacks look bad, but you would hope Hall wouldn't get completely overwhelmed. When receivers such as Terrell Owens, Moss and Larry Fitzgerald showed up, it was always nice to have Shawn Springs on the field. Unfortunately, he now plays for the Pats. The best news for the Skins? They don't have to see Moss again -- unless it's in the Super Bowl. The good news for the defense is the three turnovers. In the second half, linebacker Rocky McIntosh made a superb play to tip the ball away from the tight end and allow LaRon Landry to go the other way. Also a really nice play on the ball by rookie corner Kevin Barnes. He's got some really good skills. This draft class is looking better all the time.
The Skins had 15 penalties for 113 yards? REALLY? Amid some of the positive aspects from this game, the penalties have to be driving Jim Zorn nuts. And you can't really pick on one unit. The defensive tackles may want to work on lining up in the right spots and you should start eliminating the false starts along the offensive line at this stage in the preseason. The 15-yard penalties will get you beat, and that's what happened when Hall grabbed Moss' facemask. The Skins' defense had a chance to get off the field at that point, but the penalty gave the Patriots another shot. You can't do that with one of the most potent offenses in the league.
There's no way in the world you can keep Marko Mitchell off the roster -- and why would you even try? He's big and he makes important catches. He froze a defender on a little hitch and go in the second half, and Colt Brennan found him for a 33-yard touchdown. Patriots cornerback Jamar Love never had a chance. The guy keeps getting in the end zone, and he's become perhaps the most pleasant surprise of the preseason for the Redskins. He offers what quarterbacks like to call a wide strike zone and he appears to be learning how to beat jams near the line of scrimmage. He could be a real threat near the goal line because of his body control and hands.
Colt Brennan didn't perform well enough to overtake Chase Daniel -- at least in my opinion: The same things that made Brennan one of the most prolific passers in the history of college football can also get him in big trouble. He's supremely confident and he thinks he can fit a ball into any space. But he has to be smarter when he's around the goal line. For the second time in as many games, Brennan made a horrible decision near the goal line. He forced a pass that was picked off by Jonathan Wilhite and returned 99 yards for a touchdown. Brennan tried the old "I was just trying to make a play" excuse after the game, but that doesn't hold water. He basically surrendered 10 points with that ill-advised throw -- seven to the Patriots and three that he took away from the Skins. I liked that he came right back with the touchdown to Mitchell, but it wasn't enough to overshadow the interception in my mind. I do like the way Brennan handles screens. He's athletic enough to spin away from trouble and dump the ball to Marcus Mason on the run. Not as easy as it looks.
Hated to see Mason get the bruised ribs in the fourth quarter. It's hard to recover from those when you're taking a lot of punishment at running back. I think Mason's put himself in position to challenge Ladell Betts for the backup role. He's more explosive than Betts in my mind, and he's a better change-of-pace back. Mason puts more pressure on defenses -- both on the ground and through the air -- than Betts.
Hello, Anthony Alridge!: I've been waiting to see this guy all preseason. The former University of Houston star -- as proud U of H alum Nantz noted several times -- has elite speed. He's only about 5-foot-9, but as you saw Friday night, no one can seem to get a clean shot on him. I know he was going against the Patriots' backups, but Alridge still popped off the screen. I hope the guy gets a shot. Last year, the Redskins didn't have enough depth at running back. But with Mason, Dominique Dorsey, Betts and Alridge, they look a lot better this season.
Does Chad Rinehart frustrate you guys as much as he does me? I thought he had his moments, but the guard just sort of looks lost at times. On a play in the second half, he let a Patriots defensive tackle race right past him. The p
layer ended up being flagged for hitting Brennan too low. But that never happens if Rinehart does his job. It's like he never he even made an attempt at the guy. I'd hoped Rinehart would be a lot farther down the road at this point. Too many mental mistakes from what I'm seeing. Zorn will want to cut Rinehart after watching that play. Not saying he will, but the thought will cross his mind.
I'm not sure why Zorn doesn't run the ball inside the 10-yard line. In the second half, I kept wondering why Zorn wouldn't let Mason or Alridge have a chance to run the ball near the goal line. He seemed intent on letting Brennan find someone in the end zone. That would've been a good test for the offensive line to try to plow it in there.
Did the Skins not think the Patriots would blitz? In the second half, a linebacker for the Patriots (Guyton?) came clean from the right side. It's like the Redskins were shocked that Bill Belichick might send an extra rusher.
H.B. Blades is a bad man: How great was that stick he put on Fred Taylor? You don't want to get caught running high when Blades is anywhere around. He absolutely destroyed Taylor, causing him to spin in the air like a merry-go-round.
With 4:30 left in a meaningless games, I find myself shouting at Brennan: When your team's in field goal position, how in the world do you take a sack? This might have been the point when I actually knew Daniel would make the team ahead of Brennan. Just a bone-headed play right there. Once you've escaped the pocket and don't see anything, fling it out of bounds. That play set up Shaun Suisham's miss from 52 yards. Everyone can try to pile on my man Suisham, but that was all Brennan's fault.
What's the deal with the coverage? You're in a close game in the fourth quarter and you let Patrick Chung just shred the punt coverage unit? The punt certainly wasn't high enough (46 yards in length), but someone has to at least force Chung to make a move. He darts toward the sideline and coverage completely fell apart. Bad, bad play right there on special teams.
I'll be keeping my eye on the Cowboys and Giants this evening. Thanks for your continued interest.
August, 23, 2009
8/23/09
9:52
AM ET
Posted by ESPN.com's Matt Mosley
I don't think it's time to panic about Jason Campbell going 1-of-7 for 10 yards in a 17-13 preseason win over the Steelers. But it's important that Campbell finds a rhythm in the third preseason game -- and he knows that.
Campbell missed Malcolm Kelly on a deep ball and he was high on a throw to Santana Moss. I think he was pressing a bit because he knew he was only going to play three series. The good news is that Washington's running game looked strong throughout the game. OK, here are a few things that caught my eye:
Brian Orakpo has been sensational through two preseason games. I enjoyed watching him playing with the backups in the second quarter. At that point, he was obviously the best player on the field and he even looked solid in coverage. Orakpo embarrassed his former college teammate at Texas, Tony Hills, in the second quarter. Orakpo used a bull rush to push Hills back in the pocket. He knocked Hills about 3 feet into the air.
Jim Zorn made it sound like Campbell had a nice evening. Zorn praised Campbell for his decision making and thought he managed the team well. Obviously Zorn want to make sure Campbell's confidence level remains high. Campbell put on a brave face for reporters after the game, but I assure you he's beating himself up over the six incompletions.

How can you keep Marcus Mason or Marko Mitchell off this roster? Mason's one of the best preseason backs this organization has had. On Saturday, he showed the speed we've grown accustomed to seeing, but he also mixed in some power. He sent a Steelers safety flying at the end of one play. Mitchell made the nice touchdown catch from Chase Daniel. He hesitated at first in order to give Daniel some space to throw the ball. Then Mitchell simply won a jump ball. The former Nevada receiver might end up being the fifth receiver.

I still think Devin Thomas will make some mental errors, but he's capable of making big plays. I liked the twisting catch he made Saturday night. He has all the tools, but he needs every rep in the preseason he can get.

Scary moment in the first half when fullback Mike Sellers was writhing in pain with a knee injury. The good news is that Sellers only has a bruised knee. He's such a vital part of the Redskins' running game. They would really struggle without him.

Reed Doughty was everywhere . I pretty much wrote the guy off last season, but he's actually had a solid camp. He made a couple of open-field tackles that were very impressive and he looked confident in the secondary.

Is it too early to start worrying about the Skins' awful coverage units? They looked especially bad in punt coverage. They didn't have anything close to containment on the edges.

I used to watch Redskins safety Lendy Holmes when he was in high school. The former Oklahoma Sooner was one of the surest tacklers on the field Saturday. A lot of rookies look a little wide-eyed at this point. That's not the way Holmes operates.

I love the fact that safety Kareem Moore is a high-energy guy, but he needs to play under control. It seems like Moore's constantly going for the interception. Moore and another '08 draft pick, Rob Jackson, have a tendency to overrun plays.

I'd cut D.J. Hackett the first chance I had. It's not that I think he's a bad player, but right now, he's simply taking up space. I'd much rather see Mitchell, Thomas and Kelly getting the majority of the reps.

Daniel had a really effective outing. I think he has the edge on Colt Brennan at this point. And yes, I know that hurts at lot of you guys.

On the interception that Todd Collins threw, Thomas needs to come back for the ball. He sort of froze on his comeback route, and that allowed former Colts cornerback Keiwan Ratliff to make a really nice play on the ball.

If you're Brennan, you can't throw the ball into traffic in the red zone. I'm sure Zorn was incensed with that turnover. Just an awful decision by Brennan.

Kelly does a really nice job of catching the ball away from his body. He did some nice things in Saturday's game, but the best thing he does is catch the ball consistently. Thomas might have the most upside, but Kelly's showing the most maturity right now.

Former CFL star Dominique Dorsey has to make this team as a return specialist. And he's halfway home. He had some outstanding returns. The Skins need to reserve a spot on the roster for him. He's that good as a return guy -- and he runs with a little power.
August, 30, 2008
8/30/08
4:06
PM ET
Posted by ESPN.com's Matt Mosley
Both the NFL Network and the Washington Post are reporting that Redskins punter Derrick Frost has been released. Frost and rookie Durant Brooks out of Georgia Tech have been battling for the job throughout training camp. It appeared that Frost had the edge because of better numbers and his experience holding for kicker Shaun Suisham.
Brooks won the Ray Guy Award last year at Georgia Tech, and definitely has an explosive leg. I don't think he'll have a huge margin for error, though.
The NFL Network is also reporting that Todd Wade and Marcus Mason have been released.