NFL Nation:

Marcus Robinson
February, 17, 2011
2/17/11
5:47
PM ET
By
Matt Mosley
| ESPN.com
With the offseason in full swing, let's take a look at one major question facing each NFC East team as it begins preparations for the 2011 season:

DALLAS COWBOYS
Can Rob Ryan fix this defense?
I understand that folks are already predicting a bounce-back season under new coach Jason Garrett, but that would have to be fueled by the defense. The defense caused a lot more turnovers once Wade Phillips was fired at midseason, but teams still put up plenty of points.
The Cowboys gave up an embarrassing 27.2 points per game, which ranked 31st in the league. The passing defense was ranked 26th. And help might not be on the way when you consider the fact that a lockout could wipe out free agency this offseason. (Do we really think free agency could take place during a one-week period in, say, late August?) The Cowboys need to make changes at safety and cornerback. But at this point, their best hope is landing a starter in the draft.
The thought is that Ryan's fiery presence will spark some of the veteran players. Nose tackle
Jay Ratliff
's coming off a down season -- by his standards. Perhaps Ryan will turn him loose as a defensive end this season if the Cowboys can find a suitable replacement in the middle. And it will be interesting to see what Ryan does with second-year inside linebacker
Sean Lee
. Will this be the season when Lee supplants veteran
Keith Brooking
on the field?

NEW YORK GIANTS
What can GM Jerry Reese do about the back end of this defense?
It would be a mistake to make massive changes to this talented unit, but a major flaw was revealed down the stretch. With a chance to lock up the division, the Giants' defense out and out collapsed against the Eagles and Packers. It was a stunning turn of events for a team that had fed off its defense throughout the season. Reese has vowed to address the situation that allowed
Michael Vick
and
Aaron Rodgers
to put up monster numbers in consecutive weeks.
Defensive coordinator Perry Fewell was a head-coaching candidate after the 2010 season, but he'll be back with the Giants for at least one more season. I didn't like the fact that he was bemoaning the loss of the versatile
Mathias Kiwanuka
late in the season. Did anyone hear the
Green Bay Packers
complaining about losing all those starters to injured reserve?
As defensive end
Jason Pierre-Paul
continues to develop, it can only help this secondary. It took him a while to find the quarterback, but once he did, Pierre-Paul began causing havoc. I think this defense will be a lot more instinctive in its second year with Fewell. I like the three-safety look with
Antrel Rolle
,
Kenny Phillips
and
Deon Grant
, but Reese won't be complacent when it comes to acquiring talent. He needs more speed on the back end.
Terrell Thomas
has emerged as a solid cornerback, but he needs more help. Watch what the Giants do in this draft. Something tells me Reese will continue to focus on defense.

PHILADELPHIA EAGLES
How will Juan Castillo perform as defensive coordinator?
You have to hand it to coach Andy Reid. The man knows how to keep us on our toes during a coaching search. Who knew that he was disguising his future defensive coordinator as an offensive line coach all these years? I've discussed the O-line with Castillo over the years, and I believe him to be one of the most underrated offensive assistants in the league. How does that translate to defense? I have no clue.
I do think he'll bring a tremendous amount of energy to the job.
Sean McDermott
was undermined by injuries in his two years in that role. The Eagles didn't take enough quality cornerbacks into the 2010 season, and they paid dearly. You can't afford to send
Asante Samuel
and the Funky Bunch out there in 2011.
Dimitri Patterson
and
Joselio Hanson
are serviceable players, but they were eventually exposed. Howie Roseman and Reid have to address this position. And then Castillo has to figure out a way to put the teeth back in this pass-rush. At least the man knows what a quarterback sack looks like.

WASHINGTON REDSKINS
What will Mike Shanahan do about this quarterback situation?
Seems like we're asking this same question every year. It looked like the Redskins had the answer heading into 2010, but the
Donovan McNabb
experiment was an epic failure for all involved. Shanahan certainly bears a lot of the blame. Now we'll see what he can do with a young quarterback.
Cam Newton
's suddenly vaulted into the top five in some of the mock drafts, so the Redskins might be looking at Missouri's
Blaine Gabbert
.
Gabbert has less of a boom-or-bust factor, according to ESPN's Mel Kiper. He might be ready for prime time sooner than Newton. Shanahan and son Kyle will have to get
Rex Grossman
ready as the starter until a young quarterback is ready to take over. And that can't sound good to Redskins fans who are starving for a playoff appearance.
Dan Snyder told me two weeks ago that he hopes McNabb will return as his starting quarterback. That's nonsense when you consider what happened last season. But no matter who lines up behind center, Shanahan has to surround him with more talent. The Redskins might be able to re-sign
Santana Moss
, but he's no longer a true No. 1 receiver. The Redskins desperately need an impact player at that position. At running back, it looks like
Ryan Torain
will get a shot as the starter. The only way
Clinton Portis
is coming back is if he restructures his contract. He may have a season or two left, but you can't count on him to make it through 16 games anymore.
It's all about the quarterback, though. As usual.
November, 22, 2010
11/22/10
2:27
PM ET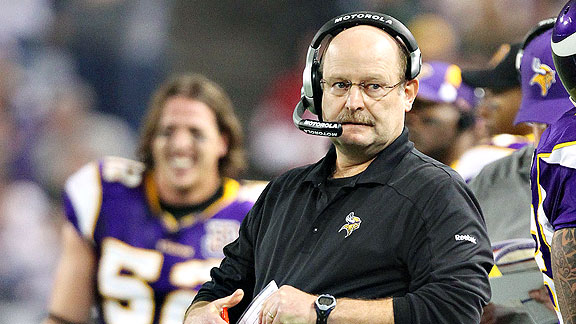 AP Photo/Andy KingBrad Childress had a cold and distant relationship with his players even when the team was winning.
EDEN PRAIRIE, Minn. -- Five years ago, the
Minnesota Vikings
swept up Brad Childress during what they believed was a frenzied, multi-team competition for the man they considered the hottest coaching candidate on the market. They flew him into town less than 24 hours after firing Mike Tice and kept him sequestered in a Twin Cities hotel while they half-heartedly interviewed the remaining candidates on their list.
Owner Zygi Wilf triumphantly lauded Childress as a disciplinarian who would restore order to the franchise on and off the field. "Brad Childress is a winner," Wilf famously said.
But Wilf could never answer the follow-up question: How do you know?
At 49, Childress had never been a head coach at any level. He had been the offensive coordinator of the highly successful
Philadelphia Eagles
, but coach Andy Reid called almost all of the plays over that period. Childress' ability to relate with players was also a debatable proposition; among other stories, it was public knowledge that mercurial receiver
Terrell Owens
had asked Childress to stop talking to him during the 2005 season.
If I had to sum up why Childress failed in Minnesota, my tight answer would include those two reasons. He had a distant relationship at best with players, feuding with most key veterans at one point or another. And his schemes were uninspiring and rigid, routinely minimizing the skills of talented players.
Few coaches bring both of those disparate skills to the table, but having one can usually minimize the need for the other. You can inspire players to excel by reaching them personally, or you can put them in position to play well with smart schemes that maximize their skills.
Childress, however, did neither consistently. It's true that his teams won consecutive NFC North titles, something that hadn't happened in Minnesota since 1977-78. But starting with his first season and continuing through those title years, we heard the same complaints about his program.
Veteran quarterbacks from
Brad Johnson
to
Kelly Holcomb
to
Gus Frerotte
chafed in an offense they believed could have been much better if allowed more in-game freedom. When
Brett Favre
brazenly freelanced last season, Childress angrily
considered benching him
.
That rigidity wasn't limited to quarterbacks, however. In 2006, Childress minimized receiver
Marcus Robinson
because his best route -- the fade in the end zone -- wasn't a part of his red zone offense. The offense provided no avenue to get tailbacks
Adrian Peterson
and
Chester Taylor
on the field at the same time.
If you searched hard enough, similar whispers could be heard before Childress' arrival. I doubt Wilf heard any of them. Why? His coaching search committee included no one with a football background. The primary interviewers were Wilf, his brother Mark, vice president of football operations Rob Brzezinski and vice president of operations Kevin Warren.
Brzezinski and Warren are experts in their fields, but neither was qualified to assess if Childress' football acumen was as good as advertised. It's almost as if they assumed it based on Childress' stature as a "hot" coaching candidate. I once asked a high-ranking team official this question: Whom did you use for the "football" portion of the interview, the part where Childress' schematic and actual coaching talents would be measured?
The answer?
Hall of Fame coach Bud Grant, who had been retired for 20 years. My understanding is that it was a cursory conversation, and it's interesting to note that Grant has always been silent about Childress and his performance.
Some successful coaches channel Bill Belichick, attempting to out-think and out-scheme opponents. Others emulate Bill Cowher, whose motivational skills kept his teams playing hard for more than a decade. Childress didn't fall in either category, and ultimately that's why his players turned on him this season. They felt neither inspired nor challenged.
Childress began clashing with players on a personal level early in his first season, starting with cornerback
Antoine Winfield
, and even in the best of times had what players described as a cold and distant relationship.
Without a foundation of trust and loyalty, Childress watched as his players reached near-mutinous levels at the first sign of adversity this season. It
led to a confrontation
with receiver
Percy Harvin
, among many other incidents. It all culminated Sunday when the Vikings sideline fell into chaos during a 31-3 loss to the
Green Bay Packers
. It's rare when you see a coach keep his job under those conditions.
Childress did make a positive impact in many areas of the organization, cleaning up his team's off-field behavior and professionalizing the team's organizational culture. But without a so-called hook to hang his hat on -- an attribute that could help him navigate tough waters -- he ultimately failed.
November, 2, 2010
11/02/10
1:16
PM ET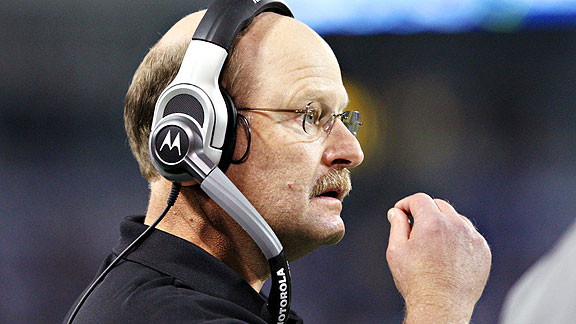 Brace Hemmelgarn/US PresswireBrad Childress reportedly has run afoul of the Vikings' management structure in unilaterally deciding to waive Randy Moss.
At the end of his first full year as the
Minnesota Vikings
owner, Zygi Wilf gave a number of interviews to local reporters. His team had just finished 6-10 amid a tumultuous first year under his handpicked coach, and Wilf wanted to make clear he supported Brad Childress on all levels.
Except for one.
Wilf said he disapproved of the way Childress handled the 2006 departure of receiver
Marcus Robinson
, the only critical sentiment Wilf has uttered publicly about any aspect of the franchise. Childress, incensed by critical comments published in a local newspaper from Robinson, abruptly and unilaterally released the player on Christmas Eve.
Wilf was in the process of building an organization to reflect his family real estate business in New Jersey, one based on internal communication and well-meshed personalities. He was horrified that Childress had acted with such vengeance and enraged he had done so without appropriate discussion among the team's football leadership. Shortly afterward, Wilf installed a system of checks and balances for all significant player moves to prevent another incident.
"In the future," Wilf said at the time, "I think that issues like this will be handled in a more consistent level and hopefully we will not let certain passions overcome us."
The episode remains relevant and instructive today as another impetuous Childress decision has again sent the franchise reeling. Wilf was reportedly angered by the decision to part ways with
Randy Moss
, in part because he and other members of the front office weren't consulted before Childress took action. Players are family members, not employees, in Wilf's world. And proper management follows a horizontal structure rather than emanating from a single entity.
It appears Wilf won't fire Childress for this incident, but Childress' future doesn't look promising. Independent of the Moss debacle, he has presided over one of the NFL's biggest disappointments this season. Wilf is paying out one of the league's highest payrolls and has two victories in seven games to show for it. So in an extended Free Head Exam format, let's look at three issues surrounding Childress that merit further examination:
1. Childress has demonstrated what we'll kindly call a unique relationship with the truth, at least when speaking publicly.
All NFL coaches protect information for competitive purposes, but increasingly over time, Childress has clumsily expressed falsehoods that call into question the credibility of most everything he says.
The pattern began in his first season, when Childress said on his radio show that he had not decided on a starting quarterback for a game at Lambeau Field. As reporters later discovered, Childress had long before told the team that
Tarvaris Jackson
would be the starter.
Such episodes have accelerated this year. On Aug. 17, Childress instructed two assistant coaches to misrepresent the whereabouts of three star players who missed practice while they were recruiting quarterback
Brett Favre
to return to the team.
On Monday, Childress told reporters that he had given Moss permission to skip the team's return flight Sunday night from New England to visit his family. Childress said he expected Moss to return Tuesday night or Wednesday morning.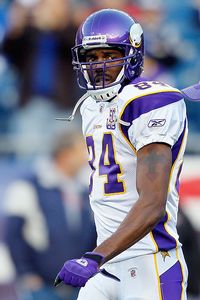 Jim Rogash/Getty ImagesMoss reportedly refused to return with the team from New England.
In fact, as the
Star Tribune
reported and I've also confirmed, Moss actually refused to return with the team. And Childress' description of Moss' timetable for returning came hours after he had already made the decision to waive him.
Again, half-truths and vague public answers are a part of coaching in the NFL. But Childress has been caught in so many misstatements that it's difficult to believe much of what he says. Players are well-aware of these incidents, and there is little doubt these episodes impact how they interpret Childress' words.
It's especially relevant in Childress' case because he went out of his way to portray himself as a truth-teller upon arriving in Minnesota. Here's what he said during an interview in July 2006:
Telling the truth "is the only way I know how to do it. I think people in the long run appreciate that. Just deal in the currency of truth. If I tell you a lie, the next time I can't remember what I told you the last time. If I tell you the truth, it's a lot easier to just keep telling the truth, over and over. Coaching these guys is no different than coaching anybody. As long as you're honest and direct, the guy knows where you stand, they appreciate it."
2. I have never been a fan of committee leadership structures in the NFL, but Wilf believes strongly in his and demands that his front office work together to make football decisions.
Childress is expected to work hand-in-hand with Rick Spielman, the vice president of player personnel, and Rob Brzezinski, the vice president of football operations. Wilf positions himself to settle any disagreements.
Childress has now run astray of that structure at least twice, and he has on multiple occasions noted that his contract calls for him to have final say over the 53-man roster. His personal relationship with Spielman and Brzezinski is probably irrelevant, but I would suggest that Childress has positioned himself on an island within the front office and would have few allies defending him internally if Wilf considered a coaching change.
3. Childress has done a fine job hiring defensive coordinators during his tenure, starting with Mike Tomlin and continuing with Leslie Frazier.
So we note with some irony that Frazier's presence provides Wilf a legitimate option for an in-season change, one that wouldn't be realistic with a less established or experienced coordinator.
If there were ever a coordinator capable of taking over a team in November, it's Frazier. He's among the NFL's most prepared men for the job, and Vikings players on both sides of the ball respect him. The potential for disruption would be minimal.
As recently as a couple of weeks ago, the idea of removing Childress seemed remote. He signed a three-year contract extension a year ago, and Wilf would have to eat a large chunk of its $15 million value if a change were made.
On its own, a 2-5 record wouldn't have been enough for Wilf to consider an in-season coaching swap. But Childress has recklessly given Wilf another reason. Wilf has proved to be a pretty patient employer, but you have to imagine he is reaching his tolerance limit. You never want to hand your boss extra fodder for an exit strategy.
November, 1, 2010
11/01/10
5:41
PM ET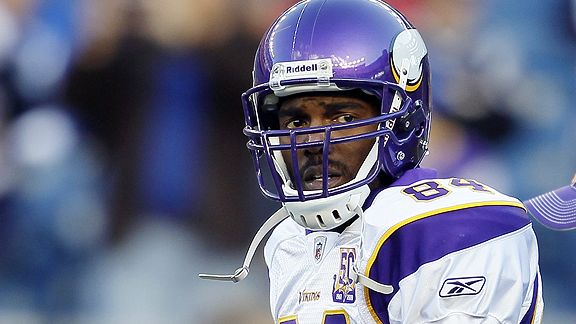 Jim Rogash/Getty ImagesThe Minnesota Vikings didn't seem to know what they were getting into when they traded for Randy Moss.
Near the end of what was a lost season in 2006,
Minnesota Vikings
coach Brad Childress cut his leading receiver a few days after some comments critical of the team's approach appeared in a local newspaper. Childress was so incensed, in fact, that he released receiver
Marcus Robinson
on Christmas Eve.
It was hard not to think of that episode Monday after the Vikings
decided to waive
receiver
Randy Moss
, less than 24 hours after he
took shots at Childress and the entire team
during a rant following the Vikings' 28-18 loss to the
New England Patriots
. To be sure, it was a decisive reaction to what had quickly become an untenable internal distraction. But it fully illustrated Childress' rigid definition of team chemistry as well as a catastrophically inadequate pre-trade assessment of Moss' history and methods.
Many of you are already asking if Vikings owner Zygi Wilf, ostensibly embarrassed and/or enraged by Moss' postgame rant Sunday, stepped in and demanded Moss' departure. The answer is I'm not completely sure. But I can tell you this: To my knowledge, Wilf has never in six seasons mandated a football decision. It would have been totally out of character and a departure from his management style to do so now.
Which brings us back to Childress, who has repeatedly hammered players over the years for expressing opinions contrary to a team-oriented message. Respected veterans from Robinson to cornerback
Antoine Winfield
to receiver
Bobby Wade
to safety
Darren Sharper
have absorbed his wrath after speaking their minds in media interviews.
Before news of the move hit Monday, Childress said he did not consider Moss' comments "incendiary." I didn't believe him then and I think we now know it wasn't the case. It seems pretty evident to me that Childress read Moss' comments and then watched the tape of his performance Sunday in New England -- a game marked by many of Moss' patented half-run routes and punctuated by a poor effort on what could have been a touchdown reception in the fourth quarter -- and gave up on him.
The decision compounded the original mistake the Vikings made in acquiring Moss from the Patriots last month. Nothing that happened since then should have been surprising to them. Moss' long history of being what I call pathological contrarian told you all you needed to know. What follows are documented facts, not opinions:
Despite his remarkable skills, Moss doesn't run hard on every play.

In most of his previous seasons, Moss has given up on at least a few catchable balls.

He doesn't speak often to the media. But he has no filter when he does, and frequently produces mini-dramas with truths that usually hit too close for comfort.

He has run astray of authority at every stop of his NFL career, explaining why he has now been fired on four occasions -- twice by the Vikings, once by the Oakland Raiders and once by the Patriots. If you want a quiet soldier, Randy Moss isn't your guy. No surprise there.
These issues are all prominently displayed on Moss' NFL résumé. They were obvious to anyone who cared to look, and they are the presumed tradeoff you make for a player who will go down as one of the best downfield receivers in NFL history.
Childress said last month that he did not speak with Moss until after the trade. But we can only assume that he was fully aware of the Moss Paradox and accepted it among the terms of the deal. Surely they didn't think Moss had changed in a fundamental way, not with Patriots coach Bill Belichick so eager to deal him midway through the season. And it would have been the height of hubris to believe that their organization and structure would somehow transform Moss into someone he has never been.
No, when you acquire Randy Moss for a 12-game rental, you do so with your eyes wide open. Before pulling the trigger, you accept the potential for disruption in return for the short-term benefit on the field. To waive Moss because he did what he has always done reflects an inexcusable lack of conviction in the original decision. That's no way to build a team, either in the short- or long-term.
In fact,
Fox Sports' Jay Glazer
reported that Childress said during a team meeting Monday that Moss "wasn't type of guy they wanted" in Minnesota. Really? Moss' history is too long for Childress not to have made that determination before the trade.
This latest catastrophe robbed the Vikings of a third-round pick and could cost them an additional $3.388 million if another team does not absorb his contract by claiming him on waivers. Worse, they are back to where they were a month ago: without a legitimate downfield receiver to open the field for tailback
Adrian Peterson
and slot receiver
Percy Harvin
. Veteran
Sidney Rice
, who is recovering from a hip injury, appears several weeks away from a return.
But those short-term issues pale when compared to the long-term implications of this episode. If you're a Vikings fan, you're probably having a hard time mustering much faith in the team's direction and leadership. What are they doing and where are they going? I don't know -- and I'm not sure they do either.
November, 1, 2010
11/01/10
3:27
PM ET
You really can't make it up. Here's what's happened in the Theatre of the Absurd today:
At about 1:40 p.m. ET,
Minnesota Vikings
coach Brad Childress told reporters that he had given receiver
Randy Moss
an opportunity to spend time with his family in the New England area before re-joining the team on Wednesday. He said he did not believe Moss' bizarre postgame rant was "incendiary" and said he did not regret acquiring Moss "at the present time."
About 30 minutes later, Childress
informed players in a team meeting
that Moss
had been waived
, an admission of a mistake so colossal and embarrassing that it will forever define Childress' tenure in Minnesota.
For now, we'll put aside another bout between Childress and the truth-o-meter. To start it off, I'll say this: Moss' return to Minnesota last month was much more shocking than his quick demise. The Vikings, of all teams, should be ashamed to have made this gambit given their knowledge of Moss' history. They lost a third-round draft pick for four mostly unproductive games and are left with a fractured franchise that seems headed to Armageddon.
Otherwise, it was just another act in the Theatre of the Absurd.
More in a bit.