January, 31, 2011
1/31/11
5:21
PM ET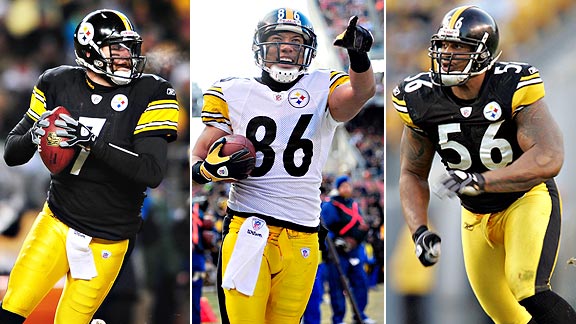 US PresswirePittsburgh's Ben Roethlisberger, Hines Ward and LaMarr Woodley are all playing in Super Bowl XLV, but could they have ended up in the NFC West coming out of college?
FORT WORTH, Texas -- The
Pittsburgh Steelers
appeared loose and comfortable during their first Super Bowl 45 media session.
They've been in big games before, and frequently, thanks largely to shrewd drafting.
This is the Steelers' third Super Bowl appearance in the last six seasons.
The team made available
James Farrior
,
Flozell Adams
,
Hines Ward
,
Brett Keisel
,
Ben Roethlisberger
and
LaMarr Woodley
during its initial media session Monday -- just the opportunity I needed to produce an item corresponding to the one titled, "
Draft hindsight: Aaron Rodgers and beyond
".
The idea: to examine a Super Bowl team's featured players -- in this case, the ones made available Monday -- with an emphasis on draft status and the decisions NFC West teams made in the same rounds. Not every team held a choice in every featured round.
The
Arizona Cardinals
had a shot at Steelers quarterback Ben Roethlisberger, but they came out OK.
Here goes ...
1997 Draft: James Farrior, LB, Virginia
Round:
First (eighth overall, by the
New York Jets
)
NFC West spin:
Farrior is a two-time Pro Bowl choice, but the NFC West offers no apologies for passing over him.
Orlando Pace
and
Walter Jones
became perennial Pro Bowl tackles. Jones became the best player in Seahawks history, in my view.
Shawn Springs
made one Pro Bowl trip and picked off 33 passes during a 13-year career. The Cardinals had no shot at Farrior. They chose Tommy Knight one pick later. He started 54 games in six NFL seasons. Rumor says the 49ers selected a quarterback in the first round of this draft.
First-round selections in the division:
1998 Draft: Flozell Adams, T, Michigan State
Round:
Second (38th overall, by Dallas)
NFC West spin:
Adams became a five-time Pro Bowl choice with Dallas. His career appeared finished, or close to it, until injuries led the Steelers to call on him this season. Arizona passed on Adams twice. Safety
Corey Chavous
, chosen five spots before Adams, went to a Pro Bowl with Minnesota. He was a productive player for roughly a decade. Tackle
Anthony Clement
, chosen two spots before Adams, started more than 100 games for three teams.
Second-round selections in the division:
1998 Draft: Hines Ward, WR, Georgia
Round:
Third (92nd overall, by Pittsburgh)
NFC West spin:
The Rams and Seahawks found Pro Bowl-caliber players when they passed over Ward in the third round. Seattle gave up on
Ahman Green
prematurely, however, after coach Mike Holmgren grew weary of early fumble problems. The 49ers missed on tackle
Chris Ruhman
three choices before Ward went to Pittsburgh. Ruhman played in six games with the 49ers, starting none. He played in 11 NFL games with two starts overall. The 49ers passed on Ward even though
Jerry Rice
had suffered a devastating knee injury in the 1997 opener.
Third-round selections in the division:
2002 Draft: Brett Keisel, DE, BYU
Round:
Seventh (242nd overall, by Pittsburgh)
NFC West spin:
The 49ers drafted longtime starting guard and center
Eric Heitmann
three spots before the Steelers found Keisel. Pittsburgh could use Heitmann this week after the Steelers' starting center,
Maurkice Pouncey
, suffered a severely sprained ankle during the AFC Championship Game. Keisel became a Pro Bowl choice for the first time this season, distinguishing him from 2002 NFC West seventh-rounders. The Rams found their mainstay snapper in this draft. Keisel was gone when the 49ers found guard
Kyle Kosier
, who started 29 games for them and remains a starter with Dallas.
Seventh-round selections in the division:
2004 Draft: Ben Roethlisberger, QB, Miami of Ohio
Round:
First (11th overall, by Pittsburgh)
NFC West spin:
The Cardinals passed over Roethlisberger and came away with a potential Hall of Fame receiver. No complaints there, even though quarterbacks are more valuable than receivers. None of the other NFC West teams had a shot at Roethlisberger. Seattle and St. Louis were set at quarterback, anyway.
First-round selections in the division:
2007 Draft: LaMarr Woodley, OLB, Michigan
Round:
Second (46th overall, by Pittsburgh)
NFC West spin:
The Cardinals could certainly use Woodley now, and badly, but they had already invested millions in the position heading into the 2007 draft. Free-agent additions
Chike Okeafor
and
Bertrand Berry
had combined for 14.5 sacks during the 2006 season. Unfortunately for the Cardinals, they haven't gotten enough from their second-round investment in
Alan Branch
.
Second-round selections in the division:
OK, all done, and just in time. ESPN.com teammates Mike Reiss, Kevin Seifert and I are heading out to the Packers' media session next. Seifert is driving and he doesn't wait for anyone. Gotta jam.
August, 3, 2010
8/03/10
5:52
PM ET
The contract stalemate between the
Seattle Seahawks
and first-round choice
Russell Okung
reached four days Tuesday, a
surprise
and disappointment for all involved.
Coach Pete Carroll described the situation as "clear-cut" when speaking with reporters after practice.
"It goes by years and years of format," Carroll said. "It's a clear-cut situation. We are very open and very strong about getting this thing done."
Translation: Hey, it's basically all the agent's fault.
The agent, Peter Schaffer, was not available after Seahawks practice Tuesday, and he won't be available when Carroll says similar things following future practices. That's the advantage NFL teams have in shaping public perceptions. They can send out the head coach, who isn't directly involved in the negotiations, and he can say things that resonate with fans and prey on the player's emotions. Former Seahawks coach Mike Holmgren was especially good at this (he had quite a bit of practice, as the chart demonstrates).
"Every day that goes by, Russell falls farther behind and it's hurting him immensely," Carroll said. "So, hopefully we'll be able to get something done here, but it's very clear-cut and it does not need to be a difficult situation right here because there's so much history and pattern to this."
A disciplined organization can wait out players until the players either capitulate, change agents or both. As much as the Seahawks need Okung at left tackle, Okung will reach a point where he needs the team even more. Teams are bigger than players the vast majority of times, and that is the case here.
But everyone loses when a talented player doesn't report in time.
The issues standing between the Seahawks and a deal with Okung are best understood in the context of deals negotiated by other players in the first round.
The
Washington Redskins
gave $36.7 million in guarantees to
Trent Williams
, a tackle chosen fourth overall, as part of a six-year deal that could be worth $60 million. The
Kansas City Chiefs
gave
Eric Berry
, a safety chosen fifth, $34 million in guarantees as part of a deal that could also be worth $50 million to $60 million over six years. The
Cleveland Browns
gave
Joe Haden
, a cornerback chosen seventh, $26 million in guarantees as part of a five-year, $40 million deal.
For Okung, the issues are twofold: Should his deal run five years or six, and how much should that sixth year cost? Okung, as a left tackle, stands to gain more in free agency once his deal ends than Berry is likely to command as a safety. He'll naturally want a five-year deal and if he's going to take a sixth year, he'll want to be paid at a premium offsetting the extra year he'll spend before reaching free agency. But if you're the Seahawks, it's difficult to pay more for the sixth overall choice than the Chiefs paid for the fifth pick.
And so the waiting game continues.
Chart note:
There's an asterisk next to the figure for
Marcus Tubbs
because the team wasn't as concerned about signing him in time for camp. Tubbs' was tending to his ill mother in Texas during the first week of practices.
December, 3, 2008
12/03/08
9:21
AM ET
Posted by ESPN.com's Mike Sando

Matt Barrows of the Sacramento Bee wonders whether the 49ers might be able to bring back Norv Turner as offensive coordinator in 2009. Turner vacated the job to become the Chargers' head coach before the 2007 season, but his future in San Diego is tenuous.
Daniel Brown of the San Jose Mercury News was there when 49ers tight end Vernon Davis accompanied a second-grader to school as part of an NFL program. Davis laughed when a girl asked why he kept getting penalties for taking off his helmet.

Darren Urban of azcardinals.com says Neil Rackers isn't worried about changing holders for field goals because Ben Graham does a good job.
Also from Urban: Cardinals coach Ken Whisenhunt, linebacker Clark Haggans and receiver Sean Morey were part of the 2005 Steelers team that went from a 7-5 record to Super Bowl victory. The Cardinals would have to win their next eight games to replicate that feat.
Kent Somers of the Arizona Republic says the Cardinals aren't the only team feasting on weak NFC West opponents. NFC East teams are 12-3 against the NFC West. AFC East teams are 8-3.

Clare Farnsworth of the Seattle Post-Intelligencer says the Seahawks have faced a long list of elite wide receivers this season. That continues when Randy Moss visits Sunday.
John Morgan of Field Gulls ponders what to do with veteran Seahawks guard Mike Wahle, who could miss the remainder of the season. He says bringing back Wahle at a reduced rate might make sense.
Danny O'Neil of the Seattle Times says the Seahawks have struggled against big offensive lines. Remember Marcus Tubbs? Seattle misses him a great deal, in my view.

Jim Thomas of the St. Louis Post-Dispatch breaks down Rams left tackle Orlando Pace's effort against Dolphins pass-rusher Joey Porter in Week 13. The two matched up 18 times on passing plays, including 14 times when Pace blocked Porter without help. Pace helped end Porter's streak of nine games with at least one-half sack.
Nick Wagoner of stlouisrams.com says Pace's performance proved he can factor into the Rams' plans beyond this season.
August, 13, 2008
8/13/08
10:12
AM ET
Posted by ESPN.com's Mike Sando
Dan Brown of 49ers Hot Read hits multiple nails on their heads in a comprehensive look at the team's quarterback situation. I think he has a very good read on the situation. No matter what you think of the 49ers' handling of this situation, Alex Smith could help himself by showing some fire and truly fighting for the job.
Matt Barrows of the Sacramento Bee, searching for clues in the 49ers' great QB mystery, compares the comments coach Mike Nolan made on KNBR to those he made after practice. Barrows' first sentence pretty much sums it up: "So, is the quarterback competition even? Or does J.T. O'Sullivan have the edge? The answer depends on what time of day you listened to Mike Nolan."
Also from Barrows: The 49ers can't seem to find a suitable quarterback, and now they are running out of receivers.
Ray Ratto of the San Francisco Chronicle refers to the 49ers' quarterback race as a "whack-a-mole" competition. He notes: "In addition, we can pretty well expect that Nolan will put off the quarterback decision at least another week, because nothing else he has said on the subject has stood the test of time."
Bryan Chu of the San Francisco Chronicle quotes 49ers quarterback Shaun Hill as wishing Nolan were more forthcoming. Hill: "It's been a while since [Nolan] said anything to us about it. I wish we were in the light a little bit. I guess that's how it is."
Clare Farnsworth of the Seattle Post-Intelligencer writes about the Seahawks' best linebacker. That would be Leroy Hill, not Julian Peterson or Lofa Tatupu. I recently filed a story along similar lines for an upcoming season preview package.
Danny O'Neil of the Seattle Times singles out receiver Michael Bumpus as the player of the day. The Seahawks' young receivers do seem to be stepping up. Seattle has a former major college head coach overseeing the position. Keith Gilbertson knows how to teach the game even if his head coaching stints at Cal and Washington didn't work out.
Also from O'Neil: Six of Seattle's 10 first-round choices this decade are no longer with the team, a high number. By my count, Seattle has five of its own first-round draft choices on its roster, including 1997 choice Walter Jones, who predates O'Neil's sample. The league average is 6.2 first-round picks still with their original teams. The Seahawks were at the average, in other words, until they released injured defensive tackle Marcus Tubbs. Seattle could be the only team in the league without any of its own draft choices starting at quarterback, running back and wide receiver. We'll see if that holds after I update my starting lineups to reflect camp races.
Kent Somers of the Arizona Republic checks in with the Cardinals' red-zone offense. He also explains where Brandon Moore fits in the defense. Somers mentions Dominique Rodgers-Cromartie's ankle injury in passing.
Also from Somers: Cardinals veterans are helping the young guys.
The Associated Press notes that Rodgers-Cromartie, the team's first-round draft choice, left Cardinals practice on a cart.
Darren Urban of azcardinals.com says the cart was necessary, at least in part, because Rodgers-Cromartie was practicing on a distant field. The cornerback wasn't going to limp all the way back to the training facility. That said, the severity of the ankle injury was not yet known.
Mike Tulumello of the East Valley Tribune leads with the Rodgers-Cromartie news. Later, he passes along a funny quote from Deuce Lutui. The Cardinals' right guard explained why communication issues on the line have improved: "I used to speak Tongan to (tackle) Levi Brown. All this time I didn't know he didn't speak Tongan. I've learned English in the offseason. [Now], I'm able to catch up with him." Lutui was kidding.
Scott Johnson of the Everett Herald says a frustrating back injury is forcing Seahawks center Chris Spencer to miss valuable time. Spencer always seems to be dealing with some sort of injury. He has had surgeries on both shoulders.
Jim Thomas of the St. Louis Post-Dispatch calls Steven Jackson's holdout the longest in the 14-year history of the St. Louis Rams. Thomas also correctly defines a holdout as what happens when a player skips mandatory practices while under contract. People routinely refer to contract disputes as holdouts, particularly when an unsigned rookie draft choice misses camp. But those characterizations are wrong. An unsigned rookie draft choice isn't holding out any more than the team is holding out.
July, 25, 2008
7/25/08
9:31
AM ET
Posted by ESPN.com's Mike Sando
Jim Thomas of the St. Louis Post-Dispatch has the good news for Rams fans: Pro Bowl left tackle Orlando Pace has been cleared to practice. That means Pace won't open camp on the physically unable to perform list, as coach Scott Linehan had suggested he might. Pace is coming off shoulder surgery and two injury-shortened seasons. I think the Rams are a potential playoff team if Pace plays a full season at a high level.
Bill Coats of the St. Louis Post-Dispatch has the latest on contract talks for Rams running back Steven Jackson, who was not immediately in camp. Jackson should be in good position to command a new deal given what new offensive coordinator Al Saunders thinks about him. Saunders knows what Jackson means to the offense. Jackson is scheduled to earn $1.7 million in 2008, the final year of his contract.
Doug Lesmerises of the Cleveland Plain Dealer tells how Ohio State coach Jim Tressel used his relationship with former 49ers owner Eddie DeBartolo Jr. to bring in Jerry Rice, Ronnie Lott, Joe Montana and Roger Craig as motivational speakers. What, no Elvis Grbac?
Danny O'Neil of the Seattle Times takes roll heading into Seahawks camp. Rookies Lawrence Jackson and John Carlson remain unsigned and absent. O'Neil also has a chart showing the length of recent contract disputes involving Seattle rookies.
Dave Boling of the Tacoma News Tribune breaks down the issues Seattle faces heading into camp, noting that the big ones sound quite familiar. Marcus Tubbs, the offensive line, etc. Boling's conclusion: "The Hawks have been to the playoffs nine times in their history & and six of them have been under Holmgren, including the last five straight. That's an example of redundancy that fans can live with." Full disclosure: Dave was best man in my wedding.
Brian McIntyre of the Scout.com network provides a pre-camp Seahawks roster breakdown in the format I used for years as a beat reporter. You might see similarly conceived roster analyses here.
Kent Somers of the Arizona Republic breaks down Anquan Boldin's beefs with the Cardinals. Says Boldin: "At this point, I'm not even interested in a contract. For me, it's been going on two years, and especially after last year, I was promised a deal would get done before the season. But the season's here and obviously that hasn't happened. I don't want a deal. People may think I'm being funny or saying that just to say it. But, for me, I'm just tired of it. Washed my hands of the whole situation. My agent has direct orders not to negotiate. So that's how I feel about it."
Scott Bordow of the East Valley Tribune thinks the Boldin impasse could negatively affect the Cardinals' season, given Boldin's role as heart and soul of the team. Bordow also says we shouldn't discount the possibility of an agreement if the Cardinals were to up their offer at some point in the future. I tend to agree only because Boldin has three years remaining on his deal, and much can change in three NFL seasons.
Mike Tulumello of the East Valley Tribune breaks down Steve Breaston's push for the No. 3 receiving job. We'll have a better idea how the race will shake out once third-round receiver Early Doucet puts on the pads at camp. I'll judge Doucet more by how he fares in exhibition games than how he fares in practices, particularly early in camp.
Tom FitzGerald of the San Francisco Chronicle was there when 49ers rookie Kentwan Balmer broke down in tears (of joy) after signing his rookie contract. I don't know much about Balmer, but this has to be a good sign. The guy obviously cares.
Clare Farnsworth of the Seattle Post-Intelligencer puts the 80-man roster limits in perspective, going beyond the obligatory comments from coaches lamenting the reductions. Farnsworth digs deep into his notes to recall a 1989 conversation with defensive end Jacob Green, who knew what smaller roster limits could mean for veteran players. Projecting ahead, I don't see the limits affecting Seattle as much as they might affect teams run by hard-nosed defensive coaches. Mike Holmgren already tends to limit the amount of contact in the interests of keeping players healthy.
Thomas Bonk of the Los Angeles Times reminds us how some were picking the 49ers as a sleeper team last season. Not this season, and that's a good thing for the 49ers. They need to prove it to themselves before the rest of us buy in.
Jamie Griswold of MyNorthwest.com provides a link to a Matt Hasselbeck interview featuring a telling quote from the Seattle quarterback regarding new line coach Mike Solari: "He's really done a nice job of bringing our running game together." Seattle fans should be encouraged when Hasselbeck directs optimistic thoughts toward a specific area, particularly when that specific area is the much-maligned Seattle ground game.
NOTE: Please drop additional links into the comments section if you think I've missed some good ones. I'm an RSS fiend but still can't get to everything.