NFL Nation:

Mario Addison
January, 25, 2014
Jan 25
8:00
AM ET
CHARLOTTE, N.C. -- Welcome to another edition of the
Carolina Panthers
' Mailbag.
There were a lot of questions about the future of defensive end
Greg Hardy
, who is scheduled to become an unrestricted free agent. I apologize up front if yours wasn't among those that were chosen.
Carolina's free agents in general remain a hot topic.
Once the Super Bowl is over and general manager Dave Gettleman has completed his evaluation of the roster, you'll start to see some movement on a lot of fronts. For now everything is pretty much in a wait-and-see mode.
To the mailbag:
January, 3, 2014
Jan 3
3:00
PM ET
CHARLOTTE, N.C. --
Cam Newton
may be on his way to becoming the most recognized celebrity/athlete in Charlotte, but the third-year
Carolina Panthers
quarterback isn't there yet.
To borrow a phrase from the person he has to surpass: "To be the man, you gotta beat the man."
WOOOOOOO!!!
Yes, Ric Flair.
[+] Enlarge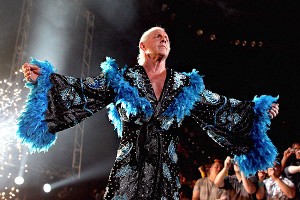 Mark Dadswell/Getty ImagesCam Newton has a ways to go before he reaches the popularity level of Charlotte's favorite son, Ric Flair.
When you talk about institutions in the Queen City, the 16-time heavyweight wrestling champion, often described in these parts as the platinum blond deity, remains king.
So it seems only fitting that the Panthers (12-4) have adopted "The Nature Boy's" famous "WOOOOOOO" that he uses to taunt opponents.
Cornerback
Drayton Florence
actually came up with the idea one day in practice. He suggested that the defensive backs break with two claps and a "WOOOOOOO!"
Next thing you know the linebackers were doing it. Then the entire defense was doing it. Then the offense wanted to get involved.
Eventually, it led to whoever gets the game ball following a victory having to give two claps followed by the entire team going "WOOOOOO!"
Newton somewhere along the line began adding "and the Nature Boy" after a slight pause. Here's
a sample from the Panthers.com website
.
"It's exciting to hear," Newton said. "It's exciting to say it and exciting to do ... It's a tribute to what he does. It's kind of something of a rejoice when you say it."
And yes, Newton grew up a fan.
"Who didn't grow up watching WWF, WCW and having Ric Flair slap somebody's chest and go, 'WOOOOOOO?'" Newton said.
Flair has yet to give a pregame locker room pep talk, and it's doubtful he will be available for the Jan. 12 playoff game because of a prior engagement.
But Florence is doing his best to arrange something, if not for the 12th then the NFC championship if the second-seeded Panthers win and top-seeded Seattle loses to put the game in Charlotte.
"He's the man," Florence said of Flair. "We want the man to join us."
Flair did send a phone message via
Mario Addison
, who ran into him at a local Taco Mac, that the defensive end played for the team before the Monday night game against New England.
Legacy Talent and Entertainment, which represents Flair, put the message to music and pictures on the wrestler's Facebook page.
"Hey boys, it's The Nature Boy Ric Flair calling you live from Atlanta, Ga.," Flair said in the message. "Tonight's the night guys. The
New England Patriots
are in town. Who cares? It's Carolina Panther time guys. And remember, tonight is the night, and to be the team you've got to be the team.
"Cam Newton, athletic gifts unparalleled.
Steve Smith
, the baddest man in the NFL. My good buddy Mario, you guys do it tonight. Remember, to be the team, you've got to beat the team. And right now you are the team, and will be all night long. Let's do it guys. Let's have two claps and a Ric Flair WOOOOOOO! Go Panthers. WOOOOOOO!"
Flair, who once wrestled in a tag-team match with former Carolina linebacker
Kevin Greene
, told ESPN.com he is flattered the Panthers have adopted his battle cry.
"It's awesome!" he said. "I'm a champ brother, so I know a thing or two about celebrating victories! I'm humbled to have achieved that much respect by my hometown team. I really believe the Panthers have the weapons to go all the way."
Florence said he didn't realize Flair lived in Charlotte when he came up with the idea that he borrowed from his high school in Florida. He suggested the "WOOOOOOO" break after the Panthers re-signed him following the second game.
Carolina is 12-2 since.
Florence, safety
Mike Mitchell
and cornerback
Captain Munnerlyn
already have taped a video of them doing the "WOOOOOOO" to play for the crowd on the Jumbotron before the Panthers face Philadelphia, Green Bay or San Francisco a week from Sunday.
"If we get to do it three more times [after games], that means we're in the Super Bowl," Florence said.
It's all part of team bonding that has been key to this season. Carolina coach Ron Rivera gets a kick out of the chant.
"They really seem to get themselves fired up over that," he said. "It's kind of become their trademark. It's fun. It's good for them."
But Rivera hasn't quite gotten the courage to try it with them.
"No," he said. "I'm not quite sure I have enough rhythm to do that."
Said Florence, "We'll coach him up."
But what Florence really wants is Flair in person.
"We need him, man," he said. "He's a Charlotte great. Anything we can do to get us motivated and hyped up to play another team, man, we're all for it."
December, 14, 2013
12/14/13
1:52
PM ET
CHARLOTTE, N.C. -- The
Carolina Panthers
added sack leader
Charles Johnson
to the injury report on Saturday with an undisclosed illness.
The defensive end leads the team with 8.5 sacks. If he cannot play in Sunday's 4:05 p.m. ET game against the
New York Jets
,
Mario Addison
is the likely replacement.
Johnson missed two games before last Sunday's 31-13 loss to New Orleans with a sprained right knee.
The only player listed as definitely out for Sunday is running back
Jonathan Stewart
with a slight MCL tear in his right knee.
November, 25, 2013
11/25/13
8:00
AM ET
MIAMI -- A review of five hot issues from the
Carolina Panthers
' 20-16 victory against the
Miami Dolphins
:
Rewards of winning:
Seven straight wins have earned the Panthers (8-3) their third prime-time game of the seaosn. NBC has picked up the Panthers' Dec. 8 NFC South showdown against the
New Orleans Saints
(9-2) for its Sunday night telecast as part of the league's flex scheduling. If the Panthers hold serve against Tampa Bay, a team it beat 31-13 on a Thursday night telecast, and the Saints lose at Seattle, which is almost unbeatable at home, this would be for the outright division lead. The teams also play in Charlotte on Dec. 22 in a game that could decide the division title.
[+] Enlarge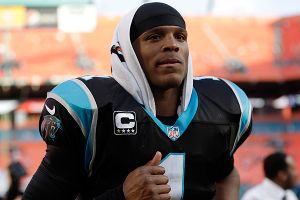 AP Photo/Alan DiazCarolina's Cam Newton made big plays when they were needed in an exciting win against Miami.
Spitting blood:
Quarterback
Cam Newton
might have to consider wearing a mouthpiece in the future. He was hit so hard by Miami's
Cameron Wake
on Carolina's first play that he called a timeout to make sure he hadn't bitten his tongue off. He doesn't like wearing a mouthpiece, because it gets in the way of calling plays and gives him dry mouth. He chews gum to keep his mouth moist. But the hit gave Newton reason to believe a mouthpiece might not be such a bad idea. "I'm not fond of wearing a mouthpiece, and hopefully my mom is not listening to this, because she always said you get one set of teeth," Newton said. "It's something I need to look at if we continue to have a problem."
Spitting blanks:
Newton was 0-for-7 with an interception on throws of at least 15 yards downfield on Sunday. It was his first career game with at least seven attempts of that range and no completions. Newton also struggled against four or fewer rushers, completing only 41.7 percent of his passes. He had a 64.2 completion percentage against those fronts through the first 10 games. But Newton was good when it counted, completing a pass to
Steve Smith
that turned into a 19-yard gain on fourth-and-10 from his own 20 with just over two minutes remaining to keep alive the game-winning drive. He also ran 8 yards for a first down on a fourth-and-1 play from his own 41.
Three men and a sack:
The Panthers were without sack leader
Charles Johnson
(knee), but his replacements did just fine. Yes, replacements. It took
Mario Addison
,
Wes Horton
and
Frank Alexander
to replace Johnson. Addison had a sack and tackle for loss, Alexander had three tackles, and the trio helped hold Miami to 52 yards rushing on 3.1 yards per carry. I'm not saying Johnson wasn't missed, but the Panthers were allowing 3.9 per carry with him.
Boom, boom, boom:
Punter's often get overlooked, but
Brad Nortman
deserves props for his effort against Miami. He is a big reason the Panthers were able to keep the Dolphins from spending most of the game in Carolina territory. He had punts of 72, 61 and 58 yards, averaging 56.7 yards on seven punts. His net average of 46.6 was well above his 39.2 season average.
November, 21, 2013
11/21/13
2:33
PM ET
CHARLOTTE, N.C. -- There is no arguing that end
Charles Johnson
is a valuable member of the
Carolina Panthers
' defensive front. He leads the team in sacks with 8.5, and the defense is allowing 1.5 yards more per play with him not on the field.
So if the sprained right knee Johnson suffered in the third quarter of Monday night's win against New England keeps him out of Sunday's game against Miami -- which it is looking like will be the case -- it will be a loss.
But it shouldn't be game-changing.
[+] Enlarge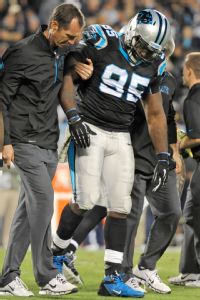 AP Photo/Mike McCarnThe Panthers, who might not have Charles Johnson on Sunday, have made depth a team strength.
One of the strengths of the Panthers (7-3) has been the overused "next man up'' cliché. When a player has missed time with an injury or been replaced because of poor play, there hasn't been a significant drop-off in performance.
In some cases, performance has improved.
For example:
So there is no panic on the league's No. 3 defense that Johnson might be out.
"Charles is a great player," middle linebacker
Luke Kuechly
said. "Don't get me wrong, he's great at rushing the passer. But one thing we have, especially on the defensive line ... I've noticed no matter who the front four is, they've done a great job."
Coach Ron Rivera says whoever has the best week of practice between
Mario Addison
,
Frank Alexander
, and
Wes Horton
will start at left end if Johnson can't go. But that doesn't mean you won't see other players there as well.
"I'm telling you, man, we're all the same player," right end
Greg Hardy
said. "If we need to put Dwan out there at end, he can go out there. We put a tackle out there against Atlanta when me and [Johnson] went out.
"Everybody can do the same job."
Hardy is the best example. He's played everywhere from end to nose tackle.
"It's the way we've been taught, and things have been instilled in us over the two or three years that Coach Rivera has been here," Hardy said. "It's finally hitting home with everybody. Everyone is just buying in."
The coaches prepare for these moments. They rotate Addison, Blackburn and Horton in so they are prepared to step up when times like this come up.
"Greg's one of those guys that plays all four spots," Kuechly said. "But all those guys do a good job of playing spots. A lot of that falls on [the coaches]. They're getting guys prepped and ready to go. That's what makes it effective, when you can bump guys around and play different positions."
December, 30, 2012
12/30/12
10:34
AM ET
The
Carolina Panthers
reportedly could be without defensive end
Greg Hardy
in Sunday's season finale at New Orleans.
Joseph Person reports Hardy
did not travel
with the team Saturday. Hardy was excused from practice all week while dealing with a family issue. Hardy has had the best season of his career, recording 11 sacks.
If Hardy doesn't play,
Frank Alexander
and
Mario Addison
likely would share time at his position.
September, 21, 2012
9/21/12
4:49
PM ET
August, 31, 2012
8/31/12
8:43
PM ET
Click
here
for the complete list of
Indianapolis Colts
' roster moves.

Most significant move:
I didn't expect they were doing anything with
Dwight Freeney
, but his $19 million salary had stirred up a new round of rumors that the Colts could let him go. He's on the team, and there were no real cuts of note aside from the team's most senior player, long-snapper
Justin Snow
. It's not as if they were so deep there was no room, but the Colts held on to several players who weren't drafted -- tight end
Dominique Jones
, offensive tackle
Ty Nsekhe
, linebackers
Mario Addison
and
Mario Harvey
and long-snapper
Matt Overton
.
Onward and upward:
The Colts kept both
Drew Stanton
and rookie
Chandler Harnish
as backups to
Andrew Luck
. I understand that Stanton's been with the Colts through Bruce Arians' installation and there is value in that. But last season showed the value of a decent backup quarterback. If Luck gets hurt and the Colts need an alternative, I suspect there are some guys who just became available who qualify as more talented. General manager Ryan Grigson should have insight into one of them,
Mike Kafka
, who was released by Philadelphia. Grigson was hired by the Colts from the Eagles personnel department.
What's next:
Every player who is not a vested veteran is subject to waivers. And as the worst team in the NFL last season, the Colts still retain the first pick in the waiver order. That means they will get anyone they claim, so long as the claim comes with a corresponding roster move. That means guys who are feeling good tonight might still be in position to turn in their playbooks Saturday, or in the days to follow. Grigson could do a lot of work to upgrade the last five spots on his roster. Or more. I'd expect some turnover on the offensive line, in the secondary and perhaps at linebacker and quarterback.

NFL SCOREBOARD
Sunday, 2/2
WEEKLY LEADERS