March, 18, 2013
3/18/13
9:18
PM ET
PHOENIX -- The
Seattle Seahawks
and especially the
San Francisco 49ers
added to their 2013 NFL draft hauls Monday when the NFL awarded compensatory selections to offset net losses in free agency last year.
The 49ers received the 131st overall pick, a fourth-rounder, plus the 246th and 252nd choices, both in the seventh round. The Seahawks received the 241st and 242nd overall choices, also in the seventh round.
Teams cannot trade compensatory picks.
"Under the rules for compensatory draft selections, a team losing more or better compensatory free agents than it acquires in the previous year is eligible to receive compensatory draft picks," the NFL announced. "Compensatory free agents are determined by a formula based on salary, playing time and postseason honors. The formula was developed by the NFL Management Council. Not every free agent lost or signed by a club is covered by this formula."
The 49ers received compensatory choices because free-agent losses
Blake Costanzo
,
Josh Morgan
and
Madieu Williams
outweighed free-agent addition
Mario Manningham
according to the formula. The Seahawks received picks because free-agent losses
Atari Bigby
,
John Carlson
,
David Hawthorne
and
Charlie Whitehurst
outweighed free-agent additions
Matt Flynn
and
Jason Jones
.
I've put together lists below showing all unrestricted free agents added, lost and re-signed by NFC West teams last offseason.
Update:
I've also made available for download
an Excel file
with tentative 2013 draft order, reflecting comp picks and known trades. This is unofficial. The league has not yet released the official order; additional trades could affect it.
The 49ers have a league-high 14 picks, including two picks in each of the second through fifth rounds. They're in prime position to stock their roster for the future.
By my accounting, the Cardinals hold the 7th, 38th, 69th, 103rd, 140th, 174th and 176th picks. The 49ers hold the 31st, 34th, 61st, 74th, 93rd, 128th, 131st, 157th, 164th, 180th, 227th, 237th, 246th and 252nd choices. The Seahawks hold the 56th, 87th, 123rd, 138th, 158th, 194th, 214th, 220th, 241st, and 242nd choices. The Rams hold the 16th, 22nd, 46th, 78th, 113th, 149th, 184th and 222nd picks.
Arizona Cardinals
Re-signed:
D'Anthony Batiste
,
Mike Leach
,
Early Doucet
,
Jay Feely
,
Dave Zastudil
Added:
Adam Snyder
,
William Gay
,
James Sanders
,
Quentin Groves
Lost:
Richard Marshall
,
Sean Considine
,
Deuce Lutui
San Francisco 49ers
Re-signed:
Tavares Gooden
,
Carlos Rogers
,
Alex Smith
,
Ted Ginn
Jr.
Added:
Mario Manningham,
Rock Cartwright
,
Josh Johnson
Lost:
Josh Morgan, Adam Snyder, Blake Costanzo,
Reggie Smith
, Madieu Williams,
Chilo Rachal
Seattle Seahawks
Re-signed:
Heath Farwell
,
Red Bryant
,
Paul McQuistan
,
Michael Robinson
,
Leroy Hill
,
Matt McCoy
Added:
Matt Flynn, Jason Jones, Deuce Lutui,
Barrett Ruud
Lost:
John Carlson, Atari Bigby, Charlie Whitehurst, Tony Hargrove, David Hawthorne
St. Louis Rams
Re-signed:
Kellen Clemens
Added:
Cortland Finnegan
,
Kendall Langford
,
Scott Wells
,
Quinn Ojinnaka
,
Steve Smith
,
Robert Turner
,
Jo-Lonn Dunbar
,
William Hayes
,
Trevor Laws
,
Mario Haggan
,
Barry Richardson
Lost:
Brandon Lloyd
,
Chris Chamberlain
,
Donnie Jones
,
Jacob Bell
,
Bryan Kehl
,
Gary Gibson
March, 12, 2013
3/12/13
6:14
PM ET
The NFL has released its official list of restricted and unrestricted free agents.
The chart breaks down the UFA counts by team in the NFC West.
A quick look at the lists, which include a couple players who have already reached agreement on new contracts:
Arizona Cardinals

UFA offense (4):
D'Anthony Batiste
,
Pat McQuistan
,
Rich Ohrnberger
,
LaRod Stephens-Howling
UFA defense (8):
Michael Adams
,
Nick Eason
,
Quentin Groves
,
Vonnie Holliday
,
Rashad Johnson
,
Paris Lenon
,
James Sanders
,
Greg Toler
RFA:
Brian Hoyer
, tendered to second-round pick.
Note:
The Cardinals announced Johnson's agreement to a three-year contract.
St. Louis Rams

UFA offense (8):
Danny Amendola
,
Kellen Clemens
,
Brandon Gibson
,
Steven Jackson
,
Barry Richardson
,
Steve Smith
,
Robert Turner
,
Chris Williams
UFA defense (6):
Craig Dahl
,
Bradley Fletcher
,
Mario Haggan
,
William Hayes
,
Trevor Laws
,
Rocky McIntosh
RFA:
Darian Stewart
, tendered to right of first refusal.
Note:
The Rams announced Hayes' agreement to a three-year contract.
San Francisco 49ers

UFA offense (4):
Leonard Davis
,
Ted Ginn
Jr.,
Randy Moss
,
Delanie Walker
UFA defense (6):
Dashon Goldson
,
Tavares Gooden
,
Larry Grant
,
Clark Haggans
, Ricky Jean-Francois,
Isaac Sopoaga
RFA:
Tramaine Brock
, tendered to right of first refusal.
Note:
Walker has reportedly agreed to terms on a contract with the
Tennessee Titans
.
Seattle Seahawks

UFA offense (2):
Cameron Morrah
,
Frank Omiyale
UFA defense (5):
Alan Branch
,
Patrick Chukwurah
,
Leroy Hill
,
Jason Jones
,
Marcus Trufant
UFA special teams (2):
Steve Hauschka,
Ryan Longwell
RFA:
Clint Gresham
and
Chris Maragos
, tendered to right of first refusal; and
Clinton McDonald
, tendered to seventh-round choice.
February, 28, 2013
2/28/13
3:31
PM ET
Those eagerly awaiting the start of NFL free agency March 12 with visions of your favorite team loading up on accomplished veterans should revisit the list of unrestricted free agents NFC West teams signed last season.
St. Louis, badly in need of a talent infusion following the worst five-year run in NFL history, opened its checkbook to sign a long list of veteran players, some of them at high cost.
That was the exception in the NFC West and I'd be surprised if St. Louis took a similarly aggressive approach this offseason. The Rams have stabilized their roster and positioned themselves to build around young talent.
With that in mind, I'll take a team-by-team look at the unrestricted free agents each NFC West team signed last offseason. UFAs are defined as veterans who reached the market when their contracts expired. Teams also acquired players by other means.
Arizona Cardinals

2012 UFA signings from other teams:
cornerback
William Gay
, linebacker
Quentin Groves
, safety
James Sanders
and guard
Adam Snyder
Comment:
Gay started and played 93 percent of the defensive snaps as a replacement for
Richard Marshall
, who left in free agency. He wasn't a star, but the defense was solid. Gay gave Arizona the snaps it sought. Groves played 43 percent of snaps as a situational pass-rusher. The Cardinals needed him when an injury sidelined
O'Brien Schofield
. Sanders played 11 percent. Snyder started 14 games and played much of the season with an injury for a line that was among the NFL's least effective for much of the season. Arizona's young tackles made progress. I thought the team overspent for Snyder, a player San Francisco eagerly replaced with the undrafted
Alex Boone
, who provided a clear upgrade. Note that three of the four UFA additions last offseason played defense. Arizona needs to target offense this offseason. New coach Bruce Arians and new general manager Steve Keim have praised the existing talent. Arizona might not load up on free agents the way some teams do when new leadership takes over.
St. Louis Rams

2012 UFA signings from other teams:
linebacker
Jo-Lonn Dunbar
, cornerback
Cortland Finnegan
, linebacker
Mario Haggan
, defensive end
William Hayes
, defensive tackle
Kendall Langford
, defensive lineman
Trevor Laws
, guard
Quinn Ojinnaka
, tackle
Barry Richardson
, receiver
Steve Smith
, center
Robert Turner
and center
Scott Wells
Comment:
The Rams were major players in the UFA market. Results were mostly positive. Finnegan gave the Rams the production and veteran presence they sought. He was instantly a playmaker for St. Louis. Dunbar was much better than I had anticipated and well worth his contract, which included a $1 million signing bonus and $1.5 million annual average. Hayes provided good depth on the defensive line, and at a reasonable cost ($900,000 for one year). Langford needed time to transition from the 3-4 scheme he ran previously in Miami. The Rams signed him after
Jason Jones
signed with Seattle instead. Injuries prevented Wells from stabilizing the offensive line, a major disappointment and a reminder of the risks associated with signing older players from other teams.
San Francisco 49ers

2012 UFA signings from other teams:
fullback
Rock Cartwright
, quarterback
Josh Johnson
, receiver
Mario Manningham
Comment:
Does this look like a team poised to strike for
Darrelle Revis
in the trade market? Does this look like a team ready to throw around cash in free agency? Not based on the list of signings last offseason. The interest San Francisco showed in
Peyton Manning
doesn't apply here. Indianapolis released Manning. Manning was not a UFA. I'd put him in a separate category, anyway. Teams make exceptions for Hall of Fame quarterbacks. Back to the 2012 UFA list. Cartwright and Johnson never played for the team. Neither earned a spot on the 53-man roster. Both served a purpose by initially increasing competition at their positions. For example,
Anthony Dixon
moved fro halfback to fullback and became a more valuable player, including on special teams. Johnson provided early insurance, but in retrospect,
Colin Kaepernick
was obviously ready to serve in the No. 2 role before becoming the starter. Manningham provided sufficient value before a knee injury ended his season. The 49ers missed him late in the season, including during the Super Bowl.
Seattle Seahawks

2012 UFA signings from other teams:
quarterback
Matt Flynn
, defensive lineman Jason Jones, guard
Deuce Lutui
and linebacker
Barrett Ruud
Comment:
Flynn would have started if
Russell Wilson
hadn't emerged unexpectedly as the clear choice. Seattle invested $6.5 million per year in Flynn, a sum the team could live with even if Flynn became the backup. It's tough to fault the Seahawks for signing Flynn. They had no idea Wilson would be available in the draft, or that Wilson would perform at such a high level so early in his career. Jones finished the season on injured reserve. That made it impossible for him to provide the interior pass-rushing push Seattle sought when signing him to a one-year deal worth $4.5 million. Lutui and Ruud never earned roster spots. Neither was a liability financially. Both were low-cost insurance policies. Seattle parlayed Ruud into a 2013 draft choice by trading him to New Orleans after the Saints lost
Jonathan Vilma
.
November, 6, 2012
11/06/12
8:58
PM ET
The
St. Louis Rams
' defense could not stop the
Green Bay Packers
or
New England Patriots
from flourishing on third down.
Those teams converted 16 of 27 chances in recent victories over St. Louis.
Early downs could present the biggest challenge for the Rams against San Francisco in Week 10. The 49ers like to line up with multiple backs and/or tight ends to stress opponents' base defenses. That will be a key matchup Sunday at Candlestick Park.
As the chart shows, the 49ers are averaging 6.3 yards per carry and 9.2 yards per pass attempt against 4-3 defensive personnel on early downs. Those figures both rank third in the NFL.
The Rams allow 4.0 yards per rush and 7.9 per pass attempt from their 4-3 defense in those situations. League averages are 4.4 and 7.8, respectively, for the 20 teams regularly running 4-3 alignments as their base defenses. Those are respectable figures overall, but a look inside the numbers reveals some inconsistencies.
The
Chicago Bears
, playing without
Matt Forte
, managed only 2.8 yards per carry on 20 first- and second-down rushes against the Rams' base defense. Advantage, Rams.
The
Seattle Seahawks
and
Washington Redskins
fared better. Seattle carried 23 times for 141 yards while also averaging 8.2 yards per pass attempt in these situations. Washington used play-action from regular personnel to strike for a 68-yard touchdown when the Rams' base defense stacked eight in the box on first-and-10.
Former NFL assistant Rick Venturi, in
grading the Rams' defense

for 101ESPN St. Louis, gave high marks for linebackers
Jo-Lonn Dunbar
and
James Laurinaitis
. But that was only part of the story.
"The SAM backers, whether it was
[Rocky] McIntosh
or
[Mario] Haggan
, have just been a wash," Venturi said. "They've been totally mediocre, but they don't play very much. Very few people play 21 or base personnel [frequently] any more. That is going to change this week in San Francisco. Those guys are going to have to earn their money."
The 49ers have executed 65.6 percent of their first- and second-down rushes from two-back sets. They have averaged 5.5 yards per carry when doing so.
June, 10, 2012
6/10/12
6:30
PM ET
NFC West teams do not face the
Denver Broncos
this season, but I could not resist one of the funnier stories from the weekend.
D.J. Williams
probably faces a team fine for
tweeting images
from the Broncos' digital playbook. He should be embarrassed.
But to suggest Williams has put the Broncos at a strategic disadvantage would be going too far. Players switch teams every offseason. The detailed knowledge they bring with them has some value, but probably less than one might imagine. Versions of
entire playbooks
have shown up online without anyone seeming to care much.
Let's consider Williams and the Broncos for the sake of discussion. They face the
Pittsburgh Steelers
in Week 1. The Steelers' coaches, having studied the Broncos in detail before their playoff matchup in January, know much more about Denver's defense than the formation adjustments Williams revealed in a screenshot. They might even know more about the Broncos' defense than Williams knows about it.
I doubt
Arizona Cardinals
coaches are worrying about the information
Deuce Lutui
, someone with access to Ken Whisenhunt's playbook since 2007, is taking with him to division-rival Seattle. Likewise, I doubt the
San Francisco 49ers
are sweating over the knowledge their former guard,
Adam Snyder
, is taking with him to division-rival Arizona.
Having an opponent's playbook would be nice, but it wouldn't tell an opponent anything about the game plan for a certain week, or even what calls a team might put in place for a given situation. Video study reveals what teams actually do, making it much more valuable.
In this case, Williams revealed a single page featuring six alignments. Any of the defensive players leaving Denver this offseason --
Mario Haggan
,
Jonathan Wilhite
,
Derrick Harvey
and
Brodrick Bunkley
departed as unrestricted free agents -- could reveal much more at little risk to the Broncos.
March, 12, 2012
3/12/12
10:30
AM ET
NFL free agency begins Tuesday at 4 p.m. ET. Here is the complete list of unrestricted free agents for each team in the division:
Denver Broncos:
S
Brian Dawkins
, DT
Brodrick Bunkley
, LB
Mario Haggan
, TE
Daniel Fells
, DE
Derrick Harvey
, OL
Russ Hochstein
, DE
Jason Hunter
, FB
Spencer Larsen
, LB
Joe Mays
, DT
Ryan McBean
, QB
Brady Quinn
, WR
Eddie Royal
, DT
Marcus Thomas
, TE
Dante Rosario
, CB
Jonathan Wilhite
, WR
Matthew Willis
, LB
Wesley Woodyard
, G
Manny Ramirez
.
Kansas City Chiefs:
RB
Jackie Battle
, LB
Jovan Belcher
, CB
Brandon Carr
, S
Jon McGraw
, QB
Kyle Orton
, DB
Travis Daniels
, DE
Wallace Gilberry
, DL
Amon Gordon
, NT
Kelly Gregg
, S
Reshard Langford
, FB Le'Ron McClain, TE
Anthony Becht
, RB
Thomas Jones
, OT Ryan O'Callaghan, TE Jake O'Connell, QB
Tyler Palko
, S
Sabby Piscitelli
, TE
Leonard Pope
, OT
Barry Richardson
, WR
Jerheme Urban
, C
Casey Wiegmann
.
Oakland Raiders:
DL
Desmond Bryant
, RB
Michael Bush
, LB
Quentin Groves
, OT
Stephon Heyer
, QB
Jason Campbell
, DB
Bryan McCann
, DE
Jarvis Moss
, C
Samson Satele
, WR
Chaz Schilens
, DL
Trevor Scott
.
San Diego Chargers:
WR
Vincent Jackson
, G
Nick Hardwick
, OT
Jared Gaither
, RB
Mike Tolbert
, RB
Jacob Hester
, NG
Antonio Garay
, SS
Steve Gregory
, DL
Tommie Harris
, ILB
Na'il Diggs
, OLB
Everette Brown
, SS
Bob Sanders
, SS
Paul Oliver
, WR
Patrick Crayton
, OG
Tony Moll
TE
Randy McMichael
, ILB
Stephen Cooper
.
December, 4, 2011
12/04/11
4:42
PM ET
A few thoughts on a wild game at the Metrodome with the Broncos winning
35-32
:


What it means:
In shades of their early-season struggles, the
Minnesota Vikings
lost another halftime lead and found a way to lose this game at the end. They are 2-10 and the best news is that they maintained their position near the top of the 2012 draft.
PonderWatch:
We saw the best and worst of rookie quarterback
Christian Ponder
, who threw for 381 yards and three scores but also had two game-defining interceptions. Part of me wants to give Ponder credit for that kind of production in the absence of tailback
Adrian Peterson
. Ponder also appeared to be playing on a gimpy leg. But he threw his first interception into the hands of
Mario Haggan
, resulting in a 16-yard return for a score. And his second put the Broncos in position for
Matt Prater
's game-winning 23-yard field goal as time expired.
HarvinWatch:
Receiver
Percy Harvin
, who missed practice Friday because of an illness, was the Vikings' big playmaker in the absence of Peterson. Harvin turned two short passes into long touchdown plays in the second half and finished with 156 receiving yards. He also took another five carries out of the backfield. I like the way the Vikings are using Harvin on offense under new coordinator Bill Musgrave.
Secondary woes:
When
Tim Tebow
completes 10 of 15 passes against you for 202 yards and two scores, and isn't intercepted, you know you've got some issues in your secondary. Rookies
Brandon Burton
and
Mistral Raymond
saw plenty of action and, not surprisingly, struggled at times. The biggest insult: The Broncos offense scored 28 points using basically a traditional offense. They didn't need to resort to the option and Tebow had only four carries.
Highlight reel:
Rookie tight end
Kyle Rudolph
gave fans something to think about for the future by reaching over safety
Quinton Carter
to haul in a 19-yard touchdown reception. You can't ask more from a tight end in the red zone than to render the defender helpless with his size.
What's next:
The Vikings will play at the
Detroit Lions
next Sunday at 1 p.m. ET.
August, 17, 2011
8/17/11
12:22
PM ET
ENGLEWOOD, Colo. -- For a franchise that was accused of turning stale a few years ago, the
Denver Broncos
have become pros at taking fresh approaches.

For the second time in three training camps, Denver has a new head coach. John Fox takes over after the disastrous 23-month Josh McDaniels regime. From 1995 to 2008, the Broncos were the picture of coaching constancy. It was the Mike Shanahan show. Everyone knew it.
But the Broncos have been in flux and have gone from one of the better-run organizations in the NFL to a team that is grasping for an identity. Denver hasn't been to the playoffs since the 2005 season. It hasn't had a winning record since 2006.
In comes Fox, who is experiencing a rebirth himself after spending the past nine seasons in Carolina. Fox's biggest task in Denver is to restore normalcy after the rocky McDaniels era and rebuild a winner.
"There has been instability here, good, bad or indifferent, that's just the way it has been," said Fox, whose team will be on its sixth defensive coordinator (former New Orleans secondary coach Dennis Allen) in six seasons.
"We have to build our program here. But I think it can be done. There are good pieces here."
Many Denver players have raved about Fox. They appreciate his professionalism, his structure and his attention to detail. They believe there is a plan in place, and they trust Fox's experience. The players also seem to appreciate the fact that Fox is simply in Denver to coach. The front office is run by legendary Denver quarterback
John Elway
and general manager Brian Xanders. Both Shanahan and McDaniels made personnel decisions.
"I get a great feel for Coach Fox," star cornerback
Champ Bailey
said. "He's one of the better coaches I've been around ... I like it that he is focused on coaching us on the field. That's where he wants to be."
THREE HOT ISSUES
[+] Enlarge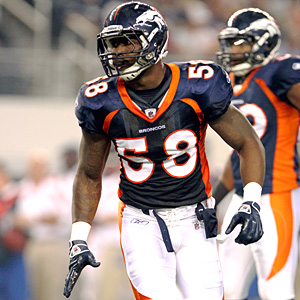 Matthew Emmons/US PresswireRookie Von Miller will need to play well right away if Denver's defense is going to improve this season.
1. Fix the defense.
While the
Tim Tebow
-
Kyle Orton
competition has garnered much attention, the real key issue in Denver's camp has been the defense. This unit was ranked No. 32 in the NFL last season and was generally awful in every major statistical category. Fox and his defensive staff have taken a hands-on approach to improve this group, which is a mix of veterans and youngsters.
If the reconstructed defensive front plays well and rookie linebacker
Von Miller
makes an instant impact, this group has a chance to improve quickly. It seems to be working early. Denver's defense has been capable in camp and it looked solid against Dallas in the preseason opener Thursday. Injuries to defensive tackles Ty Warren (who signed to a two-year, $8 million deal) and Marcus Thomas create more uncertainty at a key spot for Denver. It needs to get help there by Kevin Vickerson, Brodrick Bunkley, Jeremy Jarmon and Derrick Harvey in the rest of the preseason. Warren could be out for a long period and Thomas will miss the rest of the preseason.
2. Clarity at quarterback:
The Broncos' camp has been about getting the first-team ready to go with Orton. There is no question Orton is the starter now. If the team struggles, Tebow could enter the picture, but players love playing with Orton and the team thinks he currently gives them the best chance to win now.
Of course, the lack of clarity was team-induced. It spent the immediate days after the lockout trying to trade Orton to Miami. After that fell through, Orton took control of the offense quickly and has given Denver no choice but to make him the starter, TebowMania be dammed.
3. Establish a ground game:
Although Fox is a defensive-minded coach, he has a strict philosophy on offense. He believes in stuffing the ball down an opponent's throat and killing the clock. Denver struggled to run the ball under McDaniels, and Fox said adding a veteran tailback was paramount.
The Broncos jumped on
Willis McGahee
when he was cut by the Ravens. Expect McGahee and third-year player
Knowshon Moreno
to combine for plenty of carries. They have worked well in camp, and they combined for 40 yards on six carries in the preseason opener at Dallas. This camp has been spent getting these two involved in the offense as much as possible.
ELVIS IS BACK IN THE BUILDING
The Broncos are raving about the play of
Elvis Dumervil
. After leading the NFL with 17 sacks in 2009 and getting a contract worthy of that performance, Dumervil tore a pectoral muscle in early August last year and missed the entire 2010 season.
There was concern that his rust and a move back to the 4-3 under Fox could hamper the smallish Dumervil. He flourished in McDaniels' 3-4 system after being a solid player in Shanahan's 4-3 defense. Dumervil beefed up to more than 260 pounds, and he's been impressive under Fox.
The Broncos expect Dumervil and Miller to become one of the better pass-rush tandems in the league.
RELYING ON THE ROOKIES
[+] Enlarge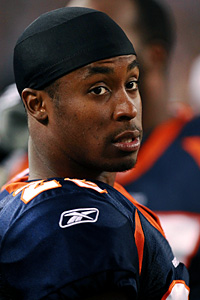 Ronald Martinez/Getty ImagesThe Broncos will also be looking to rookie Rahim Moore to shore up Denver's secondary.
One of the most exciting aspects of this camp for Denver has been the play of its rookies. The Broncos thought they drafted well in April, and after three weeks, they are thrilled with what they see.
"I think we had an excellent draft," Fox said.
Added Dumervil: "This is the best group of rookies I've seen here in awhile."
Leading the way is Miller, who was the No. 2 overall draft pick. The Texas A&M product has been as advertised. Teammates rave about his speed, explosiveness and his ability to make plays. They expect instant success.
Second-round pick
Rahim Moore
is vying for a starting spot with Kyle McCarthy at safety and has shown he is ready for NFL play. Right tackle
Orlando Franklin
, middle linebacker
Nate Irving
, tight end
Julius Thomas
and safety Quentin Carter are all expected to be major contributors. This is exactly what this 4-12 team needed -- a solid group of youngsters to build around after a couple of shaky years of drafting by McDaniels.
OBSERVATION DECK
Safety Brian Dawkins may be turning 38 this year, but the Broncos are still getting a lot out of him. He works well with Fox's staff, and his leadership has been uncanny during camp.

Defensive end Robert Ayers has been getting chances to break out in camp, but he has been slow to show progress. He was the No. 18 overall pick in the 2009 draft.

Receiver Brandon Lloyd has been slowed by swelling in his knee. Still, the team expects him to contribute. Lloyd had a breakout season in 2010 -- 77 catches for 1,448 yards.

The second-round draft class of 2009 has been a bust. Tight end Richard Quinn is hurt and could be the odd man out. Safety Darcel McBath has yet to develop, and cornerback Alphonso Smith (who Denver traded its 20101 first-round pick for) was shipped out to Detroit last year. This was supposed to be the nucleus of future success, and Denver hasn't seen results.

The Broncos' passing game struggled in red-zone and third-down situations. That has been a point of emphasis during this camp.

Veterans Joe Mays and Mario Haggan are competing to hold off Irving at middle linebacker.

Franklin has struggled in pass projection. Still, the team is committed to him.

Denver is excited about second-year receiver Eric Decker. Expect Decker to get a chance to contribute a lot.

The Broncos like what they have in new tight end Daniel Fells. He is solid as a receiver and as a blocker. He should help in both phases of the game.

Right cornerback Andre' Goodman has been steady, and the team is confident he can play well in 2011.

Second-year center J.D. Walton continues to improve, and he has shown strong leadership for a young player.
April, 24, 2010
4/24/10
7:00
PM ET
Assuming new quarterback
Jason Campbell
will start in Oakland, it will mean the team will have a new opening day starting quarterback for the sixth time in seven years. Oakland offensive coordinator Hue Jackson will be Campbell's eighth coordinator in 10 years dating back to his college days.
Oakland coach Tom Cable
is not ready to make
Jason Campbell the starting quarterback yet. He does expect
JaMarcus Russell
to be at the team's minicamp next week.
The Broncos are bringing in former Miami linebacker
Akin Ayodele
for a physical Sunday and will sign him barring any issues. He will provide depth at inside linebacker. Denver did not draft a front-seven defender. Coach Josh McDaniels said Denver has moved
Mario Haggan
from outside to inside linebacker.
McDaniels said the team will not add any veteran receivers. The team drafted receivers
Demaryius Thomas
in the first round and
Eric Decker
in the third round.
The only team in the division I see
making a run
at guard
Alan Faneca
is Oakland, but I'd say that is a long shot at best.
Defensive tackle
Gerard Warren
, cut by Oakland this offseason,
has signed
with New England.
Denver sent a fifth-round pick next year to Tampa Bay for two seventh-round picks this year.
October, 19, 2009
10/19/09
10:24
PM ET
Posted by ESPN.com's Bill Williamson
SAN DIEGO -- Denver coach Josh McDaniels has shown before that he is an excellent second-half adjuster. He'll need to do so again as
San Diego leads 20-17
in what has been a fantastic game.
Denver has outscored opponents 59-7 in the second half this season. The 20 points are the most Denver has allowed all season. Denver allowed 10 points in the first quarter for the third straight game.
Denver left tackle
Ryan Clady
gave up a sack to San Diego rookie
Larry English
. Clady has allowed sacks in the past two games. He went his first 20 games without allowing a sack.
Denver's defense is getting beat up. Linebacker
Mario Haggan
is out with a knee injury and he is questionable to return. Safety
Brian Dawkins
(hamstring) and defensive tackle
Ronald Fields
(hamstring) are also out and questionable to return.
If Dawkins remain out, expect San Diego to try to go to tight end
Antonio Gates
often. He was featured late in the second quarter.
Expect English to get fined for a horse-collar tackle late in the first half.
ESPN's John Clayton is reporting that Kansas City traded defensive lineman
Tank Tyler
to Carolina for a fifth-round pick.
October, 4, 2009
10/04/09
11:50
PM ET
| | |
| --- | --- |
| | |
| | Ron Chenoy/US Presswire |
| | Denver cornerback Champ Bailey is leading a much improved Broncos defense. |

Posted by ESPN.com's Bill Williamson
DENVER --
Champ Bailey
was asked Sunday evening if he ever thought the new-look
Denver Broncos
' defense could possibly be this good when he headed to training camp in July.
Bailey carefully considered the question. Then, he smiled and slyly attempted to avoid it.
"I don't know," the usually quick-to-answer Bailey said after a long delay. "I'm not one for predictions."
Yeah, Champ, we didn't think it would be this good, either. But after the first quarter of the NFL season, his crew is one of the top stories in the league.
Facing the first test in a tough 10-game stretch, Denver's defense belted the
Dallas Cowboys
around for the final three quarters and survived a broken play in the final moments to
secure a 17-10 win
. Denver is one of a quartet of 4-0 teams in the NFL. Minnesota is 3-0 and it plays Green Bay on Monday night.
Under offensive-minded coach Josh McDaniels, the Broncos are winning on the strength of a 3-4 scheme under new defensive coordinator Mike Nolan. His Broncos are physical and unrelenting. (In fact, the former San Francisco head coach could be working his way back into head-coaching consideration with this masterful job.) The Broncos have allowed an NFL-low 26 points this season. In the final three games of the 14-year Mike Shanahan head coaching era, Denver allowed 112 points.
Denver's defense was so bad the past two seasons, it was often referred to as the "Enver Broncos" because there was no "D" in the city. Denver is back and that's no joke.
The Broncos are stopping the run. That was a huge problem in recent years. Dallas had 74 yards rushing. Denver is rushing the passer with vengeance. Linebacker
Elvis Dumervil
, who converted from end this year, has eight sacks in four games. The Broncos have claimed 10 turnovers.
"I think [the change] is that we are so prepared and so confident," Bailey said. "We're ready for anything."
That was evident in the final minute of the game.
After Dallas jumped out to a 10-0 lead in the first quarter, Denver's defense shut down the Cowboys. Dallas quarterback
Tony Romo
was pressured in the final three quarters and harassed into making one errant throw after another. Dallas couldn't establish any ground-game rhythm.
Then there was the broken play. On fourth down and three from its own 27 with 1:16 to go and Denver leading 17-10, Romo shot out of pressure and hit
Sam Hurd
about 20 yards down field. Hurd bolted 53 yards down to the Denver 20.
Did the old, porous Denver defense resurface at the worst possible time?
"It was just one play," Dumervil said. "We had to strap it back on and get after it. There was still 20 yards to go."
Dallas couldn't complete the journey.
In the final nine seconds of the game, from the Denver 2, Romo went after Bailey. Yes, Bailey. The Broncos cornerback beautifully defended two straight passes intended for Hurd in the end zone to win the game.
Bailey is rarely challenged. But Dallas went after him all game. Bailey made a difficult interception at the Denver 3 in the third quarter.
"That's Champ Bailey, one of the best cornerbacks of all time," Denver linebacker
D.J. Williams
said. "I don't know why they would throw at him."
Asked if he was shocked that the ball came his way on the final two plays, all Bailey said was, "I'm glad they did."
So are the Denver faithful.
But Denver's defense is more that just 10 scrubs and a Hall of Fame cornerback.
This is a cohesive group that is playing well on all three layers of the unit. The defensive front three, one of the most inexperienced groups in the league, is setting the tone in the run game. Linebackers
Andra Davis
, Williams,
Mario Haggan
and Dumervil are creating chaos. The secondary has been spectacular. New safety
Brian Dawkins
plays like he is 30, not nine days away from celebrating his 36th birthday.
"Everyone here holds each other accountable," said right cornerback
André Goodman
."On that last drive, no one gave up. We just got stronger. That's been the way we've done it all season."
Offensively, Denver has been very timely. Case in point:
Brandon Marshall
's jaw-dropping 51-yard catch and run from
Kyle Orton
to give Denver the lead with 1:46 remaining. Orton has not thrown an interception all season and the Broncos' offense is doing just enough to help its defensive mates.
In the past, it was the Denver defense that couldn't help out the offense. But a lot has changed in Denver.
The "D" has come back to the city.

NFL SCOREBOARD
Sunday, 2/2
WEEKLY LEADERS