June, 3, 2014
Jun 3
11:00
AM ET
DAVIE, Fla. --
Koa Misi
has played outside linebacker his entire five-year career in the NFL. Before that, Misi was a standout defensive end in college at the University of Utah.
But the
Miami Dolphins
are trying something with Misi this offseason that he's never done before. Misi was moved inside as Miami's starting middle linebacker. For the first time, Misi is responsible for play calls, getting the defense lined up pre-snap and stopping anything in the middle of the field.
[+] Enlarge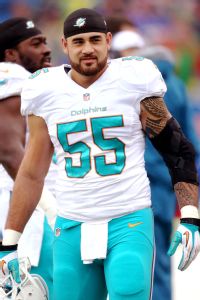 Tom Szczerbowski/Getty ImagesMiami is trying out Koa Misi at middle linebacker.
Will the Misi experiment work?
Misi is Miami's new field general on defense. The Dolphins are hoping this improves the performance of their underachieving linebackers.
"We think he has great leadership qualities," Dolphins head coach Joe Philbin said of Misi. "We think his play has certainly exemplified that over the course of period of time that I've been here. He plays football the right way, so we are going to see how we adjust to that position and how he relates to the other players at his position and the defense in general. So far he's done a nice job."
Make no mistake, the Dolphins are trying the Misi experiment out of necessity. The Dolphins hired new linebackers coach Mark Duffner this offseason to shake things up.
Miami starting linebackers Misi,
Dannell Ellerbe
and
Philip Wheeler
all struggled last season amid high expectations. This trio received sizable contracts and extensions last year, but the Dolphins were ranked 24th in stopping the run and had issues defending tight ends and slot receivers in the passing game.
"I've always been open to anything," Misi said of the switch. "Like I said to these guys, since I got here, I've been switching positions. I'm always open to try something new. Like I said, if it works, it works and, if not, we'll go back to the way things were."
Will this last all season or eventually change? No one in Miami knows for sure.
But there are no early signs that Miami will go back to last year's alignment. Misi has been the starting middle linebacker in every snap the past two weeks in organized team activities open to the media. The Dolphins have been pleased with the results thus far.
"We know, in the long term, it's going to provide us with more depth regardless of whether we stay with it or not," Dolphins defensive coordinator Kevin Coyle said. "It's hard to get a true evaluation when you're out here running around in shorts. But certainly you can start to see them getting more comfortable with the positions that they're featured in right now.
"I think so far, so good. We've been pleased with the way it's working out."
January, 20, 2014
Jan 20
1:15
PM ET
MOBILE, Ala. -- Nearly the entire Jaguars football staff is on hand for the Reese's Senior Bowl. The Jaguars will coach the South team and the
Atlanta Falcons
will coach the North team, but each will switch rosters for a day on Thursday so they can interact with all the players.
Here's a primer of what to expect:
Help wanted:
Jaguars coach Gus Bradley said he expected his staff to remain intact, but linebackers coach Mark Duffner left the team on Sunday night to take the same position with the
Miami Dolphins
. Duffner just finished his eighth season with the team. Defensive coordinator Bob Babich, who spent seven seasons as a linebackers coach with the
Chicago Bears
and
St. Louis Rams
, will work with the linebackers this week. In addition to being a college all-star game, the Senior Bowl is also part coaches convention. Unemployed assistants are here trying to land jobs and head coaches are also here trying to fill staffs.
Keep your eye on:
The Jaguars certainly have a lot of needs to fill, beginning with quarterback and pass rusher. So naturally all the quarterbacks -- particularly
Derek Carr
,
Tajh Boyd
and
David Fales
-- are players to watch during the practices and games. Though he is unable to play because of a torn ACL he suffered in late November against Kentucky,
Aaron Murray
is here to participate in meetings and interviews. It's a smart decision and one that GMs will like.
As for those pass rushers, Jeremiah Attaochu (who played linebacker at Georgia Tech), Michael Sams,
Kareem Martin
,
Chris Smith
, and
James Gayle
are defensive ends to watch. At outside linebacker,
Trent Murphy
and
Christian Jones
are worth watching.
Unfortunately, two of the country's top pass rushers won't be here. Buffalo's
Khalil Mack
has opted not to participate and UCLA's
Anthony Barr
will miss the week because of an undisclosed injury. Both are considered top-10 draft picks.
Some other players to watch: WR
Jordan Matthews
, TE
C.J. Fiedorowicz
, TE Jacob Pederson, G
Cyril Richardson
and C
Weston Richburg
.
What you'll get:
Each day I'll provide Jaguars news and notes as well as observations from practice. I'll concentrate on players at positions that correspond to the Jaguars' top needs (QB, DE, OLB, interior OL, RB, WR) but there will be other players as well. I'll have several blog posts a day and you also can follow me on Twitter @ESPNdirocco.
ETC.:
Among the other players who either opted out or cannot participate because of injury are RBs
Carlos Hyde
(opted out),
Andre Williams
(injury) and
Tyler Gaffney
(injury), OTs
Jake Matthews
(opted out) and
Taylor Lewan
(injury), WR
Tevin Reese
(injury), and DT
Dominique Easley
(injury).
January, 10, 2013
1/10/13
11:16
AM ET
The
Jacksonville Jaguars
just issued a news release announcing Mike Mularkey has been fired as their head coach.
"I informed Mike today that he will not return as head coach of the Jaguars," new general manager David Caldwell said in a statement. "I know Mike well and do not want anyone to misinterpret the rationale behind my decision. Mike is an excellent coach and I am sure he will succeed in his next stop in the NFL. However, I must do what I believe is best for the Jacksonville Jaguars and immediately explore every avenue possible to turn our football team around. For that to happen as seamlessly as we want, and as quickly as our fans deserve, I feel it is in everyone's best interests for an immediate and clean restart."
Added owner Shad Khan: "Mike Mularkey is leaving our organization with my utmost respect. Mike gave the Jaguars everything he had on and off the field, and his efforts as our head coach will always be appreciated. Mike will land on his feet soon. Until then, I wish nothing but the best for Mike and his family."
San Francisco 49ers
offensive coordinator Greg Roman is regarded as
one likely candidate
to replace Mularkey. He and Caldwell went to college together and worked together early in their careers with the
Carolina Panthers
.
Mularkey is a good coach who didn't have a very good year with a bad roster. He got caught up in bad timing with the Jaguars. While he tends to be too conservative, he's a quality offensive coordinator candidate.
His assistants were told recently they were free to look for other work. But if they don't find it, perhaps the best of them will be considered for spots on the new staff. I consider receivers coach Jerry Sullivan and linebackers coach Mark Duffner the best of the assistants.
October, 13, 2011
10/13/11
5:12
PM ET
From the sympathetic sorts, the presumption is that Jack Del Rio must be really having a hard time with a proverbial ax over his head.
Those sorts would be focusing on the wrong people.
[+] Enlarge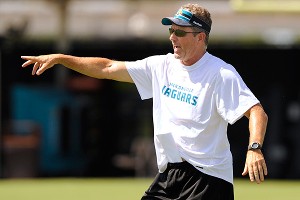 AP Photo/Rick WilsonJacksonville offensive coordinator Dirk Koetter was a candidate for the Denver head coaching job and coveted by the Rams as an offensive coordinator this past offseason.
Del Rio might not have a job next season, but he'll still be paid $5 million just as he will be this year.
It's his staff that's facing doom.
It's easy to say if they'd done better jobs they would have forced the Jaguars to extend them and they'd have no issues. But the fact is contracts for assistant coaches usually run a year less, or just as long as, the one for the head coach they work for.
I know some of JDR's staff better than others. There are some good coaches there no matter the results they are getting. If you think house should be cleaned, so be it. Perhaps it should.
The only change you might see this season is an early exit for JDR, and an interim stint for one of the coordinators, Dirk Koetter or Mel Tucker, or linebackers coach Mark Duffner.
No matter who's in the big office, assistants with expiring contracts will be working the phones in the last quarter of the season, when some college jobs start to come free. Hopefully they can compartmentalize and give the Jaguars their best while also looking out for their futures.
Koetter nearly got the Denver head coaching job last winter, and St. Louis wanted him as its offensive coordinator but the Jaguars wouldn't let him go.
His offense in Jacksonville certainly has not gotten it done to this point this season. A good share of that has to fall on the coordinator. But he's got a rookie quarterback, very few weapons and a boss who seems to handcuffs him and has thrown him under the bus for not opening things up more in the loss at Carolina.
Part of the reason I am on record as a fan of Koetter as a coach is he's a straight-shooter.
He was asked about
job uncertainty
going forward last week and, to his credit, he didn't evade the topic.
"That's a good question," he said. "I'm fighting my honest policy right now. My personal honesty policy is under attack. What am I going to say to that question?''
"…It's in the back of your mind, okay. You can't deny it, but again it happens to coaches at all levels all the time. It's not like something bad happens and you are never going to work again.''
He also said, "I've got mortgage payments to make.''
Even off a bad season, the good coaches on Del Rio's staff will be on a football field somewhere next year.
In quiet moments well after dark, when they flick off the film on their TV screens or computer monitors and shuffle to their cars, they've got to be daydreaming about just where that might be.
May, 18, 2010
5/18/10
4:24
PM ET
NFL assistant coaches are some of the best people to know for those looking to learn more about the game.
That has been my experience in covering the NFL since 1998.
I've helped push for better media access to assistants through the Professional Football Writers of America. I've also learned more about some of the issues important to coaches, including some outlined in
this recent story
about the NFL Coaches Association.
The chart shows NFLCA team reps as the association talks about forming a union.
Kevin Spencer (Cardinals), Johnnie Lynn (49ers), Dan Quinn (Seahawks) and Andy Sugarman (Rams) are the reps for NFC West coaching staffs. The 49ers' Jimmy Raye is president of the NFLCA executive committee.
It's not clear yet whether the NFLCA will move to unionize and such an effort would face a challenge even if the association did decide to move in that direction. But as coaches consider their options, these assistants presumably will be active behind the scenes.
May, 14, 2009
5/14/09
2:26
PM ET
| | |
| --- | --- |
| | |
| | Icon Sports Media |
| | For Jacksonville to rebound from a disappointing 2008 season, it will need a better performance from linebackers Clint Ingram (51) and Justin Durant (56). |
Posted by ESPN.com's Paul Kuharsky
Jack Del Rio was a third-round draft pick, a tough player who earned a spot on the All-Rookie team, built an 11-season résumé, made a Pro Bowl trip and amassed nearly 1,000 career tackles.
With a linebacker's mentality underneath his headset, it would befit Del Rio's Jaguars to be led by its linebackers, a group that failed to make enough plays for the 2008 season's disappointing 5-11 squad.
Now, without fixture Mike Peterson -- whose falling out with Del Rio last season added to the team's troubles -- three backers will be trying to put their stamps on the 2009 team: Daryl Smith, 27, a second-round pick from 2004; Clint Ingram, 26, a third-round draft pick from 2006; and Justin Durant, 23, a second-rounder from 2007.
"He expects a lot out of you," Ingram said of Del Rio. "Having him around is really an advantage. He's somebody who played the position and knows exactly what you're looking at. He's not been out of the game too long, he can relate to what we are going through, a lot of the things that we are seeing on the field."
A Closer Look
Coach Mark Duffner and a scout weigh in on Justin Durant, Clint Ingram and Daryl Smith:
JUSTIN DURANT

Duffner: "A very quick, athletic, fast player. He has excellent change of direction, he's a very quick-twitch player. He has a lot of range. We feel like he's got a lot of big play capability and ability. He has played primarily as an outside linebacker for us. He's a very active player."

Scout: "He's a bit undersized and I expect they're moving him inside to the Mike. He's a phenomenal athlete, he's quick to the football, he's an aggressive tackler, he can play in coverage with range, he can man up. He's got the greatest upside of all of them and he can really develop into a consistent 100-tackle type. [He had 113 last year, according to the team's count.] ... The horses up front [John Henderson and Rob Meier] will allow for Durant's instincts to help him get to the football quickly, free up a lot of stuff for him to run tackle to tackle or sideline to sideline. Whether or not he has the ability to hold up will be the question, and I think the guys up front can limit the amount of hits he takes."
CLINT INGRAM

Duffner: "Clint started off very slowly last year, you know it was a personal situation where a close friend of his and one of our teammates got injured. I think that affected Clint early in the start of our season. But as the year went on, particularly in the latter half of the season I thought he really started to come on and play. He's a very strong, sudden, explosive player, a very strong hitter, he has very natural strength. We've put him at outside linebacker, and those are really interchangeable, that's where he's had the vast majority of his experience and repetition."

Scout: "He's not as fluid straight line as Durant and lacks Durant's speed. His big thing is attacking well against the run. He's a Sam type, an on-the-line, jam-the-tight-end guy who works well going downhill and in gaps on the offensive line. He has some struggles in coverage dropping back, being fluid, in his ability to see and react to crossing routes and ranging to the sidelines."
DARYL SMITH

Duffner: "I think he's a very good football player, he's got size, speed, strength, quickness, change of direction. He's very versatile, he's played all of our linebacker positions and we're going to try to keep him at really one and let him continue to ascend as a player. He's strong against the run, he's got pass rush ability. He's really got everything you're looking for in terms of a linebacker. I think he's a bright guy, I think he's a very instinctive player too, he has big-play ability. ... We moved him around, he played outside, he played Mike and never really had a home where he could really take off. I thought he had a solid year for us last year, but if he's in one spot, you'll see him really start to spike up in terms of his productivity."

Scout: "He's got the versatility to play inside or outside. He's aggressive, he's a good athlete. He's tough against the run. He plays pass better than Ingram, but not as good as Durant. He has little holes you can poke with the passing game and run fits. I see him as the weakside guy who can run and chase, but he can bounce around."
Ingram said Del Rio interacts with the linebackers quite a bit -- "I don't even see where he has time to take care of any of that stuff he has to do as a head coach as much as I see him around" -- and has learned much from Del Rio about being patient in making his reads and using precise footwork.
The Jaguars are finished reflecting on last season, but in conversations with the AFC South Blog this week both Durant and Ingram said they are holding themselves and the linebacker group accountable.
"We had a lot of mental errors, we allowed too many big plays, we allowed too many rushing yards, we just really weren't good as a whole," Durant said. "... I missed too many tackles last year, I didn't make as many plays as I should have made. I put a lot of pressure on myself to perform. I think that I am a playmaker. That's what I am working on this year, my tackling, my open-field tackling and being more physical."
On Ingram's report card, last year the linebackers played C-plus or B-minus football, and he gave himself a C.
"When things are going like that, I feel like I should be able to step up and do some things and get guys going and be one of those guys who can get something rolling," he said. "Defenses feed off of big plays, hits, emotion. Some of that type of stuff I feel like I should have done a better job of, I should have done a better job out on the field showing it. I did all right, but nowhere close to what I expect out of myself, nowhere close to what coaches expect."
He's reluctant to use it as an excuse and knows it affected the entire team, but Ingram was not himself early in the season. He was coming to terms with the shooting of offensive tackle Richard Collier, a close friend who wound up losing a leg.
For a Jacksonville bounce back this fall, the Jaguars' athletic trio of linebackers will need to more consistently make plays. At this time of year, everyone around the league is optimistic about just about everything, but at least they can sketch out why.
Linebackers coach Mark Duffner said the Jaguars allowed their scheme to get blurred a bit last year. The focus now is making things clearer for players so that they are able to use their talents without over-thinking things. They should resist the temptation to overextend. [Still, the defense was centered on takedowns by the linebackers far more than anyone else in the AFC South: Some 42 percent of Jacksonville's tackles were by linebackers, with Houston at 33 percent, and Indianapolis and Tennessee at 29 percent.]
NFL SCOREBOARD
Thursday, 10/23
Sunday, 10/26
Monday, 10/27