January, 7, 2014
Jan 7
1:15
PM ET
It's not the sort of award anyone wants to win -- and it's certainly not one they want to repeat. But it does serve as recognition for how a player responds to adversity. And that's why
Robert Griffin III
was named the
Washington Redskins
' Ed Block Courage Award winner.
Griffin
The award honors how RG III overcame his knee injury, returning to start the season opener eight months after surgery to reconstruct the ACL and LCL in his right knee. Griffin completed 60.1 percent of his passes for 3,203 yards, 16 touchdowns and 12 interceptions in 13 games. He was inconsistent all season, but did not miss any time until being benched for the final three games. He's one of only five Redskins quarterbacks to throw for more than 3,000 yards in consecutive seasons, joining Sonny Jurgensen, Joe Theismann,
Mark Rypien
and
Jason Campbell
.
"Robert's commitment this offseason helped him fully recover from a major knee surgery," Redskins head athletic trainer Larry Hess said in a release. "His passion and dedication toward his profession motivated him throughout this process and made working with him enjoyable. He is well deserving of this award."
Griffin said in a release: "It's an honor to be selected by my teammates to receive this award. I received a tremendous amount of support throughout the rehab process from my teammates, the doctors, the trainers and everyone involved in the organization. This award is not only a testament to how hard I worked to return, but also a testament to the support system I've had around me for the last 12 months. I'm grateful for their hard work and support and look forward to preparing for the 2014 season."
Guard
Kory Lichtensteiger
won the award last season and
Stephen Bowen
won it in 2011. It's named for the former longtime trainer of the Baltimore Colts.
June, 2, 2013
6/02/13
8:00
AM ET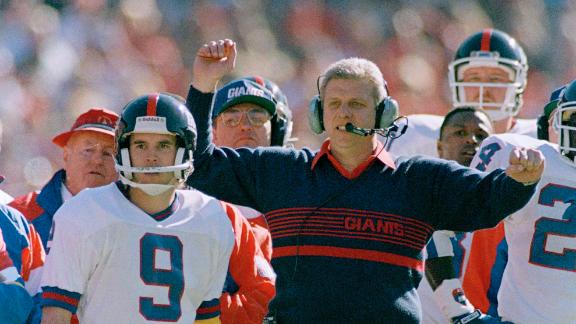 Jim from Albany, Ore.,
had no beefs with the
"Greatest Coaches" ballot
I submitted for the ESPN project. He did question the project itself, however.
"It seems to me that a coach becomes 'great' only after he has a 'great' quarterback," Jim wrote in the NFC West mailbag. "The coaches at the very top of the list might be exceptions, but let's look at some of the others."
The way Jim sees things, Bill Belichick struggled in Cleveland before he had
Tom Brady
in New England. Mike Shanahan struggled without John Elway. Mike Holmgren was considered a great coach in Green Bay, but he had Brett Favre. Tom Landry struggled after Roger Staubach retired. Tom Coughlin was fired by Jacksonville, but once he had
Eli Manning
, he became a great coach. Tony Dungy became great when he had Peyton Manning. Bill Walsh was innovative, of course, but he also had Joe Montana and Steve Young.
"The voting is a fun exercise and I don't mean to dismiss the importance of a coach," Jim writes. "Some are certainly much better than others and some are great, but I think people are overlooking the role that a franchise quarterback plays in how 'great' a coach is considered to be."
There is no doubt quarterbacks make a tremendous difference. Head coaches sometimes play leading roles in acquiring and developing quarterbacks. Let's take a quick run through the coaches Jim mentioned in search of added perspective:
Belichick: We could say the Patriots lucked into Brady in the sixth round, but Belichick was ultimately responsible for drafting him and then sticking with him after Drew Bledsoe's return to health. Also, the Patriots had an 11-5 record when Matt Cassel was their primary quarterback in 2008.
Shanahan: Shanahan deserves credit for getting the most from an aging Elway. The Broncos had six winning seasons, one losing season and one 8-8 season in the eight years immediately following Elway's retirement. The post-Elway Broncos went 91-69 under Shanahan overall. That works out to a .569 winning percentage in Denver after Elway. Bill Parcells was at .570 for his entire career.
Holmgren: Even if we give Favre credit for the Packers' success in Green Bay, we still must account for Holmgren's winning with Matt Hasselbeck and a more run-oriented offense in Seattle. Hasselbeck was a sixth-round pick in Green Bay. Holmgren traded for him and eventually won with him. Hasselbeck went to three Pro Bowls. Holmgren didn't luck into Hasselbeck. He helped develop him.
Landry: The Cowboys enjoyed their greatest postseason success under Landry when Staubach was the quarterback through the 1970s. However, the Cowboys were 31-10 under Landry in the three seasons before Staubach arrived. They were 21-6-1 in Staubach's first two seasons even though Staubach started only three of those games, posting a 2-1 record in his starts. Dallas went 24-8 in its first two seasons after Staubach retired. The Cowboys posted five winning records in their first six seasons of the post-Staubach era, going 61-28 over that span.
Coughlin: Manning wasn't all that great for much of Coughlin's early run with the Giants. Players such as Michael Strahan have credited Coughlin for adapting his gruff personal style in a manner that allowed the Giants to become a championship team. That could be entirely true, or it could be convenient narrative. We can't really know. However, although the Giants might not have won titles without Manning, we can't ignore the role their defense played in defeating Brady's Patriots following the 2007 season in particular. They didn't win disproportionately because of their quarterback.
Dungy: I listed Dungy 20th on my ballot because he won with two completely different types of teams. However, I also think a case can be made that the Colts should have enjoyed greater playoff success during the Peyton Manning years. Ultimately, I point to the success Tampa Bay enjoyed beginning in 1997 with a team built to some degree in Dungy's defensive image. The Buccaneers went 48-32 in their final five seasons under Dungy. That franchise was floundering previously.
I left off Walsh because Jim wasn't challenging his credentials as a great coach. Hopefully, the information above provides some context. I do think it's tough knowing to what degree a coach has facilitated his team's success. We're left to look at success over time, plus whatever contributions a coach seemed to make in terms of strategy, team building, etc.
Joe Gibbs gets credit for winning three Super Bowls with three quarterbacks, none of them Hall of Famers. It's not as if Gibbs had horrible quarterbacks, however. Joe Theismann and Mark Rypien were both two-time Pro Bowl selections. Doug Williams obviously had talent. He was a first-round draft choice, after all.
Perhaps we'll find ways in the future to better measure a coach's contributions. Right now, there's a lot we do not know beyond the results on the field.
June, 22, 2010
6/22/10
11:30
AM ET
By
Matt Mosley
| ESPN.com
Notable players
: QB
Mark Rypien
, RB
Earnest Byner
, WR
Gary Clark
, G
Mark Schlereth
, DE
Charles Mann
, CB
Darrell Green
, K
Chip Lohmiller
[+] Enlarge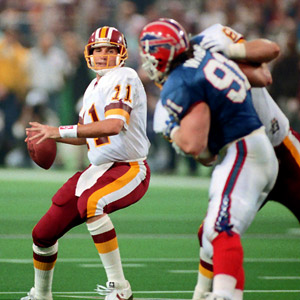 US PresswireMark Rypien threw for 3,564 yards and 28 touchdowns during the 1991 season.
Analysis
: Maybe I should've leaned toward the Riggo-Theismann teams, but in my mind, the '91 team was too stacked to ignore. Clark was such an unbelievable competitor and he still drops by practice from time to time and inspires the current players. Green was the primary reason opposing teams only managed 6 yards per passing attempt that season. His battles with
Michael Irvin
were priceless.
The '91 offensive line was dominant to a ridiculous degree. Redskins quarterbacks were only sacked nine times that season, which is a decent half for the current unit. Rypien had 14 touchdown passes of 25 yards or more to lead the league. Washington could beat you with the pass or run and then its defense knew how to protect leads.
Most impressive win
: The Redskins breezed through the regular season with a 14-2 record and then pounded the Lions and Falcons in playoff games. But the 37-24 Super Bowl win over the Bills stands out to me. The Bills were in the middle of a remarkable run and they had an immensely talented offense. The Redskins didn't care about any of that. We remember the Cowboys being the dominant team of the '90s, but the Redskins set the table in '91 with a memorable season.
Best player
: Green was brilliant at cornerback, but Rypien was the MVP of the league. For that one season, he put up numbers (3,564 yards passing, 28 TDs) that would make any quarterback envious. And the man threw an excellent deep ball.
Honorable mention
1987
: I'll never forget Doug Williams' performance in the Super Bowl. He was shaky early in that game, but after the Skins fell behind the Broncos by 10, Williams settled down and started shredding the defense.
1983
: I know the '82 team won a Super Bowl, but that was in a strike-shortened season. Give me the '83 team even though it was pummeled by the Raiders in the Super Bowl.
1972
: The Skins ran into the perfect Dolphins in the Super Bowl, but Billy Kilmer and the gang had a tremendous season. Larry Brown was a monster and the great George Allen had the Cowboys in full paranoid mode. It was a classic time in the rivalry because the Cowboys also had become an elite team.
October, 15, 2008
10/15/08
9:06
AM ET

NFL SCOREBOARD
Thursday, 12/18
Saturday, 12/20
Sunday, 12/21
Monday, 12/22
WEEKLY LEADERS