NFL Nation:

Marquice Cole
February, 2, 2014
Feb 2
5:25
PM ET
EAST RUTHERFORD, N.J. -- The
Denver Broncos
inactives for Super Bowl XLVIII included at least one minor surprise when cornerback
Quentin Jammer
was one of the seven players who will not suit up for the game, according to the Broncos.
Jammer had played in some of the Broncos' specialty units down the stretch and the decision meant cornerback
Marquice Cole
, who was signed in the days leading up to the AFC Championship game, would be in uniform Sunday night.
The Broncos' other inactives are: quarterback
Zac Dysert
, running back
Ronnie Hillman
, tackle
Vinston Painter
, guard
Chris Kuper
, tight end
Joel Dreessen
and defensive tackle
Sione Fua
.
Fua has battled a calf injury for the last week.
December, 11, 2013
12/11/13
6:12
PM ET
Patriots starting left tackle
Nate Solder
missed Wednesday's practice due to a concussion, according to the team's practice report.
Solder did not miss any snaps during the Patriots' Week 14 win over the Browns, and it is unclear when the injury took place.
He was one of two Patriots to miss practice on Wednesday, as rookie wide receiver
Aaron Dobson
missed his seventh consecutive practice after suffering a foot injury during a Week 12 win over the Broncos.
Solder will need to pass NFL concussion protocols to return to practice. His status for this Sunday's game in Miami is not known at this time.
Tackle
Marcus Cannon
was limited in his return to practice, as he's sat out two weeks due to an ankle injury that has thrust
Will Svitek
into a starting role.
Cornerback
Alfonzo Dennard
, who has been previously limited by a knee injury, was also limited by a shoulder injury, which he suffered on Sunday against the Browns.
Cornerbacks
Aqib Talib
(hip),
Kyle Arrington
(groin) and
Marquice Cole
(shin) were also limited, as was quarterback
Tom Brady
(right shoulder). Brady has been limited in practice during previous parts of the season, though the issue has not seemed to limit him at all during games.
October, 27, 2013
10/27/13
2:25
PM ET
FOXBOROUGH, Mass. -- Sharing a few thoughts at halftime, as the
New England Patriots
trail the
Miami Dolphins
,
17-3
:


Ugly half of football
. This has been one of the Patriots' worst halves of the season. The tone was set by
Tom Brady
's interception on the team's second offensive play -- an inaccurate delivery to tight end
Rob Gronkowski
. It was a bad throw by Brady, who might be dealing with discomfort with the middle and ring fingers on his throwing hand.
Where's Ridley?
Running back
Stevan Ridley
, the team's leading rusher in 2012, was limited to six snaps in the first half (not including final kneel-down) as the Patriots went mostly with
Brandon Bolden
(15 snaps), while mixing in
LeGarrette Blount
(starter who totaled 5 snaps). A bit of a head-scratcher there.
Cole over Ryan at cornerback
. Without top cornerback
Aqib Talib
, the Patriots started
Alfonzo Dennard
and
Kyle Arrington
at the position, with
Marquice Cole
playing the nickelback role. It was Cole who overran receiver
Brandon Gibson
on the Dolphins' first touchdown. The Patriots used rookie cornerback
Logan Ryan
in that role last week, but he hasn't played a defensive snap today, with Cole getting the nod over him.
Dolphins sparked by run
. Miami ran the ball 21 times in the first half, and you wonder if the same approach would be taken if the Patriots had
Vince Wilfork
and
Tommy Kelly
at defensive tackle, and
Jerod Mayo
at linebacker. The Patriots just aren't as sturdy in the front seven and the Dolphins are taking it to them. Credit goes to the Dolphins for executing and winning the critical situations.
Injury report
. Starting right tackle
Sebastian Vollmer
left with a right leg injury and has already been ruled out. Looked like the season-ending type, but that hasn't been confirmed. That thrusts third-year player
Marcus Cannon
into the statring mix at right tackle, with veteran
Will Svitek
now the top backup.
Patriots get the ball
. The Patriots had won the opening toss and elected to defer, so they will receive the opening kickoff of the second half. The home crowd booed the Patriots as they kneeled on the ball at the end of the second quarter.
August, 31, 2013
8/31/13
3:07
PM ET
Sharing non-
Tim Tebow
-based thoughts on some of the Patriots' roster moves today:
1a. The change at punter, with
Zoltan Mesko
out and rookie
Ryan Allen
in, has many layers. Both showed this preseason that they are deserving of punting in the NFL this season and that's why I took the unconventional approach of keeping both on a
final 53-man roster projection
(the idea being that maybe it would have been easier to slide Allen to the practice squad after a few weeks). Allen's upside is obvious; his leg is a bit stronger than Mesko's. But Mesko's control and directional punting seemed a notch above over the course of training camp and the preseason. However, Allen's three second-half punts on Thursday might have been the clincher, which showed his potential when it comes to control and directional punting.
Mesko
Allen
1b. Economics shouldn't have been the primary reason for the decision to go with Allen over Mesko, but it has to be a consideration. Mesko was due to earn $1.3 million in the final year of his contract. Allen has a three-year contract and is due to earn $405,000 this season.
1c. There is a trickle-down effect when it comes to the field-goal operation, as Mesko has served as the primary holder for kicker
Stephen Gostkowski
. Allen didn't hold at Louisiana Tech, but he's worked on the skill since joining the Patriots. Allen will likely become the primary holder, although backup quarterback
Ryan Mallett
could also be a consideration for the role.
1d. In 2005, the Patriots released rookie kicker
Robbie Gould
after an impressive camp and later regretted it when
Adam Vinatieri
departed in free agency the following year. I wondered how much that experience might have played a factor in this decision.
1e. Mesko goes down as one of the players who was most fun to cover. He also seemed most genuine and his farewell message to fans was most classy. One of my favorite personal memories of Mesko was how he was brought to tears after receiving the team's community service award in 2012. It meant so much to him and the emotions took over.
2. The biggest surprise has come among the reserves at defensive end, with
Justin Francis
,
Marcus Benard
and
Jermaine Cunningham
all being cut. They projected to the 3-4-5 spots on the depth chart. Health was likely a factor with Francis and Cunningham, as they have been sidelined. There is always the possibility for them to return if not picked up elsewhere, but an initial thought is that 2013 seventh-round pick
Michael Buchanan
(
previous film breakdown
) has impressed to the point that the coaching staff felt comfortable letting go of more experienced depth at the position.
Buchanan was impressive on Thursday
.
3. Tight end
Michael Hoomanawanui
was scheduled to earn $1.3 million, but he's agreed to reduce the salary this year with the chance to recoup some of the earnings in incentives, which helped him stick on the roster. Hoomanawanui's smarts, professionalism and dependability made an impression on the coaching staff last season. That he was the last tight end standing among the group of himself,
Jake Ballard
and
Daniel Fells
is a minor surprise.
4. The release of defensive tackle
Marcus Forston
was a mild surprise from this viewpoint. This could mean that rookie defensive tackle
Joe Vellano
is the top backup behind
Vince Wilfork
and
Tommy Kelly
.
Vellano caught the eye early in training camp
, but still didn't think he'd top Forston at this point.
5. Still waiting to hear the fate of presumed bubble players like Vellano, safety
Adrian Wilson
, running back
Leon Washington
, linebacker
Jeff Tarpinian
, cornerback
Marquice Cole
, fullback
James Develin
and linebacker
Steve Beauharnais
.
August, 29, 2013
8/29/13
10:30
AM ET
The Patriots' release of
Ras-I Dowling
on Wednesday opens a spot on the cornerback depth chart. In previous projections, I had Dowling making the team, in part because the salary-cap charge to cut him was greater than the salary-cap charge to keep him.
Dowling projected as a No. 4 or 5 option at the position, with the chance to elevate up the depth chart if he could stay healthy.
Dowling
If I had to make an educated guess on why the Patriots ultimately cut Dowling, who was one of the club's 10 offseason award winners, it's likely tied to health. Dowling hasn't played this preseason after coming up hobbled in an early training camp practice, and there sometimes comes a point when the team and player just can't get on the same page in terms of when the player is ready to return. Sort of like what we saw with cornerback Leigh Bodden a few years ago.
So now let's look at what's left at the position, with our projected depth chart and a quick-hit thought:
Aqib Talib
(6-1, 205) -- Plays on the left side and can be used to sometimes shadow a top receiver as the club's top cover man.
Kyle Arrington
(5-10, 190) -- Because of injuries and legal uncertainty surrounding
Alfonzo Dennard
, he is the clear-cut No. 2 right now; can move inside to the slot in nickel.
Logan Ryan
(5-11, 195) -- Third-round draft choice from Rutgers draws some similarities to Arrington -- physical, hard-nosed, smart and plays inside and outside.
Dennard (5-10, 200) -- Played well as the No. 2 option last season, but hasn't been on the field much in training camp, and also has legal issues swirling.
Marquice Cole
(5-10, 195) -- Five-year veteran is considered a top locker-room presence; on the field, he's primarily a slot option who can be a factor on special teams. Viewed by some as being on the bubble.
Justin Green
(5-11, 195) -- Undrafted free agent from Illinois has practice-squad potential.
Stephon Morris
(5-8, 190) -- Undrafted free agent from Penn State was re-signed last week after suffering an injury.
One other factor to consider is that
Devin McCourty
(5-10, 195) could sometimes factor into the cornerback mix. While he's spent the majority of his time at safety, he has position flexibility.
March, 22, 2013
3/22/13
12:00
PM ET
»
NFC Eight in the Box
:
East
|
West
|
North
|
South
»
AFC
:
East
|
West
|
North
|
South
A look at whether each AFC East team has been a winner or a loser in free agency.

Buffalo Bills:
The Bills have been losers in free agency mostly due to inactivity. Buffalo made just one signing: linebacker
Manny Lawson
. With a new head coach and new schemes on offense and defense, the Bills need a lot more than one linebacker to be competitive next season. Most importantly, they need to find a quarterback after cutting former starter
Ryan Fitzpatrick
. Buffalo also lost starting guard
Andy Levitre
, linebacker
Nick Barnett
, veteran safety
George Wilson
and receivers
Donald Jones
and
David Nelson
. The team has yet to fill those holes. Interestingly, the Bills were major players in free agency a year ago. They signed defensive end
Mario Williams
to a $100 million contract and made several other signings. However, Buffalo finished 6-10 in 2012 and decided to take a much quieter approach in 2013.

Miami Dolphins:
The Dolphins are big winners in free agency. They landed the best wide receiver on the market (
Mike Wallace
) and the top linebacker (
Dannell Ellerbe
). Miami also signed a pass-catching tight end (
Dustin Keller
) and an additional, athletic linebacker (
Philip Wheeler
). Miami's roster looks much stronger and more dynamic than it did heading into the 2012 season, when the team went 7-9. Dolphins general manager Jeff Ireland said it was his goal to close the gap with the
New England Patriots
. Ireland deserves a lot of credit for a solid game plan and executing it well. The Dolphins still have holes to fill at cornerback, left tackle and at pass-rusher. But Miami still has cap room to spend and 11 total draft picks next month. The Dolphins are not finished adding talent.

New England Patriots:
The Patriots have had mixed results in free agency. But overall I would just barely put them in the winners' category. I do not like what they've done on offense, where they lost two starting receivers:
Wes Welker
and
Brandon Lloyd
. The pair accounted for 192 receptions, 2,265 yards and 10 touchdowns last season. That's a lot of lost production that
Danny Amendola
and
Donald Jones
-- New England's two free-agent signings at receiver – will not be able to match. The Patriots also haven't re-signed starting right tackle
Sebastian Vollmer
, who remains a free agent. New England must patch these two holes offensively. On the other hand, I like what New England has done defensively. The Patriots solidified their secondary by signing former Pro Bowl safety
Adrian Wilson
and re-signing No. 1 cornerback
Aqib Talib
. They also re-signed backup corners
Kyle Arrington
and
Marquice Cole
and added exciting kick returner
Leon Washington
on special teams.

New York Jets:
The Jets are huge losers so far in free agency. They lost talented players much faster than they can replace them. Former New York starters
Shonn Greene
, Keller,
LaRon Landry
,
Yeremiah Bell
,
Sione Pouha
,
Bart Scott
and
Calvin Pace
were either recently released or signed with other teams. The Jets are hamstrung by a tight salary cap. Therefore, first-year Jets general manager John Idzik has been forced to bargain shop. New York made several low-cost signings, such as tailback
Mike Goodson
and guard
Willie Colon
. But overall, the Jets have more holes than they can fill in one offseason.
January, 14, 2011
1/14/11
4:00
PM ET
Divisional Final Word
:
Ravens-Steelers
|
Jets-Patriots
|
Packers-Falcons
|
Seahawks-Bears
Three nuggets of knowledge about Sunday's Jets at Patriots divisional playoff game:
The Jets simply cannot pull off a 43-point swing in six weeks.
Essentially, the same Jets are going into the same Gillette Stadium to play the same Patriots that obliterated them 45-3 on Dec. 6. The Jets must do two things: 1) find a way to undercut the Patriots, who have scored at least 31 points eight straight games; 2) escalate production from an offense that has been known to disappear without relying too heavily on erratic quarterback
Mark Sanchez
. I don't see the Jets holding the Patriots to 16 points like they did the short-handed Colts. The Jets' best shot to close the gap will be with a domineering ground attack from
LaDainian Tomlinson
and
Shonn Greene
. The Jets have been running the ball effectively, and the Patriots appear most vulnerable on the defensive line. But rushing their way to four or five touchdowns doesn't sound plausible.
[+] Enlarge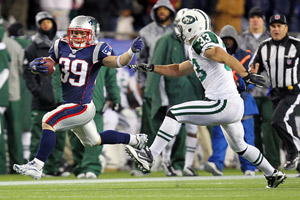 John Munson/The Star-Ledger/US PresswireDanny Woodhead accounted for 926 yards from scrimmage and six touchdowns.
Unlike the Colts, the Patriots can beat the Jets running or throwing.
The Jets won last week by making Colts quarterback
Peyton Manning
hand off. Manning counted seven Jets defensive backs simultaneously on the field at times and marveled at seeing reserve cornerback
Marquice Cole
line up at defense end. The Jets could get away with that when the Colts' best running back was
Dominic Rhodes
. He couldn't make the Bills' roster out of training camp in 2009, spent most of the year with the UFL's Florida Tuskers and signed with the Colts last month. The Patriots, on the other hand, have
BenJarvus Green-Ellis
and
Danny Woodhead
out of the backfield with support from
Fred Taylor
and
Sammy Morris
. Green-Ellis was the AFC East's lone 1,000-yard rusher this season and ran for 13 touchdowns. Woodhead gained 926 yards from scrimmage and scored six TDs.
The Patriots have more potent defense and special teams, too.
The Jets lost their reputation for being opportunistic.
Brad Smith
returned two kickoffs for touchdowns.
Dwight Lowery
had two defensive touchdown returns, and Cole had one. But the Patriots scored nine touchdowns on defense and special teams. Inside linebacker
Gary Guyton
,
Kyle Arrington
and kick returner
Brandon Tate
scored two touchdowns apiece. The Patriots also led the NFL with 25 interceptions and tied for seventh with 13 fumble recoveries. The Jets finished second with 18 fumble recoveries but collected only 12 interceptions.
January, 9, 2011
1/09/11
1:55
AM ET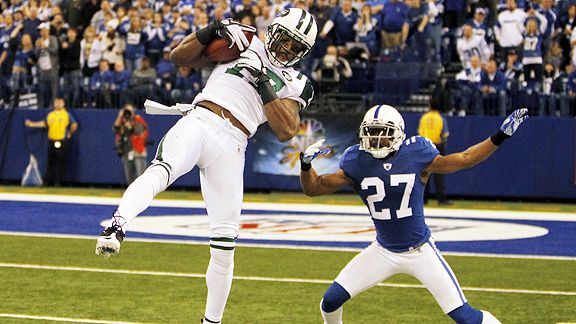 William Perlman/The Star-Ledger/US PresswireThe Colts gave up big plays, including this Braylon Edwards catch to set up the winning field goal.
INDIANAPOLIS -- They trudged to the helmet painted on the turf at midfield, offering congratulations to the team that ended their season.
In time, the Colts might come to consider this pre-Super Bowl playoff exit the least painful and most dismissible of the seven they've endured during a nine-year run of postseason qualification. On Saturday night, of course, they were too close to it to think or speak that way.
They saw a blown opportunity in their
17-16 loss
to the
New York Jets
in the opening round of the NFL playoffs.
So they'll carry regret into the offseason, regret not so much about losing to the Jets, but losing to the Jets like that.
By blowing three leads.
The Colts were up 7-0, 10-7 and 16-14.
By watching the Jets convert five of seven third downs in the second half while they failed to convert two third-and-longs in the fourth quarter that left them settling for field goals.
The first, a third-and-7, produced only a 1-yard run by
Dominic Rhodes
against a heavy defensive-back set.
"They had seven DBs, they had 34, [cornerback Marquice] Cole at defensive end, it was 100 percent pass coverage,"
Peyton Manning
said. "That's a lot of DBs. We just thought they're not going to think we're going to run it. We've got to be able to pick those up."
The second, a third-and-6, was a Manning sprint out to the right and a throw to
Blair White
that looked to be a bit short on the right side. White couldn't corral it as he went to the ground.
By allowing New York to keep the ball with a running-into-the-punter penalty, which resulted in two timeouts burned ahead of schedule and 34 fewer seconds on the clock when the Colts got the ball back.
Taj Smith
was flagged despite trying to hold up Jets punter
Steve Weatherford
once he'd made contact.
"He did a good acting job and I should have played it more conservative, it just was a bad play on my part," Smith said. "… They just said play it more smart and keep my head up."
By allowing a 47-yard kickoff return with 53 seconds remaining that positioned the Jets for a quick drive and a field goal as time expired.
[+] Enlarge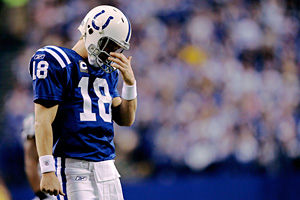 AP Photo/AJ MastThe loss to the Jets was the seventh time in Peyton Manning's 11 trips to the playoffs that the Colts failed to advance beyond their first game.
"It goes from putting a lot of pressure on the offense to putting a lot of pressure on the defense with that field position change," Manning said.
The Colts aren't used to watching that unfold with their offense on the sideline. They're used to Manning and the offense making the other team's offense squirm on the sideline, enduring a sense of helplessness.
"It's just bad execution on our part," left tackle
Charlie Johnson
said. "It's bad because … I want to be careful here. You have to give them credit. They played a great game, but at the same time I feel like the better team didn't win."
It was the seventh exit in the Colts' first game of the playoffs in Manning's 11 trips to the postseason, the sort of context the Colts absolutely hate to have pointed out to them.
"We've been to the playoffs nine consecutive years. I don't think this team has to explain itself to anybody as far as what we are doing in the playoffs," linebacker
Gary Brackett
said. "A team's pinnacle is to get to the playoffs and we've done that consistently."
Said Johnson: "I think it's bogus. I think there are some teams in the league that would love to have the success we've had, regardless of going to Super Bowls or not -- winning so many games over the years, winning 12 or more games however many years in a row, going to the playoffs nine straight years. There are a ton of teams that would take that and be happy with it."
This exit will ultimately deserve a less harsh review than some others because of how deep the injury-riddled Colts had to dig along the way. They ended the game with
Ken Hamlin
at free safety. He signed Dec. 22 and was, at the very best, their fifth option at the position this season.
Coming into the game the question for Rex Ryan was, if his team couldn't get past the Colts now, when might it ever?
Before Manning left the interview podium for the last time in what may be quite a long time, he offered a glimpse into how the 2010 Colts were looking at a potential playoff run, at how things might have been different this time.
"It would have been fun to have kind of gotten on a little run here, there would have been a different feeling," Manning said. "I thought we would have been the underdog in every game. I thought we were the underdog tonight. We would have been the underdog going to Pittsburgh. That's certainly a different feeling.
"Usually in the playoffs we're always kind of usually the favorite to win, expected to win. This would have been a fun little run. This has been a fun little run, these last few weeks, we felt like they've all been playoff games. This was the best team we've played in some time. We certainly had a chance and just came up short."
December, 12, 2010
12/12/10
3:14
PM ET
November, 14, 2010
11/14/10
11:53
AM ET
August, 16, 2010
8/16/10
11:46
PM ET
Let the record show the
New York Giants
defeated the
New York Jets
31-16
in the first game played in the new Meadowlands stadium
.
But the game didn't count.
What does count are revelations from the preseason opener.
[+] Enlarge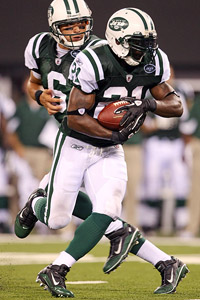 Alan Maglaque/US PresswireLaDainian Tomlinson rushed eight times for 17 yards and caught a 14-yard pass in his preseason debut with the Jets.
1. Mark Sanchez performed pretty well.
All in all, Sanchez had a nice night. He forced his first pass to
LaDainian Tomlinson
in tight coverage. The ball was deflected and turned into an interception. But Sanchez, who had five multi-turnover games last year, rebounded. He conducted two methodical scoring drives: 14 plays for 68 yards and a touchdown against the Giants' first-team defense and 10 plays for 69 yards and a field goal against the second-team. Sanchez finished 13-of-17 for 119 yards and a 90.1 passer rating.
2. Rex Ryan made some curious decisions about playing time.
Most of the Jets' starters played the entire first half, an unusually long night for a preseason opener. Although Ryan already has designated free-agent signee
Mark Brunell
the second-string quarterback,
Kellen Clemens
relieved Sanchez to start the third quarter. Clemens completed seven of his 10 throws for 84 yards.
3. Jets cornerbacks better not get hurt.
While the Jets probably can make do with cornerbacks
Antonio Cromartie
,
Kyle Wilson
and
Dwight Lowery
as long as
Darrelle Revis
continues holding out,
Jim Sorgi
and undrafted rookie
Victor Cruz
lit up the Jets secondary in the second half. Cruz beat Lowery for a 64-yard touchdown, but needed to make a sensational, one-handed grab to pull it off. But in the fourth quarter Cruz torched
Drew Coleman
for a 34-yard touchdown and outfought
Marquice Cole
for a 5-yard score.
4. The offense wasn't run-dominant.
Are the days of "ground and pound" over? The Jets ran 28 times and passed 43 times. Even before the Jets' final, desperation drive, they'd run 27 times and passed 32 times.
Santonio Holmes
had four catches, while
Braylon Edwards
,
Jerricho Cotchery
and
Brad Smith
had three apiece.
5. Shonn Greene ran hard.
Even though All-Pro center
Nick Mangold
had the night off and greenhorn
Matt Slauson
started at left guard, Greene plowed forth for 26 yards on five carries in one quarter of work. He had runs of 8 and 7 yards.
6. Tomlinson didn't look old to me.
His numbers weren't prolific, eight carries for 17 yards and one catch for 14 yards. But Tomlinson didn't look over the hill. He showed a burst on a 14-yard would-be touchdown run that was nullified by a holding penalty.
7. Cromartie should have had two interceptions.
His coverage was oppressive, but you'd like to see him come down with at least one of the two passes he could have picked off.
8. Dustin Keller was a popular target for Sanchez.
Don't forget about the third-year tight end when considering the Jets' various offensive weapons. After a relatively quiet regular season, Keller caught a touchdown pass in each of the Jets' three postseason games. It looks like he's very much in their plans this year. On their first-quarter touchdown drive, Sanchez threw to Keller four times (one was wiped out by a penalty), connecting twice for 19 yards.
9. Nick Folk remains a question mark.
Ryan publicly ridiculed Folk's erratic leg in OTAs, but lately has been expressing faith in his new kicker. Folk, released by the
Dallas Cowboys
last year after an ugly stretch of games, converted his first three field-goal attempts from 36, 22 and 36 yards. Then he missed from 46 yards.

NFL SCOREBOARD
Thursday, 9/18
Sunday, 9/21
Monday, 9/22
WEEKLY LEADERS