NFL Nation:

Marquis Cooper
August, 27, 2010
8/27/10
12:01
PM ET
Chaz Schilens
calls it his "secret relationship" with Marquis Cooper.
It began a decade ago in suburban Phoenix. It ended during a terrible weekend in March 2009 off the rough shores of Florida.
More than 17 months after the tragic death of Cooper, Schilens, the Raiders' talented No. 1 receiver, opened up about his friendship with the 26-year-old linebacker and special-teams ace who lost his life in a boating accident.
[+] Enlarge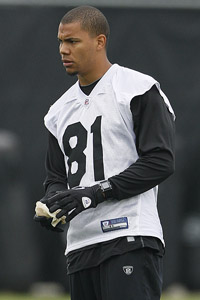 AP Photo/Eric RisbergChaz Schilens "still hurts" when remembering his friend and former teammate Marquis Cooper.
Cooper and two friends, including former Detroit defensive lineman Corey Smith, are presumed dead after Cooper's fishing boat capsized off the Gulf Coast near Clearwater, Fla. There was one survivor.
Cooper was an avid fisherman who often talked to his teammates about his love of deep-sea fishing. In the days before the accident, Cooper invited Schilens to Florida for a trip. Thrilled to join someone he long considered a mentor and idol, Schilens jumped at the idea.
"Nobody knows," said Schilens during training camp, still clearly shaken by the memory, "but I was supposed to go out there. I was going to make my [travel] plans to go there the weekend it happened … I remember my mom called me to tell me about it and it was just unbelievable. All I could think about was, 'This cannot be happening.' Each day got tougher and tougher and the search went on. It was a rough, rough time."
Schilens still caries memories of his older friend with him. He brightens up when talking about Nov. 8, 2008. It was midway through Schilens' rookie season as a promising seventh-round pick in Oakland. He was walking through the team's facility when he saw a familiar face down the hallway.
"I said to myself, 'Hey, that's Marquis Cooper,' " Schilens said. "I was so excited. It was just like high school. And then they put his locker right next to mine -- right next to it. In this entire, huge locker room, our lockers were right next to each other. And no one even knew our connection."
Cooper and Schilens both grew up in Gilbert, Ariz. Cooper was three years ahead of Schilens. Cooper didn't know much about Schilens. But the young football and baseball star (Schilens was drafted by the Detroit Tigers out of high school) knew plenty about Cooper.
Early in his career at the University of Washington, Cooper came to Arizona State to play in front of the home fans. Schilens went to the game just to watch Cooper play.
"He didn't know it was me but he threw me a glove after the game," Schilens remembered. "He had a great game and blocked a punt to help Washington win …. He was my boy. He was my idol. It was my secret relationship."
As Schilens made a name for himself in Gilbert, Cooper became aware of him and the two began a friendship. Schilens wanted to go to Washington just as Cooper did, but the Huskies never showed much interest. Still, Cooper followed Schilens as he developed at San Diego State.
When the two became teammates in Oakland, they often spent time together and Schilens would go to dinner with Cooper, his wife and young daughter. Schilens and several of his Oakland teammates still check in with the family.
In the meantime, Schilens, who is dealing with knee and foot injuries and will miss at least a few weeks after arthroscopic knee injury, wants to reach his potential on the field in part as a tribute to the player who inspired him.
"Marquis was special to me," Schilens said. "I just wish the best for his wife and child in this terrible tragedy. It still hurts."
March, 4, 2009
3/04/09
10:13
PM ET
Posted by ESPN.com's Bill Williamson
The San Diego Union-Tribune reports San Diego running back LaDainian Tomlinson said Wednesday night that he is optimistic that he and the Chargers will come to an agreement on a restructured contract.
Still, Tomlinson said he realizes the NFL is a business. It seems that Tomlinson is preparing himself for whatever happens. But he remains hopeful to stay in San Diego. The two sides have been trying to come to an agreement for several days.
Meanwhile, Oakland is still pursuing Buffalo center Duke Preston.

The Oakland Tribune has a transcript of Oakland coach Tom Cable's press briefing today regarding linebacker Marquis Cooper, who is missing at sea.
The Raiders are visiting with Khalif Barnes, an athletic tackle who the team has been considering signing for days. There could be movement on the Barnes front in Oakland on Thursday. The team is concentrating on Barnes and not Pittsburgh's Marvel Smith at this point.
The Raiders and Chargers are both vying for the services of Dallas linebacker Kevin Burnett, who could make a decision on where he'll play at any time.
Even though Seattle receiver Bobby Engram departed Kansas City without a contract, the two sides could still make a deal.
March, 3, 2009
3/03/09
9:58
PM ET
Posted ESPN.com's Bill Williamson

For the second time in 26 months, Troy Asmus is dealing with a tragedy involving one of his clients.
Asmus is one of the agents for Oakland linebacker Marquis Cooper, one of three men who are missing at sea in Florida. The Coast Guard called off the search Tuesday night because they don't believe the three missing men are alive after Saturday's accident.
Asmus was also one of the agents for Darrent Williams. The Denver Broncos cornerback was killed Jan. 1, 2007 in a drive-by-shooting after hosting a New Year's Eve party in downtown Denver.
"It's haunting," Asmus said Tuesday night. "This is so terrible and then it brings me back to D. Will and what we experience there. To deal with it again is tough."
Asmus reiterated the words of Cooper's father, Bruce and said the family is committed to continue the search and private search parties will continue looking for the missing party Wednesday morning.
"We understand and appreciate what the Coast Guard did," Asmus said. "But we're not ready to give up."
Because of their hope, Asmus said any funeral arrangements have been delayed.
NFL SCOREBOARD
Sunday, 2/2
WEEKLY LEADERS