NFL Nation:

Mason Brodine
October, 10, 2013
10/10/13
6:30
PM ET
EARTH CITY, Mo. – The
St. Louis Rams
play San Francisco's
Justin Smith
twice every season, so they have at least some idea of what a nonstop motor combined with strongman power and elite skills can do to wreck an offensive game plan.
This week, the Rams will get a formal introduction to the next step up the evolutionary ladder for defensive ends when they meet a player with all of the same traits as Smith -- only taken to another level.
Since he entered the league in 2011,
J.J. Watt
has yet to line up opposite the Rams, but he'll get his first chance Sunday when they pay a visit to Houston to face the Texans.
In a season full of challenges, the Rams likely won't find a more difficult, hard-charging one than Watt.
[+] Enlarge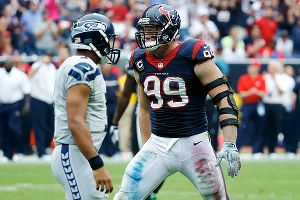 Scott Halleran/Getty ImagesNo matter where J.J. Watt lines up on a play, he tends to end up in the opponent's face.
"If he's not the best defensive lineman in the league, he's certainly in the top two or three," Rams offensive coordinator Brian Schottenheimer said. "Just watching him on film, he's everything you hear about."
Not many individual players are capable of taking over a game, particularly ones who generally don't have the ball in their hands. But Watt can.
For the Rams to have a chance to steal their first road victory of the season, they'll have to find an answer for Watt and the many things he can do to dominate a game.
In 2012, Watt was named the NFL defensive player of the year after amassing 20.5 sacks, 81 tackles, four forced fumbles, two fumble recoveries and 16 batted passes. All of that production came from a man playing a position that normally asks whoever is playing it to be stout against the run, take on multiple blockers and allow others to make the splashy plays.
Watt isn't holding down the same pace so far this season, but he's been no less effective as Houston defensive coordinator Wade Phillips is moving him all over the field. He lines up on the edge, inside, on the right, on the left -- you never really know where he's coming from.
Throughout this week the Rams have had practice-squad lineman
Mason Brodine
wearing the red No. 99 jersey in an effort to mimic Watt's many machinations.
"We've got a red jersey on every snap at practice, because you've got to know where he lines up," coach Jeff Fisher said. "[Watt is] one of the better defensive players you'll face. He's very disruptive, quick, relentless. If he can't get there, he bats the ball down, but most of the time he gets there with consistent pressure. So we've got our hands full with him."
From a pass-rushing perspective, the Texans have deployed Watt on the interior a bit more this season than in his first two years in the league. There, he's able to take advantage of his speed and athleticism a bit more, but he also doesn't hesitate to use his power to run over blockers. He also has the ability to shed blockers and chase down ball carriers.
Rams left tackle
Jake Long
will probably get a chance to square off with Watt at least occasionally Sunday, and he said that from past experience the best way to battle Watt is to be as fundamentally sound as possible.
"You have just got to trust your technique," Long said. "You've got to go out and match his intensity, play through the echo of the whistle because that's what he'll do. But mainly just play with technique, be confident in what you do and go out and let it all go."
Complicating matters further is Watt's 82½-inch wingspan and his uncanny ability to know when to continue his pass rush and when to raise his arms to bat down passes. This skill, one Watt said he's worked on and developed since his college days at Wisconsin, has earned him the nickname J.J. "Swat."
Rams quarterback
Sam Bradford
has had his share of issues with batted passes in his career and leads the league with eight this season, according to Pro Football Focus.
"You can't worry about that too much," Bradford said. "Obviously, he has made a lot of plays that way, but I think if you start looking for him and expecting him to do that, then you take your eyes off of where they need to be down the field."
Schottenheimer says the concern about Watt's ability to knock down passes should fall on the offensive line, not the quarterback.
"There's not much you can do," Schottenheimer said. "The emphasis goes more to the linemen. If you have got him stopped and he's kind of standing there trying to feel his way through, you have just got to try to get your hands on him to keep his hands down."
Watt doesn't appear to have many weaknesses in his game, but he does occasionally freelance or overpursue and finds himself out of position. There isn't an obvious solution for keeping Watt in check, and focusing too much on him can allow one of his talented teammates, such as
Antonio Smith
or
Brian Cushing
, to have a big day.
For the Rams, the goal can't be to stop Watt. It has to be finding a way to keep him from completely taking over.
September, 1, 2013
9/01/13
6:45
PM ET
As a follow up to cutdown day on Saturday, the Rams filled out their eight-man practice squad with players who were part of the cut to the 53-man roster.

The team announced the first incarnation of the practice squad Sunday afternoon and each of the members spent the preseason and training camp with the team. Here's the list: receivers Emory Blake and Justin Veltung, cornerback Darren Woodard, defensive ends
Sammy Brown
and
Mason Brodine
, safety Cody Davis, offensive tackle Sean Hooey and fullback Eric Stevens.
Perhaps notable in his absence is quarterback Austin Davis, who spent the 2012 season as the team's third quarterback and was among the 20 cuts the team made Saturday. He's still eligible for the practice squad but for now is not a part of the organization. Right now, the Rams are carrying two quarterbacks on the roster,
Sam Bradford
and
Kellen Clemens
, with none on the practice squad.
Making matters more interesting was the absence of Clemens from Sunday's practice. Coach Jeff Fisher declined to comment on the absence.
"I'm not going to discuss the roster, who is here, who is not," Fisher said. "We'll have an injury report for you during the week in the regular season."
Since the Rams have just five receivers on the active roster, it's no surprise that they opted to bring two back to the practice squad. Hooey was a project the Rams seemed to like early in camp but was sidetracked by injury. Brodine appeared to narrowly miss a spot on the active roster, losing a close battle to
Gerald Rivers
for a likely ninth spot among defensive linemen.
Woodard made a late surge but fell short of winning the fifth cornerback job and Davis did the same at safety. Stevens was the lone true fullback on the roster in preseason and can at least give scout team looks at that position for the weeks when Rams play some of the teams that still carry someone at the position.
Brown spent a big chunk of 2012 with the practice squad and then the active roster the final five games.
More notes:
Safety
Matt Daniels
had his right arm in a sling and was dressed in street clothes for the short portion of practice open to the media. Tight end
Cory Harkey
(leg) was on crutches and also not available for practice.
As the Rams go into regular-season mode, it's unlikely any updates will be available until the injury report comes out Wednesday for Sunday's game against Arizona.
The Rams are not scheduled to have practice again until Wednesday.
August, 31, 2012
8/31/12
10:04
PM ET
Click
here
for the complete list of
St. Louis Rams
roster moves.

Most significant move:
The Rams released No. 2 quarterback
Kellen Clemens
even though Clemens knew the offense better than any player on the roster. Clemens, who spent time with the
New York Jets
when Rams offensive coordinator Brian Schottenheimer held the same job there, lost out to impressive undrafted free-agent quarterback
Austin Davis
.
Davis, drafted by the Boston Red Sox this year, stood out during preseason for his poise. Some players appear as though they belong. Davis did, at least initially. The preliminary assumption here is that Davis fared well enough to win the No. 2 role, although rosters remain fluid and the Rams will consider veterans at every position as they become available. The Rams also released
Tom Brandstater
, who was initially thought to be competing with Davis for the third-string role.
Onward and upward:
Clemens could catch on with another team. Overall, however, the Rams had more holes than front-line talent to fill those holes. The players they released will not be coveted elsewhere. That was partly because the suspension
Austin Pettis
faces for the first two games bought the Rams time at wide receiver, where the team has quite a few mid-level prospects. With Pettis on the reserve/suspended list and not counting against the 53-man limit, the Rams kept the six receivers considered most likely to stick, including veteran
Steve Smith
and second-year pro
Greg Salas
.
Veteran fullback
Ovie Mughelli
received his release and could appeal to the dwindling number of teams valuing a traditional blocking fullback. The Rams kept only four running backs on this initial 53-man roster. They parted with
Chase Reynolds
after coach Jeff Fisher lauded the 24-year-old back as someone with the ability to close out a game.
The Rams also cut
Aaron Brown
,
Cornell Banks
,
Cory Harkey
,
Jamaar Jarrett
,
Jose Valdez
,
Scott Smith
,
Mason Brodine
,
Nick Johnson
,
Ben Guidugli
,
Kendric Burney
,
Deangelo Peterson
,
Sammy Brown
, T. Bob Hebert,
Tim Barnes
,
Bryan Mattison
,
Vernon Gholston
and
Joe Long
. Gholston could be running out of chances.
What's next:
The Rams need help throughout their roster. They have the No. 2 priority in waiver claims. Expect them to put that privilege to use. The Rams should be active in pursuing help at defensive tackle after losing first-round pick
Michael Brockers
for a month (estimated) with a high-ankle sprain.
Trevor Laws
is already on injured reserve.
The Rams have only eight offensive linemen, one fewer than teams generally prefer to keep. They could use another one. They kept six linebackers, on the low side. The team is carrying 11 defensive backs at present. I wouldn't be surprised if they shopped former starting corner
Bradley Fletcher
, who was playing deep into games in preseason.
December, 17, 2011
12/17/11
8:57
PM ET
The Raiders placed cornerback
Chris Johnson
on the reserve/non-football illness list Saturday. Johnson's sister was shot to death and his mother was wounded in an attack in Texas recently; Johnson has been traveling back and forth from California.
The Raiders signed defensive end Mason Brodine to the 53-man roster to fill Johnson's spot.
In other AFC West news:
The Patriots ruled out
Deion Branch
,
Patrick Chung
,
Shane Vereen
,
Brandon Spikes
and
Sebastian Vollmer
for Sunday's game at Denver.
Denver signed safety
Kyle McCarthy
and cut fullback
Quinn Johnson
. McCarthy was cut earlier in the week. The Broncos are banged up at safety — starter
Brian Dawkins
is questionable with a neck injury that knocked him out of the Chicago game and held him out of two days of practice.
Detroit safety
Louis Delmas
has been downgraded to out for Sunday's game at Oakland.
Offensive coordinator Bill Muir is
back to the press box
to call the game as the Chiefs shift from the Todd Haley regime to the Romeo Crennel regime.
Gunther Cunningham, who spent many years in the AFC West before landing in his current gig as Detroit defensive coordinator,
is looking forward to going back to the Black Hole
on Sunday with the Lions.
Major kudos
to Oakland quarterback
Jason Campbell
for continuing to be a stalwart in the community after being injured. It's been a tough season for Campbell, but he's handled the situation with immense class.
September, 4, 2011
9/04/11
5:21
PM ET
The Oakland Tribune reports
the Raiders have brought back linebacker
Ricky Brown
. He was a free agent this summer, was signed by New England and lasted just a couple of weeks there. Brown will likely resume his role as a backup. He started 13 games in five previous seasons in Oakland. Offensive lineman
Seth Wand
was cut to make room for Brown.
Meanwhile, the paper reported that this is Oakland's eight-man practice squad: cornerback
Sterling Moore
, linebacker
Jeremy Leman
, fullback
Manase Tonga
, wide receiver
Eddie McGee
, offensive lineman
Alex Parsons
, tight end
Kevin Brock
, defensive end
Mason Brodine
and defensive tackle
Jamie Cumbie
.
The
San Diego Chargers
announced that they have signed six players to the practice squad and expects to add two more. The six who signed: linebacker
Bront Bird
, defensive tackle
Charlie Bryant
, tackle
Steve Schilling
, cornerback
Traye Simmons
, fullback
Frank Summers
and tight end
Brad Taylor
.
The Denver Post is reporting
that undrafted rookie quarterback
Adam Weber
will be part of the Broncos' practice squad.
The Oakland Tribune is reporting
that defensive lineman
Richard Seymour
and receiver
Chaz Schilens
are practicing after missing time recently. Both are expected to play next Monday night at Denver barring setbacks.
It was reported last month that the Raiders could have interest in pass-rusher
Aaron Maybin
(the No. 11 overall pick in 2009) when he was cut by Buffalo. Maybin promptly signed with the Jets. He is now a former Jet. Wonder if the Raiders will look at him? I say this: why bother?

NFL SCOREBOARD
Sunday, 2/2
WEEKLY LEADERS