December, 12, 2011
12/12/11
5:30
PM ET
When the
Houston Texans
got off the team bus after they got back from Cincinnati as AFC South champions, the first person to greet them was of great significance.
"When the buses parked last night, the first guy waiting on us in the parking lot was Mario (Williams)," coach Gary Kubiak said at his Monday news conference. "He did not make the trip. That meant a lot to the team. And Mario had brought a lot of the guys' families over. I told Matt (Schaub) this after the game: 'I know it's a great day for you, but I know it's a tough day for you because you're not out there playing.'
[+] Enlarge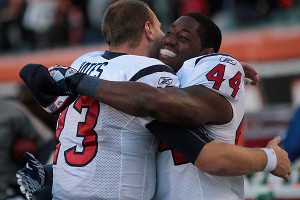 AP Photo/Tony TribbleHouston QB T.J. Yates, left, hugs running back Ben Tate after Houston defeated Cincinnati on Sunday, clinching the AFC South title.
"I let Andre know how I felt about him after the game, but I could sit here and talk about Mario, I could talk about
Matt Schaub
, I could talk about (Daryl) Sharpton. I could talk about all those guys that have been a part of this that unfortunately are not going to be a part of it as we move forward. We're here today because of a lot of people, and out players understand that, we respect that. We carry those guys with us every week that we go on."
Williams (pectoral) and Schaub (foot) have been a big part of the Texans' franchise building, but are among the players on IR who aren't a part of what's been happening on the field.
Andre Johnson
(hamstring) didn't play against the Bengals and has missed significant time, too. Kubiak gave Johnson a game ball after the Texans clinched the division thanks to a combination of their win in Cincinnati and the Titans' loss to New Orleans.
Now the Texans will be without right guard
Mike Brisiel
, who suffered a fractured fibula and had it repaired Monday morning. He will be replaced by
Antoine Caldwell
, but the Texans hope Brisiel won't miss extensive time. Safety
Danieal Manning
missed three games and four weeks after the very same injury and surgery.
One player who won't be part of things going forward is veteran receiver
Derrick Mason
. The Texans cut him to create some roster flexibility as Kubiak said they can use a special teams' contribution from their fourth receiver.
The Texans were delighted by the response they got after returning to Houston. (Here are some players
addressing the crowd
.)
Kubiak grew up in Houston and once greeted the Oilers at the Astrodome when they returned from an AFC Championship Game loss in the late 1970s.
"I'm a proud Houstonian like everybody," Kubiak said. "…I grew up five miles down the road, so it's special to see that excitement. I know the hard work that's been put in, the job that the coaches and players and this organization has done. To walk around our building today and see how proud everybody is that works here and is part of this organization, it's a great day."
The coach said he had good conversations on the plane and upon the team's return with players about staying focused and keeping blinders on.
"They've got to keep going," Kubiak said. "They understand."
This team's done an excellent job of refocusing week-to-week.
I expect it to do the same as it prepares for a visit from Carolina. The Texans said clinching the division and a playoff spot was only step one. They currently hold the AFC's No. 1 seed and all indications are they'll put a premium on holding on to it.
March, 2, 2011
3/02/11
12:32
PM ET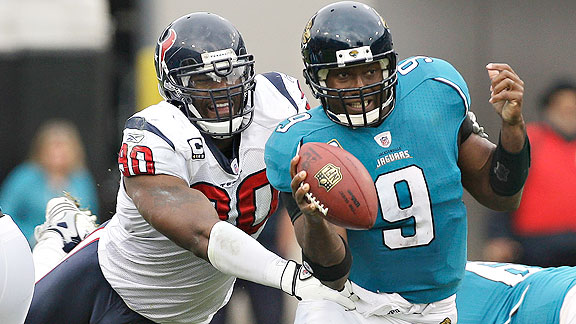 AP Photo/Phil CoaleMario Williams and David Garrard are two of the 53 players under contract in the AFC South slated to make more than $1 million this season.
After being struck recently with how the NFL's labor rift has been cast as billionaires vs. millionaires, I thought I'd look at some players' salaries.
Totaling-up career earnings is quite difficult, and bonus money can be hard to nail down and sort through.
We can still get an interesting snapshot by looking at scheduled 2011 base salaries. I suspect many readers will be surprised that the vast majority of players will earn less than $1 million this fall.
Here, according to the NFLPA, are the players from each AFC South team currently scheduled to make a base salary of $1 million or more in 2011. Keep in mind guys in line for some form of free agency are not part of things here.
Fifty-three of 216 players under contract are slated to make $1 million or more. That's 24.5 percent of the division.

Houston Texans
Total base salaries of $1 million or more:
13
Total players under contract for 2011:
49
Percentage of roster making $1 million or more:
26.5

Indianapolis Colts
Total base salaries of $1 million or more:
11
Total players under contract for 2011:
57
Percentage of roster making $1 million or more:
19.3

Jacksonville Jaguars
Total base salaries of $1 million or more:
13
Total players under contract for 2011:
51
Percentage of roster making $1 million or more:
25.5

Tennessee Titans
Total base salaries of $1 million or more:
16
Total players under contract for 2011:
59
Percentage of roster making $1 million or more:
27.1
*Young will be cut or traded, the Titans have announced.