January, 18, 2014
Jan 18
2:00
PM ET
CINCINNATI -- The
Cincinnati Bengals
filled one of their two position coach vacancies Saturday by naming former Lions assistant Matt Burke as their new linebackers coach, taking the post recently promoted defensive coordinator Paul Guenther once held.

Guenther earlier this week was named defensive coordinator after previous defensive coordinator Mike Zimmer was named the new head coach of the
Minnesota Vikings
.
Burke comes to Cincinnati after spending the past five seasons coaching the Lions' linebackers. Next season will mark his 11th in the NFL.
"We're fortunate to get a coach of Matt's quality and experience to move into this spot," Bengals head coach Marvin Lewis said in a news release. "Matt has come up under the system of Jim Schwartz, starting with Jim at the
Tennessee Titans
and then moving on when Jim got the head-coaching job at Detroit. He was one of Jim's hand-picked guys, and I think most people know how much I respect Jim as a friend and colleague."
Lewis and Schwartz coached together in Baltimore in the late 1990s. They also have been longtime friends, prompting beliefs that Lewis was exploring the possibility of hiring Schwartz for both the previously vacant Bengals defensive coordinator and linebackers positions. Schwartz was fired by the Lions at the end of the recently completed regular season.
Burke, 37, played a key role in helping develop Lions linebackers
Stephen Tulloch
and
DeAndre Levy
. Both led the team in total tackles in 2012. In 2013, the Lions' defense ranked sixth against the run. The Bengals had the league's third-best defense that same regular season.
"It's a great opportunity to come and work with one of the NFL's best defenses," Burke said, "and I look forward to getting to know our players and establish communication with them. It's great to be able to work with Marvin. Jim feels the same way about Marvin as Marvin does about him, so everyone felt it was a good fit all around."
Burke played safety for Dartmouth, playing a key role in an undefeated, Ivy League championship team in 1996.
In addition to Burke, the Bengals are expecting to make one more assistant coaching hire this weekend. When Zimmer left earlier in the week for Minnesota, he took his son, assistant defensive backs coach Adam Zimmer, along with him. The Bengals should be naming his successor soon.
January, 15, 2014
Jan 15
12:05
PM ET
Jim Caldwell is the new
Detroit Lions
coach, and though there has been a lot of consternation about the hire, the Lions will succeed or fail based upon his decisions and his ability to develop players, notably quarterback
Matthew Stafford
.
Caldwell will meet with the media for the first time Wednesday, and based on what I've heard and been told about his interview on Jan. 3, he has a detailed plan for how he is going to fix both the Lions and Stafford.
Those are his two most important tasks as Detroit's head coach. If he is unable to do that, he'll join the line of Marty Mornhinweg, Steve Mariucci, Rod Marinelli and Jim Schwartz as coaches who couldn't quite reach the level the team wanted.
[+] Enlarge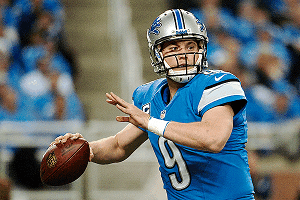 Tim Fuller/USA TODAY SportsDeveloping Matthew Stafford is one of the most important tasks facing new Lions coach Jim Caldwell.
If he can succeed, he'll have a chance to do something only one coach in the Super Bowl era, Wayne Fontes, has even come close to doing with the Lions: turn the team into a consistent winner.
Here's a look at five things Caldwell will have to do early in his tenure with the Lions.
1. Hire a competent staff:
He could have some names as early as his introductory news conference, but Teryl Austin is a name I've been told multiple times as a likely defensive coordinator. Bill Lazor was a name for offensive coordinator, but h has been hired by Miami. If Caldwell doesn't put together a strong staff, that will be an issue early on. Former Ohio State coach Jim Tressel also could end up on Caldwell's staff.
2. Make smart decisions about free agents with GM Martin Mayhew:
Dominic Raiola
and
Brandon Pettigrew
are two of the bigger free agents for the Lions. Raiola is a strong presence in the locker room, and it might be smart to bring him back for continuity on an offensive line that was one of the best in the league last season. Pettigrew could be interesting. He is an important cog, as was
Dallas Clark
, Caldwell's tight end in Indianapolis and with the Ravens this season. Of course, Clark is also a free agent, so Caldwell might push to get him to Detroit.
3. Matthew Stafford:
Part of the reason Caldwell was hired was to work with Stafford, with whom the coach met on his interview. Stafford, according to receiver
Kris Durham
, seemed to like Caldwell. That relationship will be critical to any success Caldwell has in Detroit. He believes he has a plan to fix Stafford -- both
Joe Flacco
and
Peyton Manning
are high on Caldwell's ability to help quarterbacks -- and the coach will have to be able to implement that plan as soon as possible.
4. Keep at least two current assistants:
This goes with the first point. John Bonamego did a really good job with special teams almost all season, including finding strong gunners in
Don Carey
and
Jeremy Ross
. Jeremiah Washburn turned an offensive line with two rookies on the right side into one of the top groups in the NFL, and players seemed to really like him. Jim Washburn and Kris Kocurek did a good job with the defensive line, and Matt Burke was strong with the linebackers. Consider at least some of them to keep some continuity.
5. Get out in the community:
This might sound silly, but Caldwell is not a popular hire with the Detroit fan base. By all accounts, he is a good, well-intentioned man, so by doing a lot of community outreach early on, he could turn some people who are currently not pleased about the hire. Of course, the best way to do that is to win games, but getting out in the community would be a strong start.
January, 28, 2009
1/28/09
8:18
AM ET
Posted by ESPN.com's Kevin Seifert
Although there haven't been any official announcements, it appears new Detroit coach Jim Schwartz has lined up most of his coaching staff.
David Birkett of the Oakland Press reports that former Tampa Bay assistant George Yarno will be the Lions' offensive line coach. Meanwhile, holdover Shawn Jefferson (receivers) and Sam Gash (running backs) are expected to be retained in their current positions. Former offensive coordinator Jim Colletto, who was demoted to offensive line coach earlier this month, is not expected to be retained.
Previously, it's been reported that former Denver defensive coordinator Bob Slowik will coach defensive backs and former Tennessee assistant Matt Burke will handle linebackers. That leaves the defensive line as the only job that is publicly unaccounted for.
Continuing around the NFC North on Super Bowl hump day:
January, 26, 2009
1/26/09
7:40
AM ET
Posted by ESPN.com's Kevin Seifert
The Detroit Lions are trying an old political trick that isn't always on an NFL team's short list of ideas to sell tickets.
Monday night, the Lions will hold a town meeting at Ford Field to give season-ticket holders a chance to ask questions of team president Tom Lewand, general manager Martin Mayhew and coach Jim Schwartz. There will be another gathering Tuesday. Both are private and by invitation only, according to Terry Foster of the Detroit News.
Many pro sports teams have barnstormed to drum up interest during the offseason. In this case, Lions fans will have a chance to ask questions of the decision-makers rather than mingle with a few of the players.
If handled right, this can be a good idea. After having four blackouts during an 0-16 season in 2008, the Lions need to take action to convince their season-ticket base they are on the right track. It's fair to keep the audience limited to season-ticket holders; they are the team's most loyal fans and customers.
But Mayhew and Schwartz, especially, are going to have to show some transparency during these events. They need to provide some level of detail about the team's direction and not give the type of non-answers that sports officials usually give the media in public situations.
Season-ticket holders who show up seeking answers and/or reassurance but hear only platitudes won't be sold. The Lions' new leaders are on the right track with this idea, but they need to follow through during the actual events.
Continuing around the NFC North on this fine Monday morning:
January, 15, 2009
1/15/09
5:24
PM ET
Posted by ESPN.com's Paul Kuharsky
Jim Schwartz is taking over in Detroit. Jeff Fisher is in the market for a defensive coordinator. Gregg Williams just joined the Saints.
| | |
| --- | --- |
| | |
| | Kirby Lee/Image of Sport/US Presswire |
| | Jim Schwartz spent eight seasons as defensive coordinator in Nashville. |
I expect Fisher to promote secondary coach Chuck Cecil or linebackers coach Dave McGinnis, then hire a new position coach. If Cecil gets promoted, Fisher could promote assistant secondary coach Marcus Robertson to Cecil's old spot and then have room to hire an extra assistant in the defensive backfield, or where he sees fit.
It will be difficult for Schwartz to take many friends from Fisher's staff with him. Young defensive assistant Matt Burke could have a good opportunity. Robertson could get an offer. But like the rest of the staff, those guys have a lot of loyalty to Fisher and a lot of security as part of his staff.
He's got an economics degree from Georgetown and is good with stats and trends. I wrote a piece about his ties to "Moneyball" thinking for football back when I was at The Tennessean. (No archive link to be found, sorry.) But it's a mistake to cast him as strictly a stat guy, or as someone who's more about numbers than people.
Schwartz is a bright guy who can do well. With the big office comes more scrutiny. I think he'll need to work to make sure people don't think he thinks he's the smartest guy in the room, even though he might be. I think he will have to shrug off criticisms and not take things personally. I think he needs to hire a couple of assistants who are fiery guys, because while he's intense, he's probably not a motivator in that sense.
He will put people in position to succeed and he will explain why that's the right spot to be. I don't think he takes the job if he doesn't feel like he's been given enough leeway and power to turn things around.
One Detroit writer said recently that smart is a good direction for the Lions, as they've been anything but for a long time.
They got their guy.
I join the Titans in wishing him well
[Updated 6:04 p.m.]
Jeff Fisher's statement:
"It is rare in this league to get to spend 10 years with an assistant coach as we have with Jim. In his eight years as our defensive coordinator, Jim has clearly put his stamp on that side of the ball. He is competitive, a tremendous communicator and motivator and in our opinion he has been ready for this next step for several years. I want to congratulate the Lions for hiring the right guy and he will be missed here in Tennessee.

As for our next defensive coordinator, we will take our time as far as replacing Jim, but that process has already begun."
NFL SCOREBOARD
Sunday, 2/2
WEEKLY LEADERS