March, 24, 2014
3/24/14
4:00
PM ET
Richie Incognito
as a member of the
Oakland Raiders
is so, well,
last
regime. Or have you not noticed the trend and type of player general manager Reggie McKenzie has been signing thus far this offseason?
Incognito
They are guys not only with championship pedigrees but also locker room leaders. Guys like
Justin Tuck
and
LaMarr Woodley
and
James Jones
, and yes, the re-signed
Charles Woodson
.
Incognito exhibits none of those traits.
Sure, the left guard is a mauler on the offensive line who would have fit in nicely on the old-school Raiders' island of misfit toys (imagine him and Lyle Alzado going at it in practice), but McKenzie is veering away from those types of players.
Asked at the NFL owners meetings in Orlando on Monday if he had seen the NFL.com report in which Incognito said he was "100 percent into" the prospect of playing for the Raiders, McKenzie smiled.
"I've heard about it," McKenzie said, per the Bay Area News Group.
Asked what he thought about it, McKenzie smiled and said nothing.
Asked if he was interested in Incognito, McKenzie again smiled and was mute.
From a pure playing standpoint, Incognito does have relationships with Raiders offensive coordinator Greg Olson and assistant head coach/offensive line coach Tony Sparano.
"I'm a loyal guy," Incognito told NFL.com, "and I'd love to play for them again. And, of course, the Raiders have that aura."
But again, that aura is from a different generation. I'm not saying it's right or wrong, it just is.
Because the notion of Incognito -- who may still face league discipline for his role in the bullying episode in Miami involving
Jonathan Martin
-- joining the Raiders gave pause to even the progeny of Al Davis.
"I'd have to think about that," Mark Davis told reporters.
He'd probably be wise to check in with recently signed defensive end
Antonio Smith
, who has a longstanding feud with Incognito going back to their college days in the Big 12, a bad blood grudge that's included kicks to the head, helmets being ripped off and more-than-salty threats.
Yeah, Incognito would be a great fit for the old Raiders ... just not McKenzie's Raiders, who have already added offensive linemen
Donald Penn
,
Kevin Boothe
and
Austin Howard
, to go along with center
Stefen Wisniewski
, the re-signed
Khalif Barnes
, second-year tackle
Menelik Watson
, veteran right guard
Mike Brisiel
,
Matt McCants
,
Lamar Mady
and McKenzie's first-ever draft pick,
Tony Bergstrom
.
As one anonymous Raiders player told me last season when I asked which player, Incognito or Martin, he would rather have as a teammate, "Neither," was the reply.
December, 2, 2013
12/02/13
7:10
PM ET
ALAMEDA, Calif. -- The rust that inhabited
Oakland Raiders
left tackle
Jared Veldheer
last week against the
Dallas Cowboys
as he made his season debut was cancelled out by how physically fresh he felt in the Thanksgiving Day game.
Veldheer
And Monday, he was pleasantly surprised there was no "next-day" soreness associated with his surgically-repaired left triceps.
"It felt great to be out there and knock some people around," Veldheer said with a smile.
It felt so good he never came off the field against the Cowboys and their fierce pass-rusher
DeMarcus Ware
. Veldheer was on the field for all 56 of the Raiders' offensive snaps, despite coach Dennis Allen saying earlier in the week Veldheer would be part of a "feel" rotation at left tackle with
Matt McCants
, what with it being Veldheer's first game of the season.
According to Pro Football Focus, Veldheer surrendered one pressure to Ware while committing a false start just after a neutral zone infraction by Ware late in the fourth quarter.
That was it. And anonymity is usually the best sign of success for an offensive lineman.
"He held up good," Allen said. "He was feeling good throughout the game, so we left him in there."
Veldheer, the Raiders' third-round draft pick in 2010, will be a free agent this offseason so he is playing for a contract, though he has more pressing, immediate team goals as Oakland (4-8) prepares for a trip to MetLife Stadium to face the
New York Jets
(5-7).
"We have a four-game season ahead of us," he said. "We're trying to go 1-0 this week.
"It's extremely important to us to get the organization closer to our goal of where we want to go. We want to continue to improve every game."
November, 9, 2013
11/09/13
6:43
PM ET
JERSEY CITY, N.J. – The
Oakland Raiders
signed offensive lineman Jack Cornell to the active roster off the practice squad Saturday in time for Sunday's game against the
New York Giants
at MetLife Stadium.
Defensive lineman
Brian Sanford
was waived in the corresponding roster move.
The Raiders already announced six players were out for the Giants game, including right tackles
Matt McCants
(toe) and
Tony Pashos
(hip), and center/left guard
Andre Gurode
(quad) is questionable, so Cornell potentially adds depth on the offensive line.
Cornell played in the Raiders' 27-17 victory over the San Diego on Oct. 6.
October, 27, 2013
10/27/13
8:52
PM ET
OAKLAND -- Observed in the locker room after the
Oakland Raiders
'
21-18 victory
against the
Pittsburgh Steelers
.
Wisniewski
A lunch pail mentality:
The Raiders have used a baseball bat in the past to foster a "bring the wood" mentality. Sunday, there in the middle of the locker room, was a silver hard hat and lunch pail. Right next to a bucket full of orange slices. Message received.
A popular man:
Darren McFadden
is in a contract year and his name is sure to get tossed around a lot before Tuesday's NFL trade deadline. And after he rushed for 73 yards and two touchdowns, the media swarmed around his locker, going about six reporters deep. Might it have been McFadden's swan song in Oakland?
First in, last out:
The makeshift offensive line, which regained the services of center
Stefen Wisniewski
, was the last unit to leave the locker room, with Wisniewski and right tackle
Matt McCants
doing everything but turning off the lights.
A new trend?
For the first time this season, quarterback
Terrelle Pryor
addressed the media at the podium, rather than at a crush at his locker. Then he joined former Raiders lineman
Lincoln Kennedy
for a radio interview in a small auxiliary room.
October, 24, 2013
10/24/13
8:00
AM ET
ALAMEDA, Calif. -- Tony Sparano once took over a 1-15 team in Miami and had the Dolphins in the playoffs as an 11-5 division champion the next year.
So yeah, the Raiders assistant head coach, who is also Oakland's offensive line coach, knows all about challenges. But his current situation with the Raiders' banged-up O-line is a different animal. A wounded one, so to speak.
"This has been the most moving pieces ... that I've been around," Sparano said Wednesday.
"With the amount of injuries and, at times, the way that they've happened, it's been a challenge, but it's not an excuse. There's no excuse. From our end, we talk about two things -- we make progress, not excuses, and that's what we're doing."
[+] Enlarge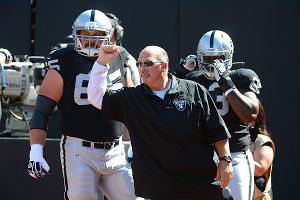 Kyle Terada/USA TODAY SportsRaiders assistant head coach/offensive line coach Tony Sparano has had to cope with a rash of injuries to his O-line.
Could you blame Sparano, though, if he at least quietly asked the football gods for a do-over?
It began in training camp when left tackle
Jared Veldheer
underwent surgery on his left triceps. Then guard
Tony Bergstrom
, the first pick of the Reggie McKenzie/Dennis Allen regime, was lost for the season with a lisfranc injury to his right foot.
"It just trickles down," Sparano said. "The most that I've seen in a long time."
Guard
Lucas Nix
dealt with an ankle sprain and
Stefen Wisniewski
missed two games with a sprained right knee, though he practiced Wednesday for the first time since injuring it on Sept. 29 against Washington. Right tackle
Tony Pashos
, who was signed just before the season opener, has dealt with groin and hip issues and did not practice Wednesday, nor did backup center/left guard
Andre Gurode
, who is nursing a quad injury.
Rookie second-round draft pick
Menelik Watson
has been sidelined with calf problems, then knee problems, and then calf problems again. Coach Dennis Allen surmised the Raiders have had Watson for maybe 10 practices total.
"We have not played with the same unit for two weeks in a row since the third quarter of the Jacksonville game," Sparano said. And that was in Week 2.
It's all made for a couple of baptisms by fire for rookie guard
Lamar Mady
and first-year tackle
Matt McCants
.
"It doesn't really matter who's up front because I believe in all of them," Raiders quarterback
Terrelle Pryor
said. "Some guys may be a little more talented, yes, but I believe in all those guys, and I think they're going to show this Sunday."
If nothing else, the extended playing time for Mady and McCants will only help them down the road, even if the 10 sacks the Raiders surrendered in Kansas City was reduced to nine following a league review.
The versatility of his linemen, Sparano said, has been a saving grace. Gurode has the ability to play left guard and center. Brisiel was able to move from right guard to center.
Khalif Barnes
moved from right tackle to left tackle, and Mady took practice snaps at center.
Doing it all on a game-changing (for the positive) level? Now that's a different story.
Still, Sparano said he told the linemen in camp that whoever made that initial 53-man roster would see playing time in games. That's just the nature of the beast.
This beast, though, has been untamed, what with the rash of injuries.
"There's body blows that go on in our league every single day," Sparano said. "We just happen to be catching a few body blows right now at the wrong time, and you've got to be able to overcome them.
"People that can overcome them the best and the fastest will end up being in the mix at the end of this."
October, 13, 2013
10/13/13
3:10
PM ET
KANSAS CITY -- The
Oakland Raiders
' battered offensive line has taken another blow as right tackle
Tony Pashos
, who missed last week's game with a groin injury, left the game against Kansas City at halftime with the same issue.
His return was doubtful and he was replaced by
Matt McCants
, Oakland's last active offensive lineman.
Earlier, right guard
Mike Brisiel
moved over to center to replace
Andre Gurode
, who suffered a left knee injury. Gurode, who is now in street clothes on the sideline, will not return to the game.
Gurode was starting at center for the second week in a row for the injured
Stefen Wisniewski
, who has a sprained right knee.
Lamar Mady
was at right guard.
September, 7, 2013
9/07/13
12:50
PM ET
INDIANAPOLIS -- The Raiders signed offensive tackle
Matt McCants
off their practice squad Saturday and placed left tackle
Jared Veldheer
on the reserve/injured-designated to return list in the corresponding roster move.
With Veldheer undergoing surgery on his left triceps in training camp and rookie
Menelik Watson
injuring a knee in practice Wednesday, the Raiders had only two healthy tackles entering this weekend's season opener against the Colts in
Khalif Barnes
and
Tony Pashos
.
Barnes will move from right tackle to start on the left side and Pashos, who was signed Monday, will start at right tackle.
The 6-foot-5, 309-pound McCants was a sixth-round draft choice of the
New York Giants
in 2012 out of Alabama-Birmingham, where he was primarily a left tackle and spent most of last season on the Giants' practice squad. He was waived by the Giants on Aug. 31 and signed to the Raiders' practice squad on Monday.
April, 28, 2012
4/28/12
5:24
PM ET
The
New York Giants
needed offensive line help, but they generally believe there's better value in the middle and late rounds at those positions than there is early.
So, as usual, they waited, went with the dynamic playmaker types early in the draft and have spent part of Saturday picking offensive linemen they like as developmental prospects. Their sixth-round pick is tackle
Matt McCants
of UAB, a long-armed, quick-footed lineman who possesses the kind of tools the Giants like in their tackles.
He missed his 2008 season due to academic issues but played and started every game in the three years after that. He's a guy the Giants will hope can learn and take a few steps forward in their program and perhaps ultimately help down the road.