NFL Nation:

Matt Patricia
September, 3, 2013
9/03/13
1:46
PM ET
Patriots coach Bill Belichick, defensive coordinator Matt Patricia and offensive coordinator Josh McDaniels held conference calls this afternoon.

From a "what we learned" perspective heading into Sunday's season opener against the Bills, here are some highlights:
1. Bills' defense has Jet-like feel:
As one would expect with coordinator Mike Pettine moving from the Jets to the Bills this year, Buffalo's defense looks "a lot like the Jets," according to Belichick. That means a lot of different looks (especially on third down, when a defensive lineman could play a linebacker-type role), multiple fronts, and a heavy percentage of blitzing. So as Patriots offensive players prepare this week, they are marrying two areas: Bills personnel that they've come to know in recent years playing a Jet-like scheme.
2. Scouting report on Mulligan:
Asked about signing 28-year-old tight end
Matthew Mulligan
to the 53-man active roster, Belichick cited his experience and blocking ability before saying, "he's a tough, physical player."
3. A lot of no-huddle on offense from Bills:
There is an element of unknown with any season opener, which Belichick repeated multiple times, but one thing the Patriots are most certainly expecting from the Bills is the no-huddle attack. "It's really all no-huddle," Belichick said of what he's seen from the Bills' offense, later adding the Bills' fast pace on offense draws some similarities to the Eagles under Chip Kelly which the Patriots practiced against in August. Another point Belichick made was that there isn't a lot of NFL-based film for the team to watch of Bills rookie quarterbacks
EJ Manuel
and
Jeff Tuel
.
4. Pleased with Talib's presence
. Patricia, the defensive coordinator, said he is "very, very happy" with cornerback
Aqib Talib
's work ethic and approach. The Patriots acquired Talib last November, so as time has passed, coaches have had a longer look at Talib's integration into the team's system and way of doing business. "He really practices hard and competes every day," Patricia said. "He's a good example out on the field for those guys that are coming into our program to get behind and follow along."
5. Young receivers have grasped multiple roles
. It is often said that the Patriots' complex offensive system can be tough for rookies to pick up, so it was notable that Josh McDaniels, the offensive coordinator, said that receivers
Kenbrell Thompkins
(undrafted),
Josh Boyce
(fourth round) and
Aaron Dobson
(second round) have all grasped multiple positions. "We've already moved them and played multiple roles with them, multiple positions with them," he said. "In our system, that's a really big 'plus' for us to have some flexibility with those guys. They've shown that they'll work and study on the mental side of the game to be able to be flexible and play in multiple spots when we need them to."
December, 6, 2012
12/06/12
4:38
PM ET
ESPN NFL analyst Jon Gruden previews this week's big "Monday Night Football" matchup as
Matt Schaub
and the
Houston Texans
(11-1) face three-time Super Bowl champion
Tom Brady
and the
New England Patriots
(9-3) at Gillette Stadium in Foxborough, Mass. The primetime battle of top AFC contenders will be televised on ESPN on Monday at 8:30 p.m. ET.
What are your thoughts on this week's Texans-Patriots game?
You obviously have two of the most high-potent offenses in the NFL. You have two great defensive coaches. I'm excited about Brady going up against Wade Phillips and the Houston Texans defense. The idea of seeing Schaub and the balanced Texans offense going up against Bill Belichick, Matt Patricia and the Patriots makes me want to get to Foxborough tonight.
What are keys to the game for both teams?
For the Texans, they possess the ball almost 36 minutes a game with their running game and high-percentage pass offense. I think keeping Brady off the field and doing what they do on offense -- protecting the ball, moving the ball and scoring points -- is the recipe for success for the Texans. For the Patriots, they're going to have to rely on Brady once again -- his ability to recognize, audible and attack. The Texans' injuries in the secondary and at linebacker are going to make things difficult for Houston. This game has all the makings of a shootout.
I also think how the Patriots' offensive line can handle the fierce front of the Texans is going to be something to watch. Houston has the best inside pass-rush that I've seen with
Antonio Smith
,
J.J. Watt
and
Jared Crick
coming in as the third tackle. They've got some real energy and playmaking inside.
What have you seen from quarterbacks Brady and Schaub this season?
Brady's expertise and clutch playmaking, talent and work ethic has been well-documented where Schaub's probably hasn't. Schaub has won 15 out of 16. What he's done behind the scenes in Houston rivals what Brady does in New England. These are two very intelligent, highly motivated CEOs of their teams. They unify their football teams and epitomize everything you want in a quarterback. I kind of put them on the same level in terms of preparation, leadership and dominating the game from the neck up.
What are your impressions of Watt this season and what has impressed you the most?
He's just unblockable. His stamina is incredible. He's a tremendous athlete. A lot of people think he's just a high-effort guy. He's a rare athlete. He can get off the blocks and close. He can run over you. He has the elusiveness to run you down and change directions. He's instinctive. He has the ability to reject passes when he knows he's not going to get there, or when you're going to throw the quick gain. He bats balls and he bats quarterbacks around. He's an MVP candidate. There's no question.
Is there an off-the-radar player -- what you would call a "Gruden Grinder" -- who is a potential difference-maker on Monday night?
I like Houston wide receiver
Kevin Walter
. He does a lot for the Texans as a blocker. This stretch running game is magnificent, but he cuts off the back side. He blocks the perimeter for these quick screens. He runs patterns. He catches balls. He's a great pro football player. A lot of his production is not on the stat sheet.
A guy for New England is defensive end
Rob Ninkovich
. You watch Ninkovich on a snap-by-snap basis, you might not be overwhelmed by how good he is, but when you look at the whole game, and a series of games, he's as valuable a member of the Patriots defense as anyone because he can play outside linebacker, inside linebacker, right end, left end. He can move around in their sub package. And he has skill to do all these things. I really like Ninkovich a lot.
Where do you rank the Texans and Patriots at this point in the season?
Houston is 11-1 for good reason. Their performance against the Ravens, the game we saw on "Monday Night Football" in New York against the Jets, going to Denver to beat the Broncos, there's a consistency that's impressive. They've had some injuries now and that's the only concern I have.
Brooks Reed
and
Brian Cushing
are out.
Johnathan Joseph
has been out. They're missing some key ingredients to their defense, but they can score with anyone and their effort and energy level is outstanding on defense. I think they are a favorite to get to the Super Bowl and win it. I would say the same about New England because of No. 12 and the head coach of the football team. They've had such great continuity. They can beat you in all three phases of the game, and they expect to win. They are used to winning. It's hard to go against them.
How special is it to call a game of this magnitude in primetime on MNF this late in the season?
We had the world champions last week and one of the great up-and-coming stars of pro football in RG3 last week. This week, the two teams have combined for 20 victories. You want to coach in the biggest games, you want to play in the biggest games, and you want to broadcast the biggest games. And, if you're a fan, you want to watch the biggest games. It's exciting. It's going to be a heck of a game.
May, 10, 2012
5/10/12
10:43
PM ET
By
ESPN.com staff
| ESPN.com


The Patriots show they are dedicated to defense in 2012, Herm reminds us who the Jets' "backup" quarterback is, and it looks like the Vikings will get their new stadium.
June, 10, 2011
6/10/11
12:00
PM ET
»
NFC Underrated Players
:
East
|
West
|
North
|
South
»
AFC
:
East
|
West
|
North
|
South
A team-by-team look at the most underrated players in the division.
Buffalo Bills
Roscoe Parrish, receiver/punt returner
: For five years,Parrish practically begged to be thrown the ball. He made the most of his touches, becoming one of the most dangerous punt returners in the NFL and setting franchise records.
[+] Enlarge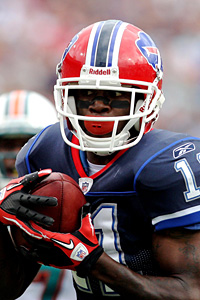 Luc Leclerc/US PRESSWIREBills receiver Roscoe Parrish caught 33 passes for 400 yards and two touchdowns last season.
But his listed position was wide receiver, and in the Bills' passing game under head coaches Mike Mularkey and Dick Jauron, the undersized Parrish always seemed to be an afterthought.
That changed last year under new coach Chan Gailey. He played just eight games because of a broken wrist, but Parrish caught 33 passes for 400 yards and two touchdowns. The yardage was the most of his career. His TDs tied a career-high. Two more receptions would have matched a career-high.
Miami Dolphins
Kendall Langford, defensive end
: On a defense with sack master
Cameron Wake
, the NFL's highest-paid linebacker in
Karlos Dansby
, franchise-tagged nose tackle
Paul Soliai
and Pro Bowl defensive end
Randy Starks
, a guy like Langford can get overlooked.
Langford, a 2008 third-round pick out of Hampton, has been a starter since his rookie season. Last year, after he gained national fame for being the sap who lost a $50,000 earring on the Dolphins' practice field, Langford produced a quality season for the one of the NFL's better defenses. He notched 47 tackles, three sacks, six tackles for losses, two forced fumbles and four passes defensed.
Langford is adept at controlling blockers and was a major reason why the Dolphins ranked seventh in run defense (100.1 yards per game) and third in average allowed per carry (3.6 yards).
New England Patriots
Gary Guyton, linebacker
: Guyton started only eight games at linebacker last season, and half of those were necessitated by
Brandon Spikes
' four-game suspension. Even so, Guyton made a mark on the Patriots' defense. The undrafted third-year pro from Georgia Tech recorded 63 tackles, three sacks, two interceptions (one returned for a touchdown), six passes defensed, one forced fumble and one fumble recovery (returned for another touchdown).
"Gary is someone that fits in our system very well no matter what that role is," Patriots linebackers coach Matt Patricia said during the playoffs. "He's a very [versatile] player for us. He does an excellent job in whatever avenue we ask him to prepare and play. I think he is a guy who is active and plays for us every Sunday, and whatever that role is he's going to go out and do it to the best of his ability. It's something that we have a lot of confidence in."
New York Jets
Brandon Moore, right guard
: The Jets' offensive line has had remarkable star power over the past few seasons.
Nick Mangold
is an All-Pro center. Left tackle
D'Brickashaw Ferguson
went to the Pro Bowl last season. Right tackle
Damien Woody
has been to the Pro Bowl and owns Super Bowl rings.
Alan Faneca
, the Jets' left guard in 2008 and 2009, went to nine straight Pro Bowls.
Then there was Moore, an undrafted and often-overlooked workhorse. "Meat," as he's affectionately known by his teammates, has started 105 straight regular-season games. He was a third alternate for the Pro Bowl last year but still hasn't made it to one. In the Jets' locker room, he's respected enough to be a union representative.
"It's a shame that Brandon doesn't get as much of a nod as he deserves," Jets offensive coordinator Brian Schottenheimer said last season. "You'd be hard-pressed to find a better guard than him in all of football."
March, 30, 2011
3/30/11
10:42
AM ET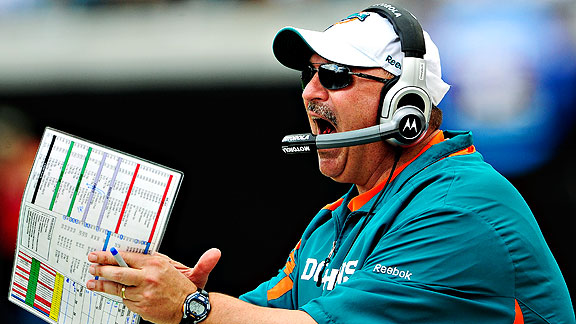 Sam Greenwood/Getty ImagesDolphins coach Tony Sparano felt it was necessary to add former players to his coaching staff.
Miami Dolphins
receiver
Brandon Marshall
scoffed in September that broadcast analyst Sterling Sharpe had no right to judge him.
Marshall claimed Sharpe didn't do enough on the field
to earn the privilege.
Imagine, then, how much disdain Marshall would harbor for criticism from those who didn't play in the NFL at all.
When you consider Marshall's logic and the sort of position coaches he has worked with, you get a sense of how unstable a situation can be.
As a rookie, he learned from former Pro Bowl receiver Steve Watson. But since 2007, Marshall's coaches have been Jeremy Bates, Jedd Fish and Adam Gase with Denver and Karl Dorrell last year with Miami. None of them played in the NFL. Neither Fisch nor Gase played in college.
Probably not the kinds of guys you'd expect to make a connection.
Dolphins head coach Tony Sparano rearranged his coaching staff after last season. He moved Dorrell into the quarterbacks vacancy and promoted Steve Bush from a quality-control role -- usually considered entry-level -- to receivers coach. Bush hasn't been an NFL position coach before. In 2008, the Dolphins hired the one-time Syracuse assistant away from West Genesee High in upstate New York.
Some help was in order, and not just for Bush.
Sparano made it a point to add former players to his coaching staff because he identified a deficiency. He needed more voices to reach his players.
Although the Dolphins parted ways with running backs coach James Saxon, they hired Ike Hilliard to assist Bush and Bryan Cox to coach pass rushing and promoted Dan Campbell from intern to tight ends coach.
"I feel good about the way we were able to put the staff together with the infusion of ex-players onto the staff," Sparano said last week at the NFL owners meeting in New Orleans.
"A little bit of that flavor and that knowledge on your coaching staff helps a lot. Sometimes, as coaches, we can get tunnel vision and forget about what the players' needs are. When you get an ex-player on your staff -- somebody that's really not far removed -- it helps you a lot."
A breakdown of AFC East coaching staffs shows there are multiple philosophies on former NFL players as assistants.
The Dolphins went into last season with two position coaches who played in the NFL: assistant head coach and secondary assistant Todd Bowles and Saxon. They now have four assistants with a combined 557 games.
Buffalo Bills
head coach Chan Gailey has one former NFL player on his staff, but none coaching a position. Former defensive back Adrian White, a veteran of seven seasons, handles quality control.
New England Patriots
defensive line coach Pepper Johnson is the lone member of Bill Belichick's crew to have experienced NFL action. Johnson played linebacker for four teams over 13 years.
Then there's Rex Ryan's staff, populated by six former NFL players with 62 seasons and 829 games. Matt Cavanaugh coaches quarterbacks, Anthony Lynn running backs, Henry Ellard receivers, Mike Devlin tight ends, Mark Carrier defensive line and Dennis Thurman defensive backs.
I reached out to three former coaches who played in the NFL -- Tom Flores, Herm Edwards and Ted Cottrell -- to get their opinions on the significance of having on-field experience on staff.
"It's always been a thing with the players," said Cottrell, an
Atlanta Falcons
linebacker and successful defensive coordinator for the Bills, Jets,
Minnesota Vikings
and
San Diego Chargers
, "where they think in the backs of their minds, 'Well, you haven't played this game. You don't know what we're going through. You haven't done this, Coach.' But if you have some playing experience on your staff, it helps offset that."
As valuable as those players-turned-coaches are, they're difficult to find. The best players don't necessarily make the best coaches because what came to them naturally can't always be conveyed through instruction.
[+] Enlarge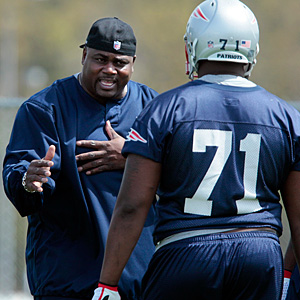 AP Photo/Elise AmendolaPatriots defensive line coach Pepper Johnson is the only member of Bill Belichick's staff with NFL playing experience.
Flores found a way to make it work. He and Mike Ditka are the only two in NFL history to win a Super Bowl ring as a player, assistant coach and head coach. Flores played quarterback for the Bills,
Oakland Raiders
and
Kansas City Chiefs
before guiding the Raiders to pair of Super Bowl titles.
"Some of the young kids coming out have no idea," Flores said. "They think they invented the game. Sometimes you have to bring them back to reality.
"But you also don't want somebody who keeps saying, 'Well, when I played ... When I played ... When I played ...' The player thinks, 'I don't give a damn when
you
played.
We're
playing now.'"
The transition from player to coach is difficult. Many players focus so much on their specific jobs when they're active that they don't become students of the overall game or learn how their roles fit into the overall puzzle. Others find it difficult to stop acting like a player when their careers are over.
Still, the ex-player element can be crucial in various instances.
"Sometimes you need a bridge with a former player," said Edwards, who played cornerback for the
Philadelphia Eagles
and was head coach for the Jets and Chiefs. "His voice is going to speak volumes, especially during the rough times because he's done it; he's been through it. He can give them, 'OK, this is what we gotta do' speech.
"He's going to respect because he played, but can he teach? That's the whole key. Players will figure that out."
Not all coaches are comfortable hiring former players, particularly those fresh off the field. Cottrell claimed there's a fear of subversion, that the former player will relate better to the locker room than the man in charge.
"Who do you think the players on the roster will gravitate towards more?" Cottrell asked. "The guy who played in the NFL and is young, or the older guy who didn't play?"
The former player, I responded.
"Damn right they would," Cottrell said. "That's why some coaches are intimidated to hire them. That's the truth. They don't want that guy around."
Added Edwards: "I've seen that happen. There's no doubt about that. That's when you're paranoid, but there are coaches like that."
Even so, Edwards conceded insurrections aren't an unfounded conspiracy theory.
"If you've got a former player in his positional meeting room, saying, 'Man, the coach doesn't know what he's talking about,' then you've got no shot as a head coach," Edwards said. "That's why you've got to be particular on who you hire."
The Patriots have a more institutional coaching staff. Their message is easy to deliver when players consider Belichick has won three Super Bowls and four conference championships in the past decade.
Rather than rely on former players, Belichick has core assistants such as offensive line coach Dante Scarnecchia (28th season with New England) and running backs coach Ivan Fears (15th season).
Belichick grooms assistants from gophers into coordinators and even head coaches. A steady stream of his acolytes -- Eric Mangini, Josh McDaniels, Brian Daboll, Bill O'Brien, Matt Patricia -- got their NFL starts under Belichick with no pro playing experience.
New England's cyclical process protects organizational doctrine from outside influences. Johnson, the lone ex-player on the staff, played 10 of his 13 seasons under Belichick.
"Belichick has a certain philosophy, and you want everybody to be on the same page," Flores said. "Sometimes, when you bring in guys that have been too many other places, they're not going to be on your page because they've been trained someplace else.
"If you bring up assistants through the ranks, then they'll be trained the way you want them to be. Everybody has to buy into the same program."
At the other end of the spectrum are the Jets.
Ryan obviously values former players. Their presence on the staff contributes to the Jets being an attractive destination for free agents, and Cottrell surmises the Dolphins have noticed.
"From a coaching standpoint, he looks at the Jets and wants to catch them in the division," Cottrell said. "He thinks, 'Rex has six guys that have played the game who are coaching. Uh oh. Rex has got an advantage on me.'
"That's got to be in the back of his mind. You've got to win your division to get into the playoffs, and when you look at your coaching staff, you see you don't matchup in that area."
Or, in the case of adding Hilliard at least, maybe it was as simple as noticing the Dolphins didn't match up with Marshall.