August, 30, 2011
8/30/11
8:53
PM ET
John Kasay
is 41, which is one of the major reasons the
Carolina Panthers
released the kicker last month. But as Kasay met with the New Orleans media after signing with the Saints on Tuesday, he said he feels like he still can be productive.
"I am not as young as I use to be,'' Kasay said. "I am not fooling anybody with that but there have been a handful of guys who have done very well playing into their 40's. Morten Anderson,
John Carney
,
Gary Anderson
,
Matt Stover
,
Jason Hanson
. It's a privilege to be able to play and to do the same thing I was doing as a kid."
Kasay said he had continued working out, even though he wasn't sure he would get another chance to kick in the league. That changed quickly after New Orleans kicker
Garrett Hartley
suffered a hip injury in Sunday night's preseason game.
"This came together obviously very quickly based on what happened to Garrett,'' Kasay said. "That's just the nature of the league. I am married. I have four children and school started last week. I was back-to-school-night last night. That's how fast life changes."
Coach Sean Payton wouldn't go into specifics about the severity of Hartley's injury and it's unclear if the Saints think they'll be going with Kasay for the long term or only the short term. Payton said familiarity with Kasay is one reason the Saints chose him.
"With his experience, we know the player a little bit more than some of the others because he's been in our division,'' Payton said. "He's consistent. He's a veteran player and we just started getting some work with him today. Really the adjustment is in the hold because he's a left-footed kicker."
Punter
Thomas Morstead
and backup quarterback
Chase Daniel
worked as holders with Kasay in Tuesday's practice.
"That's a good question,'' Payton said when asked who will hold. "I think we'll go with the holder that is most apt at doing it. Both of them, Chase right now and Thomas Morstead, are getting comfortable doing that and working through the kinks."
May, 25, 2011
5/25/11
11:38
AM ET
The
Baltimore Ravens
will hold a news conference Thursday to announce the retirement of longtime kicker
Matt Stover
, the team
announced on its website
. Stover had a distinguished 19-year career spent mostly with the
Cleveland Browns
and Ravens.

Stover
Stover became the most famous holdover between the rival franchises when the Browns left Cleveland and moved to Baltimore. He kicked for the Ravens during the team's first 13 seasons, which included Baltimore's Super Bowl run in 2000. Stover also spent five seasons kicking for the Browns.
Stover most recently had a brief stint with the
Indianapolis Colts
in 2009 and became the oldest player to participate in a Super Bowl. He was 42 at the time.
Stover will retire with a career field-goal percentage of 83.7 and will be remembered as one of the most reliable kickers in NFL history.
September, 13, 2010
9/13/10
7:01
PM ET
ESPN's Jeremy Schaap visited with former New York Jets quarterback Ken O'Brien and former Baltimore Ravens kicker Matt Stover before Monday night's game.

O'Brien gave his take on where the Jets' offense stands with second-year quarterback Mark Sanchez.

"Everything's new when you're a rookie," O'Brien said. "Everything jumps at you, the speed of the game. What they did well, I think they go back and look at it, they ran the ball really well. When you run the ball well and don't turn the ball over and you have a defense that's going to create turnovers for you and you just be consistent, you're going to score a lot of points. You don't want to get into a situation where you try to do too much.

"You want to be able to run the ball and pound it. You want to complete your third-down passes, but then you have the whole play-action-pass game that's going to open up for you. That's where they're going to be their best."


June, 23, 2010
6/23/10
11:30
AM ET
Notable players:
LB
Ray Lewis
, OT
Jonathan Ogden
, S
Rod Woodson
, TE
Shannon Sharpe
, RB
Jamal Lewis
, LB
Peter Boulware
, CB
Chris McAlister
, DT
Sam Adams
[+] Enlarge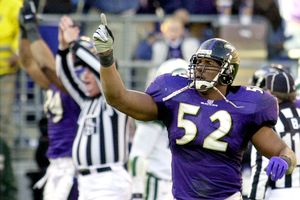 AP Photo/Nick WassRay Lewis and the Ravens' defense helped the young franchise win its first, and so far only, Super Bowl.
Analysis:
The 2000 Ravens are the clear choice for a franchise that's only been in existence for 14 years. It was the only team to win a Super Bowl and also had arguably the most dominant defense of all time.
Baltimore was far from a perfect Super Bowl team in 2000. Most notably, the team had issues at quarterback. The Ravens started with
Tony Banks
under center but finished with
Trent Dilfer
, who played efficiently enough for Baltimore to make an incredible run to end the season.
At one point, the Ravens were a middle-of-the-pack, 5-4 team. Then Baltimore got hot, winning seven straight to end the regular season and four more postseason games, including a victory over the
New York Giants
in Super Bowl XXXV.
Led by middle linebacker Ray Lewis, the Ravens set several defensive records in 2000, including fewest points (165) and fewest rushing yards (970) allowed in a 16-game season. Baltimore also pitched four shutouts.
There were seemingly no weaknesses on defense. Baltimore's defensive line was stout with Adams and
Tony Siragusa
, the linebackers were elite, and the secondary had stud playmakers at safety (Woodson) and cornerback (McAlister).
Then-rookie tailback Jamal Lewis anchored the offense with 1,364 rushing yards. Tight end Sharpe was the team's most dependable receiver, recording 67 receptions for 810 yards.
Most impressive win:
Although the Super Bowl win over the Giants will go down as the biggest game of the season, the most impressive was Baltimore's dominance in the AFC Championship Game, a 16-3 road win over the
Oakland Raiders
. The Ravens' defense smothered Oakland's high-powered offense led by quarterback
Rich Gannon
. Baltimore forced five Oakland turnovers.
Research Room:
Longtime Ravens kicker
Matt Stover
made the only Pro Bowl of his 19-year career in 2000. With an inconsistent offense, Stover was clutch in connecting on 35 of 39 field goals. He led the NFL in both field goals made and field-goal attempts that season. Stover also converted all 30 extra-point attempts.
Lone ranger:
Ray Lewis remains the only player currently with the Ravens from their Super Bowl team in '00. Now 35, the future Hall of Famer is still playing at a Pro Bowl level. Lewis signed a multi-year deal in '09 to make certain that he retires a Raven.
Several key members from Baltimore's Super Bowl team left the organization in the past several seasons. Jamal Lewis last played for the Ravens in '06, Ogden retired after the '07 season, and McAlister and Stover last played for Baltimore in '08.
Honorable mentions (in order):
2006 (tie):
Baltimore finally got solid quarterback play from former NFL MVP
Steve McNair
, and the Ravens won 13 regular-season games. But in the postseason they ran into nemesis
Peyton Manning
and the
Indianapolis Colts
, who eventually won the Super Bowl.
2008 (tie):
The Ravens became the first NFL team to win two road playoff games with a rookie quarterback (
Joe Flacco
). But their run was stifled in fourth quarter of the AFC title game to another eventual Super Bowl champion: The
Pittsburgh Steelers
.
2001:
Baltimore's attempt to defend a Super Bowl title ended with a second-round playoff exit. The
Elvis Grbac
experiment was a disaster. After signing a big free-agent deal with Baltimore, he had more interceptions (18) than touchdowns (15).
March, 4, 2010
3/04/10
9:12
AM ET
Houston Texans

Potential unrestricted free agents:
CB
Dunta Robinson
, WR
Kevin Walter
, RB
Chris Brown
, DT
Jeff Zgonina
, G
Chester Pitts
, S
Brian Russell
, S
Nick Ferguson
, LS
Bryan Pittman
, LB
Chaun Thompson
, QB
Rex Grossman
, LB
Khary Campbell
, G
Tutan Reyes
, T
Ephraim Salaam
, P
Matt Turk
.
Potential restricted free agents:
DL
Tim Bulman
, S
John Busing
, OT
Rashad Butler
, TE
Owen Daniels
, RB
Ryan Moats
, S
Bernard Pollard
, LB
DeMeco Ryans
, G
Chris White
.
Franchise player:
None.
What to expect:
I don't think the Texans will jump out and make any monumental moves. But by deciding not to tag Robinson they created another hole and saved themselves big dollars. With needs at corner, running back, free safety, interior offensive line and defensive tackle they may have more than they can address in one draft. That means they could jump out for one significant free agent – like they did last year with defensive lineman
Antonio Smith
-- and maybe another less expensive one or two.
Indianapolis Colts

Potential unrestricted free agents:
MLB
Gary Brackett
, K
Matt Stover
.
Potential restricted free agents:
WR
Hank Baskett
, S
Antoine Bethea
, S
Melvin Bullitt
, OL
Dan Federkeil
, CB
Aaron Francisco
, LB
Tyjuan Hagler
, CB
Marlin Jackson
, CB
Tim Jennings
, DT
Antonio Johnson
, OT
Charlie Johnson
, LB
Freddy Keiaho
, DT
Dan Muir
, CBPR
T.J. Rushing
.
Franchise player:
None.
What to expect:
Brackett is priority one and the team has indicated a plan to pay him as an upper-echelon guy. The restricted list includes a lot of key guys who will remain big factors next year. Indy is not a team that looks to bring in many outsiders for big roles and it won't start now. Bill Polian's said the Colts will sit back and see how things unfold in the new capless landscape.
Jacksonville Jaguars

Potential unrestricted free agents:
DE
Reggie Hayward
, G
Kynan Forney
.
Potential restricted free agents:
DT
Atiyyah Ellison
, LB
Clint Ingram
, DL
Greg Peterson
.
Franchise player:
None.
What to expect:
The Jaguars are draft-reliant, but will also shop for bargains in free agency, hoping to plug a couple holes with high-character guys with upside who fit what they are doing. As for a big splash, it's unlikely based on their recent busts with big-name free agents like
Jerry Porter
and
Drayton Florence
and the direction they've moved since.
Tennessee Titans

Potential unrestricted free agents:
DE
Kyle Vanden Bosch
, C
Kevin Mawae
, LB
Keith Bulluck
, TE
Alge Crumpler
, CB
Nick Harper
, CB
Rod Hood
, DE
Jevon Kearse
, S
Kevin Kaesviharn
.
Potential restricted free agents:
DE
Dave Ball
, DT
Tony Brown
, TE
Bo Scaife
, LB
Stephen Tulloch
, DT
Kevin Vickerson
, RB
LenDale White
.
Franchise player:
None.
What to expect:
The Titans will undergo a youth movement, especially on defense where Vanden Bosch and Bulluck, who's recovering from ACL repair, are going to be allowed to walk. Mawae been told his only chance to return is as a backup at a backup price. Brown, Scaife and Tulloch are important guys they'll want to retain. Beyond that, expect mostly bargain shopping.
February, 7, 2010
2/07/10
3:13
PM ET
MIAMI -- Just took a walk around the perimeter of Sun Life Stadium. The weather is beautiful but right now it's pretty windy. Forecasts called for gusts of up to 20 miles per hour, and I can tell you first-hand it's awfully gusty right now.
Who do you think has the kicking advantage in a windy situation? New Orleans'
Garrett Hartley
or Indianapolis'
Matt Stover
? Discuss.
January, 28, 2010
1/28/10
12:30
PM ET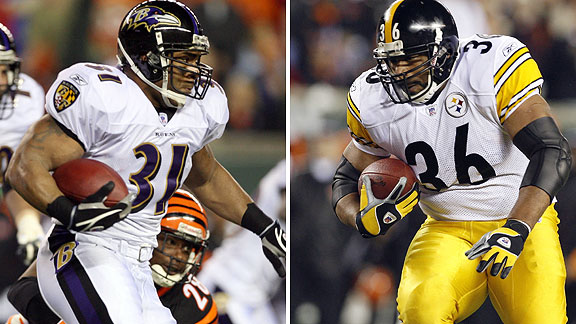 Matthew Emmons/US PresswireRunning backs Jamal Lewis and Jerome Bettis combined to rush for 15,806 yards during the 2000s.
The AFC North earned three Super Bowl titles this past decade, which means there were plenty of great players in the division over that span.
Here is our AFC North all-decade team.
Quarterback:
Ben Roethlisberger
(
Pittsburgh Steelers
)
Analysis:
You can really start and stop this argument with Roethlisberger's two Super Bowls wins in the decade. In terms of starting quarterbacks, Roethlisberger trails only the
New England Patriots
'
Tom Brady
, who won three titles in the decade. Outside of
Carson Palmer
of the
Cincinnati Bengals
, no one was even remotely close for consideration, unless you wanted to reach for quarterbacks who had one or two good seasons in the decade, such as Kordell Stewart,
Joe Flacco
or
Derek Anderson
.
Other considerations:
Palmer (Bengals)
Running backs:
Jamal Lewis
(
Cleveland Browns
/
Baltimore Ravens
) and
Jerome Bettis
(Steelers)
Analysis:
Typical of the AFC North, our all-decade backfield is as physical and heavy duty as it gets. Lewis, who retired after the 2009 season, registered 10,607 total rushing yards as a member of the Browns and Ravens. He had a 2,000-yard season with Baltimore in 2003. Bettis played six seasons (2000-05) in the decade with the Steelers and rushed for 5,199 yards in that span. Both players won Super Bowls and will be considered for the Hall of Fame. Although we don't have a traditional fullback, Bettis is versatile and big enough for the position.
Other considerations:
Willie Parker
(Steelers),
Rudi Johnson
(Bengals)
[+] Enlarge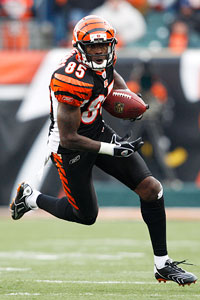 Frank Victores/US PresswireChad Ochocinco is just 48 yards short of reaching 10,000 career receiving yards.
Receivers:
Chad Ochocinco
(Bengals) and
Hines Ward
(Steelers)
Analysis:
We have a good mix at receiver. Ochocinco came to Cincinnati as a raw second-round pick who worked his way to become a six-time Pro Bowler and one of the biggest personalities in the NFL. Ward, a four-time Pro Bowler in the decade, was a former college quarterback who now is one of the toughest and smartest players in the league.
Other considerations:
T.J. Houshmandzadeh
(Bengals),
Derrick Mason
(Ravens)
Tight End:
Todd Heap
(Ravens)
Analysis:
When you look at the total numbers over the past decade, Heap was the clear choice as the top tight end in the division. Heap caught 427 passes over that span and made two Pro Bowls. Pittsburgh's
Heath Miller
, who has 244 receptions, is two years younger and may eventually match Heap's production. But Heap has the better numbers to date. Former Browns tight end
Kellen Winslow
Jr. also put up impressive numbers in just three full seasons with Cleveland.
Other considerations:
Miller (Steelers), Winslow Jr. (Browns)
Offensive line:
OT
Jonathan Ogden
(Ravens), OT
Willie Anderson
(Bengals/Ravens), G
Eric Steinbach
(Browns/Bengals), G
Alan Faneca
(Steelers), C
Jeff Hartings
(Steelers)
Analysis:
Besides leaving off three-time Pro Bowler
Joe Thomas
, putting the offensive line together was easier than I thought. Anderson of the Bengals got the edge over Thomas for two reasons: He's a natural right tackle and played nine years last decade at a high level. Thomas, with just three years, doesn't have the same longevity.
Other considerations:
OT Thomas (Browns), OT
Levi Jones
(Bengals), C
Rich Braham
(Bengals)
Specialists:
K
Matt Stover
(Ravens), P
Chris Gardocki
(Steelers/Browns), KR
Josh Cribbs
(Browns), LS
Ryan Pontbriand
(Browns)
Analysis:
Stover made the Pro Bowl in 2000, and his 93.3 field goal percentage in 2006 led the NFL. He's been consistent for a very long time, which is all you ask from kickers. Gardocki and
Dave Zastudil
is a toss up. But Gardocki led the NFL in punts two years in a row (2000 and 2001) as well as punting yards in 2000. Zastudil cannot boast those claims. Cribbs was a no-brainer, and teammate Pontbriand made two Pro Bowls as Cleveland's long-snapper.
Other considerations:
K
Phil Dawson
(Browns), K
Jeff Reed
(Steelers), P Zastudil (Ravens/Browns),
B.J. Sams
(Ravens)
Defense line:
Casey Hampton
(Steelers),
Aaron Smith
(Steelers),
Justin Smith
(Bengals)
Analysis:
It's only fair that the AFC North all-decade defense runs a 3-4 scheme. Since 2001, Hampton has embodied what a 3-4 nose tackle looks like and plays like. He has five Pro Bowls in the decade, including this past season. Aaron Smith also is a prototype for 3-4 defensive ends. He's always put personal numbers aside so other defenders in Pittsburgh could flourish. Justin Smith of Cincinnati never quite lived up to his lofty draft status. But he was a consistent player for the Bengals.
Other considerations:
DT
Kelly Gregg
(Ravens), DE
Kimo von Oelhoffen
(Steelers), DE
Trevor Pryce
(Ravens)
[+] Enlarge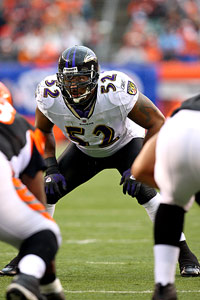 Tom Szczerbowski/US PresswireRay Lewis was the AP Defensive Player of the Year in 2000 and 2003.
Linebackers:
ILB
Ray Lewis
(Ravens), ILB
James Farrior
(Steelers), OLB
Joey Porter
(Steelers), OLB
Terrell Suggs
(Ravens)
Analysis:
You can win a lot of games with this group. You have intelligence and physicality in the middle, and plenty of pass-rush ability on the outside. Lewis, a future Hall of Famer, is the captain and emotional leader of the all-decade defense. Farrior also has the smarts to keep everyone in line, while Suggs and Porter can fly around and wreak havoc on the quarterback. There were several very good candidates at outside linebacker. But Porter and Suggs were dominant forces in the AFC North for a longer period.
Other considerations:
OLB
James Harrison
(Steelers), OLB
Adalius Thomas
(Ravens)
Defensive backs:
CB
Chris McAlister
(Ravens), CB
Ike Taylor
(Steelers), S
Troy Polamalu
(Steelers), S
Ed Reed
(Ravens)
Analysis:
Polamalu and Reed are two of the all-time great safeties, so there is no debate there. Also, fans may recently remember the aging and injured McAlister who was cut by the Ravens last year. But at one point "C-Mac" was the most physically dominant cornerback in the division. Taylor won two Super Bowls with the Steelers and is the best of what's left at cornerback. I also considered
Anthony Henry
, who played in Cleveland for four years during the decade and had one stellar season when he led the NFL with 10 interceptions in 2001.
Other considerations:
CB Henry (Browns), S
Rod Woodson
(Ravens)
January, 22, 2010
1/22/10
4:00
PM ET
AFC Championship
:
Graham
|
Kuharsky
»
NFC Championship
:
Seifert
|
Yasinskas
Three nuggets of knowledge about Sunday's AFC Championship Game between the New York Jets (11-7) and Indianapolis Colts (15-2):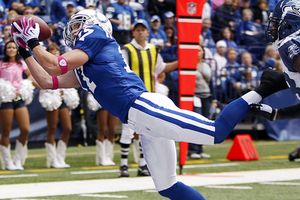 Brian Spurlock-US PRESSWIREThe Colts may look to hit wide receiver Austin Collie over the middle in Sunday's AFC Championship Game.
1. One big difference from the first game:
Pierre Garcon
did not play in the first matchup, and Rex Ryan said the Jets saw a lot of two tight-end sets from Indianapolis on Dec. 27 before the Colts shut it down. Ryan's not expecting that this time. He knows the Colts will line up predominantly in three-wide receiver formations featuring
Reggie Wayne
, Garcon and
Austin Collie
. With
Dallas Clark
in the mix, the Colts hope to get the Jets in nickel and dime and test the depth of their secondary. Look for some short stuff to Collie over the middle as an alternative to runs if the Colts can't move it much on the ground.
2. Keep manageable downs and distances on offense:
The Colts know they probably aren't going to do a lot of damage running the ball, but they will seek to maintain some sort of balance.
Joseph Addai
does pretty well on runs that appear to be shut down, wriggling for at least a couple yards. And Manning and the entire operation need second-and-eight, not second-and-12. Rushes for losses and sacks are the sort of setbacks that can get the Colts' precision offense off track and give the Jets' defense a spark.
3. Inexperience won't kill these kickers:
Kickers have made just 57.7 percent of their field goals in the playoffs. (
Check out colleague Jeffri Chadiha's story on the topic
.) That mark was 81.3 percent during the regular season. But the Jets have
Jay Feely
in his ninth season and the Colts have
Matt Stover
in his 20th. Feely is 9 for 12 in eight postseason games, including 2-for-2 this postseason. Stover, filling in for
Adam Vinatieri
, is 19 of 24 in the playoffs overall and is also 2-for-2 this postseason. Looking for a long one at the end?
Peyton Manning
will likely have to give Stover a few more yards than
Mark Sanchez
will have to give Feely, who's younger and stronger.
December, 17, 2009
12/17/09
10:02
PM ET


JACKSONVILLE -- Some thoughts at the half of a highly entertaining, back-and-forth Colts-Jaguars game that stands Indy 21, Jacksonville 17:
December, 17, 2009
12/17/09
12:21
PM ET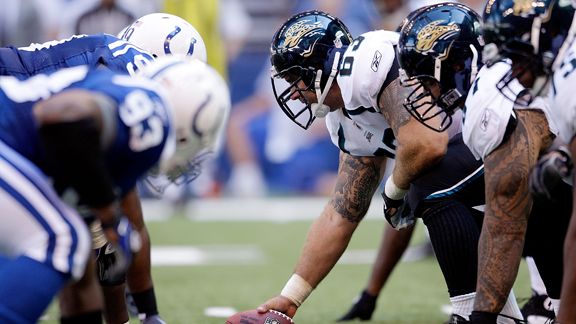 Andy Lyons/Getty ImagesThe Jaguars will be anxious to see how they measure up against the undefeated Colts Thursday night.
The Jaguars have a sellout, so Thursday night north Florida will be able to see a home game for the first time this season. Please hold any NFL Network availability cracks -- it'll be broadcast by the local Fox affiliate, too.
So here is the big moment for Jack Del Rio's team, overachievers who have been outscored by 52 points this season but have scrapped, survived inconsistency and positioned themselves at 7-6 to be the AFC's sixth playoff team.
To maintain that status, the Jaguars must do something no other team has done this season: beat the Colts. A young Jaguars team came close on opening day at Lucas Oil Stadium,
dropping a 14-12 decision
. Now we get to see how much better the Jaguars measure up against a team they want to emulate.
"Our goal is certainly to become what they are," first-year general manager Gene Smith told me last week. "That's what we're striving for."
A year ago in a Thursday night game
in Jacksonville,
Peyton Manning
clinched his third MVP award.
The Jaguars have struggled to pressure the passer most of the season and hardly have a loaded secondary. As in all games against the Colts, Jacksonville's methods for slowing the quarterback will be a major theme.
Here are half a dozen other things I'll be watching for or conscious of at Jacksonville Municipal Stadium:
Who benefits from the short preparation week?
Given less time to prepare, I lean in favor of the team with more weapons all the time. The Colts are stacked in that category. I'd rank
Reggie Wayne
,
Dallas Clark
,
Austin Collie
,
Joseph Addai
and
Pierre Garcon
as playmakers who belong in the "dangerous" or "extra dangerous" category. I'm not sure, even if
Rashean Mathis
is back from his groin injury, the Jaguars have enough quality defensive backs to slow those weapons.
The Jaguars, meanwhile, have only two players who fit the category based on resume and production:
Maurice Jones-Drew
and
Mike Sims-Walker
.
The team that has more to figure out how to defend is at a disadvantage in a short week. I also think the Jaguars were involved in a more physical game in last Sunday's loss to Miami than the Colts were in a win over Denver.
How much do the Colts rest?

The company line is they'll play like usual with some exceptions for guys who are injured. Cornerback Jerraud Powers was on the early list of players who are out, and defensive ends Dwight Freeney and Robert Mathis didn't practice this week and are questionable. Take the two pass-rushers and a key coverage guy out of the mix and the Colts are hardly the same defense. But Raheem Brock can be productive as an edge rusher and Keyunta Dawson would be in line for his most playing time.

Rookie tackles Eugene Monroe and Eben Britton, terrorized in Week 1 by Freeney and Mathis, will be pleased. If they can offer better protection and give David Garrard some time to make good decisions, the Jaguars have a much improved chance.

Fourth-down action

Before going for it on fourth down came into such vogue this year, Del Rio was already aggressive with it. This season the Jaguars have converted half of their 16 tries.

The Colts have been a very good fourth-down defense this season, especially recently. We all remember the Patriots' failed fourth-down attempt deep in their own territory when trying to preserve a late lead back on Nov. 15.

According to ESPN Stats & Information ace Marty Callinan, Indy has allowed just one fourth-down conversion in 11 attempts over its last nine games.

Houston converted a fourth-and-1 in Week 9. Since then, it's five consecutive games for Indy without allowing one. In the last two games, the Titans and Broncos each tried unsuccessfully three times.

Overall, the Colts' fourth-down defense has held offenses to a 29.4 percent conversion rate.

If it comes down to a kicker…

Josh Scobee's just 16-of-24 on field goals this year for the Jaguars. His big leg would figure to be the best thing going for him, but he's only 5-of-12 from 40 yards or longer this season. Jacksonville needs him to hit everything he's asked to try in this one.

The Colts know they aren't going to get great distance out of Matt Stover, who's in his 20th year. He's hit two of three tries over 40 yards in seven games. Get him inside of 40 and he's the guy in this game I'd rather take my chances with.

Does MJD miss Greg Jones?

The Jaguars love their fullback, but Jones is out of this game with an ankle injury. That means special-teams ace Montell Owens or Brock Bolen, just signed off the practice squad, will be leading the way for Jacksonville's best weapon. In seven games against Indy, Jones-Drew has an average of 6 yards a carry, five games of at least 91 rushing yards and six touchdowns.

His eight total touchdowns -- six rushing, one receiving and one as a returner -- are the most against the Colts by any individual since 2006.

Minimal flags

The Jaguars are the league's least penalized team (62), and the Colts are tied for second (63).

Let's hope we didn't just jinx that and assure ourselves of a sloppier, slower game.



December, 13, 2009

12/13/09

9:47

PM ET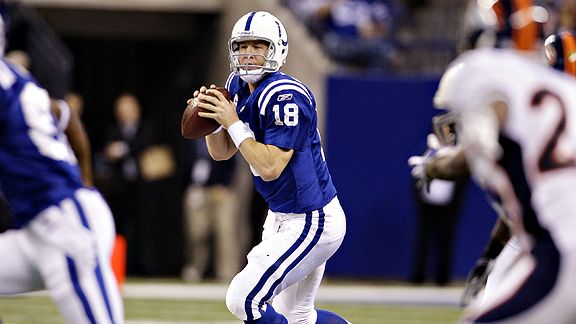 AP Photo/Darron CummingsWill Peyton Manning's chances at a fourth MVP title suffer if the Colts rest him?
INDIANAPOLIS -- His biggest accomplishment is leading his team to a place where he doesn't need to make a major contribution over the next three weeks.
For that distinction,
Drew Brees
,
Brett Favre
,
Chris Johnson
and
Philip Rivers
surely would trade situations with
Peyton Manning
.
But after the
Indianapolis Colts
' 28-16
victory
over the
Denver Broncos
at Lucas Oil Stadium Sunday, we might have seen the last full game of the regular season from Manning.
And if the regular-season final image of Manning depicts him with a dangling earpiece and under a poncho in Buffalo in Week 17 -- helping substitute quarterback
Curtis Painter
cope with the Bills -- how will that affect MVP voters?
Will they reflect upon Manning's accomplishments leading the Colts to a 13-0 start? Will that three-week-old memory have any impact while they're watching, say, Brees cap an undefeated regular season, or Favre carry the Vikings into the playoffs, or Johnson crack 2,000 rushing yards?
When that Associated Press panel submits its MVP votes Jan. 4, could Manning fall victim to omnipresent what-have-you-done-for-me-lately thinking?
"I would say you can't count it against him if he's not out there,"
Dwight Freeney
said. "It's about the team first, nothing else matters. …If it came down to that, it would be a shame."
"The effect that he's had on a team, I don't know how you could match that," said Colts kicker
Matt Stover
, who's played with
Phil Simms
,
Jeff Hostetler
,
Bernie Kosar
,
Vinny Testaverde
and a slew of other quarterbacks in 20 NFL seasons. "What he does in practice, what he's replicated on the field, warrants an MVP to me.
"I have never seen anything like it in my 20 years and that's playing with a lotta, lotta, lotta quarterbacks. To me it's 'What has he done to give his team the best opportunity to win, to get his team to the playoffs?'"
With his play, Manning's helped put the Colts in position to ease up. They are expected to stay true to a long-standing philosophy of resting key starters once playoff position has been secured, a stance honed by former head coach Tony Dungy and expected to be adopted by his successor Jim Caldwell.
No other quarterback has put his team in such a spot so early, so to penalize him for it in any way wouldn't seem fair to me.
Colts executive Bill Polian made his traditional sour face when I asked him if MVP is important. He cares little for things voted on by media members and things he and his team cannot control, at least conversationally. Still, asked to make the case for his quarterback, it came easily.
"If you ask me is it comparable to the seasons that he's won, the answer is yes it is," he said. "Certainly beyond, because of the circumstances, because of the offensive line transition, the offensive line difficulties and the receiver transitions."
Manning has excelled even as the team's projected starters at left tackle and right guard (
Tony Ugoh
and
Mike Pollak
, respectively) were outplayed and replaced by understudies (
Charlie Johnson
and
Kyle DeVan
, respectively). And with Hall of Fame receiver
Marvin Harrison
gone and No. 2 target
Anthony Gonzalez
hurt, Manning's thrown to rookie
Austin Collie
and second-year man
Pierre Garcon
unhesitatingly, helping both become major contributors.
I skipped Manning's news conference after the Broncos game because I knew an MVP question would be fruitless and I'd fare better on this subject in the locker room.
But make no mistake, a fourth MVP would mean a great deal to Manning just as late yards in a blowout win at Tennessee on Oct. 11 meant something to him. Those yards got him over 300 yards for the fifth straight game at the start of the season. The milestone kept him on track to match or surpass the shared record of six, held by
Kurt Warner
and
Steve Young
. (He came up well shy of 300 a week later at St. Louis.)
That doesn't mean Manning is at all selfish or has any priorities out of whack.
I just believe he's acutely aware of the numbers and the history. He takes a great deal of personal pride in getting the first and making the other when he has the chance. None of that makes a second Super Bowl win any less important to him or the team he leads.
A year ago, en route to his third MVP, Manning and the Colts played at Jacksonville in a late-season Thursday night game. The Dec. 18 contest marked the Colts' 15th game. In a 31-24 victory, Manning was a pitcher with no-hitter control -- zipping balls through small windows, lofting them just over defenders' fingertips, throwing them with just the perfect touch.
That 29-for-34 passing for 364 yards and three touchdowns, broadcast nationally on NFL Network, clinched the award for him, I thought.
A week later in a meaningless game against Tennessee he threw early and often, and topped 4,000 yards. He helped get Harrison past Cris Carter into second place for career receptions, and then Manning left the game.
Certainly the Colts have many banged-up guys who need to heal. Some others can get the work they need to stay sharp during practice weeks. But the team's first playoff game isn't until Jan. 16 or 17, more than a month away. A month is too long to expect the engine to idle.

Nobody asked me but… I humbly propose the Colts set Manning loose on the Jaguars again in four days. Kelvin Hayden said even if the team takes its foot off the gas, it doesn't want to drop a game to a loathsome division rival.

Manning will do what he's asked to do. Still, he said he hasn't liked playing a bit and then taking a seat when he's been required to do it in the past. So don't ask him to do it three consecutive weeks while risking the honor that would come with being the league's first four-time MVP.

Let Manning be Manning in North Florida Thursday, with his stable of healthy weapons helping him stake his claim.

If Brees or Favre or Johnson or someone passes him from there as he plays only a couple series against the New York Jets (Week 16) and at Buffalo, so be it. At least the voters will have less time to forget what they should be sure to remember.

December, 6, 2009

12/06/09

2:57

PM ET

INDIANAPOLIS – So how little time is too little time for

Peyton Manning

to get the Colts a field goal before the end of a half?


Twenty seconds and two timeouts was plenty, and Matt Stover's 43-yard field goal gave Indianapolis a 24-10 halftime lead.
It's silly, how easily they move it in such situations. They got a 15-yard bonus on Tony Brown's unsportsmanlike conduct penalty.
He'll pay a big fine, too, for poking his hand into Kyle DeVan's facemask as they argued after a play. Brown kept it going after the next play and beyond. Lucky he wasn't tossed, as he put his hands on an official as things were being sorted out.
A couple other halftime notes:
Clint Session
gets better and better. He's really a quality defensive playmaker. He stopped
Chris Johnson
on one play with the sort of squared up tackle we rarely see of CJ. His hit on
Ahmard Hall
also forced a fumble.
People will jump on
Vince Young
for how he reacted to the pick he threw to
Jacob Lacey
. But as he ran to
Kenny Britt
it appeared he simply wanted to emphasize how he needs Britt to come back to him in such a situation. Delivery of the message may have been bad, as was the throw. But the message was fine.
Nate Washington's early deep drop is going to be on the list of the five plays the Titans regret most when this season's over.
Kelvin Hayden
looks fine, and a cornerback trio of Hayden,
Jerraud Powers
and Lacey is more than good enough to win with going forward.
November, 22, 2009
11/22/09
5:25
PM ET
BALTIMORE -- A lot of times, too much is made about a player returning to his old town to face his old team. In many, many instances in the NFL, these guys are mercenaries.

Stover
Certainly there are exceptions.
Matt Stover
's return to Baltimore as a member of the Colts was one of them.
In a 17-15 game, he hit the winning field goal against the franchise he played 17 seasons for, 12 of them in Baltimore.
"It was surreal, but I think everybody can understand that I tried my best to not internalize the fact that I am actually at Baltimore's stadium," he said. "So for that three hours, I compartmentalized my team, I did everything I could to erase it. Now of course there were time I was thinking, 'Look at those guys over there, I am usually over there…'"
"Mind you I didn't want them to win today, but I do want them to win… And I don't want Baltimore to forget this: I'm part of the community and always will be."
Had the Colts not signed him to fill-in for the injured
Adam Vinatieri
Oct. 14, Stover easily could have been with the Ravens again as they gave up on
Steven Hauschka
. With Stover off the market, they went with
Billy Cundiff
, who hit five field goals but missed a 30-yarder wide right.
After the Colts moved to 10-0 and players spilled out of the locker rooms in the tunnels below M&T Bank Stadium, Stover bumped into John Harbaugh, the coach who was part of the decision not to bring him back this season as the team went younger and looked for a bigger leg.
"Sorry about that kick he missed," Stover told Harbaugh about Cundiff. "He kicked the ball great."
November, 13, 2009
11/13/09
4:30
PM ET
»
NFC Final Word
:
East
|
West
|
North
|
South
»
AFC
:
East
|
West
|
North
|
South
Five nuggets of knowledge about Week 10:
[+] Enlarge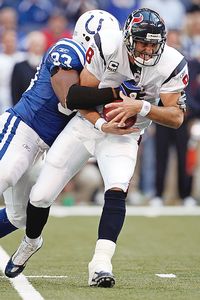 Andy Lyons/Getty ImagesDwight Freeney has recorded a sack in each game this season.
Tom Brady knows how dangerous Dwight Freeney is.
Freeney against rookie left tackle
Sebastian Vollmer
, filling in for the injured
Matt Light
, could be the biggest matchup of the game. The presumption is that the Patriots will hurry into three wide to test the Colts' secondary depth and bring cornerback
Tim Jennings
on the field. But doing so will limit the possibilities of offering Vollmer help on Freeney. The rookie handled Miami's
Joey Porter
last week. Can he go 2-for-2 against a guy who's got a sack in every game?
The road to 2,000?
Chris Johnson
needs to average 130 yards per game rushing over the Titans' final eight games to get to 2,000 for the season. The Bills are the NFL's worst rushing defense, allowing 173.6 yards a game. Johnson's gone for 228 and 197 in his two best games this year. Let's say he splits the difference and manages 216 on the ground against Buffalo -- a giant day for sure. That would get the average he'd need over the last seven games down to 117. Doable?
There will be a twist for the Colts to figure out.
Indianapolis' defense under coordinator Larry Coyer is a bit less predictable, but the Colts' formula is no secret and they'll challenge Brady and the Patriots to beat it. On the other side, however, the Patriots are sure to do something unexpected, deploying groupings they haven't used in some time or switching fronts or coverages.
Peyton Manning
's ability to dissect and diagnose those alterations could become the story of the game.
The Jaguars need to play from ahead.
A big start at Giants Stadium really could help Jacksonville's cause. Get ahead, and the Jaguars can rely on their strength and feed the ball to
Maurice Jones-Drew
. Fall behind, and face a steady diet of the Jets'
Thomas Jones
and
Shonn Greene
. That's a huge disadvantage considering the Jets are the NFL's No. 1 team when it comes to rushing yardage, with an average of 177.6 yards a game. The Jags need to get MJD in the end zone, too. He leads the NFL with 11 scores, but he was on the losing end of the two games where he didn't score.
The longer leg in from New England.
Does "Sunday Night Football" come down to the last possession and a field goal attempt? If so, Brady won't have to move the Patriots as far as Manning would have to move the Colts.
Stephen Gostkowski
hit his two longest field goal attempts of the year, from 53 and 45 yards.
Matt Stover
, who's filling in for the injured former Patriot
Adam Vinatieri
, is known now for accuracy, not distance. He's hit a 40-yarder and hasn't tried anything longer.

NFL SCOREBOARD
Thursday, 8/21
Friday, 8/22
Saturday, 8/23
Sunday, 8/24