July, 31, 2014
Jul 31
4:59
PM ET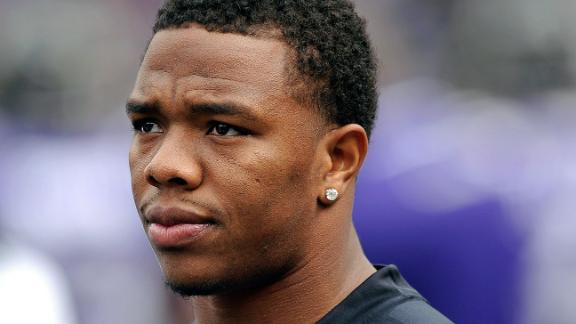 OWINGS MILLS, Md. -- In stark contrast to
Ray Rice
's awkward news conference in May, the
Baltimore Ravens
running back showed Thursday that he finally understood the weight of his actions from the alleged altercation with his then-fiancée in February.
He delivered the correct message, one the NFL failed to do last week with the two-game suspension, by not only apologizing to his wife, Janay Palmer, but also expressing a desire to become an advocate for domestic-violence causes.
Rice was compelling in his contrition, calling it the biggest mistake of his life. He stood in front of the microphone alone, without his wife standing by his side, and took full responsibility for the incident. Perhaps more importantly, Rice actually said the words "domestic violence," which weren't heard in his statement two months ago.
"My actions were inexcusable," Rice said. "That's something I have to live with the rest of my life."
Before anyone pats Rice on the back, this is what he should have said the first time when he broke his silence in May. Instead, Rice nervously fumbled through notes on his phone and apologized to team officials and his sponsors. That debacle of a news conference came across as damage control to his image.
His 17-minute news conference Thursday hit the right tones. He apologized to all women affected by domestic violence. He accepted the blame for losing the respect of fans. Rice came across as genuinely sorry.
"I let my wife down, I let my daughter down, I let my wife's parents down, I let the whole Baltimore community down," Rice said.
Rice's biggest misstep was not talking about what happened in the elevator. He was asked twice about it and declined to answer both times. His stance against domestic violence would have resonated stronger if he had explained his transgressions.
"I'll be honest: Like I said, I own my actions," Rice said. "I just don't want to keep reliving the incident. It doesn't bring any good to me. I'm just trying to move forward from it. I don't condone it. I take full responsibility for my actions. What happened that night is something that I'm going to pay for the rest of my life."
The only way Rice can move forward from this incident and show he's truly sincere is through his actions. It's not by his words. It's not by a hefty donation, which is merely a gesture. It's by proving this will remain a "one-time incident" and by supporting domestic-violence causes.
Thursday represented a small step forward for Rice. But it was an important one.
June, 30, 2014
Jun 30
5:30
PM ET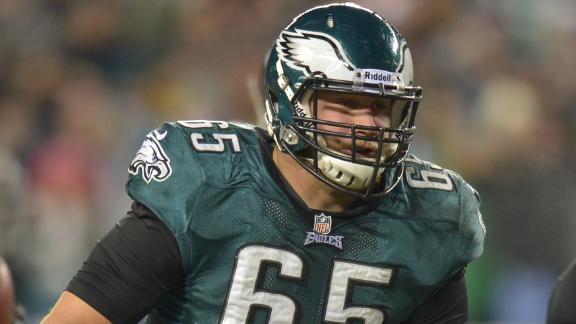 PHILADELPHIA -- The Eagles don't have a problem if offensive tackle
Lane Johnson
is really suspended for four games, as reported by Paul Domowitch of the Philadelphia Daily News.
They have several problems.
Remember, Johnson was a quarterback in high school and then a tight end when he first got to Oklahoma University. The 6-foot-6 Johnson bulked up to more than 300 pounds to become an offensive tackle good enough to be taken fourth overall in the 2013 NFL draft.
Johnson
Was that physical transformation natural or the result of performance-enhancing drugs? This is more than a theoretical matter for the Eagles. They drafted Johnson based on his size and his physical skills. At the scouting combine last year, Johnson ran a 4.75-yard 40-yard dash, an excellent time for a man of his size. The Eagles drafted him fourth, which meant a contract worth almost $20 million, including a signing bonus of $12 million.
The Eagles made that investment on the assumption that Johnson was clean. He earned his money as a rookie, starting all 16 regular-season games plus the playoff game against New Orleans. But the question becomes, can he perform at the same level if he stops doing whatever earned him a four-game suspension?
If Johnson is sidelined, the Eagles could start either guard
Todd Herremans
or backup lineman
Allen Barbre
at right tackle. Barbe performed very well when pressed into action at left tackle last year at Green Bay. Herremans played right tackle in 2012 and 2013 before moving back inside to guard last year.
The other candidates to fill in for Johnson are
Dennis Kelly
, who was troubled by back pain last season, and
Matt Tobin
and
Michael Bamiro
. The Eagles did not take an offensive lineman in this year's draft.
Taking a step back, a suspension would cast doubts upon more than just Johnson.
Head coach Chip Kelly has gotten a lot of attention for his training methods and his sports science-based approach to football. It didn't raise many questions when linebacker
Jake Knott
was suspended earlier this year. But now, with a first-round pick and starter reportedly testing positive for PEDs, there will be plenty of speculation about what's in those custom smoothies the players drink after every practice.
Johnson would be the fifth Eagles player suspended for performance enhancing drugs. This would be the first time, however, that two Eagles have tested positive in the same year. Instead of a minor player whose absence would barely be noticed, Knott becomes part of a trend for the 2013 NFC East champions. If there are no more positive tests, there will be no more suspicions. But if the trend continues, questions will be asked.
December, 29, 2013
12/29/13
7:45
PM ET
ARLINGTON, Texas -- Eagles safety
Earl Wolff
is inactive for Sunday night's showdown against the
Dallas Cowboys
.
Wolff missed four games after injuring his right knee in Green Bay Nov. 10. He returned for last week's game against Chicago but left after playing one series. Veteran
Patrick Chung
will start at safety in place of the rookie.
Backup safety
Colt Anderson
(hamstring) and backup center
Julian Vandervelde
, who were listed as out, were both inactive. Otherwise, it was the usual group: quarterback
Matt Barkley
, running back
Matthew Tucker
, offensive lineman
Dennis Kelly
and cornerback
Curtis Marsh
.
Offensive lineman
Matt Tobin
is active for the second time this season. He takes Vandervelde's spot on the 46-man roster, but would not play center if anything happened to starter
Jason Kelce
. That role would likely fall to left guard
Evan Mathis
.
As expected, Cowboys quarterback
Tony Romo
and inside linebacker
Sean Lee
are inactive. So is former Eagle
Ernie Sims
, which leaves Dallas even thinner at linebacker.