NFL Nation:

Matthew Willis
May, 8, 2013
5/08/13
6:40
PM ET
The
Oakland Raiders
are kicking the tires on a now-healthy
Josh Cribbs
, according to several reports.

The Cleveland free agent nearly signed a deal with Arizona early in free agency. But he wasn't fully recovered from surgery to repair a torn meniscus in his knee.
I was told that Cribbs had a "great visit" with Oakland, and the Raiders are one of four teams interested in Cribbs. The Raiders' interest in Cribbs is not a surprise. The Raiders looked at
Domenik Hixon
earlier in free agency. Like Hixon, Cribbs is a return man and a receiver. Cribbs, who will turn 30 next month, has been a dynamic return man in his career, but he is aging. His highest season reception total came in 2011 when he had 41 catches.
If he signs with Oakland, Cribbs would be insurance for receiver/returner
Jacoby Ford
, who has been hampered by foot injuries.
In other AFC West notes:
USA Today is reporting the
Kansas City Chiefs
are considering Jeff Morrow of Carolina and Marvin Allen of the Falcons for their director of college scouting opening. The new regime is adding pieces to the scouting department.
Denver free-agent receiver Matthew Willis recently worked out for New England.
March, 12, 2012
3/12/12
10:30
AM ET
NFL free agency begins Tuesday at 4 p.m. ET. Here is the complete list of unrestricted free agents for each team in the division:
Denver Broncos:
S
Brian Dawkins
, DT
Brodrick Bunkley
, LB
Mario Haggan
, TE
Daniel Fells
, DE
Derrick Harvey
, OL
Russ Hochstein
, DE
Jason Hunter
, FB
Spencer Larsen
, LB
Joe Mays
, DT
Ryan McBean
, QB
Brady Quinn
, WR
Eddie Royal
, DT
Marcus Thomas
, TE
Dante Rosario
, CB
Jonathan Wilhite
, WR
Matthew Willis
, LB
Wesley Woodyard
, G
Manny Ramirez
.
Kansas City Chiefs:
RB
Jackie Battle
, LB
Jovan Belcher
, CB
Brandon Carr
, S
Jon McGraw
, QB
Kyle Orton
, DB
Travis Daniels
, DE
Wallace Gilberry
, DL
Amon Gordon
, NT
Kelly Gregg
, S
Reshard Langford
, FB Le'Ron McClain, TE
Anthony Becht
, RB
Thomas Jones
, OT Ryan O'Callaghan, TE Jake O'Connell, QB
Tyler Palko
, S
Sabby Piscitelli
, TE
Leonard Pope
, OT
Barry Richardson
, WR
Jerheme Urban
, C
Casey Wiegmann
.
Oakland Raiders:
DL
Desmond Bryant
, RB
Michael Bush
, LB
Quentin Groves
, OT
Stephon Heyer
, QB
Jason Campbell
, DB
Bryan McCann
, DE
Jarvis Moss
, C
Samson Satele
, WR
Chaz Schilens
, DL
Trevor Scott
.
San Diego Chargers:
WR
Vincent Jackson
, G
Nick Hardwick
, OT
Jared Gaither
, RB
Mike Tolbert
, RB
Jacob Hester
, NG
Antonio Garay
, SS
Steve Gregory
, DL
Tommie Harris
, ILB
Na'il Diggs
, OLB
Everette Brown
, SS
Bob Sanders
, SS
Paul Oliver
, WR
Patrick Crayton
, OG
Tony Moll
TE
Randy McMichael
, ILB
Stephen Cooper
.
January, 15, 2012
1/15/12
2:15
AM ET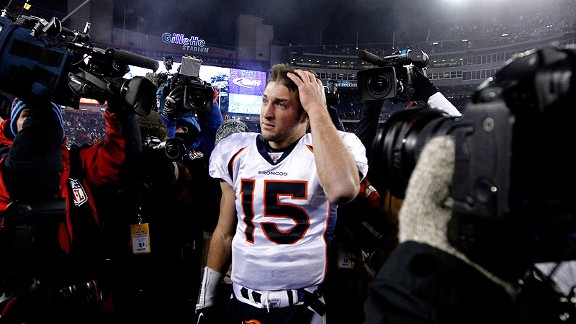 David Butler II/US PresswireTim Tebow's memorable run in the 2011 season ended with a 9-for-26 passing performance.
FOXBOROUGH, Mass. -- The
Denver Broncos
lost two games by a score of
45-10
this season. They were two lopsided bookends in an unpredictable journey that ended Saturday night.
In between not looking anything like a playoff team during an Oct. 30 home loss to Detroit and a season-ending thumping at the hands of the much better
New England Patriots
, the Broncos reinvented themselves and became a team with hope for the future.
"It may be hard to see it now after an embarrassing loss," Denver tight end
Daniel Fells
said in a quiet Denver locker room Saturday night, "but there is something there. … We did something this year that was unexpected and there is something good to look forward to in the future."
That future very likely will include
Tim Tebow
.
In a season in which Tebow became a household name in non sports-centric households and in which he became a sport's lightning rod like we've rarely seen before, the Broncos' season ended with Tebow not being the story.
While Tebow, who was just 9-of-26 passing for 136 yards, didn't do much to help his team, Saturday night's game was not a Tebow-type of game. The Denver Broncos became an unlikely playoff team this season because it played smart, hard football in all three phases of the game in their victories. It became evident early Saturday that the allure of Tebow would be quickly overshadowed by the sheer brilliance of Patriots QB
Tom Brady
and the stunning dominance of second-year New England tight end
Rob Gronkowski
.
Tebowing became a national craze and a phrase used daily. Saturday, though, the Broncos were sent packing because they were Bradyed and Gronked.
Brady tied an NFL postseason record with six touchdown passes and his 363 passing yards were a team playoff record. Gronkowski had 10 catches for 145 yards and three touchdowns. TebowMania may be cute and it may be legitimate in the fourth quarter (and overtime) of close games. But it wasn't that type of party Saturday night.
Brady and company were bent on letting the rest of the NFL playoff field know they are tired of being considered a postseason antique. They're hunting for their first Super Bowl victory in seven years, TebowMania be damned.
While Denver's season ended in a fashion that would usually sting an organization, there wasn't a sense of despair in the locker room. It seemed the players knew this was a season of progress and it was a success, everything considered.
When Denver introduced John Fox as its coach a year ago Friday, there is no way anyone could have imagined the Broncos would advance to the final eight and beat the defending AFC champion
Pittsburgh Steelers
in the playoffs. This was a team that had the No. 2 overall pick in the 2011 draft. The rebuilding project seemed like it would take years.
That assessment didn't change when Denver started the season 1-4 before inserting Tebow at quarterback.
"People wanted to close the book on the Broncos," receiver
Matthew Willis
said. "But we kept fighting."
[+] Enlarge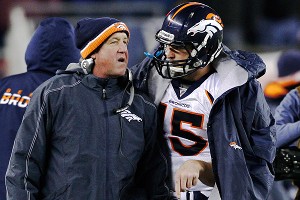 AP Photo/Stephan SavoiaIn his first season as Broncos coach, John Fox, left, adjusted his approach to Tim Tebow's talents.
It all changed after the home loss to Detroit when Fox adjusted his offense to Tebow's skill set and used the option offense. The Broncos' offense transformed through the year and adjusted on the fly.
Now, the ride is over and the Broncos must look toward the future.
Tebow said Saturday night he must become more accurate and consistent and he plans to soon start working on what will be his first full offseason as an NFL player. Legendary Denver quarterback
John Elway
, who is now the Broncos' football leader, has said he plans to personally work with Tebow in the offseason, focusing on improving the youngster's footwork.
Elway was in Denver's locker room after the game and appeared satisfied with the season. He wasn't ready to chat about the future and has yet to confirm the Broncos will ride with Tebow as their quarterback in 2012. Don't be surprised, however, if the Broncos commit to Tebow soon.
That's the direction the players want the team to take. Several Denver players said Saturday night that they believe Tebow will continue to make strides and he is the answer at quarterback.
"He's our guy," Denver rookie safety
Rahim Moore
said. "Our team jells around him. He is only going to get better."
That could be said of the entire Denver roster. This is a work in progress. Brady and New England's offense showed there is still much work to be done in Denver defensively. The Patriots compiled 509 yards of offense and they took their foot off the gas in the second half after leading 35-7 at halftime.
Denver needs help on both sides of the ball. But there is no denying this is a well-coached team that tasted unexpected success in a season that may just be scratching the surface of TebowMania, if that's even possible.
August, 12, 2011
8/12/11
12:27
AM ET
Tim Tebow
has always been known as a game-day performer. That's been the book on him since his legendary days as the King of Gainesville while at college at Florida.
Thursday morning, while prepping for Thursday night's game in Dallas (which the Cowboys won
24-23 in the final seconds
), Tebow acknowledged that fact when he talked to ESPN's Ed Werder.
[+] Enlarge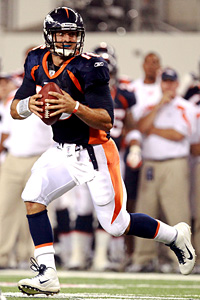 Ronald Martinez/Getty ImagesTim Tebow completed 6 of 7 passes for 91 yards in the Broncos' preseason opener against Dallas.
"Now it's about playing real football and not the touch football we've been playing," Tebow said. "Practice and meetings count, but there's extra credit when you get into game situations because that's how you're judged -- either you can score touchdowns or you can't; either you make good decisions for your team or you don't.''
It was as if Tebow was challenging himself to live up to his own standards during this time of mini-crisis. The game had always come easy for Tebow, but this summer has been rough. He hasn't had a good training camp and he has fallen closer to third-string quarterback
Brady Quinn
than first-string quarterback
Kyle Orton
. Tebow's trials have become one of the hottest topics of NFL training camp.
However, Thursday night, Tebow lived up to his reputation as a better game-day player than a practice player. Playing with the second string, Tebow completed 6 of 7 pass attempts for 91 yards against Dallas. He completed his first five pass attempts. Denver scored two field goals on four drives with Tebow on the field.
His highlight was a 43-yard beauty to
Matthew Willis
. Tebow did have an interception overturned by a penalty and he had a dose of the happy feet at times. Tebow had a touchdown run nullified by a penalty and he had a 13-yard run.
In all, it was a good showing by the player who played the final three games of his rookie season. Still, Tebow's performance against Dallas likely won't help him bridge the gap between himself and Orton, who was pedestrian in limited duty Thursday night. But Tebow did show he can make some things happen when the lights are on.
However, Quinn didn't do anything to hurt his cause as he tries to catch Tebow for the backup gig. Quinn completed 8 of 14 passes for 120 yards and he threw a touchdown pass.
Meanwhile, Denver running backs
Knowshon Moreno
and
Willis McGahee
both looked solid in limited roles. They had a combined 40 yards on six carries.
Defensively, new Denver coach John Fox -- a defensive specialist -- looks to be making a positive impact already. Dallas scored just three points in the first half and Denver's first-unit defense held up well against the strong Dallas offense.
Dallas won the game in the final minute with a touchdown pass on fourth down and by converting the ensuing two-point conversion. Thus, Denver was betrayed by a group of players who will all likely be cut in the next few weeks.
September, 3, 2010
9/03/10
1:18
PM ET
Teams must trim their rosters to 53 players by Saturday afternoon. The following is a look at one prominent player on each AFC West team who is on the bubble:
Denver: Brandon Stokley, receiver
Why:
Matt Willis
came through with five catches for 122 yards in the preseason finale at Minnesota on Thursday night, extending his productive preseason. The Broncos might want to go with youth for a backup spot. Stokley, 34, has been a good Bronco for the past three seasons, but his time there may be up.
Kansas City: Alex Magee, defensive lineman
Why:
Magee's case is interesting because he was a third-round pick last year. He has not played well and he has made several mistakes. The only things that may save Magee are his youth and the fact that the Chiefs don't have a great line. He could get more time to develop.
Oakland: John Henderson, defensive tackle
Why:
The speculation in Oakland is that Henderson is on the bubble. I think he will be kept because he can help stop the run for 20-25 plays a game. But it seems clear Henderson, if he makes the team, will not be anything more than a role player.
San Diego: Josh Reed, receiver
Why:
Reed was signed this summer to provide veteran depth. He hasn't been special in training camp and the preseason. San Diego could opt for youth over Reed. Also, don't be surprised if the Chargers scour the waiver wire for veteran depth at the position in the next few days.
August, 15, 2010
8/15/10
11:02
PM ET
It's time for the
Denver Broncos
to promote
Tim Tebow
to their No. 2 quarterback, if only to keep him upright.
The Broncos have way too much invested in Tebow for him to being playing behind a third-string offensive line any longer. Plus, the current No. 2 quarterback,
Brady Quinn
, showed nothing in Sunday night's
33-24 loss
in Cincinnati to prove he deserves to be a backup NFL quarterback.
[+] Enlarge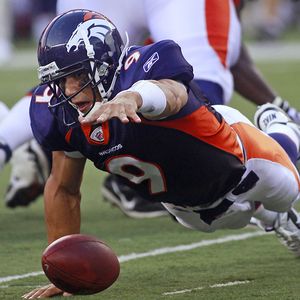 AP Photo/Tony TribbleBrady Quinn fumbled his way through his Broncos debut, completing just 6 of 16 passes and throwing an interception that was returned for a touchdown.
Let's face it: Tebow is the future in Denver. Quinn is not. Move the kid up.
Tebow was fairly solid in his NFL preseason debut. He completed 8 of 13 passes for 105 yards, but he was harassed all night.
It's clear Tebow must get used to the speed of the NFL game. Even in the speedy SEC, the former Florida star didn't face anything like this. He also must work on protecting the ball. Still, Tebow showed his patented gutsy running on a 7-yard touchdown run on the final play of the game.
It's time for Tebow to play more in the preseason and that can be done if he is made the No. 2 quarterback. Denver is going to use Tebow in special packages during the regular season anyway, so he might as well get backup repetitions now.
Tebow threw the ball well a few times and was let down by receiver
Matthew Willis
early. After throwing a perfect strike, Tebow, who entered the game late in the third quarter and stayed for the rest of the game, saw Willis drop the ball. Late in the game, he threw a nice pass to set up his scoring run. Like all rookie quarterbacks, Tebow has a lot of work to do, but there is promise.
Quinn didn't show any promise. He bumbled his way through his performance as he completed just 6 of 16 pass attempts for 68 yards. He also threw an interception that was returned for a touchdown. Quinn looked completely lost, more like an emergency quarterback.
The Broncos must make that status official this week and give Tebow more playing time Saturday against Detroit in his home debut.
Meanwhile, starter
Kyle Orton
extended his fine summer by throwing two touchdown passes. Orton looked very sharp. It was a stark contrast to last year's preseason opener when he threw three interceptions in his Denver debut.
In Denver, it is clear the quarterback pecking order must be this: Orton, Tebow and Quinn.
August, 11, 2010
8/11/10
11:53
AM ET
ESPN.com NFL Power Ranking
(pre-camp): 23
ENGLEWOOD, Colo. -- After he watched one key player after another limp to the training room this summer, Josh McDaniels came to a conclusion: The
Denver Broncos
are going to find a way to get better as a result.
Call it medical motivation.
"Sometimes, when everybody around you thinks the sky is falling because of injuries, it could rally a team," the second-year Denver coach said. "That's what we are doing. We are going to be motivated to show we can withstand what has happened to us. We're not sitting here feeling sorry for ourselves."
McDaniels swears Denver is having a productive training camp despite being the most injured team in the NFL. The biggest hit was the loss of star linebacker
Elvis Dumervil
. He is likely out for the season with a torn pectoral muscle. Other players who have been lost during camp include running backs
Knowshon Moreno
and
Correll Buckhalter
, receivers
Demaryius Thomas
and
Eric Decker
, safety
Brian Dawkins
and linebackers
D.J. Williams
and
Jarvis Moss
. Don't forget that left tackle
Ryan Clady
is out until sometime in September after hurting his knee in the offseason.
Still, McDaniels said it's not a time of despair, because everyone but Dumervil is expected back in the near future.
"It hurts to lose Elvis, but maybe the other injuries are good that they happened now," McDaniels said. "We are not worrying about who is not here. We trust our depth and we're dealing with it."
THREE HOT ISSUES
[+] Enlarge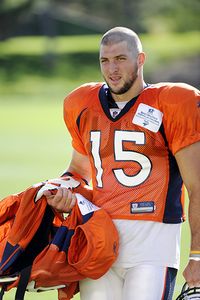 AP Photo/Jack DempseyTim Tebow got a new haircut on Tuesday, replacing the monk haircut from earlier in the week.
1. How will the Tebow factor affect the team?
There is not a rookie in the NFL who is getting the attention that
Tim Tebow
is receiving. From special Nike shoes to a
hideous training-camp haircut
to operating in short yardage situations, the Tebow Watch is in full force.
The question is how his work in camp will affect the team on the field. The former Florida star quarterback has operated in short-yardage situations and he will likely be used in the Wildcat formation and in the red zone. That likely means Denver will keep quarterbacks
Kyle Orton
,
Brady Quinn
and Tebow on the 45-man roster on game days. In June, McDaniels said he was leaning away from that.
But it is clear that Tebow is being groomed to be active as a rookie. Unless Tebow completely leapfrogs Quinn in training camp and in the preseason, Denver could be using three quarterbacks on game days, which will take away from another position.
2. Can this team forget the final 10 games of 2009?
Denver was the most perplexing team in the NFL in 2009. It shocked the league by starting 6-0. However, it suddenly fell apart and lost eight of its final 10 games.
Which team will we see in 2010? McDaniels, of course, won't guarantee anything, but he believes Denver is heading in the right direction because of a strong training camp.
He said the team is making big strides this year because his program is established after 14 years under Mike Shanahan. McDaniels pointed out how much smoother and productive Denver was in its team scrimmage last weekend compared to last year's scrimmage.
"It's night and day," McDaniels said. "Everybody knows the system now and that has helped camp."
[+] Enlarge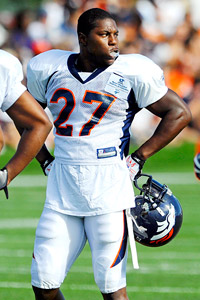 Ron Chenoy/US PresswireKnowshon Moreno, the team's leading rusher last season, is out with a hamstring injury.
3. Can the running backs stay healthy?
Moreno (hamstring) and Buckhalter (back) are supposed to be ready this month. But seeing the top two running backs go down on the first full day of camp had to be scary for Denver. The team has big plans for Moreno and Buckhalter.
Denver brought in veteran
LenDale White
to help in camp and perhaps as a short-yardage runner once he serves a four-game NFL suspension. The team is discussing signing former Oakland tailback
Justin Fargas
, perhaps as soon as Wednesday.
This is still the Moreno and Buckhalter show, but the Broncos have been forced to look at other options. Expect Moreno and Buckhalter to be handled very gingerly for the rest of camp and in the preseason in an attempt to ensure their health for the start of the regular season.
BIGGEST SURPRISE
The Broncos are excited about their receivers.
Brandon Lloyd
and
Matthew Willis
have been outstanding.
Eddie Royal
is playing well in camp and the team hopes he can bounce back from a poor first season under McDaniels. After catching 91 passes as a rookie, Royal had just 37 catches last season.
Add rookies Thomas and Decker and Denver could have a decent receiving crew. That looked shaky after the team sent talented but troubled
Brandon Marshall
to Miami in April.
BIGGEST DISAPPOINTMENT
How can it be anything other than the injury to Dumervil? He is arguably Denver's best player and he just signed a huge, new contract. Denver was looking for him to have a dominant season. Dumervil led the NFL with 17 sacks last season.
Denver will have to find a pass rush elsewhere. A top candidate is 2009 first-round pick
Robert Ayers
. He struggled as a rookie. But he has been good in camp. Ayers will get every chance to turn it on and help make this bad situation workable.
OBSERVATION DECK
[+] Enlarge

Jeff Fishbein/Icon SMIKyle Orton passed for 3,802 yards, 21 touchdowns and 12 interceptions for the Broncos last season.

Orton has quietly been a star in camp. He had a strong offseason and is, by far, the most accurate of three quarterbacks. While the future is Tebow's in Denver, Orton is going to do everything he can to make 2010 special before he hits the free-agency market in 2011.

Quinn, the current No. 2 quarterback in Denver, has been inaccurate often. The Broncos still like Quinn, who was acquired from Cleveland in March. However, with Orton being the immediate starter and Tebow being the future starter, he has his work cut out for him to find a spot in Denver.

Keep an eye out for fifth-round pick Perrish Cox. He's been outstanding in camp. "Every day, I look up and Perrish is making another big play," Royal said. Cox is second at left cornerback behind star Champ Bailey. Cox will likely be the nickel cornerback. He is also dynamic as a return man.

While Cox is ascending, second-year cornerback Alphonso Smith is still not progressing. Smith was the No. 37 overall pick in 2009. Denver gave up its first-round pick for Smith in 2010 (which was No. 14). He floundered as a rookie and he is not showing much improvement in camp as Cox is stealing the show.

Richard Quinn, a second-round pick in 2009, is blocking very well in camp. He still must improve as a receiver, but Denver should feel comfortable with him in double tight-end sets with starter Daniel Graham.

So far, defensive end Ryan McBean is holding off free-agent pickup Jarvis Green. However, the team likes Green and he is very versatile.

Denver likes what it sees in former San Diego defensive tackle Jamal Williams in the early stages. With Dumervil out, a lot of Denver's defensive burst must start from him at nose tackle. That may mean Williams may be on the field more than Denver likes. But he is showing, even at 34 and after missing all but one game in San Diego last year, he could still be a force.

Denver knows it won't all be roses, but it is at terms with rookies J.D. Walton (center) and Zane Beadles (guard) starting. Both players have showed intelligence and toughness in camp. Most importantly, they are big and strong and they are well suited for the power-blocking scheme McDaniels is adopting. Denver is scrapping the zone-blocking scheme used during the Shanahan era. One of the reasons is McDaniels wants a bigger offensive line that can stay fresh throughout the season.

D'Anthony Batiste is doing well at left tackle. The Broncos think he will be a valuable backup when Clady returns from a knee injury in September.

Inside linebacker Joe Mays, acquired from Philadelphia for running back J.J. Arrington less than two weeks ago, is impressing. He has worked some with the first team. He is likely to be a key backup and a special teamer.

Veteran defensive lineman Marcus Thomas is buried on the depth chart. If he doesn't pick up the rest of camp, he could be a candidate to be cut.

Punter Britton Colquitt, the younger brother of Kansas City punter Dustin Colquitt, is doing well and he will likely win the job. He is going unchallenged, but if he falters, Denver could scour the waiver wire. So far, he is showing that may not be necessary.

NFL SCOREBOARD
Sunday, 2/2
WEEKLY LEADERS