NFL Nation:

Maurice Carthon
February, 3, 2011
2/03/11
7:30
PM ET
His decision to stay in-house and promote offensive line coach
Bill Muir to offensive coordinator might end up being a legacy decision by head coach Todd Haley in Kansas City.
[+] Enlarge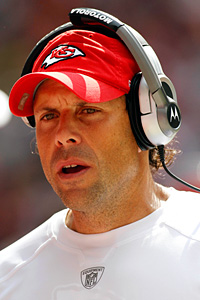 Brett Davis-US PresswireChiefs head coach Todd Haley hopes to maintain the firepower his offense displayed last season.
I don't think Haley -- who finished third in the NFL coach of the year voting this week after leading the young Chiefs to a 10-6 record and the AFC West title in his second season -- is anywhere near a crossroads in his Kansas City career. I think he is in solid standing. However, if Muir's stint as offensive coordinator in Kansas City is a short one, Haley will be saddled with a reputation as a coach who can't work with offensive coordinators.
Muir will be the offensive-minded Haley's third offensive coordinator in as many seasons in Kansas City. Haley fired Chan Gailey – a holdover from the previous regime -- in the preseason in 2009 and Haley took over as offensive the rest of the season. Charlie Weis departed after a successful 2010 season to become the offensive coordinator at the University of Florida.
The promotion of Muir, he'll still coach the offensive line, to offensive coordinator took 24 days for Haley to make. His search was very quiet and few candidates emerged before Muir was promoted. The general consensus was if Haley was going to promote a current assistant it would be Maurice Carthon.
However, this is not to say that Muir is a bad choice. He has a terrific coaching resume.
Muir was Jon Gruden's offensive coordinator/offensive line coach from 2002-08 in Tampa Bay. Muir ran the meetings and oversaw the offense, and Gruden called the plays on game days. Thursday, Haley wouldn't say who would call the plays, and earlier in the day ESPN's Chris Mortensen reported that Haley hasn't decided who will call the plays. Last month, Haley said he wouldn't be the offensive coordinator. But he also said he wouldn't rule out calling the plays.
I bet Haley ends up calling the plays. But I also bet he gets input from Muir and his entire staff.
"I think that really good play calling is the result of a staff that works very well, not only offseason, but specifically in the season," Haley said Thursday.
Weis called the plays in 2010 and the Chiefs were successful. However, in Week 3 prior to a 31-10 win against San Francisco, the rest of the staff worked together on the game plan while Weis was ill. The Chiefs ended up having one of their better offensive days of the season, so there is confidence that this group effort could work.
I know it is key for Haley to have good chemistry with his staff and he feels Muir and he can work well together.
The on-field key is for Kansas City, which had the No.1 ranked run offense in the NFL in 2010, is to continue its ground success and for quarterback
Matt Cassel
to continue his development. Weis and Cassel had a good relationship. Haley said Muir has a good relationship with Cassel. Assistant Nick Sirianni and Cassel work well together, and Sirianni will remain. Sirianni could be a candidate to be quarterback coach – to replace Weis – if a veteran coach such as Chris Palmer isn't added.
So, there are reasons to believe the Chiefs' offensive strides made in 2010 can continue.
Haley clearly thinks this setup can work, and he is comfortable with the arrangement. If that changes and Muir doesn't last long as offensive coordinator, it will end up being a damning indictment on Haley.
It all starts with him.
January, 15, 2011
1/15/11
4:30
PM ET
The
Denver Broncos
are keeping stability on offense.
ESPN's Adam Schefter reports
that
Mike McCoy
will remain the Broncos' offensive coordinator. He was also getting interest in Kansas City and in Cleveland.
This move makes complete sense for Denver. McCoy worked for new Denver coach John Fox in Carolina prior to coming to Denver and working for former Denver head coach Josh McDaniels.
The biggest personnel question in Denver is the future of quarterback
Tim Tebow
. Fox is a defensive specialist, so he'll need to have a coach who believes he can develop Tebow.
The fact that McCoy decided to stay in Denver rather than go to the Chiefs or the Browns is an indication that he believes he can make it work with Tebow. McCoy called plays after McDaniels was fired, and Tebow made strides when he started in the final three games of the season under McCoy's guidance.
This continuity will only help Tebow moving forward.
Names that have surfaced for Denver's defensive coordinator include Ron Meeks, Sal Sunseri and former Atlanta and Seattle coach Jim Mora.
Meanwhile, Kansas City will have to adjust its offensive coordinator search now that McCoy is staying in Denver. Other names that have been mentioned to replace Charlie Weis, who is now the offensive coordinator at the University of Florida, include Tampa Bay's Greg Olson (who is under contract there and who could be difficult to hire), Arizona's Mike Miller and Kansas City assistants Maurice Carthon and Nick Sirianni.
January, 7, 2011
1/07/11
4:00
PM ET
»
Wild-card Final Word
:
NY Jets-Indy
|
Baltimore-K.C.
|
N.O.-Seattle
|
G.B.-Philadelphia
Three nuggets of knowledge about Sunday's Chiefs-Ravens wild-card game:
[+] Enlarge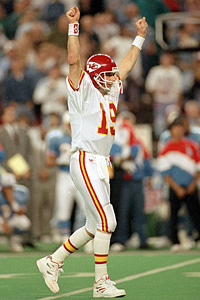 AP Photo/John SwartJoe Montana was the quarterback the last time the Chiefs won a playoff game.
Is this the end of Weis in Kansas City?
This could be the final game of the short Charlie Weis era in Kansas City. Weis is leaving as the Chiefs' offensive coordinator to take the same job at the University of Florida. Weis will stay with the Chiefs until their season is over. If the Chiefs lose to the Ravens, the next pressing job for Chiefs coach Todd Haley will be to hire Weis' replacement. Among the names Haley could look at are Chiefs assistant coaches Maurice Carthon and Nick Sirianni. Arizona assistant Mike Miller, who previously worked with Haley, and Denver offensive coordinator Mike McCoy are also possibilities.
Ready to bounce back:
The Chiefs are coming off one of their worst games of the season, a 31-10 regular-season finale loss to the Raiders. The Chiefs have prided themselves in bouncing back from bad losses this season, although they did lose back-to-back games twice (Weeks 5-6 and 9-10). Still, the Chiefs have come up big with convincing wins to avoid a three-game skid. Kansas City guard and leader
Brian Waters
said this week that it is not in the Chiefs' "DNA" to recoil after tough losses. He expects the team to bounce back from the Oakland beatdown and play tough against the Ravens. Really, what choice do the Chiefs have? If they lose back-to-back games for a third time this season, there will be no more chances for redemption.
History is not on the Chiefs' side:
The Chiefs have not won a playoff game since the 1993 season, when they were led by Joe Montana. Kansas City has lost six straight playoff games. If the Chiefs lose Sunday, it will be an NFL record of seven playoff losses in a row.
December, 31, 2010
12/31/10
12:01
PM ET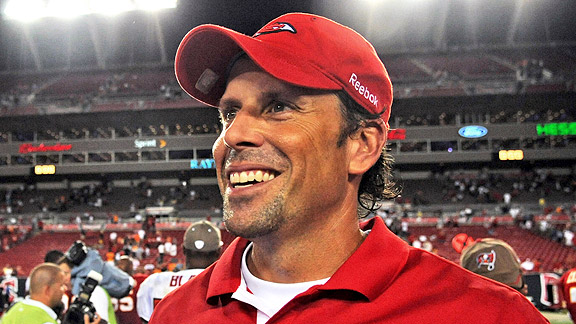 Al Messerschmidt/Getty ImagesTodd Haley has turned around the Chiefs much sooner than anyone, including himself, expected.
In August, Todd Haley had no idea his second season in Kansas City would be so delightfully better than his first season.
Still, he sensed he was on the right track -- even though it likely wouldn't be the fast track to NFL riches.
"I knew last year wasn't going to be easy or fun or smooth or comfortable,"
Haley said on one of the final days of the Chiefs' training camp in August
. "And it lived up to expectations. ... But we were building a program and trying to change things. We're doing it our way."
Four months later, it is evident Haley did it his way better than any other NFL coach in 2010.
The Chiefs (10-5) are the surprise division winner in the AFC West and one of the biggest turnaround stories in the NFL. Kansas City was 4-12 in 2009 in Haley's first season after new Kansas City general manager Scott Pioli hired him away from Arizona, where he was the Cardinals' offensive coordinator. Haley's final game with Arizona was a Super Bowl loss to Pittsburgh. After accepting the task in Kansas City, it seemed like that game would be Haley's last postseason experience for a while. The Chiefs, who last won the AFC West seven years ago, won only 10 games the three previous seasons.
Yet, Haley's Chiefs -- who are 7-0 at home heading into Sunday's regular-season finale against Oakland --
are preparing to face either New York, Baltimore or Pittsburgh
on Jan. 8 or Jan. 9 in the wild-card round.
Haley's work with this team has been stunning, and he's the easy choice for NFL Coach of the Year.
Who else could it be?
Sure, St. Louis coach Steve Spagnuolo could get consideration if his 7-8 Rams beat Seattle to win the NFC West. It would be a huge improvement for the Rams, who went 1-15 last season. But Haley's work this season isn't less impressive. Here's a tiebreaker: Haley's Chiefs beat Spagnuolo's Rams in St. Louis easily in Week 15.
Other candidates include Philadelphia's Andy Reid, Chicago's Lovie Smith, Atlanta's Mike Smith, New England's Bill Belichick and Pittsburgh's Mike Tomlin. No one has done the job Haley has done this season.
Not much was expected this season in Kansas City -- even in Kansas City. The Chiefs were just hoping to be more competitive in 2010 than they were in 2009 and continue to build the program on both sides of the ball. Instead, Haley has orchestrated the biggest one-season turnaround in Kansas City history.
"Through experience I have learned that you can get things going at least in the right direction," Haley told reporters this week. "For us to get to this spot, this quick, is really great. I can't say that it was necessarily expected.''
Haley has overseen a major reconstruction on offense and defense. Offensively, the Chiefs are one of the more efficient and hard-nosed teams in the league. Quarterback
Matt Cassel
has made great strides this season. The running tandem of
Jamaal Charles
and
Thomas Jones
leads the NFL's No. 1-ranked run offense. Kansas City has committed only 12 turnovers, three behind New England, which leads the league with nine. The NFL record for fewest turnovers in a season is 12 by the Chiefs in the nine-game strike-shortened 1982 season. (The Dolphins and Giants each had 13 turnovers in the 2008 season.)
[+] Enlarge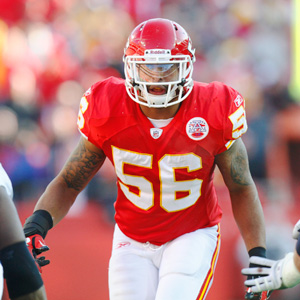 AP Photo/Ed ZurgaAlthough he clashed with Todd Haley in 2009, Derrick Johnson had a Pro Bowl season in 2010 and was awarded a contract extension.
On defense, Kansas City is aggressive and timely. In 2008 and '09, Kansas City combined for 32 sacks, including an NFL record-low 10 in '08. Kansas City has 34 sacks this season.
There's no doubt Kansas City has benefited from the additions of offensive coordinator Charlie Weis and defensive coordinator Romeo Crennel. Haley said as early as the NFL combine in February that the hiring of the former key New England assistants would help free him to do more of what he wanted to as the CEO of the staff.
Haley, who is fourth in the league in going for it on fourth down (21 times), is not afraid of being different.
Who can forget
when assistant coach Maurice Carthon brought a portable toilet onto the field for players to catch passes out of to improve their concentration during training camp? During a minicamp, Haley had select veterans dress as coaches and instruct their teammates in an exercise to build team chemistry. Haley had the same thing in mind on a hot day in training camp when he suddenly blew the whistle on practice and sent his team to the movies.
Still, Haley has a reputation for having a hard edge. He argued with
Terrell Owens
in Dallas and
Anquan Boldin
in Arizona as an assistant coach. In his first year in Kansas City,
Brian Waters
,
Dwayne Bowe
and
Derrick Johnson
spent time in Haley's doghouse.
To his credit, Haley doesn't believe in burying players. This summer, Haley said he was thrilled that players persevered through the culture change from the Herm Edwards era to his program. Edwards was known as a player-friendly coach. Haley was not interested in adding to his Facebook friend collection when he came to Kansas City. Haley said in August he felt like his players were all "buying into" his program.
This year, Waters and Bowe made the Pro Bowl. Johnson had a career year and was
awarded a contract extension
.
It's clear that Haley's master plan is working in Kansas City and it is clear he was the right choice by Pioli. Haley has now won a division title with five different teams as an NFL coach, either as an assistant or head coach. No other active head coach can say that.
There's no doubt Haley deserves to be the coach of the year. Still, he's sticking to his preseason mantra. The job is not done.
"I know we have a lot of work to do, and I don't think we're there yet," Haley said. "We still have our issues and things we have to continue to work on, and I don't think anything has changed for us as a team. We just have to get a little better every day and that will give us our best chance."
August, 31, 2009
8/31/09
1:24
PM ET

Posted by ESPN.com's Bill Williamson
Really, the only surprise about
Chan Gailey's ouster
as the offensive coordinator in Kansas City is that it took this long.
I was shocked Gailey was retained when Todd Haley took over as head coach for Herm Edwards at the end of last season. Haley is known as an aggressive coach whose offense in Arizona was explosive. Gailey is much more conservative and he was often criticized for the non-attacking style he used in Kansas City.
The new Kansas City leadership, led by general manager Scott Pioli, was not shy about cleaning out folks from the old regime. Yet, somehow, Gailey survived.
It just never looked like a good fit. There was a hint of discord earlier this summer when Haley said he wouldn't be calling the plays initially. Then, things blew up this weekend when the offense seemed to take a step backward. Thus, two weeks before opening day, Haley made the move.
While it is not ideal to make such a huge coaching decision so close to the season, the Chiefs stopped the bleeding. The offense can rebound from this.
The main reason is that Haley is so heavily involved with the offense. Now it's his baby. That's a good thing. As long as Haley can delegate other responsibilities, the Chiefs will only be better served with him working with the offense more.
The reason I think this Kansas City regime will eventually have success is that Pioli and Haley appear to be on the same page. They are both no-nonsense guys who don't care about hurting feelings if they have to be successful. They are serious about their jobs.
They didn't care out the perception of blowing out Gailey so close to the start of the season. They realized they made a mistake and they fixed it.
How can that be argued with?
The speculation is that Haley will promote Maurice Carthon to the offensive coordinator role. That wouldn't be a bad move. The two were together in Arizona and Haley respects and trusts Carthon.
Carthon is a running specialist and Haley expects the team is going to have to grind out wins this year, so that fits. Even though Haley earned his stripes in the passing game, he is not afraid to run the ball 40 times a game if that's what it takes.
And that's what Monday's move showed: Pioli and Haley will do what it takes to fix problems in Kansas City.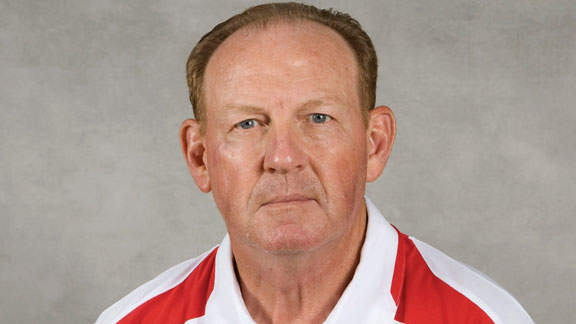 February, 19, 2009
2/19/09
9:04
PM ET
Posted by ESPN.com's Bill Williamson
The word in Denver for the past couple of years was that Denver standout cornerback Champ Bailey was closely watching all the big-dollar contracts handed out to cornerbacks around the league.
Bailey signed a seven-year, $63 million deal with Denver after a trade from Washington in 2004. He has two more years remaining on his contract and it wouldn't be a shock if Bailey asks to redo his deal soon.
Bailey may especially be interested in a new deal after seeing Oakland cornerback Nnamdi Asomugha sign a three-year, $45 million deal, one of the richest deals NFL history.
Bailey will be 31 in June and he is coming off a season in which he suffered serious groin and elbow injuries. But he is still a prime cornerback. It won't be a surprise if he asks Denver to reconsider his deal soon.
With Julius Peppers getting the franchise tag in Carolina, the only big-name defender available is Tennessee defensive tackle Albert Haynesworth. Conceivably, both Denver and Kansas City could make a run at Haynesworth. Both teams have needs on the defensive line and the necessary cap room. Still, it would be surprise if either the Broncos or the Chiefs made a run at Haynesworth.
The San Diego Union-Tribune reports that the Chargers and running back LaDainian Tomlinson will start discussing a new restructured contract on Sunday.
The Rocky Mountain News looks at all the dead money in Denver's vault after coaching and front-office changes.
Curtis Modkins, fired recently be Kansas City, has been hired as the running backs coach in Arizona. Ironically, he replaces Maurice Carthon who is now the assistant head coach in Kansas City.
Here's one name Chargers fans may want to keep tabs on during free agency: Miami tackle Vernon Carey.
February, 6, 2009
2/06/09
8:28
AM ET
Posted by ESPN.com's Mike Sando
The Cardinals will miss offensive coordinator Todd Haley if and when he becomes the Chiefs' head coach, but they're in good position to weather his departure.
One, the Cardinals have had time to prepare contingency plans. I do not know those plans. Russ Grimm is assistant head coach. Running backs coach Maurice Carthon has experience as a coordinator. Either one could step into the role if the Cardinals decided to hire from within.
Two, the Cardinals have an offensive-minded head coach. Ken Whisenhunt was calling the plays through much of the 2007 season. He handed off play-calling duties to Haley to fulfill a promise he had made as part of a broader effort to keep Haley on his staff. Whisenhunt could resume calling plays while giving the new offensive coordinator time to grow into the role.
The search for coaches with ties to Whisenhunt takes us to Bill Cowher's old staffs in Pittsburgh. Mike Mularkey would be an ideal candidate to replace Haley if he weren't offensive coordinator for the Falcons. Mark Whipple, the new offensive coordinator at the Univeristy of Miami, was quarterbacks coach for the Steelers from 2004 through the 2006 season, but he wasn't part of the staff Whisenhunt assembled in Arizona. I am not sure why.
We'll know the Cardinals' plans soon enough, assuming Haley indeed becomes the Chiefs' next head coach. Whisenhunt has had plenty of time to prepare for Haley's eventual departure.
NFL SCOREBOARD
Sunday, 2/2
WEEKLY LEADERS