June, 22, 2010
6/22/10
11:45
AM ET
By
Matt Mosley
| ESPN.com
Notable players
: LB Chuck Bednarik, WR Tommy McDonald, SE Pete Retzlaff, LB Maxie Baughan, QB Norm Van Brocklin, FB Ted Dean, DE Marion Campbell, CB Tom Brookshier
[+] Enlarge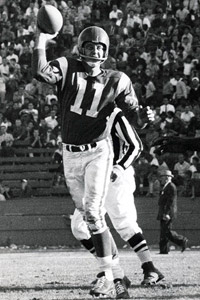 David Boss/US PresswireNorm Van Brocklin quarterbacked the Eagles to the 1960 championship.
Analysis:
Because we reward championships -- even when there weren't a lot of other teams. The Eagles beat Vince Lombardi's Packers in the championship game at Franklin Field, and that's saying something. Bednarik remains an iconic part of the franchise's history. In a win over the Giants in 1960, he famously knocked out Frank Gifford with a punishing blow. Gifford didn't get up that day, and he also missed the following season.
Van Brocklin was at the end of the career, but he made his final season count by delivering bombs to McDonald and Retzlaff. McDonald, a Hall of Famer, averaged more than 20 yards per catch in 1960. He scored a 35-yard touchdown in the Eagles' classic 17-13 win over the Packers. The Eagles won their other two titles in the late 1940s under coach Greasy Neale, but the '60 team made more of an impact in the community. It's only appropriate that the Eagles will break out the kelly green jerseys for the season opener against the Packers. Too bad they can't play at Franklin Field (they supposedly looked into it).
Most impressive win
: Definitely the title game against the Packers. In his second season as head coach of the Packers, Vince Lombardi had Jim Taylor, Bart Starr, Paul Hornung, Max McGee, Jerry Kramer and Forrest Gregg on offense. This was a dynasty in the making, but the Eagles forced the Packers to wait a year before Green Bay won the NFL title in '61.
Best player
: McDonald was a burner, but I'll go with Bednarik because he gave the team its identity. He played center and linebacker.
Honorable mention
2004
:
Donovan McNabb
and
Terrell Owens
formed one of the top combinations in the league, and
Brian Westbrook
was dangerous as a dual threat. This was a superb team -- as evidenced by its playoff run without the injured T.O.
1980
: Eagles fans have fond memories of Wilbert Montgomery carving up the Cowboys in the NFC title game for 194 yards and a touchdown. Nose tackle Charlie Johnson helped anchor a dominating defense.
2002
:
Duce Staley
ran for 1,000 yards and had 500 yards receiving. The Eagles were deep enough that they made it to the NFC title game during a season in which
A.J. Feeley
had to start five games because McNabb was injured. I don't have to remind you what happened against Tampa Bay in the playoffs. By the way, the Eagles dominated the Bucs in a 20-10 win earlier that season.
January, 28, 2010
1/28/10
6:30
PM ET
Thanks to everyone who offered up their
favorite NFC North Super Bowl moments
. As you recall, I offered up three suggestions Wednesday and left two spaces open for you to reach a total of five. Well, as the Supreme Ruler of all NFC North blogs on ESPN.com, I've made an executive decision to expand the list.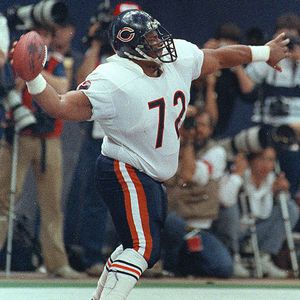 AP Photo/Amy SancettaWilliam Perry's celebration following a TD plunge is one of the enduring images of Super Bowl XX.
You brought up three really cool moments that I think belong on this list. I've published all six below, including your comments on the latest additions.
I realize this list doesn't include a moment from any of Minnesota's four Super Bowl appearances. There are a few reasons for that. First, the Vikings lost all four games. Second, their last appearance was 33 years ago. For most of us, there is a generational gap that has probably muted the progression of any highlights from those games.
OK, on with it:
1. Play:
Green Bay receiver Max McGee's one-handed, 37-yard touchdown reception in the first quarter of Super Bowl I.
Comment:
As the story goes, McGee didn't expect to play in the game and missed curfew while spending the evening on the town. He was, uh, not at full capacity at kickoff.
2. Play:
Green Bay kick returner Desmond Howard's 99-yard kickoff return in Super Bowl XXXI.
Comment:
The final score of the game sealed the Packers' victory.
3.
Play:
Devin Hester's 92-yard return of the opening kickoff in Super Bowl XLI.
Comment:
You can't start a game better than that.
4. Play:
William Perry's 1-yard touchdown run in Super Bowl XX.
Comment from Bshuma1:
You just can't beat the big guy's celebration and toothless smile after he owned that linebacker.
5. Play:
Brett Favre's 54-yard touchdown pass to
Andre Rison
on the Packers' second play in Super Bowl XXXI.
Comment from Capdogg13:
One of the best NFC North moments, what with Favre running up the field. That image, along with being one of the best Super Bowl images, defines exactly how Favre approaches the game, no matter his age.
6. Play:
Bears players carrying defensive coordinator Buddy Ryan off the field along with coach Mike Ditka after Super Bowl XX.

Comment from bcrawford85:
Awesome moment in Bears history, let alone the NFC "Central" history.
Comment from me:
I agree. It was the ultimate sign of respect and appreciation for the leader of one of the best defenses in NFL history.
February, 3, 2009
2/03/09
1:05
PM ET
Posted by ESPN.com's Kevin Seifert
My AFC East colleague, Tim Graham, has a post detailing the recent formation of the American Football Kicking Hall of Fame -- which exists primarily because only one kicker has been inducted into the more widely-known Pro Football Hall of Fame.
(It's Jan Stenerud, for those who didn't immediately guess.)
We're in early February and there are than two weeks before the next event on the NFL calendar (combine, baby!). So Tim's post got us to thinking: How many kickers and punters from the NFC North would be deserving of induction into the Kicking Hall of Fame?
The best way to identify possibilities is to answer this question: Who is the best punter and kicker in the history of each NFC North team?
I've gone through each team's histories and culled 12 nominations, two for each position on each team. But as many of you have pointed out, I'm still working to perfect my expertise in some corners of the NFC North. So I'd like your help.
| | |
| --- | --- |
| | |
| | Paul Spinelli/Getty Images |
| | Ryan Longwell, now with the Vikings, holds most Packers records for field goals. |
Did I miss anyone? Are any of these names out of place? And who would you pick?
Let me know what you think in the comments section below or in the mailbag. I'll come back later this week with the all-time NFC North kickers and punters team.
Kind of has a nice ring to it, huh?
CHICAGO BEARS
Kickers: Kevin Butler or Robbie Gould
Comment: Butler had 243 career field goals, over a 100 more than the next kicker on the list. Gould's career conversion percentage of 85.9 is by far the best in Bears history.
Punters: Bob Parsons or Brad Maynard
Comment: Maynard ranks second all-time with a 42.3 gross average and first with 194 punts downed inside the 20. Parsons ranked second with 158 inside the 20.
DETROIT LIONS
Kickers: Jason Hanson or Eddie Murray
Comment: Hanson is the Lions' all-time leading scorer, and his 385 career field goals is 141 more than Murray. Hanson's career percentage of 82.2 also bests Murray (75.1).
Punters: Yale Lary or John Jett
Comment: Lary's career gross average of 44.3 yards on 503 punts is amazing. Jett dropped 154 punts inside the 20.
GREEN BAY PACKERS
Kickers: Ryan Longwell or Chris Jacke
Comment: Longwell holds most franchise records for field goals. Jacke is a close second.
Punters: Craig Hentrich or Max McGee
Comment: Hentrich had a team-best 42.8 career gross average. McGee averaged 41.6 yards over 11 seasons while also playing receiver.
MINNESOTA VIKINGS
Kickers: Fred Cox or Gary Anderson
Comment: Cox's 455 career field goals is almost 300 more than the next player. Anderson had a perfect 35-for-35 season in 1998.
Punters: Greg Coleman or Chris Kluwe
Comment: Coleman dropped 154 punts inside the 20-yard line over 10 seasons. Kluwe has the best career gross average (44.8) in team history.