NFL Nation:

MegatronWatch
December, 20, 2012
12/20/12
11:00
AM ET
Steve Young was the
San Francisco 49ers
' primary quarterback in 1995 when Jerry Rice set the NFL record for receiving yards in a season. As
Detroit Lions
receiver
Calvin Johnson
approaches the record -- he is 182 yards away from breaking it -- Young said the two receivers have an important similarity.
Like Rice, Young said in the video, Johnson "does things despite the whole building, 80,000 people and the defense and the coaches, knowing I have to get it to Calvin Johnson, and he still does it. That's exactly like Jerry Rice. Everyone knew Jerry Rice was going to get the football, and he still got it. There are very few people that can handle that kind of attention, that kind of focus from defenses, particularly week after week after week, and still find ways to get the football."
December, 17, 2012
12/17/12
11:00
AM ET
Calvin Johnson
's pursuit of the NFL record for receiving yards in a season is turning into a rout.
Johnson added another 121 yards on 10 receptions Sunday in the
Detroit Lions
' 38-10 loss to the
Arizona Cardinals
, leaving him 182 yards short of breaking
Jerry Rice
's record. Johnson has two home games, against the
Atlanta Falcons
and
Chicago Bears
, to make up the difference. At his current pace, he'll finish with more than 1,900 receiving yards.
The Lions are giving Johnson every opportunity they can to break the record. Sunday, they targeted him on 17 passes to bring his season total to 172 targets.
In the meantime, Johnson has already put his name in the history book. His seventh consecutive 100-yard game tied the NFL record set by
Michael Irvin
(1995) and Charley Hennigan (1961), and he is the first receiver in league history to register back-to-back 1,600-yard seasons. As amazing as Johnson's 2011 season was, he has almost matched his 16-game total for yardage (1,681) in 14 games this season.
December, 10, 2012
12/10/12
11:00
AM ET
Sunday night produced quite a testament to the season
Detroit Lions
receiver
Calvin Johnson
has had. NBC gave one of its player of the game awards to
Green Bay Packers
cornerback
Tramon Williams
, who matched up for most of the night on Johnson and held him without a touchdown -- but still allowed 10 receptions for 118 yards.
That total kept Johnson well ahead of the pace
Jerry Rice
set in 1995 while establishing the NFL's record for receiving yards in a season. Johnson has 1,546 yards through 13 games, leaving him 303 yards from breaking Rice's record of 1,848.
Higher math tells me Johnson must average 101 yards over the Lions' final three games to break the record. At his current pace of 118.9 yards per game, he will finish with 1,902 yards.
In all seriousness, Sunday night was the quietest game Johnson has had in what is now a six-game stretch of at least 100 receiving yards. His yardage total was his lowest since the
Seattle Seahawks
held him to 46 yards in Week 8, and it snapped a streak of five consecutive games with at least 125 yards receiving.
The last time Johnson didn't catch a pass of at least 21 yards was Week 7. Maybe he can do better next time.
November, 10, 2011
11/10/11
10:55
AM ET
As you know, we've been running
a MegatronWatch
for much of 2011 to track
Detroit Lions
receiver
Calvin Johnson
's assault on the NFL record for touchdown receptions in a season. Johnson will need 12 more in the second half of the season to tie, and 13 to break, the record of 23 set by
Randy Moss
in 2007.
Moss caught 12 in the final eight games of that season, and John McTigue of ESPN Stats & Information looked into just how he did it. Quite simply, the
New England Patriots
gave him an overwhelming opportunity as they pursued a 16-0 regular-season record.
The Patriots targeted Moss on 95 passes, including 25 in the end zone, over that final eight-game stretch. For comparison, the Lions targeted Johnson 74 times, including 10 in the end zone, during the first half of 2011.
Typically, NFL passing games tend to be less proficient as the weather turns in November and December. That means Johnson will need to be more efficient than Moss to approach the record, unless the Lions significantly change their target structure. Already, they are throwing a hefty 9.25 passes per game in his direction.
The chart shows how quarterback
Matthew Stafford
has split his throws among the Lions' top five pass-catchers this season. (In the video at the bottom of this post, or soon to be, I tried my best to quell your concerns about receiver
Nate Burleson
's quiet first half.) The Lions' stable of receivers and pass-catchers provides Stafford with credible alternatives to forcing the ball Johnson's way, as evidenced by his four interceptions in 299 attempts.
The Lions' second half will open Sunday against the
Chicago Bears
at Soldier Field, and it's worth noting the Bears did a decent job for most of their Week 5 game against Johnson. Locking against cornerback
Charles Tillman
for a good portion of the game, Johnson had six passes thrown his way. Johnson caught five of them, and the Lions capitalized on a rare occasion when the Bears tried to cover him with two safeties -- a play that ended in a 73-yard touchdown.
Skill and good fortune are necessary ingredients for raising the bar on history. So is opportunity, and in the end, that's what could determine whether Johnson has a great season or a record-breaking one.
October, 29, 2011
10/29/11
12:00
PM ET
Calvin Johnson
heads to Denver this weekend having scored 10 touchdowns over the
Detroit Lions
' first seven games, tied for the NFL's best seven-game start by a receiver since the 1970 merger. As the chart shows,
Randy Moss
produced the same seven-game total during his record-breaking 2007 performance.
Over the past two weeks, however, opponents are working harder to take away the outside of the field and funnel Johnson toward the middle.
According to ESPN Stats & Information, only one of Johnson's 12 receptions over the past two weeks have come on outside passes, defined as being outside of the numbers on the field. In the Lions' first five games, Johnson caught 12 outside passes (on 24 throws), including five of his touchdowns.
It's fair to blame quarterback
Matthew Stafford
for overthrowing a few of those recent passes to the outside. But the shift also reflects one way that defenses have adjusted to the Lions' hot start. Be it through brackets or other double teams, opponents would be foolish to give Johnson many opportunities to run down the sideline against single coverage after seeing what Stafford and Johnson combined to do early this season.
As my
AFC West colleague Bill Williamson
notes, not even the
Denver Broncos
will risk it too often -- and they have the option of matching Johnson against All-Pro
Champ Bailey
. Speaking to reporters in Detroit this week, Bailey said: "I think one guy could be successful, but it does take a team effort to defend him all day. You can't just match up on him and think it's going to work all day, if he has a good quarterback throwing him the ball."
Receiver
October, 12, 2011
10/12/11
12:45
PM ET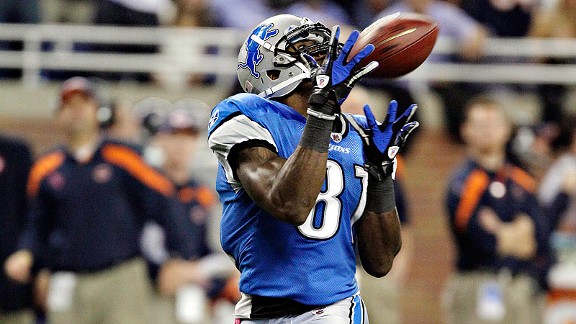 AP Photo/Carlos OsorioCalvin Johnson hauled in his ninth touchdown pass of the season Monday night against the Bears.
Calvin Johnson
's 73-yard touchdown reception Monday night made him the first player in NFL history to catch nine touchdowns in the first five games of the season. It also provided further fuel to MegatronWatch, keeping the
Detroit Lions
receiver on pace to shatter the league record for touchdown receptions in a season.
I'm not sure if it's reasonable to expect Johnson to keep scoring at his current pace of 1.8 touchdowns per game. But he doesn't have to in order to break
Randy Moss
' record. At this point, Johnson needs 15 touchdowns to set a new record of 24. That's an average of 1.36 touchdowns over the Lions' final 11 regular-season games.
I realize those are some big numbers, but the key point of MegatronWatch is to track how Johnson's pace compares to the history before him. Moss had seven touchdowns after five games in 2007 for the
New England Patriots
.
Jerry Rice
, meanwhile, had six after five games in 1987. Rice finished that 12-game season with a stunning blitz of 16 touchdowns over the 49ers' final seven games to finish with 22.
One interesting development for Johnson has been his right-handed success this season. According to ESPN Stats & Information, Johnson has caught eight of his nine touchdowns outside the right hash mark. Overall, 65 percent of his receptions have come on that side of the field in 2011.
It makes sense that Johnson would have most of his success on the outside. And most right-handed quarterbacks will look to the right side of the field instead of across their bodies to the left. I don't see any great schematic clues here. To me, it's just a testament to offensive coordinator Scott Linehan's beautifully transparent scheme.
Linehan isn't trying to trick opponents. When he has a player who can win in any matchup, be it Moss in Minnesota or Johnson with the Lions, he'll line him up in a favorable place and get him the ball. The rest is up to the player. So far, so good for Johnson.
October, 5, 2011
10/05/11
11:30
AM ET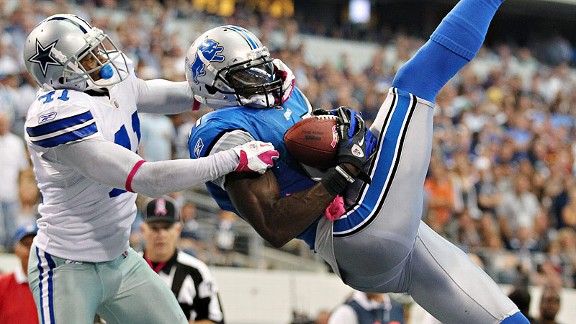 Matthew Emmons/US PresswireCalvin Johnson has scored two touchdowns in each of the Lions' first four games.
You might have heard by now that
Detroit Lions
receiver
Calvin Johnson
has eight touchdown receptions in the first four games of the season. That output ties an NFL record for that stretch, and it gives us (well, me) justification for tracking Johnson's progress relative to the best scoring seasons for a receiver in NFL history.
As long as Johnson keeps scoring, we'll keep revisiting the chart accompanying this post. It provides a game-by-game look at how
Randy Moss
caught 23 touchdown passes over 16 games in 2007. It also shows the incredible 12-game run of former record-holder
Jerry Rice
, who caught 22 touchdowns in 12 games in 1987. (He lost four games due to the NFL players' strike.)
As you can see, Moss had seven touchdowns through four games. Rice had five. Just sayin'.
At least one player can provide an insightful bridge between Moss and Johnson. Lions receiver
Nate Burleson
played with Moss in 2003 and 2004 when both were the
Minnesota Vikings
, and I asked him last weekend for an off-the-cuff comparison between the two.
"I can't pick one or the other, but they'll both go down as a couple of the biggest threats in NFL history," Burleson said. "They're very different. Both great playmakers. Big hands. Can track down the ball extremely well.
"But the one thing I can say about Calvin is that he runs with the ball in his hands. He's trying to create a collision once he catches it. And he blocks. That's what makes him special. That's what separates him in my eyes from the other elite receivers in this league right now. On any given play, whether he's got the ball or not, he's going to make an impact."
In the end, that level of physicality probably gives Johnson an edge on the kind of jump ball touchdown he's perfected this season. Moss knew how to outreach and out-position defenders for the ball, but Johnson's bigger body -- he's an inch taller and about 30 pounds heavier than Moss -- gives him an additional advantage.

NFL SCOREBOARD
Sunday, 2/2
WEEKLY LEADERS