NFL Nation:

Menelik Watson
April, 30, 2013
Apr 30
8:00
AM ET
While the draft signifies new beginnings in the NFL, it also means the end of the road for some veterans who will be replaced by the newly-selected player. Let's take a look at one player from each AFC West team who could see his job in jeopardy this summer.
Denver Broncos: Willis McGahee, running back.
The Broncos selected
Montee Ball
in the second round and would like him to become a primary back. They also want him to have a big role along with 2012 third-round pick
Ronnie Hillman
, who is more of a change of pace back. McGahee is coming off a knee injury and he is 31. While he may be in Denver's short-term plans, I'd think this will be his final season.
Kansas City Chiefs: Tony Moeaki, tight end.
I'm a big Moeaki fan and I think he could be outstanding. He was terrific as a rookie in 2010 but had problems staying healthy. I think the Chiefs are open to having Moeaki in their plans, even though they drafted
Travis Kelce
in the third round. The NFL is a two tight end league now. While the Chiefs did sign
Anthony Fasano
, he is 29 and he won't be around forever. There can be a place for Moeaki, but I also think the Chiefs' new brass doesn't think it can count on him. He must stay healthy and produce right away.
Oakland Raiders: Khalif Barnes, right tackle.
The Raiders took offensive tackle
Menelik Watson
in the second round. He will likely push Barnes right away at right tackle. Barnes re-signed this offseason, but he is the type of player teams try to upgrade from. Watson has big potential and if he performs quickly, I can see him replacing Barnes early in his career.
San Diego Chargers: Jeromey Clary, right tackle.
The Chargers drafted
D.J. Fluker
with the No. 11 pick and he will be the new right tackle. Clary will be moved to guard and he will be given a chance to fight for a job. I'm not sure what his chances are but Clary's days as the Chargers' right tackle are over.
April, 26, 2013
Apr 26
9:47
PM ET
The one time that it is good to have a roster full of holes is during the draft. No matter where the
Oakland Raiders
focused on adding players, it was at a position that helped.
The Raiders added two more players who have a chance to help Oakland now and in the future.
Oakland took intriguing tackle
Menelik Watson
of Florida State in the second round. The English import is raw, but has big ability. Many scouts think Watson can play left tackle, but the Raiders already have the solid
Jared Veldheer
at the position. I think Watson will get a chance to fight veteran
Khalif Barnes
for the right tackle job. Watson was a right tackle for the Seminoles.
An offensive line core of Veldheer, Watson and center
Stefen Wisniewski
bodes well for the future.
In the third round, Oakland took Connecticut linebacker
Sio Moore
. He is a solid outside linebacker that does everything well. I see him having a productive starting career. The Raiders signed three veteran linebackers and they have second-year linebacker
Miles Burris
, who started as a rookie. Moore won't be pushed to start as a rookie, but if he earns it, he will find playing time.
The Raiders added Houston cornerback
D.J. Hayden
yesterday with the No. 12 pick. I like all of these choices. Oakland is starting the rebuilding process and all three of these players have a chance to be part of team's long-term plans.
April, 26, 2013
Apr 26
12:35
AM ET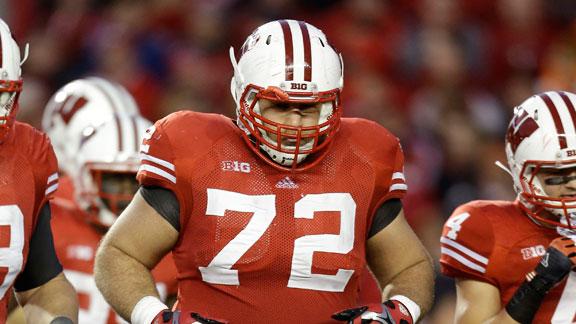 NEW YORK -- Well, I'm not going to rip the pick. I made a promise, and I'm keeping it. I wrote for weeks and weeks that the
Dallas Cowboys
needed to come out of the first round of this year's NFL draft with an offensive lineman, and they did. So I'm not getting on their case for it.
But man, did the Cowboys play the first round strangely.
First of all, they traded their pick, No. 18 overall, to the 49ers for the 31st pick and the 74th pick (which is the 12th pick of the third round). Then, with the 31st pick, they selected Wisconsin center
Travis Frederick
, who was … not a guy anybody was talking about.
Who is Frederick? Well, Scouts Inc. ranked him the top center in this year's draft (which is good) and the 70th player overall (not so good, if he went 31st). Among offensive linemen, he ranked 12th in this draft, according to Scouts Inc., and he was the ninth one off the board. Those still on the board who got higher Scouts Inc. grades included tackles
Menelik Watson
and
Terron Armstead
and guard
Larry Warford
.
Couple that information with the fact that the traditional NFL trade-value chart says the Cowboys should have been able to get more than just an extra third-rounder for that No. 18 pick, and it's easy to say they overpaid for Frederick. You might even be able to argue that they could have had him in the second round if they'd waited.
But I don't know. Maybe it's the music here at Radio City Music Hall or the fact that the weather's getting nicer outside or that I finally feel like I'm getting back in shape after a couple of years of overeating and under-exercising. I'm looking at this pick, and I'm thinking these very positive things about it:
They needed interior offensive line help more than any team in the NFL needed anything in this entire draft, and this guy is an interior offensive lineman. He can challenge Phil Costa for the center's job or either starting guard for his.
He's a giant -- 6-foot-3⅝, 312 pounds -- and known as a physical presence in the run game. Run blocking might be a higher priority for the Cowboys in their ongoing hunt for line help than pass protection is, since left tackle is the one spot at which they're set and Tony Romo is pretty good at protecting himself and making plays on the run.
Just because Scouts Inc. ranked Warford 53rd and this guy 70th doesn't make the pick ridiculous. You pay your scouts to find guys who fit what you want to do, and then you trust them. All week, everybody told me the Cowboys needed to trust their board, and it appears what happened here was that they didn't have anyone they liked at 18 so they snagged an extra pick and moved down to take a guy they did like. If you think all that's left to you is second-rounders, then why not just start the second round two picks early and add a third-rounder that might help you maneuver into that second round Friday night?
As I always say, I can't predict the way these guys will play, and neither can the Cowboys or anyone else. And if you want to argue that they didn't get great value for their first-round pick, I really don't have a response. But this was a weird year for the first round. The top six offensive linemen went in the top 11 picks -- something that hadn't happened in the history of the NFL draft. Clearly, this was a year in which offensive linemen were being overvalued, so this pick kind of lines up with that.
Had they stayed put at 18 and picked
Justin Pugh
or
Kyle Long
, who went at 19 and 20, respectively, to the Giants and Bears, that might have felt like a reach, too. There was not a lot to like about this year's first round. And while they might have been clumsy about it, the Cowboys came out of it with something they apparently do like and definitely need. Can't rip it.
April, 17, 2013
Apr 17
2:52
PM ET
Mel Kiper Jr. goes three rounds deep in a mock draft today, just eight days removed from the start of the real thing.
You can peruse the
team-by-team results

or follow his draft
in order
.

Jacksonville Jaguars

Rd. 1 (2) OT
Luke Joeckel
, Texas A&M
Rd. 2 (33) QB
Matt Barkley
, USC
Rd. 3 (64) CB
Johnthan Banks
, Mississippi St.
Kiper's analysis:
I know this isn't the biggest need on the board, but given where Jacksonville is from a personnel standpoint, if the best player in the draft is available at the No. 2 pick -- and my current left tackle is potentially gone after this year -- I'm taking the guy. This is a franchise that has taken the guy it wants and eschewed great value too many times in recent years, but that's not the case here. Take Joeckel, get better at tackle, do a better job of protecting the QB and whether I stick with
Blaine Gabbert
or let the next guy take over, I've at least given him a reasonable chance to succeed. That next guy might be the second-round pick.
My thoughts:
Kiper has Detroit moving up to No. 1 for cornerback
Dee Milliner
, which leaves Joeckel available for the Jaguars. The Jaguars need a sure thing, and this is a tackle rated as a sure thing, so I don't think you factor
Eugene Monroe
into it too much.
Tennessee Titans

Rd. 1 (10) G
Jonathan Cooper
, North Carolina
Rd. 2 (40) WR
Justin Hunter
, Tennessee
Rd. 3 (70) DE
Alex Okafor
, Texas
Rd. 3 (97) DE
John Simon
, Ohio St.
Kiper's analysis:
The way the board breaks, Cooper becomes the best value at a need spot. With (
Ezekiel) Ansah
going to Buffalo at No. 8, I look to improve my other guard position. With Cooper and free-agent acquisition
Andy Levitre
, I could have one of the better guard tandems in the league.
Shonn Greene
is on the roster because there's going to be more of an emphasis on power running, and Cooper helps accomplish that.
My thoughts:
I don't believe they'd prefer Cooper to
Chance Warmack
if both are on the board as they are here. Cooper may rate as more athletic, but the Titans got their athletic, pulling guard in Levitre. If they go guard I think they'd like a power tandem in pairing Warmack with right tackle
David Stewart
. Hunter seems like good value and can help them get past
Kenny Britt
after his contract runs out. I don't expect two of the four top picks to be spent on one position as Kiper does here in the third-round at defensive end.
Indianapolis Colts

Rd. 1 (24) CB
Desmond Trufant
, Washington
Rd. 3 (86) OLB
Trevardo Williams
, Connecticut
Kiper's analysis:
Vontae Davis
is a decent starter at CB when he's playing up to his full capability, but
Greg Toler
is a fringy starter. If the board breaks this way, I'd be getting below average value at outside linebacker and guard right here, and
Cordarrelle Patterson
and
Tavon Austin
are off the board. (Also, wide receiver is a need, but not a desperate one.) Where I end up is with Trufant, a cornerback with a diverse skill set. He can work in man or zone and offers defenses some flexibility.
My thoughts:
Versatility is good, but ultimately if they have sufficient man corners, the ability of their DBs to play zone shouldn't matter a great deal in Chuck Pagano's system. Davis, Toler and
Darius Butler
are not enough as the top three so if they can land a top corner at No. 24 that will be great. Kiper sees Williams as a guy who can help the pass rush quickly and they need that badly, too.
Houston Texans

Rd. 1 (27) OT
Menelik Watson
, Florida St.
Rd. 2 (57) WR
Quinton Patton
, Louisiana Tech
Rd. 3 (89) LB
Steve Beauharnais
, Rutgers
Rd. 3 (95) FB
Lonnie Pryor
, Florida St.
Kiper's analysis:
The Texans need a right tackle, and Watson's grade fits this draft range for me. He's a great athlete, and could certainly challenge to start early. I know some NFL personnel folks who think he could move inside, but in either instance I'm looking for help up front. This offensive system starts there, and you need a nimble guy for the scheme.
My thoughts:
I wouldn't object to these first three picks, though I do not expect the Texans to go offensive line in the first round. As for Pryor, Kiper says part of the rationale for putting him in Houston is that
Greg Jones
"isn't a true fullback." I respectively disagree with that so long as Jones is healthy.
April, 10, 2013
Apr 10
3:36
PM ET
Todd McShay's newest mock draft has him sharing three scenarios for each team.
Here we share the first of those and reflect on it. You can see the rest in McShay's
Insider file

. (Don Banks of SI has a
new mock draft
out today as well.)
2) Jacksonville Jaguars
Dion Jordan, DE, Oregon
McShay's scenario one:
The Jags would be perfectly content to stay home and take Jordan, whose rare combination of length and versatility against the pass make him a perfect fit for the Leo position in Jacksonville's new defensive scheme.
My thought:
Jordan is becoming an increasingly popular choice for the Jaguars at No. 2. Recovery from a shoulder problem could mean he's not on the field until after camp starts. If he's the right guy, you have to be patient with him.
10) Tennessee Titans
Sharrif Floyd, DT, Florida
McShay's scenario one:
The Titans need a player along the defensive front who can disrupt and make life easier for defensive ends
Kamerion Wimbley
and
Derrick Morgan
, and getting Floyd here would be a good value.
My thought:
I just heard Greg Cosell of NFL Films rave about Floyd. A defensive tackle who can be a constant headache can have a positive trickle-down effect on everyone on the defense.
24) Indianapolis Colts
D.J. Hayden, CB, Houston
McShay's scenario one:
The Colts play man-cover schemes, and Hayden's smooth movement skills and ability to manufacture turnovers would be a solid fit.
My thought:
Hayden's story is a phenomenal one. He showed incredible toughness with a great comeback. If Chuck Pagano, with a defensive back background, likes him, huge opportunity would await.
27) Houston Texans
Menelik Watson, OT, Florida State
McShay's scenario one:
The Texans could stand to get an upgrade over
Derek Newton
at right tackle, and Watson's athleticism and movement skills would be a perfect fit in their zone-blocking scheme.
My thought:
They are due to draft offense in the first round. The last guy they took on offense was left tackle
Duane Brown
in 2008, and before that it was
Andre Johnson
in 2003.
April, 8, 2013
Apr 8
4:30
PM ET
What has the
Green Bay Packers
' recent run of success brought them? Among other things: Low-enough draft position to wind up with three college left tackles whose NFL futures either have or might lead to another position.

Sitting at No. 23 overall in 2009, the Packers drafted Iowa's
Bryan Bulaga
, now their right tackle. The '09 fifth round brought TCU's
Marshall Newhouse
, the starter for most of 2011 and all of 2012 but one whose future remains in doubt. In 2011, the Packers used the No. 32 overall pick on Mississippi State's
Derek Sherrod
, who worked at both guard and tackle before breaking his leg late that season. He is still recovering from that injury.
As we've discussed many times, the only way to find a surefire left tackle is to have a top-10 pick in the draft. The position is so difficult to fill that the league is spreading into two categories. One consists of teams with a left tackle and the other with someone who is trying to make it work at the position.
The Packers fall into the latter category with Newhouse, and so it's not totally surprising to see ESPN analyst Todd McShay assign them Florida State right tackle
Menelik Watson
with the No. 26 overall pick
in his latest mock draft

. Selecting Watson would give the Packers the option of moving Bulaga to left tackle, an option coach Mike McCarthy
has not ruled out in offseason interviews.
Speaking last month at the NFL owners meeting, McCarthy said he thought Newhouse graded out "OK" last season and added: "We need some improvement from the left side of our line."
The smoothest scenario would be better play from Newhouse, which would prevent moving Bulaga back to a position he hasn't played in four years. But the draft's top three left tackles -- Texas A&M's
Luke Joeckel
, Central Michigan's
Eric Fisher
and Oklahoma's
Lane Johnson
-- will be long gone by the time the Packers' No. 26 pick arrives.
Barring a trade, the 2013 draft might not offer the Packers a strong opportunity to elevate their situation at left tackle.
April, 5, 2013
Apr 5
4:00
PM ET
Thursday,
we reviewed Mel Kiper Jr.'s fourth mock draft
. Meanwhile, fellow ESPN analyst Todd McShay posted an update to his fourth mock. Two of the NFC North's five first-round picks changed
in McShay 4.1,

which I will pass along below.
At No. 5 overall, McShay now has the
Detroit Lions
drafting Central Michigan left tackle
Eric Fisher
instead of BYU defensive end
Ezekiel Ansah
, who is already off the board on this update. My feelings haven't changed on this issue. It's rare when you get a chance to draft an elite left tackle, assuming that's what the Lions think Fisher is. If they don't, then they have another option with
Riley Reiff
.
Meanwhile, McShay has the
Minnesota Vikings
drafting Notre Dame linebacker
Manti Te'o
at No. 25 instead of Cal receiver
Keenan Allen
, who was off the board by No. 25 in this update. Both Allen and Te'o visited the Vikings' practice facility this week.
McShay had the same players going to the
Chicago Bears
(Notre Dame tight end
Tyler Eifert
)
Green Bay Packers
(Florida State tackle
Menelik Watson
) and Vikings at No. 23 (Florida State defensive end
Bjoern Werner
)
as he did in his 4.0 mock
.
April, 1, 2013
Apr 1
2:00
PM ET
Cincinnati Bengals
offensive tackle
Andre Smith
was ranked No. 4 in the AFC North's top 20 free agents in the division. He was considered the top right tackle on the market as well.
Smith
Then why is Smith still unsigned 20 days into free agency? It's obvious teams are leery of giving big money to Smith, who struggled early in his career and played better as it got closer to his contract year. It's legitimate for teams to ask whether Smith would be just as motivated once he gets a new contract.
Peter King of
Sports Illustrated
believes Smith's agents think the Bengals' current offer "stinks" and opens the door for another team to steal him. But another team could have had Smith for nearly three weeks and it hasn't happened.
With the amount of salary cap room that the Bengals have, they shouldn't lose Smith to anyone. Cincinnati has other options in free agency (
Eric Winston
) and in the draft (Alabama's
D.J. Fluker
and Florida State's
Menelik Watson
), but all would be a step down from Smith. The Bengals won't be able to find someone with the same athleticism as Smith, which is why he was a top-10 pick in 2009.
Smith reportedly was seeking $9 million per season when free agency began. He's not getting that now unless he hits the Ohio Lottery. What should Smith reasonably expect? Here are the agreements signed by the top three free-agent right tackles:
Gosder Cherilus, Colts
: He signed a five-year, $34.5 million contract, which includes $15.5 million guaranteed and a $10 million signing bonus.
Sebastian Vollmer, Patriots
: He signed a four-year, $17 million contract, which includes $8.25 million guaranteed and a $7 million signing bonus.
Phil Loadholt, Vikings
: He signed a four-year, $25 million contract, which includes a $7 million signing bonus.
Based on those signings, the most that Smith can expect to get is just under $7 million per season.
March, 11, 2013
Mar 11
3:40
PM ET
Mel Kiper's got
a new mock draft

out Monday. We carve out the pieces relevant to our four teams. For reference and comparison, here's our look at Todd McShay's
most recent mock

.
2) Jacksonville Jaguars: OT, Eric Fisher, Central Michigan
Kiper's analysis:
"The Jags really need help on the pass rush, but they can get help there in Round 2. In taking Fisher, they improve their situation at left tackle, and there's no certainty that incumbent Eugene Monroe will be around in 2014. The Jags will never know what they have at QB if they can't do a better job in pass protection."
Kuharsky's reaction:
I can see the logic, but if they like Monroe I wouldn't move forward presuming he won't be re-signable. And if there is a defender there who can transform a pass rush, he's got to be the more intriguing.
10) Tennessee Titans: G, Jonathan Cooper, North Carolina
Kiper's analysis:
"Adding Cooper just provides an immediate upgrade on the interior of your offensive line. A complete player who gets a great punch and moves really well for his size, he can run block well, pull with ease, move exceptionally well in the screen game and hit moving targets."
Kuharsky's reaction:
We've increasingly seen Cooper going ahead of
Chance Warmack
in scenarios like this, often to the Titans. I'm not convinced Tennessee likes Cooper better than Warmack. If they went guard here with both available, I'd expect it to be Warmack.
24) Indianapolis Colts: OT, Menelik Watson, Florida State
Kiper's analysis:
"Whether he ends up at left tackle, right tackle or even as a potentially dominant guard, Watson has a high ceiling and the Colts have to get better along the offensive line. The franchise has arrived at quarterback -- time to protect him."
Kuharsky's reaction:
Maybe he's great, but I believe this is the first I've seen him up in this range. As Kiper notes, free-agent attention to the line would likely shift this pick to the other side of the ball.
27) Houston Texans: WR, Keenan Allen, Cal
Pick analysis:
"Andre Johnson is now officially old by the standards of the position, and while effective, he could use some help. In Allen, the Texans get a great route-runner with exceptional hands and a knack for creating and finding space, perhaps because he was such a good safety as a younger player."
Kuharsky's reaction:
It seems too easy. Yes, Keshawn Martin and DeVier Posey, once healthy, still factor in. But neither is going to be the caliber of a No. 2 with the potential to grow into a No. 1 that Allen might be.
March, 6, 2013
Mar 6
1:38
PM ET
A few thoughts after checking out Todd McShay's latest first-round draft

projections for NFC West teams:

7. Arizona Cardinals:
McShay sends West Virginia quarterback
Geno Smith
to the Cardinals even though he says Smith doesn't get a first-round grade. Mock drafts are mostly about filling perceived needs. Quarterback is more than a perceived need for the Cardinals. It's a real one. McShay was in a tough spot with this projection because no one knows how Arizona might address the position before the draft. Moves such as signing
Kevin Kolb
to a cheaper deal and/or adding a veteran such as
Matt Cassel
will determine how badly the Cardinals need a quarterback in the draft.
Andrew Luck
and
Ben Roethlisberger
are the quarterbacks new Cardinals coach Bruce Arians has worked with most recently. Smith lacks the commanding physical presence those quarterbacks possess, but so do most prospects.

16. St. Louis Rams:
McShay sends another West Virginia prospect to the NFC West by projecting receiver
Tavon Austin
as the Rams' choice at No. 16. This one makes sense on multiple levels. Austin has been a breakaway threat as a runner and receiver. The Rams could certainly use that element in their offense. Austin would provide some protection for losing receiver
Danny Amendola
either this offseason or in the future. He also has shown the shiftiness and acceleration to pump life into the Rams' weak return game. Austin is 5-foot-8 and 174 pounds, raising questions about durability. He has not missed a game to injury in college, however.

22. St. Louis Rams:
Florida State offensive tackle
Menelik Watson
is the projection in this spot. The Rams do need help at tackle. Watson has played only one year at the major college level after growing up in England. This selection would take more projection than most. We've noted that Rams coach Jeff Fisher's teams have never used a first-round choice for an offensive lineman while Fisher was head coach. Line coach Paul Boudreau appears equipped to develop less established prospects. If the Rams feel great about a tackle in the first round, they should take one. But I also could see them leaning toward another position early, then adding line prospects later.

25. Seattle Seahawks:
McShay goes back to Florida State, this time projecting defensive end
Bjoern Werner
to the Seahawks at No. 25. Seattle has done a very good job drafting linebackers and for the secondary. The team hadn't invested much draft capital in its defensive line before using its 2012 first-rounder for
Bruce Irvin
. Coach Pete Carroll uses the word "unique" quite a bit when describing prospects that appeal to him. Werner produced in college, but he doesn't seem to possess remarkable physical qualities in any one area. Seattle could buy some pre-draft insurance at defensive end by signing a veteran to a short-term deal.

31. San Francisco 49ers:
McShay sends SMU defensive end
Margus Hunt
to the 49ers at No. 31. Hunt has some of the "unique" qualities I referenced in the Seattle breakdown above. He stands taller than 6-8, weighs 277 pounds and ran the 40-yard dash in the 4.6-second range. The 49ers' general manager, Trent Baalke, recently suggested the 49ers had good depth on their defensive line. He said the team's use of a smaller rotation was more philosophical. Still, with two rotation players headed for free agency and
Justin Smith
coming off triceps surgery, projecting a defensive lineman to the 49ers at No. 31 is reasonable.
January, 16, 2013
Jan 16
12:56
PM ET
The draft is 99 days away. Mel Kiper's
first mock

is out.
Where does he see teams of the AFC South heading at this point?
Let's have a look:
No. 2 -- Jacksonville: Damontre Moore, DE, Texas A&M
Kiper:
"The Jaguars sacked opposing QBs on a league-low 3.6 percent of drop backs this season. I hear people question where Jacksonville will go at the QB position, but if they really want to make a change at QB in 2013 (and that's absolutely no guarantee), free agency is a better option than this spot in the draft. Meanwhile, I've had a pass-rusher as a top need for this franchise going on four years. Moore is an exceptionally productive defensive end prospect with very good quickness, long arms and elite closing burst as a rusher."
Kuharsky:
Oh, for a top-two spot last year instead of this year. A quarterback will rise, but the Jaguars shouldn't force it. They need building blocks at a lot of spots, and if Moore can be one, then addressing the pass rush with this pick would be just fine.
No. 10 -- Tennessee: Dion Jordan, DE, Oregon
Kiper: "This is a very good athlete, a player who probably could have developed into a draft-worthy tight end, but Oregon made the right call in putting him on defense. There is development left in his game, but his quick first step, long arms and overall athleticism are all high level and he could become a very good NFL pass-rusher."
Kuharsky:
They need a guy who can consistently disrupt the passer, and if he could work with
Derrick Morgan
and
Kamerion Wimbley
, he could fill a need. He's a developmental guy, and with a coach who will be on the hot seat, the Titans may seek immediate impact.
No. 24 -- Indianapolis: Menelik Watson, OT, Florida State
Kiper:
"Who? Well, suffice to say, after just one year at Florida State, scouts know all about Watson, and people in NFL front offices are starting to catch up. This is a kid who has played basketball at the D-I level, can really use his hands to swat away rushers given a track record as an emerging boxing talent, and will go to the combine and run in the 4.8 range at around 320 pounds."
Kuharsky:
Protecting
Andrew Luck
has to be a priority and Kiper loves the ceiling for Watson. If he can upgrade the right tackle spot in a hurry, he sounds good to me.
No. 28 -- Houston: Keenan Allen, WR, Cal
Kiper:
"If he hadn't become a wide receiver, it's entirely possible that Allen could be a coveted safety in this draft. His experience on defense shows up on offense, where he has a great knack for finding space in coverage, working back to the ball to help his quarterback and using great hands as a dependable pass-catcher. He's dangerous with the ball in his hands."
Kuharsky:
With
DeVier Posey
now recovering from a torn Achilles, finding a receiver to play opposite
Andre Johnson
and eventually take over for him should be a priority. Houston needs to be more threatening at wideout.