NFL Nation:

Mercury Morris
June, 30, 2010
6/30/10
1:00
PM ET
Notable players:
QB Bob Griese, QB Earl Morrall, RB Larry Csonka, RB Mercury Morris, WR Paul Warfield, C Jim Langer, G Bob Kuechenberg, G Larry Little, DE Bill Stanfill, MLB Nick Buoniconti, SS Jake Scott, FS Dick Anderson.
[+] Enlarge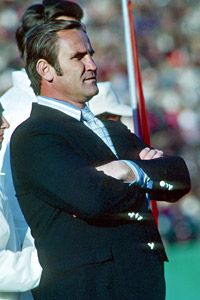 Malcolm Emmons/US PresswireDon Shula guided the 1972 Dolphins to a 17-0 record.
Analysis:
As it turns out, you can argue with perfection.
The obvious choice for the greatest team in
Miami Dolphins
history is 1972, the historic season in which they went undefeated and claimed their first championship.
But some important members of that team have claimed the 1973 edition was even better, although it lost two games against better competition before closing out the season with its second straight Super Bowl victory.
"The question is, do I think my team is better than it was a year ago?" coach Don Shula said after the follow-up title. "There's no question about it. I think we're a better football team than we were a year ago at this time. I think we've gone one step beyond last year's football team. Even though we were 17-0, a perfect season, going back-to-back on Super Bowls is more meaningful."
With all due respect to Coach Shula, perfection won't take a backseat here.
The '72 Dolphins played a pretty feeble schedule, but they ranked first in total offense, scoring offense, total defense and scoring defense. They beat their opponents by an average margin of 15.3 points in the regular season despite losing Griese to a broken ankle in October.
In the playoffs, they dispatched a pair of teams with double-digit victories, the
Cleveland Browns
and
Pittsburgh Steelers
.
The Dolphins easily beat the NFC's top-seeded
Washington Redskins
in the Super Bowl and would have shut them out if not for Garo Yepremian's flubbed field goal that turned into the Redskins' only points.
Most impressive win:
Down 10-7 in the third quarter and on the road against the Steelers in the AFC Championship Game, Griese replaced Morrall and directed a pair of touchdown drives in a 21-17 victory.
Forgiving schedule:
The Dolphins feasted on a schedule that was one of the weakest in NFL history. In the regular season, they played no playoff clubs and just two that finished with winning records. Six opponents won four or fewer games. The combined record of their regular-season foes was 70-122-4.
Honorable mention
1973:
Some assert Miami's back-to-back championship team was better than the one that went undefeated. It held opponents to single-digit points eight times, including the
Minnesota Vikings
in the Super Bowl.
1984:
Dan Marino
threw for 5,084 yards in propelling the Dolphins to a 14-2 record and the AFC championship. Marino's lone Super Bowl appearance ended in a miserable loss to the
San Francisco 49ers
.
1971:
Miami's motivation for its historic 1972 season was losing the Super Bowl to the
Dallas Cowboys
after going 10-3-1 and shutting out the Baltimore Colts in the AFC Championship Game.
1983:
Marino's rookie season was electric. He took over for David Woodley, who had guided the Dolphins to the Super Bowl in a strike-shortened season. Even more impressive was the No. 1-rated Killer B's defense.
December, 27, 2009
12/27/09
7:49
PM ET
We haven't heard much out of Mercury Morris lately, but now that the
New Orleans Saints
and
Indianapolis Colts
have marks in their loss column, maybe he'll be crowing soon about the 1972
Miami Dolphins
remaining the last team to finish a season undefeated.
In the meantime, here's a statement the Dolphins released Sunday night from former coach Don Shula after the
New York Jets
beat the Colts 29-15.
"While the Jets' win today ended Indianapolis' streak and showed once again how difficult it is to go undefeated, I want to congratulate the Colts on a great run. Peyton Manning proved once again this season why he is one of the best quarterbacks in the history of the NFL, and it was certainly no surprise to see him lead the Colts to an NFL-record 23 straight victories. I have the utmost respect for Peyton and his teammates, [general manager] Bill Polian and the entire Colts organization, who have once again put together an outstanding season."
November, 18, 2009
11/18/09
2:02
PM ET
Chris Johnson
's pace is a big topic, and if he keeps it up he'll finish with 1,940 yards. Eric Dickerson set the league record with 2,105 yards in 1984 with the L.A. Rams.

Johnson
Here are the current standings of the rushing defenses CJ will face the rest of the way:
Houston: 14 (tied)
Arizona: 8
Indianapolis: 14 (tied)
St. Louis: 28
Miami: 7
San Diego: 23
Seattle: 11
According to ESPN Stats & Information, he's also on pace for the highest yards per carry for a primary running back with at least 100 carries in NFL history.
And his 631 yards in his last three games rate as the fifth-best three-game rushing binge in league history: Deuce McAllister had 665 in 2003, Marshall Faulk and Priest Holmes each had 643 in 2001 and Tiki Barber has 641 in 2005.
A sleepy Johnson told Dan Patrick he doesn't get caught from behind, after a game he hurts all over, he thought Bud Adams' salute reflected the Titans' attitude and Vince Young's brought the Titans some swagger.
Here's
a link
to the interview courtesy of Sports Radio Interviews.
October, 22, 2008
10/22/08
5:03
PM ET
Posted by ESPN.com's Paul Kuharsky
I'm sure Mercury Morris is a fun guy to talk to. I've seen and heard enough of him to know he's an interesting character.
I've also seen and heard enough of him.
Here's an e-mail I got from his publicist or someone pumping him up as available to talk about the league's last undefeated team, an annual event as ridiculous as the one centered around Punxsutawney Phil. (At least Groundhog Day gave us an entertaining movie and the unforgettable Ned Ryerson).
Paul,

WILL THE TITANS GO UNDEFEATED? TALK TO LEGENDARY RUNNING BACK MERCURY MORRIS OF 1972 UNDEFEATED MIAMI DOLPHINS

In the last 35 years, over 1000 teams have fallen by the wayside in pursuit of the 1972 Miami Dolphins undefeated record. Only 7 games into the season this year and there remains one lone unbeaten team, the Tennessee Titans.

Just last year, the New England Patriots tore through the regular season and playoffs with a bold arrogance that turned off many spectators, including members of the undefeated 1972 Miami Dolphins, namely legendary running back Mercury Morris.

This year, Mercury Morris is singing a different tune, actually hoping the Titans join his 1972 Dolphins in Perfectville. Considered the most outspoken member of the 1972 Dolphins, Morris had this to say:

"I'll be watching the Tennessee Titans and I hope to see them go unbeaten," Morris said. "We'd like a little company.

"I see many similarities in our two teams especially in the diverse running game, the fact that we were both playing with backup quarterbacks, the fierce defenses, and the great head coach at the helm.

"Every year, each team has just as much chance to win every game as it does to lose every game. It's called quantum physics and the laws of chance and probability. Thirty-one other teams have already gone down in flames, but the Titans have a 50-50 chance each week to win, and those chances never improve beyond 50-50 because on any given Sunday, anyone can win. As long as you keep that in perspective, you have a chance to win every game."

Is Morris a changed man or is this reverse psychology? If you want to speak to Mercury Morris directly, please respond to this e-mail and we can set something up.
After a few days of consideration -- OK, a few days of not cleaning up my inbox -- I've decided to take a pass. He's done an about face and now wants another undefeated team? Please.
Next year and every year I cover the league henceforth, I hereby pledge to root for every team in the league to be 1-1 after Week 2.
Then what will Mercury Morris do?
October, 17, 2008
10/17/08
8:43
AM ET
Posted by ESPN.com's Paul Kuharsky
Houston Texans
Indianapolis Colts
Jacksonville Jaguars
Tennessee Titans