June, 4, 2013
6/04/13
2:14
AM ET
Fearsome Foursome legend Deacon Jones' passing Monday at age 74 provides an opportunity to reflect upon one of the greatest defensive ends in NFL history.
We'll do that beginning Tuesday.
Jones, inducted into the Pro Football Hall of Fame in 1980 after spending most of his 14-year career with the Los Angeles Rams, epitomized violent play in the NFL before the league made efforts to protect quarterbacks and everyone else. He remained unapologetic and defiant to the end, including during
a 2011 interview
with XTRA910 AM radio in Phoenix:
"If you ain't sent but one man, there's going to be a casualty that day. No, I'm not a guy you send one man against. I'm a hitman. I come to hurt people. I wouldn't advise that. I come to hurt you. Me and the commissioner would talk the same language, man. I come to take you out. OK, now, I don't know what the other guys tell you. I come to take you out. Hospital. And if you go the next step, it doesn't' bother me -- not one bit. That was my approach to the game. I am not going to lie to you about it. I could not play now. Are you kidding me? I wouldn't be making no money. I would owe the league money.
Jones' passing leaves Rosey Grier as the last living member of the Rams' Fearsome Foursome line also featuring Lamar Lundy and Merlin Olsen.
April, 16, 2013
4/16/13
9:56
PM ET
Pat Summerall never developed a signature call during four decades broadcasting NFL games for CBS and Fox. "Unbelievable" might have been as close as he came.
That probably wasn't by accident.
For Summerall, who died Tuesday at age 82, the broadcasts always seemed to be more about the games than what he had to say about them. That could also explain why I couldn't immediately think of a memorable call Summerall made during the 25 or so years I watched him on TV.
The
San Francisco 49ers
were the dominant NFL team through the 1980s, when Summerall began his memorable run with John Madden in the booth. The 49ers remained one of the best through most of the 1990s as well. But as things turned out, Summerall wasn't on the call for some of the 49ers most memorable moments.
Vin Scully and Hank Stram had the call for CBS on "The Catch" back in early 1982.
Dick Enberg and Merlin Olsen were behind the microphones for NBC when Joe Montana drove the San Francisco 49ers downfield to beat the
Cincinnati Bengals
in Super Bowl XXIII.
Summerall and Madden did have the call for Steve Young's winning touchdown pass to Terrell Owens against the
Green Bay Packers
following the 1998 season.
"Three-man rush and Young stumbles on the way back and fires up the middle," Summerall said as the play unfolded. "Pass is caught by Owens. Owens made the catch."
Eleven seconds passed before Summerall or Madden said anything.
"This is amazing," Madden said.
Another 15 seconds passed while 49ers players celebrated and the Candlestick Park crowd roared.
"Three seconds left," Summerall finally said.
A few more seconds went by.
"Terrell Owens was having a rotten day," Madden said, "but on one play here, does he make up for it."
Madden then described the coverage on the play before Summerall spoke up.
"Perfect pass," Summerall said, his first words in 18 seconds.
"Holy moley!" Madden said.
"Three seconds left as they line up for the extra point," Summerall said just as the kick sailed through, "and it's 30-27, San Francisco."
"And the 49ers are getting the monkey off their back today," Madden said.
"Unbelievable," Summerall said.
October, 27, 2011
10/27/11
7:11
PM ET
Jack Youngblood's
Pro Football Hall of Fame bio
recalls a postseason performance featuring a sack, forced fumble, blocked extra-point attempt and 47-yard interception return for a touchdown.
That performance and others made Youngblood a favorite among Los Angeles Rams fans. As for the folks in St. Louis? Not so much. Their Cardinals were on the receiving end of that vintage 1975 postseason effort from the legendary defensive end.
[+] Enlarge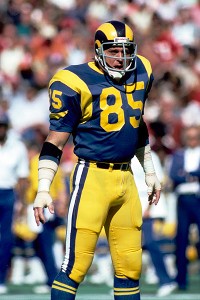 Malcolm Emmons/US PresswireFormer Los Angeles Rams star Jack Youngblood on the St. Louis Rams: "We are their legacy, but they forgot us."
The Rams would move to St. Louis two decades later, creating a gap between the organization and players from the Los Angeles era.
The team thinks it has done plenty to bridge that gap and
said so emphatically
on its website Thursday, but only after Youngblood's latest diatribe against the organization.
"We are their legacy, but they forgot us,"
Youngblood told ESPNLosAngeles.com
this week. "They don't have anything to do with us, really."
That is not true, according to a 697-word accounting the team published Thursday. That accounting said the Rams' recent efforts to connect with their past included jersey-retirement ceremonies for Deacon Jones and Isaac Bruce; game-day appearances by 10 retired St. Louis-era players, including Grant Wistrom and Orlando Pace; and game-day ceremonies honoring Eric Dickerson, Tom Mack, Merlin Olsen (through Olsen's son) and Youngblood himself.
"In an effort to recognize the great players who wore horns before the team's move to St. Louis, the club has also honored all living Rams' Hall of Famers from the Club's time in Los Angeles," the website piece reads. "The first player to be honored was Jack Youngblood, who was honored at the Edward Jones Dome in October of 2009."
It's pretty clear the Rams took offense to Youngblood's comments and wanted their side of the story told. I asked Rams fans for their feedback on the matter and will break out some of those thoughts below.
"As a Rams fan since 1970, I am appalled at the things that are going on/have been going on at Rams Park,"
bigdaddyc9
wrote. "To outright cast off those legacy players is wrong. Since 'Spags' has been there, some very odd decisions on his part have made relationships with former players even more strained."
Coach Steve Spagnuolo and general manager Billy Devaney have indeed replaced some of the longer-tenured employees with ties to the Los Angeles days. But one of the better safeties in Rams history, Nolan Cromwell, coaches receivers for the team.
"The Rams have bigger problems than Jack Youngblood feeling left out,"
QBSamTheRam
wrote.
Spoken like a St. Louis-era Rams fan, most likely.
"I'm from Orange County and grew up an avid Rams fan,"
paulbro23
wrote. "I felt completely betrayed and abandoned when they left Anaheim and moved to St. Louis, and have despised the team and the franchise ever since -- so much so, that I eventually switched my allegiances to the 49ers. ... I recognize it's a business, but they had no problem turning their backs on their SoCal fans, so why not do the same to their entire history here. I hope they go winless this year and remain among the worst teams in the league."
Another former Los Angeles-era fan,
Lammergeier99
, said he was a Rams fan during the George Allen days, then became a fan of the football Cardinals in St. Louis and Arizona.
"It was very odd that the Rams moved to St. Louis and that the Cardinals moved to Phoenix," he wrote. "I only wish that the Cardinals could somehow get the Rams' 1960s Defense right now.
Kevin Kolb
could then concentrate on learning the offense. You don't need to score points in bunches when your 'D' is holding the opponent down."
There's one thing even Jack Youngblood and the Rams could agree upon. I think.
June, 16, 2010
6/16/10
1:30
PM ET
Revisiting top NFC West storylines this offseason:
Mass retirements
Walter Jones
,
Kurt Warner
,
Isaac Bruce
,
Patrick Kerney
and
Bertrand Berry
combined for 20 Pro Bowls during their NFL careers. Each retired this offseason.
[+] Enlarge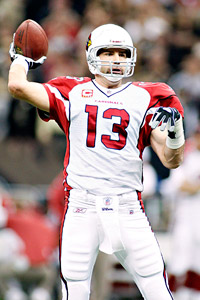 John David Mercer/US PresswireKurt Warner's retirement may tip the competitive balance heading into the 2010 season.
Warner's departure from the
Arizona Cardinals
was by far the most significant based on how well he probably would have played had he returned in 2010. No other move this offseason will affect the 2010 standings as much. The
San Francisco 49ers
' chances improved significantly when Warner walked away.
Quarterback turnover
Every team in the division changed its No. 2 quarterback.
Sam Bradford
,
Charlie Whitehurst
,
Derek Anderson
,
A.J. Feeley
,
David Carr
and
J.P. Losman
are new to the NFC West this season. Predicting the division is tougher with so many changes and potential changes at the position. The door is open for
Matt Hasselbeck
to re-emerge as the top quarterback in the division. The big question, I think, is whether we're underestimating
Matt Leinart
in Arizona. He's not getting much credit at all.
49ers stadium vote
The team moved closer to having a new stadium in Santa Clara for the 2014 season. Getting Measure J passed doesn't guarantee anything, but the 49ers' ability to clear this hurdle suggests the team's ownership and front office have made progress. That's a welcome development for 49ers fans -- even those not wanting to see game days relocated from San Francisco.
Ownership uncertainty
The
St. Louis Rams
appeared less flexible than they would have liked this offseason during an ownership change that remains in progress. All signs point to Stan Kroenke finding a way to become full owner of the team. Rams fans should welcome the development because Kroenke has resources and an established record as an effective sports franchise owner.
In Seattle, meanwhile, the Seahawks continued to operate as usual while owner Paul Allen underwent cancer treatments. The long-term prognosis for Allen remains unclear.
Stability in Arizona
The Cardinals endured lots of changes this offseason, but they signed coach Ken Whisenhunt and general manager Rod Graves to contract extensions through the 2013 season. They also re-signed strength-and-conditioning coach John Lott, whose addition and retention Whisenhunt had made a priority.
Failing to re-sign Whisenhunt and/or Lott in particular would have raised questions about the Cardinals' direction and stability. Those are non-issues at this point.
[+] Enlarge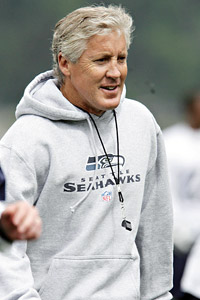 Juliann Tallin/US PresswirePete Carroll took over as the Seahawks' head coach.
Drama, intrigue in Seattle
The Seahawks' strange and ultimately futile dance with Mike Holmgren -- followed by Jim Mora's abrupt firing and Pete Carroll's quick hiring -- marked the most dramatic offseason in Seattle since Holmgren stepped down as general manager in late 2002.
This was an organization in turmoil for a while. The Seahawks regained their footing and put together a unified front office.
Surviving change atop 49ers
Losing general manager Scot McCloughan five weeks before the draft qualified as a potentially ominous development.
The 49ers held together their front office and smartly promoted from within. Adding a GM from the outside might have undercut coach Mike Singletary, quarterback
Alex Smith
and others just as the 49ers finally appeared in position to make a serious run at a playoff spot.
This offseason was about continuity for the 49ers and they managed to achieve it even though McCloughan left them. Re-signing
Patrick Willis
, sticking with Smith when
Donovan McNabb
was available and getting the stadium measure passed added to the sense of stability and direction for the franchise.
Line dances
The 49ers lucked into offensive line coach Mike Solari when the Seahawks decided to hire Alex Gibbs to coach their offensive line.
The team of Solari and assistant line coach Ray Brown looks like a significant upgrade at a critical time for the 49ers. Solari's familiarity with offensive coordinator Jimmy Raye -- they worked together in Kansas City -- was a bonus.
Gibbs is the right hire for Seattle as the team more fully adopts the blocking scheme for which Gibbs is best known. Hiring him at Solari's expense strengthened a division rival, however.
Cardinals exodus
Warner, Berry,
Anquan Boldin
,
Antrel Rolle
,
Karlos Dansby
,
Bryant McFadden
,
Mike Gandy
and
Chike Okeafor
combined to start 107 games for the Cardinals last season.
All are gone
-- some by design, some against the Cardinals' wishes.
Arizona fans should be excited to see how the Cardinals develop some of their younger players. The organization has done a good job plugging holes with youth in the recent past. This roster has turned over to a degree generally not seen among playoff teams, however.
At least the Cardinals recovered to some degree. Adding
Kerry Rhodes
,
Alan Faneca
,
Joey Porter
,
Paris Lenon
,
Rex Hadnot
and
Jay Feely
helped.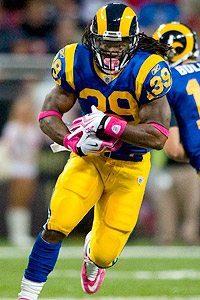 Jeff Curry/US PresswireKeeping running back Steven Jackson healthy will be very important for the Rams.
Back surgery for Steven Jackson
The Rams' best player and only Pro Bowl representative wore down last season. Surgery to repair a herniated disk should give him a chance to bounce back in time for training camp and the regular season.
Still, it's fair to wonder if the Rams overused Jackson following his injury last season, and whether they've done enough to shore up their depth in case Jackson wears down again in 2010.
RFA unrest
This was a league-wide phenomenon with special application in the NFC West stemming from
Oshiomogho Atogwe
's unusual transition from franchise player to minimally tendered restricted free agent to street free agent.
Atogwe might wind up re-signing with the Rams anyway. If that happens, the RFA storyline becomes much ado about not so much -- particularly with the Cardinals' unhappy RFA,
Deuce Lutui
, re-signing this week.
Fellow NFC West RFAs
Rob Sims
,
Darryl Tapp
and
Alex Barron
found new addresses via trade.
Divisional smack talk
The jaw-jacking
between Arizona's
Darnell Dockett
and San Francisco's
Vernon Davis
provided cheap entertainment for a while this offseason.
At one point, Dockett asked Davis how he spent Week 18 last season.
"Oh, that's right,"
Dockett tweeted
. "He was home watching the cardinals in tha playoffs!"
[+] Enlarge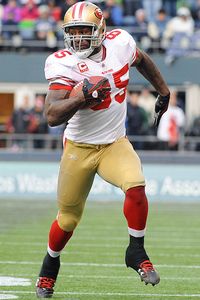 Kirby Lee/Image of Sport/US PresswireWe'll see if the verbal sparring between Vernon Davis (pictured) and Darnell Dockett carries over into the regular season.
To be continued.
Brandon Marshall non-acquisition
For a while, the Seahawks were the only team showing serious interest in the
Denver Broncos
' most productive receiver.
Marshall wound up landing in Miami, a relief to the rest of the NFC West.
The Seahawks might have a cheap alternative in
Mike Williams
, the surprise of the offseason for Seattle. The next trade-related question for the Seahawks is whether they'll add
Marshawn Lynch
from the
Buffalo Bills
.
Jerry Rice, Russ Grimm to the Hall
Four recent Hall of Fame enshrinees played at least briefly with NFC West teams. Another, Grimm, coaches in the division.
Rice's election headlined the 2010 class.
Another former NFC West star, Cortez Kennedy, made the list of 10 finalists.
Farewell to a legend
Merlin Olsen's death from cancer saddened those who knew him and those who appreciated the warmth and dignity he projected.
Even
opponents liked him
.
Not even Rice could match Olsen's career total of 14 Pro Bowls.
Farewell to a non-legend
LenDale White
's sudden and quick release from the Seahawks came as an unexpected jolt.
Carroll proved he wouldn't give a free pass to his former players at USC.
Your turn:
Any major issues we're missing here? Fire away.
March, 12, 2010
3/12/10
4:40
PM ET
Cy from Los Angeles passed along a personal thoughts on Merlin Olsen after the Rams great's passing Wednesday. They were heartfelt. I wanted to share them here before passing along an Olsen story from Dick Enberg.
I don't typically mourn public figures publicly, but I am so saddened by the death of Merlin Olsen. Growing up as a sports kid in L.A., you knew he was a big deal and for all the right reasons. While playing ball in my teens, I had Olsen's poster in my room (along with those of Dick Butkus, Bob Lilly, The Doors and Peter Fonda/Easy Rider in day-glo).

I used to wear his No. 74 in Pop Warner and high school out of admiration and respect. He seemed like such a nice guy and the quintessential Gentle Giant -- ferocious on the field, while kind and placid off it. Olsen was the kind of man a father could comfortably point out to a son as a role model; the kind of athlete that sports and kids sorely miss.

He was a tremendous athlete -- physically gifted, studious and smart, broadly intelligent, respectful, fully prepared for life after football with never a hint of impropriety. A gentleman in every sense of the word. He also struck me as a man men would strive to be: as brutishly tough and determined as they come, yet scholarly, kind, considerate and dignified; a class act from start to finish. The world would be a better place if more people were like Merlin Olsen. It's less of one without him.
Enberg, Olsen's former broadcast partner at NBC, shared an endearing story on Sirius radio Friday. Enberg told how Olsen had grown up rather simply in Utah and his parents had never been to an NFL game. They made the trip to Los Angeles and were pretty deep into their first game watching Olsen at the Coliseum when Olsen sensed something amiss.
Olsen looked toward where his parents had been sitting and, to his shock, saw his father walking onto the field. Turns out the family had decided to leave the game early and Olsen's father was coming onto the field to inform his son of their plans.
March, 11, 2010
3/11/10
2:33
PM ET
The Rams and 49ers were playing an exhibition game at the L.A. Coliseum one year when a fight broke out near the 49ers' bench.
[+] Enlarge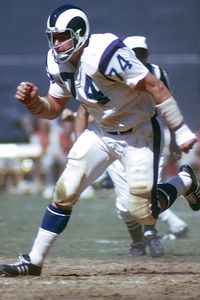 Focus on Sport/Getty ImagesMerlin Olsen was a Hall of Fame defensive lineman and member of the Los Angeles Rams' "Fearsome Foursome".
"I turn around and I start forward," former 49ers guard Howard Mudd said Thursday, "and there is 'Oly' standing there."
"Oly" was Merlin Olsen, the Rams' huge defensive tackle, one of the first truly athletic big men in the NFL. Olsen stood 6-foot-5 and weighed 270 pounds in an era before players loaded up on dietary supplements or lifted weights as seriously.
"I looked at him and he looked at me," Mudd recalled, "and he said, 'You want to just stand here and watch it?' "
Olsen,
who died from cancer Wednesday at age 69
, proved great players could be nice guys, too. He was a 14-time Pro Bowl choice and member of the Fearsome Foursome line featuring Deacon Jones, Lamar Lundy and Rosey Grier.
"He belonged in the Hall of Fame not because he went to 14 Pro Bowls, but because he was a great player and could affect a game that he played in," Mudd said. "If you didn't take care of him, he was going to make big plays on you and change your offense. That is what a Hall of Famer should be."
While some players cast football as warfare for the sake of gaining a psychological edge, Olsen could disarm an opponent with his politeness. Mudd recalled knocking down Olsen once with a peel-back block, then bracing for trouble when Olsen ran toward him after the play.
"I'm laying on the ground and this big guy runs right at me, puts his hand on my head and says, 'Nice block,' " Mudd said. "I thought he was going to kick my ass or something."
Olsen played from 1962 to 1976 and earned 14 consecutive Pro Bowl berths. He reached another generation of football fans through his work as Dick Enberg's broadcast partner during NBC's coverage of the AFC during the 1980s. Olsen also played Jonathan Garvey on Little House on the Prairie, which ran opposite "Monday Night Football" during the late 1970s.
News of Olsen's passing was only beginning to spread Thursday. I reached out to Mudd, who said he had been thinking of Olsen lately and had wondered what had become of him.
"I pictured him as this devout Mormon guy who had ridden off into the sunset and found a nice place and a great life," Mudd said.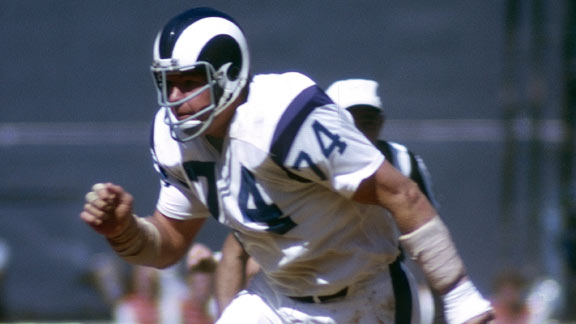 March, 11, 2010
3/11/10
12:04
PM ET
Merlin Olsen was a 14-time Pro Bowl choice in 15 NFL seasons, all with the Rams.

Olsen
No one in league history went to more Pro Bowls, and none went to as many in as few seasons.
His passing Wednesday
from cancer at age 69 provides an opportunity to appreciate his career and contributions.
I'm making some calls and will have more as the day progresses. In the meantime, here's a chart showing where Olsen fits among players with the most Pro Bowl appearances, courtesy of Pro Football Reference.
February, 3, 2010
2/03/10
11:17
AM ET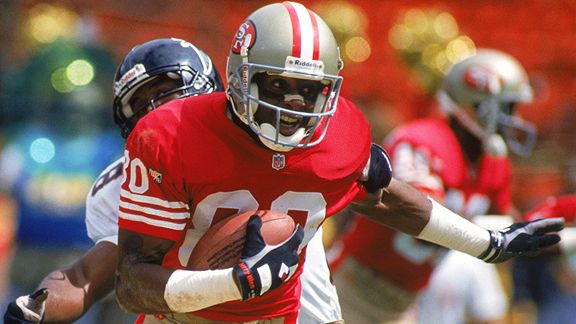 George Rose/Getty ImagesWide receiver Jerry Rice retired with his name all over the National Football League record book.
MIAMI -- Anyone advocating Jerry Rice as the greatest player in NFL history can bury the opposition in statistics.
Rice averaged 1,145 yards receiving and more than 10 total touchdowns per season -- for 20 NFL seasons.
Rice caught 69 touchdown passes -- more than the career totals for Art Monk, Michael Irvin, Charlie Joiner, John Stallworth and numerous other Hall of Fame receivers -- during a five-season span ending in 1993. Rice then caught 28 touchdown passes over the next two seasons, more than half the career total for Hall of Famer Lynn Swann.
He retired holding NFL records for:
Touchdowns (208), receiving TDs (197), receiving TDs in a season (22), consecutive games with a TD reception (13), TDs in Super Bowls (8), receiving TDs in a single Super Bowl (3) and postseason TDs (22).

Receptions (1,549), consecutive games with a reception (274), receptions in Super Bowls (33) and postseason receptions (151).

Receiving yards (22,895), receiving yards in a season (1,848), receiving yards in Super Bowls (589), receiving yards in a Super Bowl (215), postseason receiving yards (2,245) and seasons with at least 1,000 yards receiving (14).
Rice, whose selection to the Pro Football Hall of Fame is a formality Saturday, probably enjoyed the greatest NFL career. He was probably the greatest wide receiver despite some arguments for Don Hutson. But was he the greatest player, period?
"Oh, yeah," Hall of Fame defensive back Rod Woodson said almost reflexively during Super Bowl media day.
Woodson, perhaps mindful of history as a member of the NFL's 75th Anniversary team, then showed he could still backpedal a bit.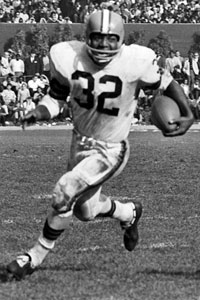 Getty ImagesWhen talking about the greatest players ever, Jim Brown needs to be in the conversation.
"I mean, he is definitely up there," he said. "I don't think one player is the greatest player ever, but he is in that water-cooler conversation. Now, if you say greatest receiver, absolutely. But the greatest player, to make him the most dominant player ever in NFL history or just say pro football history, that is a profound statement. But I can say that he will be in that argument time in and time out."
The conversation might include Otto Graham, Jim Brown, Sammy Baugh, Lawrence Taylor, Joe Montana, Johnny Unitas, Hutson, Walter Payton and Barry Sanders among players no longer active. And that list is probably shortchanging defensive greats such as Deacon Jones and Dick Butkus.
But
Ray Lewis
, arguably the greatest defensive player of the current era, didn't hesitate in singling out Rice.
"I don't know what argument you are going to make why he is not," Lewis said.
And that might be what separates Rice from the rest. There really isn't a great case against him. No one played at such a high level for as long with such grace.
"Jerry Rice doesn't
rank
in the all-time greats," said Saints safety
Darren Sharper
, a five-time Pro Bowl choice and member of the 2000s All-Decade team. "He
is
the greatest receiver and maybe the greatest football player of all time."
Maybe?
"I can't comment on eras that I didn't perform in," retired cornerback Deion Sanders said, "but the era I performed in, Jerry Rice is the best football player to play in that era."
On what grounds beyond the numbers?
"Work ethic, precision, routes, physical toughness, awareness, that hunger," Sanders said. "Jerry stayed hungry until the day he retired."
February, 2, 2010
2/02/10
7:13
PM ET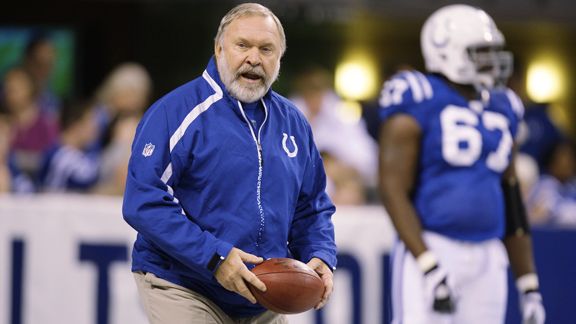 AP Photo/Michael ConroyOffensive line coach Howard Mudd's last game in a 40-year career will be Sunday's Super Bowl XLIV.
MIAMI -- Here's Howard Mudd's plan: After the Super Bowl, he'll go back to Indianapolis, then spend some time in Arizona.
And the next time he reviews film, it won't be from the coaches' tape of Super Bowl XLIV on Feb. 7 against the
New Orleans Saints
. Instead, it will be from the long-lensed Nikon camera that's hung around his neck for the last week of his NFL career.
Mudd snapped a picture as he walked off the
Indianapolis Colts
' plane Monday and more at Tuesday morning's annual media circus.
"In case it turns out to be a nice picture to remember the event itself," he said. "It is the last one, but it's also a big deal. At the media day [of Super Bowl XLI] I had my wife's camera and I had it on video and it was supposed to be on still, I screwed it up some."
The Colts' storied offensive line coach will call it a 40-year career as a player and coach after Super Bowl XLIV. Unlike many grizzled veterans before him, he'll be free from temptation to return.
Pete Metzelaars
, the heir who will replace him for the Colts, knows things will never be the same.
"I think they'll be a little softer," linebacker
Gary Brackett
said. "I don't think anyone is as hard as nails as Howard, that's really old-school coaching at its finest. I guess he played a while in this league and was a very tough, aggressive lineman. And that's exactly what he does for his linemen."
[+] Enlarge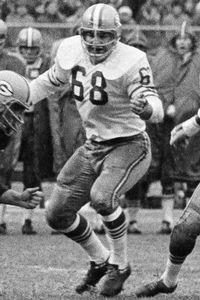 AP PhotoAs a player from 1964 to 1970, Mudd found innovative ways to slow down pass rushers.
Mudd played as a lineman for the
San Francisco 49ers
and
Chicago Bears
from 1964-71. He has coached in the league since 1977 for San Francisco, Seattle, Cleveland, Kansas City and, since 1998, Indianapolis.
That happened to be the year the Colts spent the No. 1 pick in the draft on
Peyton Manning
. Mudd said he's pleased to have played any small part in the career of the quarterback, a player his unit has made sure is rarely on the ground. (Ryan McCrystal of ESPN Stats & Information tells me that since sacks became an official stat in 1982, no one has endured more sacks than former
Denver Broncos
quarterback
John Elway
with 516. At his current pace, Manning -- who has suffered 215 sacks in 196 games -- would break that record at some point during his 29th season in the league, just before his 50th birthday.)
While he might appear gruff, Mudd can be a sweetheart. He's a motorcycle aficionado. Mudd wants nothing more in retirement than to dote on his grandchildren in the Seattle area, get more fit and ride, wet roads be damned. Maybe he'll get better with that camera, too.
Over the years, his lines have worked to fend off some pretty good pass rushes from division rival Tennessee. As a result of those matchups, he forged a friendship with Titans defensive line coach Jim Washburn.
The friends rode their motorcycles together
through Africa
last summer.
Washburn raved about Mudd's inventiveness as a player, when he figured out ways to slow down the likes of Hall Of Famer Merlin Olsen despite being overmatched. Basically, Mudd said, his ploys were spin moves or unconventional routes to regain position and sometimes pushes that carried Olsen or another rusher right past the play.
"I've seen a few clips, they were black and white," Colts guard
Ryan Lilja
said. "He ran around and it's funny to see him do the same thing that he teaches us that not a lot of people do. He was a gritty player, man."
| | |
| --- | --- |
| | |
| | George Gojkovich/Getty Images |
| | After amassing 200 sacks over a 19-year NFL career, Bruce Smith will enter the Pro Football Hall of Fame on Saturday . |
Posted by ESPN.com's Tim Graham
If the speech Bruce Smith gave the afternoon the Buffalo Bills added his name to their Wall of Fame is any indication, then the legendary defensive end will proclaim his greatness again Saturday night, when he's inducted into the Pro Football Hall of Fame.
Smith hasn't been shy about declaring himself the greatest pass-rusher who ever lived.
2009 Hall of Fame Induction Coverage
Saturday in Canton, Ohio, six men will be hailed as the latest members of the Pro Football Hall of Fame. Bruce Smith, Rod Woodson, Ralph Wilson, Randall McDaniel, and posthumous honorees Derrick Thomas and Bob Hayes form the Class of 2009. The ceremonies will air live, beginning at 7 p.m. ET, on ESPN and ESPNHD. Follow ESPN.com's coverage.

• Our future HOF nominees: Story | Podcast


• Chat: Hall of Fame inductee Rod Woodson
• Chat: Hall of Famer Warren Moon
• Wickersham: Wilson valued for impact
• Scouts Inc.: Top 5 CBs in the NFL today


• Walker: Is Rod Woodson the best CB ever?
• Graham: Bruce Smith, Sackmaster
• Blogs: More Hall of Fame coverage

Funny thing is, Smith's temerity is unnecessary. His numbers speak for themselves.
Smith is a first-ballot Hall of Famer. Since the NFL made sacks an official stat in 1982, no other player has amassed more sacks than Smith's 200. He played 19 years, his final four with the Washington Redskins. He recorded double-digit sacks a record 13 seasons. He played in four Super Bowls. He twice was the Associated Press' Defensive Player of the Year. He was a first-team All-Pro eight times, a Pro Bowler 11 times. The NFL selected him for two all-decade teams.
Not a bad career if you're into that kind of stuff.
Smith has had his problems off the field. After two previous drunken-driving arrests that didn't lead to convictions, he was found guilty of it last month in Virginia Beach, an incident that has tempered the Hall of Fame merriment somewhat. Virginia Beach canceled festivities to honor Smith.
But Smith will take center stage in Canton, where he will assume his place among the all-time greats. He's the greatest No. 1 overall draft pick who didn't play quarterback.
And he'd probably tell you so.
Rather than speak to Smith about how remarkable he was, it's more insightful to speak with those who competed with him and against him.
Tony Paige, Virginia Tech teammate and former New York Jets running back: "When he visited Virginia Tech, I was the guy that hosted him and showed him around the campus. He was one of the top recruits in the country. We played basketball that weekend, and this defensive lineman was dunking. He was 6-4, about 285 pounds coming out of high school, a phenomenal athlete. I think he a ran a 4.6 [in the 40-yard dash]. Any time you get a 6-foot-4, 285-pound man running the court like that, you knew right away this guy was going to be special."
Chris Spielman, former Detroit Lions and Bills linebacker: "There've been two players in my career that every single week they did something that made me rewind the film 10 times. That would be Barry Sanders and Bruce Smith."
Jim McNally, former NFL offensive line coach and Buffalo native: "He was so slippery. He could make himself small by dipping and turning and lowering his hips. He didn't stand up and come at you like a lot of guys. He was slithery."
Paige: "He pushed guys around him because he practiced hard, played hard, studied the game. That's why he's going into the Hall of Fame. He wasn't just a gifted athlete. He always wanted to be better. He had that something on the inside you can't teach, a passion to succeed on every snap."
Jim Ritcher, former Bills left guard: "When he arrived, he had so much talent. I've never seen a guy so quick off the ball. Recently, I was just showing one of my sons how quick Bruce was. I was showing him film on Bruce. Just as fast as that ball was coming back, that's how fast Bruce was coming off the ball. It was amazing."
Richmond Webb, former Miami Dolphins left tackle: "He took no plays off. It was going to be 60 minutes of hell."
Steve Tasker, former Bills special-teamer: "There was no question there were times he was not only the best defensive end, but maybe the best player at any position in the NFL."
Spielman: "He'd do something that would make you say 'Come on now. Seriously. You're not doing that to an NFL player, are you?' He was something."
Merlin Olsen, Hall of Fame defensive tackle: "Bruce was very, very quick coming off the line and coming up field far enough to force that offensive tackle to move violently to try to stay with him. Once you get those tackles moving, you have the chance to do all kinds of things with him. Not only did he have incredible quickness, he was so powerful. He could bull rush you if he wanted to. The offensive tackle knew that was poss
ible, so he couldn't get on his heels."
Ken O'Brien, former Jets quarterback: "He had everything going on. He was big. He could power a guy. He could head slap him. He could swim move him. He could spin. He did all these things naturally. You have to figure however many sacks he finished with, two-third of those he was double- and triple-teamed."
Ritcher: "Every day I had to practice against him was an eye-opener. Being able to study Bruce every day, I can imagine it would be a nightmare for other teams. I practiced against him so much. It was an all-day sucker going against Bruce."
O'Brien: "We always had a guy that would come up with some injury that week."
Tasker: "He'd get a shot on the quarterback that would cripple a horse."
Ritcher: "That had to be terrifying for a quarterback, to know that no matter who they had at tackle -- and he could be a great tackle -- Bruce was going to get to you at some point. That had to be pretty terrifying to know, going into the game, this guy on your blind side is coming at you."
O'Brien: "If you wanted to block him with one guy, there really was no way. He was going to expose that. It took a while for some people to pick up on it, that traditional methods of blocking weren't going to work."
McNally: "Whoever was facing him the next game was nervous all week. They double-teamed him with guards, with running backs. Back when you could still get away with it, receivers were chipping him."
Tasker: "We just got beat in a playoff game in Cleveland, the game when Ronnie Harmon dropped the ball. We were in the locker room, sitting there after a shootout, Bernie Kosar versus Jim Kelly, both teams over 30 points and we dropped a touchdown. So the score should have been even higher. He was getting dressed in his suit, kind of all by himself. I was standing near him. Now, we'd been around the block. We'd been the Bickering Bills. There'd been turmoil on the club, the last three or four games being the turning point for our organization. But Bruce said out loud to nobody in particular, 'You know it was the defense that lost it today. We let them score 40 points. That was our fault.' He was bumming out that the defense had done that, not that we dropped a touchdown. I'll never forget that. He took that loss hard. He also took some responsibility on his own shoulders. He knew there was responsibility that went along with being a great player."
Bill Belichick, New England Patriots coach and former New York Giants defensive coordinator: "You had to game plan for Bruce Smith like you had to game plan for [Lawrence] Taylor. ... He was slick. A lot of times you look at the play and you say, 'OK, it looks like we got him blocked.' And then he gets off it somehow and is pressuring the quarterback. Similar to Taylor, even when they got blocked, they didn't stay blocked."
Olsen: "In terms of having to set a game plan, he's exactly the same kind of person as Lawrence Taylor. If you didn't account for him, you were going to have trouble."
Tasker: "I used to chuckle because he'd be in great shape and come into training camp and be injured and not practice. There was nothing wrong with him. He just didn't like training camp. They were built for veteran players and still Bruce would take the first three weeks off. That doesn't mean he wasn't ready."
Ritcher: "He was named defensive player of the year a number of times, and when he wouldn't show for camp, we'd smile and know that was Bruce going for his money. Your career is so short. Bruce played 19 years, which is incredibly long, but most guys had to get the money while they could get it, and he was at the top of his game."
Spielman: "He and [head coach] Marv Levy had an understanding. They were a perfect match. Marv had a saying, 'I don't need you to beat the Bills.' Bruce did what he had to do to get ready. He came to play."
Webb: "You knew when you went to Buffalo you weren't going to hear snap counts. The thing that really stood out was I knew that he had to be one of the favorite players. If the game was tight and they would go to a TV timeout, when they would come back and blow whistle, he would make this quick motion with his hand, and the noise in the stadium was deafening. I was always amazed he could make that one little hand gesture and the crowd was right with him. That's not right."
O'Brien: "He had a great sense of humor. He and Tony Paige would joke around. Therefore, Bruce Smith and I would joke around on the field. He was funny. I don't know if you're old enough to remember 'The Gong Show.' He used to have a little dance he used to do. He did it the week before and down at the line of scrimmage, he came up to me and said, 'Gene Gene, huh?' "
Tasker: "We used to laugh at him. He'd say it when he was playing because, man, the guy would back it up. We go into New York on a Monday night. He gets four sacks and a forced fumble and just tears the New York Jets up. In the game, he unveiled this spin move nobody had seen before. I know there were a lot of left tackles watching the game that night and spitting their coffee out. 'What are you supposed to do with that?!' There's no defense for that. You have to expect that move to stop it. It was unbelievable. It was like a pitcher throwing a perfect game and then, all of a sudden, he throws a pitch he's never thrown in the middle of it. It was like Nolan Ryan throwing knuckleballs for strikes."
O'Brien: "We tried to run some sort of reverse to maybe get him to bite with a pass rush. It was a quarterback's dream, where I get to block him and take him out. The play got stopped while I'm running outside toward him. He started laughing and said, 'Kenny, what are you doing to do? This reverse isn't going to work.' He would tell you about each formation and dissect the play as it went on. I always thought he would make an excellent coach if he ever had the inclination."
Webb: "Bruce was probably known more as a pass-rusher and not so much against the run, but I think what he did as time went on, he worked on another area of his game. If they said he couldn't do it, he went out and proved them wrong. I liken it to Michael Jordan. When he came into the NBA, it was offense, dunks, blowing people's minds away as an entertainer. Then he started working on his defense and became defensive MVP, and as he became older he worked on that fadeaway shot. Just like Jordan, Bruce was a great athlete and a student of the game."
Spielman: "I played with Bruce at the tail end of his career. What I remember is how he reshaped his body to go from 300-plus pounds to the point when I played with him in Buffalo and he was about 270. That was amazing, and it probably extended his career to be a dominant player at a much lighter weight."
Jay Fielder, former Dolphins quarterback: "By the time I was playing it was little more toward the end of Bruce's career with the Redskins. He still was a great player. He wasn't defensive-player-of-the-year material like he was in the early or mid-'90s, but he was a guy you still had to keep an eye on."
Tasker: "When he said that he's the best defensive end ever in the National Football League, I agree. In the time that we played, and I remember thinking this while we were playing, there were time
s he was the best player at any position in the league."
November, 8, 2008
11/08/08
11:46
AM ET
Posted by ESPN.com's Mike Sando

Darren Urban of azcardinals.com writes about Tim Hightower's path to the NFL. Strong parental support helped Hightower get to this point.
Also from Urban: The Cardinals' quarterbacks and receivers hold meetings to help stay on the same page.
Kent Somers of the Arizona Republic spoke with one of Hightower's former college coaches as part of a profile on the rookie running back. Former Richmond coach Dave Clawson, now at Tennessee: "Most I-AA guys are one-dimensional, but he's a really a complete back."
Mike Tulumello of the East Valley Tribune says Hightower gets emotional discussing Edgerrin James, his displaced mentor.
Tom Marino of Scout.com offers midseason grades for the Cardinals, including a B-minus for the offense. He thinks the team's inability to win on the road will spell a one-and-done scenario come playoff time. If the Cardinals reach postseason, however, they figure to do so as a division winner, which means at least one playoff game at home.

NFL SCOREBOARD
Thursday, 8/28
WEEKLY LEADERS