NFL Nation:

Merlin Olsen 31110
March, 12, 2010
3/12/10
4:40
PM ET
Cy from Los Angeles passed along a personal thoughts on Merlin Olsen after the Rams great's passing Wednesday. They were heartfelt. I wanted to share them here before passing along an Olsen story from Dick Enberg.
I don't typically mourn public figures publicly, but I am so saddened by the death of Merlin Olsen. Growing up as a sports kid in L.A., you knew he was a big deal and for all the right reasons. While playing ball in my teens, I had Olsen's poster in my room (along with those of Dick Butkus, Bob Lilly, The Doors and Peter Fonda/Easy Rider in day-glo).

I used to wear his No. 74 in Pop Warner and high school out of admiration and respect. He seemed like such a nice guy and the quintessential Gentle Giant -- ferocious on the field, while kind and placid off it. Olsen was the kind of man a father could comfortably point out to a son as a role model; the kind of athlete that sports and kids sorely miss.

He was a tremendous athlete -- physically gifted, studious and smart, broadly intelligent, respectful, fully prepared for life after football with never a hint of impropriety. A gentleman in every sense of the word. He also struck me as a man men would strive to be: as brutishly tough and determined as they come, yet scholarly, kind, considerate and dignified; a class act from start to finish. The world would be a better place if more people were like Merlin Olsen. It's less of one without him.
Enberg, Olsen's former broadcast partner at NBC, shared an endearing story on Sirius radio Friday. Enberg told how Olsen had grown up rather simply in Utah and his parents had never been to an NFL game. They made the trip to Los Angeles and were pretty deep into their first game watching Olsen at the Coliseum when Olsen sensed something amiss.
Olsen looked toward where his parents had been sitting and, to his shock, saw his father walking onto the field. Turns out the family had decided to leave the game early and Olsen's father was coming onto the field to inform his son of their plans.
March, 11, 2010
3/11/10
6:40
PM ET
Floyd Little reflected Thursday on what it would have been like to be teammates with Merlin Olsen.
It could have happened.
In 1962, Olsen was drafted by the Los Angeles Rams of the NFL and the Denver Broncos of the AFL. Olsen selected the security of the NFL and the Rams.
"That would have been something," said Little, a newly minted Pro Football Hall of Famer and a Bronco from 1967 to 1975. "We would have been a lot better with Merlin Olsen."
The Hall of Fame defensive lineman died Thursday.
He was 69.
Little said it was a tough day. The two played against each other often. Little said the two became friendly at Pro Bowls and other functions throughout their careers.
"I'm very saddened to learn of Merlin's passing. He was a great player, a great player. He was also a great person. He wasn't an atypical football player. He was a great human being with a lot of skills. He was very special."
March, 11, 2010
3/11/10
2:33
PM ET
The Rams and 49ers were playing an exhibition game at the L.A. Coliseum one year when a fight broke out near the 49ers' bench.
[+] Enlarge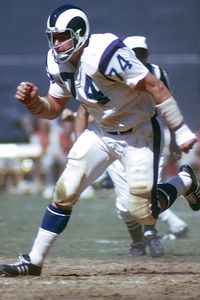 Focus on Sport/Getty ImagesMerlin Olsen was a Hall of Fame defensive lineman and member of the Los Angeles Rams' "Fearsome Foursome".
"I turn around and I start forward," former 49ers guard Howard Mudd said Thursday, "and there is 'Oly' standing there."
"Oly" was Merlin Olsen, the Rams' huge defensive tackle, one of the first truly athletic big men in the NFL. Olsen stood 6-foot-5 and weighed 270 pounds in an era before players loaded up on dietary supplements or lifted weights as seriously.
"I looked at him and he looked at me," Mudd recalled, "and he said, 'You want to just stand here and watch it?' "
Olsen,
who died from cancer Wednesday at age 69
, proved great players could be nice guys, too. He was a 14-time Pro Bowl choice and member of the Fearsome Foursome line featuring Deacon Jones, Lamar Lundy and Rosey Grier.
"He belonged in the Hall of Fame not because he went to 14 Pro Bowls, but because he was a great player and could affect a game that he played in," Mudd said. "If you didn't take care of him, he was going to make big plays on you and change your offense. That is what a Hall of Famer should be."
While some players cast football as warfare for the sake of gaining a psychological edge, Olsen could disarm an opponent with his politeness. Mudd recalled knocking down Olsen once with a peel-back block, then bracing for trouble when Olsen ran toward him after the play.
"I'm laying on the ground and this big guy runs right at me, puts his hand on my head and says, 'Nice block,' " Mudd said. "I thought he was going to kick my ass or something."
Olsen played from 1962 to 1976 and earned 14 consecutive Pro Bowl berths. He reached another generation of football fans through his work as Dick Enberg's broadcast partner during NBC's coverage of the AFC during the 1980s. Olsen also played Jonathan Garvey on Little House on the Prairie, which ran opposite "Monday Night Football" during the late 1970s.
News of Olsen's passing was only beginning to spread Thursday. I reached out to Mudd, who said he had been thinking of Olsen lately and had wondered what had become of him.
"I pictured him as this devout Mormon guy who had ridden off into the sunset and found a nice place and a great life," Mudd said.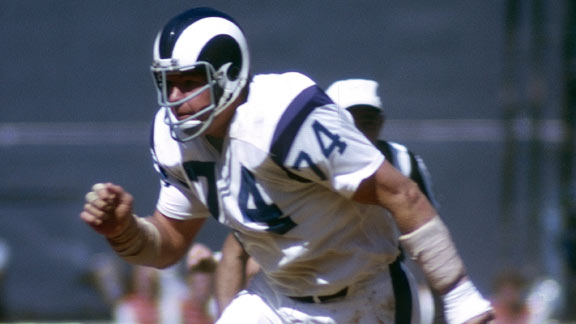 March, 11, 2010
3/11/10
12:04
PM ET
Merlin Olsen was a 14-time Pro Bowl choice in 15 NFL seasons, all with the Rams.

Olsen
No one in league history went to more Pro Bowls, and none went to as many in as few seasons.
His passing Wednesday
from cancer at age 69 provides an opportunity to appreciate his career and contributions.
I'm making some calls and will have more as the day progresses. In the meantime, here's a chart showing where Olsen fits among players with the most Pro Bowl appearances, courtesy of Pro Football Reference.