September, 30, 2013
9/30/13
1:35
PM ET
TAMPA, Fla. -- Safety
Dashon Goldson
will not be suspended for his hit on
Jaron Brown
in Tampa Bay's 13-10 loss to the
Arizona Cardinals
.
An NFL spokesperson said Monday that NFL vice president of football operations Merton Hanks already has determined the hit doesn't warrant a suspension. But the league said Goldson could be fined for the hit, which came in the fourth quarter and drew a personal foul.
Goldson initially was supposed to be suspended for Week 3 for a hit on New Orleans'
Darren Sproles
. But Goldson appealed that and got his penalty reduced to a $100,000 fine. Goldson also was fined $30,000 for a hit in the season opener. Since 2009, Goldson has been flagged with a league-high 16 personal fouls.
September, 13, 2012
9/13/12
9:15
AM ET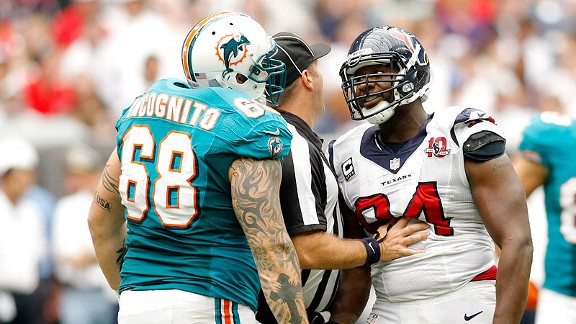 Brett Davis/US PresswireThe NFL will surely take a look at Sunday's incident between Richie Incognito and Antonio Smith.
Wednesday night, I sat down to write about
Richie Incognito
and
Antonio Smith
.
I'd repeatedly watched the late second-quarter play of the Miami-Houston game. I'd read one careful review of it and I'd decided it warranted a severe penalty.
I pounded out a post, "NFL can prove safety priority here," that went like this:
If the NFL is truly concerned with player safety, if it really wants players to think twice about injuring an opponent intentionally, if it really wants to make those messages resonate, then it should pause on the next stage of the Saints bounty story.

The two men who head the league's football operations department, Ray Anderson and Merton Hanks, should be studying a play in the Houston-Miami game from opening weekend. And once they see Dolphins offensive lineman Richie Incognito purposefully wrench Texans defensive lineman Antonio Smith's ankle, the resulting discipline should serve as a loud example that a smaller play that intentionally injured – presumably with no bounty involved – also has no place in the sport.

Smith tried to lunge for a second quarter fumble that was lost by running back Daniel Thomas and recovered by Houston safety Danieal Manning. Incognito held Smith back from getting near the ball, but did more than that. He latched onto and twisted Smith's ankle. It lasted long enough and was serious enough that Smith needed to kick Incognito in the head to get free.

We've heard from Smith on this-- he said Incognito was "a dirty player being let to play dirty." We've heard from Incognito on this -- he said he never apologized for his style of "physical, hard-nosed football from snap to whistle."

The league shouldn't allow Incognito to sell this play in that fashion.

Sure, some of you will say, it was dirty. But that's football. There is stuff like that happening all over the field all the time.

The days of explaining things away like that would seem to be over, and certainly Goodell wants them over.

Hanks, the NFL's VP of football operations, or Anderson, executive VP of football operations, mete out discipline for such in-game infractions, which don't have to have drawn a flag. This play did not. (Commissioner Roger Goodell is not involved in such discipline.)

Smith didn't practice Wednesday with an ankle injury, presumably suffered on this play.

The league wants a safer game, and it's created rules that protect players better. Smith wasn't a defenseless receiver taking a hit over the middle. He was in a situation where he shouldn't expect to be injured. It wasn't an accident. He didn't get rolled up on or take an awkward step or get bent awkwardly. He was on the ground, and a player trying to hold him back and intentionally hurt him.

It's absolutely obvious and if the league is serious about player safety, its eyes should be open on this just like they are on a too-high or too-low hit on a quarterback, a shot to a defenseless receiver or a hit that may have been partially inspired by a pay-to-injure program.
A bit later, though, I came across
this post from ProFootballTalk
. It strung together direct message tweets Incognito wrote to the site in his defense.
"Once the ball was fumbled I grabbed his legs to stop him from recovering the fumble. It's clear that I wrap my arms around both his legs. I was trying to keep him from scrambling to the ball.

"After the ball was recovered I felt him kicking me. I was trying to protect myself. Kind of like a turtle in a shell. At no time was I turning his ankle. My intent was to keep him from getting to the ball."

"...Obviously in a case like this I have no ground to stand on [because] of my reputation. There is no evidence of me trying to injure him. The reason I'm seen holding onto one of his legs [because] he started kicking me in the arm and neck the the other. I had both legs in my grasp. The fact of the matter is I'm laying on his leg. There is no twisting motion whatsoever. He is clearly kicking me in the neck. Talk about dirty?"
I put my post aside, deciding to sort through it in the morning.
And here's my conclusion after sleeping on it.
We'd like things to be cut-and-dried. The film of the play isn't focused on Smith and Incognito. They are in the periphery on TV and they are a small piece of the "All-22" coaches film.
While it's easy to dismiss Incognito's claims as spin based on his history of what can fairly be called dirty play, we can't automatically jump to conclusions on this play based on that. He says his reputation will affect how this is judged and it will to an extent, I am sure. But what he wrote doesn't seem outrageous to me.
Assessing this one with what we have is not so simple. Hanks or Anderson have a lot to sort through to make an absolute determination of what happened. They can't see or know for certain.
And so this one play from 16 games worth of plays can be representative of two things:
The sort of intent-to-injure play the league so anxiously wants to wash out of the game.

The complicated nature of sorting through a play that could be in that category.
It's not easily done. And I feel certain that out of 16 Week 1 games, there are a lot of other plays of a similarly complex nature.
We should know the league's stance on this one by Friday afternoon.
Sometimes a player is forthcoming about league discipline after he gets overnight mail with details earlier in the week.
But typically on a play like this where the media is asking about a fine, a decision comes to light late Friday afternoon.
In that original post, I wrote: "When the verdict comes down on this one, it should be a statement (in dollars) that comes with a statement (from the NFL about how it won't tolerate such things)."
Now hearing from Incognito, even knowing his comments could be crafted to cover his behind, I'm not so sure.
Are you? Will the league be? Should it be?
June, 24, 2010
6/24/10
9:30
AM ET
Notable players:
QB
Joe Montana
, QB
Steve Young
, WR
Jerry Rice
, WR
John Taylor
, RB
Roger Craig
, FB
Tom Rathman
, TE
Brent Jones
, G
Guy McIntyre
, FS
Ronnie Lott
, OLB
Charles Haley
, DE
Pierce Holt
, DE
Kevin Fagan
, OLB Keena Turner, LB Matt Millen.
[+] Enlarge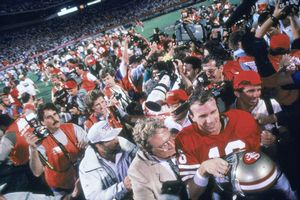 Andy Hayt/Getty ImagesJoe Montana and the 49ers were at the height of their success during the 1989 season.
Analysis:
The
San Francisco 49ers
had multiple teams worthy of consideration as the best in franchise history. I'll take the one that outscored its opponents 126-26 during the postseason, including 55-10 over the
Denver Broncos
in the Super Bowl. Denver led the NFL in scoring defense that season.
The 1989 team featured the 49ers' offense at the peak of its powers.
Joe Montana averaged 9.1 yards per attempt with 13 starts that season. The figure for three-game starter Steve Young -- 10.9 yards per attempt -- was even more ridiculous.
Drew Brees
set a career high at 8.5 yards per attempt last season.
Tom Brady
's average was 8.3 during his historic 2007 season.
Dan Marino
was at 9.0 in his 1984 career season. None could match the 49ers' top two quarterbacks during this special season.
This was the first 49ers team of the 1980s without Bill Walsh, but offensive coordinator Mike Holmgren was still there, as were nearly all of the team's iconic offensive players from the decade. Tight end Brent Jones emerged as a starter. Roger Craig topped 1,000 yards rushing. Fullback Tom Rathman caught 73 passes. Montana set a career high for passer rating at 112.1, completing 70.2 percent with 26 touchdowns and eight interceptions. Rice caught 17 touchdown passes while averaging 18.1 yards per reception.
The defense was typically overlooked except by those forced to play against it.
John Elway
completed only 10 of 26 passes for 108 yards and two interceptions against the 49ers in the Super Bowl.
"Their defense doesn't get enough credit," Broncos coach
Dan Reeves said
afterward. ''I can't say enough about them.''
Walsh later regretted retiring. This team made it easy to see why.
Most impressive win:
Having already touched on the Super Bowl victory, let's focus on the victory that delivered the NFC West title to San Francisco that season. Montana passed for 458 yards, including 286 to receiver John Taylor, and the 49ers twice overcame 17-point deficits to edge the division-rival Rams, 30-27, on the road.
Transcending Walsh:
This 49ers team became the only one in NFL history to win back-to-back Super Bowls with different head coaches. The change from Walsh to George Seifert might have actually helped this team, at least for a season. The offensive-minded Walsh left the defensive-minded Seifert with a veteran offense trained to function at a high level without much big-picture help. Holmgren took the best of what Walsh taught him and made it even better with his own tweaking. In that sense, the 1989 team might have gotten the best of what Walsh and Holmgren had to offer. Montana was also at his best. He never enjoyed a finer season.
Honorable mention
1984:
This was the team that knocked off Marino in the Super Bowl after the quarterback shredded defenses for a then-record 48 touchdown passes. This was a great 49ers team with a franchise-best 15-1 record, but the best group in 49ers history needed to include Rice, I thought. He arrived the next year.
1994:
Proponents of this team will point to a defense featuring
Deion Sanders
,
Rickey Jackson
,
Ken Norton
,
Merton Hanks
,
Eric Davis
,
Tim McDonald
,
Bryant Young
and others. They'll point to Young's record six touchdown passes against the
San Diego Chargers
in the Super Bowl.
1948:
Let's save some recognition for one of the early 49ers teams. This one outscored opponents by more than 17 points per game on its way to a 12-2 record. Frankie Albert put up modern-day numbers with 29 touchdown passes, 10 interceptions and a 102.9 rating.

NFL SCOREBOARD
Thursday, 12/18
Saturday, 12/20
Sunday, 12/21
Monday, 12/22
WEEKLY LEADERS