July, 30, 2012
7/30/12
11:00
AM ET

DAVIE, Fla. -- There is a growing debate in Miami. The topic: Is South Florida changing from a football town to a basketball town?
The perfect storm is taking place in Miami sports. Both the Dolphins and Miami Hurricanes' college football team cannot get their act together, while the Miami Heat just won an NBA championship. The Heat, led by LeBron James, had Miami abuzz in the spring and summer during their title run. Basketball dominated the airways in South Florida and captured fan interest in a way the Dolphins have not for a while.
Dolphins owner Stephen Ross recently touched on the subject.
"The Heat winning, I don't need to be motivated any more than I am, to be very honest with you," Ross said. "I think it's great for Miami that the Heat does win. But, at the same time, South Florida is about football and I think fans will feel a lot better when the Dolphins are winning in the Super Bowl."
Is Ross correct? Is Miami still a football town?
The Dolphins have struggled to sell out Sun Life Stadium, while the Heat do not have that problem. At the very least, the Dolphins must step up their game sooner than later.
June, 25, 2012
6/25/12
11:00
AM ET
A championship parade will take
place in downtown Miami
on Monday, courtesy of the Heat. LeBron James, Dwyane Wade, Chris Bosh and Co. will show off the NBA's Larry O'Brien Trophy for thousands of adoring Miami sports fans.

Is this a good or bad thing for the
Miami Dolphins
?
I think a case can be made for both sides. Let's examine.
Less pressure
A pro sports championship buys time for the rebuilding Dolphins. Miami fans cannot be spoiled to the point of expecting two championships in a calendar year. That rarely happens.
The Heat's championship should carry over to football season. Even if the Dolphins struggle, it probably won't overtake the buzz of Miami fans still riding high from a basketball championship. The Dolphins do not have to make a title run, because Miami has already crowned its champion for 2012.
More pressure
The Dolphins are competing for sports and entertainment dollars with the Heat, who have dominated the market since the arrival of James in 2010. Tickets to pro games aren't cheap, and it's clear South Florida residents prefer to spend their hard-earned dollars to see the Heat, which is a better and more entertaining product.
Also, Miami is very much an event town. It's a glitzy place where people want to see and be seen. American Airlines Arena, home of the Heat, currently is that place.
Sun Life Stadium has lacked
that kind of environment for a while. It doesn't help that the Dolphins are struggling.
Football has a longer history in South Florida, but at some point history starts to fade. It's premature to say Miami is now a basketball town thanks to the Heat. But each Heat championship certainly closes the football-basketball gap in Miami, especially when the Dolphins and Hurricanes aren't nearly as competitive.
The Heat have raised the bar for sports teams in Miami. The Dolphins, in particular, must get their act together. It's increasingly clear many Miami fans now are only willing to pay for a good product, regardless of history.
April, 17, 2012
4/17/12
1:43
PM ET

After spending some time with
Tim Tebow
, NBA star Dwyane Wade is convinced the
New York Jets
' quarterback will thrive in the Big Apple.
Tebow and Wade attended Sunday's baseball game together between the Yankees and Angels in New York. Both players received jeers when shown on the big screen, despite wearing a pair of Yankees hats.
The two high-profile athletes talked throughout and shared some laughs. Wade later
told the New York Post
he can tell Tebow has what it takes to thrive in the high-pressure situation in New York.
"He's a winner," Wade told The Post. "You can sense it when you speak to him and you're around him. The confidence that he portrays as a person probably wears off on the guys in the locker room. That's why they were successful in Denver and that's why he'll be successful in his role with the Jets."
Tebow was acquired in an offseason trade with the
Denver Broncos
. He is the No. 2 quarterback behind embattled starter
Mark Sanchez
. Tebow will primarily run a Wildcat package. But Tebow also could push for the starting job if Sanchez struggles.
August, 25, 2010
8/25/10
1:07
PM ET
A team-by-team look at the most indispensable players (non-quarterbacks) in the division.
The NFL, perhaps more than any professional sport, is a league filled with replaceable players. By sheer numbers, fielding 22 players on offense and defense makes it difficult for a single cog to be above the team, especially for non-quarterbacks.
But there are several players vital to AFC North teams. Here are four difference-makers in the division: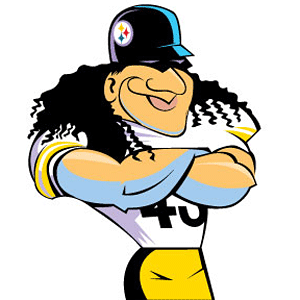 Chris Morris for ESPN.comTroy Polamalu helps take the Pittsburgh defense to another level when he's on the field.
PITTSBURGH STEELERS: TROY POLAMALU
To define Polamalu's importance, look no further than last season. Pittsburgh missed the playoffs in 2009, mostly because its defense was unable to hold leads in the fourth quarter without its star safety in the lineup.
Polamalu missed 11 games with a left knee injury, and it appeared the other 10 defenders were overcompensating for Polamalu's absence by blowing routine assignments. Polamalu provides a calming influence, and his greatness can be measured by his teammates playing at a higher level when he's in the game.
Steelers defensive coordinator and 2010 Hall of Famer Dick LeBeau recently said he
cannot find a weakness
with Polamalu. He's athletic, smart, instinctive and excels against the pass and the run.
Pittsburgh's defense without Polamalu is good (No. 5 in 2009), but with Polamalu, it might be the best in the NFL.
CLEVELAND BROWNS: JOSH CRIBBS
Where would the Browns be without Cribbs?
For starters, you probably can erase two or three wins from last year's 5-11 record. Cribbs also might have saved Browns head coach Eric Mangini's job.
Cribbs was one of the few bright spots for Cleveland last season. He made the Pro Bowl as a kick returner, but his ability to run the Wildcat also added a new wrinkle to the Browns' struggling offense, which finished last in the NFL in 2009.
The Browns plan to expand Cribbs' role, both in the Wildcat and as a receiver. The more the team is able to get the ball in his hands, the better.
Despite Cleveland adding pieces in the draft and free agency, Cribbs remains the Browns' most-feared player. He's also a locker-room leader and, perhaps, the new face of Cleveland sports now that LeBron James signed with the Miami Heat.
BALTIMORE RAVENS: RAY LEWIS
Lewis, 35, is no longer the Ravens' best player. That distinction could be shared by
Ray Rice
,
Ed Reed
and
Haloti Ngata
. But Lewis' leadership still makes him Baltimore's most indispensable player.
Lewis remains the heart and soul of a team many feel is a Super Bowl contender this year. Physically, the Ravens are stacked with talent at nearly every position. But there's no one in the locker room who can replace Lewis' role as the motivational leader.
On the field, Lewis made his 11th Pro Bowl last season, recording 134 tackles and three sacks. Backups
Dannell Ellerbe
or
Tavares Gooden
would be significant drop-offs if Lewis were injured. On the other hand, the Ravens have plenty of quality replacements ready for Rice, Reed and Ngata. Even
Joe Flacco
has a capable backup in veteran quarterback
Marc Bulger
.
CINCINNATI BENGALS: CEDRIC BENSON
Cincinnati is a team better defined by the sum of its parts. But if I had to pick the most important non-quarterback, it would be Benson.
The Bengals have two very good cornerbacks:
Leon Hall
and
Johnathan Joseph
. They have plenty of receivers, including two who have put up Hall of Fame-caliber numbers in
Chad Ochocinco
and
Terrell Owens
. But Benson is the workhorse who makes it all work. Benson opens things up for the passing game, which was inconsistent last season, and he moves the chains to help keep the defense off the field.
Second-year tailback
Bernard Scott
will help Benson carry the load this year. He showed positive flashes as a rookie, but the former sixth-round pick remains unproven. With Cincinnati expected to pass more, Benson might not match his career-best 1,251 rushing yards from last season. But that doesn't make him any less important.
July, 9, 2010
7/09/10
10:00
AM ET
Cleveland is a city that is no stranger to heartbreak. Whether it's "The Drive," "The Fumble," "The Shot" or being championship-deprived since 1964, northeastern Ohio has suffered misfortune time after time.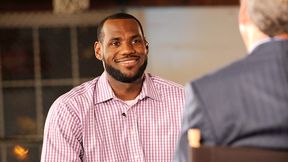 Rich Arden/ESPNLeBron James announced Thursday night that he would not re-sign with the Cavaliers.
But LeBron James leaving
Cleveland Thursday cuts the city
deeper than most. James was a homegrown talent, a prodigy from nearby Akron who was expected to end Cleveland's lengthy title drought.
Things didn't turn out as planned and James bolted to the Miami Heat in a quest to secure his legacy and win multiple championships. With the Cleveland Cavaliers now left to pick up the pieces, can the Browns do their part this year to heal the city's heartbreak?
There isn't much that could help Cleveland get over James' decision. But a surprising playoff run by the Browns in 2010 might do the trick.
Cleveland is a football town first. Only the Browns' struggles since 1999 combined with a once-in-a-generation basketball talent were able to challenge that. But with James now in South Beach, it's official the Browns are the unquestioned biggest game in town once again.
Perhaps James' decision to leave places added pressure on the Browns. But it's also a golden opportunity for Mike Holmgren and Eric Mangini & Co. to unify a struggling city that's experienced another reason not to believe in its sports teams.
Can the Browns pull it off?