NFL Nation:

Miami International Airport
February, 1, 2010
2/01/10
8:06
PM ET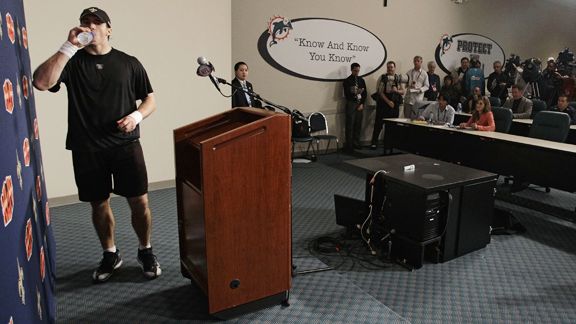 AP Photo/Mark HumphreyOn Monday in the Dolphins' media room, Drew Brees reflected on how he almost signed with Miami in 2006.
DAVIE, Fla. --
Drew Brees
stood under a
Miami Dolphins
logo Monday and talked about playing in the Super Bowl.
Funny, but that's exactly how it was supposed to be just about four years ago. It's funny, but just about everything about Brees and Super Bowl XLIV is soaked in irony several times over.
It was totally by accident that Brees wound up talking in the auditorium at the Dolphins' practice facility Monday evening. The Saints arrived at Miami International Airport near noontime and were supposed to have a practice at the University of Miami.
But heavy rains ruined that and left the league and the Saints scrambling for alternatives. They wound up calling on the Dolphins, who have a practice bubble at their complex.
"That bubble wasn't here when I was here, but everything else brought back memories of that free agency period and 2006,'' Brees said.
Brees almost landed with the Dolphins, instead of the Saints. History might have been altered on many levels when Brees made that decision back in 2006. Had it gone the other way, maybe Nick Saban still would be coaching the Dolphins, maybe the Saints still would have
Aaron Brooks
and a losing record and nothing else going for them.
Truth be told, the Dolphins were very much in the mix for Brees when he was a free agent coming out of San Diego. The Chargers had turned Brees loose because he had surgery on his throwing shoulder and they already had
Philip Rivers
waiting to take over.
There's a story that's been told for years about how Saban called Brees at 12:01 a.m. on the day free agency started. Turns out that's not true.
"He probably called me before that,'' Brees said with a laugh.
Saban's free and clear from a rules violation because he's back coaching in college after a disappointing tenure with the Dolphins.
It's almost laughable now, but the Dolphins and the Saints really were the only teams showing any interest in Brees back then. Brees has talked before about how the Dolphins told him their medical personnel thought there was only a 25-percent chance of his shoulder being healthy enough to play in the NFL again.
He didn't go through that story on Monday and had nothing but nice things to say about the Dolphins, in addition to the Saints.
"I have great respect for both organizations,'' Brees said. "In the end, I felt New Orleans was my calling, not only to play football but to help that whole region rebuild. It goes way beyond football.''

NFL SCOREBOARD
Thursday, 9/4
Sunday, 9/7
Monday, 9/8