NFL Nation:

Michael Bowie
October, 1, 2013
10/01/13
8:00
AM ET
RENTON, Wash. -- When
Seattle Seahawks
coach Pete Carroll was asked Monday how his patchwork offensive line did against the
Houston Texans
, he used the same word a couple of times, which seemed appropriate: Survived.
Carroll was asked how rookie right tackle
Michael Bowie
held up against unstoppable
J.J. Watt
.
"Yeah, he survived the game," Carroll said of Bowie.
And what about
Paul McQuistan
, moving from guard to make his second consecutive start at left tackle
Russell Okung
?
Bowie
McQuistan
"He's surviving," Carroll said of McQuistan.
You can read between the lines. In other words, both men did their best and left the field healthy, but didn't exactly take charge out there.
The truth is, none of the five starters up front did that, including guards
James Carpenter
and
J.R. Sweezy
, or back-up center
Lemuel Jeanpierre
, who started for injured Pro Bowler
Max Unger
. Quarterback
Russell Wilson
was sacked five times and was under constant pressure.
Yet the Seahawks still found a way to come from behind and beat a good team on the road 23-20 in overtime, remaining unbeaten at 4-0.
However, can the Seahawks continue to do that with an offensive line that's struggling and trying to find its way?
"Well they're going to get better," Carroll said of the offensive line. "They're going to improve. It's going to be easier for Mike with the second time out at right tackle. I thought he and Sweezy did better as the game went on. They struggled early and got better in terms of working together. So, hopefully, that will continue to improve."
It needs to because Bowie will continue to start a few weeks longer. Starting right tackle
Breno Giacomini
had arthroscopic knee surgery Monday. Carroll said doctors told him the procedure went well and Giacomini could return soon, but the timetable is uncertain.
All Carroll hopes to see from Bowie is his best effort to get better.
"I don't know that we could ask for any more than that," Carroll said. "He did improve during the game [at Houston], which what's most encouraging. Mike is going to be a good football player. We really don't have any question about that. He's growing quickly. He was comfortable with it and it wasn't too big for him. So I'm hoping that we'll see real steady improvement here in the next couple of weeks until Breno has a chance to come back."
Unger (who missed the Houston game with a triceps injury) could return this weekend at center, but McQuistan is the likely starter at left tackle for at least six more week until Okung is eligible to come off injured reserve.
"It's not his natural spot, but with smarts and utilizing the scheme he's getting through it," Carroll said of McQuistan. "That's all we can hope for him to continue to do for us. It's a big challenge out there. He's getting great players [lining up against him] week in and week out and he's going to work hard to survive it."
Survival is the minimum requirement. Anything more is a bonus.
Bennett OK:
There were a lot of concerned faces among the Seahawks when defensive linemen
Michael Bennett
was face down on the turf before being carted off the field in the first half Sunday. He was taken to a Houston hospital, but Bennett returned to Reliant Stadium late in the second half and was walking on the sideline. He strained a muscle in his lower back.
"Michael is gonna be OK and will practice this week,'' Carroll said Monday about Bennett. "He was feeling pretty good [Monday]. He was really scared when it happened and didn't know what was going on. We will see how much he can work, but hope he can play this week."
September, 27, 2013
9/27/13
12:00
PM ET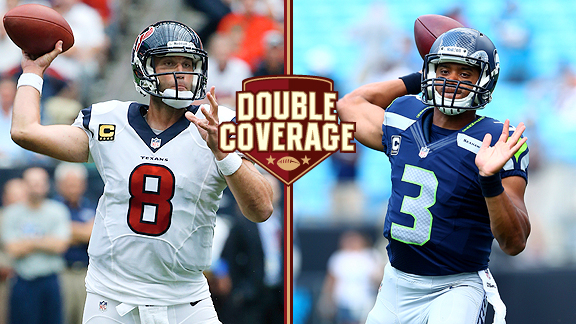 Getty ImagesMatt Schaub and Russell Wilson have combined to throw 12 touchdowns through Week 3.
When they saw each other at the Pro Bowl earlier this year,
Houston Texans
defensive end
J.J. Watt
told
Seattle Seahawks
quarterback
Russell Wilson
that if Watt had just stayed another year at Wisconsin, they might have won a national championship together.
"I wish I knew he was coming," said Watt on Wednesday, who left Wisconsin after his junior year, just as Wilson arrived.
Sunday at Reliant Stadium, they might see a lot of each other. The matchup between the Texans and Seahawks will pit the league's two best defenses against each other. But Wilson won't be easy to contain for a Texans' defense that gave up only 236 yards in last week's loss to the
Baltimore Ravens
. The Seahawks, meanwhile, are coming off such a dominating win over the
Jacksonville Jaguars
that Wilson didn't need to finish the game.
Texans reporter Tania Ganguli and Seahawks reporter Terry Blount take a look at the matchup.
Ganguli:
So Terry, what makes Seahawks cornerback
Richard Sherman
special?
Blount:
Preparation, enormous athleticism and confidence are what makes him special. I know many people outside of Seattle just see Sherman as a arrogant guy with a big mouth. That's a big mistake. Sherman is an extremely hard worker who spends hours studying film of every receiver he faces. Consequently, he rarely gets fooled on a play, and the few times when he does, he has the athletic ability to react quickly, overcome it and get back to the ball.
Tania, how do you think
Andre Johnson
will do against the talented Seattle secondary, and especially a head-to-head matchup with Sherman?
Ganguli:
The Texans are considering Johnson day-to-day right now. He didn't look right when he tried to play Sunday after suffering a shin bruise in Baltimore and ultimately recognized that it was better for him to leave and heal than play hindered by the injury. If they don't have him, the Texans will look to rookie receiver
DeAndre Hopkins
, a budding star who has shown talent from the moment he arrived in Houston, but also improved steadily as a rookie.
And speaking of young players, how has quarterback Wilson changed in his second year?
Blount:
Wilson is willing to take a lot more chances on difficult throws now because he understands what his receivers are going to do and where they will be. In the Jacksonville game, he made what appeared to be a dangerous throw in the middle of the end zone when
Sidney Rice
had three defenders near him. But Rice had signaled Wilson to toss it up high and Rice would get it, which he did. Wilson knows the offense now and has complete confidence to make plays at clutch moments, and his teammates believe in him.
Wilson is at his best when he scrambles and improvises, often resulting in big plays downfield. Can the Texans defense contain him?
Ganguli:
The most mobile quarterback they faced so far this season was Titans quarterback
Jake Locker
, who threw two touchdown passes but had a QBR of 44.3 against the Texans. They haven't faced a quarterback who is such an accurate passer while having the ability to use his legs and improvise. Wilson's numbers have been among the best in the league this season. That will be a challenge for a defense that wants to be the best in the league.
You wrote that the loss of left tackle
Russell Okung
didn't hurt much against the Jaguars, but how do you see it impacting the Seahawks going forward?
Blount:
Tania, this has to be Seattle's biggest concern entering the Texans game. The Seahawks may be the deepest team in the league, but the offensive line, and particular the tackle spots, is a thin area. They are no match for
J.J. Watt
.
Paul McQuistan
moved from guard to left tackle to replace Okung, but the team is weaker without Okung on the field. Right tackle
Breno Giacomini
probably won't play because of a knee injury. That means rookie
Michael Bowie
, a seventh-round draft choice, will have to go head-to-head with Watt. Bailey is talented, but he has a lot to learn. Throwing him out there this week against Watt is truly scary for the Seahawks.
I know the Seahawks have major concerns about trying to stop Watt and keeping him off Wilson. Do you see Watt having a big game Sunday?
Ganguli:
Watt has a keen ability to exploit weaknesses in inexperienced players. And if he doesn't know it right from the start, he figures it out eventually. He's a player with work ethic to match his talent, which isn't always the case with athletes of his caliber. Watt has been the third most effective player at disrupting opponents' passes since he entered the NFL. He ranks behind San Francisco's
Aldon Smith
and Minnesota's
Jared Allen
. Watt has played very well this season and he's determined to have a better year than he did last year when he led the league with 20.5 sacks and 16 batted passes.
The Seahawks secondary gets the most attention, but how has their defensive front played and what are their strengths and weaknesses?
Blount:
This was an area of needed improvement at the end of last season, so the staff made a major effort to bring in veterans who could help with the pass rush. It worked. Defensive linemen
Michael Bennett
, a free agent Seattle signed after he spent four years in Tampa Bay, has been a force up front.
Cliff Avril
, the biggest offseason acquisition, was hurt all preseason, but is back now and just starting to contribute. Defensive end
Chris Clemons
, the team's top pass-rusher last season, returned last week after offseason ACL surgery. And
O'Brien Schofield
, who was released at Arizona, has been strong at linebacker and defensive end. This is a much stronger, deeper and quicker group than it was a year ago, and it still doesn't have
Bruce Irvin
. He returns next week after a four-game suspension for PEDs.
Tania, these teams have two of the best running backs in the NFL in
Arian Foster
in Houston and
Marshawn Lynch
at Seattle. Which running back do you think will have the upper hand on Sunday?
Ganguli:
The running back situation has been interesting in Houston this season. The Texans eased Foster into the season after he missed the entire preseason and in the meantime backup
Ben Tate
has played very well. Tate is in a contract year and if he keeps up the way he's started, he'll be making some money after the season. His yards per carry have been strong and even better have been his yards after contact, 4.5 yards, the best in the NFL. If we're talking fantasy numbers, Lynch will definitely have the upper hand on Sunday. Foster will be sharing his load with Tate.
Last question from me: What is one name Texans fans might not know that they will after Sunday's game?
Blount:
Great question. I'll pick a couple. First might be middle linebacker
Bobby Wagner
, a second-year player who is growing into one of the best linebackers in the league. Another is slot receiver
Doug Baldwin
, an exceptional possession-type receiver who has a knack for making the big catch on third down.
And finally, everyone talks about how the Seahawks have the best home-field advantage in the NFL, but I'm a Houston native who has seen some pretty rabid fans down there, as well. How much of a factor can the crowd be Sunday at Reliant Stadium?
Ganguli:
They are a rabid bunch and have the added benefit of a perpetually closed roof that keeps their rabidity trapped like a greenhouse gas. They've been frustrated recently, but if their team plays well on Sunday, it will be loud.
.
September, 26, 2013
9/26/13
7:45
PM ET
RENTON, Wash. -- When
Seattle Seahawks
quarterback
Russell Wilson
started his weekly interview session with reporters, the first thing he wanted to talk about was his new wallet.
It was a homemade, Seahawks-themed billfold, given to Wilson by an 11-year-old girl named Allison, who is having heart-transplant surgery. She gave it to Wilson during his weekly visit to Seattle Children's Hospital.
[+] Enlarge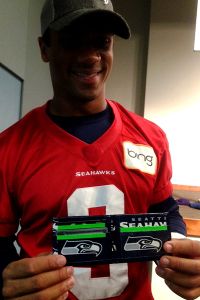 Terry BlountRussell Wilson was excited to show off a Seahawks wallet made for him by an 11-year-old girl who is having heart-transplant surgery.
"It's one of a kind," Wilson said, holding up the wallet. "The coolest part about it is it's all made out of duct tape."
Which led the first question of the day: "Russell, are you worried your offensive line will be held together by duct tape on Sunday against the
Houston Texans
and standout defensive lineman
J.J. Watt
?"
"I think we'll do a great job," Wilson said. "They're obviously a very talented defense, and it all starts with J.J. and his ability to get to the quarterback and makes plays. We're going to have to play our best football and step up to the challenge on the road."
The Seahawks may start the game with backups at both tackle spots.
Paul McQuistan
will start at left tackle for
Russell Okung
(on injured reserve with a torn ligament in his big toe), and rookie
Michael Bowie
is preparing to start at right tackle for
Breno Giacomini
, who has a knee injury and has not practiced this week.
"I'm ready to go," Bowie said Thursday. "I live for moments like this. I'm anxious. It's a big test for me and it will allow me to see where I'm at. If I play pretty good, it will help my confidence and I'll know I can only get better from there. I'm starting to learn the offense more and it's allowing me to move faster."
Bowie is a seventh-round draft choice who has played in one half of one game, last week against Jacksonville. So trying to go head-to-head with Watt, the 2012 NFL defensive player of the year, is a lot to ask.
Starting center
Max Unger
was limited at practice Thursday with a arm injury, but he is expected to play Sunday.
No one has to tell Wilson about Watt's talent. Watt left the University of Wisconsin the season before Wilson arrived.
"People love J.J. at Wisconsin," Wilson said. "I remember at the Pro Bowl last year, J.J. and I were talking at dinner. He said, 'Man, if I had stayed for my senior year we probably would have won the national championship.'"
But only one of them can come out a winner Sunday in Houston.
"It's hard to stop a guy like that," Wilson said. "The thing is, can we slow him down and make the plays when we need to? It's about staying calm when the game is on the line."
The Texans are an aggressive, all-out defense, which is the way defensive coordinator Wade Phillips likes it. The Texans blitz 80 percent of the time.
"I love playing for Wade,'' Watt said Wednesday. "Wade is a great coach. Obviously, he's been around the game for an extremely long time. He knows what he's talking about. He trusts his players and he gives us opportunities to have success. He lets us go out there, fly around and have fun, and that's what it's all about."
Wilson hopes the Seahawks can keep Watt and the Texans' defense from having too much fun.
[+] Enlarge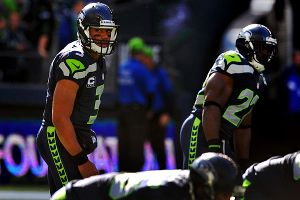 Steve Dykes/Getty ImagesWith the Seahawks perhaps starting two backups on the offensive line Sunday, Russell Wilson will have to keep an eye out for J.J. Watt.
"The biggest thing is getting the ball out quick," Wilson said. "It's being smart with the football and protecting, making sure the communication calls are right. It's not always going to be perfect, but you have to take advantage of the times when you can step up and make a play.
"I'm always trying to get it to our true playmakers. When there's a chance to make game-altering plays, we have to capitalize on those moments."
Wilson has completed passes to 10 players in the first three games. Six of those players have averaged more than 15 yards per catch. He said Seahawks offensive coordinator Darrell Bevell helps him find mismatches.
"And I'm not the type of guy to just throw it to one guy all the time," Wilson said. "I believe you have to spread the ball around and get the ball to the right guy [at] the right time. We have so many talented receivers."
But some of those receivers may need to help block this week more than usual.
"We have three tight ends that can really block," Wilson said. "And [running back]
Marshawn Lynch
has the ability to move his feet and be so physical. Obviously, he can run the football, but you can't underestimate his ability to block as well."
Wilson is doing everything he can to learn where they can get an advantage on the Texans' defense, despite having some concerns on the offensive line.
Wilson was asked if he planned to watch NFC West battle Thursday night between San Francisco and St. Louis.
"I probably won't watch it at all," Wilson said. "I'll be watching Houston [on video tape] and their blitzes and trying to figure out what they're doing."
Injury update:
Defensive tackle
Red Bryant
(back spasms) was a full participant in practice Thursday, as was wide receiver
Jermaine Kearse
(sprained ankle). Rookie defensive tackle
Jordan Hill
was a limited participant. Fullback
Spencer Ware
(ankle) and safety
Jeron Johnson
(hamstring) did not practice, along with Giacomini.
September, 25, 2013
9/25/13
7:36
PM ET
RENTON, Wash. -- The
Seattle Seahawks
may be without both starting offensive tackles this weekend, a scary thought going against star defensive linemen
J.J. Watt
and the
Houston Texans'
defense.
Right tackle
Breno Giacomini
did not practice Wednesday because of a knee problem. His status for Sunday's game at Houston is unknown.
"His knee is sore," Seahawks coach Pete Carroll said Wednesday of Giacomini. "We have some more information to get to see where he is. He got nicked a little bit in the [Jacksonville] game."
Pro Bowl left tackle
Russell Okung
is out for at least eight weeks with a torn ligament in a big toe.
Paul McQuistan
moved from guard to Okung's tackle spot.
[+] Enlarge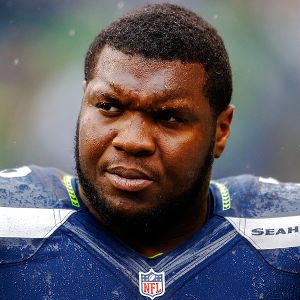 Otto Greule Jr/Getty ImagesRookie tackle Alvin Bailey saw action in Week 3, and could see even more this Sunday for Seattle.
If Giacomini doesn't play, the Seahawks probably will start a rookie at right tackle -- either
Michael Bowie
or
Alvin Bailey
. Bowie (6-foot-4, 330 and a seventh-round draft choice from Northeastern State in Oklahoma) likely would be the starter.
Both Bowie and Bailey (6-foot-3, 320 and undrafted out of Arkansas) played extensively in the second half last weekend after the Seahawks built a big lead against Jacksonville.
"They've made great progress," Carroll said of his rookie tackles. "I went back [Tuesday] night and watched the [Jacksonville] game over again just to watch those guys and see how they're doing. They came off the ball really well and did fine in pass protection. They did a very nice job and they're coming along quickly."
Seahawks offensive line coach Tom Cable also was pleased with what he saw from his young tackles in the Jacksonville game.
"I saw some really cool stuff," Cable said. "I'm really excited about their future. I thought both those kids went in there and knocked people off the ball.
"It was a huge moment of growth for them to know they're OK and can handle an NFL game. It's like gold. If they have to do it, they'll be comfortable to do what they're capable of doing."
But can either handle Watt?
"We don't really focus on him," Cable said. "We focus on doing things right."
The backup tackles will need to do a lot of things right to stop Watt and the attacking Houston defense, which ranks No. 2 in the NFL behind the Seahawks.
"They will pressure us more than any team we play this season," Carroll said of the Texans defense.
Carroll also was asked how he felt McQuistan was doing in Okung's spot.
"Paul survived the first game [when Okung got hurt against the
San Francisco 49ers
] and played better in the second game," Carroll said. "He was sharper on stuff and the communication was better. But that's a big jump for Paul. He has played tackle in his history, but to play up to Russell Okung's level is a lot to ask. He's performed well so far."
Seattle made a roster move Wednesday to add veteran offensive linemen in
Jason Spitz
, who was released by Jacksonville in August. Spitz, (6-foot-3, 300) played five seasons at Green Bay before spending the past two years with the Jaguars, but he was on injured reserve all last season.
Even if Seattle had both its starting tackles, it would be a big task to stop Watt, the NFL defensive player of the year last season with 20.5 sacks.
"He's a fantastic talent," Carroll said of Watt. "I don't think anybody knew he would be this dominant, and I've heard Houston say they didn't know that either. But he's an extraordinary player. He's faster than more guys his size, running a 4.6. That's one thing that separates him. And the guys Houston has around him makes him even better."
One of those guys is inside linebacker
Brian Cushing
, a player Carroll knows well. Cushing played for Carroll at USC.
"Cush was an outside guy for us," Carroll said. "He's one of the best guys we ever recruited as far as all-around ability. He's a great, great player. It's not a surprise to me that he ended up playing inside. He's so instinctive and aggressive and wants to come at you. He lines up right behind Watt, so he's a big issue for us, also."
Injury updates:
Defensive tackle
Red Bryant
(back spasms) did not practice Wednesday, but Carroll expects him back on the field Thursday.
Wide receiver
Jermaine Kearse
(sprained ankle) did not practice, but Carroll is hopeful he can play at Houston.
"He's going to try to go tomorrow," Carroll said of Kearse. "He's making a very quick recovery. We have our fingers crossed that he has a chance to play."
Carroll said rookie fullback
Spencer Ware
is still out with a high-ankle sprain.
Outside linebacker
Malcolm Smith
returned to practice after being inactive against Jacksonville with a hamstring issue. Rookie defensive tackle
Jordan Hill
returned to practice on a limited basis.
September, 23, 2013
9/23/13
2:00
PM ET
An examination of four hot issues from the
Seattle Seahawks
'
45-17 victory
over the
Jacksonville Jaguars
:
[+] Enlarge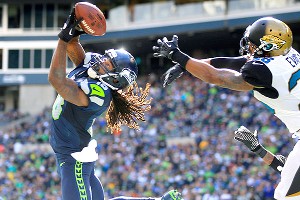 AP Photo/Stephen BrashearSidney Rice pulled in two touchdown passes in a 45-17 rout of the Jaguars.
A cleaner and better offense:
The Seahawks offense accomplished two big goals Sunday of cutting down on senseless penalties and getting off to a better start, especially in the passing game, than in the first two games. Seattle had only three offensive penalties for 20 yards.
Russell Wilson
threw four touchdown passes, including three in the first half, and
Tarvaris Jackson
also had a touchdown throw.
Was Pro Bowl tackle Russell Okung missed?:
Well, not much when you play a team as weak as the Jaguars, but the real question is whether it will hurt the Seahawks in coming weeks against better opponents. First up are the
Houston Texans
and monster defensive lineman
J.J. Watt
.
Paul McQuistan
had some good moments and some bad moments Sunday in Okung's left tackle spot. "He did alright and hung in there pretty nice," Seahawks coach Pete Carroll said of McQuistan. Carroll was happy rookie tackles
Michael Bowie
and
Alvin Bailey
got to play in the lopsided game. "To have a chance to get them in the game was awesome," Carroll said. "They got significant playing time."
An abundance of riches on the defensive line:
With the return of defensive end
Chris Clemons
, who looked good in pressuring the quarterback on passing downs, the Seahawks have a scary bunch up front. The coaches had a goal in the offseason to shore up the pass rush with free-agent acquisitions, and it worked. Defensive end
Michael Bennett
has been sensational. He had 1.5 sacks Sunday and a tackle for loss.
O'Brien Schofield
has been a solid contributor, starting at linebacker Sunday for injured
Malcolm Smith
. And defensive end
Cliff Avril
is another pass-rush specialist who adds to the attacking defense. Defensive end/linebacker
Bruce Irvin
will add to the depth in two weeks when he returns from suspension.
Staying focused:
The Seahawks pounced on the Jaguars from the outset, not allowing for any type of letdown or lack of effort against a lesser opponent. Seattle led 31-0 before Jacksonville scored. The Jaguars had only 20 yards rushing in the first half and only 44 yards passing. Seahawks running back
Marshawn Lynch
had 55 yards rushing in the first quarter on nine carries. Seattle came out smoking and had the game won by halftime, when they were up 24-0. The final score is misleading because the Seahawks were playing mostly reserves in the second half, and all of Jacksonville points came in garbage time long after the outcome was decided.
September, 16, 2013
9/16/13
9:40
PM ET
RENTON, Wash. –
Seattle Seahawks
coach Pete Carroll said Monday he doesn't think offensive tackle
Russell Okung
can play this weekend because of a toe injury suffered early in the game with the
San Francisco 49ers
on Sunday night.
Okung
"I don't think that's possible," Carroll said. "We'll wait and see. There are some options that we'll deal with to try to figure it out. We need to wait and see. It's a spectrum of options."
Whatever option the Seahawks select, it won't be as good as Okung, a Pro Bowl player and the sixth overall pick in the 2010 draft.
Okung (6-foot-5, 310 pounds) has a torn ligament in his toe, leagues sources told ESPN NFL Insider Adam Schefter on Monday. Carroll would not confirm the specifics of the injury.
"We're still taking in information to know what it's all about," Carroll said. "We're waiting for more info. We don't know yet. If I told you something different I'd be making it all up."
With Okung likely out for Sunday's home game against the
Jacksonville Jaguars
, the Seahawks will have some tough decisions to make at the crucial left-tackle spot.
Paul McQuistan
moved from left guard to Okung's left-tackle spot when Okung left Sunday's game in the first half.
James Carpenter
came in to play left guard. But the Seahawks coaches might opt to play one of their two rookie offensive tackles --
Alvin Bailey
or
Michael Bowie
-- against Jacksonville and leave McQuistan at guard to split time with Carpenter.
Both Bailey and Bowie were on the inactive list against the 49ers. Bowie (6-foot-4, 330) was a seventh-round draft choice out of Northeastern State in Oklahoma. Bowie suffered a shoulder injury in the final preseason game against Oakland, but was back practicing full speed last week.
Bailey (6-foot-3, 320) was an undrafted free agent out of Arkansas. He is listed as Okung's backup on the Seahawks' depth chart, which is unofficial.
Another option for Seattle could be to bring back free agent
Mike Person
, who was released last week. Person (6-foot-4, 300 from Montana State) is a tackle who was working as the team's third tight end before the Seahawks signed veteran tight end
Kellen Davis
last week.
Seattle is one of the deepest teams in the NFL, but the offensive-tackle spot is a thin area on the depth chart.
Okung struggled with ankle problems his rookie year, missing the first three games of the season before starting 10 games.
He missed four games in 2011 with a torn pectoral muscle, but he started 15 regular-season games last year and both playoff games, along with being voted to the Pro Bowl for the first time.
Carroll said the only other injury from Sunday's game was rookie running back
Spencer Ware
, who suffered a sprained ankle at the end of the game.
"It's a significant sprain," Carroll said.
September, 4, 2013
9/04/13
5:00
AM ET
The
Seattle Seahawks
had 11 draft picks in 2013, but only one of them is likely to get much playing time in the season opener at Carolina.
Back-up tight end
Luke Willson
, a fifth-round selection from Rice, will be on the field in Seattle's two-tight sets and probably have a few passes thrown his way after his impressive showing in the preseason.

But other than Willson, don't look for much action from the other draft picks. That's a big difference from a year ago.
As a rookie,
Russell Wilson
started every game at quarterback. Middle linebacker
Bobby Wagner
started 15 of 16 regular season games at middle linebacker.
J.R. Sweezy
started the season opener at guard.
First-round pick
Bruce Irvin
played in every game at defensive end and led all NFL rookies with eight sacks. Running back
Robert Turbin
played in all 16 games as the backup to
Marshawn Lynch
.
The verdict is out on the 2013 draft choices, but it's clear they won't contribute as much as some of the 2012 picks did at the start of the season.
Three seventh-round picks in 2013 -- offensive linemen
Ryan Seymour
and
Jared Smith
, along with linebacker
Ty Powell
, were placed on the practice squad.
Here's a rundown on the other seven 2013 draft choices:
However, the Seahawks are likely to receive meaningful contributions this weekend from two undrafted rookies.
Benson Mayowa
, a defensive end from Idaho, is expected to see significant playing time Sunday after an impressive preseason when he had 3.5 sacks. And
John Lotulelei
, an outside linebacker from UNLV, probably will see some action backing up
K.J. Wright
.
September, 3, 2013
9/03/13
10:30
AM ET
Eighty-six of the first 88 players drafted in 2013 remain on 53-man rosters entering Week 1. The two exceptions play for NFC West teams.
The
Arizona Cardinals
'
Jonathan Cooper
, chosen seventh overall, suffered a season-ending leg injury during preseason. He is on injured reserve. The
San Francisco 49ers
'
Tank Carradine
, chosen 40th overall, remains on the reserve/non-football injury list while recovering from a knee injury.
Twenty-five of 39 NFC West choices this year remain on their original teams' 53-man rosters. That includes all seven picks for the
St. Louis Rams
and seven of nine for the Cardinals. The 49ers and
Seattle Seahawks
had a higher number of picks arranged lower within each round, and fewer open roster spots to accommodate them.
Injuries have left six picks from the division on various injured lists. Three of the Seahawks' top five picks will not help the team anytime soon. That includes Harper, defensive tackle
Jesse Williams
(injured reserve) and cornerback
Tharold Simon
(reserve/physically unable to perform).
Percy Harvin
, who cost Seattle its 2013 first-round choice, is also injured.
Five 2013 draft choices from the division landed on their original teams' practice squads. One of them, fourth-round choice Chris Harper, subsequently left his original team (Seattle Seahawks) to sign with the 49ers' 53-man roster.
Three picks from the St. Louis Rams and one from the 49ers are scheduled to start in Week 1. Cooper would have started for the Cardinals if healthy.
Harper wasn't the only NFC West draft choice to land on another team. The 49ers'
Marcus Cooper
, a seventh-round choice, wound up with Kansas City after the Chiefs claimed him off waivers.
August, 20, 2013
8/20/13
7:21
PM ET
RENTON, Wash. — Seattle guard
John Moffitt
was traded, then not traded, then traded again, all within 24 hours.
Moffitt was dealt to the
Cleveland Browns
on Monday afternoon for defensive lineman
Brian Sanford
, but Cleveland voided the deal Tuesday afternoon, reportedly due to health concerns over a previous Moffitt knee injury.
Moffitt has been on the field throughout training camp, played in both of Seattle's preseason games and said he was in better shape than any time in his career.
Less than 30 minutes after news broke of the trade being nixed, the Seahawks had traded Moffitt to Denver for Broncos defensive tackle
Sealver Siliga
.
[+] Enlarge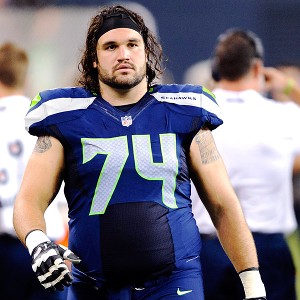 Steven Bisig/USA TODAY SportsAfter his trade to Cleveland was voided over a health issue, Seattle sent guard John Moffitt to Denver for defensive tackle Sealver Siliga.
Maybe both teams liked what they saw from those players in the Seahawks' 40-10 victory over Denver on Saturday night in Seattle.
Siliga, 6-foot-2 and 325 pounds, is in his second season out of Utah. He had two assisted tackles against the Seahawks.
Moffitt still will need to pass a physical with the Broncos, but assuming that gets done with no problems, Seattle's decision to trade Moffitt clears up some things:
1. Starting battles for the offensive line are over.
The only real contest up front was between
J.R. Sweezy
and Moffitt, but obviously Sweezy won out. The other OL starters are set:
Russell Okung
at left tackle,
Paul McQuistan
at left guard,
Max Unger
at center and
Breno Giacomini
at right tackle.
Moffitt has more experience than Sweezy and might be a better player from a technique standpoint, but Sweezy has a toughness to him and a hard edge that offensive line coach Tom Cable loves, which is why he wanted to see what he could do when the team moved Sweezy to offense last season.
Sweezy was a seventh-round draft choice last year as a defensive tackle from North Carolina State. He was moved to the offensive line, partially because of an arm injury to Moffitt in training camp last season. Sweezy struggled early on, but improved as the season progressed.
Moffitt hoped to win the starting job at training camp this year, but it didn't happen.
The only thing that could change the starting lineup on the O-line (other than an injury) is having
James Carpenter
back on the field and healthy. Carpenter was a first-round pick out of Alabama in 2011, but injuries have plagued his time in the NFL.
A foot injury has sidelined him so far in the preseason. If Carpenter is healthy and gets some time on the field soon, he could eventually return to a starting spot at guard, but that's a big if at this point.
2. As they've shown in the past, the Seahawks aren't afraid to move an early-round draft choice
if they feel other players, not as highly touted, are doing better jobs.
Moffitt was a third-round pick out of Wisconsin in 2010. He played well his rookie season and was viewed as a possible anchor at guard for the long term, but injuries slowed his progress.
He became expendable because the Seahawks are pleased with what they've seen from rookies
Ryan Seymour
(a seventh-round pick out of Vanderbilt),
Michael Bowie
(a seventh-round pick from Northeastern State in Oklahoma) and
Alvin Bailey
(a free agent from Arkansas).
Seymour now is listed as the backup to Sweezy. Bowie and Bailey are listed at tackle, but they also can play the guard spots.