NFL Nation:

Michael Buchanan
November, 7, 2013
11/07/13
12:00
PM ET
The
New England Patriots
have received significant contributions from their rookie class this season. In Bill Belichick's 14 years as head coach, this season ranks near the top of the list, if not at the top, in this area.
Following up Field Yates'
progress report
on second-year players from this morning, here is a rookie breakdown (alphabetical order):
Allen
Punter Ryan Allen:
The undrafted free agent ranks 10th in the NFL with a 46.4 average and 16th in net punting (39.9) as he's proven to be up to the task of replacing veteran
Zoltan Mesko
. He's also the holder on field goals, and
Stephen Gostkowski
is 22 of 23 this season. Allen's eight touchbacks are tied for the NFL high, which is an area for improvement.
Guard Chris Barker:
Claimed on waivers from the Dolphins at the final roster cutdown, the undrafted free agent from Nevada dressed for the first three games of the season as veteran backup
Will Svitek
was working his way back from a knee injury, but hasn't played on offense. This looks like a red-shirt year for him as the Patriots have avoided the risk of another team claiming him on waivers (Dolphins?) should they try to move him to the practice squad.
Linebacker Steve Beauharnais:
The seventh-round draft choice from Rutgers has dressed for three games, but hasn't played on defense. This appears to be more of a red-shirt year for him.
Receiver Josh Boyce:
The fourth-round draft choice from Texas Christian played in the first five games (1 catch, 24 yards) but has been inactive for the past four as veteran
Austin Collie
was viewed as a more consistent option. Boyce is one of the fastest receivers on the team, but appears to need a little more time to put it all together.
Defensive end Michael Buchanan:
The seventh-round pick from Illinois opened the season as the primary right defensive end in sub packages, but a few struggles with rush-lane integrity (Oct. 6 vs. Bengals and Oct. 20 vs. Jets) led to the signing of veteran
Andre Carter
, who has since taken over that role. Buchanan contributes on special teams and is now No. 4 on the overall defensive end depth chart, with obvious upside.
Linebacker Jamie Collins:
The second-round pick from Southern Mississippi has been a core special teams player and was integrated a bit more defensively after linebacker
Jerod Mayo
was lost to a season-ending injury Oct. 13. But after flashing a bit Oct. 20 vs. the Jets, he was pushed around in the first half against the Dolphins on Oct. 27 and has played sparingly on defense since. He has all the tools, but appears to need a bit more time.
Dobson
Receiver Aaron Dobson:
The second-round pick from Marshall has come on strong in recent weeks, elevating to the top spot on the depth chart as the X outside target. He has 31 receptions for 454 yards with four touchdowns, and at 6-foot-3 and 200 pounds gives the Patriots a combination of size and speed that they haven't had at the position since Randy Moss.
Safety Duron Harmon:
Considered a reach as a third-round pick, the Rutgers product has been a top backup behind starters
Devin McCourty
and
Steve Gregory
, playing in some sub packages. He also filled in on special teams when core player
Tavon Wilson
was out with a hamstring injury. Teammates have talked about his smarts and his professional approach.
Defensive tackle Chris Jones:
Claimed on waivers from the Buccaneers on Sept. 11, he earns our vote for Patriots "rookie of the first half" with five sacks in six games played. At 6-foot-1 and 309 pounds, his quickness has been an asset as an interior rusher, and he's been competitive from a strength/physical standpoint on run plays. Waived by the Texans, who drafted him in the sixth round, he briefly landed in Tampa before the Buccaneers let him go and the Patriots pounced. He has proven to be a steal.
Ryan
Cornerback Logan Ryan:
The third-round pick from Rutgers has made some big plays, such as an interception return for a touchdown against the Jets on Oct. 20, as he's been thrust into a top reserve role in recent weeks with
Aqib Talib
out. At 5-foot-11 and 195 pounds, he has mostly been competitive in coverage and shown a willingness to play the run.
Receiver Kenbrell Thompkins:
The undrafted free agent from Cincinnati has slid down the depth chart the past two weeks after serving mostly as the primary X option on the outside (23 catches, 334 yards, 4 TDs) through the first seven games. He made the big game-winning catch against the Saints on Oct. 13, but has since been passed on the depth chart by Dobson.
Defensive tackle Joe Vellano:
The undrafted free agent from Maryland is one of the surprises of the season. After opening the season as the No. 3 option behind
Vince Wilfork
and
Tommy Kelly
, he has been thrust into a starting role as both veterans have been lost to season-ending injuries. At 6-foot-2 and 300 pounds, he might be viewed as undersized by some, but he wins with technique and scrappiness.
September, 13, 2013
9/13/13
2:56
AM ET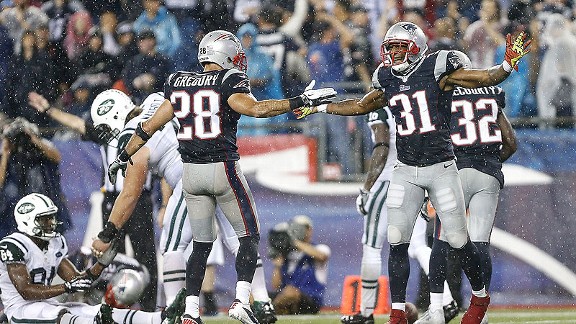 Jim Rogash/Getty Images Aqib Talib, right, collected two of the Patriots' four turnovers against the Jets.
FOXBOROUGH, Mass. – The tables have officially turned for the
New England Patriots
.
The team known for its lethal passing offense, which in a record-breaking season six years ago was accused by some of running up the score, could hardly generate any positive momentum Thursday night. It was about as ugly as we've seen since
Tom Brady
became the team's starting quarterback in 2001.
So the Patriots needed the defense to save the day, and the unit delivered in a rain-soaked
13-10 victory
over the
New York Jets
. That hasn't happened too often around these parts.
"We know that this year, whatever situation we're in, it might have to be the defense that's going to have to win the game for us," defensive end
Rob Ninkovich
said. "We welcome that. A 13-10 win sounds good to me."
It might not sound good to Patriots fans who crave another Super Bowl championship and are wondering what happened to a once-unstoppable offense led by a once-in-a-lifetime quarterback. That's the big issue facing the team at the moment, and there's no overlooking it.
Just don't tell that to Patriots defenders who left Gillette Stadium late Thursday night feeling especially good about themselves after producing four turnovers -– the 29th consecutive game in which they've forced at least one -- while coming up with a final stop late in the fourth quarter to preserve the result.
"Over the years our offense has bailed us out so many times. It's good to get a win like this," said linebacker
Jerod Mayo
, one of the team's captains.
"I think we're building toward something that can be pretty good for us," added defensive tackle
Vince Wilfork
, another captain. "It will be good for the defense to take the field and guys have the confidence around us, on the other side of the ball and special teams, knowing that we're going to close out games. There's a lot of confidence being built right now."
It has obviously helped that they've gone against rookie quarterbacks
EJ Manuel
and
Geno Smith
, who have been generous at crucial points in the first two games. The Patriots haven't been doing too much out of the norm schematically, playing either a base 4-3 or 4-2-5 nickel, with a big focus in the opening weeks on keeping both athletic signal-callers in the pocket.
After failing to produce a sack in the opener against the Bills, New England rung up four on Thursday night, two by defensive end
Chandler Jones
and one apiece from rookie
Michael Buchanan
and
Tommy Kelly
. Meanwhile, the secondary was at its ball-hawking best, with cornerback
Aqib Talib
notching two interceptions and forcing a fumble, while cornerback
Alfonzo Dennard
added a pick.
As it turned out, Smith completed three passes to the Jets in the fourth quarter, and three to the Patriots.
"The defense stepped it up and did what we had to do to win the game. That's the way it has to be sometimes," said Ninkovich, the Bill Belichick-declared "Jet Killer" who had six tackles and a forced fumble Thursday.
It just hasn't been that way in New England very often. And a lingering question is how long the Patriots might be able to sustain if things continue down this path.
As Brady talked about wanting "to do a better job on offense and carry our end," defenders were happy to pick up the slack.
"We have guys banged up, we have some young guys over there, and we know it's going to take time for them to learn and develop," safety
Devin McCourty
said. "That's how a team works. There will be nights, maybe next game, where we don't play as well and we'll need them to step up and they'll do that. We just need to keep playing off each other.
"We have all faith in our offense. Right now, it will probably be a huge deal and everyone will want to talk about it," he continued. "[But] we have no concerns with those guys. We know they're working hard, we're all getting better as a team, and it will work out."
Wilfork echoed those thoughts.
"Tom's been around the game for a while, so he knows how to handle the situation that he's in. Those guys work their tails off, so it's not a lack of effort," he said. "It's just getting the confidence and being able to make those plays, and once those guys start developing and getting more experience, I think you'll start seeing a different ball club."
Until they get there -- assuming they actually do -- they'll need the defense to keep them in games. The tables have indeed been turned.
August, 31, 2013
8/31/13
3:07
PM ET
Sharing non-
Tim Tebow
-based thoughts on some of the Patriots' roster moves today:
1a. The change at punter, with
Zoltan Mesko
out and rookie
Ryan Allen
in, has many layers. Both showed this preseason that they are deserving of punting in the NFL this season and that's why I took the unconventional approach of keeping both on a
final 53-man roster projection
(the idea being that maybe it would have been easier to slide Allen to the practice squad after a few weeks). Allen's upside is obvious; his leg is a bit stronger than Mesko's. But Mesko's control and directional punting seemed a notch above over the course of training camp and the preseason. However, Allen's three second-half punts on Thursday might have been the clincher, which showed his potential when it comes to control and directional punting.
Mesko
Allen
1b. Economics shouldn't have been the primary reason for the decision to go with Allen over Mesko, but it has to be a consideration. Mesko was due to earn $1.3 million in the final year of his contract. Allen has a three-year contract and is due to earn $405,000 this season.
1c. There is a trickle-down effect when it comes to the field-goal operation, as Mesko has served as the primary holder for kicker
Stephen Gostkowski
. Allen didn't hold at Louisiana Tech, but he's worked on the skill since joining the Patriots. Allen will likely become the primary holder, although backup quarterback
Ryan Mallett
could also be a consideration for the role.
1d. In 2005, the Patriots released rookie kicker
Robbie Gould
after an impressive camp and later regretted it when
Adam Vinatieri
departed in free agency the following year. I wondered how much that experience might have played a factor in this decision.
1e. Mesko goes down as one of the players who was most fun to cover. He also seemed most genuine and his farewell message to fans was most classy. One of my favorite personal memories of Mesko was how he was brought to tears after receiving the team's community service award in 2012. It meant so much to him and the emotions took over.
2. The biggest surprise has come among the reserves at defensive end, with
Justin Francis
,
Marcus Benard
and
Jermaine Cunningham
all being cut. They projected to the 3-4-5 spots on the depth chart. Health was likely a factor with Francis and Cunningham, as they have been sidelined. There is always the possibility for them to return if not picked up elsewhere, but an initial thought is that 2013 seventh-round pick
Michael Buchanan
(
previous film breakdown
) has impressed to the point that the coaching staff felt comfortable letting go of more experienced depth at the position.
Buchanan was impressive on Thursday
.
3. Tight end
Michael Hoomanawanui
was scheduled to earn $1.3 million, but he's agreed to reduce the salary this year with the chance to recoup some of the earnings in incentives, which helped him stick on the roster. Hoomanawanui's smarts, professionalism and dependability made an impression on the coaching staff last season. That he was the last tight end standing among the group of himself,
Jake Ballard
and
Daniel Fells
is a minor surprise.
4. The release of defensive tackle
Marcus Forston
was a mild surprise from this viewpoint. This could mean that rookie defensive tackle
Joe Vellano
is the top backup behind
Vince Wilfork
and
Tommy Kelly
.
Vellano caught the eye early in training camp
, but still didn't think he'd top Forston at this point.
5. Still waiting to hear the fate of presumed bubble players like Vellano, safety
Adrian Wilson
, running back
Leon Washington
, linebacker
Jeff Tarpinian
, cornerback
Marquice Cole
, fullback
James Develin
and linebacker
Steve Beauharnais
.
August, 31, 2013
8/31/13
10:56
AM ET
The Patriots informed defensive end
Jermaine Cunningham
that he will be released, a source confirms.
Cunningham has been hurt for most of the preseason and didn't play in a game. The move is considered a minor surprise, and also reflects some of the ups and downs the team has had in the second round of the draft, as Cunningham was a second-round pick in 2010.
Tight end
Rob Gronkowski
and offensive tackle
Sebastian Vollmer
are two solid second-round picks, but the list of second-rounders that haven't panned out is quite longer, and includes receiver
Chad Jackson
(2006), cornerback
Terrence Wheatley
(2008), safety
Patrick Chung
(2009), defensive tackle
Ron Brace
(2009), cornerback
Darius Butler
(2009), Cunningham and cornerback
Ras-I Dowling
(2011).
The jury is still out on safety
Tavon Wilson
(2012).
At defensive end, the Patriots currently have
Chandler Jones
,
Rob Ninkovich
,
Justin Francis
,
Michael Buchanan
and
Jake Bequette
.
Pro Football Talk first reported the news on Cunningham.
August, 30, 2013
8/30/13
2:25
PM ET
The Patriots have informed defensive end
Marcus Benard
that he has been released, a source confirms.

This is a mild surprise as Benard had been playing a top backup role, while also coming onto the field in sub situations as an interior rusher.
The five-year veteran had a career-high 7.5 sacks in 2010 with the Browns before injuries derailed him the past two years. After signing with the Patriots on Jan. 24 this year, he flashed some pass-rush explosion in training camp as he seemed to be making the most of his fresh start.
With starting ends
Chandler Jones
and
Rob Ninkovich
entrenched atop the depth chart, Benard had been competing for a reserve role against the likes of Jermaine Cunningham,
Justin Francis
,
Jake Bequette
and
Michael Buchanan
. In recent weeks, Cunningham and Francis were both sidelined with injury, so the 6-foot-2, 260-pound Benard seemed like he might have had some security.
But as we've learned on an annual basis with Bill Belichick, the Patriots often have their fair share of surprises as cutdown day approaches.
Current defensive end depth chart
Jones
Ninkovich
Francis
Cunningham
Buchanan
Bequette

NFL SCOREBOARD
Sunday, 2/2
WEEKLY LEADERS