NFL Nation:

Michael Egnew
February, 28, 2014
Feb 28
9:00
AM ET
The
Miami Dolphins
lack a true fullback on their roster. Would Miami have any interest in former three-time Pro Bowler
Vonta Leach
?
Leach
There are reasons to believe the Dolphins could kick the tires on Leach for a second straight year. The
Baltimore Ravens
cut Leach Thursday in an effort to save salary.
Leach was in a similar situation last year when the Ravens cut him to save cap room. Leach was immediately invited to Miami to visit during the team's minicamp.
He watched practice
and talked to former general manager Jeff Ireland, but Leach never signed with the Dolphins. Instead, he returned to Baltimore.
The Dolphins moved on without a fullback in 2013 in their West Coast offense. Miami tried to convert tight end
Michael Egnew
to fullback and had mixed results. The Dolphins were 26th in rushing and struggled to consistently gain yards on the ground. Miami also set a new franchise record with 58 quarterback sacks allowed.
Miami most likely learned its lesson that a true fullback is needed. However, Leach might be the most expensive option. The Dolphins certainly have the cap room to spend, but they might want to also explore cheaper fullback options in free agency and the draft.
September, 7, 2013
9/07/13
1:30
PM ET
The
Miami Dolphins
will face the
Cleveland Browns
in their regular-season opener on Sunday. Here is a preview of players you may not see based on this week's practices:

QB Pat Devlin, CB Will Davis, CB Jamar Taylor:
All three players are ruled out on Miami's final injury report. They missed every practice this week.
RB Mike Gillislee:
Lamar Miller
and
Daniel Thomas
will get a majority of the carries. Miami needs a fullback (
Tyler Clutts
) on the active roster for certain formations as well. Gillislee could be the odd man out.
TE Michael Egnew:
He brings no value on special teams and is a backup behind
Charles Clay
. Egnew's lack of blocking also puts him behind rookie tight end
Dion Sims
.
OT Will Yeatman:
Miami has nine offensive lineman, and Yeatman could get the short end of the stick on game day.
LB Josh Kaddu:
He's a backup linebacker, and fellow backups
Jason Trusnik
and
Jelani Jenkins
play special teams.
DB Don Jones:
The Dolphins are thin at defensive back, but Jones is on the back end of the depth chart.
August, 31, 2013
8/31/13
9:30
PM ET

Most significant move:
The Dolphins had several tough decisions to make at the bottom of their roster. Perhaps the biggest call was whether to keep three quarterbacks -- and Miami opted Saturday to keep third-stringer
Pat Devlin
. Devlin played nearly all of Miami's fifth preseason game against the
New Orleans Saints
and threw for 259 yards, two touchdowns and two interceptions. Devlin showed some good and some bad, and it was just enough.
Several other bubble players didn't make the team. Wide receiver
Marvin McNutt
and defensive linemen
Kheeston Randall
and
A.J. Francis
were all in the running for the 53-man roster; all three are strong candidates for Miami's practice squad. There's also the chance that any of the players cut will be scooped up by other teams. That probably explains why the Dolphins were the last NFL team to release their list of cuts Saturday night -- there had to be some gamesmanship involved.
Close calls:
Several Dolphins who made the 53-man roster won't be able to rest easy. Cornerback
R.J. Stanford
, defensive back
Don Jones
, tight end
Michael Egnew
and offensive tackle
Will Yeatman
are among several bubble players who still have jobs.
For Egnew and Stanford in particular, injuries during the course of training camp and the preseason helped their case. The Dolphins might not be finished adding players this weekend, however.
What's next:
Like most teams, Miami will examine the waiver wires closely. Miami spent $200 million in free agency this offseason but is far from a perfect team. The Dolphins can use additional depth at positions such as offensive line, tight end and now wide receiver. By cutting McNutt and
Chad Bumphis
, the Dolphins only have four receivers on their roster. That will change soon. Miami runs a lot of three-receiver sets and needs more players at the position.
It's also time for Miami to set its sights on a Week 1 road game against the
Cleveland Browns
. The Dolphins have playoff aspirations this season, but they must win their first road game to set the tone in 2013.
Dolphins cuts:
G
Chris Barker
, C
Sam Brenner
, WR Chad Bumphis, WR
Keenan Davis
, DT
A.J. Francis
, RB
Jonas Gray
, S
Keelan Johnson
, S
Jordan Kovacs
, T
Andrew McDonald
, WR Marvin McNutt, TE
Kyle Miller
, DE
Tristin Okpalaugo
, CB
Julian Posey
, CB
De'Andre Presley
, DT Kheeston Randal
l
, DT
Tracy Robertson
, LB
Lee Robinson
, LB
Austin Spitler
, WR
Brian Tyms
, OT
Jeff Adams
(waived/injured), QB
Aaron Corp
(waived/injured), LB
Antwan Applewhite
(terminated contract).
August, 29, 2013
8/29/13
8:00
AM ET
MIAMI – The
Miami Dolphins
will play their fifth and final preseason game Thursday against the visiting
New Orleans Saints
.


Here are three things to watch for the Dolphins:
1. Players on the bubble:
Miami must make 25 roster cuts by Saturday evening to get down to the 53-man limit. Several key players to watch are defensive tackle
A.J. Francis
, third-string quarterback
Pat Devlin
and receivers
Marvin McNutt
and
Chad Bumphis
. Look for the bottom portion of the roster to get plenty of playing time. Shameless plug alert: I will do my roster projection Friday after the final preseason game.
2. Progression of tight ends:
It was not a strong outing for Miami's tight ends following the season-ending knee injury to starting tight end
Dustin Keller
. The Dolphins got just three catches and 34 yards from the position. New starter
Charles Clay
had just one reception for five yards -- though he was targeted six times by starting quarterback
Ryan Tannehill
. This will be an important game for Miami's tight ends to get reps in preparation for the regular season, even if Tannehill isn't on the field. Let's see what more Clay,
Michael Egnew
,
Kyle Miller
and
Dion Sims
can do.
3. No injuries:
To be blunt, there isn't much for teams to gain in this final preseason game. The most important thing for the Dolphins is to exit without significant injuries. The real games start in about 10 days, when the Dolphins travel to face the
Cleveland Browns
. Miami head coach Joe Philbin has been coy about playing time for his starters. Some may play briefly, while others might not play at all. This is a game for backups and fringe players.
August, 18, 2013
8/18/13
8:53
AM ET

The
Miami Dolphins
suffered
a major loss
with starting tight end
Dustin Keller
out for the year
with a right knee injury. Keller's knee took a gruesome hit Saturday night as he went down on a reception against the
Houston Texans
. His leg hyperextended, and Keller needed to be carted off the field.
With Keller done for the year, let's examine what is next for the Dolphins at tight end.
Dion Sims: Miami's fourth-round pick has been a pleasant surprise in training camp. Sims joined the Dolphins with the reputation as a big, blocking tight end. But Sims has showed more athleticism and catching ability than originally advertised. He is already Miami's best blocking tight end, so he was going to get playing time regardless. The Dolphins may need him more than originally thought.
Charles Clay: The versatile H-back has played both tight end and fullback in Miami's offense. But Clay is not particularly special at either position, especially as a full-time player. The Dolphins have been using Clay as a fullback more this year in training camp and the preseason. But that may have to change. He could revert to playing mostly tight end if needed.
Michael Egnew: The Dolphins have waited more than a year for the light to go on for Egnew, who is a 2012 third-round pick. This is a golden opportunity for him to prove his worth under dire circumstances. Egnew has a lot of natural ability as a pass-catcher. He's big and can run well. However, Egnew's inconsistency and struggles with blocking have kept him off the field. Egnew must continue to work to gain the trust of Miami's coaching staff. He should get plenty of opportunities to show what he can do in the coming weeks.
The Dolphins also could look to free agency, but at this point, it's slim pickings at tight end. Their best chance for now is to develop the players they have in-house and try to get them ready for the regular season.
August, 11, 2013
8/11/13
4:45
PM ET
DAVIE, Fla. -- The
Miami Dolphins
hit the practice field for the first time this week in preparation for Saturday's preseason game against the
Houston Texans
.

Here are some notes and observations from Sunday's session:
Noticeably absent from practice was Dolphins No. 3 overall pick Dion Jordan. He got increased reps in Friday's game against the Jacksonville Jaguars but did not practice once the team went outside. Miami head coach Joe Philbin didn't discuss Jordan absence, which is consistent with his training camp policy. But Jordan has been recovering from shoulder surgery all offseason. This is something to keep an eye on during the week.
Miami's practice focused mostly on individual work and fundamentals. But when the first-team offense lined up inside the bubble, backup Nate Garner was inserted at right guard in place of Josh Samuda. Samuda struggled against Jacksonville. "He's a contender right now," Philbin said of Garner. "He's got a lot of snaps in and we know a lot of about him. ... But our philosophy is we're going to find the five best guys and line them up and get them ready to go. Right now, we're not exactly sure who those five guys are."
Second-round pick Jamar Taylor looks increasingly healthy from hernia surgery and was full-go in practice Sunday. Taylor needs to show what he can do now if he wants to carve out an early role with the team. He's missed most of camp and showed early rust. He was beat easily on a deep ball during one-on-one drills by Miami receiver Andrell Smith.
Dolphins guard Lance Louis is a name you may hear a lot in the next few weeks. He's recovering from an ACL tear and his workload is finally increasing. Louis will start to put his name in the competition for the starting guard spot. But Louis struggled at times and remains a work in progress. "I'm just working hard as much as I can and trying to get back," Louis said. "[The knee] responded pretty good. It's not swelling. It's just me working at it and knowing it's going to get sore and working through it."
Projected starting guard John Jerry is showing progress. He didn't participate in practice but worked on the side with trainers. Jerry's absence has caused a lot of issues on Miami's offensive. If he's progressing enough to return by Week 1 against the Cleveland Browns, that may save the Dolphins some headaches. But Jerry must stay sharp and in shape.
Dolphins offensive coordinator Mike Sherman said he's impressed with his tight ends, both as blockers and pass-catchers. Dustin Keller and Dion Sims both made players in the passing game against Jacksonville. Michael Egnew caught the ball well in the Hall of Fame Game against Dallas. "I think as a group they're pretty solid," Sherman said. "They will keep getting better. [Tight end coach] Dan Campbell does a great job."
After practice, Miami rookie defensive tackle A.J. Francis was doing individual drills as a pass blocker. Francis is a long shot to make the Dolphins as a defensive lineman, which is one of the deepest areas of the team. So the Dolphins could consider a position change to see if Francis can provide depth on the offensive line, which is one of the team's weakest areas.
June, 3, 2013
6/03/13
2:32
PM ET
The 2012 season was a banner year for the top half of the
Miami Dolphins
' rookie class.
First-round pick
Ryan Tannehill
played all 16 games at quarterback, and second-round pick
Jonathan Martin
started at left and right tackle. Defensive end and third-round pick
Olivier Vernon
registered 3.5 sacks off the bench and was a terror on special teams, while fourth-rounder
Lamar Miller
led Miami with 4.9 yards per carry.
[+] Enlarge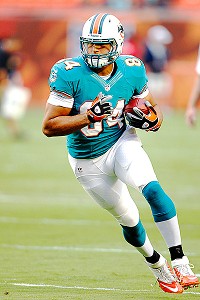 AP Photo/Tom DiPaceSecond-year Miami TE Michael Egnew said he's getting a better feel for the pace of the NFL game.
The only exception was third-round pick
Michael Egnew
. He came to Miami last year with lofty college credentials where he was a prolific tight end at Missouri. Egnew also has good size (6-foot-5) and ran the 40-yard dash in 4.62 seconds at the NFL combine. The measurables are there.
However, Egnew was extremely raw and didn't show much of anything last year in training camp or practices during the season to earn playing time. He was active for only two games last year when
Charles Clay
got injured and didn't catch any passes.
It's early, but Egnew looks like an improved player in Year 2 during organized team activities. Egnew had perhaps his best practice of the offseason on Monday, catching three touchdown passes in seven-on-seven and 11-on-11 drills.
Egnew still has a long way to go. But if he continues his development, Egnew could eventually become an added weapon and a big target for Miami behind starting tight end
Dustin Keller
.
"I've just been getting better every practice," Egnew said Monday. "I like the guys we got this year and we're all getting better. I just went over fundamentals [in the offseason] like everyone else. I wanted to make sure I got stronger, faster and quicker."
Egnew credits some of his early improvement to training in mixed martial arts this offseason. Now, Egnew is working to earn the trust of Miami's coaching staff after a redshirt 2012 season.
On Monday I asked Dolphins head coach Joe Philbin about Egnew's development and making more plays in practice this year.
"I see the same things you do, and it makes me feel more confident about his ability," Philbin responded. "He's starting to understand his role in the offense better, and maybe we know a little more about him, too, so we can put him in a position to make those type of plays. It's been encouraging."
I've learned years ago to never write off a player after his first season. The NFL is a very tough league, and sometimes it takes a two or three years for the light to turn on. Maybe things will eventually turn around for Egnew in Year 2. The Dolphins are certainly seeing some early signs in OTAs.
"You kind of learn how the NFL works," Egnew explained. "You learn the speed of the game. You have to get used to it and have to go real fast."
May, 29, 2013
5/29/13
2:05
PM ET
DAVIE, Fla. -- The new-look
Miami Dolphins
held another practice this week that was open to the media. The AFC East blog was live in attendance to catch all of the action.

Here are some notes and observations from Wednesday's practice:
January, 4, 2013
1/04/13
12:00
PM ET
The
Miami Dolphins
have five draft picks in the first three rounds and more than $40 million of salary-cap room this offseason. If this were a poker game, Miami would hold the most chips at the NFL table.
But the person holding all the cards in Miami often makes Dolphins fans nervous. Embattled general manager Jeff Ireland will be calling the shots for the Dolphins during their most important offseason in recent memory. For better or worse, Ireland's decisions over the next few months will significantly impact Miami's franchise for the next three to five years.
[+] Enlarge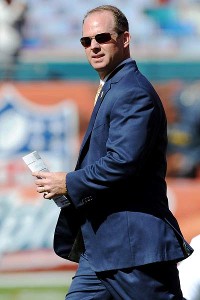 Steve Mitchell/USA Today SportsGeneral manager Jeff Ireland has the resources this offseason to help make Miami a playoff contender in the near future.
Ireland is a polarizing figure in Miami. He is 20-28 since taking over full time for former Dolphins president Bill Parcells in 2010. Ireland's track record the past three years has been inconsistent, and many Miami fans wanted him out before the start of the 2012 season.
Ireland's free-agent signings have been littered with misses. Last year alone, quarterback
David Garrard
, cornerback
Richard Marshall
and receiver
Chad Johnson
were all free-agent busts. Ireland also has been hit-and-miss in the draft. Some of his good picks include rookie quarterback
Ryan Tannehill
and center
Mike Pouncey
. But Ireland's misses also include tailback
Daniel Thomas
, receiver
Clyde Gates
and rookie tight end
Michael Egnew
. The
Koa Misi
pick over
New England Patriots
tight end
Rob Gronkowski
in 2010 also is hard to forget. That poor decision by Ireland only furthered the gap between Miami and its biggest rival.
So is Ireland the right person to manage more than $40 million and 10 total draft picks? His track record proves the Dolphins are taking a risk.
This is a make-or-break year for Ireland, who still has a lot to prove as Miami's general manager. The good news is Ireland is coming off his best draft in Miami. His 2012 picks included Tannehill, starting offensive tackle
Jonathan Martin
and contributing reserves
Olivier Vernon
and
Lamar Miller
. This group helped lead Miami to a respectable 7-9 record and provided optimism for the future.
"I was impressed with Ireland this past offseason and they are loaded with picks going forward," said Matt Williamson of Scouts Inc. "I would target 2014 to be highly competitive for Miami. It's very achievable."
Of course, all of that is contingent on Ireland making the right calls in 2013.
Ireland's first order of business is taking care of his
in-house free agents
. The Dolphins have plenty of cap room because many key players are coming off the books. Starters like left tackle
Jake Long
, leading rusher
Reggie Bush
, leading receiver
Brian Hartline
, No. 1 corner
Sean Smith
and defensive tackle
Randy Starks
will look to cash in this offseason. These are all tough calls. Miami cannot pay all of them.
It will be up to Ireland, with some input from rookie head coach Joe Philbin, to determine who stays and who goes. Ireland must walk a fine line of paying enough money to keep his own key contributors but still leave enough cap room to chase outside free agents. It will take some shrewd decisions and masterful self-scouting by Ireland. He cannot overrate or overpay his own players, which is a mistake general managers often make.
One of the most important things Ireland must accomplish is getting the right skill players around Tannehill. The rookie quarterback showed a lot of potential in his first year but was hamstrung by limited receivers and tight ends. Tannehill still managed to throw for 3,294 yards, 12 touchdowns and 13 interceptions in his first season.
The good news is the wide receiver position is very strong in free agency this year. Free-agent receivers
Greg Jennings
,
Dwayne Bowe
and
Mike Wallace
are possibilities for the Dolphins, who have the money to spend.
Jennings played under Philbin
for several years in Green Bay and knows the West Coast offense. Bowe is a Miami native who could return home, and Wallace has the deep speed Miami needs. Each player has the potential to fit well in Miami's offense and provide a boost for Tannehill.
"Wallace's speed would be ideal for Miami, but I trust him the least," Williamson said of this year's free-agent receivers. "Jennings is the most familiar but I worry that he might be on a slight decline. Bowe is really solid and from Miami. I would sign one and still draft a receiver high."
Tannehill also needs a better receiving tight end. This was a staple in Philbin's offenses in Green Bay, but Miami was limited with that position last year. Aging tight end
Anthony Fasano
could not stretch the field and is a free agent who may not return.
Following free agency, the Dolphins will enter the draft with a first-round pick (No. 12 overall), two second-round picks and two third-round picks. Miami picked up an additional second-rounder last summer from the
Indianapolis Colts
via the
Vontae Davis
trade. The Dolphins also got an extra third-rounder from the
Chicago Bears
for trading receiver
Brandon Marshall
. These key picks will be used to plug additional holes on the roster.
These are exciting and promising times for Miami. The Dolphins are in prime position to close the gap with the Patriots in the AFC East and perhaps make a playoff run in 2013. But it will be up to Ireland to wisely spend Miami's immense offseason resources.
August, 14, 2012
8/14/12
11:09
PM ET

HBO's "Hard Knocks" aired its second episode Tuesday night. It was an explosive week in Miami with the Dolphins losing their projected starting quarterback and No. 1 receiver in a matter of days.
HBO had all-access behind the scenes. Here is a recap of the second episode:
The episode begins with the loss of Joe Philbin's son and how it ties into the Andy Reid story. The Philadelphia Eagles' coach recently lost his son, Garrett. Philbin is still reeling from his loss, and you can tell he feels for what Reid is going through.
Last week cornerback Vontae Davis was the goat. This week it was rookie tight end Michael Egnew. Dolphins offensive coordinator Mike Sherman really got into Egnew for his lack of intensity and making plays. Sherman said he'd cut Egnew right now if he was the general manager. Egnew is a third-round pick but hasn't showed much. He had a couple drops in the preseason opener.
Miami general manager Jeff Ireland admits to Peter King of Sports Illustrated that he has concerns about his wide receivers. Ireland says he knows he has "four, fives and sixes." But Ireland wants to see if there are any "ones, twos and threes" in the group. I've been critical of Miami's receivers all along. There have been tons of drops in spring practices and training camp.
The story about quarterback David Garrard feeling left knee pain while playing with his children was confirmed. The Dolphins were aware of Garrard's injury the night before the preseason opener. Philbin looked visibly distraught when he heard the news, and so was Ireland. Quarterback Matt Moore was surprised when he heard the news that he was starting on short notice.
Finally, HBO did a good job of highlighting Chad Johnson's arrest and release by the team. Philbin met one-on-one with Johnson, who was clearly distraught and admits he embarrassed the team. Then, Johnson and Philbin have an awkward last conversation where Johnson defended himself by saying he's never been in trouble before. But Philbin had his mind made up that the fit wasn't working and said it was time to go in another direction. Johnson kept his composure, thanked Philbin for the opportunity and left the Dolphins' facility for the last time.
July, 31, 2012
7/31/12
10:00
AM ET
DAVIE, Fla. -- Don't tell linebacker
Karlos Dansby
and defensive end
Cameron Wake
the
Miami Dolphins
aren't contenders in 2012.
"We can be great," Dansby said at the opening of training camp.
Added Wake, "We have the talent [to make a run]."

There is a feeling of newness in Miami. The Dolphins believe a revival is coming this year, sooner than most expect.
Dolphins rookie head coach Joe Philbin has instilled a calm, quiet confidence in this team, which finished 6-10 last season. The change also includes new offensive and defensive schemes. First-year defensive coordinator Kevin Coyle is switching Miami to a 4-3 defense, and new offensive coordinator Mike Sherman is implementing a West Coast offense.
Miami's practices are faster and better organized. Even owner Stephen Ross has been impressed with the way the new-look Dolphins have operated since the spring.
"[Changes] are pretty evident and you can feel it," Ross said. "People can talk the talk, but you can see that we're walking the walk, and I think that's what's important. If fans feel that and see that, I think they're going to be very excited about that."
There are plenty of new faces. With just three weeks of training camp, will Miami and its new coaching staff have enough time to sort everything out? It also adds an extra challenge that HBO's "Hard Knocks" is there to document Miami's every move until the start of the regular season.
Most outsiders project 2012 to be a rebuilding year for the Dolphins. But it's clear the Dolphins have higher expectations internally.
THREE HOT ISSUES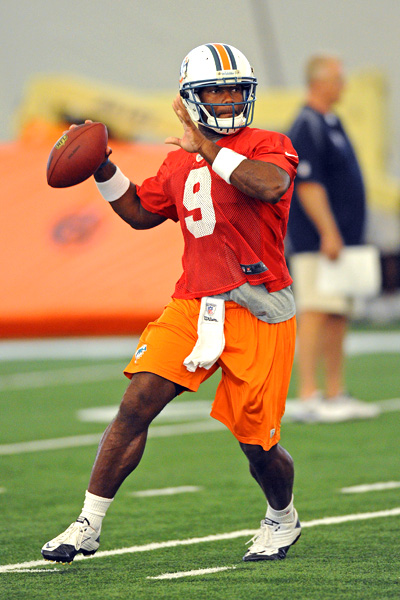 Steve Mitchell/US PresswireVeteran David Garrard looks to have the early lead to become the Dolphins' starting quarterback.
1. Which quarterback will prevail?
Miami's quarterback competition among
Matt Moore
,
David Garrard
and rookie
Ryan Tannehill
is in full swing. Every play is watched closely by Dolphins coaches and the media.
But who is Miami's best option? Grading the first several practices, I give the edge to Garrard.
The nine-year veteran, who missed all of 2011 with a back injury, looks the most poised and in control of the offense. Garrard played in a West Coast system before. He knows the reads, progressions and what's expected.
"I think my chances are pretty good," Garrard said of winning the starting job. "I don't think they would have me here or even say that it was open competition if my chances weren't good. I know I can still play. I've just got to continue to prove it on the field."
Moore is the incumbent, but you wouldn't know it from his early practices. Moore has not looked consistent dating to spring workouts. The tricky part is Moore has never been a great practice player. He performs best when the lights are on in an actual game. He proved that last year by going 6-3 in his final nine starts.
Moore's best chance to win this job is to outperform Garrard in preseason games. Tannehill arrived to camp two days late and is a long shot to get in the race.
2. What is the plan at receiver?
Miami has a hodgepodge group of mostly unproven receivers who need to settle in. Miami has 12 receivers on its roster and zero defined roles at the position. The Dolphins do not know their No. 1, No. 2 or No. 3 receiver after several practices.
Philbin, a former offensive coordinator of the
Green Bay Packers
, said he doesn't believe in putting numbers on his receivers. But Philbin does need receivers who can get open and make tough catches. There have been tons of drops dating to organized team activities. In the first two training camp practices alone, I counted five drops.
For what it's worth, Miami began camp with
Chad Johnson
and
Legedu Naanee
as its two starting receivers and
Davone Bess
in the slot.
Brian Hartline
,
Roberto Wallace
,
Julius Pruitt
and
Clyde Gates
also are in the mix.
But Johnson has been particularly impressive. This is the first time in a while that expectations are not high for the 34-year-old receiver. Johnson was a bust for the
New England Patriots
, catching just 15 passes last season. But he is making some eye-opening plays in Miami's training camp.
"He's very serious. I think he's very passionate about what he does," Philbin said. "He's been impressive. We like his work ethic, the energy, the enthusiasm that he brings. He wants to do well. He certainly wants to let the quarterback know when he's open."
If Johnson turns out to be a No. 1 receiver again -- or close to it -- that would take a lot of pressure off the rest of the group. It would at least give Miami's quarterback someone reliable to throw to.
3. Defense wants to be elite.
There has been so much talk about Miami's quarterbacks and offense during the offseason that it's easy to forget about the defense. This is a physical group that wants to be elite. Miami finished No. 15 in total defense last year, but its ranking was a bit skewed because of the Dolphins' 0-7 start. Miami's defense played like a top-10 unit in the second half of last season.
Miami's run defense is one of the best in the league, although you wonder if the adjustment to the 4-3 defense will hurt continuity. Miami returns many of the same players in the front seven, but switching from a 3-4 to a 4-3 will force some players into different roles.
Miami's secondary is the biggest question defensively. The team has a pair of young corners in
Vontae Davis
and
Sean Smith
looking to make a jump, while the safety position is in flux.
Reshad Jones
and
Chris Clemons
began camp as the starting safeties, but versatile defensive back
Jimmy Wilson
also worked with the first team.
REASON FOR OPTIMISM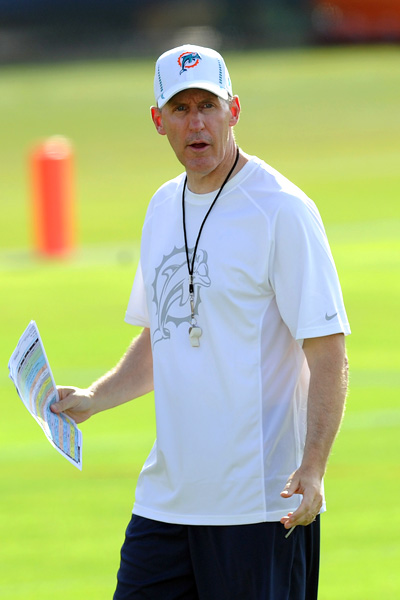 Steve Mitchell/US PresswireFirst-year coach Joe Philbin has seemed unfazed by several curveballs already thrown his way.
Philbin has his head on straight. He has a good demeanor for a rookie head coach, and you have the sense things won't be too big for him in his first year.
Philbin already faced several challenges. Miami agreed to do "Hard Knocks," which can be a coach's nightmare because it allows an outsider all-access. Philbin also has a three-way quarterback competition, and the front office added a colorful personality to the locker room in Johnson. But Philbin has taken each challenge in stride and even has a good sense of humor about things.
I have no idea if Philbin can match wits with Bill Belichick on Sundays or properly manage the final five minutes of a game. We will have those answers soon enough. But I like what I've seen from Philbin so far.
REASON FOR PESSIMISM
I don't see this team scoring a lot, a huge problem.
Miami's plan is to run an up-tempo passing offense with questions at quarterback and unproven receivers. In theory, this is a strategy that is doomed to fail.
The Dolphins' offensive strength is their running backs. But a West Coast offense is, by nature, pass-heavy. If Philbin thinks he can run his Green Bay-style offense in Miami with Garrard or Moore at quarterback instead of
Aaron Rodgers
, he is sadly mistaken.
I expect plenty of growing pains for Miami's offense and the team losing plenty of low-scoring games. The defense will keep the scoring down most weeks, which is good because Miami's offense won't be lighting it up.
OBSERVATION DECK
Speaking of Miami's running backs, the group looks solid. Starting tailback Reggie Bush looks in the best shape of his career and is coming off his first 1,000-yard rushing season. Bush said his goal is to lead the NFL in rushing. That seems like a long shot, but another 1,000-yard season would be great for Bush. Backups Daniel Thomas and rookie Lamar Miller also have run hard early in camp and have plenty of potential.

Dansby enters this season in tremendous shape. He checked in at a trim 247 pounds. Last year Dansby was a victim of the lockout. He began last season around 270 pounds and didn't get down to his usual playing weight until midseason. Not coincidentally, Dansby played his best football in the final eight games of 2011. "You live and you learn," Dansby said.

I like what I'm seeing in the daily corner-receiver battles between Smith and Johnson. Both are competitive and want to push each other. Smith, 25, has made it a point to line up against Johnson, a six-time Pro Bowler, every chance he gets. Sometimes Johnson wins and sometimes Smith wins, but both players are getting better.

I predict a breakout season for third-year defensive lineman Jared Odrick. He gathered some momentum at the end of last season and looks ready to put it all together this year. Odrick, a 2010 first-round pick, will be a full-time starter for the first time in his career. He has a good combination of size and quickness and has been tough to block in camp.

Miami's tight ends have yet to flash this offseason. The position was huge in Green Bay, where Jermichael Finley developed into a star under Philbin. Dolphins veteran Anthony Fasano and rookie third-round pick Michael Egnew are trying to fill that role. Fasano has the experience and Egnew has the edge in athleticism, but neither is making many plays.

It's early, but Hartline has fallen down the depth chart. Many projected Hartline to be the No. 1 receiver in Miami's offense, but he missed most of the spring with a leg injury and began training camp on the second team. The injury is not helping him.

The Dolphins have worked rookie right tackle and second-round pick Jonathan Martin exclusively with the first team in training camp. He's a virtual lock to start in Week 1. Martin played in a pro-style offense at Stanford and was Andrew Luck's left tackle. Martin is switching to the right side this year to pair with left tackle Jake Long.
April, 27, 2012
4/27/12
11:02
PM ET
The AFC East made some interesting additions in the third round of the NFL draft.
Here is a recap:
NFL SCOREBOARD
Thursday, 9/4
Sunday, 9/7
Monday, 9/8