NFL Nation:

Michael Hamlin
October, 10, 2010
10/10/10
3:34
PM ET
By
Matt Mosley
| ESPN.com
ARLINGTON, Texas -- No huge surprises with the inactives for Cowboys-Titans this afternoon. Here's the list:
Dallas Cowboys:
Emergency QB
Stephen McGee
, S
Michael Hamlin
, FB
Chris Gronkowski
, LB
Brandon Williams
, C
Phil Costa
, T
Sam Young
, T
Robert Brewster
, DE
Sean Lissemore
Tennessee Titans:
QB
Rusty Smith
, WR
Justin Gage
, CB
Jason McCourty
, S
Robert Johnson
, LB
Rennie Curran
, G/C
Leroy Harris
, T
Mike Otto
, DT
Sen'Derrick Marks
Kenny Britt
will take over for Gage in the Titans' starting lineup. Britt had more targets last week, so it shouldn't be a huge adjustment for him. In fact, I think Britt might be the Titans' most dangerous receiver today. We'll keep you posted.
Lot of folks at Cowboys Stadium keeping one eye on the Texas Rangers, who are playing the Rays down the street. The Rangers are trailing 5-1 as we speak. Still have no clue why Ron Washington removed Darren O'Day after facing one hitter last night.
But I'll save that anger for the radio.
August, 29, 2010
8/29/10
6:02
AM ET
By
Matt Mosley
| ESPN.com
If this was truly a dress rehearsal for the
Dallas Cowboys
on Saturday evening, Redskins fans have to be licking their chops for Sept. 12. The Cowboys' first-team offense was once again whipped by an AFC defense. And the defense wasn't much better. The Colts don't get worried about pitiful preseason performances because of their winning pedigree. I'm afraid Cowboys fans won't take the same laidback approach. Now let's assess the damage:
May, 4, 2010
5/04/10
1:00
PM ET
By
Matt Mosley
| ESPN.com
»
NFC Big Question
:
East
|
West
|
North
|
South
»
AFC
:
East
|
West
|
North
|
South
Have the Cowboys created a problem for themselves by trying to be thrifty?
[+] Enlarge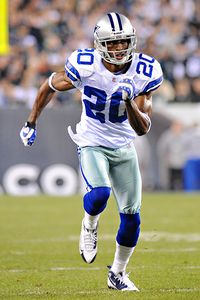 Jimn Luzzi/Getty ImagesAlan Ball is projected to start at safety in place of the recently released Ken Hamlin.
After the way starting safety
Ken Hamlin
performed in 2009, I don't think a lot of Cowboys fans were broken up about his release. But some of those fans are about to get a reality check when the inexperienced
Alan Ball
and his projected backup
Michael Hamlin
take the field in 2010.
Ken (no relation to Michael) wasn't living up to the lucrative contract that he earned after a Pro Bowl season in 2007. He took poor angles and he wasn't a sure tackler. Ball, who converted from cornerback, filled in nicely in '09 but no one knows if he's ready to start for a full season. Cowboys owner Jerry Jones has hinted the team might sign a free-agent safety, but the pickings are pretty slim at this point. Saints Pro Bowler
Darren Sharper
was on the open market for a long time,
and now we know why
.
The Cowboys should know more than anyone that rolling the dice at safety isn't a good approach. When Darren Woodson was injured before the '04 season, the Cowboys were held hostage by that position. Over the years, they've tried everyone from
Keith Davis
to
Pat Watkins
, but things didn't settle down until Ken Hamlin showed up in '07.
Gerald Sensabaugh
had a nice season for the Cowboys in '09, but they need another player who's strong in coverage and can call out adjustments. Sensabaugh's at his best when he can simply focus on playing. If the Cowboys are leaning on Ball to get them in the right coverages, there could be some issues. I think he's a talented player, but he's someone better suited for a backup role.
Everyone keeps talking about left tackle, but I think Cowboys fans should be more concerned about safety.
April, 7, 2010
4/07/10
1:00
PM ET
By
Matt Mosley
| ESPN.com
»
NFC Approach
:
East
|
West
|
North
|
South
»
AFC
:
East
|
West
|
North
|
South
»
Draft Watch
:
Biggest needs
(2/17) |
Busts/gems
(2/24) |
Schemes, themes
(3/3) |
Recent history
(3/10) |
Needs revisited
(3/17) |
Under-the-radar needs
(3/26) |
History in that spot
(3/31) |
Draft approach
(4/7) |
Decision-makers
(4/14) |
Dream scenario/Plan B
(4/21)
Each Wednesday leading up to the NFL draft (April 22-24), the ESPN.com blog network will take a division-by-division look at key aspects of the draft. Today's topic: Draft approach.

Dallas Cowboys
Now that Jerry Jones has released left tackle
Flozell Adams
and safety
Ken Hamlin
, there's more of a sense of urgency at those spots in the draft. The Cowboys will replace Adams with
Doug Free
, but they could still take an offensive tackle or guard at No. 27 overall. Safety
Nate Allen
and cornerback
Devin McCourty
are two players the Cowboys really like late in the first round.
There's a belief that safeties
Alan Ball
and
Mike Hamlin
could get the job done in a pinch, but the Cowboys will focus on that position in the draft. Last year's approach involved saving money -- if you can believe that. The Cowboys' first picks were Nos. 69 and 74. The only true impact player from the '09 draft was kickoff specialist
David Buehler
. In this year's draft, the Cowboys need to select players who can have a more immediate impact. If an offensive tackle starts to slip in the first round, don't be surprised if the Cowboys are there to catch him.
In the past, the Cowboys have emphasized need over value out of necessity. In this year's draft, I think staying at No. 27 and going with the best value is what the Cowboys are trying to accomplish. Releasing Hamlin and Adams certainly changed the dynamic heading into the draft, but it also provided some clarity.

New York Giants
General manager Jerry Reese almost never gets caught reaching in a draft. He doesn't normally go for project players in the first three rounds, although
Ramses Barden
is certainly the exception. This year's approach has to be a little different, though. The Giants were exposed on defense in several areas last season.
They can't afford to simply take the "best-player-on-the-board" philosophy. The Giants need help at linebacker and defensive tackle. And another pass-rusher would be nice. I'd be very surprised if the Giants took an offensive player at No. 15 overall. If
Rolando McClain
out of Alabama is there, look for Reese to take him. He's exactly the type of player Reese and Coughlin love -- remarkably intelligent and a natural leader. After losing
Antonio Pierce
, the Giants need more players like that.

Philadelphia Eagles
With the
Sheldon Brown
/
Chris Gocong
trade, the Eagles are now thin at cornerback and linebacker. And it's not as if they had an embarrassment of riches at those positions before the trade. In the past, the Eagles have been very open to moving down in the first round. And with the depth of talent in this year's draft, that's certainly a possibility. But at No. 24, something tells me the Eagles will stay right there and draft the best cornerback or safety available. They've taken a long look at Texas'
Earl Thomas
, but I don't know if he'll be available at that point.
The Eagles need more firepower at linebacker, so that's also an option in the first round. They've spent the past couple of drafts bolstering their offense with speed at the skill positions. Now it's time to start retooling that defense. I'd be very surprised if the Eagles don't take a defensive player at No. 24.

Washington Redskins
Mike Shanahan continues to meet with quarterbacks despite the blockbuster trade for
Donovan McNabb
. I recall McNabb not enjoying a certain draft pick in '07, so it will be interesting to see whether Shanahan addresses the quarterback position in the draft.
Of course, the draft focus now turns to left tackle. The Redskins don't have a viable candidate there unless they sign the aging Flozell Adams. And general manager Bruce Allen said on a local radio show that he's talked to Adams' agent. But I still think left tackle
Russell Okung
of Oklahoma State is the way to go for the Redskins at No. 4 overall. The Redskins will have to wait until Saturday to pick again unless they somehow land a second-round pick in a trade.
So in reality, the Redskins will only find one immediate starter in this draft. And by the way, Shanahan needs to start drafting some larger inside linebackers. As I've said many times,
London Fletcher
is not going to hold up in this defense for very long. Part of that is age, but most of it is size.
April, 3, 2010
4/03/10
7:01
PM ET
By
Matt Mosley
| ESPN.com
The Dallas Cowboys could have waited until after the draft to release left tackle
Flozell Adams
and safety
Ken Hamlin
, but they decided to go ahead and pull the trigger. Obviously, the moves suggest safety and offensive tackle will be even bigger needs on the first couple days of the draft.
The Cowboys have a replacement for Adams in
Doug Free
, but it's not a sure thing
Alan Ball
or Michael Hamlin can become starters. The Cowboys brought in safeties Nate Allen, Morgan Burnett and Chad Jones for visits Friday.
Of that group, I think South Florida's Allen is the most likely to be chosen at No. 27 by the Cowboys. And as I've suggested several times, Rutgers cornerback Devin McCourty is also a player they really like. Some mock drafters have the Cowboys selecting left tackle Anthony Davis at No. 27, but I don't see that one at all.
We'll keep you posted.
Go Butler
!
April, 1, 2010
4/01/10
2:00
PM ET
By
Matt Mosley
| ESPN.com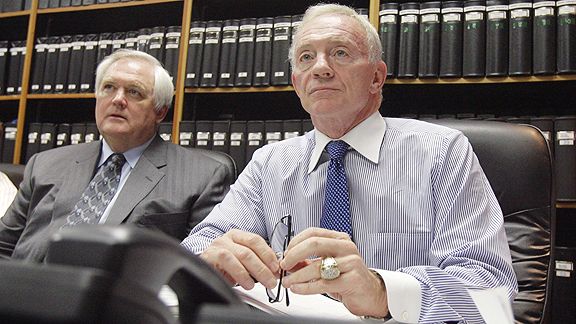 AP Photo/Matt SlocumThe decisions Jerry Jones, seen above with coach Wade Phillips at Valley Ranch during the 2008 draft, makes in the draft later this month will say a lot about the futures of Cowboys Flozell Adams and Ken Hamlin.
It's important to read between the lines when Jerry Jones is talking because what he's actually saying doesn't always make a lot of sense. A lengthy non-answer to my recent question about the futures of left tackle
Flozell Adams
and safety
Ken Hamlin
told me everything I needed to know heading into the draft.
Jones refused to guarantee either player a roster spot in 2010, which leads me to believe he'd at least consider moving on without one or both of them. The Cowboys liked what they saw from
Doug Free
when he filled in for injured right tackle
Marc Colombo
last season. As only he can, Jones explained that Free's a little more "left tacklish than right tacklish," which is to say he has excellent feet and operates well in space.
Jones believes that Free's capable of being the full-time starter at left tackle, and he confirmed that during the recent owners meetings. But does that mean he's ready to release a perennial Pro Bowl player in Adams to launch the Free Era? It's one of the biggest decisions Jones will make this offseason, and the upcoming draft should offer us some clues on how he'll proceed.
The Cowboys need to add more quality depth to the offensive line. Offensive tackle
Robert Brewster
, a third-round pick in '09, is returning from a torn pectoral muscle that he suffered while lifting weights. There's a decent chance the Cowboys will draft an offensive lineman in the first or second round because this line's starting to show some age. Left guard
Kyle Kosier
's entering the final year of his contract and right guard
Leonard Davis
turns 32 in September.
If the Cowboys can create enough depth along the offensive line, they may part ways with Adams, who collects false starts and fines at an alarming rate. Jones also mentioned the fact that Davis is capable of sliding over to left tackle, although I think that's a stretch at this point in his career.
Adams, who turns 35 next month, is due a $2.5 million roster bonus in June and his base salary for 2010 is $5 million. That's why Jones has a little breathing room before he has to make a decision.
"We just have not addressed decisions of that nature," Jones said at the owners meetings. "Mulled them over, but just haven't addressed it. Haven't had to. It's not been compelling. As we get closer to OTAs, as we get a read on how we do in drafting. When all of that comes to bear, then we'll make some decisions if we've got to basically make room, so to speak."
I don't think that statement is good news for either Adams or Hamlin, who is scheduled to make $5.59 million in 2010. That's a huge salary for a player who's turned in back-to-back average seasons. In recent weeks, sources with the team have expressed to me their excitement over second-year safety
Michael Hamlin
(no relation). There's a belief that Hamlin has the instincts to turn into a playmaker at safety. That said, it would not surprise me at all if the Cowboys selected South Florida safety
Nate Allen
at No. 27 overall.
The Cowboys like Allen and Rutgers cornerback
Devin McCourty
at that spot. Now if an offensive tackle such as
Bruce Campbell
starts to slip, which could totally happen, the Cowboys will have an interesting decision to make. I think they'd lean toward taking one of the defensive backs. And regarding all this speculation about the Cowboys moving up to take wide receiver
Dez Bryant
, the folks I've spoken to at Valley Ranch don't see it happening.
But pay close attention to what the Cowboys do in the first few rounds. It should be a pretty good indicator of what's going to happen with Adams and Hamlin.
"They're on the roster and [we] have not made a decision as to them not being on the roster," said Jones. "And have not given any more consideration there at this time than you have just your overall roster. So you could get some bad information at this juncture if you said somebody said they're not going to be with you. It's just speculation, using the logic of what's caused them to be at issue anyway."
So does that quote pretty much clear things up for you guys? No?
The bottom line is that Jones' refusal to give either player his endorsement is pretty revealing.
January, 17, 2010
1/17/10
12:13
PM ET
By
Matt Mosley
| ESPN.com
MINNEAPOLIS -- Greetings from the Metrodome, where fans have just been warned that pyrotechnics will be used throughout the game. This is somewhat concerning to me, but I'll just roll with it for now.
Now let's look at today's inactives list. No surprises here. For the Cowboys, special teams ace
Pat Watkins
has returned from a sprained knee and he replaces rookie safety
Michael Hamlin
on the active list.
Cowboys:
Emergency QB
Stephen McGee
, CB
Cletis Gordon
, S Michael Hamlin, LB
Jason Williams
, G
Montrae Holland
, C
Duke Preston
, T
Pat McQuistan
, LB
Curtis Johnson
Vikings:
Emergency QB
Sage Rosenfels
, WR
Jaymar Johnson
, CB
Karl Paymah
, TE
Garrett Mills
, LB
J Leman
, C
Jon Cooper
, DE
Jayme Mitchell
, DT
Letroy Guion
December, 23, 2009
12/23/09
3:00
PM ET
By
Matt Mosley
| ESPN.com
»
NFC Draft Rewind
:
East
|
West
|
North
|
South
»
AFC
:
East
|
West
|
North
|
South
»
Draft class lists
:
Dallas
|
N.Y. Giants
|
Philadelphia
|
Washington
Examining the draft classes of each division team:
Cowboys

Butler
Biggest surprise:
In what has been a largely disappointing class, kickoff specialist
David Buehler
has probably been the best find. He's a touchback machine and that's allowed the Cowboys' kick coverage unit to be among the best in the league.
Jury is still out:
This can be said about pretty much the entire class. It looks like outside linebacker
Victor Butler
has made the most immediate impact, but he certainly didn't hold up well against the Saints. I think everyone's anxious to see how
Michael Hamlin
progresses at safety. He definitely has some skill, but no one's been able to see it in a game. When he's healthy next season, I think former Texas Tech star
Brandon Williams
could be an effective pass-rushing specialist.
Bust alert:
We haven't seen enough of him to call him a bust, but there are certainly questions about third-round LB
Jason Williams
. We're told he's coming along in practice but he's a guy who should've broken through as a special-teams player by now. An injury held him up.
Eagles

Harris
Biggest surprise:
The Eagles may have found a player in seventh-round pick
Moise Fokou
out of Maryland. He's now cracked the starting lineup at linebacker and he's capable of being a beast on special teams.
Jury is still out:
We expected WR
Jeremy Maclin
and RB
LeSean McCoy
to make immediate impacts and they have not disappointed.
Macho Harris
cracked the starting lineup early in the season and he recorded 10 tackles against the Raiders. He's also helped out in the return game. I think the Eagles are still trying to determine whether he helps them more as a safety or as a cornerback.
Bust alert:
I hate to call him a bust, but let's watch tight end
Cornelius Ingram
's knee injury. He's a very talented player out of Florida, but folks are worried that the injuries could always follow him around. But the Eagles knew what the risks were when they took Ingram.
Giants

Nicks
Biggest surprise:
I don't think it's been a surprise to see
Hakeem Nicks
crack the starting lineup. He's a big-time receiver who had some injury setbacks in training camp. The play of rookie right tackle
Will Beatty
has been pretty impressive. He was taken No. 60 overall and I think he's poised to replace
Kareem McKenzie
next season.
Jury is still out:
I think we're still learning about
Clint Sintim
. He has long arms and he's shown flashes of being a pretty good pass-rusher. But he has to be more consistent on the field.
Bust alert:
I would by no means call
Ramses Barden
a bust at this point, but it's a concern that he can't play well enough on special teams to grab a weekly roster spot. I think Barden could help the Giants as a red zone receiver, but apparently he's not trustworthy on special teams.
Redskins

Orakpo
Biggest surprise:
I knew
Brian Orakpo
would be good, but I thought it would take him a little while. Playing out of position at linebacker, Orakpo has made a nice transition. Just keep the guy out of coverage and let him rush the passer.
Jury is still out:
I like cornerback
Kevin Barnes
' range and size, but we haven't seen enough to know if he'll be a longtime starter in this league. He needs to keep improving in terms of awareness.
Bust alert:
After his infamous Twitter debut, linebacker
Robert Henson
hasn't been heard from much. I thought he was an excellent player at TCU, but he hasn't brought a lot to the table in Washington.
May, 1, 2009
5/01/09
4:46
PM ET
Posted by ESPN.com's Matt Mosley
IRVING, Texas -- The crowd at today's Dallas Cowboys rookie minicamp was thinner than usual, in part because the most recognizable player was a fourth-round draft choice out of Texas A&M named Stephen McGee who missed most of the '08 season with a shoulder injury. Before approaching lockers, reporters would confer to make sure they were about to interview the correct player.
I'll admit that I spent 10 minutes visiting with two former Cincinnati defensive backs before realizing which one was Mike Mickens (seventh round) and which one was DeAngelo Smith (fifth round). The two college pals seemed to enjoy the confusion -- especially when one Fort Worth-based reporter blurted, "OK, who's who here?"
Smith is a 5-foot-11, 197-pound cornerback who will convert to safety for the Cowboys. Mickens was projected as a third-round pick following his junior season, but he elected to return for his senior season and injured his left knee. According to Mickens, he didn't give the knee enough time to heal before playing at "50 percent" in the Orange Bowl. He knows the decision may have cost him a few rounds in the draft, but he doesn't have any regrets.
"I didn't even think about sitting out the bowl game," Mickens said after his first practice with the Cowboys on Friday. "When there's a chance to compete, I'm going to be out there. No one tried to talk me out of it because they knew what I'd say."
Last Sunday, Mickens said he "gave up hope" when he wasn't taken in the fifth round. And that's why he was thrilled to receive a phone call from Jerry Jones in the seventh round. Mickens couldn't participate in the Senior Bowl and the combine because of his knee injury. And he wasn't himself at Cincinnati's pro day in March, running a 4.53 in the 40-yard dash. He said he'd run a 4.41 his sophomore season at Cincinnati. And to the naked eye Friday, he didn't appear to be favoring his left knee at all.
The most impressive thing about Mickens, Smith and fifth-round safety Michael Hamlin out of Clemson is that they caught pretty much everything thrown their way Friday. The Cowboys only had eight interceptions last season, and they wanted players with what scouts refer to as "good ball production."
Mickens, Smith and Hamlin combined to have 38 interceptions in college. And safeties coach Brett Maxie said he saw Hamlin catch some low throws Friday that grabbed his attention. OK, I'll be back in a moment with tidbits on the players I focused on during the minicamp.
March, 10, 2009
3/10/09
10:50
AM ET
Posted by ESPN.com's Mike Sando

Bill Coats of the St. Louis Post-Dispatch says James Butler is six years younger than Corey Chavous and ready to replace him in the lineup at strong safety.
Also from Coats: Mike Karney could fit as the blocking fullback St. Louis wants for its offense. No mention of Leonard Weaver as a potential candidate.
Rich Cimini of the New York Daily News expects the Jets to show interest in receiver Torry Holt once the Rams release him, as expected. Cimini: "Henry Ellard is the Jets' new receivers coach, the same Ellard who served as Holt's position coach for seven consecutive 1,000-yard seasons. If that doesn't give the Jets an advantage in terms of recruiting and insider knowledge, what does?"
VanRam of Turf Show Times links to a radio show in which Jim Thomas of the St. Louis Post-Dispatch suggests the Rams could try to rework Randy McMichael's contract.

John Morgan of Field Gulls says the Seahawks are "very interested" in Clemson safety Michael Hamlin, who spoke with three members of the organization in one day.
Also from Morgan: He thinks the Seahawks should re-sign Weaver. The price apparently hasn't been right to this point.
More from Morgan: Seven players for the Seahawks to draft. Quarterback Matt Stafford, offensive lineman Max Unger, safety Michael Hamlin, receiver Mike Thomas. defensive tackle Terrance Taylor and snapper Jake Ingram get the call.
NFL.com carries a transcript of T.J. Houshmandzadeh's recent chat. He says the Bengals weren't as serious about re-signing as it appeared. Houshmandzadeh: "They were persistent, but it wasn't persistent with good intentions, in my opinion. They weren't as persistent as it has been reported that they were."

Matt Barrows of the Sacramento Bee says the 49ers could have a hard time finding an offensive tackle with the 10th overall choice. Barrows: "The Raiders have pick No. 7 and they definitely could use a tackle. Theoretically, so could Detroit, St. Louis, Kansas City and Cincinnati." The Seahawks could consider one as well.
Also from Barrows: Expect cornerback Karl Paymah to visit the 49ers on Wednesday.
Clark Judge of CBSSports.com lists the 49ers among three teams that need to "stay after school" for their efforts in free agency. Judge: "I don't mean to pick on the 49ers, but they have a nasty habit of spending a lot of money on marginal talent. This year's winner is wide receiver Brandon Jones, who picked up a $5.4 million signing bonus. I don't know much about Jones, other than when I watched the Titans, I never had a feeling he was a guy who could beat you." Judge also thinks the Rams paid a premium for Jason Brown.

Jim Corbett of USA Today quotes Kurt Warner as saying he's still willing to take a pay cut to help the team sign Anquan Boldin. Do players really think that's how it works?
Revenge of the Birds' Hawkwind checks in with Cardinals offensive lineman Elliot Vallejo.
Kent Somers of the Arizona Republic says the Cardinals won't be spending big except to keep their own players.
Darren Urban of azcardinals.com says the Cardinals want Bertrand Berry to return and a deal appears likely at some point.
Also from Urban: He thinks the Cardinals will not trade Boldin.
NFL SCOREBOARD
Thursday, 11/20
Sunday, 11/23
Monday, 11/24
WEEKLY LEADERS