NFL Nation:

Michael Palmer
March, 7, 2013
Mar 7
10:42
AM ET
We've shown you the lists of potential NFC South free agents before. But let's do it again because there have been some minor moves and the free-agency period is getting ready to start Tuesday.
Here's the list of potential free agents for all four NFC South teams:
Atlanta Falcons.
Tony Gonzalez
,
Brent Grimes
,
Sam Baker
,
William Moore
,
Will Svitek
,
Mike Cox
,
Todd McClure
,
Luke McCown
,
Christopher Owens
,
Mike Peterson
,
Garrett Reynolds
,
Lawrence Sidbury
and
Vance Walker
all can become unrestricted free agents.
Michael Palmer
can become a restricted free agent.
Carolina Panthers.
The potential unrestricted free agents are
Derek Anderson
,
Antwan Applewhite
,
Gary Barnidge
,
Dwan Edwards
,
Ben Hartsock
,
Sherrod Martin
,
Captain Munnerlyn
,
Louis Murphy
and
Mike Pollak
.
Richie Brockel
can become an exclusive-rights free agent.
Andre Neblett
,
Nate Ness
and
Jason Phillips
are scheduled to become restricted free agents.
New Orleans Saints.
Jermon Bushrod
,
Jonathan Casillas
,
Chase Daniel
,
Sedrick Ellis
,
Devery Henderson
,
Ramon Humber
,
Elbert Mack
,
Turk McBride
,
Will Robinson
,
Courtney Roby
and
Scott Shanle
can become unrestricted free agents.
Brian De La Puente
,
Justin Drescher
,
Junior Galette
and
Chris Ivory
are scheduled to become restricted free agents.
Eric Olsen
and
Michael Higgins
can become exclusive-rights free agents.
Tampa Bay Buccaneers.
Ronde Barber
,
Dallas Clark
,
Michael Bennett
,
E.J. Biggers
,
Andrew Economos
,
Geno Hayes
,
Roy Miller
,
Roscoe Parrish
,
Sammie Stroughter
and
Jeremy Trueblood
can become unrestricted free agents.
LeGarrette Blount
,
Jacob Cutrera
,
Corvey Irvin
and
Daniel Te'o-Nesheim
are scheduled to become restricted free agents.
February, 11, 2013
Feb 11
9:16
AM ET
We still have a little more than a month left before the start of free agency, but let's start taking a look at who the potential free agents are for each NFC South team. Let's start with the
Atlanta Falcons
.

Their potential unrestricted free agents are tight end
Tony Gonzalez
, cornerback
Brent Grimes
, tackle
Sam Baker
, safety
William Moore
, tackle
Will Svitek
, fullback
Mike Cox
, center
Todd McClure
, quarterback
Luke McCown
, cornerback
Christopher Owens
, linebacker
Mike Peterson
, tackle
Garrett Reynolds
, defensive end
Lawrence Sidbury
and defensive tackle
Vance Walker
. Running back
Antone Smith
and tight end
Michael Palmer
are potential restricted free agents.
This is a group that's heavy at the top. Gonzalez, Moore, Baker and Grimes all are starters and potentially expensive. McClure might be near the end of the line, but he started last season and brings valuable leadership.
The Falcons are pleading heavily with Gonzalez to return for one more season. If he decides to retire, they'll have to make major changes to their offensive scheme because you just don't find another tight end with the same skill set.
The Falcons have limited salary-cap space, but, much like last offseason, they'll make a strong effort to keep their team together.
Moore has turned into a Pro Bowler and Baker had a very solid 2012 season. The beauty of Moore is that he's a safety and the market price shouldn't be that high at that position. Left tackles are more expensive, but the Falcons have built a level of trust with Baker and they might be able to keep him at a reasonable rate. Besides, it would be difficult and expensive to go out and find a new left tackle in free agency or the draft.
Grimes is likely to be the biggest challenge in this free-agency class. Although he is undersized and coming off a major injury, Grimes is likely to command big money on the open market. The Falcons also have decent money tied up in
Dunta Robinson
and
Asante Samuel
, and
Robert McClain
showed strong signs he can be a solid No. 3 or No. 2 corner. The Falcons are likely to treat Grimes the same way they did linebacker
Curtis Lofton
last year. They'll draw a line in the sand as far as what they're willing to pay and won't go over it if he gets a bigger offer elsewhere.
The Falcons have invested a fair amount of draft picks on the interior of the offensive line in recent years, so I can't see them paying more than the minimum to bring McClure back. They also should be able to retain McCown and Cox for the minimum or close to it. Sidbury, Reynolds and Owens have had plenty of chances, but haven't developed into impact players. If they get decent offers elsewhere, I don't see the Falcons making a big effort to keep them. Peterson is a veteran who could come back for one more year at the minimum to provide some linebacker depth.
Walker is a solid role player on the defensive line. But he could get more money elsewhere and I don't see the Falcons going out of their way to keep him.
November, 13, 2012
11/13/12
7:26
PM ET
The
Atlanta Falcons
shook up their roster a bit Tuesday evening, but it wasn't anything as major as when they released defensive end
Ray Edwards
on Monday night.
They had Edwards' roster spot to work with and another came available as the Falcons placed reserve tight end
Tommy Gallarda
on injured reserve.
To fill those two spots, the Falcons signed wide receiver Tim Toone and promoted tight end
Chase Coffman
from the practice squad. They also signed tight end Andrew Szczerba to the practice squad.
Toone was with the Falcons in the preseason but was waived-injured on Sept. 6. Toone's presence possibly could help free up wide receiver
Harry Douglas
to handle punt returns.
Dominique Franks
has been doing that without much success and Douglas has had some past success on punt returns. Although Toone has never played in a regular-season NFL game, it also is possible the Falcons consider him as a punt returner. Toone earned the Mr. Irrelevant title by being the last player chosen in the 2010 draft and had
some long punt returns
in college.
The loss of Gallarda hurts because he was often used as the team's blocking tight end. Starter
Tony Gonzalez
doesn't get asked to do a lot of blocking, so Coffman will be asked to share blocking duties with backup
Michael Palmer
.
October, 14, 2012
10/14/12
11:41
AM ET
September, 30, 2012
9/30/12
11:46
AM ET
ATLANTA --
Carolina Panthers
middle linebacker
Jon Beason
, who was listed as questionable with knee and shoulder injuries, will be active for Sunday's game with the
Atlanta Falcons
.
The biggest item of note on Carolina's list of inactives is that rookie receiver/return man
Joe Adams
will not play. Adams muffed a punt and fumbled on a kickoff return last week.
Kealoha Pilares
is expected to handle kickoff returns and
Armanti Edwards
is likely to handle punt returns.
Carolina's other inactives are
Jimmy Clausen
,
D.J. Campbell
,
Bruce Campbell
,
Mike Pollak
,
Antwan Applewhite
and
Frank Kearse
.
As expected, Atlanta fullback
Lousaka Polite
, cornerback
Chris Owens
, tight end
Michael Palmer
and running back
Antone Smith
are inactive due to injuries. The other inactives for the Falcons are
Dominique Davis
,
Lamar Holmes
and
Jonathan Massaquoi
.
September, 28, 2012
9/28/12
5:14
PM ET
The final injury reports are in for Sunday's game, so let's take a look at the most significant injuries around the division.
The news isn't good for a New Orleans defense that already was struggling. Linebackers
David Hawthorne
and
Jonathan Casillas
and defensive end
Turk McBride
have been declared out for Sunday's game at Green Bay. Casillas had been backing up Hawthorne. With both of them out,
Will Herring
appears likely to get the start.
Carolina middle linebacker
Jon Beason
(knee and shoulder) practiced Friday. Coach Ron Rivera said the team will see how sore Beason is Sunday before making a decision on his status. If Beason can't play against Atlanta,
Jason Phillips
is expected to start in the middle. Running back
Jonathan Stewart
is listed as probable and expected to play for just the second time this season.
The Falcons have declared tight end
Michael Palmer
, cornerback
Christopher Owens
, running back
Antone Smith
and fullback
Lousaka Polite
out for Sunday. That means
Dominique Franks
likely will be used as the nickel back and running back
Jason Snelling
probably will get some time at fullback.
Tommy Gallarda
is expected to take Palmer's place as the backup tight end.
The Buccaneers are relatively healthy compared to the other three teams. Reserve cornerback
Anthony Gaitor
is out for Sunday, but everyone else (including guard
Carl Nicks
and cornerback
E.J. Biggers
) is no worse than probable.
August, 2, 2012
8/02/12
12:00
PM ET
FLOWERY BRANCH, Ga. -- As you first watch and listen to the
Atlanta Falcons
in training camp, you quickly realize something is different.
They've got a bunch of marquee players (
Matt Ryan
,
Roddy White
,
Julio Jones
,
Tony Gonzalez
,
Michael Turner
,
John Abraham
and
Asante Samuel
), but the buzz isn't about them. Instead, most of the talk is about two new assistant coaches -- offensive coordinator Dirk Koetter and defensive coordinator Mike Nolan. That's understandable, because a lot of people thought the Falcons needed some major changes after they got thumped by the
New York Giants
in the first round of last season's playoffs.

With offensive coordinator Mike Mularkey (now head coach in Jacksonville) and defensive coordinator Brian VanGorder (now defensive coordinator at Auburn) leaving, Koetter and Nolan are big storylines. They might not have star power all by themselves, but watch and listen a little more and you'll see the two new coaches have plenty of star power behind them.
"Mike Nolan and Dirk Koetter have done a fine job of bringing their respective systems to the table and working with (coach)
Mike Smith
and the rest of the staff and developing a system that is melding well with all of our coaching opinions,'' general manager Thomas Dimitroff said. "It's a collaborative effort. It's not just one stamp from one coordinator or the other. It's been really interesting seeing everyone come together on the respective sides of the football to develop this new system.''
In conversations with Smith and Dimitroff, each repeatedly emphasized that key players (the guys listed above and a few others) have had extensive input into what the Falcons will do on each side of the ball. As soon as league rules allowed coaches and players to get together in the offseason, Ryan and Koetter began meeting regularly and discussing what the playbook should look like.
"There are a lot of things we've done well over the last few years, and the first thing Dirk asked me was what I liked and what I felt most comfortable with,'' Ryan said. "Then, we took the things I said and looked at our production in those situations and some of it was surprising because we didn't have as much success as I would have thought in some of the things I said I was most comfortable with, and we had some pretty good success with some of the things I didn't necessarily think I liked.
"We also watched a lot of film of Jacksonville (where Koetter was offensive coordinator last year), and we talked a lot about why they did certain things at certain times. There was a lot of very good give-and-take. He's extremely open to input, which is great for players, and I know he sat down and did the same thing with some other guys. But he also has his own opinions and is firm on his own opinions, and I like that about him.''
The Falcons have been very public about some of the ways their offense will change. They said they don't want Turner having to endure a 300-carry season. They said they want to use the screen pass more, after almost completely ignoring it in recent years. And they've made it very clear that they want to improve their downfield passing game.
What the actual playbook looks like is likely to be a combination of what both Koetter and the Falcons have done in the past.
The changes on defense are likely to be similar because Nolan also has consulted extensively with his key players. Nolan has spent 14 years as a defensive coordinator in the NFL, seven of them in the 4-3 defense and seven in the 3-4. The Falcons will continue to use the 4-3 as their base, but there could be some 3-4 looks and principles.
"We just have a lot of different things that we can do,'' outside linebacker
Sean Weatherspoon
said. "We're going to be aggressive. We're not being passive at all. Our mindset is that we want to go out there and dictate. We don't want to adjust to what an offense is doing. We want to put it on them to make changes.''
That would be a change from the VanGorder days, when the Falcons had some individual talent and a fair amount of overall success, but never really had an identity as a defense. The Falcons will be different on both sides of the ball.
"When you have new eyes, so to speak, you get a different view,'' Smith said. "We may have had a view that this guy's strengths are A, B and C and his weaknesses are D, E and F, and a new guy comes in and, because he's coming from a different perspective, he sees it differently. I think that's interesting in terms of evaluating your roster because you have two new sets of eyes.''
Maybe the eyes will have it. Maybe the new coordinators and new playbooks will be enough to help the Falcons win a playoff game for the first time since Smith, Dimitroff and Ryan arrived in 2008.
THREE HOT ISSUES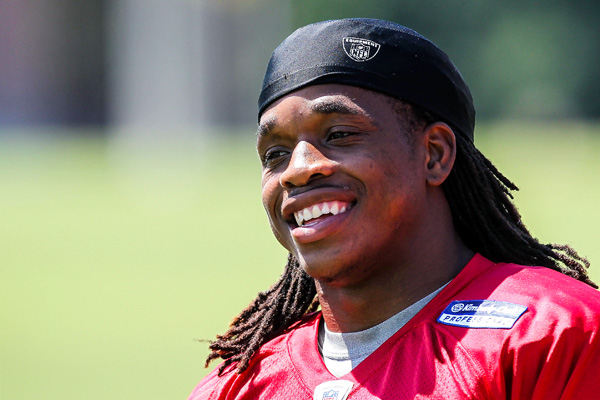 Daniel Shirey/US PresswireSecond-year running back Jacquizz Rodgers could play a larger role in the running game this season.
1. The running game with Turner's limit on carries.
Despite all the talk about the downfield passing game, I don't think the Falcons want to suddenly just abandon the running game. Turner still is powerful and can help open things up for the passing game. The Falcons just don't want to wear him out. They've used
Jason Snelling
at times to give Turner some rest, and Snelling will be involved again this season. But I don't think he's really the guy the Falcons are looking at to pick up a big chunk of Turner's carries.
I'm almost certain they have big plans for second-year pro
Jacquizz Rodgers
, and I think those plans might be a lot bigger than people realize. That's largely because Rodgers is bigger than the Falcons realized when they drafted him last year.
"Jacquizz is not little,'' Smith said. "He's short, but he's thick. People projected him to be a third-down back, a change-of-pace back. I think the guy has the skill set to play on all three downs. One of the things that stood out to me more than anything is his ability to pass protect. A lot of times, your change-of-pace back, you've got to get him the ball and not ask him to be a part of the protection. I don't think that's the case with Jacquizz. I think Jacquizz is an all-around back that can play on all three downs.''
Translation: The Falcons aren't looking for Rodgers to be what
Jerious Norwood
once was. They want him to be more like what
Warrick Dunn
once was.
2. Positive reinforcement.
I don't know if they were veiled shots at Mularkey, VanGorder and former middle linebacker and defensive leader
Curtis Lofton
, but I think it was significant that Smith and Dimitroff repeatedly used the word "positive'' when they talked about the coaching styles of Koetter and Nolan, and as they talked about the leadership qualities Samuel brings, and what kind of leader they expect Weatherspoon to become.
"Sean is such a positive guy,'' Smith said. "He is vocal, but he's never negative in the way he speaks. He's always very positive.''
Samuel was described in the same way. So were Nolan and Koetter.
I never sensed a lot of negativity from Mularkey, VanGorder or Lofton, but I also never sensed any of them were rah-rah guys. It sure seems like Smith and Dimitroff feel their team needed more positive reinforcement.
3. The pass rush.
For far too long, Atlanta's pass rush has consisted of Abraham and almost nothing else. Maybe fellow defensive end
Ray Edwards
steps up after an injury-filled season that limited him to 3.5 sacks. Or maybe reserves
Lawrence Sidbury
and
Kroy Biermann
produce more. But I get the sense Nolan isn't looking to have only defensive ends rush the passer.
"The way practice is going right now, we're really excited about getting the linebackers more involved in rushing the passer,'' Weatherspoon said. "Even in seven-on-seven, we're going. That will help those guys out there on the edge because now offenses are going to have to account for us all day. It'll be better because we'll be able to keep them on their heels.''
And it won't be just the linebackers. Look for the cornerbacks and safeties to also get plenty of opportunities to blitz.
REASON FOR OPTIMISM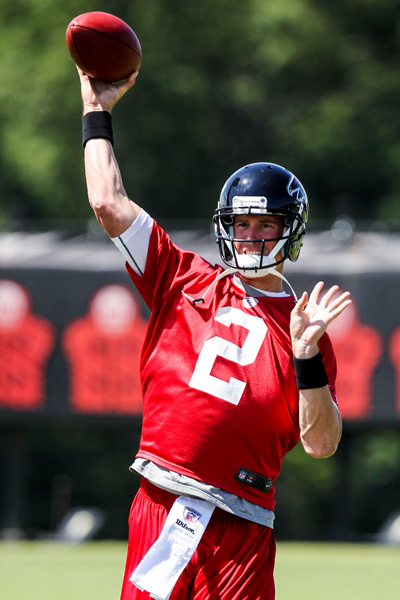 Daniel Shirey/US PresswireIs this the season Matt Ryan puts it all together and joins the echelon of elite quarterbacks?
Time to fly.
A lot of great young quarterbacks have seemed to hit a wall early in their careers. Even
Peyton Manning
had a reputation for not being able to win the big one early in his career, and look how that's worked out. I'm not saying Ryan is going to turn into the second coming of Manning, but I think this is the year in which Ryan finally can earn a firm spot in the category of elite quarterbacks.
The guy has done some very good things in his first four seasons and he's worked very hard to bulk up this offseason, so that he's not worn down when the playoffs roll around. Ryan has a good arm, excellent mental skills and a strong work ethic. But, for some reason, he just hasn't been able to take the next step. Last year, the Falcons brought in Jones to give him another weapon to go with White and Gonzalez. This year, they brought in Koetter, who has obvious instructions to get the most out of Ryan's skills.
When you keep doing things the right way, sooner or later it's all bound to click.
REASON FOR PESSIMISM
The offensive line.
This was a big problem spot last year. Ryan frequently didn't have enough time to throw the deep ball. The Falcons got rid of offensive line coach Paul Boudreau and replaced him with Pat Hill, who has a nice history with offensive lines. They also used their second-round pick on guard
Peter Konz
.
But were those two moves enough to bring dramatic improvement up front? Should the Falcons really be sticking with
Sam Baker
at left tackle? And even if they want to give Baker another shot, shouldn't they at least have brought in a viable alternative in case he struggles?
I know a lot of fans think the Falcons should have done more up front. But the Falcons think they've done enough. We'll find out who is right soon enough.
OBSERVATION DECK
July, 28, 2012
7/28/12
7:24
PM ET
FLOWERY BRANCH, Ga. – Falcons coach
Mike Smith
termed
the release
of veteran guard
Vince Manuwai
as a "football decision.''

The translation there is simple. Manuwai, who sat out last season and spent part of his career with Smith in Jacksonville, wasn't injured. The Falcons simply decided they like what they've seen out of their younger guards early in training camp and they're going to go in that direction.
Garrett Reynolds
, who started seven games at right guard last season, seemed to get most of the first-team work during Saturday afternoon's practice. But rookie
Peter Konz
,
Joe Hawley
,
Mike Johnson
and
Andrew Jackson
also are in the mix. Hawley also can play center, while Johnson also can play tackle.
"We've got a real competitive situation across the board on the offensive line,'' Smith said. "I think you'll notice that we're rolling the guys. They're not all going out right now, first team or second team. We're going to roll them in and out, look at the different combinations and come up with the best combination of seven offensive linemen. That's important, it's not just the first five, but seven offensive linemen because you've got to have the backups cross-train. We've got to have a second snapper, an emergency snapper. We've got to have tackles that can play guard and guards that can play center.''
Left guard
Justin Blalock
and right tackle
Tyson Clabo
might be the only guys who are penciled in as starters right now. The Falcons also are hoping left tackle
Sam Baker
can bounce back from the injuries that hampered him last season. If not,
Will Svitek
could be an option. Veteran
Todd McClure
is the incumbent starter at center. But McClure is 35 and, if he's showing signs of slowing down, Hawley could be a candidate to start at center.
Some other quick notes out of Saturday's practice:
Brent Grimes, who is carrying the franchise tag, might have another role than just playing cornerback: He has been getting some work as a punt returner. That's a job that's wide open after the departure of Eric Weems via free agency. Smith said wide receiver Harry Douglas and cornerback Dominique Franks also have been fielding some punts. Smith said he also may look at some young players on punt returns soon.
The play of the day came on a jump ball between two of Atlanta's best athletes. Grimes had good coverage on a pass that was thrown high for wide receiver Julio Jones. Grimes, whose vertical leap has been measured at more than 40 inches, went up as high as he could. But Jones, who also has some spring in his legs, came down with the ball.
The runner-up for play of the day came from a surprising combination. Backup quarterback Chris Redman hooked up with undrafted free agent Kenny Stafford on a touchdown pass of about 45 yards.
Speaking of backup quarterbacks and undrafted free agents, I was pretty impressed by the arm strength of Dominique Davis from East Carolina. He can throw the heck out of the ball. But the potential problem I see is that every pass comes at full speed and there's not a lot of touch.
The Falcons are currently carrying six tight ends. Veteran Tony Gonzalez is the starter and Michael Palmer did some good things last season. But the third roster spot at tight end appears to be up for grabs. There's a lot of camp and four preseason games ahead that will determine a lot. But I did see Tommy Gallarda make one very nice catch in traffic over the middle.
I got some one-on-one time with veteran defensive end John Abraham, who touched on a lot of subjects (including his thoughts on new defensive coordinator Mike Nolan, his decision to return to Atlanta after testing free agency, his belief that maligned teammate Ray Edwards is ready for a big season and some other things). I'll share those with you over the coming days. I'll be back out Sunday and Monday, watching the Falcons practice and doing interviews, and we'll run their Camp Confidential profile later next week.
March, 6, 2012
3/06/12
10:44
AM ET
The
Atlanta Falcons
quietly continue to move through the process of getting ready for the start of free agency.

After placing the franchise tag on cornerback
Brent Grimes
, the Falcons are now dealing with some other players that were not under contract for 2012.
The team announced Tuesday morning that tight end
Michael Palmer
and running back
Antone Smith
have signed their exclusive-rights tenders.
Palmer, who joined the Falcons in 2010, isn't known as a pass-catcher, and that's not needed because Atlanta has
Tony Gonzalez
in that role. But Palmer has played an important role in the offense as a blocker.
Smith has spent the past two seasons with the Falcons, playing primarily on special teams. But he also has some ability as a running back, and he could get a chance to show more of that moving forward. The Falcons have made it clear they want to lighten the load of feature back
Michael Turner
.
They have
Jacquizz Rodgers
, who is likely to get more use as a speed back in his second season. But Smith could compete with
Jason Snelling
as part of the rotation.
January, 15, 2011
1/15/11
7:18
PM ET
ATLANTA -- As expected, Atlanta cornerback
Brian Williams
will miss tonight's playoff game against Green Bay.
He didn't practice all week due to a knee injury and has been put on the inactive list tonight. That means
Christopher Owens
will have to step into Williams' role as a nickel back. A second-year pro, Owens isn't nearly as experienced as Williams. Owens runs well, but is undersized and isn't known as a physical player. The Packers may try to target Owens when he's on the field.
Also inactive for the Falcons are linebacker
Spencer Adkins
, offensive tackle
Garrett Reynolds
, guard
Mike Johnson
, tight end
Michael Palmer
, defensive end
Lawrence Sidbury
and defensive tackle
Trey Lewis
.
John Parker Wilson
has been designated as the third quarterback.
November, 28, 2010
11/28/10
11:37
AM ET
September, 6, 2010
9/06/10
12:57
PM ET
When I was on the phone with John Clayton on Sunday night working on our Great Debate for Wednesday, he threw out a great stat.
Clayton, who should have been a rocket scientist if he wasn't so great at what he does, was breaking down rosters in every way you could imagine. According to Clayton, and this is current as of late last night, the
Atlanta Falcons
were tied with Minnesota for the fewest new players.
They have only eight new players on their roster. The list includes free-agent pickup
Dunta Robinson
, undrafted tight end
Michael Palmer
and the draft class -- linebacker
Sean Weatherspoon
, defensive tackle
Corey Peters
, offensive linemen
Joe Hawley
and
Mike Johnson
, cornerback
Dominique Franks
and safety
Shann Schillinger
. Clayton's list doesn't include center
Rob Bruggeman
and running back
Antone Smith
because each of those guys spent time on Atlanta's practice squad last year.
What's this all mean? Coach Mike Smith and general manager Thomas Dimitroff really are sticking to what they like to call "the process,'' which basically means building through the draft, adding a free agent here and making sure you keep your core players.
It's a formula a lot of teams talk about but don't truly follow as they often get desperate and go outside for free agents. Entering their third season together, Smith and Dimitroff have stuck with the plan and it's been highlighted by the spectacular 2008 draft class.
The Falcons have had back-to-back winning seasons for the first time in franchise history, and their roster displays a lot of continuity. We'll see if that translates into them winning big, but I think they're headed in the right direction.
When you're able to cut a player like cornerback
Chevis Jackson
, it shows you've built a roster with pretty strong depth.
September, 3, 2010
9/03/10
9:25
AM ET

NFL SCOREBOARD
Sunday, 12/22
Monday, 12/23