NFL Nation:

Michael Philbin
January, 15, 2012
1/15/12
1:49
PM ET
GREEN BAY, Wis. -- The
Green Bay Packers
have confirmed that offensive coordinator Joe Philbin has rejoined the team and returned to his coaching duties Sunday, a week after his son Michael drowned in nearby Oshkosh, Wis. So I guess it's now appropriate to begin discussing the delicate position this tragedy has left a pair of NFL teams.
Last weekend, Philbin interviewed for the
Miami Dolphins
' head-coaching job. The position remains open, and Philbin remains high on the Dolphins' list, reports ESPN's Chris Mortensen. According to Mortensen, the Dolphins are maintaining contact with Philbin's agent to gauge whether he is prepared to consider outside opportunities.
Philbin could also garner interest from new
Oakland Raiders
general manager Reggie McKenzie, a longtime Packers executive. Whether Philbin would pursue either job is a complete unknown at the moment. We'll keep you updated.
January, 15, 2012
1/15/12
10:07
AM ET
THE FOX RIVER VALLEY -- Good morning to everyone from the general vicinity of Green Bay and Lambeau Field, where the Green Bay Packers and New York Giants will play the NFL's final divisional playoff game of the weekend later Sunday afternoon. We have plenty to discuss today, starting with news that Packers offensive coordinator Joe Philbin
appears likely to be at the game in some capacity
.
Philbin was away from the team all week, as you know, after the death of his son, Michael. The funeral was Friday. Packers coach Mike McCarthy told Lesley Visser of CBS Sports that Philbin would be at Sunday's game "to participate."
Philbin typically works from the coaches' booth during games.
As we discussed Friday, I'm not sure whether the Packers will get a motivational boost from Philbin's tragedy, if it served as a distraction or if it will have no bearing on the outcome of Sunday's game. I'm guessing it's the final option, but we don't really have a precedent to work off of here.
A number of Packers players have said this game would be dedicated to the Philbin family. Saturday afternoon, Packers receiver Greg Jennings
tweeted
: "Game of emotions on Sun. Tweeps, need u all loud as u ever been when we take the field. Make this ur challenge. #BeGreat 4 coach Joe & his fam!"
January, 13, 2012
1/13/12
1:31
PM ET
»
Divisional Final Word
:
Saints-49ers
|
Broncos-Patriots
|
Texans-Ravens
|
Giants-Packers
Three nuggets of knowledge about Sunday's New York Giants-Green Bay Packers divisional playoff game:
[+] Enlarge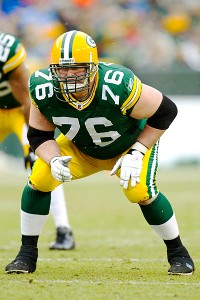 Jeff Hanisch/US PresswireChad Clifton will face one of the league's elite pass rushers in Jason Pierre-Paul.
Home-field advantage:
The playoffs will return to Lambeau Field for the first time in four seasons. The Packers are 15-3 all-time at home in the postseason. They've also won 13 consecutive regular-season games at Lambeau. Over that stretch, which began in Week 7 of last season, the Packers have outscored opponents by an average spread of 37-18 and have a +23 advantage in turnovers. The Giants have won two of their last three games at Lambeau, including the 2007 NFC Championship Game, but have won a total of three games in the state of Wisconsin since 1957. What does all of this mean? The Packers no doubt prefer playing at home over the alternative, but their opponent Sunday can draw on some relatively recent success to minimize the intimidation factor Lambeau would otherwise carry.
Key matchup:
We've spent time this week discussing the challenge facing the Packers' defense. (They are trying to become the first team in NFL history to win the Super Bowl after finishing the regular season with a defense ranked below No. 25 overall, based on total yards allowed.) We've also noted that the Packers have scored 83 points in two games against the Giants in the last 13 months. (All of our coverage is available through
this handy "Giants-Packers" link
.) But one of the most interesting subplots will be the return of Packers left tackle
Chad Clifton
to full-time duty -- just in time to face one of the NFL's top players in 2011. Giants defensive end
Jason Pierre-Paul
earned first-team All-Pro honors after compiling 16.5 sacks, including six in the Giants' final four regular-season games. Pierre-Paul is expected to start at right end, and when he takes a break or moves elsewhere, the Giants probably will use veteran pass-rusher
Osi Umenyiora
. Clifton hasn't played a full game since Week 4 because of hamstring and back injuries, and at 35 he's giving up 12 years to Pierre-Paul. But Clifton knows every veteran trick in the book, and he has traditionally fared well against elite pass-rushers, most notably
Jared Allen
. The Packers trust Clifton to figure out a way to keep the pass rush away from quarterback
Aaron Rodgers
.
Philbin factor:
After the death of Michael Philbin this week, the NFL community learned just how revered his father is by those who know him. The grief of Packers offensive coordinator Joe Philbin deeply touched the entire organization, and dealing with those emotions was an undeniable part of the team's preparation this week. Coach Mike McCarthy referred to it as a "punch in the heart" and fought back tears during a news conference Wednesday. It's too cliché to speculate whether the tragedy will help or hurt the Packers' mindset when they take the field Sunday, or if it affected their week in a tangible way. But if nothing else, we learned that Joe Philbin is deeply intertwined within the Packers' structure and success.
January, 11, 2012
1/11/12
5:32
PM ET
Some newsbits and random thoughts as the Green Bay Packers began practicing in earnest for Sunday's divisional playoff game against the New York Giants:
As we've been discussing for the past few days
,
the death of Packers offensive coordinator Joe Philbin's son
has hit the franchise hard. Quarterback
Aaron Rodgers
spoke slowly and in tones hardly recognizable
during the beginning of his Tuesday radio show, and on Wednesday coach Mike McCarthy, teared up and paused several seconds to collect himself while discussing the death of Michael Philbin.
Here's part of what McCarthy said, transcribed from
a video available on the Packers' web site
:
"Everybody's feeling it. There's no question on what level. That's really for the individual to speak on. But professionally, I've been very pleased with what we've been able to accomplish. We had a very productive day Monday, obviously with everything going on on Monday. And today, just a ton of energy. Clearly from a tempo standpoint, the execution is probably one of our finer Wednesday practices.
"And I think the reality of this just gave everybody a punch in the heart to let you know the reality ... how fortunate we are to be where we are."
Joe Philbin spent Wednesday with his family and McCarthy said he had not spoken to him about a return date. McCarthy had originally planned to assume Philbin's weekly duties but has since spread them around to the rest of his offensive staff.
McCarthy's message to the team Wednesday, he said, was about "the ability to separate." Obviously, that's easier said than done.
Michael Philbin's funeral is scheduled for Friday.
Rodgers told reporters Wednesday that "a bunch" of people from the organization are hoping to attend the funeral, but in another sign of how impactful this episode has been, Rodgers said he has never attended a funeral.
All 53 players on the Packers' active roster practiced Wednesday.
Technically, left tackle
Chad Clifton
(hamstring/back), receiver
Randall Cobb
(groin) and linebacker Robert Francois (hamstring) were limited. But McCarthy said even the limited players were close to full participation.
The Giants are in decent health.
Cornerback
Aaron Ross
, who suffered a concussion Sunday against the
Atlanta Falcons
, was cleared to practice. But running back
D.J. Ware
has not been cleared from his concussion and sat out practice. So did linebacker
Mark Herzlich
(ankle) and running back
Ahmad Bradshaw
(foot/back). But Bradshaw typically sits out at least one practice a week and is expected to play Sunday.
January, 10, 2012
1/10/12
1:02
PM ET
Police in Oshkosh, Wis.,
have confirmed the terrible news
we learned Monday night: The body pulled from an icy river was in fact the son of Green Bay Packers offensive coordinator Joe Philbin. Michael Philbin was 21.
There isn't much I can add to
Monday night's post
. This is the cruelest of tragedies.
Packers players are off Tuesday and the team has no scheduled media availability. But in an
appearance Wednesday morning on ESPN Radio

, linebacker Clay Matthews said the team will dedicate Sunday's divisional playoff game against the New York Giants to the Philbins.
"The Packer organization is truly a family-first environment," Matthews said. "We feel for the Philbin family. I think it goes without saying that this game, and how we approach it, and how we play, will definitely be dedicated to him. Hopefully we do it the right way."
As
Rob Demovsky of the Green Bay Press-Gazette
noted, it's hard to imagine Philbin coaching this week. Coach Mike McCarthy said Monday the team had a contingency plan ready if that was the case. In a statement, general manager Ted Thompson asked the public to respect the Philbin family's privacy and added: "All of us in the Packers family share in their grief."
January, 9, 2012
1/09/12
10:09
PM ET
As the NFC North blogger, my job is to provide analysis and reaction on the daily happenings in this division.
That means I need to write something about
the death of Michael Philbin
, the 21-year-old son of Green Bay Packers offensive coordinator Joe Philbin.
Reaction? Analysis?
Sorry. I've got nothing.
Is there any tragedy more jarring and unspeakable than sudden death? By nature, it defies explanation and crushes perspective. There are no words, at least not for me.
Packers guard T.J. Lang found a few, days after burying his own father, who died last week following an illness.
Via Twitter, Lang said
: "As children we all have to someday say goodbye to our parents, but a parent should never have to say goodbye to their child."
According to reports, Michael Philbin fell through ice early Sunday morning in Oshkosh, Wis., and drowned. His body was recovered Monday afternoon, and ESPN confirmed the identity Monday night.
The Philbins have lived in the Green Bay area since 2003, when Joe first joined the Packers as an assistant offensive line coach. He is one of the nicest and most gentle men you'll meet in football, and his career has ascended rapidly in recent days. The Kansas City Chiefs and Miami Dolphins both interviewed him for their head coaching jobs, and he is probably on the short list of candidates that Oakland Raiders general manager Reggie McKenzie would pursue to replace incumbent Hue Jackson.
It would be crass to consider how this tragedy might affect Philbin's career, much less the Packers' preparations for Sunday's divisional playoff game against the New York Giants. Suffice it to say, the organization will move forward this week knowing that one of their longest-tenured and most loyal football employees is going through the cruelest of tragedies.
That of, course, is easier said than done. Go ahead and watch coach Mike McCarthy struggle to make it through his Monday news conference if you don't believe me. (
Video via Packers.com.
)
We've spent some time on this blog discussing the Packers' community ownership and sense of family. It's no joke. I suspect the Packers will be comforted knowing that the Philbins' private tragedy will be mourned by neighbors they don't know and friends worldwide they've never met. If strength can be found in numbers, the Philbins are in excellent hands.
January, 9, 2012
1/09/12
12:51
PM ET
Let's all hope for a positive ending to this story from
the Green Bay Press-Gazette
.
The son of
Green Bay Packers
offensive coordinator Joe Philbin was reported missing Sunday night. Police in Oshkosh, Wis., are seeking information on the whereabouts of Michael T. Philbin, 21, who was last heard from early Sunday morning.
Joe Philbin has been a Packers assistant coach since 2003 and their offensive coordinator since 2007. He has been named as a candidate for multiple NFL head coaching jobs recently, and interviewed for openings last week with the
Kansas City Chiefs
and on Saturday with the
Miami Dolphins
.
The Dolphins job remains unfilled. It's also possible that Philbin could be a candidate for the
Oakland Raiders
' job if incumbent Hue Jackson is fired by new general manager Reggie McKenzie, a longtime former Packers executive. The Packers will reconvene Monday at Lambeau Field to begin preparations for Sunday's divisional playoff game against the
New York Giants
.
This is a private issue that will play out partly in public due to police involvement. We'll do our best to respect both sides of that.

NFL SCOREBOARD
Sunday, 2/2
WEEKLY LEADERS