NFL Nation:

Michael Sam at the NFL Combine
February, 24, 2014
2/24/14
4:30
PM ET
Michael Sam
wasn't the only one being asked about Michael Sam last weekend at the NFL combine.
Every coach, general manager and prospect heard some form of a question about the first openly gay player at the combine, and likely the first openly gay NFL player.
Arizona Cardinals
coach Bruce Arians was no exception.
"None of that matters in the locker room," Arians told
Kent Somers of AZCentral.com
. "Every locker room I've been in, it's been all about winning. If you had a hand in us winning, and you were different, guys accepted it.
"Fans? That's a very different story. I've walked into stadiums where gentlemen are teaching their sons how to moon the bus and moms are teaching their daughters what their middle fingers are for, and it's not a ring. That scares me more, what's going to be said from the stands. The locker room won't be a problem."
When it comes down to business, however, Sam's sexual orientation is put on the backburner, Cardinals general manager Steve Keim said.
"This is a big issue across the country, and you might think GMs would be talking to each other and it would be a big topic. And it's actually not," Keim said. "I haven't had one conversation with a GM or other personnel guy about the situation."
February, 22, 2014
2/22/14
6:00
PM ET
INDIANAPOLIS -- To no surprise, Missouri defensive lineman
Michael Sam
was the center of attention during the media portion of the NFL scouting combine on Saturday.
Sam spent a significant amount of time answering questions about his sexual orientation. He publicly acknowledged that he is gay two weeks ago.
Indianapolis Colts
coach Chuck Pagano said Sam's sexual orientation would not be a problem inside their locker room.
"I love the environment we've created, the culture we've created," Pagano said. "I think we have an outstanding locker room. The Colts never have and never will discriminate based on sexual orientation. We look at the player. We'll evaluate him just like we evaluate everybody else. If he can help our team and help us win football games, he'll be more than welcome."
Pagano's comments back up what many of his players said two weeks ago: The Colts treat each other like brothers by having a family-type atmosphere inside their locker room.
"Love is love to me," punter
Pat McAfee
said Feb. 9. "As long as folks are happy, I'm happy. There are a lot of bigger issues in the world, and happiness and love are things we shouldn't be restricting."
February, 22, 2014
2/22/14
4:35
PM ET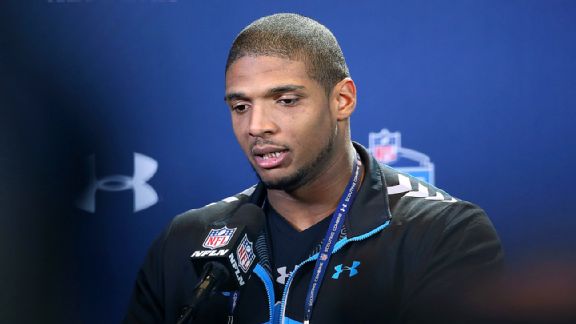 AP Photo/Ben LiebenbergDefensive end Michael Sam has told NFL executives he can be the pass-rusher every team covets.
INDIANAPOLIS -- It was a 12-minute, 30-second glance into the future.
But when
Michael Sam
, the NFL's first openly gay draft hopeful stood before a huge array of cameras, digital recorders and smartphones sending his image to Twitter on Saturday at the NFL's scouting combine, he simply owned the moment.
He was composed, witty, engaging. He handled himself the way he's going to have to handle himself in the days, weeks and months ahead in whatever becomes of his professional football career. Sam looked ready, sounded ready, oozed ready for what's to come.
He is at the front of the line, a player who will have to wrestle, control and handle all of the attention that will be along for the ride.
Sam understands all of it, at least he says he understands. He received a standing ovation when the Missouri football team was honored at halftime of a recent Missouri-Tennessee basketball game in one of his few public appearances since his Feb. 9 announcement that he is gay.
Saturday, he repeatedly lauded those in and around the Missouri campus for "all of the support," including a "Stand with Sam" button he wore at the combine, given to him, he said, by a "very kind lady." And Sam's announcement, as well as his appearance at the combine, has brought all of the is-the-NFL-ready-for-a-gay-player storylines. For the past two weeks, players have been quoted, both anonymously and on the record, about Sam's football future.
There have been gay players in NFL locker rooms before, some who have acknowledged it to teammates and some who have not. But Sam will be the first to have publicly announced it before arriving.
Baltimore Ravens
general manager Ozzie Newsome constructed two Super Bowl teams as a team executive, and he was a Hall of Famer as a player. Newsome said Saturday that Sam already has dealt with teammates who knew Sam was gay. The challenge, at this point, Newsome said, is how Sam deals with the public and the media in a wired world.
"He's been a good player, he's been in the locker room, it's what you, the media, what are y'all going to do with him," Newsome said. "Once he gets in, and he can rush the quarterback, get the quarterback on the ground and make tackles, he's going to be a good teammate. The biggest thing is how the media is going to deal with it."
Newsome was then asked -- as an executive who makes roster decisions, who builds depth charts -- if the attention given to Sam would be a deterrent for those trying to figure out where Sam should be drafted.
"This is something that is new to the league and we all will have to adapt to it," Newsome said. "What I was talking about, I think our locker room has had the tendency to adapt to things a lot smoother than maybe the media does."
The Broncos' top decision-maker, John Elway, also a Hall of Famer as a player, has said Sam's announcement would have no impact on how he will be evaluated as a player. That "having spent 16 years in an NFL locker room [as a player], the bottom line is that it's about treating others with respect and earning that respect. By all indications, it appears Michael has done just that throughout his football career."
That was the message Sam delivered for all those gathered in front of him Saturday. His "whole focus" has been preparing for the combine, preparing for his pro day next month.
"Heck, yeah, I wish you guys would ask me, 'Michael Sam, how's football going?'" he said. "I would love for you to ask me that question, but it is what it is. And I just wish you guys would see me as Michael Sam the football player instead of Michael Sam the gay football player."
In his interviews with NFL team executives at the combine, Sam's message has been he can be the pass-rusher every team covets, that concerns he's too small to be a defensive end and did not perform well in linebacker drills at the combine are things he can alleviate with the benefit of opportunity.
"I'm a pass-rusher. If you put me in a situation to get the quarterback, I'm going to get the quarterback," Sam said. "Whoever the coaches, the GMs, this league is a passing league, and I like to believe in myself as a good pass-rusher."
While the attention Sam has in tow will come in large part because of his off-the-field life, Sam said his concentration is on football, and that football should determine his professional future.
Those who know Sam believe he can handle the attention, or as Missouri defensive end
Kony Ealy
said Saturday, "I expect him to go in there and just do his job. … He motivates. … He's just that type of player, that type of person, off the field, all around."
Sam was asked Saturday if he felt like a trailblazer in all of this, and his answer showed his mindset, showed what he has presented to the league's decision-makers.
"I feel like I'm Michael Sam."
Michael Sam, the football player.
February, 22, 2014
2/22/14
4:00
PM ET
INDIANAPOLIS -- A few takeaways from Jerry Reese's news conference Saturday at the NFL scouting combine:
The
New York Giants
' general manager praised former offensive coordinator Kevin Gilbride, but he also said "it was time to make a change" -- a comment that suggests the organization wanted him out. Officially, Gilbride retired amid speculation he was on the verge of being fired. Reese described new coordinator Ben McAdoo as a breath of fresh air.
"I think he's going to bring some new life," Reese said. "Obviously, Coach Gilbride did a terrific job for us. The change, I think, is going to energize our offense a little bit. There's new learning for the quarterback and the staff. He's an interesting guy. Very bright."
Reese wanted no part of a big-picture discussion on former Missouri defensive end Michael Sam, who announced recently that he's gay. "I'm not talking about that," Reese said. "If you want to talk about him as a football player, that's fine. What people do in their personal life, I'm not concerned about that. That's not true, of course, because teams spent millions each year to perform background checks on prospects. They absolutely care about what players do off the field. I think he's a good football player. You have to be a pretty good football player to win [co-Defensive Player of the Year in the SEC]. In our evaluation, he's a good football player."

A shade under 6-foot-2, and 255-260 pounds, Sam projects as a defensive end in the Giants' 4-3 front. After Sam's announcement, Giants co-owner John Mara released a statement, saying Sam's sexual orientation wouldn't affect his position on the team's draft board.
C David Baas (knee), G Chris Snee (hip) and S Stevie Brown (knee) are progressing well from major injuries, according to Reese. Reiterating what coach Tom Coughlin said Friday, Reese said Snee has expressed a desire to play in 2014. There had been some rumblings about retirement.

Reese didn't rule out the possibility of drafting a quarterback for the second straight year. He acknowledged the obvious -- they won't take one with the 12th overall pick -- but he said "we're not afraid" to select one in the late rounds. A year ago, the Giants picked Ryan Nassib in the fourth round.

Reese said he's not opposed to trading down from the 12th spot.
February, 22, 2014
2/22/14
3:15
PM ET
INDIANAPOLIS -- Some long-time attendees of the NFL combine estimated that the crowd of reporters around former Missouri defensive end
Michael Sam
was the largest media gathering around a single player they had ever seen.
"I just wish you guys would see me as Michael Sam the football player, not Michael Sam the gay football player," the draft hopeful said Saturday.
It sounds like
Green Bay Packers
general manager Ted Thompson sees it that way. When asked for his reaction to Sam being the first openly gay player in the NFL, Thompson on Friday said: "I haven't had much of one."
"I think there's a lot to do about much of nothing," Thompson said.
He echoed what coach Mike McCarthy said on April 10, the day after Sam made his announcement, when McCarthy said
the Packers "have room" for any player
that can be a good teammate and a productive player.
"With the Packers and every one of these teams, what we've been talking about the last 10 minutes since I've been standing here is how do we win and how do we do things?" Thompson said. "If someone can help us win games and be a good citizen, we're fine with him."
February, 18, 2014
2/18/14
12:12
PM ET
The on-field workouts at the 2014 NFL scouting combine begin Saturday, Feb. 22, but Wednesday marks the first day players will begin to arrive in Indianapolis as they embark upon a critical step in the pre-draft process.
We won't be far behind them, as ESPNBoston.com is scheduled to touch down in Indy Wednesday evening.
With the event looming, here's the rundown of what we're hoping to learn this year.
1. Who measures up?
Ultimately, the combine is known most for the physical testing and drills that will take place from the 22nd to the 25th. We'll keep a close eye on standout performers, players who struggle, fast risers, fast fallers, and anything else in between. The combine is just a part of the process in evaluating draft prospects, but it can provide extremely important information. One area that the
New England Patriots
were able to reinforce about top choice
Jamie Collins
last year was his explosiveness. He set the record for best broad jump in combine history at 11 feet 7 inches.

Ebron
2. Targeting tight ends.
Things can change before the draft (free agency plays a big part in this), but our current feeling is tight end is the Patriots' biggest positional need. This year's crop of tight ends is considered deep and talented, with North Carolina's
Eric Ebron
leading the way, followed by Washington's
Austin Seferian-Jenkins
and Texas Tech's
Jace Amaro
. Meeting and learning more about the prospects at the position is a top priority for us.
3. Offseason update.
Teams are not required to, but nearly every NFL team provides either its head coach or general manager for a question-and-answer period in the media room during the combine. The Patriots announced that they won't be talking, but in case that changes, it'll be interesting to hear what either Bill Belichick or Nick Caserio say about the team's current state.
4. League-wide Patriots perception.
Even if Belichick and Caserio don't speak, we'll pick the brain of the available personnel for their take on areas that the Patriots can improve upon and other franchise-related thoughts.
5. Game of tag?
Speaking of franchise, the combine falls in the middle of the current franchise-tag window, and we'll continue to keep a close eye on any possible movement on that front, both for the Patriots and around the league.
6. Quarterback crop.
Quarterback obviously isn't a top need for the Patriots, though
Ryan Mallett
does enter the final year of his contract this season. But the position typically headlines the event, with several prominent prospects this year. We'll look forward to hearing from some of the top players such as Louisville's
Teddy Bridgewater
and Texas A&M's
Johnny Manziel
, and also to see which players opt to throw at the combine.
7. Other notable prospects.
During last year's combine, Notre Dame linebacker
Manti Te'o
drew what some believed was the largest audience for a player interview in combine history. There are prospects this year who are expected to draw robust crowds, with Manziel and Missouri defensive end
Michael Sam
topping the list. Sam recently announced he is gay.
8. Players with local ties.
We'll aim to track down some of the local area players, as there is a host of combine invitees from New England schools, as well as four players who hail from Massachusetts.
9. Expecting the unexpected.
You never know what is going to happen at the combine, which is one reason it's a particularly unique event. On our way to Lucas Oil Stadium during the first day of the event last year, team ESPNBoston.com crossed paths with former Patriots long-snapper
Lonie Paxton
, who was in town to promote a product line. We're counting on more of the same unexpectedness this year.