NFL Nation:

Michael Smith
May, 24, 2013
May 24
12:00
PM ET
»
NFC Eight in the Box
:
East
|
West
|
North
|
South
»
AFC
:
East
|
West
|
North
|
South
How does each NFC South team look at running back, and what still needs to be done?

Atlanta Falcons:
The Falcons upgraded this position quite a bit in free agency by replacing
Michael Turner
with
Steven Jackson
. This will be Jackson's 10th NFL season, but he is still running very hard and shows an impressive burst for his age. He is as physical as ever and, for the first time in recent memory, will not be facing stacked boxes down after down. Jackson is also a far superior receiver to Turner, which is extremely important in this offense, which excels with so many great receivers. Jackson might not have a lot of big years left, but I expect 2013 to be one of his finest.
Jacquizz Rodgers
caught 53 passes last year, but Jackson should cut into Rodgers' role on throwing downs. And Rodgers isn't a true answer if Jackson were to go down. That lead role probably would go to
Jason Snelling
, who also is not a liability catching the football. Rodgers should see a fair amount of playing time, though, in Atlanta's three-wide receiver sets, as he did a year ago.

Carolina Panthers:
The Panthers have more running backs than they know what to do with -- and have invested too many premium resources at this position. The lead guy here is
Jonathan Stewart
, who, if given the chance to be a featured back for an entire season and able to stay healthy, might just prove to be one of the top half-dozen backs in the league. Stewart has missed only nine games over his five seasons but is constantly fighting nagging injuries. He also averaged a meager 3.6 yards per carry last season after averaging 5.4 the year before. The Panthers recently restructured
DeAngelo Williams
' contract, ensuring he'll remain in Carolina. This will be Williams' eighth NFL season, but he hasn't received more than 173 carries in any of the past three seasons. He has breakaway abilities and a penchant for breaking off long runs. I think he still has plenty left in the tank.
Mike Tolbert
is listed as a fullback, but he is a short-yardage specialist who is a bowling ball with a low center of gravity. For a back of his dimensions (5-foot-9, 245 pounds), he is also a surprisingly adept receiver. Oddly, when considering all of its other needs, Carolina used a sixth-round pick on
Kenjon Barner
, a perimeter and space player who comes from Chip Kelly's high-octane Oregon offensive attack.

New Orleans Saints:
Chris Ivory
is now with the Jets, but the Saints still have a full stable of capable backs. In his first two NFL seasons,
Mark Ingram
has rushed for only 1,076 yards combined and has averaged under 4.0 yards per carry. But I expect Ingram to break out in 2013. Health issues have been a problem since he entered the league, but, as the 2012 season went along, he looked more and more comfortable. Despite its great prowess throwing the ball, Sean Payton's offense stresses a physical, inside running game, which suits Ingram very well.
Darren Sproles
turns 30 before the season, but he is not at all short on quickness, speed or explosiveness. He is an elite receiving back who has caught 161 balls over his past 29 regular-season games.
Pierre Thomas
isn't huge on production numbers, but he is extremely effective on a per-touch basis as a runner or receiver. He could fill in very ably in Ingram's or Sproles' role for a short period of time. The Saints use Thomas extremely well.
Travaris Cadet
could have a small role for New Orleans.

Tampa Bay Buccaneers:
Doug Martin
was a phenom in his first season, accumulating nearly 2,000 combined yards even though the Buccaneers were missing their high-priced guards to help pave the way. Martin entered the league NFL-ready with an excellent all-around game. He is a very good, but not great, receiver. The same is true for his pass protection. He should only get better in both areas. But Martin is already a very good runner who can get to the corner with speed, break long runs and handle the physical pounding at the position. He is an excellent interior runner. Rookie sixth-round pick
Mike James
could be Martin's direct backup, but Tampa Bay also used a seventh-round pick last year on
Michael Smith
.
Brian Leonard
is on the roster, as well. James isn't flashy but has size and isn't a dancer. Smith has more quickness to his game, but probably wouldn't be suited for a large role if Martin were to miss time. Leonard plays hard and is a good blocker and receiver. He is also an accomplished special-teams player and knows how to help a team. Don't be surprised if the Buccaneers consider adding a veteran running back before training camp opens.
December, 2, 2012
12/02/12
7:26
PM ET
Thoughts on the
Tampa Bay Buccaneers
'
31-23 loss
to the
Denver Broncos
on Sunday:


What it means:
For the second straight week, the Bucs got to the corner and couldn't quite turn it. There's no question the Bucs are on the right path, but this was another game in which they showed they're not ready to beat a good team. But they're close. They lost by a point to Atlanta last week and they controlled the Denver game for the first half before the Broncos took control by scoring 21 points in the third quarter. At 6-6, the Bucs remain in the playoff picture for this season. But the postseason might be a more realistic goal for next season. Somewhere along the way, the Bucs have to figure out how to beat good teams if they truly want to take the next step.
What I liked:
The way Tampa Bay compensated for its problems in the secondary in the first half. They held
Peyton Manning
to one first-half touchdown pass and that was to defensive tackle
Mitch Unrein
. They were able to keep their young cornerbacks from getting exploited and that was largely because Tampa Bay's offense did such a nice job of controlling the ball and keeping Manning off the field.
What I didn't like:
The offense went completely cold in the third quarter. That gave Manning an opportunity to pick on rookie cornerback
Leonard Johnson
and the complexion of the game changed rapidly.
What else I didn't like:
The Bucs put virtually no pressure on Manning. They are without defensive end
Adrian Clayborn
, who is out for the season with an injury. But ends
Michael Bennett
and
Da'Quan Bowers
and tackle
Gerald McCoy
have the ability to generate a pass rush. They didn't do it against the Broncos and that's why Manning hung the secondary out to dry.
Injury watch:
Kickoff returner/reserve cornerback
LeQuan Lewis
went down with a knee injury, which didn't look good, late in the fourth quarter. If Lewis misses any time, the Bucs might turn to rookie running back
Michael Smith
as their kick returner.
It happened again:
Remember early in the season when the Bucs still were going hard against the
New York Giants
with
Eli Manning
lined up in the victory formation? The Bucs did the same thing to his brother. Peyton Manning took a knee twice at the end of the game and the Bucs came after him. Manning didn't get touched but his offensive lineman didn't react kindly and there was some pushing and shoving with Tampa Bay defenders. Tampa Bay coach Greg Schiano talked to Manning after the game, but it wasn't clear if the quarterback had any problem with Tampa Bay's tactics. I'm sure Manning will be asked about it in his postgame interview.
What's next:
The Bucs host the
Philadelphia Eagles
next Sunday.
November, 25, 2012
11/25/12
11:42
AM ET
TAMPA, Fla. --
Atlanta Falcons
linebacker
Sean Weatherspoon
will make his return Sunday against the Buccaneers after missing three games with an ankle injury.
That should help a run defense that has struggled in his absence. Receiver
Julio Jones
(ankle) and cornerback
Asante Samuel
(shoulder) had been listed as questionable, but they are active and expected to start.
The inactives for the Falcons are quarterback
Dominique Davis
, safety
Charles Mitchell
, receiver
Tim Toone
, offensive lineman
Phillipkeith Manley
, defensive end
Lawrence Sidbury
, defensive tackle
Peria Jerry
and offensive lineman
Harland Gunn
.
The inactives for the Bucs are cornerback
Eric Wright
, running back
Michael Smith
, safety
Cody Grimm
, linebacker
Najee Goode
, offensive lineman
Cody Wallace
, defensive tackle
Matthew Masifilo
and receiver
David Douglas
.
October, 21, 2012
10/21/12
11:54
AM ET
August, 23, 2012
8/23/12
12:22
PM ET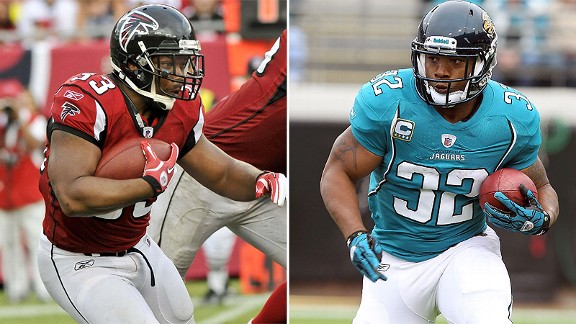 US PresswireReplacing Michael Turner, left, with the younger Maurice Jones-Drew would upgrade the running back position, but at what cost?
One of the things I like best about this job is that any time there's even a rumbling that a player might be on the trading block, the questions start coming.
It generally doesn't matter who the player is. Would the ____ be interested? And you can fill in the blank with the Buccaneers, Falcons, Panthers or Saints.
But the recent reports that Jacksonville running back
Maurice Jones-Drew
is
open to a trade
have brought a variation of the usual pattern.
I haven't gotten a single question about if the Panthers, Saints or Buccaneers might be interested in Jones-Drew. That's mainly because the Panthers and Saints already have an abundance of quality running backs and the Bucs are hoping rookies
Doug Martin
and
Michael Smith
can help push them into that category.
The Atlanta fans, however, have been out in full force. They aren't simply asking about potential interest in Jones-Drew. They're going ahead and suggesting terms of the trade -- Jones-Drew in exchange for
Michael Turner
, straight up.
I can see some of the reasons for the rapid speculation. New Atlanta offensive coordinator Dirk Koetter had a lot of success with Jones-Drew in Jacksonville. New Atlanta coach Mike Mularkey had a lot of success with Turner when he was offensive coordinator in Atlanta. Jones-Drew would bring a lot more variety to Atlanta's backfield. Turner could bring stability to Jacksonville's backfield and that's important as Mularkey tries to develop second-year quarterback
Blaine Gabbert
.
But there are more compelling reasons why I don't see Jones-Drew ending up in Atlanta. Let's run through them:
1. Do you really think the Jaguars would give up Jones-Drew for Turner?
Jones-Drew is 27 and Turner is 30. That's a huge age difference when you're talking about running backs. Their value simply isn't the same. The Falcons would have to give up more than Turner to get Jones-Drew.
2. I'm not sure the Falcons really need Jones-Drew.
Don't get me wrong, the guy is a tremendous running back. He led the NFL in rushing yards last season and he also can catch the ball out of the backfield. The Falcons already have made it clear they don't want Turner getting more than 300 carries this season. The automatic assumption is they want to keep Turner fresh and there's some truth to that. But I also think a big part of the reason the Falcons don't want to run Turner so much is because they want to be more of a passing team. If they bring in Jones-Drew, they might be tempted to fall back on the running game and that would take away from the plans they have for
Matt Ryan
,
Roddy White
,
Julio Jones
and
Tony Gonzalez
in the passing game.
3. I can't help but wonder if the Falcons might look at this scenario and think about their recent history.
They paid a lot of money to cornerback
Dunta Robinson
because he thought he might be the missing link to a Super Bowl championship. They did the same thing with defensive end
Ray Edwards
. They gave up a lot in terms of draft picks to get Jones last season. So far, the Falcons haven't reached a Super Bowl. If they still were in the one-player-away mode, wouldn't they have at least made a run at
Mario Williams
in free agency? There obviously is urgency for the Falcons to win big quickly, but they spent the offseason keeping what they had and tweaking it. It sure don't seem like their current mindset would be to make an explosive move right before the start of the regular season.
4. The thing that's being overlooked in all this is the very reason Jones-Drew is holding out in Jacksonville.
He has two years remaining on his current contract and wants a new deal. When players like Jones-Drew hold out, it's because they want to be among the top-paid players at their position.
Adrian Peterson
averages $14.2 million a season.
Chris Johnson
averages $13.5 million. Jones-Drew wants something comparable -- no matter where he plays. The Falcons really aren't in a position to spend that kind of money. They already have $117 million committed toward a 2013 salary cap that's likely to be somewhere around $123 million and they might have to factor in a contract extension for Ryan before then (and there's also the matter of re-signing some potential free agents and signing next year's draft class). Plus, let's go back to Jones-Drew's age. Do you really want to tie up huge money in a running back that's averaged over 300 carries a season the past three years? Do you really want to tie up huge money in a guy that's going to be in the same situation as Turner in two or three years?
August, 17, 2012
8/17/12
11:49
PM ET
TAMPA, Fla. -- Coach Greg Schiano said the injury suffered by Tampa Bay running back
LeGarrette Blount
in Friday night's
30-7 preseason loss
to the
Tennessee Titans
did not appear to be serious.
Blount went down with 2 minutes, 18 seconds left in the first half. At first, medical personnel appeared to be looking at his left knee. But, after the game, Schiano said Blount's injury was to the groin area.
"It's going to be sore for a bit, but I think he'll be okay,'' Schiano said.
Blount is competing with rookie
Doug Martin
for the starting job. Blount got his second straight preseason start against the Titans and carried eight times for 11 yards before the injury. Martin carried seven times for 23 yards. Seventh-round draft pick
Michael Smith
led the Bucs with 31 rushing yards on seven carries.
August, 17, 2012
8/17/12
10:42
PM ET
TAMPA, Fla. -- Some quick thoughts on the Buccaneers'
30-7 loss
to the
Tennessee Titans
on Friday night at Raymond James Stadium:
I don't want to speculate too much on LeGarrette Blount's injury, but it's a pretty major concern any time a running back suffers what appears to be an injury to the knee or leg. Blount went down with 2 minutes, 18 seconds left in the first half. He stayed on the ground for a long time and the medical staff appeared to be looking at his left leg or knee. Blount eventually left the sideline and went to the locker room, presumably for further testing. Blount had a strong training camp and had gotten the start in each of the first two preseason games. Blount appeared to have a shot at keeping his starting job or at least get serious playing time in tandem with rookie Doug Martin. But, if Blount's injury is serious, Martin might have to be a do-it all running back. Rookie Michael Smith, Mossis Madu and De'Anthony Curtis would be candidates for backup duty if Blount is out for an extended period.
I'll let you know if coach Greg Schiano has any update on Blount's injury in his post-game press conference. But I'm guessing it might be a day or two before we know anything for sure.
Tampa Bay's run defense, especially on the second level, struggled. The Titans ran for 123 yards in the first half and Chris Johnson seemed to stroll into the end zone on both of his touchdown runs.
Jake Locker and Matt Hasselbeck combined to throw for just 37 yards in the first half. Give Tampa Bay's pass defense some credit for that. But Locker might have helped the Bucs look good as he completed just 4 of 11 passes for 21 yards while getting the start.
Safety Ahmad Black had Tampa Bay's biggest defensive play of the night. He intercepted a Locker pass and returned it 29 yards to the Tennessee 2-yard line. Two plays later, Josh Freeman hit Mike Williams with a touchdown pass.
Freeman had an unspectacular outing. He completed 4 of 10 passes for 21 yards before giving way to Dan Orlovsky.
I'd say depth on the offensive line is an issue. Orlovsky was sacked four times. Mobility is not his strength, but Orlovsky didn't have a chance most of the time.
August, 10, 2012
8/10/12
10:44
PM ET
For the first time since October, the
Tampa Bay Buccaneers
have won a football game, defeating the
Miami Dolphins
on Friday night,
20-7
.
So what if it doesn't count in the standings because it's just a preseason game? We might look back on it in the future and remember it fondly as the start of a successful Greg Schiano era. Heck, even if Schiano's overall tenure doesn't go well, what happened in Miami sure was a lot better than what happened in the final 10 games that Raheem Morris coached this team.


Although the starters played only briefly, it's obvious Schiano has brought some order to a team that desperately needed it. The first-team offense opened with a long scoring drive, the second team followed with an even longer one and the defense got the Dolphins off the field.
Let's take a look at some observations on the Bucs:
Running back LeGarrette Blount, who is trying to hold onto his starting job, got off to a good start. Blount got the start and played well. Blount carried seven times for 30 yards and even caught a pass. Blount also scored the game's first touchdown, hurdling over a pile at the goal line, but you could make the case Blount should have gotten in on third down if he had followed Carl Nicks with more authority.
Doug Martin, the rookie Blount is trying to hold off, also fared well. Martin scored the game's second touchdown on a short run and did it behind a second-team offensive line that's not nearly as good as the first unit. Martin's highlight play came on a run in which it looked like he was tackled. He then spun free and never hit the ground. Martin also did a nice job blocking Cameron Wake on a key pass play to Luke Stocker on the offense's first drive.
Speaking of rookie running backs, Michael Smith, a seventh-round draft pick, had a 74-yard kickoff return in the third quarter.
Quarterback Josh Freeman completed 4 of 5 passes for 41 yards while playing only one series. Freeman didn't do anything spectacular, but he looked calmer than last year. Maybe that was because he had some help from the running game as the Bucs drove 59 yards on 13 plays in seven minutes and 17 seconds.
Top draft pick Mark Barron was held out due to a slight injury. Cody Grimm, who had been working with the third team early in camp, ran with the first team.
Wide receiver Preston Parker has had a nice camp. But he probably had a few points deducted by Schiano after drawing a 15-yard penalty for slapping Miami's Richard Marshall after a play ended. Things got worse for Parker in the second quarter when he fumbled a punt return. Yeah, it was raining and the ball was wet, but those same conditions can be present in the regular season.
Second-year linebacker Mason Foster and second-year defensive end Adrian Clayborn both put big hits on a Miami back on a running play near the end of the first quarter.
Rookie linebacker Lavonte David was drafted in the second round because the Bucs believe he can make big plays. He did. David intercepted a tipped pass in the second quarter.
Backup quarterback Dan Orlovsky completed all eight of his passes for 91 yards, but it wasn't as spectacular as it sounds. Receiver Tiquan Underwood bailed Orlovsky out with a catch on a 44-yard pass that a Miami safety had the angle on but failed to reach out for the ball.
July, 19, 2012
7/19/12
3:03
PM ET
TAMPA, Fla. – Buccaneers running back
Doug Martin
was asked about his strengths after Thursday's rookie camp workout.

"My versatility,'' the first-round pick said. "I believe my versatility is definitely an advantage going into the season and going into training camp. Being able to pass block and being able to catch balls out of the backfield.''
Martin was then asked what it will take to be the best running back on the team.
"Just being detail-oriented,'' Martin said. "You've got to be in that playbook. You've got to be coachable. You've got to be a good leader and all that just makes you the best back.''
I don't think it was intentional, but it sure sounded like Martin was saying something like "I'm everything
LeGarrette Blount
is not''.
Blount has been Tampa Bay's leading rusher the past two seasons. But he drew criticism from the previous coaching staff for not being an effective pass blocker or receiver. New coach Greg Schiano said in March that Blount has to avoid fumbles if he's going to get carries. Immediately after drafting Martin, Schiano repeatedly referred to him as an all-around back. The Bucs also selected running back
Michael Smith
later in the draft.
Blount has been viewed as one-dimensional (a power runner) in the past, and the mere fact the Bucs traded back into the first round to draft Martin is a good indication that the Bucs have big plans for the rookie. But Blount has said he's worked to improve his pass-blocking and pass-catching skills this offseason.
If Blount can prove that to the coaches in the preseason, he could earn some playing time on passing downs. If not, he still could have a significant role as a power back. Smith is more of a smaller, speed back. The Bucs also have second-year back
Mossis Madu
.
Even if Martin is as versatile as he says he is and as good as the Bucs think he is, there's still a chance for Blount and the others to get playing time. The Bucs are expected to run the ball a lot. You need more than one quality running back in a system like that.
Heck, you need several good running backs in any system. Just look at New Orleans (
Darren Sproles
,
Pierre Thomas
,
Chris Ivory
and
Mark Ingram
), Carolina (
DeAngelo Williams
,
Jonathan Stewart
and
Mike Tolbert
) and Atlanta (
Michael Turner
,
Jacquizz Rodgers
and
Jason Snelling
).
The rest of the NFC South has loaded backfields. The Bucs might end up with the same thing.
"I think their skill sets kind of mesh nicely,'' Schiano said. "I think there's some overlap too because when you look at all of them, there's no skinny-minnys out there. They're all kind of jacked up. But some of them have different skills as far as their acceleration. I like the mix.''
June, 16, 2009
6/16/09
9:04
PM ET
Posted by ESPN.com's Bill Williamson
The Brandon Marshall-Denver Broncos stalemate is officially on with both sides prrovide differing versions of events.
Marshall's agent, Kennard McGuire, told ESPN's Michael Smith: "There was a meeting with Mr. (Pat) Bowlen and Brandon did ask to be traded. He was told by ownership that the team would do everything in its power to accommodate those wishes. We do feel that a change of scenery is not only important but necessary."
Marshall backed up McGuire's claim on his website.
Denver coach Josh McDaniels countered by telling ESPN's Ed Werder this: "We met after Pat's meeting with Brandon Marshall, and we've decided that we will continue to have a dialogue with Brandon and his representative, but we are looking forward to having Brandon at training camp,"
Buckle in, it doesn't seem like these two sides are on the same page. Marshall wants out. The Broncos don't want to trade him. As long as Denver doesn't want to trade Marshall, he won't be traded. The Broncos wanted to trade Jay Cutler and they did.
They want Marshall to be part of the team in 2009. And unless they change their mind, Marshall will be in Denver in 2009. If not, he'll hold out and not get paid more than $2 million. That is unlikely to happen.
Now we know Marshall wants out. But we also now Denver wants to keep him. The Broncos have all the leverage here, don't expect Marshall to get his wish.
Posted by ESPN.com's Matt Mosley
Cowboys
Eagles
Giants
Redskins
April, 9, 2009
4/09/09
3:59
PM ET
| | |
| --- | --- |
| | |
| | US Presswire |
| | With Plaxico Burress, left, and Terrell Owens gone, the Giants and Cowboys have huge voids to fill at wide receiver. |
Posted by ESPN.com's Matt Mosley
Now that the New York Giants have been praised far and wide for releasing troubled wide receiver Plaxico Burress, it's time for the following reality check: The Giants don't have anyone who resembles a No. 1 wide receiver on the roster.
Sure, the eternal optimists among Giants fandom (like my buddy Dan F. from South Orange) look at Mario Manningham and see a budding No. 1, but that's just because he has the team Web site bookmarked. The truth of the matter is the Giants appear to be set at every position except wide receiver, and there are no guarantees when it comes to the draft -- especially when holding the No. 29 overall pick.
The Giants, though, can take solace knowing that the other three teams in the NFC East could also enter the '09 season with questions at receiver. Say what you will about Terrell Owens and Burress, but they remain two of the most feared players in the game. The Giants and Cowboys are selling the tried and true "addition by subtraction" line to their fan bases, but that campaign only seems to work in the offseason.
With that in mind, let's attempt to figure out what each team in the Beast is thinking as we sprint toward the draft, which by the way, can be viewed on ESPN:
March, 5, 2009
3/05/09
9:12
AM ET
Posted by ESPN.com's Matt Mosley
Cowboys owner Jerry Jones has spent most of the offseason providing vague hints that wide receiver Terrell Owens would return for the 2009 season. It now appears he's decided to go in a different direction.
| | |
| --- | --- |
| | |
| | US PRESSWIRE |
| | After several tumultuous seasons, the Cowboys have released wide receiver Terrell Owens. |
According to
a report from ESPN's Michael Smith
late Wednesday evening, the Cowboys have released T.O. In recent interviews, Jones had stressed that wide receiver Roy Williams needed to be the focal point of the offense next season. The Cowboys sent their first- and third-round picks in this April's draft to the Lions for Williams -- and now they've placed even more pressure on him to perform.
Ever since the Cowboys' season-ending 44-6 loss to the Eagles, Jones has maintained that chemistry in the locker room is overrated. He loathes admitting mistakes and that's why many of us thought he would press on with T.O.
This is a clear admission on Jones' part that the team couldn't get to the next level (winning a playoff game) with T.O. If you just go on the receiver's production (38 TDs in three seasons), it's hard to believe the Cowboys would move on without him. But T.O. had become the most powerful voice in the locker room and head coach Wade Phillips and offensive coordinator Jason Garrett couldn't compete with him.
Unless they address the receiver position through free agency or the draft, the Cowboys will likely begin the season with Williams and some combination of Miles Austin and Patrick Crayton starting. There will be a push to trade for someone like Cardinals receiver Anquan Boldin. But the Cowboys don't have enough ammunition via draft picks to make something like that happen. They'll likely try to rely on Williams, Witten and a potent stable of running backs.
As I recently wrote, here are five reasons the Cowboys needed to dump T.O.:

NFL SCOREBOARD
Sunday, 12/22
Monday, 12/23