NFL Nation:

Michael Williams
May, 22, 2014
May 22
3:30
PM ET
ALLEN PARK, Mich. --
Michael Williams
is still playing with a confused mind these days. He's still somewhat shaky on where to go, what to do. There are times during this week's organized team activities where he has even broken the huddle and moved to the wrong position.
He's hoping this is the only week it happens.
Williams in the midst of transitioning from tight end to offensive tackle, a position he has never played before but conceivably will play for the rest of his career. And it has left the seventh-round pick of the
Detroit Lions
in the 2013 draft somewhat befuddled.
Williams
"It's only been two OTAs, so I find myself listening to the pass part of it instead of the protection," Williams said after practice Wednesday. "I actually messed up a play [Wednesday] doing that. It catches me off guard and then I get mad at myself and try to calm back down.
"But it's something to get used to. I'll get used to it by the end of this week."
This has been something Williams has been contemplating for a while and something that has been of some consideration since almost when he was drafted. His size and skills – he's more of a blocker than a pass-catcher anyway – fit more with a potential offensive tackle than at tight end, where he played at Alabama.
While he doesn't necessarily see it as an easier way to a roster spot this season, he does see making the transition as a way to elongate whatever NFL career he ends up having. That was his impetus behind the move, not that he would conceivably be stuck behind
Eric Ebron
,
Brandon Pettigrew
and
Joseph Fauria
on the depth chart.
While he may not view it that way, he could have a shorter path to the 53-man roster either this season or next at tackle. While
Riley Reiff
and
LaAdrian Waddle
are under contract for a while, third tackle
Corey Hilliard
is in the final year of his deal. The fourth tackle spot, for now, is between undrafted rookie
Cornelius Lucas
and free agent J.B. Shugarts.
So if Williams can gain the requisite weight – he said he needs to pick up 15-20 more pounds from where he is right now – and pick up the blocking schemes fast enough, he could end up having a role this season. Or, he could end up on the practice squad again to continue learning if he shows enough potential as a possible tackle of the future throughout OTAs, minicamp and training camp.
He spent last season on injured reserve after breaking his hand during training camp.
"A guy who is probably a natural," Lions coach Jim Caldwell said. "I mean, he had to fight to keep his weight down. He came back and he was somewhere in the neighborhood of 300 pounds. You don't see very many 300-pound tight ends.
"He's a big guy, so I think it allows him not to necessarily have to worry about cutting weight all the time and things of that nature to kind of fit the position."
He shouldn't have to at all. So far, he's gained between 6 and 7 pounds in his quest, mostly because he is still searching for ways to add good weight instead of stuffing his face with junk food and adding weight that won't help him.
As Williams puts on the weight, he is trying to keep some of his athleticism as well. Doing so could make him more valuable in the future both as an actual tackle or even a swing tackle for jumbo sets that has some familiarity with pass catching and running routes.
"That's possible," Williams said. "We'll have to see how I gain this weight or how everything goes, if I can still move with the weight. That's still a possibility but right now I'm just trying to learn the tackle position."
That is, when he isn't in the game thinking he's going to line up where Fauria is at tight end. It's happened – but not for much longer. Or at least that's how Williams is planning it.
May, 21, 2014
May 21
3:45
PM ET
ALLEN PARK, Mich. – The
Detroit Lions
finished up their first open practice of the organized team activities period Wednesday afternoon – and after
Ndamukong Suh
dropped that he controlled his own draft fate in 2010 – there are other things to get to.
Here are some observations and thoughts after watching the Lions' practice under head coach Jim Caldwell, offensive coordinator Joe Lombardi and defensive coordinator Teryl Austin for the first time.
Vaughn

The defense appears faster and certainly more excited than anything I remember from last season. They celebrated plays a lot and seemed to be a fairly cohesive unit throughout the practice. They also seemed to be playing a lot better than the offense throughout the majority of Wednesday's practice, from individual periods to team periods.They seemed sharper, from a couple of interceptions of the first and second groups to just being more aggressive throughout the practice.
Of those players, cornerback Cassius Vaughn stood out heavily. He made a beautiful break on intercepting a Dan Orlovsky pass and had it been a real game, Vaughn might have scored on the play. He seemed to be aggressive and realizing there was an opportunity to be had with Chris Houston and Chris Greenwood both out of practice Wednesday."At this point in time, he's been here with us for a while," Caldwell said of Vaughn. "He's a guy that loves to play and he loves to tell you about it once in a while as he's playing. But nevertheless, he's a guy that's working extremely hard trying to win a spot on this team. He does bring some energy."It's only one practice, but if Vaughn keeps playing as he did Wednesday, he may end up in contention for a roster spot come the fall.
Calvin Johnson did not look like his typically sharp self. He dropped a couple of passes and looks like he is still finding his way into playing shape. Don't forget, he did have offseason surgery and it is May – so nothing to be concerned about yet. Also not looking particularly precise was quarterback Matthew Stafford, who was intercepted by Stephen Tulloch on one play and had a couple of other balls dropped.
Michael Williams is going to have to put on some weight – and he knows it. He said after practice he probably needs to add another 15 to 20 pounds – he's put on six to seven already – and hasn't played offensive tackle in his life. Yet playing tackle instead of tight end might end up being his best path to a roster spot in the fall and in the future, so it makes sense for him to make that switch.
DeAndre Levy's beard is intense – that much was known beforehand – but he looks like he could end up building well off of last season's breakout season. He seems pretty comfortable already and in strong shape. This is going to be important for Detroit's defense this season.
Was also impressed by the size of undrafted free-agent safety Jerome Couplin. He's listed at 6-foot-2, 215 pounds, but when I noticed him in the defensive backfield, he didn't look like your typical safety. He's longer, rangier and perhaps has a longer stride than most of your typical defensive backs. He almost looks more like a taller receiver than someone in the defensive backfield. He's going to end up being a player to watch in contention for a roster spot at points during this camp.
Jeremy Ross also looks like he has improved from a season ago. Possibly a bit bigger – especially in his arms – and perhaps with a little bit more speed as well.
Other notes:
Golden Tate was not at the Lions' open practice Wednesday. He was a bit busy with other things – like going to the White House with his old team, Seattle, to meet President Barack Obama.
Others not participating (in at least some extent) were running back Joique Bell, defensive end Kourtnei Brown, cornerback Chris Greenwood, defensive end Ezekiel Ansah, left guard Rob Sims, linebacker Brandon Hepburn, defensive tackle Nick Fairley and cornerback Chris Houston. Of those players, only Houston, Tate and Fairley were not spotted as at least being in attendance. Some of these players participated in walk-throughs or individual drills.
The Lions have one more organized team activity in this period – Thursday – before being off for the weekend.
March, 14, 2014
Mar 14
9:06
AM ET
The
Detroit Lions
are bringing back
Brandon Pettigrew
and this ensures one thing in Detroit: While the team will have an offense that might look schematically like the
New Orleans Saints
' offense, this guarantees it won't be Saints-like.
At least not in the same construct of what New Orleans likes to do.
Pettigrew is not a
Jimmy Graham
-like tight end. He won't stretch the field. He won't create an obvious mismatch against anyone who lines up against him. Though Detroit had said he was a priority free agent throughout the offseason, he is a different type of tight end than Graham.
He is more of a dual-threat tight end, as much of a blocker as a pass-catcher. He was integral in Detroit's running game as a player who can line up on the line of scrimmage as well as in the slot and even outside. His versatility and flexibility has been one of the more attractive things about him.
He will not, though, break a defense.
In his five seasons in Detroit, his longest-ever reception has been 35 yards. In 2010. He has had only four games in which he had a reception of 30 yards or more, and only one of them came after the 2010 season. Last season he had fewer yards (416) than any season but his rookie year, and also fewer drops (four) than any season in his career. His two touchdowns were his fewest since his rookie year.
He also had declining receptions the past two seasons after an 87-catch, 826-yard season in 2011.
While Pettigrew is still productive and still young enough at age 29, part of the reason Detroit might have brought him back is the lack of experience at the position otherwise. If the team had not kept Pettigrew, the only tight ends on the roster would have been
Joseph Fauria
,
Michael Williams
and
Matt Veldman
. Fauria and Williams were rookies last season, and of the three, only Fauria had any extended playing time or even caught a pass.
Williams spent last season on injured reserve and Veldman was signed for the last game of the season from the practice squad.
With a thin tight end market, there were not going to be any options better than Pettigrew available for Detroit to sign as a veteran.
Owen Daniels
,
Jermichael Finley
and
Dustin Keller
all could have been intriguing options, but they have significant injury histories that made them more of a risk than Pettigrew, who the team drafted in 2009. And Pettigrew has developed a rapport with quarterback
Matthew Stafford
.
Pettigrew's signing also probably means the team might avoid taking a tight end early in May's draft, although depending on how the Lions really feel about Fauria and Williams, it might not completely preclude them from doing so.
But this was the safe signing for Detroit. He was the player the team knew and the one the front office was the most familiar with. With little other options out there, it was also the one that ended up making the most sense.
Even if he can't do some of the things the team might want him to be able to in the offense.
February, 20, 2014
Feb 20
5:15
PM ET
INDIANAPOLIS --
Brandon Pettigrew
presents a conundrum for the
Detroit Lions
.
On one side, Pettigrew is one of the tight ends in the NFL who can run routes and also line up on the offensive line and block oncoming defenders. But with what Detroit might run in the future, with the base being the
New Orleans Saints
offense that used
Jimmy Graham
in the slot often, the question remains of how Pettigrew might fit with the potentially-new-look Lions.
Pettigrew
"Pettigrew, he's a talented guy. Big, talented," Lions coach Jim Caldwell said during the NFL combine Thursday. "Can block you at the line of scrimmage but also can catch the ball as well. He's a talented guy.
"Across the board, I think you find guys that have certain skill sets. He's got a real fine skill set and [I] obviously think you've been able to see that through the years."
That doesn't necessarily mean Detroit will bring him back, though. Caldwell wouldn't give an indication one way or another whether he would have the Lions try to retain the Oklahoma State product, who has caught 284 passes for 2,828 yards and 16 touchdowns in his first five years in Detroit.
If the Lions are unable to retain him, the team would have two tight ends returning to the team -- Joseph Fauria and Michael Williams. Williams spent last season on injured reserve with a broken hand and Fauria played mostly in passing and red zone situations.
When asked if he intended to try to re-sign Pettigrew, however, Caldwell became very vague.
"We've got to look at every option and that's one of the things," Caldwell said. "We've got to have contingencies for every single thing and that's one of the things. We have to have contingencies for every single thing so we look at it on both sides of it and see how things work out."
The Lions may also look to fill tight end needs through the draft. The tight end pool is a deep crop, led by North Carolina's
Eric Ebron
, Washington's
Austin Seferian-Jenkins
, Texas Tech's
Jace Amaro
and Notre Dame's
Troy Niklas
. Niklas told ESPN.com on Thursday he was scheduled to speak with the team at some point during the combine.
September, 3, 2013
9/03/13
1:03
PM ET
ALLEN PARK, Mich. -- What had long been expected is now official.
Detroit Lions
running back
Montell Owens
is headed to the team's short-term injured reserve with a knee injury.

"Montell can do a lot of different things for a team," Lions head coach Jim Schwartz said. "He can play special teams. He can run the ball, he can block, he can pass protect and is a very good leader in the locker room.
"We're not going to miss his leadership because he's going to be around. He's going to be in meetings and stuff like that."
Schwartz said he looks at each situation differently when it comes to injuries and the team's short-term injured reserve slot and that he made "the best decision that will facilitate him coming back to us."
Owens' move to the IR means the Lions have a roster spot to pick up another player. The designation also means Owens can not practice until after Week 6.
As far as the Lions' other injuries, Schwartz did not give an update on rookie defensive end
Ziggy Ansah
, who has missed practices and the final preseason game against Buffalo with an undisclosed injury. The Detroit Free Press reported the injury is
possibly a concussion
.
The team's first injury report of the week comes out Wednesday. Schwartz did not seem concerned, though, that Ansah has missed many reps over the past week. He had five tackles in the preseason before his injury.
"He got a lot of reps early in camp," Schwartz said.
Other than Owens, Ansah and tight end
Michael Williams
(hand), who is on season-ending injured reserve, Schwartz appeared OK with the health of his team heading into Sunday's opener against Minnesota.
Initially, Schwartz said he had no long-term injuries when Williams injured his hand, but said the injury ended up turning into a long-term one.
"We'll be fairly healthy going into the first game, about the best we can expect coming out of training camp," Schwartz said. "But as coaches we're ready to go any direction we have to."
August, 31, 2013
8/31/13
6:28
PM ET

Most significant move:
There were no surprises for the
Detroit Lions
and, really, there were few big decisions. We noted earlier that the team decided to preserve a roster spot for No. 3 quarterback
Kellen Moore
, so the most significant move they did make was placing rookie tight end
Michael Williams
on injured reserve. The Lions had substantial plans for Williams this season as the third tight end in the jumbo package that lineman
Riley Reiff
filled last season. They also hoped to develop his receiving skills as veterans
Brandon Pettigrew
and
Tony Scheffler
enter contract years. Williams had surgery last week to repair a hand injury, and though coach Jim Schwartz said the team had no long-term injuries, Williams is in fact lost for the season. (NFL teams can't start placing players on short-term injured reserve until next week.) As a result, rookie
Joseph Fauria
-- a much better receiver but less of a blocker than Williams -- is on the 53-man roster with Pettigrew and Scheffler.
The dominoes:
The Lions apparently chose veteran Michael Spurlock as their kick returner, necessitating the release of rookie
Steven Miller
, who could return on the practice squad. Spurlock is also a receiver, and for the now he is one of six on the roster, presumably because of
Ryan Broyles
' sore knees. The release of veteran
Matt Willis
means
Kris Durham
is the sixth receiver. You wonder if the Lions would change directions soon in that regard. The Lions sifted through their big group of veteran defensive backups by tapping
Rashean Mathis
as a swing cornerback/safety and
Rocky McIntosh
as a backup linebacker while releasing the rest.
John Wendling
and
Don Carey
are the backup safeties for now.
What's next:
According to multiple reports,
the Lions will place running back
Montell Owens
on short-term injured reserve. That can't happen until next week, so for now he is part of the 53-man roster. He must miss at least six weeks of the regular season. You would think the Lions will bring back a number of the players they cut Saturday for their practice squad, and it's worth remembering that they are No. 5 in priority for NFL waiver claims. Sunday could be a busy day.
List of players cut:
WR:
Corey Fuller
, Matt Willis. RB: Steven Miller,
Shaun Chapas
. OL:
Rodney Austin
,
Kevin Haslam
,
Darren Keyton
,
Jake Scott
. DL:
Andre Fluellen
,
Ogemdi Nwagbuo
,
Xavier Proctor
, Jimmy Sadler-McQueen. LB:
Brandon Hepburn
,
Jon Morgan
(waived/injured)
Chris White
. CB:
Ron Bartell
,
Chris Greenwood
. S:
Amari Spievey
,
Tyrell Johnson
,
Martavius Neloms
(waived/injured) P:
Blake Clingan
.
August, 29, 2013
8/29/13
11:04
PM ET
Reviewing the merciful end of the Detroit Lions' preseason, a 35-13 victory over the Buffalo Bills on Thursday:
The biggest news of any preseason finale is whether any prominent players suffered injuries. The Lions suffered no obvious ailments, partly because they rested six (relatively) healthy starters: running back Reggie Bush, receiver Calvin Johnson, safeties Louis Delmas and Glover Quin, defensive tackle Ndamukong Suh and defensive end Ziggy Ansah. Also sidelined were receiver Ryan Broyles, running back Montell Owens, tight end Michael Williams and safety John Wendling.
The remainder of the starters played two series. First, the good news: The defense didn't allow a first down. It forced a three-and-out on the first possession against Bills emergency quarterback Matt Leinart, and nickelback Bill Bentley intercepted Leinart on the third play of the second.
The bad news: The remainder of the Lions' offensive starters -- including quarterback Matthew Stafford -- weren't sharp. Guards Rob Sims and Larry Warford collided in the backfield when both pulled, an error I'm going to attribute to Warford, and Stafford completed only 1 of 6 passes for 12 yards. He threw one interception when a high pass glanced off receiver Nate Burleson's hands. I'm not sure what to make of Stafford's preseason. It wasn't sharp by any means. He completed 49 percent of his passes for 310 yards, one touchdown, one interception and a 64.9 passer rating. But Johnson hardly played, and Bush's absence took away Stafford's comfort receiver Thursday night.
As long as we're talking about Lions personal fouls -- Oh, wait. Were we? -- let's get on the record that center Dominic Raiola cost the team 15 yards with a personal foul while trying to make a tackle on the interception return.
With Johnson and Broyles inactive, the Lions gave receiver Patrick Edwards a long look. Results were mixed. Stafford overthrew him on the first play of the game for what could have been a 63-yard touchdown. On another deep pass, Edwards got open but seemed to slow down when looking for the ball. It glanced off his hands. Meanwhile, he let a third-down catch bounce off his chest but later broke a tackle to score on an 8-yard pass from backup quarterback Shaun Hill. Have the Lions seen enough from Edwards to give him a regular spot in their rotation? I think the better question as final cuts loom this weekend is whether they'll have a choice. It's worth noting that competitor Matt Willis made a sensational 39-yard catch from Hill and just missed a touchdown from Kellen Moore when he couldn't get both feet down in the end zone.
Moore wrapped up a strong preseason with a performance that suggests the Lions will at least have a very difficult decision to make. Moore entered in the second quarter and played the second half, throwing two touchdown passes to rookie running back Theo Riddick. Moore finished the preseason with four touchdown passes and a 99.4 passer rating. The Lions might want to use his roster spot to keep a player at another position, but this preseason he has looked at least like a future No. 2.
For what it's worth, the Lions started Jason Fox at right tackle and Warford at right guard for the second consecutive week. Does that mean they have won the Week 1 starting jobs? I suppose it depends on how their film grades out from Thursday night. But things appear to be going in that direction.
Joique Bell got the start at running back with Bush sidelined, and his best run was a 23-yard scoring jaunt. Mikel Leshoure managed 24 yards on seven carries. Each lost a fumble. At the very least, Bell has earned himself regular-season playing time even with Bush locked in as the starter.
Did you notice rookie cornerback Darius Slay matching Bills speedster Marquise Goodwin stride for stride on a go route in the first quarter? I did. I realize speed is a skill and not a reflection of technique, but it's nice to know the Lions have a cornerback who can run step for step with one of the fastest receivers in the 2013 draft.
August, 23, 2013
8/23/13
5:35
PM ET
The
Detroit Lions
became the first NFC North team to start addressing the NFL's looming roster cuts by releasing five players and beginning to assess the injuries of two others.

According to
Tim Twentyman of the Lions' web site
, the players released were: defensive back
Domonique Johnson
, receiver
Chaz Schilens
, offensive lineman
Derek Hardman
, defensive tackle
John Drew
, and cornerback
Ross Weaver
. Meanwhile, the Lions will have to decide what to do with running back
Montell Owens
, who seemed to suffer a serious knee injury Thursday night, and rookie tight end
Michael Williams
-- who has a broken hand and will require surgery, according to
Dave Birkett of the Detroit Free Press
.
Owens and Williams could be candidates for injured reserve if their injuries are serious enough. One beneficiary could be undrafted rookie tight end
Joseph Fauria
, whose unique skill-set had the Lions contemplating whether to open a fourth tight end spot for him.
The biggest name of those released is Schilens, whom the team signed just before camp to provide extra depth at receiver. Since then, however, veterans
Nate Burleson
and
Ryan Broyles
have appeared fully recovered from their season-ending injuries. Young players
Patrick Edwards
and
Matt Willis
have also pushed for playing time, lessening the Lions' need to hold on to veteran depth.
NFL teams must cut their rosters to 75 by Tuesday and 53 by Aug. 31.
August, 15, 2013
8/15/13
12:00
PM ET
In which we look ahead to the Detroit Lions' second preseason game. (Jeff Dickerson of ESPNChicago.com previewed the Chicago Bears' matchup against the San Diego Chargers.)

Opponent:
Cleveland Browns
Location:
FirstEnergy Stadium
Time:
7:30 p.m. ET
Personnel notes:
Most starters are expected to play into the second quarter. … Safety
Louis Delmas
won't play Thursday night and might not take the field before the regular-season opener. That seems to make sense given his chronic knee issues, but it also leaves us unable to pre-judge his capacity of making it through the season and playing at a high level. … It will be fun to see how rookie place-kicker
Havard Rugland
reacts to 1) the increased attention his 2-for-2 performance last week earned him and 2) kicking outdoors on grass. … I didn't see anything last week to suggest there is a serious competition for the strongside linebacker spot currently held by veteran
Ashlee Palmer
. We'll see if that changes. … Although the Lions haven't established a firm deadline for crowning a winner in their competitions at right guard and right tackle, it would be nice to see enough progress Thursday so that the presumptive regular-season Week 1 group could work together for an extended period in Week 3 of the preseason.
Of interest:
Although there is plenty of excitement surrounding the Lions' offense, as usual, we still have some important questions to get answered. That seems like as good of a focus as any this week. We've already noted the offensive line. It's also worth pointing out that all three of quarterback
Matthew Stafford
's completions last week went to receiver
Calvin Johnson
.
Patrick Edwards
didn't have a catch in the preseason opener, and either he or another young receiver --
Matt Willis
? -- will have to step up in the first-team environment to provide some production. The tight end situation also seems more unsettled than it initially appeared. Behind starter
Brandon Pettigrew
, are we positive that
Tony Scheffler
is a lock to make the team? Or could some strong preseason performances by rookies
Michael Williams
and
Joseph Fauria
give the Lions some previously unexpected roster flexibility?
August, 12, 2013
8/12/13
11:00
AM ET
ALLEN PARK, Mich. -- The
Detroit Lions
opened training camp
expressing unprecedented confidence
in the direction of their program, and, if anything, their steam has picked up since then. A relatively injury-free camp, the obvious impact of multiple newcomers and a rousing victory in the first week of the preseason have the Lions and many of their fans convinced they will bounce back from last season's 4-12 record.

"We're every bit as optimistic now as we were then," coach Jim Schwartz said late last week, "and probably more so -- particularly with some of our rookies and younger players. Now, we're saying that two weeks into camp, before we've even played a preseason game. The tale of the tape is going to be consistency over the course of time. But certainly our stance hasn't changed."
Importantly, that optimism isn't based solely on anticipation of another year of development between quarterback
Matthew Stafford
and receiver
Calvin Johnson
. It's a nod toward the early returns on the fit with tailback
Reggie Bush
. There is relief that receivers
Nate Burleson
and
Ryan Broyles
, who both suffered significant leg injuries last season, have returned healthy.
There's more. Defensive tackles
Ndamukong Suh
and
Nick Fairley
were unblockable during the practices I watched last week. Rookie defensive end
Ziggy Ansah
returned an interception for a touchdown in the first quarter of his first NFL game action. New safety
Glover Quin
's leadership is notable, and rookie punter
Sam Martin
has been perhaps the most impressive newcomer of all.
The good vibes, and presumed results, come at a crucial time for the franchise. The Lions are entering their fifth season under Schwartz and general manager
Martin Mayhew
, and there might not be a sixth if this team misses the playoffs.
"I'm a vet,"
Burleson said
. "I've been at this 11 years. I'm trying to get everyone to understand that if we don't do what we need to do, these name plates above these lockers, this furniture, [everything] is going to be shipped up out of here -- including myself. So I've got to be productive, and everybody has to have the mindset that the time is now, so in order for us to do something special and bring something special to this city, we're going to have to win."
THREE HOT ISSUES
[+] Enlarge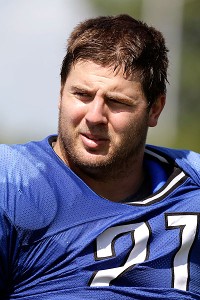 AP Photo/Paul SancyaThe Lions are counting on Riley Reiff to protect Matt Stafford's blind side.
1. Offensive line transition:
The Lions will have three new starters on the line, and here's the good news: The player in the most important position appears to be making a smooth transition.
Riley Reiff
, the Lions' first-round draft pick in 2012, has replaced retired left tackle
Jeff Backus
, and he held his own against the Lions' talented defensive line during my training camp visit last week.
Reiff bulked up this offseason after spending his rookie year in a quasi-tight end role. He might be the most soft-spoken player in the Lions' otherwise-boisterous locker room -- when I asked him about the job, he shrugged his shoulders and said, "They asked me to play left tackle so I'm playing left tackle" -- but he more than passed the eyeball test as a credible left tackle.
The same can't be said, at least not yet, about the wide-open jobs on the right side of the line. The Lions are rotating two players at right tackle and up to four at right guard, and no clear leaders had emerged by the weekend. (It was notable, however, that the Lions played rookie right guard
Larry Warford
for three-quarters of Friday night's game against the
New York Jets
.) In this case, time will tell.
2. Stafford's next step:
He failed to build on his breakout 2011 season in 2012, but in the big picture, Stafford is an experienced starter who has thrown for 10,005 yards in two seasons and who, at 25, still has plenty of room to grow.
That status, however, has generated rare expectations for a Lions quarterback, leading to training camp reports of missed passes and
microanalyses of mechanics
in a space once reserved for delineating various levels of incompetence. The franchise endorsed his progress with a contract extension that in essence locks him in for another three years at the helm, but the football world is waiting anxiously to see whether Stafford can elevate his career to an elite level.
My time at Lions camp suggested he is aware of but unaffected by those expectations. I saw no worrisome incompletions, no signs of malaise and an important sense of context as voiced by Schwartz.
"You don't [want to] take him for granted," Schwartz said. "We have a couple of guys new to our organization that come out to practice, and that's one of the first things that they want to say is, 'Holy mackerel, did you see the throw he made here?' It's a little bit like Calvin. You watch him a lot, and you forget how big he is and the plays he made."
3. Special-teams overhaul:
Lost in the Lions' busy offseason was a near-total reconstruction of their special teams. New coordinator John Bonamego has welcomed newcomers at place-kicker (likely
David Akers
), punter (likely Martin) and returner (a wide-open competition to replace
Stefan Logan
). The Lions also signed longtime special-teams ace
Montell Owens
to anchor their coverage units.
Akers is working on a limited regimen after an injury-plagued season with the
San Francisco 49ers
, but he appears healthy and will benefit from both indoor home games and Martin's strong kickoff skills. Martin has been booming punts throughout camp, and his three touchbacks (in as many attempts) in the preseason opener suggest the Lions might have found a long-term answer at the position.
The return game is unsettled and probably dependent on bottom-of-the-roster decisions at other positions. Undrafted rookie
Steven Miller
has demonstrated elite quickness while getting the majority of reps in training camp, but can the Lions squeeze a return specialist onto their roster? His minimal action as a returner in the preseason opener makes you wonder whether he is a candidate for the practice squad.
REASON FOR OPTIMISM
Of all the factors I rattled off earlier this post, the most significant might be the attention the Lions placed on their defense this offseason. You're doing pretty well if the worst thing you can say is that the strongside linebacker position is unsettled, especially when you realize that whoever wins the job will come off the field in nickel situations, anyway.
[+] Enlarge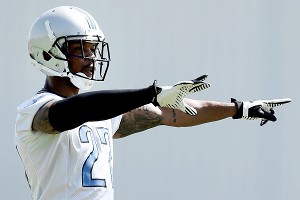 AP Photo/Paul SancyaThe Lions believe Glover Quin can provide steady leadership as well as solidify the secondary.
The Lions invested heavily at defensive end (drafting Ansah and
Devin Taylor
, signing
Jason Jones
and
Israel Idonije
), cornerback (re-signing
Chris Houston
, drafting
Darius Slay
) and safety (re-signing
Louis Delmas
and acquiring Quin). After two weeks of camp, Stafford said, "This is probably the most talented secondary we've had since I've been here," and Schwartz was lauding the leadership Quin will provide.
"A lot was made a few years back when we signed
Kyle Vanden Bosch
and Nate Burleson," Schwartz said, "and the difference that they made on the team was a big part of us making it to the playoffs [the] next year. I think the same thing, when it's all said and done, will be said about Quin because he brings that same kind of leadership, that same sort of professionalism."
We all expect the Lions' offense to score this season. If their defense can keep pace, as it appears it is equipped to do, the Lions will be a playoff team.
REASON FOR PESSIMISM
Schwartz said "there is no doubt" that the Lions have enough good pieces to make up a competent offensive line. But on the list of potential problem spots that could derail their season, the Lions' offensive line sits most prominently. If you believe in the law of averages, you wonder whether any team could come up with three good starters in one offseason, as the Lions are hoping to accomplish.
Warford has his work cut out to win the right guard job, as many have assumed he would. (The Lions got him 53 snaps in the preseason opener to accelerate that process.) Many have considered
Jason Fox
the favorite to win the right tackle job, but competitor
Corey Hilliard
got the first start of the preseason.
It's too early to judge the outcome of this overhaul, but there is no doubting the challenge it entails and the ramifications if it falls short.
OBSERVATION DECK
Excitement about the Bush acquisition has centered around his receiving skills and ability to break long runs. But you'll have to trust me on this: The Lions are just as intrigued by his ability to run between the tackles. There will be just as many opportunities for that kind of yardage in a Calvin Johnson offense as there will be anywhere else. "The things that Jahvid [Best] was able to do for us, when he got outside of the tackles, Reggie can do those things," Johnson said. "But Reggie can run inside the tackles as well. He's a good overall back."

Along those lines, the Lions also are trying to identify a change-of-pace back behind Bush, and my sense is that they're past the point of giving Mikel Leshoure an inherent advantage over Joique Bell because of his pedigree as a second-round draft pick. If Leshoure isn't any more explosive than he was last season -- and I didn't see any evidence of that at camp -- there is a real opportunity for Bell to win the job.

One of the more intriguing prospects in camp is rookie running back Theo Riddick, who has a relatively similar skill set as Bush. He is quick, a good receiver, smart in the open field and in contention for a kick return job. And like Bush, he isn't afraid to bust it inside the tackles, either.

Another interesting prospect who has gotten plenty of attention is 6-foot-7 tight end Joseph Fauria. He can get to balls no one else on the field can reach, with the exception of Johnson when he leaps, and he is a natural receiver. It will be really tough for him to be a good blocker with his lean build, but the Lions need him to be just good enough. I sensed real optimism that he can qualify for that modest expectation.

Players such as Riddick, Fauria, tight end Michael Williams and others will give the Lions some interesting roster decisions. You wonder whether they will find some room by deciding against having a No. 3 quarterback on their roster. Kellen Moore looks improved and Thaddeus Lewis is intriguing, but the only real reason to keep one of them is if he is projected to someday succeed No. 2 quarterback Shaun Hill. Otherwise, that roster spot might be more valuable elsewhere. "It's about talent and about having a plan for guys," Schwartz said. "We're flexible, and that's not just at quarterback. That's all positions."

Receiver Patrick Edwards has gotten plenty of work with the first team in camp and has the unwavering support of Burleson, who said: "In my eyes, he is going to be the surprise player that changes games this year." But Edwards didn't show much in 29 snaps Friday night, going without a catch amid two targets. He got a step on Jets rookie cornerback Dee Milliner in the end zone, but Milliner out-jumped him to knock away Stafford's pass. At some point, Edwards will need to demonstrate some game production if he is going to be in the Lions' receiver rotation.

Delmas (knees) has worked in a little less than half of the Lions' practices and did not suit up for the preseason opener, but the Lions remain confident his limited schedule will leave him ready to play in games when the regular season starts. Schwartz: "We're working hard to get there right now. ... He's feeling good right now, and we're trying to keep it that way. Lou has the advantage of having played in this defense the past few years, even though we have new wrinkles each year. The terminology is the same. He's a really hard worker. We need to balance being on the field and practicing with the point of diminishing returns. I think we've been very proactive in camp doing that. Time will tell how effective that plan has been."

Much like his week at the Senior Bowl, Ansah wasn't nearly as noticeable during practice as he was during the preseason opener. Nothing he did in three days of training camp jumped out to suggest he was on the cusp of being an elite playmaker, but he stood out immediately against the Jets. In addition to his 14-yard scoring return of an interception, he nailed running back Bilal Powell for a 2-yard loss among his 20 snaps.

Take this for what it's worth: Even the amateur observer could notice a big upswing in man coverage from the Lions' defense during 11-on-11 drills. Stafford concurred but suggested the shift was more about evaluating the Lions' newly fortified secondary than it was a scheme change. "They're trying to figure out who can cover and who can't," he said. "But they're doing pretty good out there."
May, 13, 2013
5/13/13
12:00
PM ET
I didn't attend the
Detroit Lions
' rookie minicamp, but in my mind's eye, I imagine it would have been difficult to miss two tight ends as big as
Michael Williams
and
Joseph Fauria
.
[+] Enlarge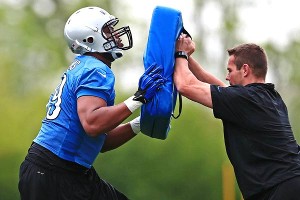 Andrew Weber/USA TODAY SportsDetroit tight end Michael Williams practices during rookie camp at the Lions training facility on Friday.
Williams, one of the Lions' seventh-round draft choices, is 6-foot-5 and nearly 280 pounds. Fauria, an undrafted free agent, is 6-7 and 259 pounds. Based on how many times they came up in coach Jim Schwartz's interview sessions over the weekend, it's safe to say they left an impression.
Williams was one of the best blocking tight ends available in the draft, but Schwartz said: "I wouldn't discount his role that way." Schwartz noted "a great catch on a seven route in the corner against a really good safety" that Williams made during Senior Bowl festivities and added: "He's not a one-trick pony when he goes into the game."
Still, Fauria figures as the better pass-catching prospect of the two. At his height, and with nearly 34-inch arms, Fauria has "a giant wingspan" physical catching ability. Meanwhile, hands that measure almost 11 inches give him what NFL scouts call "paws."
It's easy to get excited about those parts of Fauria's attributes and forget there was a reason he wasn't drafted. Most of it has to do with strength, speed and the same body frame that gets you excited in the first place.
Fauria managed 17 reps of 225 pounds at the scouting combine and ran his 40-yard dash at the UCLA Pro Day in 4.72 and 4.82 seconds. Also, generally speaking, a player that lanky is going to have difficulty getting blocking leverage on the line of scrimmage.
Regardless, as Schwartz said, there are ways to minimize those weaknesses.
"He's 6-7 and he's a big target," Schwartz said. "He's got a lot of things he needs to work on. He needs to work on his blocking and things like that, but he also has a frame that makes it tough. There were a couple times out there today in our half-line stuff and our seven-on-seven stuff where a safety was all over him with great coverage, but he was able to make the catch just because he's so long."
This issue carried added weight given that the Lions' top two tight ends,
Brandon Pettigrew
and
Tony Scheffler
, are
entering the final year of their contracts.
No one would suggest that Williams and Fauria will supplant that duo in 2014, but the larger transition process is underway.
May, 2, 2013
5/02/13
12:45
PM ET
For relatively unusual reasons, we spent
a fair amount of time last offseason
discussing
the issue
of
Matt Kalil
's weight.
[+] Enlarge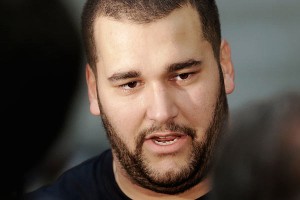 Jim Mone/AP PhotoVikings left tackle Matt Kalil, now at 305 pounds, meets with reporters after conditioning workouts on Wednesday, May 1, in Eden Prairie, Minn.
It seemed that Kalil was a 6-foot-6 athlete who had to work to maintain an offensive lineman's weight. During the run-up to the 2012 draft, Kalil was consuming a daily 6,500-calorie diet to bulk up and maintain a prescribed 310 pounds.
Most athletes -- not to mention you and me -- would prefer that "problem" over than the alternative. But this week, the
Minnesota Vikings
' left tackle reminded us just how much of a daily responsibility he has.
He told reporters
that a late-season illness, which forced him from a handful of practices but no games, was actually pneumonia. He couldn't eat for a few days and as a result lost
between 15-20 pounds
during that period. His weight dipped as low as 280 before he resumed offseason workouts.
Kalil is back up to 305 pounds and plans to play 2013 at 315 pounds.
Many more offensive linemen, including Kalil's predecessor with the Vikings, spend their careers fighting the reverse effect. They must work to keep their weight low enough to be effective.
But Kalil is not alone in his challenge. Look no further than the
San Francisco 49ers
'
Joe Staley
, who was a 250-pound college tight end before coaches shifted him to tackle. As
this extensive feature from 49ers.com explains
, Staley gained 50 pounds via eating to play the position and has now developed a detailed diet to maintain his weight.
That Kalil finished the 2012 season without incident is impressive. He played all 1,035 of the Vikings' official offensive snaps along with another 140 on special teams. As best as I can tell, that was the highest total of combined offensive/special teams snaps for any NFL player.
Think of it this way: Kalil finished the year weighing two pounds more than Alabama tight end
Michael Williams
, whom the
Detroit Lions
drafted last weekend. Maybe it's time for the Vikings to put in a couple tackle eligible plays for their red zone offense.
April, 29, 2013
4/29/13
9:00
AM ET
The NFC West's fiercest current rivals, San Francisco and Seattle, both wound up selecting tight ends from Rice University in the recently completed NFL draft.
How the 49ers and Seahawks selected those tight ends invites a question: Did the 49ers snatch from Seattle a player the Seahawks would have selected?
Tight end was seen as a primary need for the 49ers and a secondary one for the Seahawks based on how each team has run its offense recently.
When NFL teams selected three tight ends between the 21st and 47th selections, San Francisco risked watching more players at the position come off the board before it was scheduled to select with the 61st overall choice. So, with Green Bay on the clock at No. 55 and Seattle scheduled to pick at No. 56, the 49ers traded into the Packers' slot to select Vance McDonald, the more prominent of Rice's tight ends last season.
Seattle then traded back six spots to No. 62 before selecting Texas A&M running back
Christine Michael
. The Seahawks later selected McDonald's teammate, tight end Luke Willson, in the fifth round at No. 158 overall.
To my knowledge, no one asked 49ers general manager Trent Baalke or his Seattle counterpart, John Schneider, about the sequence when San Francisco jumped past the Seahawks to select McDonald. The two men worked together in Washington years ago and could have a good feel for the other's tendencies. However, there is no way the 49ers could have known whether the Seahawks or any other team was going to select McDonald between the 55th and 61st selections.
"There's times when you want to sit tight and there's a lot of times where people will question, 'Well, why did you move up five when he would have been there?'" Baalke told reporters when discussing trades in general. "Well, there's no proof that the player would have been there. So, you do what you need to do to make sure you get the players you want to get."
By trading up six spots, the 49ers moved past Atlanta, New England, Denver, Houston and Seattle in the draft order. Three of those five teams selected tight ends later in the draft. Atlanta used a fourth-rounder for Stanford's Levine Toilolo. Seattle used the fifth-rounder for Willson. Houston used a sixth-rounder for Ryan Griffin from Connecticut.
Baalke could have sized up those teams' needs collectively when deciding to move up for McDonald. They might not have had only the Seahawks in mind.
The 49ers had enough picks to move around the board freely to fill needs at values agreeable to them. The price they paid Green Bay for the 55th choice -- the 61st and 173rd picks -- was lower than the price Seattle commanded for the 56th selection (Baltimore handed over the 62nd, 165th and 199th picks for that one).
[+] Enlarge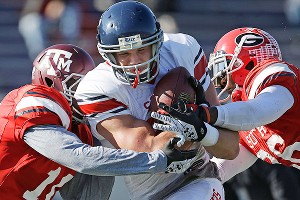 AP Photo/Dave MartinSan Francisco traded up in the second round to select Rice tight end Vance McDonald.
Comparatively, then, the 49ers got a good deal. Why not move up if the price is right? The Packers have long been known as a team willing to move back for additional picks. They simply could have made for a convenient trading partner whether or not Seattle was scheduled to select one spot later.
Teams usually have several players in mind for each selection they hold. They move up when the list of players they consider worthy of a certain value range dwindles, or if a specific player within striking distance is rated far higher than others likely to be available to them. They move down when the list of worthy players is longer.
"I don't know that you ever trade back six, seven, eight picks and hope one player's there," Baalke said when explaining why the 49ers traded back six spots to No. 40. "That's risky business. So, we had a number of players that we were willing to take. And at that time we felt that one of that group of guys was going to be available at 40, and we would have been happy with all of them."
The fact that McDonald and Willson both played at Rice before winding up in the NFC West seems coincidental.
"Vance was obviously the more stout guy, if you will," Schneider said. "Willson was more of the down-the-field threat, but there is no question Vance was much more involved in their offense."
Injuries limited Willson in 2012. He previously played first base on the Canadian national team and spent time in the Toronto Blue Jays organization. According to the Vancouver Sun,
Willson posted impressive numbers
at his pro day: 4.46 seconds in the 40-yard dash, 38-inch vertical leap, 10-plus feet in the broad jump and 23 reps of 225 pounds in the bench press.
"We like the fact that for us he was the second-best tester of all the tight ends in this draft," Schneider said. "He is 6-5 1/2, running 4.51 and great hands, can get down the field. He is quick off the ball, gets his shoulders around quick. He is a really interesting prospect for us."
Baalke said his team valued McDonald's versatility in particular. McDonald also led all tight ends at the NFL scouting combine with 31 reps on the bench press.
"He's 260-plus pounds, he's got a huge wingspan, he's got big hands," Baalke said. "He lines up all over the place. He lines up a little bit in the backfield. He lines up on the line of scrimmage. He lines up in the wing position, off the line of scrimmage. And he also lines up outside. He's smart, he's tough and he is a good fit within our system."

NFL SCOREBOARD
Thursday, 9/4
Sunday, 9/7
Monday, 9/8