NFL Nation:

midseason stock watch
November, 10, 2010
11/10/10
2:08
PM ET
Power Rankings:
Preseason: 32.
This week: 21.
2010 Schedule/Results
[+] Enlarge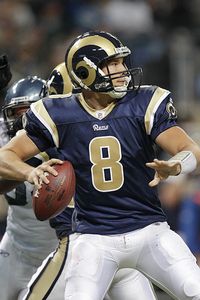 AP Photo/Jeff RobersonThe Rams have put their trust in rookie quarterback Sam Bradford. He has not disappointed them.
Where they stand:
The Rams are 4-4 and leading the NFC West. They hold the tiebreaker over 4-4 Seattle after beating the Seahawks in Week 4. The Rams have used improved quarterback play, a better-than-expected defensive front and a favorable schedule to win more games at the midpoint than they won in the full 2008 and 2009 seasons combined. The Rams are building toward a brighter future while competing for a playoff spot in the present. They've been the most consistent team in the division. They have the NFL's 10th-ranked defense and a quarterback to build around in rookie
Sam Bradford
.
Falling:
The Rams have had a hard time keeping receivers and tight ends healthy for Bradford, threatening their offensive productivity.
Donnie Avery
and
Mark Clayton
are on injured reserve with knee injuries. Fellow wideout
Danario Alexander
lasted two games before needing another knee surgery. Rookie tight end
Mike Hoomanawanui
was looking like a go-to receiver for Bradford until a high-ankle sprain sidelined him for a four-game stretch. The Rams hired a new training staff before the season. They're getting their money's worth at receiver and tight end alone.
Rising:
Bradford is the obvious choice here. He became a credible leader right away through his preparation, demeanor and production. Bradford has answered questions about his durability. He has five touchdown passes without an interception in his past three games. Bradford,
Dan Marino
,
Ben Roethlisberger
and
Peyton Manning
are the only rookie quarterbacks since 1970 with 11 touchdown passes in their first eight games. On defense, coach Steve Spagnuolo and coordinator Ken Flajole deserve credit for their scheming amid significant injury issues in the secondary. Defensive linemen
Chris Long
,
Fred Robbins
and
James Hall
are playing at a high level.
Midseason MVP:
Bradford gets my vote.
Steven Jackson
is the heart and soul of this team, but Bradford is the biggest difference for the Rams this season. The Rams have been starved for a leader at quarterback. Bradford gives the team hope and a chance on offense.
Outlook:
Let's see how the Rams fare on the road against San Francisco in Week 10. That game could reveal whether the Rams are division favorites or whether they're one of four teams hanging around to see what happens in the end. Injuries at receiver and in the secondary have hurt. The Rams lack the depth to withstand too many more casualties. The bye came at a good time on that front. Four of the Rams' next five games fall on the road, however, and the team hasn't won away from the Edward Jones Dome this season. Home games against Atlanta and Kansas City appear tough. I could see the Rams heading to Seattle in Week 17 with a shot at 8-8.
November, 10, 2010
11/10/10
2:08
PM ET
Power Rankings:
Preseason 15.
This week: 25
.
[+] Enlarge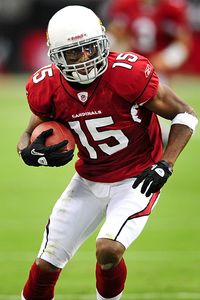 Mark J. Rebilas/US PresswireDespite missing three games, Steve Breaston still has 25 receptions for 358 yards.
2010 schedule/results
Where they stand:
The Cardinals are 3-5, one game behind NFC West leaders St. Louis and Seattle. The road victory they own over the Rams could come in handy as a tiebreaker if the division race remains close. The Cardinals have arguably lost only one game -- against Tampa Bay at home -- that would have qualified before the season as a likely victory. But the team's failure to acquire or develop a quality quarterback has made this season feel like an overall failure. Return touchdowns against New Orleans and Oakland helped the Cardinals beat those opponents and stay competitive in the division. Teams generally cannot bank on such plays, but Arizona is proving otherwise. The team has an NFL-leading eight return touchdowns this season.
Falling:
The right quarterback masks so many blemishes. The wrong quarterback -- or quarterbacks, in the Cardinals' case -- turns minor imperfections into liabilities.
Derek Anderson
played his best game of the season against the
Minnesota Vikings
in Week 9, but the Cardinals punted eight times, gained only 225 yards and converted 23 percent of their third-down chances. Anderson failed to see open receivers, missed other receivers and threw his third pass of the game directly into the hands of linebacker
Chad Greenway
, who dropped the ball. Again, this was the best a Cardinals quarterback has offered all season.
Max Hall
tossed one touchdown pass with five interceptions before coach Ken Whisenhunt went back to Anderson. The turnovers and inefficiency have put extra pressure on Arizona's defense, which has lacked consistency. The offensive line appears worse without Kurt Warner beating pressure with accurate throws. Running backs
Beanie Wells
and
Tim Hightower
have also disappointed.
Rising:
The Cardinals have generally gotten good contributions from the veteran players they added in free agency.
Kerry Rhodes
has been every bit the big-play safety Arizona lost when
Antrel Rolle
left as a free agent, a pleasant surprise for Arizona. Another newcomer,
Joey Porter
, has gotten more pressure on opposing quarterbacks lately, putting him on pace for 10 sacks this season. Inside linebacker
Paris Lenon
has provided competent play at a position of tremendous need. Guard
Alan Faneca
has proved he's not washed up. Among young players, kickoff returner
LaRod Stephens-Howling
has two return touchdowns. Rookie receiver
Andre Roberts
impressed with a 30-yard touchdown reception against Minnesota. Right tackle
Brandon Keith
is improving.
Midseason MVP:
Steve Breaston
stands out as a solid choice even though he missed three games because of injury. Breaston helped win the season opener at St. Louis with seven catches for 132 yards, plus a touchdown-saving forced fumble. He caught eight passes for 147 yards against the Vikings. Breaston even showed skills as a quarterback Sunday when he completed a 17-yard pass to
Jim Dray
, his second read on the play.
Outlook:
A generally healthy roster and an easy second-half schedule should deliver the division title to Arizona on a platter, but quarterback trouble diminishes the Cardinals' chances. Arizona's game against Kansas City in Week 11 is the only remaining matchup against a team with a winning record at midseason. Five home games against non-winning teams give Arizona a realistic shot at its third consecutive NFC West title. Road games against 1-7 Carolina and 2-6 San Francisco give the Cardinals a chance away from University of Phoenix Stadium as well.
November, 10, 2010
11/10/10
2:07
PM ET
Power Rankings:
Preseason 25.
This week: 24
.
[+] Enlarge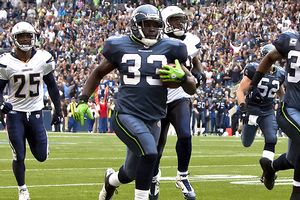 Jason O. Watson/US PresswireLeon Washington has done his part to give the offense good starting field position.
2010 schedule/results
Where they stand:
The Seahawks are tied with St. Louis atop the NFC West with a 4-4 record. The Rams own the head-to-head tiebreaker pending their rematch in Week 17. Seattle was an ascending team until injuries wiped out five starters on the offensive and defensive lines, plus quarterback
Matt Hasselbeck
and a few others. The Seahawks still have a chance to steady themselves once Hasselbeck and left tackle
Russell Okung
return. Both could be back against Arizona this week. But the defense will have a hard time recapturing top form against the run without defensive end
Red Bryant
(injured reserve) and nose tackle
Colin Cole
(out indefinitely with a high-ankle sprain). The Seahawks are on shaky ground after getting outscored 74-10 over their past two games.
Falling:
The offensive line was supposed to develop a strong identity under highly regarded coach Alex Gibbs. It never happened. Gibbs quit shortly before the season. By then, the Seahawks had already begun remaking their line with the smaller guards Gibbs preferred. Trading away incumbent starter
Rob Sims
seemed like a mistake once Gibbs departed and the Seahawks sought more size at the position. Losing starting right guard
Max Unger
in the opener and starting left guard
Ben Hamilton
more recently exacerbated the problem. Take away Okung and the line has struggled enough to prevent the offense from functioning. The Seahawks are having trouble sustaining drives and clearing holes for their running backs. That puts more pressure on the defense, which has issues of its own.
Rising:
General manager John Schneider and coach Pete Carroll have done a good job patching holes with castoffs. Adding first-round choices
Mike Williams
(2005,
Detroit Lions
) and
Marshawn Lynch
(2007,
Buffalo Bills
) has given Seattle two talented building blocks on offense. Williams had 21 receptions over a two-game period before falling off over the past couple of games. Lynch has found very little room to run, but his hard-charging style has impressed. The 6-yard run Lynch had against the
New York Giants
-- one in which he disappeared into a pile, moved the pile and then emerged from the other side -- summed up what Seattle is getting from him.
Leon Washington
, acquired in a low-cost trade on draft day, leads the NFL in kickoff-return average.
Chris Clemons
, another acquisition by trade, has produced as a pass-rusher.
Raheem Brock
,
Brandon Stokley
,
Kentwan Balmer
and
Michael Robinson
have also added value.
Midseason MVP:
Washington gets my vote for his consistently game-changing production in the return game. He's the most dynamic player on the team and a consistent source of favorable field position. Clemons and strong safety
Lawyer Milloy
also deserve consideration. Both players have brought an edge to the defense at times.
Outlook:
Getting Okung back into the lineup and developing continuity on the offensive line stands as the top priority heading into the second half of the season. The game against Chicago in Week 6 proved the Seahawks had a good thing going up front when Okung was in the lineup. It's just tough to bank on anything coming together from an injury standpoint amid so much bad news on that front. The defensive line might be in worse shape, a significant concern with
Reggie Bush
,
Jamaal Charles
,
Thomas Jones
,
DeAngelo Williams
,
Jonathan Stewart
,
Frank Gore
,
Michael Turner
,
LeGarrette Blount
and
Steven Jackson
still on the schedule. Seattle can get to 8-8 by winning its remaining home games, however. That's more than the Rams or
San Francisco 49ers
can say.
November, 10, 2010
11/10/10
2:06
PM ET
Power Rankings:
Preseason: 30.
This week: 13
.
[+] Enlarge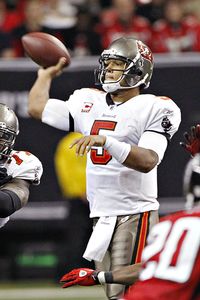 AP Photo/John BazemoreJosh Freeman has led the Bucs to a 5-3 record.
2010 schedule/results
Where they stand:
They're 5-3 and that's light years ahead of last year. That's mostly because second-year quarterback
Josh Freeman
has turned the corner faster than anyone could have reasonably expected. Freeman has been carrying this team and pulling off some last-minute heroics. He has showed the Bucs were right when they traded up to get him and immediately declared him a franchise quarterback. Freeman's supporting cast is still a work in progress, but the quarterback has been good enough to make this team very respectable.
Falling:
Cadillac Williams
. The veteran running back is one of the most respected players in the locker room. He has come back from two major knee injuries, but he simply hasn't been very effective as a runner in the first half of the season. The team has turned most of the carries over to undrafted rookie
LeGarrette Blount
, who has performed well. Williams still has a job, but he's pretty much a role player.
Rising:
Mike Williams
and
Arrelious Benn
. The Bucs knew they had to get Freeman some weapons and that's why they took Benn in the second round and Williams in the fourth. Williams has been the No. 1 receiver since opening day and Benn is now starting. Williams is a legitimate candidate for offensive rookie of the year and already has caught five touchdown passes. Benn started off a little slower, but has come on in recent weeks. It looks like the Bucs might have found two guys who can be good targets for Freeman for a long time.
Midseason MVP:
Freeman. This one's not even close. Freeman makes big plays, has a natural savvy and has willingly embraced his role as the team leader. The best news of all is that he's only going to keep getting better.
Outlook:
The playoffs certainly aren't out of the question, and Sunday's narrow loss to Atlanta showed the Bucs can hang with just about anyone. Young players are rising up all over and we're seeing the youth movement really taking hold. There still are some issues on the defensive line and a few other shaky spots. But the arrow is definitely pointing up for this team. If the Bucs don't make the playoffs this season, they may be only a few offseason moves away from being a very serious contender.
November, 10, 2010
11/10/10
2:06
PM ET
Power Rankings:
Preseason: 2.
This week: 9
.
2010 schedule/results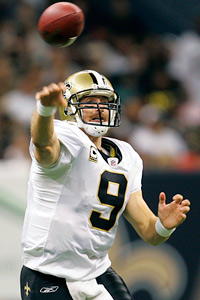 Matt Stamey/US PresswireDrew Brees hasn't been able to match his phenomenal 2009 season, but he's still one of the league's best QBs.
Where they stand:
They're the defending Super Bowl champions, but you wouldn't know it from listening to their fans, coaches and players. The Saints haven't been nearly as dominant as last year, when they won their first 13 games. The offense hasn't been nearly as explosive and the defense hasn't been as opportunistic. But the fact is, the Saints are 6-3. They're only a game behind division leader Atlanta in the loss column and no NFC team has won more games than the Saints.
Falling:
Pierre Thomas
. The running back was one of the unsung heroes in the Super Bowl run. He was an important role player last year, but he has become a non-factor this year. Thomas suffered an ankle injury early and hasn't been able to get back on the field. There have been some rumblings out of New Orleans that the coaching staff and front office aren't very happy with Thomas and he might not have much of a role when he comes back. He's not under contract for next year, so it's not looking like Thomas has much of a future in New Orleans.
Rising:
Sedrick Ellis
. The Saints took a lot of criticism for using a first-round pick on Ellis during his first two years. He didn't have great production, but that mostly was because he was hurt a lot. Ellis has been healthy this year and it's looking like the Saints didn't make a mistake in using a first-round pick on him.
Midseason MVP:
Drew Brees
. No, the quarterback isn't having the same kind of super-human season he did a year ago. But Brees still is pretty darn good and one of the best quarterbacks in the league. Nobody said defending the title would be easy, but the Saints are still very much in the mix, which is more than can be said for a lot of other recent Super Bowl champions. That's largely because Brees, the unquestioned leader of this team, has helped the Saints stay focused.
Outlook:
As inconsistent as the Saints have been at times, they actually are in very good shape. They have a bye this week and that should help running back
Reggie Bush
and a few other injured players get healthy. Look at the schedule after the bye. The Saints play Seattle, Dallas, Cincinnati and St. Louis. If they simply do what they should do, that will put them at 10 wins before they close with Baltimore, Atlanta and Tampa Bay. With the talent the Saints have, it's entirely possible they could be clicking by the time they face those late-season challenges and that could put them well into double-digit wins.
November, 10, 2010
11/10/10
2:05
PM ET
Power Rankings
: Preseason 23.
This week: 31
.
2010 schedule/results
[+] Enlarge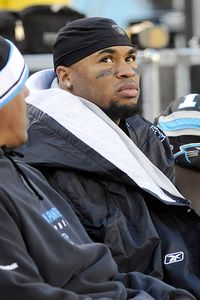 Sam Sharpe/US PresswireWideout Steve Smith hasn't had a touchdown catch since Week 2.
Where they stand:
It's chaos in Carolina. The Panthers are 1-7 and things aren't going to get any better this year. The youth movement simply has not worked. Maybe it's a case of veterans not stepping up to help ease the process. But more likely it's that the young players just aren't all that talented. After all the offseason talk about jazzing up the passing game, it hasn't happened. The Panthers don't have anything resembling an NFL passing game and no one has stepped forward at quarterback.
Falling:
Steve Smith
. Not all that long ago, Smith was as talented as any receiver in the game. The talent may still be there, but the production is not. In Sunday's loss to New Orleans, Smith had one catch for 9 yards. You can put most of the blame on the quarterback struggles or the fact the Panthers don't have a lot of other threats at wide receiver. But the bottom line is the Panthers aren't getting the type of production they should from Smith. He hasn't had a 100-yard receiving game and hasn't caught a touchdown pass since Week 2.
Rising:
Charles Godfrey
, safety. He has a team-high four interceptions and has been a playmaker in the secondary. Godfrey had only two interceptions in his first two seasons. He has shown a nose for the ball that even the Panthers didn't think he had. Godfrey also has been a solid tackler. The only downside to his performance is that he hasn't had an interception since Week 5, but that's largely because the Panthers have been falling behind and opponents aren't throwing a lot.
Midseason MVP:
Linebacker
James Anderson
. You have to look long and hard for bright spots, but Anderson is one. In his first year as a full-time starter, he has shown a knack for making plays. He has 2.5 sacks, a forced fumble, an interception and 77 tackles.
Outlook:
There are no sudden cures on the way. In fact, it's likely things will get even worse. With head coach John Fox almost certainly gone after the season, there is the potential for things to get even uglier. Fox always has had control of his team throughout his tenure. But his lame-duck status jeopardizes his power. If the losing continues, it might get to a point where owner Jerry Richardson pulls the plug on Fox and finishes the season with an interim coach. That's not a real attractive option, but all the Panthers really have to play for the rest of the way is draft position in 2011.
NFL SCOREBOARD
Thursday, 10/23
Sunday, 10/26
Monday, 10/27
WEEKLY LEADERS