July, 31, 2014
Jul 31
4:59
PM ET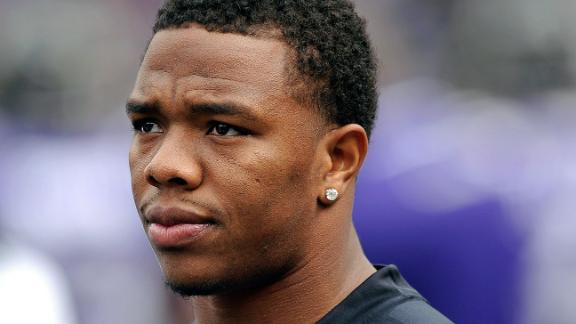 OWINGS MILLS, Md. -- In stark contrast to
Ray Rice
's awkward news conference in May, the
Baltimore Ravens
running back showed Thursday that he finally understood the weight of his actions from the alleged altercation with his then-fiancée in February.
He delivered the correct message, one the NFL failed to do last week with the two-game suspension, by not only apologizing to his wife, Janay Palmer, but also expressing a desire to become an advocate for domestic-violence causes.
Rice was compelling in his contrition, calling it the biggest mistake of his life. He stood in front of the microphone alone, without his wife standing by his side, and took full responsibility for the incident. Perhaps more importantly, Rice actually said the words "domestic violence," which weren't heard in his statement two months ago.
"My actions were inexcusable," Rice said. "That's something I have to live with the rest of my life."
Before anyone pats Rice on the back, this is what he should have said the first time when he broke his silence in May. Instead, Rice nervously fumbled through notes on his phone and apologized to team officials and his sponsors. That debacle of a news conference came across as damage control to his image.
His 17-minute news conference Thursday hit the right tones. He apologized to all women affected by domestic violence. He accepted the blame for losing the respect of fans. Rice came across as genuinely sorry.
"I let my wife down, I let my daughter down, I let my wife's parents down, I let the whole Baltimore community down," Rice said.
Rice's biggest misstep was not talking about what happened in the elevator. He was asked twice about it and declined to answer both times. His stance against domestic violence would have resonated stronger if he had explained his transgressions.
"I'll be honest: Like I said, I own my actions," Rice said. "I just don't want to keep reliving the incident. It doesn't bring any good to me. I'm just trying to move forward from it. I don't condone it. I take full responsibility for my actions. What happened that night is something that I'm going to pay for the rest of my life."
The only way Rice can move forward from this incident and show he's truly sincere is through his actions. It's not by his words. It's not by a hefty donation, which is merely a gesture. It's by proving this will remain a "one-time incident" and by supporting domestic-violence causes.
Thursday represented a small step forward for Rice. But it was an important one.
January, 22, 2014
Jan 22
12:45
PM ET
IRVING, Texas -- Since we
parsed Jerry Jones' words Tuesday
about the current state of the
Dallas Cowboys
offensive and defensive coordinators, let's parse what head coach Jason Garrett said Wednesday when it came to Monte Kiffin and Bill Callahan.

Like Jones, Garrett said both are under contract for 2014. Unlike Jones, however, Garrett said roles could change, but he would not elaborate.
What does it mean? Maybe everything. Maybe nothing.
Kiffin, who turns 74 next month, has said repeatedly he is not retiring. Could the Cowboys move him to a consultant role like they did with assistant head coach/wide receivers
Jimmy Robinson
last year? Robinson was not spotted at one practice in the offseason, during training camp or during the season. He is in Mobile, Ala., at the Senior Bowl looking for a job in 2014.
Given how Jones and Garrett handled the announcement of Callahan as playcaller last year, first with Jones saying it, then Garrett denying it only to come back a day or two later and say, indeed, Callahan would call plays, this is shaping up as an only-with-the-Cowboys situation.
With that in mind, let's look at the current state of the staff:
Head coach:
Jason Garrett
Offensive coordinator/offensive line coach:
Bill Callahan
Defensive coordinator:
Monte Kiffin
Quarterbacks:
Wade Wilson
Running backs:
Gary Brown
Wide receivers:
Derek Dooley
Tight ends:
Vacant
Assistant offensive line:
Frank Pollack
Offensive quality control/wide receivers:
Keith O'Quinn
Offensive assistant:
Vacant
Defensive line:
Rod Marinelli
Linebackers:
Matt Eberflus
Secondary:
Jerome Henderson
Defensive assistant/defensive line:
Leon Lett
Defensive quality control/linebackers:
Ben Bloom
Assistant secondary:
Joe Baker
Special teams:
Rich Bisaccia
Assistant special teams:
Vacant
Strength and conditioning:
Mike Woicik
Assistant strength and conditioning:
Brett Bech
Assistant strength and conditioning:
Kendall Smith
Wes Phillips left the Cowboys to be the
Washington Redskins
tight ends coach. Offensive assistant Dave Borgonzi left for a defensive assistant's job with the
Tampa Bay Buccaneers
. Mikal Smith also worked with the Cowboys secondary last year but did not have a specific title. He joined his father, Lovie, in Tampa Bay. Assistant special teams coach
Chris Boniol
and the club agreed to part ways, and the Cowboys will likely give that job to
Carlos Polk
, although Garrett did not confirm the position at the Senior Bowl. Polk served as an intern with the Cowboys in 2013.
Coaches like Bloom, Baker, O'Quinn and Woicik would need new deals to remain with the team in 2014.
January, 9, 2014
Jan 9
5:11
PM ET
TAMPA, Fla. -- Very quickly, Lovie Smith is putting together his coaching staff for the Buccaneers.
We already knew Jeff Tedford was the offensive coordinator and Leslie Frazier the defensive coordinator. But the Bucs announced 11 more hires Thursday evening. In some cases, the names have already been reported. But let's run through the complete list.
The Bucs hired Marcus Arroyo as quarterbacks coach, Joe Cullen as defensive line coach, Andrew Hayes-Stoker as wide receivers coach, Dave Kennedy as strength and conditioning coach, Larry Marmie as a senior defensive assistant,
Hardy Nickerson
as linebackers coach, Kevin O'Dea as special teams coordinator, Mikal Smith as safeties coach, Tim Spencer as running backs coach,
Ben Steele
as an offensive quality control coach and Matt Wiegand as assistant offensive line coach.
The most interesting names on the list are Nickerson, Marmie and Mikal Smith. Nickerson was a linebacker for the Buccaneers when Lovie Smith was the linebackers coach in the 1990s. Marmie coached Lovie Smith when he was a college player at Tulsa. Mikal Smith is Lovie Smith's son.