January, 3, 2011
1/03/11
9:30
PM ET
Unless we learn something in the next few hours, another evening will pass in South Florida with no word on the fate of
Miami Dolphins
coach Tony Sparano or GM Jeff Ireland.

Sparano
Sparano met with reporters Monday for his news conference to wrap up their disheartening 7-9 season, but he hadn't yet sat down with owner Stephen Ross and wasn't forthcoming on any details of what they would discuss.
Miami Herald scribes Jeff Darlington and Armando Salguero report
Ross arrived at the Dolphins' facility at 1 p.m. Monday
and met with Ireland first and then Sparano, with chief executive officer Mike Dee participating.
White smoke was not seen billowing into the skies above Davie, Fla. No decisions have been made public.
Ross later attended the Orange Bowl at his Sun Life Stadium
and told Darlington the meetings were productive. Darlington tweeted "no decisions have been formalized yet. A clear sense of peace with Ross and CEO Mike Dee. I don't sense change."
Sparano spoke hypothetically about his job status before meeting with Ross.
"Listen, I don't take my job for granted one day, not one second," Sparano said. "I don't take my job for granted. I've been fortunate here.
"I've said this before. This is not the first time you people have heard me say it. I think I have the greatest job in the world, and I enjoy this organization and the people here, and I love coaching this football team. I don't take it for granted at all. In fact, it's kind of the other way around for me. I put it before a lot of personal things in my life."
May, 25, 2010
5/25/10
6:40
PM ET
NFL owners are willing to gamble with their showcase event, voting to
expose Super Bowl XLVIII to wintry elements
at the new $1.6 billion Meadowlands stadium.
But the decision wasn't without opposition when the owners gathered Tuesday afternoon. They needed four votes to finalize the site. Tampa came in second, with South Florida being eliminated after the second vote.
"To me it's a no-brainer when you consider that this vote helps two teams, the Jets and the Giants," Jets head coach Rex Ryan said in a statement released by the club. "Add in the fact that you have as good a stadium as there is in the league and no one is going to complain about this not being a great Super Bowl because you're in the best city in the world."
The
Miami Dolphins
were dejected by the verdict. They prefer to think of South Florida as the preeminent Super Bowl locale, but being the first bid eliminated was disappointing.
South Florida has hosted 10 Super Bowls, including the most recent championship. That means it has been awarded a Super Bowl every 4.4 years. Since 1989, it has gotten a Super Bowl every 1.3 years. Now South Florida will have to wait at least five years to host its next one.
"I think the fix was in for New York," South Florida Super Bowl Host Committee chairman Rodney Barreto said. "We threw $1 million extra on the table last night [for operating expenses]. I know that was more than Tampa put on the table. We probably could have put $10 million on the table and it wouldn't have been a difference.
"The NFL's cut new territory here. It's somewhat of a gamble, especially if you have a Nor'easter come through, shut down airports and so forth."
Barreto and Dolphins CEO Mike Dee said the process was a wakeup call for future bids to stage the game at Sun Life Stadium, which the NFL would like to see upgraded.
In the usual Super Bowl rotation, Sun Life Stadium is the second-oldest facility behind only the Superdome, which Dee said will undergo $350 million in renovations for the 2013 game.
"We're driving an older car, and everybody else is driving a new car," Dee said. "That doesn't mean it's a bad car.
"But we've got to do what it takes to keep in on the road and keep it running and make sure that it puts us in a position that we can still compete, and that we don't transform into San Diego, the greatest destination that can't host Super Bowls because their stadium is no longer capable of doing it."
Dee said the Dolphins "expect to be in a dogfight" for bids on the 2015 or 2016 Super Bowls.
"We're the king of the hill," Barreto said. "We're Humpty Dumpty. Everybody's trying to knock us off the wall. Everyone sees and feels our success. Quite frankly, they're coming after us. If we have to keep setting the bar higher and higher, we'll do that."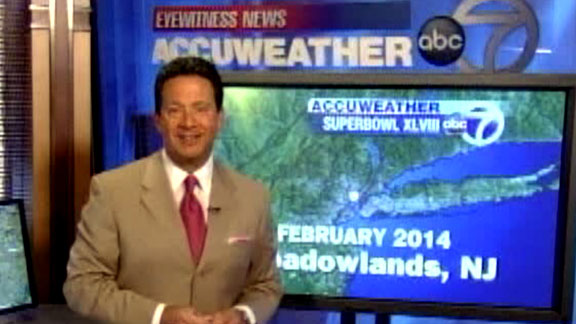 May, 20, 2010
5/20/10
12:17
PM ET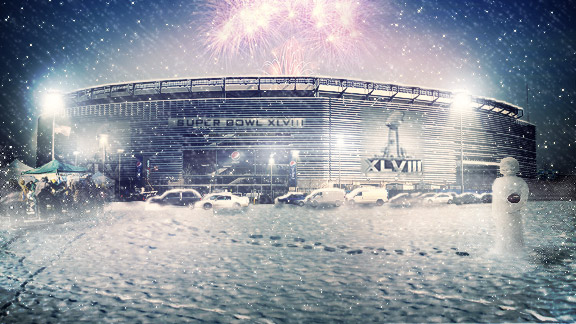 ESPN.com IllustrationThe idea of a Super Bowl in the Meadowlands will be a hot topic of discussion next week.
Next Tuesday in Dallas, NFL owners will assemble for their annual spring meeting and consider having the 2014 Super Bowl in the open air and freezing cold of New York/New Jersey.
Although Tampa and South Florida are competing against New York, offering warmer climates and positive experiences from past Super Bowls, the New York bid is the favorite. A Super Bowl in the new Meadowlands stadium that opens for the
New York Giants
and
New York Jets
this fall could help market unsold premium seats. Former NFL commissioner Pete Rozelle preferred warm-weather, neutral sites for the league's showcase event, but usually once a decade the league would steer a Super Bowl to a northern, cold-weather city with a domed stadium.
The thought of an open-air Super Bowl in February near Manhattan will be a hot topic next week. But should this bid receive such a warm reception? ESPN.com's John Clayton and Tim Graham debate the notion.
John Clayton
: While we can get into the football problems of this bid in a bit, let's be blunt about two things. First, it's a bad idea.
Second, it's going to happen because a Super Bowl in New York would help with the economics of this new stadium. It's big business. When the choice is between cold, hard cash and being out in the cold, the cold-hard-cash side wins.
Where this idea leaves me chilled is how it affects the fans. I remember being at the NFC Championship Game at Lambeau Field a couple years ago, when the temperatures were below zero and the wind chill at times got to 30-below. I did a stand-up for television and almost got frostbite. The conditions were so cold that fans who bought two beers at a time and brought them to their seats had one beer frozen before they could take the first two sips of the beer in hand. I still remember how red Tom Coughlin's face was from being out in the freezing cold for three hours. And that was in January.
A conference championship game in the cold is acceptable because the home fans are used to the conditions. Imagine some San Diego fan flying east to see a Chargers Super Bowl in 2014, paying more than $1,000 a ticket and needing to spend more on warm clothing? That brings chills down my spine.
Tim Graham
: Without a doubt, John, this is about rewarding teams that are able to get stunning new arenas built. Some $1.6 billion was spent to erect the new Meadowlands stadium, and the NFL knows the only way to encourage all of its franchises to pursue new stadiums or significant upgrades is to ramp up competition for Super Bowl bids.
You may view that as a carrot that should be jammed in the middle of Frosty's white, powdery face, but the game isn't about the 82,500 people who will be sitting in the elements. More than 106 million people watched the last Super Bowl and would have whether it was played in a dome, in the desert or on the International Space Station.
Even so, one of the competing bidders for the 2014 Super Bowl is South Florida.
Miami Dolphins
CEO Mike Dee admitted to me at the NFL owners meetings a couple of months back that the new Meadowlands stadium "is a state-of-the-art, beautiful, world-class facility. While it's an outdoor facility, it has a lot of interior club spaces and entertainment spaces for people to mill around. So it's not your conventional outdoor, northern facility." There are plans to heat the concourses and -- just in case -- to provide seat and hand warmers to everyone.
But I'm not too concerned with the fans who would attend the game.
Scant few of those lucky enough to afford the tickets or merely have access to them will care. Most go to the Super Bowl to witness an event. A Super Bowl in the New York area would qualify as a blockbuster.
JC
: I'd rather refer to it as an "ice-blockbuster.'' But is a Super Bowl a three-hour event or a two-week celebration? One of the things Rozelle mandated in coming up with the Super Bowl was a level playing field for both teams. By level playing field, he meant having a warm-weather site that gave both teams a chance to succeed. For the fans, he wanted a quality event.
I'm sure he never fully envisioned how successful it would be as a corporate entity. The reason the Super Bowl isn't played a week after the championship game is because the league wants to give fans a full chance to get to the Super Bowl city, enjoy the festivities and have a memorable experience. If the Super Bowl is given to New York, I contend a lot of the high rollers will be in Tampa or South Florida, holding golf events during Super Bowl week and watching the game on television. We saw that at the Minnesota Super Bowl and the two in Detroit.
What if there is a big snowfall in the 2014 Super Bowl? To have this game qualify as a blockbuster, you might have to hire the "Ice Road Trucker" guys to get fans to the stadium.
TG
: Now hold on a moment. Before you start breaking out Sir Ernest Shackleton references, the weather hasn't been that bad in New York.
The 2014 Super Bowl likely will be played Feb. 2. The Newark Star-Ledger listed the high and low temperatures for the past five years, and it has gotten above 45 three times and has gotten more than 1 degree below freezing once. So we're not talking arctic conditions here.
A level playing field is relative. Back in Rozelle's day, we didn't have a fraction of the technology that's used to maintain these amazing synthetic fields. We're not going to have a reprise of the 1975 Raiders-Steelers AFC Championship Game, where the field was a sheet of ice. And warmer locales aren't immune to weather problems. There was a downpour in South Florida three years ago.
As for the idea there won't be as much to do as in South Florida, Arizona or another warm destination, are you telling me there's no activity in New York? In addition to the usual array of diversions in the Big Apple, organizers plan to hold events at places such as Ellis Island, Liberty State Park and the Museum of Natural History.
Here's what
Atlanta Falcons
owner Arthur Blank said about the possibility of a Super Bowl in the Big Apple:
"You have to ask yourself, are people going to come for three or four or five days and deal with the elements? Are people prepared to come to New York and deal with cold weather? Without a Super Bowl, they do it now."
JC
: Let's put things in perspective here. You made the decision to leave the warmth of South Florida in the past year to be embraced by the chill of Buffalo. You wanted to wear the heavy coat, gloves and snow boots. As you know, I'm a Pittsburgh guy who lives in Seattle, but I don't miss the snow. But let's move from the Weather Channel debate to the football field.
You would have to concede the on-field product for this game will be different in an outdoor venue in the East in February. More and more, the NFL is becoming a quarterback-driven league that excites its fans with passing offenses more than running offenses. You cover an AFC East that has two pure running teams -- the Jets and Dolphins -- who combined for 16 wins last season. I know the Jets made the AFC Championship Game, but the league is set up to reward passers, not runners.
Peyton Manning
beat the run-driven Dolphins even though he had the ball for only 15 minutes last season.
A Super Bowl in the cold would neutralize the passers, which would go against the trends in this league. About the only thing you can say definitively about having a cold-weather Super Bowl in New York is that
Brett Favre
won't have any part of it. He may decide to retire and unretire for a few more years, but he would never sign on for a season that ends in a New York open-air Super Bowl.
TG
: I won't dispute the NFL is a quarterback-driven league and cold weather has a tendency to neutralize a pass attack. But if sterile conditions are so important to deciding a champion, then why aren't the games that determine who reaches the Super Bowl controlled?
If the 2007 NFC Championship Game isn't played in a minus-23 wind chill, maybe the Giants don't win in overtime and then ruin the
New England Patriots
' perfect season. The road to the Super Bowl has gone through Gillette Stadium and Heinz Field a few times over the past decade. Unless every playoff game is moved to a dome, weather can impact the tournament and, therefore, who wins it.
And let's not forget
wintry elements have created some of the greatest memories in NFL history
. The Ice Bowl in Green Bay, the Tuck Rule at Gillette, the Freezer Bowl in Cincinnati, the 1948 title game in a Philadelphia blizzard, the Sneaker Game at a frozen Polo Grounds. In baseball, the players skedaddle when it rains. But football players are supposed to slog through any conditions shy of lightning strikes.
The game is supposed to be played outside and in the elements. The Super Bowl can handle it.
JC
: Now you are using the
Brian Cushing
defense by questioning every thing and every rule. Sure, the Super Bowl can handle a cold-weather game, but why should it? Obviously, it's the money, and that's why this vote is going to pass in favor of New York.
When it comes to Super Bowls, the games should be the memories, not the weather conditions. The best memories are the fourth-quarter comebacks. It's Joe Montana getting that last drive against Cincinnati. It's
Tom Brady
coming back and getting the game-winning, field goal drive against St. Louis. It's
Eli Manning
beating Brady with a late drive.
It's not Tim Graham jumping on a snow-blowing machine and doing spins. I give you your New York Super Bowl next Tuesday. Bundle up, big guy.
TG
: I can guarantee the public overwhelmingly would prefer to watch me drive figure eights on a Zamboni than see you strolling South Beach in your shorts.
Sorry to bring up that mental picture when you conjured some dramatic Super Bowl imagery. Those sure were some fine moments, but you also have 44 years' worth of climate-controlled Super Bowls to draw on.
Who's to say similarly phenomenal memories wouldn't have taken place in the open air of a Northeast winter?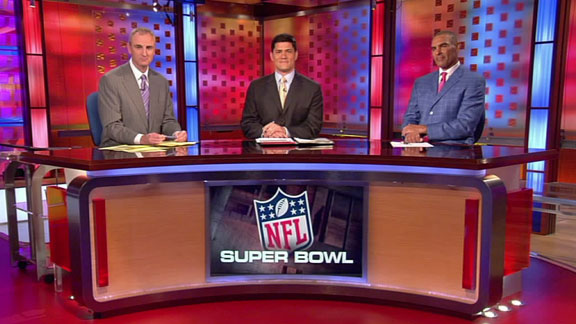 March, 22, 2010
3/22/10
7:32
PM ET
ORLANDO, Fla. -- The
Miami Dolphins
have faced recurring headlines lately the feature their players getting into trouble with the law.
Star running back
Ronnie Brown
reportedly became the second Dolphin arrested for driving under the influence in the past month and the
third player taken into custody in the past six weeks
.
Dolphins owner Stephen Ross insisted he and football operations boss Bill Parcells still place a high importance on integrity.
"You don't want to see it happen," Ross said Monday at the NFL owners meetings at the Ritz-Carlton Orlando Grande Lakes. "When I first met Bill and we were talking, I asked him where character fit in with the players and what he wanted on the team. And he said 'It all starts there.' I think he feels that way today. I know he's as disappointed as I am. I feel the same way. I know he does."
Last month, defensive tackle
Tony McDaniel
was arrested for domestic violence, and cornerback
Will Allen
was arrested for DUI.
Details on Brown's arrest have been hazy. No major news outlet has been able to confirm the Miami Herald's original report yet.
Dolphins chief executive officer Mike Dee advised caution.
"Obviously, everybody's concerned," Dee said. "But especially with the latest one, the facts are not known at this time. Everybody is taking a wait-and-see attitude."
November, 8, 2009
11/08/09
11:36
AM ET
Posted by ESPN.com's Tim Graham
FOXBOROUGH, Mass. -- Drivers in the Fort Lauderdale area should keep their eyes peeled for a homeless man in a
Philadelphia Eagles
hat. Rest assured, South Florida reporters will be on the prowl for him.
Bill Parcells supposedly talks football with this guy more than he has with the media in the two years he's been in charge of the
Miami Dolphins
.
Boston Globe columnist Dan Shaughnessy wrote a column about
the "Man Behind The Curtain in Miami
" and mentioned Parcells' dispossessed buddy. Parcells, on his drive to the Dolphins' facility in Davie, Fla., purportedly brings the guy the newspaper every morning on 17th Street. Problem is, there are eleventy-six 17th Streets, Avenues and Courts -- each in NE, SW, NW, SE versions -- in South Florida.
But the bulk of Shaughnessy's column is about Parcells' history of turning around downtrodden franchises. Compared to past rebuilding projects, Parcells hides in his spider hole and speaks to the media less often than Fidel Castro.
"I've spent limited time with him," Dolphins CEO Mike Dee told Shaughnessy. Dee is former CEO of the Boston Red Sox. "But in the time I have known him, I have found him to be everything you would expect -- smart, experienced, with great insight. An iconic figure. He's a very tall tree in a forest of tall trees.

"The Dolphins hold a high place in this community. In the last six or seven years, they had fallen on hard times. Them going 1-15 was the equivalent of the Red Sox going 70-92 and finishing 22 games behind the Yankees.

"Bill's arrival, and what he stands for, immediately gave optimism to the marketplace. Even with the 0-3 start this year, fans are not panicking. He brings a level of credibility that things are going to turn around. It goes way beyond the X's and O's."