September, 8, 2010
9/08/10
2:21
PM ET
Roster turnover is a leading topic for discussion in Seattle following the release of
T.J. Houshmandzadeh
in particular.
I've addressed the subject in depth across the division -- first
May 26
and again
July 30
-- and it's worth another look now that teams have reduced to 53 players for the regular season.
This time, I'm going to break down the changes by position, listing players no longer on the active roster at each main position group (with new players in parenthesis). Departures outnumber replacements because some players finished last season on injured reserve, meaning they were not part of the 53-man roster.
Some players no longer on the active roster remain with the team (they could be suspended, deemed physically unable to perform or part of the practice squad).
St. Louis Rams (34 off roster)

Defensive back:
Eric Bassey
,
Quincy Butler
,
Danny Gorrer
,
Clinton Hart
, Cordelius Parks,
David Roach
,
Jonathan Wade
(added
Kevin Dockery
,
Jerome Murphy
,
Darian Stewart
)
Defensive line:
Victor Adeyanju
,
Adam Carriker
,
Leger Douzable
,
Leonard Little
,
LaJuan Ramsey
,
James Wyche
(added
Jermelle Cudjo
,
Fred Robbins
,
George Selvie
,
Eugene Sims
)
Linebacker:
K.C. Asiodu
,
Paris Lenon
(added
Na'il Diggs
,
Josh Hull
)
Offensive line:
Roger Allen
,
Alex Barron
,
Ryan McKee
,
Mark Setterstrom
,
Phillip Trautwein
,
Eric Young
(added
Renardo Foster
,
Hank Fraley
,
Rodger Saffold
)
Quarterback:
Kyle Boller
,
Marc Bulger
,
Keith Null
,
Mike Reilly
(added
Sam Bradford
,
A.J. Feeley
,
Thaddeus Lewis
)
Running back:
Samkon Gado
,
Chris Ogbonnaya
(added
Keith Toston
)
Special teams:
Ryan Neill
Tight end:
Randy McMichael
(added
Mike Hoomanawanui
,
Fendi Onobun
)
Wide receiver:
Donnie Avery
,
Keenan Burton
,
Brooks Foster
,
Jordan Kent
,
Ruvell Martin
(added
Mark Clayton
,
Dominique Curry
,
Mardy Gilyard
)
---
Seattle Seahawks (33 off roster)

Defensive back:
Jamar Adams
,
Deon Grant
,
Ken Lucas
,
Josh Wilson
(added
Kam Chancellor
,
Kennard Cox
,
Nate Ness
,
Earl Thomas
,
Walter Thurmond
)
Defensive line:
Lawrence Jackson
,
Patrick Kerney
,
Cory Redding
,
Nick Reed
,
Darryl Tapp
,
Craig Terrill
(added
Kentwan Balmer
,
Raheem Brock
,
Chris Clemons
,
Dexter Davis
,
Junior Siavii
,
E.J. Wilson
)
Linebacker:
Leroy Hill
,
Lance Laury
,
D.D. Lewis
(added
Matt McCoy
; note that Hill is suspended for the first regular-season game)
Offensive line:
Trevor Canfield
,
Brandon Frye
,
Walter Jones
,
Damion McIntosh
,
Rob Sims
,
Steve Vallos
,
Ray Willis
,
Mansfield Wrotto
(added
Stacy Andrews
,
Evan Dietrich-Smith
,
Ben Hamilton
,
Russell Okung
,
Chester Pitts
,
Tyler Polumbus
)
Quarterback:
Mike Teel
,
Seneca Wallace
(added
Charlie Whitehurst
)
Running back:
Justin Griffith
,
Louis Rankin
,
Tyler Roehl
,
Owen Schmitt
(added
Quinton Ganther
,
Michael Robinson
,
Leon Washington
)
Special teams:
Kevin Houser
,
Jeff Robinson
(added
Clint Gresham
)
Tight end:
John Owens
(added
Chris Baker
,
Anthony McCoy
)
Wide receiver:
Nate Burleson
, T.J. Houshmandzadeh (added
Golden Tate
,
Mike Williams
)
---
Arizona Cardinals (24 off roster)

Defensive backs:
Ralph Brown
,
Bryant McFadden
,
Antrel Rolle
(added
A.J. Jefferson
,
Trumaine McBride
,
Brandon McDonald
,
Kerry Rhodes
)
Defensive line:
Jason Banks
(added
Dan Williams
)
Linebacker:
Monty Beisel
,
Bertrand Berry
,
Cody Brown
,
Karlos Dansby
,
Gerald Hayes
,
Chike Okeafor
,
Pago Togafau
(added
Paris Lenon
,
Cyril Obiozor
,
Joey Porter
,
Daryl Washington
; Hayes can return from the physically unable to perform list after six games)
Offensive line:
Mike Gandy
,
Herman Johnson
,
Reggie Wells
(added
Alan Faneca
,
Rex Hadnot
)
Quarterback:
Matt Leinart
,
Brian St. Pierre
,
Kurt Warner
(added
Derek Anderson
,
Max Hall
,
John Skelton
)
Running back:
Justin Green
,
Dan Kreider
(added
Jerome Johnson
)
Special teams:
Neil Rackers
(added
Jay Feely
)
Tight end:
Anthony Becht
(added
Jim Dray
)
Wide receiver:
Anquan Boldin
,
Sean Morey
,
Jerheme Urban
(added
Andre Roberts
,
Stephen Williams
)
---
San Francisco 49ers (24 off roster)

Defensive backs:
Dre' Bly
,
Walt Harris
,
Marcus Hudson
,
Mark Roman
(added
Phillip Adams
,
Tramaine Brock
,
William James
,
Taylor Mays
)
Defensive line:
Kentwan Balmer, Derek Walker
Linebacker:
Scott McKillop
,
Jeff Ulbrich
,
Matt Wilhelm
(added
NaVorro Bowman
,
Travis LaBoy
)
Offensive line:
Tony Pashos
,
Chris Patrick
,
Cody Wallace
(added
Alex Boone
,
Anthony Davis
,
Mike Iupati
)
Quarterback:
Nate Davis
,
Shaun Hill
(added
David Carr
,
Troy Smith
)
Running back:
Thomas Clayton,
Glen Coffee
,
Brit Miller
, Michael Robinson (added
Anthony Dixon
,
Brian Westbrook
)
Special teams:
Shane Andrus
,
Ricky Schmitt
Wide receiver:
Arnaz Battle
,
Isaac Bruce
,
Jason Hill
,
Brandon Jones
(added
Ted Ginn Jr.
,
Kyle Williams
,
Dominique Zeigler
)
---
The first chart shows how many players are back -- at least for now -- from Week 17 rosters and injured reserve lists. Seattle has the fewest number back with 26.
The second chart shows how many players each team has shed since Week 17 last season. This counts players who were on injured reserve. Teams with lots of players on injured reserve had more players to lose.
June, 24, 2010
6/24/10
1:00
PM ET
»
NFC On the Radar
:
East
|
West
|
North
|
South
»
AFC
:
East
|
West
|
North
|
South
A player, coach or issue that should be on your radar as training camp approaches.
A sore hip bothered
Kurt Warner
at
Arizona Cardinals
camp last summer. It wasn't a big deal.
[+] Enlarge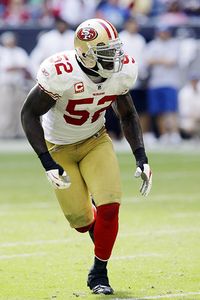 Brett Davis/US PresswirePatrick Willis has already practiced after his offseason knee surgery and will seemingly be ready for training camp.
Two summers ago, the
Seattle Seahawks
downplayed
Matt Hasselbeck
's bad back because they didn't know the full extent of the problem. That one turned out to be more serious than expected.
Having the right feel for each injury situation can be tough. I'm sure a surprise injury or two will become a story after NFC West teams report for training camps in late July.
San Francisco 49ers
linebacker
Patrick Willis
(knee),
St. Louis Rams
running back
Steven Jackson
(back), Arizona Cardinals cornerback
Dominique Rodgers-Cromartie
(knee) and Seattle Seahawks middle linebacker
Lofa Tatupu
(pectoral) are among the high-profile NFC West players coming off surgery rehabs. Their situations will bear monitoring.
The following players ended last season on injured reserve (some are no longer with NFC West teams):
Arizona Cardinals
Matt Ware
,
Mike Gandy
,
Justin Green
,
Cody Brown
San Francisco 49ers
Tony Pashos
,
Ricky Schmitt
,
Thomas Clayton
,
Jeff Ulbrich
,
Walt Harris
,
Kentwan Balmer
,
Curtis Taylor
Seattle Seahawks
Tyler Roehl
,
Walter Jones
,
Kevin Houser
,
Brandon Frye
, Tatupu,
Mike Hass
St. Louis Rams
Marc Bulger
,
Adam Carriker
,
Oshiomogho Atogwe
,
Eric Bassey
, C.J. Ah You,
Brooks Foster
,
Gary Gibson
,
Jacob Bell
,
Daniel Fells
,
Chris Massey
,
Bradley Fletcher
,
Laurent Robinson
,
Keenan Burton
August, 22, 2009
8/22/09
3:34
PM ET
Posted by ESPN.com's Mike Sando
Among the things I'll be watching when the Seahawks face the Broncos in their second exhibition game Saturday night:
NFL Network is carrying this game live at 10:30 p.m. ET.
June, 10, 2009
6/10/09
5:00
PM ET
Posted by ESPN.com's Mike Sando
RENTON, Wash. -- Emptying the notebook after watching the Seahawks practice on a bright, sunny day at their lakefront facility:
Tight end John Carlson stands out right away. Defensive backs are bouncing off him after he catches the ball and turns upfield. Carlson makes overhead catches appear routine even with a defender trailing him closely. Quarterback Matt Hasselbeck said the staff is using Carlson extensively across multiple packages, including on third down. There were times last season when Carlson inexplicably -- to me, anyway -- came off the field in those situations.

Aaron Curry covers Carlson better than anyone, but coach Jim Mora singled out the rookie linebacker's pass-rush skills as a pleasant surprise so far this offseason. Mora issued the usual disclaimer about how it's tough to fully evaluate when players aren't wearing pads. But he said the pass-rush aspect was something they did not see from him in college because Wake Forest didn't ask him to do it much.
T.J. Houshmandzadeh doesn't dazzle in practice. I suspect he's a master of maximizing situations during games to get open and make contested catches.
Oregon basketball coach Ernie Kent watched practice. His son, Jordan, faces increased competition for a roster spot at receiver. Jordan appears stronger than in past seasons, but he'll need to produce in exhibition games to earn a roster spot if Seattle remains reasonably healthy at the position.
Receiver Deion Branch and defensive lineman Cory Redding returned to practice after rehabbing injuries. Branch said he has no pain in his surgically repaired knee.
Seneca Wallace still throws a better deep ball than anyone on the team. He found Mike Hass for a long touchdown up the left sideline against Marquis Floyd. Wallace also found Deon Butler for a long gain despite tight coverage from Josh Wilson.
Logan Payne is practicing at full speed and without a knee brace. The receiver suffered a serious knee injury early last season.
Who is the backup tight end again? Carlson looks terrific, but I'm not sure the Seahawks can run their passing game as intended if something happens to him.
Lawrence Jackson, Darryl Tapp and Baraka Atkins have impressed coaches this offseason. Mora said he has seen "flashes" from each player and it's time for them to step up their games. I mentioned Jackson and Tapp when asking the question. Mora answered quickly and added Atkins' name to his answer.
Kevin Hobbs makes aggressive plays on the ball. He broke up a high pass to Houshmandzadeh early in practice, leaving the veteran receiver with obvious discomfort in his left hand. Houshmandzadeh kept practicing. Later, Hobbs picked off a pass from Wallace over the middle. Wallace took responsibility for the turnover.
Hasselbeck explained one big difference in practices since Mora replaced Mike Holmgren. The change to a defensive coach has led to much more emphasis on playing hard to the whistle and trying to force turnovers. Holmgren put more emphasis on the offense playing with precision and never letting the football hit the ground.
The Seahawks are back on the field Thursday and Friday. Their first training camp practice is expected to be held Aug. 1, although the team has not announced a schedule.
January, 8, 2009
1/08/09
10:29
AM ET
Posted by ESPN.com's Mike Sando

Paola Boivin of the Arizona Republic checks in with injured Cardinals receiver Anquan Boldin. As much as Boldin wants to play on a bad hamstring, the receiver also realizes he shouldn't risk further damage to the muscle.
The Arizona Republic says Phoenix-area officials have planned an airport sendoff for the Cardinals as the team heads to Carolina.
Darren Urban of azcardinals.com says Cardinals coach Ken Whisenhunt will join players in participating in the rally.
Also from Urban: The Cardinals' defense knows it must stay focused and disciplined to contain the Panthers' running attack.
More from Urban: Rookie cornerback Dominique Rodgers-Cromartie knows the Panthers' Steve Smith is a big-play threat at all times.
David Haugh of the Chicago Tribune says the Bears should make a free-agent push to sign Kurt Warner this offseason. Warner visited the Bears as a free agent in 2005. When I think of cold-weather quarterbacks, Warner does not come to mind.
Mike Tulumello of the East Valley Tribune catches up with Cardinals tight end Stephen Spach, whose unexpected contributions have helped Arizona this season.
Also from Tulumello: Boldin's tone of voice casts the receiver as a likely long shot to play against the Panthers.

Clare Farnsworth of the Seattle Post-Intelligencer says Greg Knapp's version of the West Coast offense features fewer three- and four-receiver personnel groupings.
Nick Rousso of the Seattle Post-Intelligencer says most mock drafts have the Seahawks taking receiver Michael Crabtree. Quarterback Matt Stafford and linebacker Aaron Curry also received mention.
Danny O'Neil of the Seattle Times, following up a report from Scout.com, confirms that former Bears receiver Mike Hass signed with the Seahawks. Expect a steady stream of these "future" signings as teams move closer to the 80-man offseason roster limits. Fringe players are becoming available after practice-squad contracts expired this week.
Eric Williams of the Tacoma News Tribune says Knapp's offenses have a history of success in the running game.
Also from Williams: Knapp's offense in Seattle might not be so run-oriented.

Jim Thomas of the St. Louis Post-Dispatch says the Rams' coaching search is taking on more urgency after the Browns became the first team to hire a head coach from outside their organization this offseason. General manager Billy Devaney says he hopes to have the Rams' next coach in place by the end of next week.
Bill Coats of the St. Louis Post-Dispatch checks in with interim Rams coach Jim Haslett for a look at the remaining NFC playoff teams.

John Crumpacker of the San Francisco Chronicle says new 49ers running backs coach Tom Rathman inherits one top-flight rusher (Frank Gore) and a few question marks. Crumpacker: "Backup DeShaun Foster's contract is up and former practice squad member Thomas Clayton is untested. Furthermore, the only real fullback on the roster, Zak Keasey, spent the last nine games of the season on injured reserve."
Matt Maiocco of the Santa Rosa Press-Democrat addresses perceptions about what Mike Singletary said when talking about building a staff. Singletary said he would let the next coordinator hire the quarterbacks coach. He said nothing of the sort about hiring the next running backs coach.
Also from Maiocco: Rathman is happy to rejoin the 49ers, noting that Singletary "has things headed in a positive direction."
Matt Barrows of the Sacramento Bee thinks the 49ers will wait until after the playoffs before hiring an offensive coordinator.
Also from Barrows: Rathman appears to be an "ideal" fit with the 49ers.
Daniel Brown of the San Jose Mercury News says Rathman's interview with Singletary was very much to the point, according to Rathman.
Posted by ESPN.com's Kevin Seifert
View the Bears' official list of cuts and their 53-man roster here.
Biggest surprise: The Bears gave up on defensive end Dan Bazuin pretty quickly. Bazuin was a second-round draft choice in 2007 but missed the season after suffering a knee injury during rookie mini-camp. He told the Chicago Sun-Times that he wasn't 100 percent during training camp, but nevertheless the Bears aren't willing to give him any more time to develop. Linebacker Mike Okwo, a third-round pick last season, also ran out of time to prove himself. The receiver-thin Bears also cut two wideouts who have been productive this summer: Mike Hass and Brandon Rideau.
No-brainers: Quarterback Caleb Hanie was one of the Bears' few offensive bright spots this preseason. The original plan was to save a roster spot and enter the season with Kyle Orton and Rex Grossman as the only quarterbacks on the active roster. In that scenario, the Bears would have a third quarterback on the practice squad. But Hanie's performance opened enough eyes that he probably wouldn't have made it through waivers. Rather than risk losing him, the Bears kept him on the 53-man roster.
What's next: It's still not out of the question that the Bears could seek additional depth at quarterback. Hanie might be easier to get through waivers after the first cycle of claims happen. Otherwise, this is pretty much the team that Bears will take into the season.
August, 29, 2008
8/29/08
4:33
PM ET
Posted by ESPN.com's Kevin Seifert
We'll make this post the clearinghouse for NFC North cuts Friday, and we'll source each player with a link. (Teams aren't necessarily announcing these moves, but some enterprising beat reporters are digging them out.)
Check back for updates throughout the day.
CHICAGO BEARS
MINNESOTA VIKINGS
August, 29, 2008
8/29/08
3:54
PM ET
Posted by ESPN.com's Kevin Seifert
As you know by now, NFL teams are required to cut their rosters to 53 players by Saturday afternoon. Rather than one big announcement, this tends to be a drawn-out process in which teams inform players over the course of the next 24 hours before making any official announcements.
Our plan will be to bring you the news as it trickles out and then come back with analysis on each team when this round is complete. Keep in mind, of course, that teams usually tweak their rosters throughout Labor Day weekend as waiver claims are awarded and last-second trades completed.
With all that said, the Chicago Bears already have started the trickle. Chicago Sun-Times beat writer Brad Biggs is keeping track on his blog. Biggs reports the following players have been told they will be cut: Defensive end Dan Bazuin, fullback Lousaka Polite and receiver Mike Hass.