October, 29, 2013
10/29/13
8:00
AM ET
On one end of the
Oakland Raiders
' in-season trade spectrum rests the deal from two years ago that brought
Carson Palmer
to town for what turned out to be a first-round draft pick and a second-rounder and a whole lot of what-ifs ... but no playoffs.
On the other end, the 1983 deal that landed the Raiders cornerback Mike Haynes from the
New England Patriots
for a first- and second-rounder and, it turns out, a Super Bowl ring.
[+] Enlarge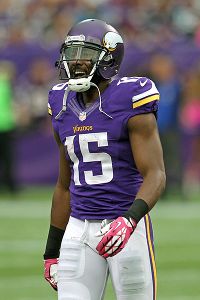 Brace Hemmelgarn/USA TODAY SportsWould the Raiders go after a receiver such as Minnesota's Greg Jennings?
Somewhere in the middle, the 1988 swap with Washington that saw
Jay Schroeder
go from perceived savior to perceived villain, and it cost the Raiders offensive tackle
Jim Lachey
.
So with the NFL trade deadline at 4 p.m ET Tuesday, where do these 3-4 Raiders sit in terms of deal philosophy? It doesn't sound like they're all that interested.
"Well, there's a reason why you go to training camp ... a reason why you have an offseason program," Raiders coach Dennis Allen said in his weekly news conference Monday. "It's so that you can install your schemes and what you want to do offensively, defensively, in the kicking game, how you're going to build the culture of your football team.
"It's just hard to bring a guy in in the middle of the year and think that he's going to come in and have a chance to be really effective for you midway through the year. I just think it's a tough proposition to think that you're going to bring somebody in that's going to make a huge difference. But we'll see."
Fans are pounding the drum for
Cleveland Browns
receiver
Josh Gordon
or even
Minnesota Vikings
receiver
Greg Jennings
, the former
Green Bay Packers
wideout who would be well known to Raiders general manager Reggie McKenzie.
Yes, the Raiders, who have six straight games against teams that currently do not have a winning record, are angling to go on a little run. But if one thing was made evident in Sunday's 21-18 win over the
Pittsburgh Steelers
, Oakland needs a veteran presence at wide receiver.
Denarius Moore
was rendered moot by
Ike Taylor
for the most part.
Jacoby Ford
had the worst game of his NFL career, as did rookie
Brice Butler
.
"I just think we've got to get better production overall from that position," Allen said. "Again, it's the consistency factor. We've got to be a lot more consistent in doing our job and making the plays we've got the opportunity to make, whether it be in the run game blocking, whether it be running our routes exactly right and catching the football.
"That will be an area we're going to emphasize to make sure we improve in that area."
Now, Allen was not talking about a trade specifically. But what could the Raiders offer in trade value?
McKenzie loves his draft picks and it's hard to imagine him parting with anything above a fourth-rounder. And even running back
Darren McFadden
, who is in a contract year and would seemingly be prime trade bait, seems to be rounding into shape after missing a game with a strained hamstring.
The Raiders, though, like the rest of the NFL, seem ready to stand pat for the most part as the trade deadline comes and goes.
Besides, health appears to be on their side, as they should soon regain the services of linebacker
Miles Burris
(knee), rookie left tackle
Menelik Watson
(calf), right tackle
Tony Pashos
(hip), left guard/center
Andre Gurode
(quad) and possibly left tackle
Jared Veldheer
(left triceps).
And a combo of those guys might be better than any trade the Raiders could swing in the current climate.
March, 16, 2011
3/16/11
12:00
PM ET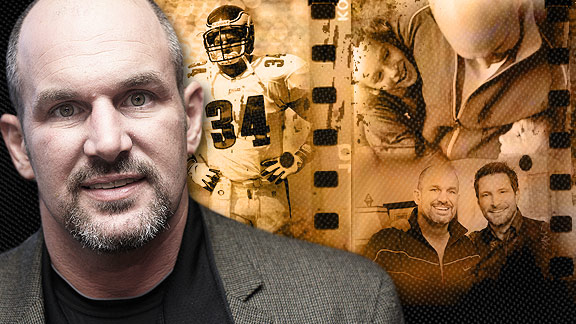 Mike Cellucci/ESPN.comKevin Turner, who played fullback in the NFL for eight seasons, was diagnosed with an incurable neuromuscular disorder 10 months ago.
Kevin Turner
couldn't sit still on that April afternoon in 1992. The Alabama fullback tried to watch the NFL draft for as long as he could, but a combination of tension and monotony increased with each pick. Every 15 minutes another name that wasn't Kevin Turner was announced.
Turner stepped into the backyard of his parents' Prattville, Ala., home for some fresh air and hopefully a diversion. He still laughs at the memory of what happened next. His father bolted out the door and blurted the big announcement: "The Boston Patriots!"
Turner gently corrected him. Actually, it was the
New England
Patriots. They selected him 71st overall, the second fullback off the board.
The moment was exhilarating for a father and his only child. Raymond Turner coached Kevin from 5 years old until junior high and nearly wept the first time he saw his son enter Bryant-Denny Stadium decked in crimson and white.
Now his son was headed to the National Football League. He loaded up his maroon 1991 Ford Bronco and, with Guns N' Roses blaring, headed off to Massachusetts, where he began an eight-year, $8 million NFL career, met his future wife and scored some touchdowns.
Yet if he knew then what he knows today, he'd be torn about pulling out of Prattville.
"If they would have come to me and said, 'I've seen the future. This is what happens.' Of course, I would stop playing immediately," Turner said. "But, as we all know, nobody can see the future. For me, it just falls into a long line of bad decisions."
Turner is divorced. He went bankrupt on bum real estate investments. He was addicted to painkillers for a couple of years. None of those problems are the worst of it.
Ten months ago, the 41-year-old father of three was diagnosed with amyotrophic lateral sclerosis (ALS), the incurable neuromuscular disorder commonly known as Lou Gehrig's disease.
Turner's arms don't work well, his hands even less. His pinch strength, a measurement of the strength generated by the thumb and forefinger, is one pound. That's comparable to an infant. He doesn't have enough might to squeeze toothpaste out of a tube.
Forget about buttoning a shirt. It can take him half an hour to wiggle into his blue jeans with nobody there to help, but he said, "socks are the worst."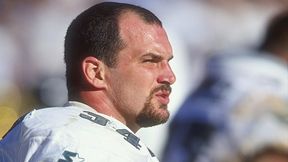 Todd Warshaw/Allsport The Eagles made Kevin Turner the NFL's second-highest-paid fullback in 1995.
The body that produced 30-plus receptions five times for the Patriots and
Philadelphia Eagles,
made him the second-richest fullback in the NFL and impressed then-Patriots coach Bill Parcells as a prototypical West Coast fullback, is failing.
"It's quite a different way of life," Turner said. "It's pretty embarrassing, but cleaning yourself after going to the bathroom becomes very difficult when you can't use your hands. These are just things you don't think about.
"You have to be very creative. I can't pull down my zipper. I got what I call zipper-getters. It's a little hook with some fishing wire that goes around the zipper of my pants so you can go to the bathroom."
Doctors have told him his speech probably will be the next to go. His throat and jaw muscles cramp, reminding him ALS is as relentless as he was on the football field.
Eventually, it will kill him. Maybe within another year or two. ALS is undefeated.
Recent scientific data strongly suggests
repeated head trauma can cause a condition that mimics ALS
. The neuromuscular disorders are virtually identical -- so alike the difference is detectable only by autopsy.
"Football had something to do with it," said Turner, who has no family history of ALS. "I don't know to what extent, and I may not ever know. But there are too many people I know that have ALS and played football in similar positions. They seem to be linebackers, fullbacks, strong safeties. Those are big collision guys."
To raise research funds and awareness about sports-related head injuries and ALS,
he formed the Kevin Turner Foundation
.
Dr. Ann McKee said Tuesday the latest information shows NFL players have eight to 10 times the likelihood of being diagnosed with ALS than the average citizen. McKee was the lead neuropathologist for the study that linked head trauma in collision sports to the ALS variant.
The effects of head trauma are a hot-button NFL issue. The league has included
ALS as an automatically qualified condition under the 88 Plan
, which assists former players with medical expenses related to head injuries.
Cases continue to emerge about retired players experiencing early dementia, memory loss, depression, aggression or erratic behavior. Last month,
four-time Pro Bowl safety Dave Duerson
committed suicide after complaining of severe headaches, vision impairment and an increasing inability to form coherent sentences.
Parcells said he was "sick" to hear about Duerson's death. Duerson played for Parcells on the
New York Giants
' 1990 championship team. Parcells coached Turner for two years in New England.
"Look, we all know that this is hazardous to your health," Parcells said in a somber tone last weekend. "We do know that. And fullback is a very high-collision position. It's not like playing wide receiver or corner. He's either running the ball and getting tackled, catching the ball and getting tackled or blocking somebody.
"I've seen a lot of big collisions in football. We all know when we sign up for this that there's an element of risk involved."
'A special kid'
Turner wasn't a superstar in terms of decorations. He didn't go to Pro Bowls. But he was far from an NFL commoner.
"He had a heart that just wouldn't stop," Raymond Turner said of his son. "From the time he put the gear on to the time he took it off, he was a competitor. Never once in my lifetime did I have to tell him to hustle. It was there. It was built in. He knew what he wanted to do."
The Eagles loved Turner enough that they signed him to a three-year, $4.125 million offer sheet with a $1.5 million signing bonus when he became a restricted free agent in 1995 after two seasons with the Pats. They outbid the
Washington Redskins
.
Daryl Johnston
of the
Dallas Cowboys
was the only fullback with a bigger contract.
The bemused Patriots couldn't match the Eagles and settled for a third-round draft choice as compensation. New England fared well with the transaction. The draft pick turned out to be running back
Curtis Martin
.
[+] Enlarge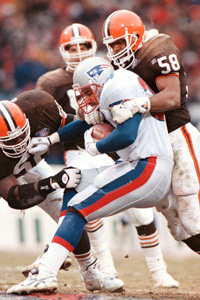 Stephen Dunn/Getty Images"There's nobody out there who wouldn't like [Turner] as a person, player, practice habits, versatility," former Patriots coach Bill Parcells said.
But at the time, Parcells didn't want to lose Turner.
"There's nobody out there who wouldn't like [Turner] as a person, player, practice habits, versatility," Parcells said. "This kid had everything. He was a special kid.
"He was a first-down player and was capable of playing on third down because he had such great hands. He really was an all-purpose back. And you don't see those fullbacks anymore. Kevin was a traditional, old-time, versatile, run-block-and-catch fullback."
Turner's best season was 1994 with the Patriots. When not blocking for
Marion Butts
, Turner made 52 receptions, gained 582 yards from scrimmage and scored three touchdowns -- all career highs. Turner scored an overtime touchdown in Week 11 to beat the
Minnesota Vikings
. His catch in the left corner of the end zone was
Drew Bledsoe
's 45th completion on his 70th attempt, a record that stands by one throw.
Whatever glory Turner experienced came with a price. He absorbed punishment. That's how players often win their team's Ed Block Courage Award, as Turner did with Philadelphia in 1996. They're admired for their perseverance.
Turner knows of only two concussions he suffered in the pros. One came with the Patriots in 1994 against the
Cincinnati Bengals
. He twisted awkwardly while trying to catch a pass near the goal line, and his head struck Riverfront Stadium's hard artificial turf.
The other known concussion happened with the Eagles in 1997, while Turner was running the wedge on a kickoff return against the
Green Bay Packers
at Veterans Stadium.
"The next thing I remember," Turner said, "I was asking our backup quarterback,
Bobby Hoying
, 'You're going to think I'm crazy, but are we in Green Bay or are we in Philly?' I was looking around that stadium and could not figure it out.
"I stayed out for two, maybe three series of downs, got my senses back and finished the game. It was a fairly significant injury to my brain, and I just kept pounding on it."
Turner's father is aware football probably contributed to the ALS diagnosis. He often wonders what hit wrecked his son's brain.
Was it the wedge? Was it the time Turner collided with
Atlanta Falcons
linebacker
Jessie Tuggle
so violently at the goal line he knocked Tuggle out? Was it his final NFL play in 1999, when he barely got a piece of
Indianapolis Colts
linebacker
Cornelius Bennett
but both arms went numb for 15 seconds?
The probable answer is all of them contributed amid an accumulation of other hits that didn't register.
"I never thought about my head, the way I was abusing my head, the pounding my head was taking and the long-term consequences," Turner said. "Playing the position I did, I leveled my head every time I was on a lead block. It was part of the three points: my two hands and my head. That's how I was taught to do it."
A wicked game
McKee helps run the brain bank at the Center for the Study of Traumatic Encephalopathy at Boston University School of Medicine. The center has studied 46 brains of athletes who sustained repeated, sports-related head trauma. Research indicates concussions aren't necessary to induce frightening symptoms.
Many retired NFL players, such as Turner,
Miami Dolphins
linebacker
Zach Thomas
,
Buffalo Bills
guard Conrad Dobler and Patriots cornerback Mike Haynes, have
pledged to donate their brains for research
.
[+] Enlarge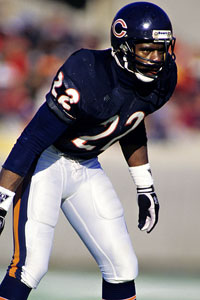 Al Messerschmidt/Getty ImagesDave Duerson, who committed suicide, reportedly asked that his brain be examined.
"It's very tough now to look at the sport and not listen to the voices inside your head that are very, very much aware this game is associated with significant risks," McKee said. "And we may not fully understand the depths of those risks.
"Every month, we've been getting more cases into the brain bank and seeing more cases of [chronic traumatic encephalopathy] and some with this [ALS] variant. It's more and more difficult to embrace this sport as it's currently being played. With each month of this work, it just seems worse."
McKee isn't some fuddy-duddy intellectual, trying to undermine football's place in society. She was raised in a football household just outside Green Bay. Her father played for Grinnell College. She attended every game her brothers played.
"Football is a way of life there," McKee said. "It's huge. It's how we define ourselves. I'm sure I would have played if I'd have been born a boy. Football is an enormous part of my heritage. I do understand that football is so much more than a sport to people. It's what we do."
But is football evolving into a culture of regret?
Hall of Fame quarterback
Troy Aikman
, who has a long history of concussions, recently told HBO's "Real Sports" that if he had a son, the boy wouldn't be allowed to play football. Four-time Pro Bowl safety
Blaine Bishop
didn't make an edict but showed off his scars until his son decided not to play, which suits his dad just fine.
Turner's jovial patter quickly switched to an agonized sputter when asked whether his two sons should play football. Nolan, 13, has been playing for a while. Cole, who will turn 8 next month, started last year.
Turner doesn't let his kids (10-year-old Natalie is a cheerleader) drink sodas because he doesn't think it's good for them, yet football maintains a powerful influence in their family. Turner hinted he won't let Cole play this year because he's perhaps too young. Nolan's situation sounded more complicated.
"It's something I struggle with every day, whether to just lay the law down and say, 'No, we're not playing,'" Turner said. "Or do I let him live his life and take a chance? But, God, I can't tell you how hard a question that is, especially in Alabama. I'm still not sure that I'm going to let him."
Turner was 5 years old when his dad began coaching him. In many ways, it turned out well.
Colleges began recruiting him as a high school sophomore. Florida State coach Bobby Bowden came to their house, but Alabama won out. The Crimson Tide chose Turner for their commitment to excellence award his junior season. He was a captain his senior season. He left with a finance degree and lived a fantasy some folks would give a limb to experience.
"If they'd have told me when I was 23 years old, in the best shape of my life and just got the dream chance of my life to play in the NFL -- first week of practice in New England, I'm in awe of
Andre Tippett
,
Irving Fryar
-- but in 17 years, you're not going to be able to pull up your pants ... you could not imagine it," Turner said.
"Most people would say, 'If there's a 10 percent chance of that happening, I'll take my chances.'"
'You know it's coming'
Chances are, Turner doesn't have long to live. One of his doctors gave him two years. That was almost a year ago.
ALS has no cure. There are no treatments to stop or reverse it. Fifty percent of ALS patients do not live three years beyond their first symptoms. Only 20 percent reach five years.
One by one, motor neurons steadily shut down. As they do, muscles wither. Although Turner's brain will remain sharp, he will lose his ability to walk, speak and swallow.
ALS eventually reaches the muscles of the chest wall and diaphragm. Suffocation and pneumonia are the most common causes of death.
"There are still times, and let me say it's not very often, in the past year where I'll sit there and become completely overwhelmed and break down and cry," Turner said. "Every now and then I'll let myself think about it. I'll see something or hear something that reminds me of the inevitable. You know it's coming."
Turner said he intends to immerse himself in his children's lives and his foundation's cause. He travels the country for speaking engagements to raise funds. Country-gospel singer Ty Herndon dedicated the title track of his Grammy-nominated album, "Journey On," to the Kevin Turner Foundation.
Turner and his children appear in the poignant video
.
Turner's father, meanwhile, can't help but worry. He admitted he and his wife, Myra, feel helpless -- a disconcerting sentiment when it comes to any child, let alone an only child. Raymond is 67 years old, and he's dealing with the likelihood he'll outlive his once-vigorous son. The unavoidability hit home the day a packet arrived in the mail, detailing the process of donating his son's organs.
Turner's mom and dad are considering moving from Prattville closer to Birmingham, Ala., where their grandchildren live, about 85 miles away. Raymond wants to make sure they have a father figure nearby.
"The fact that I'm healthy lets me think I'll be around to see the kids through," Raymond said. "This is not supposed to be this way. Just things you've got to think about and don't want to think about, but you've got to be realistic."
So much has transpired in the 19 years since Turner drove that Ford Bronco from Prattville to the NFL. He made it a point to swing through Manhattan on the way, getting a slice of New York-style pizza and some cheesecake from Carnegie Deli just in case his ride didn't last very long.
The possibilities were infinite. Today, they're decidedly limited. But Turner insists he will make the most of the time he has left and maybe -- just maybe -- be the first person who beats ALS.
On Tuesday night, Turner's father pondered how amazed he was the first time he glimpsed at his son in an Alabama uniform and saw "Kevin Turner" scroll across the bottom of his television screen on draft day.
And then, he considered how pleased he is with Turner today. The feeling doesn't pertain to football at all anymore.
"I swell up and tell him so often about how proud I am of him, most part for being a man of good character," Raymond said. "That's meant more to me than anything."
February, 4, 2011
2/04/11
12:02
PM ET
DALLAS -- Hall of Famers Mike Haynes and Deacon Jones offered some intriguing ideas and insights about the modern NFL game and ways to improve it.
Forget about that.
Jones, who played tough during his career with the Los Angeles Rams, still talks an entertaining game. XTRA910 radio in Phoenix
has the audio
. I'll pass along a few highlights from his exchange with co-host Mike Jurecki. Buckle your chinstraps.
Jurecki:
Who was the toughest guy you ever played against?
Jones:
My ex-wife. Look, I didn't get a scratch in the game. I got my original knees, back, neck. I ain't run into no tough guy.
Jurecki:
No one?
Jones:
Well, look at my body. You don't see no scars on me. What do you call tough?
Jurecki:
Someone you knew going into that game, 'I had my work cut out for the next three hours?'
Jones:
If you ain't sent but one man, there's going to be a casualty that day. No, I'm not a guy you send one man against. I'm a hitman. I come to hurt people. I wouldn't advise that. I come to hurt you. Me and the commissioner would talk the same language, man. I come to take you out. OK, now, I don't know what the other guys tell you. I come to take you out. Hospital. And if you go the next step, it doesn't' bother me -- not one bit. That was my approach to the game. I am not going to lie to you about it. I could not play now. Are you kidding me? I wouldn't be making no money. I would owe the league money.
Jurecki:
So, you can feel James Harrison's frustration?
Jones:
Sure, I do. And I don't think he is guilty of all that.
November, 5, 2010
11/05/10
10:25
AM ET
The NFL Network on Thursday night concluded its
persuasive series "The Top 100: NFL's Greatest Players"
by revealing the best 10 in league history.
As expected, no AFC East players made the top 10 because all of the big names already had been revealed. Some
New England Patriots
fans probably would argue about their three-time champion quarterback being listed 21st compared to a certain
Indianapolis Colts
quarterback being eighth.
Here's the rundown of players from the AFC East (with the fan ranking):
20 (6). Brett Favre, Jets quarterback
21 (20). Tom Brady, Patriots quarterback
24 (--). John Hannah, Patriots guard
25 (7). Dan Marino, Dolphins quarterback
31 (33). Bruce Smith, Bills defensive end
40 (44). O.J. Simpson, Bills running back
49 (--). Mike Haynes, Patriots cornerback
61 (31). LaDainian Tomlinson, Jets running back
65 (24). Randy Moss, Patriots receiver
100 (42). Joe Namath, Jets quarterback
What do you think of the list?
Who is missing? Who is overrated? Who isn't high enough?
Reviewing the list made me think back to a phone call I had with Moss two summers ago. In addition to forecasting better offensive numbers in 2009 than the Patriots posted in their record-breaking 2007 season,
Moss proclaimed himself the greatest receiver -- and maybe player -- in NFL history
.
"I'm the best wide receiver of all-time, hands down," Moss told me.
"I don't really like to judge people or other athletes. I know what I'm able to do on the field, but the things I'm able to do to dictate how a defense plays the game, I don't think there's no other receiver but myself and
Jerry Rice
to be able to do that."
Moss later added: "To hell with wide receiver. I think I go down as one of the greatest players to ever play this game."
The NFL Network rated Rice as the greatest player of all-time and Don Hutson ninth. Moss was ranked the third-best receiver on the list.
July, 7, 2010
7/07/10
12:00
PM ET
A weeklong look at current or former players or coaches with Hall of Fame potential in the division.
Rams:
Orlando Pace
, LT
Claim to fame:
Seven Pro Bowl appearances and three first-team All-Pro selections affirm Pace's standing as one of the elite offensive linemen of his era. Pace started two Super Bowls for the
St. Louis Rams
, winning one, and he was one of the best players for the Greatest Show on Turf.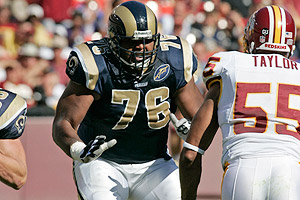 Jeff Fishbein/Icon SMIOrlando Pace was selected to the Pro Bowl seven times during his career.
Case for enshrinement:
At his best, Pace dominated in all aspects of the game and he did it while playing for some of the best offenses of any era. Any discussion of the great tackles since the mid-1990s must include Pace,
Walter Jones
and
Jonathan Ogden
. The Rams drafted Pace first overall in 1997 and he lived up to expectations. That's saying a lot.
"The thing Orlando does so well is that he can get caught off balance on the pass rush and recover and finish the block, which is very difficult to do," then-Rams coach Mike Martz told the St. Louis Post-Dispatch in 2002, when Pace was in his prime.
The Rams' offense put pressure on its tackles to hold up in protection. Receivers ran deeper routes, forcing quarterbacks to hold the ball longer. The Rams were willing to risk sacks for the big play. They gave up more than most teams by design, not because Pace had trouble protecting.
"Orlando is the cornerstone of everything we're trying to do on offense," teammate
Isaac Bruce
told the Post-Dispatch in 2004.
Case against enshrinement:
Pace's conditioning wasn't always the best and he battled injuries throughout his career, at the expense of consistency.
Pace managed to play through the injuries for most of his first nine seasons, but he missed 23 of 32 games over the 2006 and 2007 seasons. Pace was never the same thereafter and he was below average last season for the
Chicago Bears
.
Parting shot:
The final five or six seasons of Pace's career shouldn't overshadow what he accomplished in earning those seven trips to the Pro Bowl. Pace deserves strong consideration for the Hall of Fame even though he'll likely rank a couple notches below Jones and Ogden.
Cardinals:
Kurt Warner
, QB
Claim to fame:
Warner authored a legacy unique to the NFL in going from virtual anonymity to superstar status when the Rams lost
Trent Green
to injury before the 1999 season. He was a four-time Pro Bowl choice and two-time MVP. He was also Super Bowl MVP. Warner helped turn two floundering franchises into Super Bowl teams quickly.
Case for enshrinement:
None of the 14 quarterbacks enshrined in the Hall of Fame since 1985 can match Warner in completion percentage (65.5) or yards per game (260.8). Of the 14, only Steve Young had a higher passer rating and more yards per attempt. Only Dan Marino had more 300-yard games.
Warner reached 10,000 yards passing in fewer games than anyone in NFL history. Only Marino reached 20,000 and 30,000 yards as fast (they tied by reaching 30,000 yards in 114 games). Warner and
Peyton Manning
are the only players with a perfect passer rating in three games.
Warner was also about winning. He has a 9-4 starting record in the playoffs and has posted the three highest passing yardage totals in Super Bowl history. Only Bart Starr has a higher career postseason passer rating. Warner averaged 66.5 percent completions, 304 yards and 8.55 yards per attempt in the playoffs. Warner has 31 postseason touchdown passes in only 13 games (the three players ahead of him own between 18 and 24 playoff appearances).
Case against enshrinement:
Warner started more than 11 games in a season only four times. He started between nine and 11 games four times and didn't accomplish much for a five-season period beginning in 2002.
Any argument against enshrinement for Warner will focus on the disjointed nature of his career and the fact that he produced sporadically as a result. The consistency simply wasn't as good with Warner as it was with the typical Hall of Fame quarterback.
Parting shot:
Warner's candidacy improved significantly when he led the Cardinals to the Super Bowl following the 2008 season. I thought it was also important for his Hall credentials to follow up with another strong effort in 2009. Warner did that, leading the Cardinals to another division title. Tossing five touchdown passes with only four incompletions during a wild-card victory over the
Green Bay Packers
might have pushed him over the top.
[+] Enlarge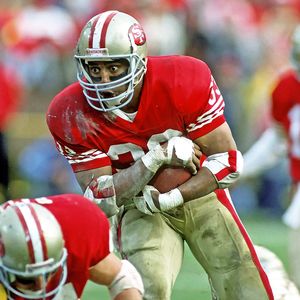 US PresswireRoger Craig was the first player in league history to post 1,000 yards rushing and receiving in the same season.
49ers:
Roger Craig
, RB
Claim to fame:
Craig was among the more versatile running backs in league history, earning Pro Bowl honors at running back and fullback. He was a three-time Super Bowl champion and four-time Pro Bowl choice.
Case for enshrinement:
Craig was the first player in NFL history to top 1,000 yards rushing and receiving in the same season. He led the NFL in receptions with 92 in 1985 and set the 49ers' season rushing record with 1,502 yards three years later.
It's tough to measure players across eras, but Craig ranked 13th on the all-time rushing list when he retired even though he did so much more than simply run the ball. His three touchdowns against the
Miami Dolphins
helped the 49ers win the Super Bowl after the 1984 season.
Craig was one of three players in NFL history with 8,000 yards rushing, 4,900 yards receiving, 70 total touchdowns and four Pro Bowls. Marcus Allen and Marshall Faulk are the others.
Case against enshrinement:
Craig's versatility meant he usually wasn't exceptional in any one category. He generally wasn't a threat to rank among the league rushing leaders. While he did play fullback, he wasn't a great one in the traditional sense.
Craig was a four-time Pro Bowl choice with 8,189 yards rushing, 4,911 yards receiving, 73 total touchdowns and a 4.1-yard rushing average. Ricky Watters was a five-time Pro Bowl choice with 10,643 yards rushing, 4,248 yards receiving, 91 total touchdowns and a 4.1-yard rushing average.
Parting shot:
Craig has good Hall of Fame credentials, not great ones, and he'll have a hard time breaking through given the quality of candidates and limited spaces.
Seahawks:
Kenny Easley, SS
Claim to fame:
Easley was a game-changing force while earning five Pro Bowl berths in seven seasons. He was the NFL's defensive player of the year in 1984.
Case for enshrinement:
All-time Seahawks sack leader Jacob Green called Easley the best athlete his Seattle teams ever had. Tight end Todd Christensen of the division-rival Los Angeles Raiders said Easley, at his best, was even better than Hall of Famer Ronnie Lott. Bill Walsh said Easley would be a Hall of Famer if Easley had played longer and, in his words, "maybe he still is -- he was that good." Lott said he knows the 49ers would have drafted Easley over himself if Seattle hadn't taken Easley first, and he blamed the Seahawks' failure to appear in a Super Bowl for keeping Easley out of Canton.
"Kenny could do what Jack Tatum could do, but he also could do what corners could do -- he could do what Mike Haynes could do," Lott said several years ago. "He was not only a great hitter and great intimidator on the field, but he was a great athlete. In that day, what made him so special -- him, Lawrence Taylor, those guys changed the game of football on the defensive side because they were not just guys that were big hitters. Now, all of sudden, you were seeing guys who were big hitters but also as athletic as anyone on offense."
Easley's outstanding ball skills helped him pick off 17 passes over a two-year period. He was indeed part of a trend toward greater athleticism on defense.
Case against enshrinement:
Even if Easley were, at his best, better than Lott, there was no comparison between each man's careers. Easley, forced into early retirement after suffering from kidney failure attributed to excessive use of ibuprofen, simply didn't play long enough to solidify his Hall of Fame credentials. That wasn't his fault, but it was reality and it's tough to judge candidates on what might have been.
Parting shot:
Easley becomes eligible for consideration by the Hall of Fame's Senior Selection Committee in 2012. His case deserves careful consideration and I think his chances for enshrinement will improve once the Senior Committee takes a harder look at his career. Easley was better than a lot of people realize. The respect he commands from all-time greats will help his cause.
March, 24, 2010
3/24/10
11:29
AM ET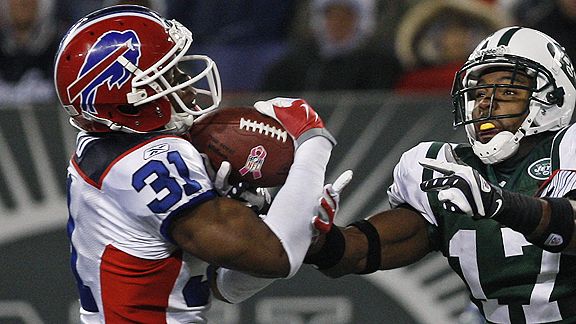 Ed Mulholland/US PresswireLed by rookie Jairus Byrd, the Buffalo secondary was one of the deepest in the league.
ORLANDO, Fla. -- The
Buffalo Bills
are an organization engulfed by uncertainty.
Who will be their quarterback?
What difference will new head coach Chan Gailey and rookie general manager Buddy Nix make?
Will Pro Bowl pass-rusher
Aaron Schobel
play or retire?
Can running back
Marshawn Lynch
bounce back?
How will they transition into their new 3-4 defense?
One area that cannot be questioned is the depth in Buffalo's secondary.
The Bills' defensive backfield isn't loaded with star power, but the quality of depth is remarkable.
The Bills ranked second in pass defense last year despite injuries pushing them to the limit. Ten defensive backs started for them.
Right cornerback
Leodis McKelvin
, the 11th overall pick from 2008, lasted only three games before getting hurt. Free safety
Donte Whitner
, the eighth overall pick from 2006, lost his job to rookie
Jairus Byrd
, who tied for the NFL interception lead and was selected for the Pro Bowl. Left cornerback
Terrence McGee
missed five games with a knee injury. Strong safety
Bryan Scott
started six games at linebacker.
Despite all that, the Bills allowed only 184.2 passing yards a game (second in the NFL) and 14 touchdowns (tied for second).
Now that's depth.
"I've gone to a lot of teams," Gailey said at the NFL owners meetings. "I don't know that I've ever gone to a team that the secondary -- I'm taking corner and safety position -- is as strong as we have right now overall.
"When I went to Dallas, when I went to Miami, when I went to Pittsburgh they were all good. But I'm not so sure that this isn't the strongest group."
Gailey isn't about to compare them player for player. After all, when he was head coach of the
Dallas Cowboys
he had cornerback Deion Sanders and safety Darren Woodson together.
"Those are two pretty good players," Gailey said. "We had a couple of other good players, but we were always trying to fill a hole."
Gailey joined the
Denver Broncos
as a defensive assistant the year safety Dennis Smith and cornerback Louis Wright went to the Pro Bowl. The Broncos later lined up Smith and Steve Atwater at safety while Gailey was there.
Gailey was on the
Pittsburgh Steelers
' offensive staff when they had future Hall of Famer
Rod Woodson
. As offensive coordinator of the
Miami Dolphins
, Gailey practiced against three repeat Pro Bowlers:
Sam Madison
,
Patrick Surtain
and
Brock Marion
.
No, the Bills aren't that good yet. Gailey isn't going to make like
New York Jets
coach Rex Ryan and proclaim they could reach legendary status. On Tuesday, Ryan said his star cornerbacks,
Darrelle Revis
and
Antonio Cromartie
,
remind him of the renowned Los Angeles Raiders tandem
of Mike Haynes and Lester Hayes.
What the Bills do have is a quality starter and backup at every spot. One of only three assistants Gailey retained from Dick Jauron's staff was defensive back coach George Catavolos.
"Even the backups at Buffalo, I'm talking about eight players, your top eight players," Gailey said, "this is as strong a group as I've ever been around."
The importance of depth in the secondary can't be emphasized enough.
As
Detroit Lions
head coach Jim Schwartz explained Wednesday morning, you can't have too many serviceable defensive backs.
"You're going to play more defensive backs than you are at other positions," said Schwartz, known as one of the NFL's brightest defensive minds. "You're not just going to play four. You're going to play five for half the game and you may even have a quarter of the game when you're playing six defensive backs.
"The other thing to look at is defensive backs get hurt at a higher rate than just about every other position on the field. Other positions have gotten bigger and bigger and bigger. Defensive backs have stayed the same, particularly corners. So with everybody else getting bigger and corners staying the same, it's not a matter of if somebody gets hurt and has to miss a game, it's a matter of when."
Five Buffalo defensive backs finished the season on injured reserve, including both of the opening-day starting cornerbacks, McGee and McKelvin.
Schwartz mentioned another important facet of defensive backfield depth.
"One person in the secondary that doesn't play well makes the whole secondary look bad," Schwartz said. "It's how the whole group plays, and if there's one weak link in that chain, then the whole group can look bad, and offenses are real good at finding that one guy and exploiting him."
Nobody can look at the Bills and call their secondary a weak link.
March, 24, 2010
3/24/10
8:13
AM ET
ORLANDO, Fla. -- When he considers the possibilities cornerback tandem
Darrelle Revis
and
Antonio Cromartie
will provide,
New York Jets
head coach Rex Ryan imagines legendary greatness.

Revis

Cromartie
"It reminds me of when the Raiders had Hayes and Haynes, where it was just 'Lockdown and here we come,' " Ryan said, referring to sublime Los Angeles cornerbacks Lester Hayes and Mike Haynes.
Hayes went to five Pro Bowls. Haynes went to nine and is in the Pro Football Hall of Fame.
That's a lofty comparison, especially considering Cromartie's past two years have been disappointing on the field and off. But Ryan is elated to partner up Cromartie with Revis.
Ryan spoke with reporters Tuesday at the NFL owners meetings in Orlando, where he held court for the first time since the Jets acquired Cromartie in a trade with the
San Diego Chargers
.
"He might have as much talent as any player I've ever been around at the corner position," Ryan said. "He's got everything. He's got the size, the height, the length, the speed, the recovery speed, probably as good ball skills as any corner I've been around."
OK, let's keep in mind Revis was an All-Pro last year and Ryan banged the drum for Revis to win the NFL's defensive player of the year award. Cromartie was an All-Pro in 2007, when he led the league with 10 interceptions.
"That's going to be a pretty lethal combination," Ryan said. "It's going to allow us to not just roll our coverage to one corner or another, which we had to do a lot last year. We're not going to let teams lock in on what we're doing defensively.
"From a matchup standpoint, this will be a tremendous advantage for us.
"You might know there's man coverage over there, but you've got to deal with nine guys coming at you. I think that might be a problem."
Ryan believes the Jets will provide the right organizational environment to help settle Cromartie's turbulent life. The Jets advanced him $500,000 from his contract to address various paternity issues. He has seven children in five states.
"I think it's probably pretty obvious to him now," Ryan said. "He had some maturing to do. He's a nice young man. Is he perfect? Probably not, but I don't think anybody is. That's just some issues off the field. It doesn't affect him as a football player.
"We're going to let him come out here and be himself and join his teammates. He was there the first day of offseason workouts. He's just happy to get a fresh start, meet his new teammates. He had a lot of success at San Diego. It's going to be exciting.
"I think our whole team is excited about seeing Darrelle Revis and Cromartie out there."
February, 10, 2010
2/10/10
4:21
PM ET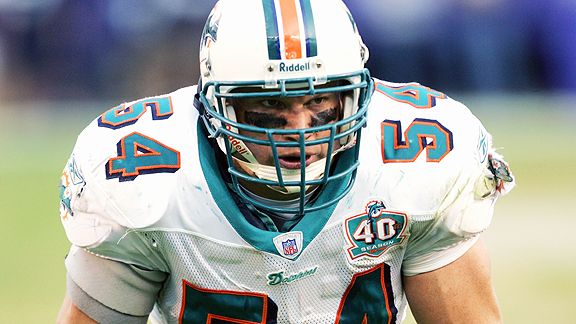 Stephen Dunn/Getty Images
Former Dolphins linebacker Zach Thomas is one of a growing number of NFL players vowing to donate their brains to research.
At least 20 times, the memory came crashing back for Don Hasselbeck.
In a flash, he was a teenager again, a star tight end for La Salle High in Cincinnati. His quarterback had thrown an interception against Purcell. Hasselbeck went into hot pursuit. The rumbling ball carrier veered toward him, driving a knee into Hasselbeck's head.
A few moments later, Hasselbeck regained his senses and sat upright and surveyed the La Salle teammates and coaches that had gathered around him on Purcell's field.
Only he wasn't a teenager anymore. He was a New England Patriot in Schaefer Stadium. Or a Los Angeles Raider in the Coliseum. Or a New York Giant at the Meadowlands.
"Every time I was knocked out -- bang! -- I thought it was the first one in high school," Hasselbeck said. "I can be in the ninth year of the pros, and think I was on that high school field. What is that in my brain that gets triggered to make me think I'm 18 years old?"
Hasselbeck estimated his number of concussions "on the 20-plus side" before his nine-year NFL career was over in 1985. He traveled back in his cranial time machine on every nasty headshot.
He's worried those repeated brain injuries will impact his life.
"I get concerned when I read articles of guys killing themselves or being depressed or dementia or Alzheimer's," said Hasselbeck, a mostly healthy 54-year-old and a longtime Reebok executive. "That scares you. You don't want to see these guys falling apart in front of you."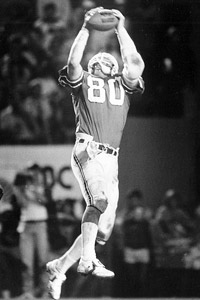 Al Messerschmidt/NFLOver the span of his nine-year career, tight end Don Hasselbeck estimates he suffered more than 20 concussions.
Hasselbeck is among a growing crowd of retired and active
NFL players who have pledged to donate their brains
to the Center for the Study of Traumatic Encephalopathy at Boston University School of Medicine to research the long-term impact of football-related head trauma.
The registry for what's known as "the brain bank" -- housed at the New England Veterans Administration in Bedford, Mass. -- is up to 250 players who want to further a cause that began when Chris Nowinski, a Harvard alum and former pro wrestler, got inquisitive about his future after suffering six concussions.
Nowinski and Dr. Ann McKee founded the center. Their findings from CSTE research -- that players are highly prone to clinical depression and early onset of Alzheimer's -- has triggered sweeping changes in the way the NFL views head trauma and could transform the way the game is played both on the practice field and on Sunday afternoons.
"We've made remarkable headway," Nowinski said. "I don't think I ever dreamed the NFL would agree there was a problem. For legal reasons, I just didn't think they'd admit it. It was the pathological research, the brains of the deceased players, pressure from the active and retired players who were courageous enough to stand up."
Nowinski's passion is collecting autographs and game-used equipment.
The autographs are signatures of players such as
Baltimore Ravens
center
Matt Birk
,
Arizona Cardinals
receiver
Sean Morey
, former
Miami Dolphins
linebacker
Zach Thomas
and Hall of Fame cornerback Mike Haynes; the game-used equipment he gets them to consign are their brains.
"Once I'm dead, I'm not going to need it anymore," said former
Buffalo Bills
guard Conrad Dobler. "I plan on being cremated. I always wonder what they do with all those parts.
"But if I'm going to be cremated anyway because I don't feel like laying in a casket and having worms eat my body for eternity. My brain will live forever to help some others, and to let the world know that I actually had one."
Nowinksi wrote the 2006 book "Head Games: Football's Concussion Crisis from the NFL to Youth Leagues." About a month after the book was released, former
Philadelphia Eagles
safety Andre Waters committed suicide. Nowinski convinced Waters' family to donate his brain for research, a seminal moment for the brain bank.
Waters' brain was examined by Dr. Bennett Omalu in Pittsburgh, and it resembled those of Mike Webster and Terry Long, former
Pittsburgh Steelers
who died young after bouts with depression and dementia.
"We started with guys who were disasters," Nowinski said. "Now we're moving on to guys who might or might not be impacted in varying degrees. But these are people who are committed and recognize the problem and want to be a part of the solution."
Nowinski's cause has reached a level of consciousness where players are approaching him to will their brains without him needing to deliver a sales pitch.
"I told him I would donate my brain," former Bills offensive lineman and SI.com columnist
Ross Tucker
said. "I was never diagnosed with a concussion, but I can remember at least four plays during my career where the collision was just different. When you play football for 18 years, you can tell when something's different.
"For 10 to 15 seconds after, I was thinking 'Wow. That was crazy. I don't know what happened there, but I don't like it.' "
The CSTE scored a major victory in December, when the league announced it would impose stricter guidelines on players returning from concussions and teamed up with the Center for Disease Control to produce a public-service announcement that urges youth coaches, players and parents to be educated on the dangers of head injuries.
"That showed me there was no going back," Nowinski said.
The next step is enacting rules that protect players from Pop Warner and up.
Nowinski referred to testimony
Houston Texans
guard
Chester Pitts
gave before Congress. Pitts declared he would forbid his son from playing football because it was too dangerous.
"That's kind of creepy that he's exposing himself to a violent game he wouldn't let his own son play in," Nowinski said. "That's a sign we need to change things."
NFL commissioner Roger Goodell appeared Sunday on "Face the Nation" and told host Bob Schieffer the league would consider eliminating the three-point stance. Nowinski, citing research that shows 75 percent of head shots occur in practice, raised the possibility of no-contact, helmet-less workouts.
"There always will be four downs," Nowinski said. "A touchdown will be worth six points, a field goal worth three points. But how we hit each other, how we collide has to change."
While Tucker dismissed abolishing the three-point stance as meaningful (linemen don't build up enough momentum in such a short space to make that type of contact significant), he lauded the NFL's decision last spring to eliminate the wedge on kickoff returns as a step in the right direction.
Players on return and coverage teams generally are the last 10 players who dress on game day, the most easily replaceable parts.
"How hard they run down there and how hard they hit that wedge is the difference between 650 grand and going back to Columbus, Georgia, to find a job for 12 bucks an hour," Tucker said. "If those were your options, you'd hit that wedge pretty damn hard, too."
Tucker also would like to see certain drills outlawed. He described what he and his
Washington Redskins
teammates called "the headache drill" in 2007. Offensive linemen would take on a linebacker at full speed, the frequent result being a helmet-on-helmet collision.
"We hated it," said Tucker, a Princeton alum who retired that year because of herniated discs in his neck and back. "I remember feeling my brain rattling around.
"I don't think it has truly impacted me, but there are times when I forget stuff that I shouldn't. I've always been known for having an amazing memory, but it just seems there's short-term stuff I don't remember sometimes.
"I'm not concerned about it, but there's probably something going on, and if I can help in any small way, I'm willing to do that. Guys are only going to get bigger, only going to get faster. Unless we do something, it's only going to get worse and worse."
September, 16, 2009
9/16/09
4:38
PM ET
| | |
| --- | --- |
| | |
| | US Presswire |
| | Jets coach Rex Ryan and Patriots coach Bill Belichick have different philosophies on what they say to the media. |

Posted by ESPN.com's Tim Graham
Bill Belichick has deftly avoided discussing Rex Ryan's commentary about not being intimidated by the
New England Patriots
and their Super Bowl rings.
Belichick chuckles at the questions, deflects them, dismisses the issue as trivial.
In his Gillette Stadium sacristy, however, Belichick will be taking Ryan's words far more seriously and expecting his players to do the same in preparations for Sunday's game against the
New York Jets
at the Meadowlands.
Ryan, the Jets' rookie head coach,
thumbed his nose at the Patriots' success
during a June interview on New York radio station WFAN.
"I never came here to kiss Bill Belichick's rings," Ryan said. "I came to win. Let's just put it that way. So we'll see what happens. I'm certainly not intimidated by New England or anybody else.
"I think we already have sent a message to them. So they can read between the lines. ... They can figure it out. And when they come here that second week of the season, we'll see."
Podcast: Rex Ryan voicemail
Jets coach Rex Ryan delivered a voicemail to Jets fans asking them for their help in the game against the Patriots. Listen

Ryan's bravado certainly will be used against him three months later. Bulletin board material? You better believe it.
"It'll be laminated, maybe even a banner over the stadium," said Je'Rod Cherry, a safety and special-teams ace on New England's three championship teams. "It'll be utilized.
"Bill is a smart, crafty guy. He will present it as blatant disrespect for the guys who were there throughout that run of Super Bowls, and he will use it to help the new guys identify with the Patriots' legacy. It will be a rallying call."
Cherry spent four seasons within Belichick's inner sanctum and is quite familiar with the coach's tactics for getting his players jacked.
Bulletin-board material is one of Belichick's favorite methods to stimulate players a little more in a sport that sometimes can be consumed by weekly routines.
"Whatever is between me and the team I think should stay between me and the team," Belichick said Wednesday when asked how he would implement Ryan's comments into this week's prep work.
Belichick is masterful at using the media to fire up his men. One of the more well-known examples came before the 2001 AFC championship game. Former
Pittsburgh Steelers
linebacker
Joey Porter
and safety
Lee Flowers
openly dismissed the Patriots.
Flowers said the Patriots were "one play away from being home," referring to the infamously lucky tuck-rule call. Porter bemoaned the hassles of making arrangements for family and friends to attend the Super Bowl.
Before the game Belichick showed the video clips to his team.
"You talk about fired up," Cherry said. "Just off the charts. That played huge."
The Patriots beat the Steelers and eventually claimed their first Super Bowl title.
The concept of such a motivational tool is easy to harrumph. After all, players get paid exorbitant sums of money to perform. Pride and will should be enough to get the juices flowing, right?
"You're dealing with guys with super egos," said Cherry, who
auctioned off his first Super Bowl ring
last year to build orphanages and save children from sex trafficking. "This is a gladiator sport. It's about toughness and making the other guy submit. If you can play off something to get an edge and to get that desired effect, you do it."
That's why Belichick was quick to silence receivers
Randy Moss
and
Wes Welker
for saying this year's offense could be better than the one that set records in 2007. That's why the
Miami Dolphins
hushed linebacker
Channing Crowder
, who engaged Ryan in an entertaining smackfest.
"As long as I can remember," said former Patriots linebacker
Andre Tippett
, a Hall of Famer, "I've always been cautioned to be careful with what you say, from high school to college to the pro level."
Few coaches discuss the importance of using the media as a device. Players like to pretend they pay no attention to what's being said in the media.
They insist they don't read newspaper clips, don't go on the Internet, don't tune into talk radio or turn or turn on the television. Never mind that most NFL locker rooms have ESPN showing at all times on several screens.
"Guys read the papers," Cherry said. "They want to know what you think about us."
Bulletin boards aren't mythological. They not only exist, but they also are an important tool whether or not teams want to admit it.
"It's part of the game," said Mike Haynes, a Hall of Fame cornerback for the Patriots and
Oakland Raiders
. "When I was on the Patriots it was right by where you came in to pick up your mail [in Schaefer Stadium]. You could not miss seeing it.
"On the Raiders, it was on a bulletin board, and the trainers would talk about it all the time. 'Hey, did you read that quote in the paper?' You couldn't avoid it."
Haynes claimed he never paid much attention to what opponents were saying, but there were teammates who bewildered him. Raiders cornerback Lester Hayes was prolific in talking junk through the press.
"Who am I to tell somebody not to talk?" Haynes said. "I always felt like if you have to do that, if it's going to help you, going to help us, by all means."
Former
Buffalo Bills
coach Marv Levy constantly harped on his players to refrain from making declarations that would might get an opponent riled up.
"We had guys that loved to talk," said Levy's quarterback and fellow Hall of Famer, Jim Kelly. "But he always would bring it up, whether it was a tough loss or a good game. He'd say 'Praise your opponent and don't you be the bulletin board for somebody else's team.' "
Perhaps talk is cheap, but it can prove costly.
In the days leading up to Super Bowl XXVI, gregarious Bills defensive line coach Chuck Dickerson ragged on the Redskins' offensive linemen. Dickerson, who later became a love-him-or-hate-him Buffalo radio personality, declared Mark Rypien hadn't been tested all year like he would by the Bills.
"It definitely made the bulletin board for the Redskins, and they thrived off it," Kelly said. "They used it to their advantage."
Rick Telander, covering Super Bowl XXVI for Time magazine, wrote that if the Bills and Redskins played 10 times, the Redskins would win nine -- "
10 if Dickerson were allowed to speak before every game
."
A passage from Telander's story:
Then came Dickerson's ill-timed assessment of the Hogs: Tackle Joe Jacoby was a "Neanderthal" who "slobbers a lot;" tackle Jim Lachey was a "ballerina in a 310-pound body;" and center [Jeff] Bostic was "ugly like the rest of them." The night before the game [head coach Joe] Gibbs showed the Skins a videotape of Dickerson making the remarks, in case anybody needed further motivation.
Tippett would start searching newspaper clips on Monday morning in search of fuel. The Internet wasn't available when he played. There was no trash talking through Facebook or Twitter like you see today.
But Tippett often stumbled across an item he could use for added inspiration.
"You just look for guys like a quarterback or a receiver, who at some point are vulnerable in games," Tippett said. "Cat says something he shouldn't be saying or is dogging your teammate, you take the opportunity to maybe hit them a little bit harder or hold them up a little longer. You have fun with it.
"At some point after a victory, you make note of that to him. You just go up and whisper in their ear to make them think about it: 'I remember what you said. What do you think about it now?'"
Was Ryan foolish to be so colorful in explaining why he's confident about his team?
That depends on which team you're rooting for.
"If I'm a Jets player, I'm excited about what he said," Cherry said. "I'd be thinking 'Screw the Patriots.' "
Or at least thumbtack them.
NFL SCOREBOARD
Sunday, 2/2
WEEKLY LEADERS